Who doesn't love pasta? Arguably Italy's Number 1 export (I know pizza is delicious too) pasta dishes range from tasty to super duper delicious. Here are 10 of my favourite pasta recipes.
Pasta 24/7/365.
You simply can't go wrong with a delicious bowl of pasta at any time of the day, any day of the week, any time of the year. There are endless variations of shapes, sauces and techniques to keep you satiated and occupied all year round. I've been hard at work creating delicious recipes that feature not only store bought pasta, but also fresh. Hopefully you'll love my favourite pasta recipes as much as I do.
Store bought or fresh pasta?
The answer is quite simply, BOTH! Some dishes are perfectly happy with store bought pasta (let's face it, we don't all have the time to make fresh egg pasta, but for a treat or to create some fo the more adventurous stuffed pasta dishes, fresh is the way to go. Once you've made fresh pasta yourself once or twice, you'll wonder what all the fuss was about. It's really easy, and the texture is quite literally out of this world! But don't beat yourself up… you decide which way to go.
This mushroom ragu, rich with umami is the perfect partner for some very simple fresh pasta, torn into random shapes. Such a splendid combination of taste and texture. The perfect vegetarian pasta dish – try my mushroom ragu with torn pasta recipe and you'll see why I love it so much.
This classic Italian Spaghetti Amatriciana is a splendid blending of salty pancetta and tomatoes. So simple, so full of flavour. A divine little pasta dish, any day of the week.
If you're looking for a really impressive pasta dish to serve to your friends or family. Then this delivers on all fronts! Meltingly tender osso buco (beef shin) cooked to perfection and made into the perfect pillow soft ravioli. It really is a dish for royalty! Amaze yourself with my recipe for osso buco ravioli!
If you can get over the amazing vibrant colour of this spaghetti with cavil nero and almonds you'll be left once again amazed by the absolutely delicious flavour. Who knew that a bit of cabbage and some nuts could taste so sensational! This REALLY is a top notch pasta sauce to try at home.
When the rain starts or when it's just too cold to venture out, you MUST sample my delicious recipe for lamb ragu with papardelle pasta. Thick, luscious ribbons of fresh pasta coat butter-soft lamb in an intensely satisfying sauce. The addition of fresh, sweet peas take this to heaven!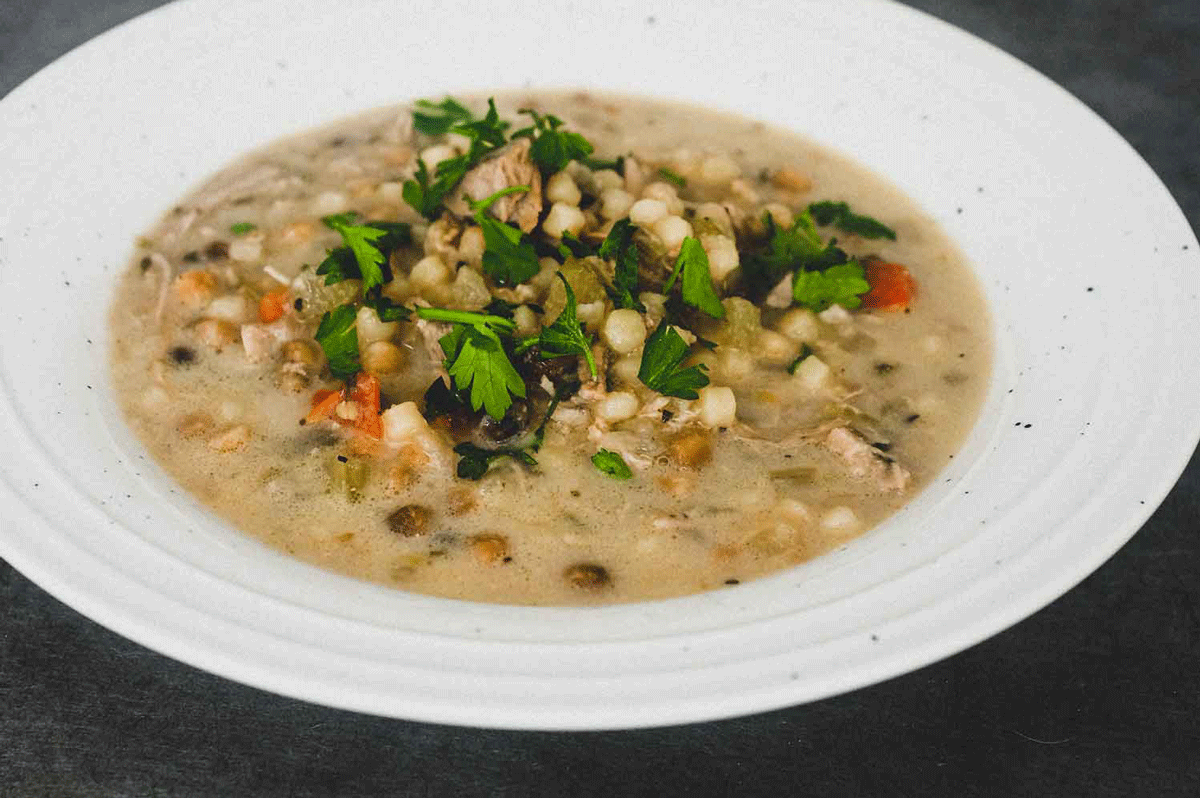 Tiny balls of pasta called fregola, make up this hearty and super-tasty chicken soup with fregola. My recipe was inspired from a life-giving soup I sampled in Abruzzo, Italy. It's a delicious soup, year-round, but especially delicious if wherever you are is cold! Crank down the air-con if it's too warm!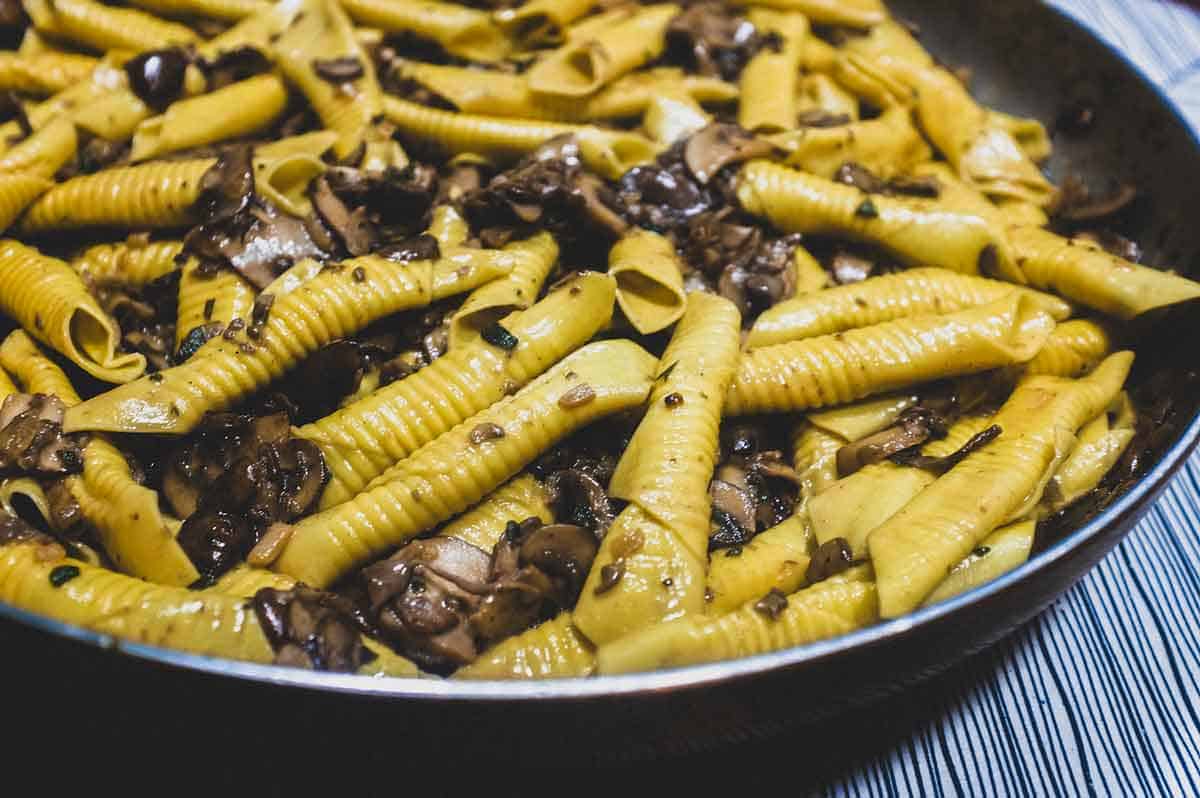 Another fresh pasta recipe is my super delicious Garganelli with Mushroom Sauce! These quill shaped pasta are perfect with their little ridge for trapping sauce. The creamy and umami mushroom sauce is the perfect partner. This dish is one of my all time favourites – I cook it all year round. Garganelli are so good!

This stuffed little half moon (mezzelune) is a simple way to stuff your own fresh pasta. My recipe for mezzelune pasta with cavolo nero & ricotta is the perfect blend of earthy, sweet and creamy. Taste and texture heaven. Belissimo!
Malloreddus (Gnocchi Sardi) with Sausage & Arugula is one of those pasta dishes that completely take you by surprise. Tiny hand-made pillows of Sardinian semolina (durum wheat) pasta  gnocchi are coated with the simplest and most delicious sauces. It's a regular at home – super fulfilling and guaranteed a small ripple of applause from anyone you serve it to.
Look at how splendid this Foglie D'Ulivo with Pancetta & Olives is! Hand made spinach pasta is cleverly shaped (by you!) to look just like olive leaves (foglie d'ulivo). Served very simply with pancetta and olives this is a taste triumph as well as a visual delight.