Who can say no to a big old bowl of soup? Every country on the planet has a soup they call a national treasure. From France to Italy, India to Japan – the choices are infinite, the flavours too. Here are my favourite 10 soups of the year so far! And there are many more recipes to come because soup is one of my favourite things to eat and slurp!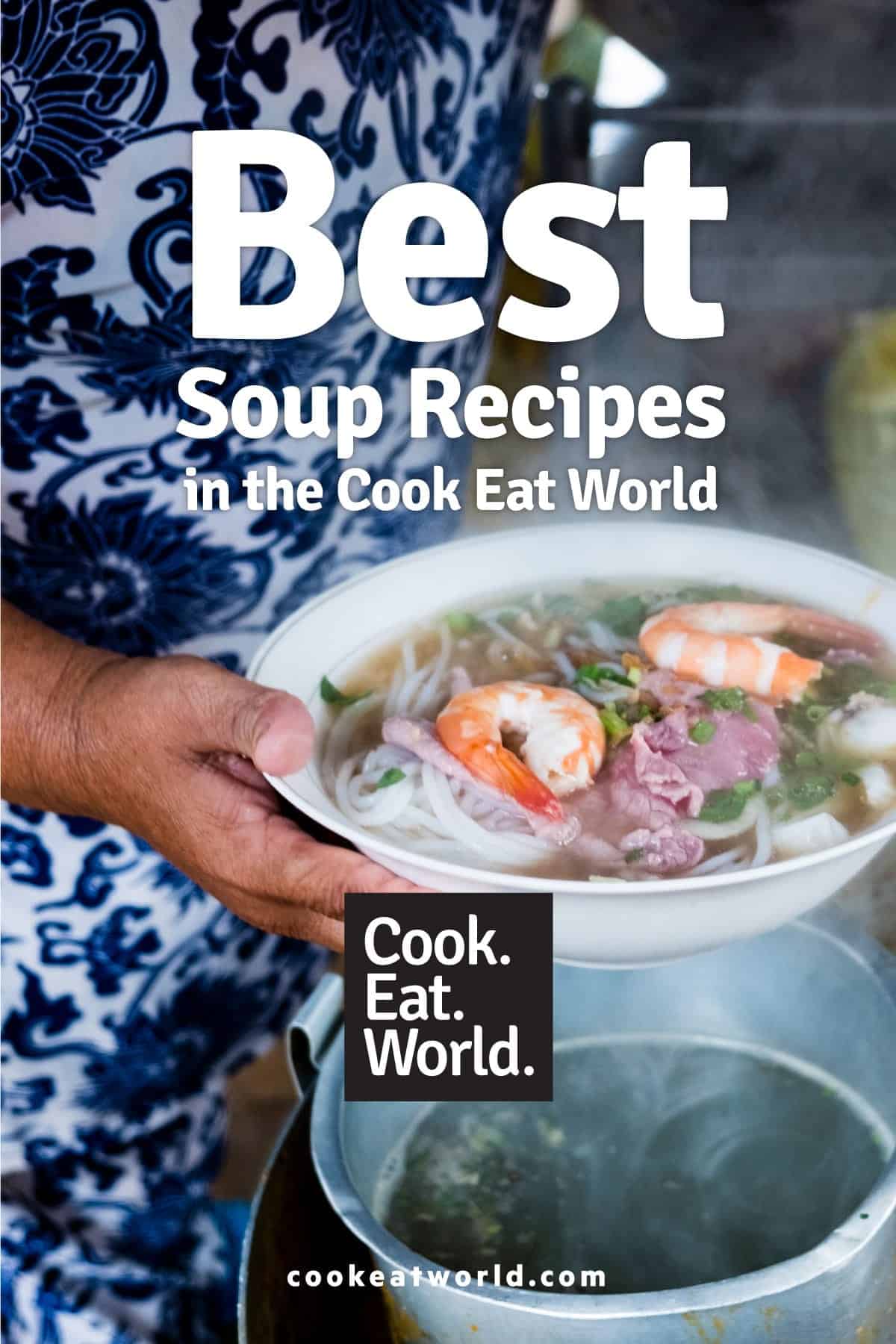 Soup! From humble to haute cuisine.
Countries around the world all offer up a national food treasure in liquid form. Soups are ubiquitous, wherever you are, whoever you are. As humble as a bean soup from Italy, to a light, bright Pho in Vietnam, through to a rich creamy mushroom soup in the Balkans to a labour of love Ramen in Japan. Soups are enjoyed and treasured the world over. My top 10 include all my favourites to make at home, with more recipes flowing your way soon.
My soup rules!
My best soups all follow a very simple premise. They're not THAT difficult and they should taste delightful:
They are tasty!
They're authentic recipes from around the world.
They're generous in flavour and portion!
They're easy to make at home.
If a soup can deliver on all these points then I'm ready to get sipping. Top marks go to soups that use ingredients that might otherwise get thrown out, like vegetable and meat scraps. My ideal way to cook a mid week soup is to have a rummage through the cupboard and fridge and see where the scraps fall. Perfection! So if you're ready for some soup… I'm serving you my top 10 (as of today – in no particular order!).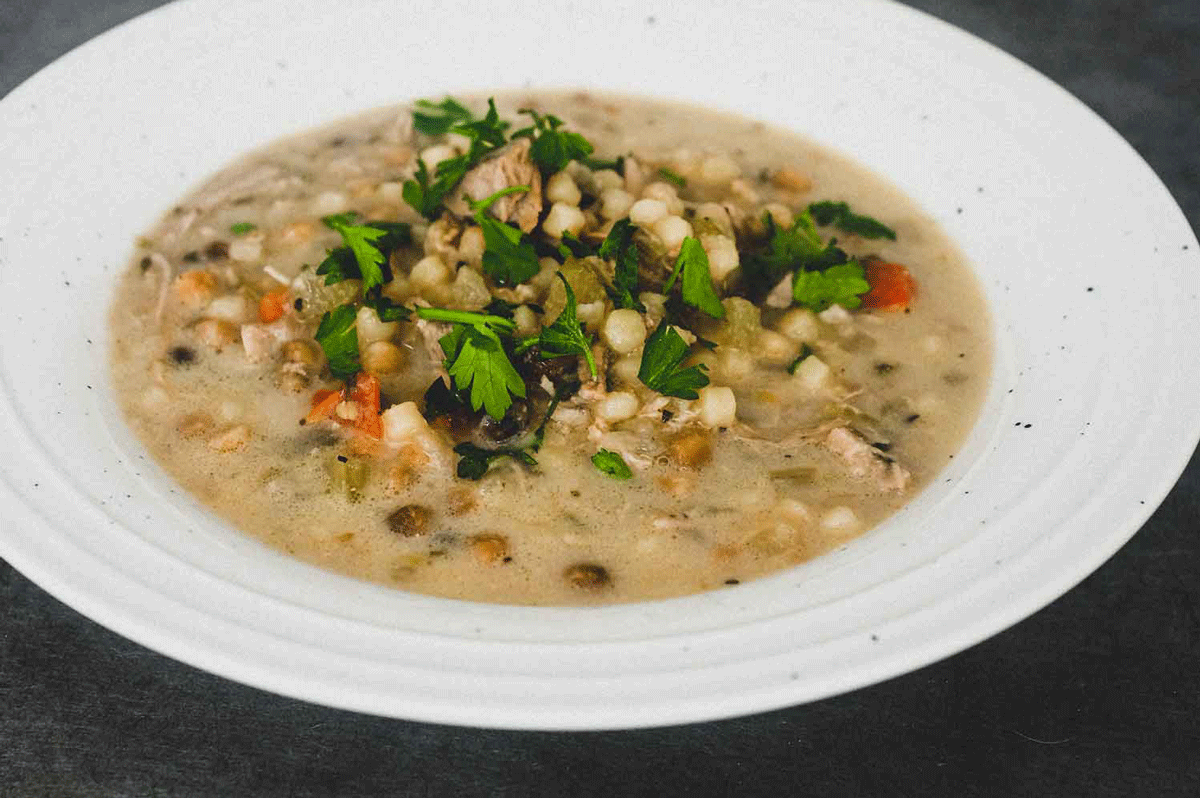 My Italian Chicken Soup with Fregola is a heady, creamy and deliciously filling soup from the Abruzzo region of Italy. Using the unique tiny shaped pasta balls known as fregola. It's a chicken noodle soup, Italian style and absolutely intoxicating all-round. Rich in chicken flavour, filling and substantial. It will warm even the coldest of hearts all year round, but especially in the colder months.
A real surprise for me while traveling in Mexico City was this tasty Chicken & Sweetcorn Soup – handed to me in a market and devoured in seconds. A creamy, earthy and sweet little treasure that I make all the time. The sweetcorn plays centre stage to bring out all the freshness of the Mexican herbs and spices – the chicken adding a heartiness to ensure you're filled to the brim after a bowl or two. Sprinkle with fried corn tortillas for an even louder Mexican fiesta!
After a horrid day traveling in Turkey, this Suçuk & Black Chickpea Soup was one of the most welcome sights and tastes I've ever had. Warming every bone in my body while giving me a taste sensation. Simple and humble but packed with every authentic Turkish flavour there is! Turkish sausage (suçuk) brings its A-GAME to the soup creating a spiced, meaty flavour and texture that when combined with the black chickpea is a taste and visual sensation.
The most life giving soups are those that have masterfully navigated maximising flavour from the most humble of ingredients. This Chinese Beef Oxtail Noodle Soup delivers bigly! Animal bones are a great source of flavour and none more-so than beef oxtail. Stewed over hours (in the Instant Pot) this marvel of culinary science draws our every available millilitre of flavour from the beef. The rich, brown sauce is sticky, fragrant and sweet – not to mention beefy beyond belief. When combined with silky rice noodles and fragrant spring onion it makes for a filling, rich but not heavy soup. A wonderful authentic Chinese creation.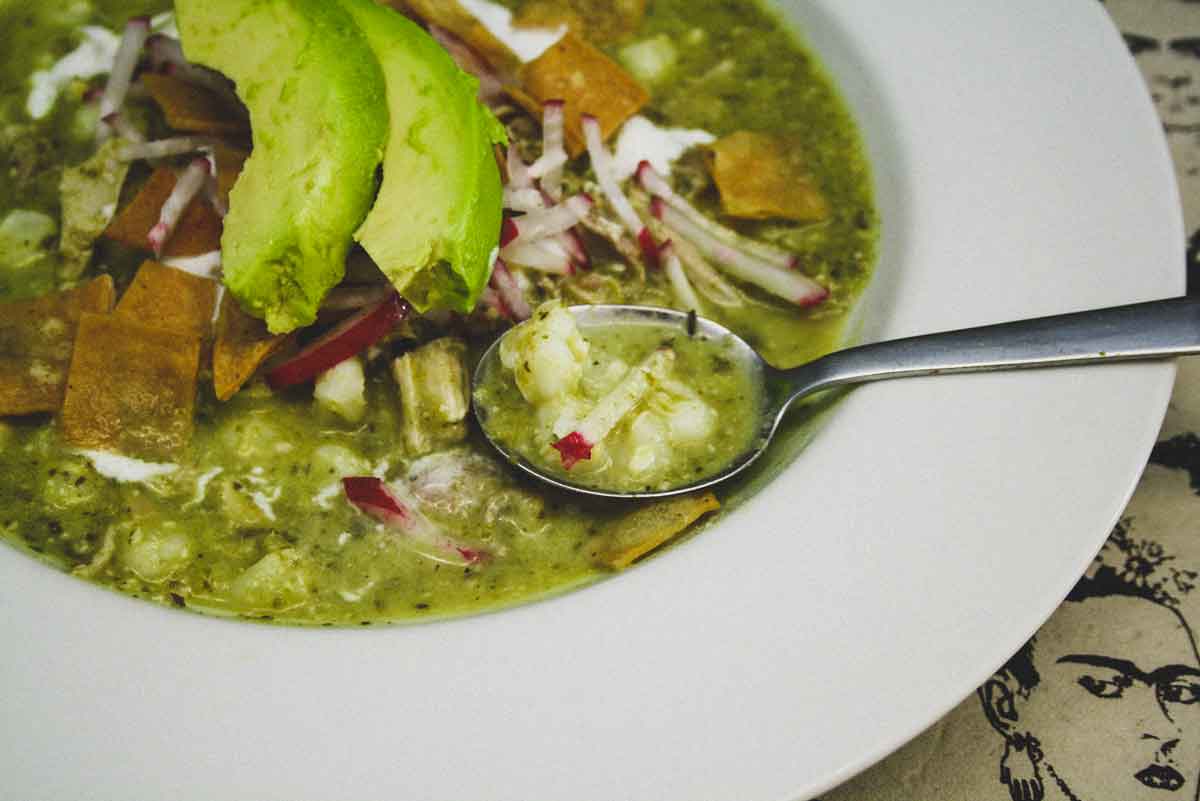 The Mexican Pozole Verde is one of the lightest, healthiest soups on my regular soup rotation. Packed full of literally every green vegetable and ingredient in Mexico it's a wonderful combination of sweet, sour and spice. On part of the magnificent Pozole family, Pozole Verde (green) uses the wonderful ingredient Hominy (soaked corn) to create a rich, light and filling soup. It's quintessentially Mexican and one of my most favourite soups to eat and cook. It's super simple to put together too.
This Italian Red Bean and Salami Soup is a clever little dish. Drawing flavour out of the smallest scraps of meat is a great way to make a super flavourful soup. If I have a bunch of salami end pieces, I'll use them as a soup starter to give me a solid base flavour – the secret to any great soup. Red beans, of course, make for wonderful soup ingredients and none more so than these wonderful red beans. Full of goodness and richness. The results a creamy, filling and tasty soup for any time of the year.
Pozole Rojo or Pozole Verde or even Pozole Blanco? I'm torn as to which is my favourite! Mexican Pozole Rojo (red) soup is a wonderfully rich and vibrant soup. Hearty from the pork, smoky from the heady blend of chipotle peppers in adobo and FILLING from the puffy corn hominy. It's not difficult to see why Pozole Rojo is one of Mexico's most beloved dishes and my recipe couldn't be simpler. See for yourself…

Nothing comes close to Malaysian Prawn Laksa when I'm looking for life-giving-soup-heaven. Curry Laksa is probably my most favourite food PERIOD, let alone my favourite soup. The intoxicating aroma of a South East Asian Laksa leave me quite emotional actually! I'm never not the most excited I'll ever get when I'm headed out, or staying home with Laksa. Spicy, fragrant, coconut and rich. It's the most perfect soup ever created – and good news is – it's not difficult to make at home! Everyone should try curry laksa at least once in their life!
The words 'Everyone gets their own chicken' is all I needed to hear when I first tried this amazing Korean Sangyetang (Ginseng Chicken Soup). Herbal and fragrant – light, yet filling it's the perfect soup any time of the year. Koreans eat Samgyetang during the summer months to 'fight heat with heat' but you can enjoy it year round. It's one of the most delightful soups of the year so far and really quite easy to make at home yourself.
This Spanish inspired Smoked Lamb and Bean Soup uses all my favourite flavours in one. A comforting combination of smoked lamb (you can use any smoked meat) along with a mix of delicious creamy, health giving beans. It's a wonderful warming soup for the colder months, but a great soup to have in the fridge or freezer for a quick, filling lunch any time of the year – including the height of summer!
More International soup recipes
I cook soup at least once a week and there is always a steady of supply in my fridge and freezer. They're often just throw-together recipes that don't really fit within the Cook Eat Blog scope of showcasing classic and authentic dishes from around the World. But I regularly focus my soup making to feature such dishes. More will come, and if you have a soup from around the world you want to see, just let me know! Similarly, if you have any great International soup recipes you'd like to share – I'm all ears!