The
Best
Vegan Recipes in the Cook Eat World
A meat-free life doesn't have to sacrifice flavour and texture. Plants offer so much; colour, flavour and texture are in abundance! My favourite vegan recipes from around the globe will open up a world of new tastes and experiences.
More and more, the world is turning to a plant-based life of food. While I'm not vegetarian or vegan, I AM obsessed with vegetables and everything non-meat! On average, half my week is meat-free, so I'm looking for ways to fill up my plate and belly. The majority of my life is spent discovering new and interesting vegan recipes and I share my favourites right here. Wonderful vegetable sides, legumes, lentils, tofu and more are always on the menu and span the globe in their inspiration.
Millions of people around the world follow a meat-free life and there is an overwhelming selection of tasty, filling and easy recipes at your disposal. But, it can be a little intimidating to know what to cook and how to cook it; thankfully, I've selected my favourite vegan recipes from www.cookeatworld.com for your viewing (and eating) pleasure.
Where YOU will travel is your decision, but know that all my best vegan recipes are tried, tested and universally loved in my household. Enjoy!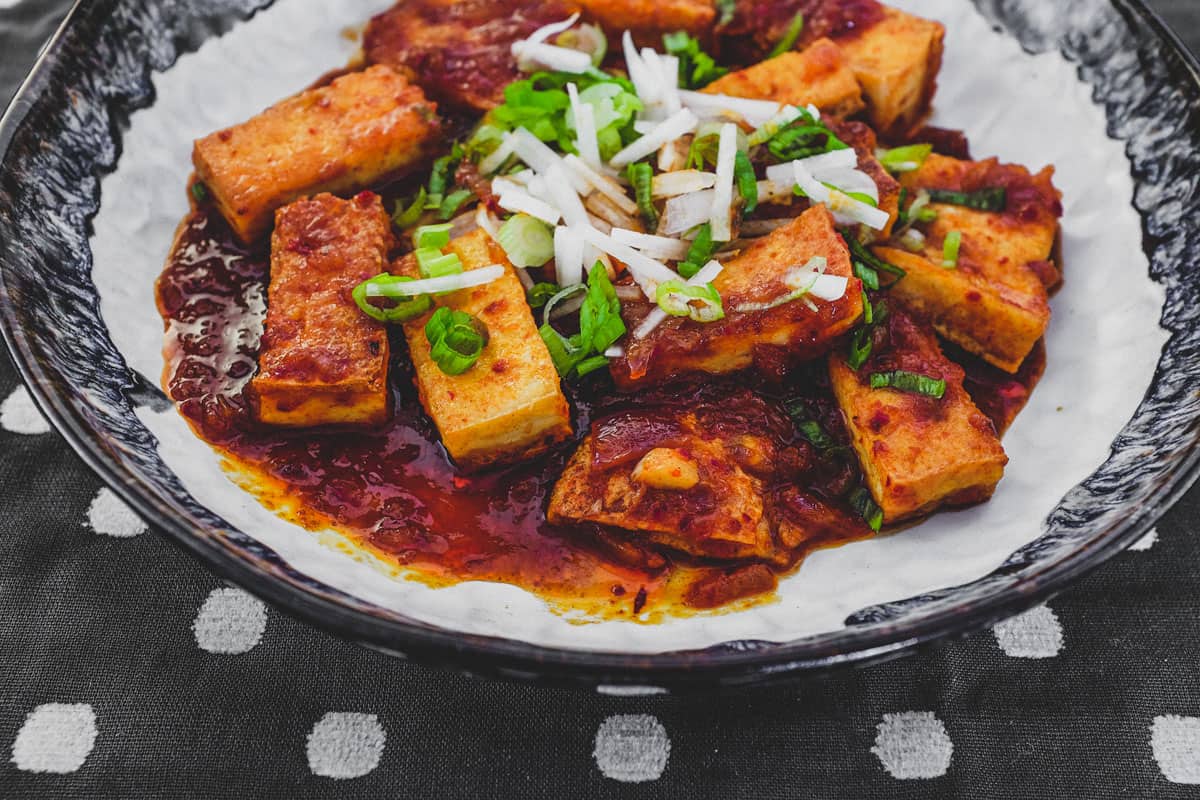 Korean Braised Tofu - Dubu-Jorim | 두부조림
Crisp and soft tofu sites in an intoxicating and vibrant chilli sauce. There's a world of flavour in this Korean Dubu Jorim recipe. Learn how...
View recipe
Fennel & Apple Salad
A crunchy, sweet and tart aniseed spectacluar. This salad has it all - flavour and a wonderful summer crunch!
View recipe
Beetroot Couscous
A vibrant festival of pink brings not only a visual delight, but a sweet, earthy flavour like no other - learn just how simple this Israeli side dish is to create yourself at home.
View recipe
Cous Cous with Roasted Cauliflower & Garlic
This simple Moroccan inspired cous cous featured charred cauliflower and soft, sweet roasted garlic. A herbaceous, healthy and flavourful dish.
View recipe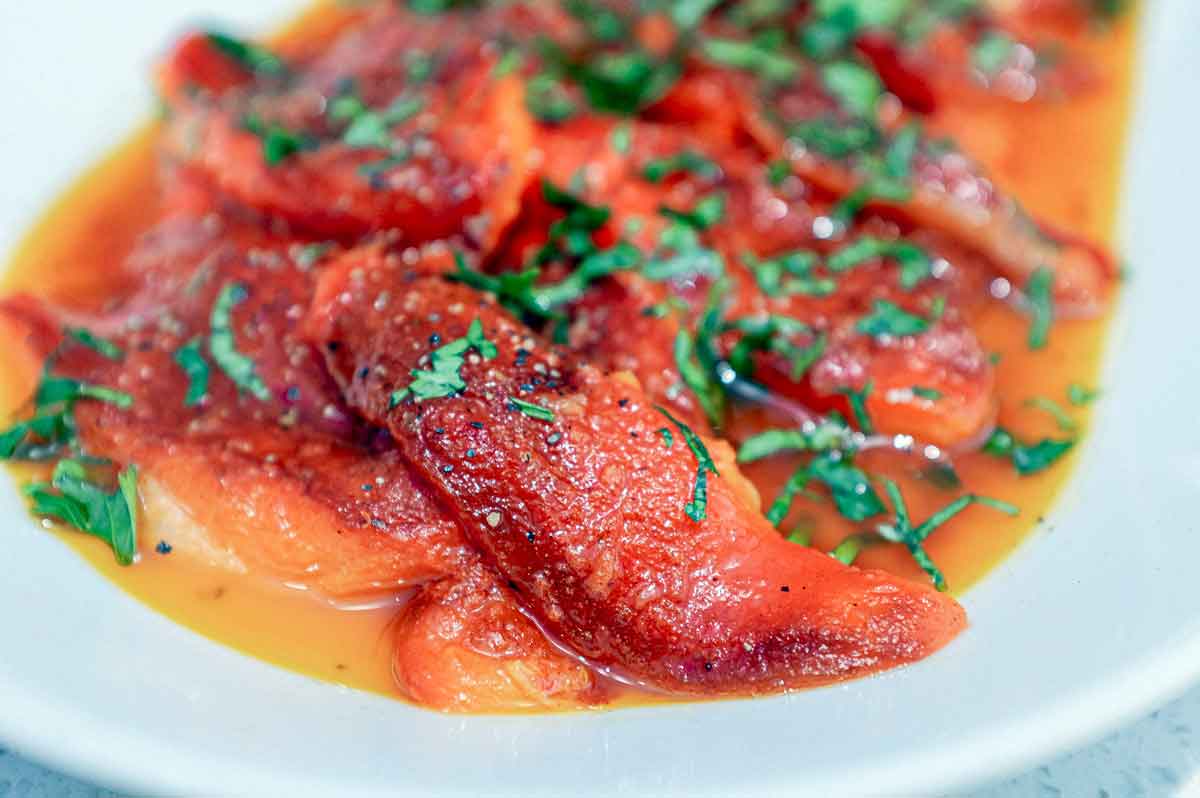 Spanish Roasted Red Pepper Salad
A simple, and effective sweet and smoky red pepper salad. Perfect alongside any Spanish inspired meal.
View recipe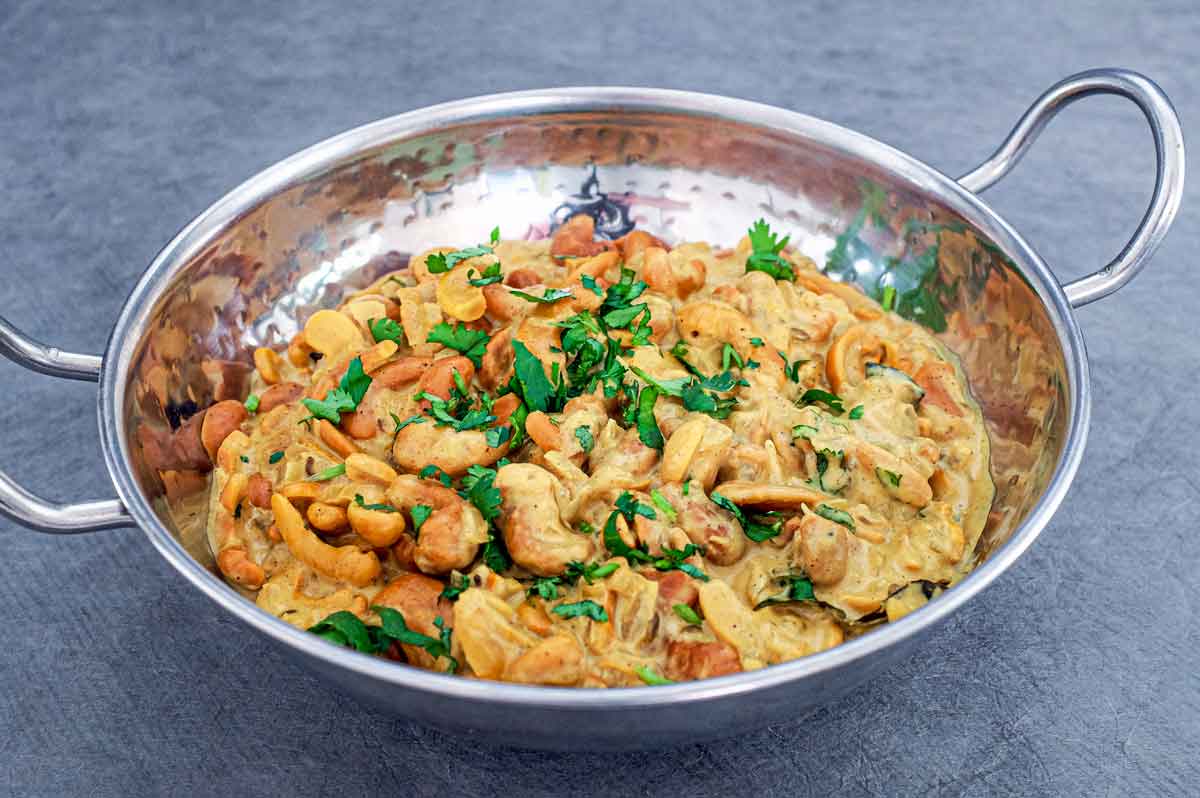 Cashew Nut Curry (Kaju Maluwa)
Are you ready to go nuts for this rich, creamy South Indian and Sri Lankan cashew curry? Giving you fantastic taste, texture and colour. It's a creamy vegan curry dream!
View recipe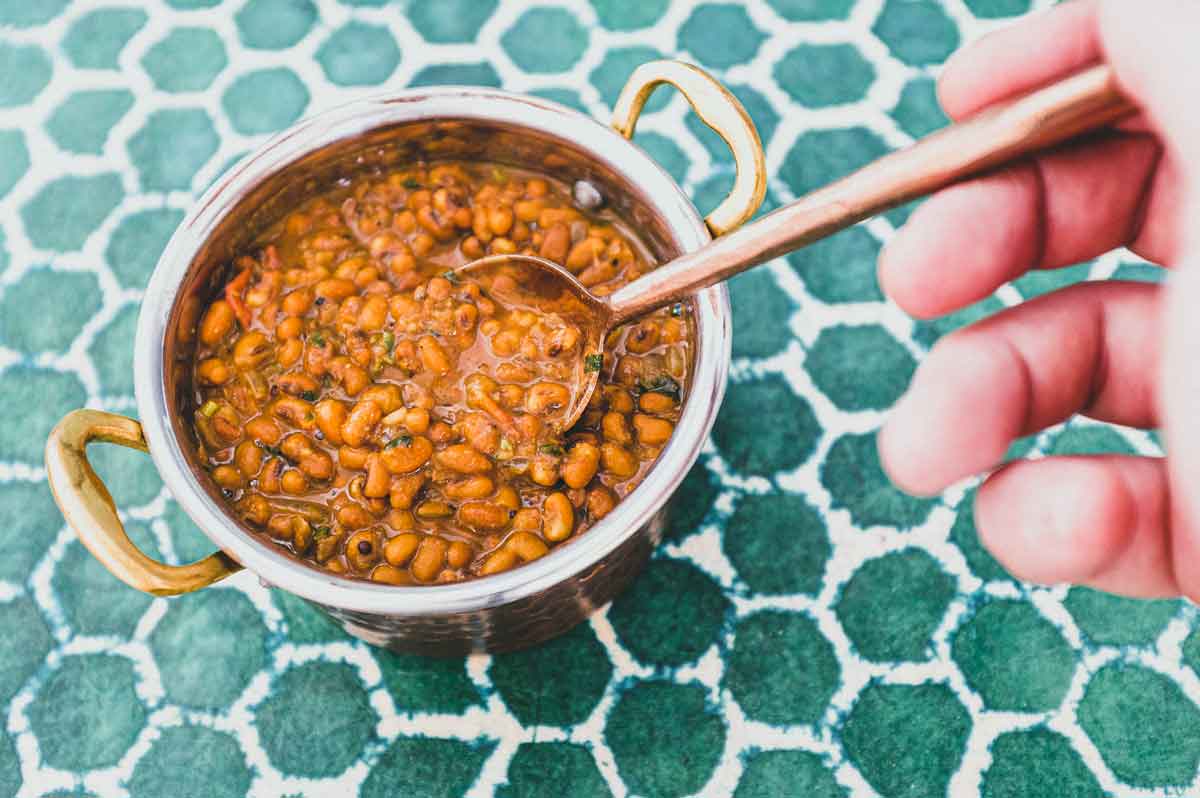 Red Moong Dal Curry
A heart, healthy vegan dal curry, jam packed with Authentic Indian flavour and texture.
View recipe
Methi Mushroom Masala
Rich and meaty - this super fragrant fenugreek flavoured curry is a dreamy, creamy curry delight.
View recipe
Rajma Chawal (Kidney Bean Curry)
A simple, nutritious vegan curry. Full of flavour and goodness.
View recipe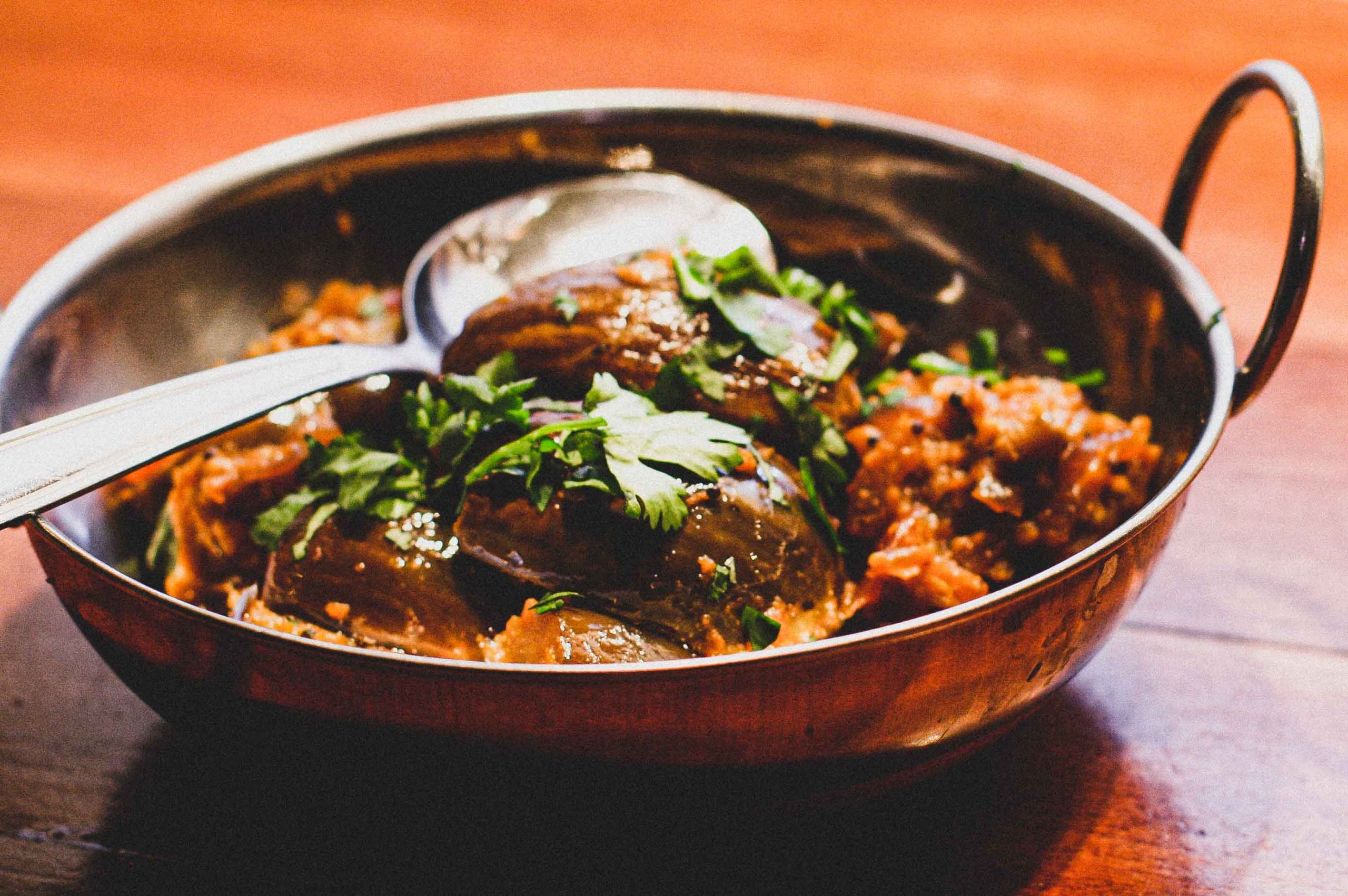 Aloo Baingan – Indian Potato & Eggplant
A creamy, rich and healthy vegetarian Indian curry. Perfect on its own or as part of a larger Indian feast.
Saag Aloo (Spinach & Potato Curry)
This simple and simply delicious Indian vegan treasure is a sensation in colour, flavour and texture. A warmly spiced, rich and decadent dish for any occasion. Learn how to make it at home...
View recipe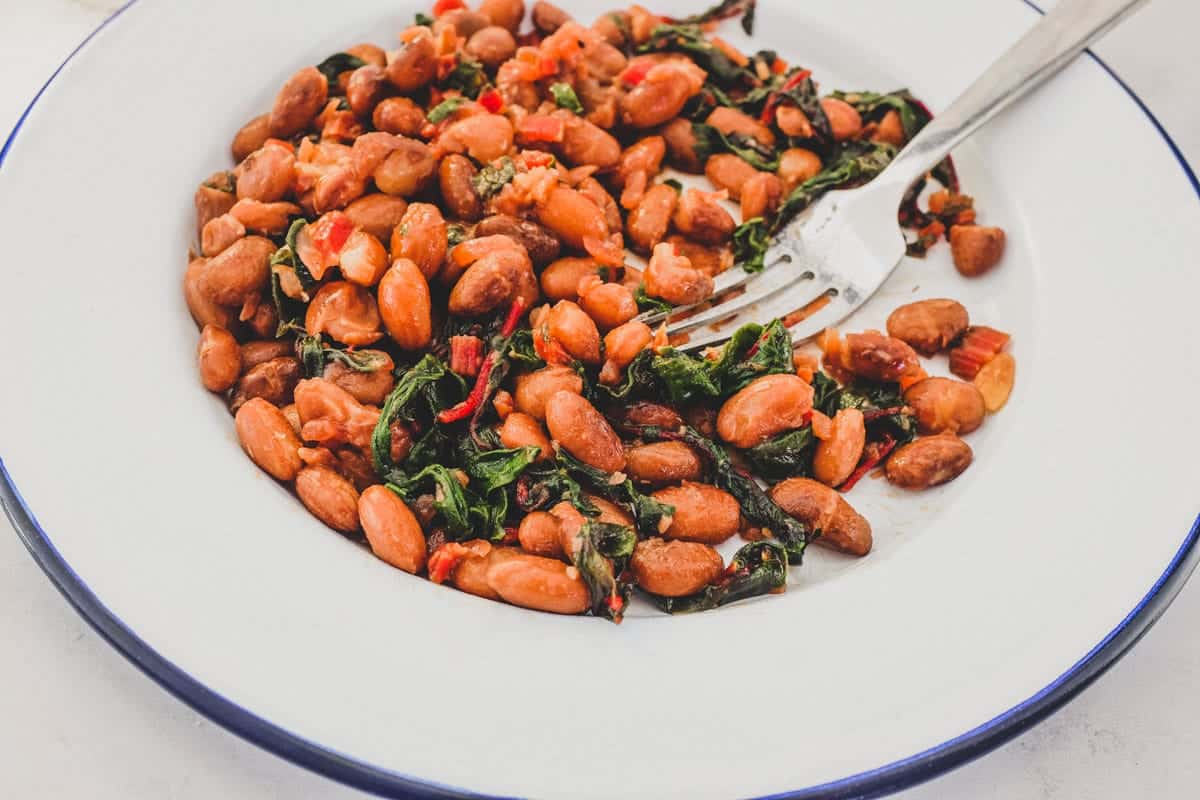 Borlotti Beans with Chard
A fantastic, filling bean dish that's the perfect partner for so many Italian dishes - super tasty, super nutritious and super easy!
View recipe
Turkish Green Beans (Zeytinyağlı Fasulye)
This simple and simply delicious Turkish style vegan dish makes excellent use of both tomato and green beans. A light, bright and colourful side dish or mezze plate. Learn how to make it at home with my easy to follow recipe.
View recipe
Muhammara
This amazing and vibrant Syrian dip is a cornucopia of flavours and textures. A melding of red pepper, walnut and finished with a pomegranate molasses. It's a sweet, sour, savoury and incredibly creamy dip. Perfect with breads, vegetables or chips.
View recipe
Lucien Gaudin Cocktail
A riff on the classic Italian Negroni, only slightly sweeter, lighter and brighter. A burst of herbal, floral bitterness! If you love a negroni, you'll appreciate this too.
View recipe
Tried any of my Vegan recipes?
How were they? Let me know in the comments below and be sure to tag @cookeatworld on Instagram.