Mexican Chicken and Sweetcorn Soup
Inspired by a trip to a Mexican market in Mexico City, I recreated a soup I guzzled. A sweet and spiced chicken soup – rich, creamy and completely intoxicating. Learn how to make sweetorn the star of the show with this amazing and simple chicken soup…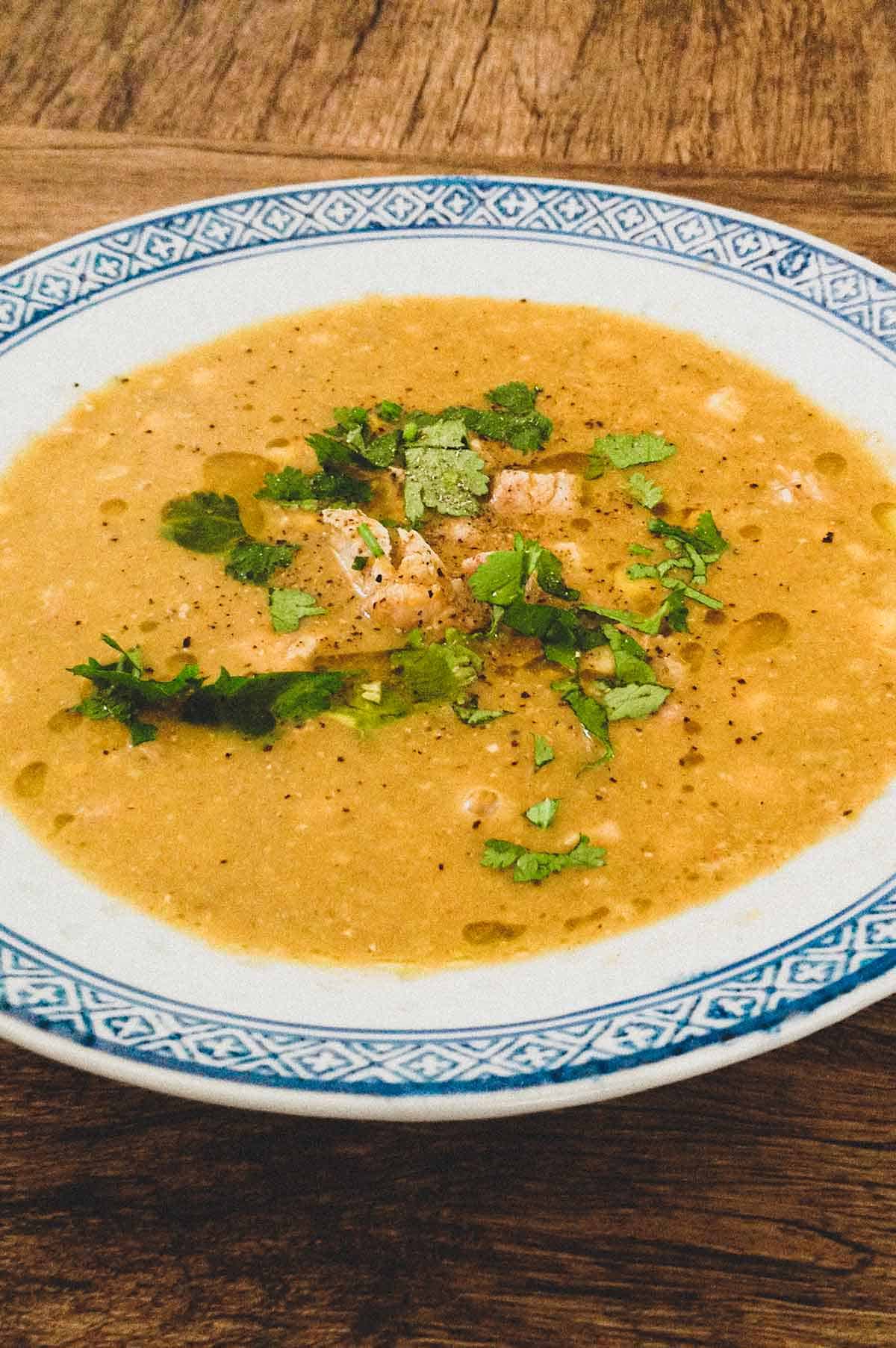 Eating this Mexican Chicken & Sweetcorn Soup takes me back to Mexico City where I first tasted it. I'd been trailing around the city all morning on a sightseeing odyssey. It was mid afternoon and I was stuck in a museum I didn't want to be in. I was growing hangrier by the second. There's nothing less fun than looking at ancient Mayan artefact after ancient Mayan artefact when all you want in life is a taco. I made my plight known to my other half and he knew it was best to get some food into my mouth before I started stamping my feet.
Hangry emergency averted - eventually
Instead of heading directly to the FIRST person selling food that we could see, I was begrudgingly persuaded (bundled) into a taxi - headed to the famous La Merced - a GIANT market complex, which is roughly the size of the World - It offered more food than I have ever seen in my life. "OK, now feed me!" I silently screamed. We walked about a mile into the centre of the market to a mammoth food court. My cries were answered.
Chicken and Sweetcorn Soup, Mexican Style
We settled at a small vendor stall, with even smaller stools at a tiny bench. We sat/squatted at the bench trying not to obliterate the dainty plastic stools. We looked like two giant little girls having a very awkward tea party.
An unamused woman at the stall began to tell us what they offered. As I pulled out my phone to Google translate she wandered off. 30 seconds later she returned with a big cup of soup... but still no smile. The soup was an absolutely delicious creamy blended corn soup with a hunk of roasted chicken resting on top. I've never been happier in my life.
It was a slightly spicy soup, with an earthy sweetness from the corn. It was such a triumph! Maybe it was just relief at finally eating, but it's one of the most delicious things I've ever tasted (I say this about every meal).
We followed this with some dubious/terrifying tacos that featured gelatinous parts of animals I'd never dreamed of eating - nor intend ever eating again, but nothing can take away from the flavours of that soup. I've made my own version at home on many occasions and now that I'm in the USA, where the corn is some of the best in the World, this soup is growing closer and closer to the Mexican version.
More Mexican recipes
I just love Mexican food! I especially like to cook Mexican style - I live in a predominantly Mexican neighbourhood so the ingredients are plentiful. Some of my most favourite dishes are from Mexico. Why not try one of my all time favourite soups Posole Rojo or Posole Verde... red or green, both are delicious! And I can't wait for you to try one of the best street foods on the planet from Baja California; Baja fish Tacos from Ensenada - simply put, they are a sensation!
How to make my Mexican Chicken and Sweetcorn Soup
Mexican Chicken and Sweetcorn Soup
Rate this recipe
Print Recipe
Pin Recipe
Calories (per serving) |
489
Ingredients
3

tbsp

vegetable oil

1

onion (diced)

1

carrot (diced)

2

garlic cloves (chopped)

1

tsp

dried oregano

4

whole chicken thigh fillets (boneless & skinless)

1/2

tsp

chilli powder

1

tsp

ground cumin

1/4

tsp

ground nutmeg

1

tsp

salt

5

stems cilantro (leaves and stalks - chopped)

4

cobs of corn (remove corn from the cob).

4

cup

chicken stock/broth

1

lime (juice of)

Fresh cilantro (for garnish)
Instructions
Heat the oil in a large pan over a moderate heat until hot. Add the onion, carrot, garlic and oregano and fry gently for 4-5 minutes until soft.

Add the chicken and fry on each side for 2 minutes. Add the chilli, cumin, nutmeg, salt, coriander and pepper and stir well. Add about two thirds of the corn and set aside the rest. Now add the chicken stock. Bring this to a boil then reduce the heat to low. Cover the pan and simmer gently for 45 minutes.

Remove the chicken pieces and chop into smallish chunks then set aside.

Using a stick blender, blend the soup into a smooth texture. Return the chicken to the pan and then add the remaining corn. Bring back to a simmer then remove from the heat. Check for seasoning then serve hot.
Nutrition
Calories:
489
kcal
(24%)
|
Carbohydrates:
23.2
g
(8%)
|
Protein:
30.9
g
(62%)
|
Fat:
31.2
g
(48%)
|
Saturated Fat:
8.3
g
(52%)
|
Cholesterol:
127
mg
(42%)
|
Sodium:
1038
mg
(45%)
|
Potassium:
397
mg
(11%)
|
Fiber:
3.7
g
(15%)
|
Sugar:
5.2
g
(6%)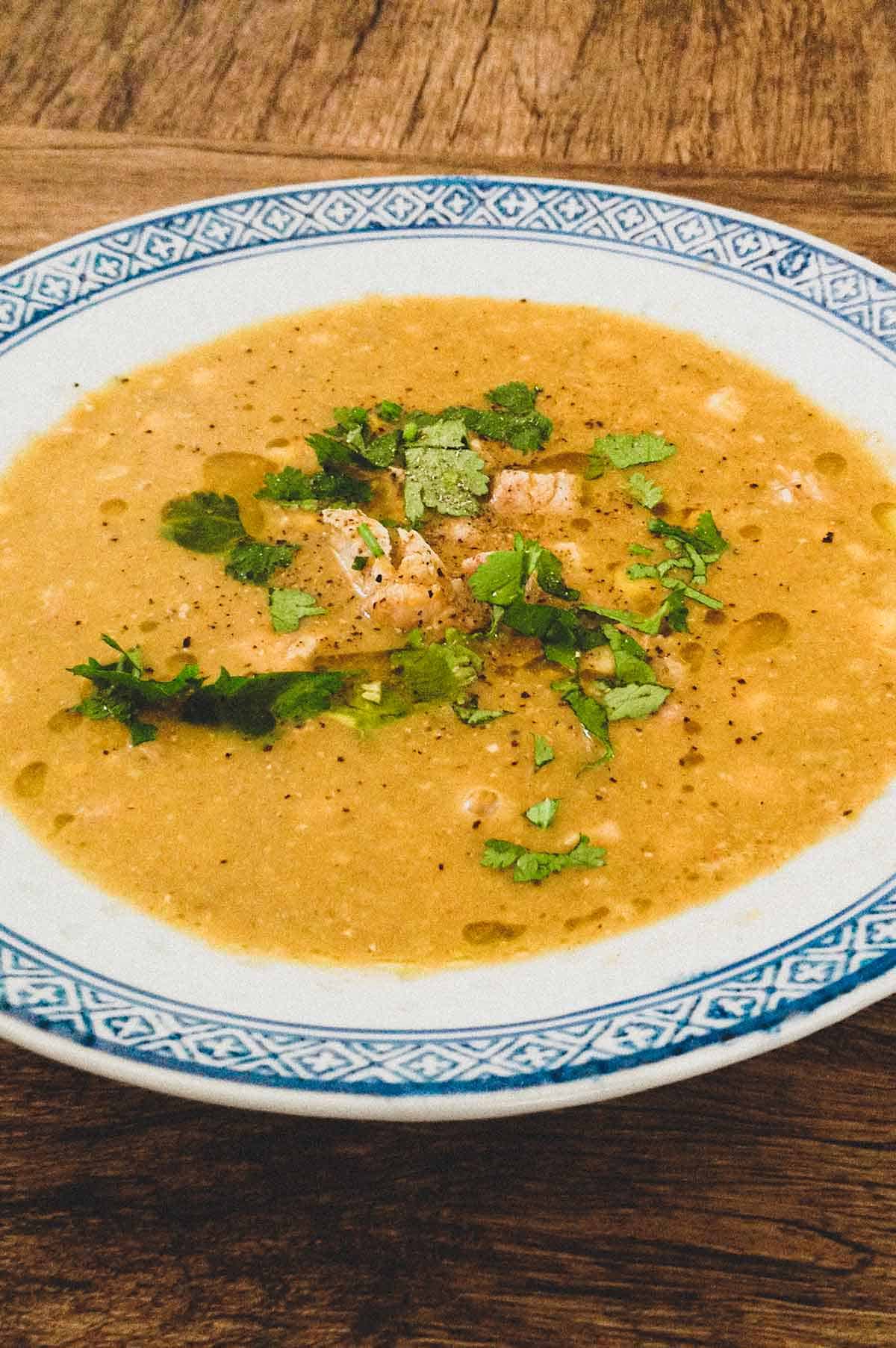 Did you make my Mexican Chicken and Sweetcorn Soup?
How did you go? Let me know in the comments below and be sure to tag @cookeatworld at Instagram.