Smoked Lamb & Bean Soup
Smoked and cured meats (in this recipe I used smoked lamb) are the perfect base for soups. This dish brings a combo of borlotti and cannellini beans to help beef up the texture and heartiness. The results will warm the coldest of hearts! Get the recipe…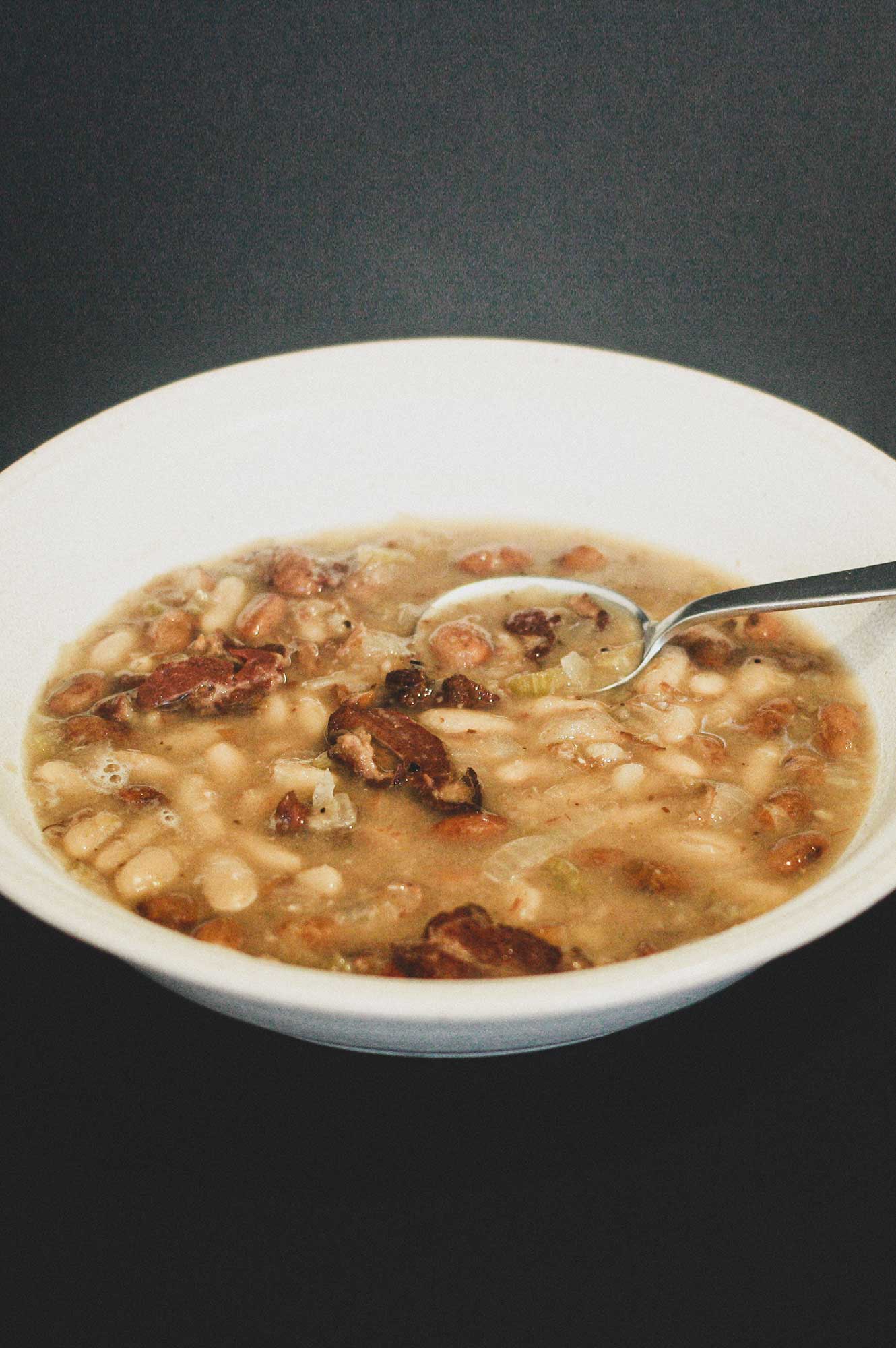 My Smoked Lamb & Bean Soup came to be after a trip to my favourite shop here in Vegas. The giant International Marketplace, which sells ingredients from literally every corner of the World. It's a mammoth, warehouse-sized space sectioned by country, and it's quite literally the best place for a food lover to visit.
I never come out of that place without having spent in excess of $200 on mystery items, old favourites and hard to come by essentials like Aussie Vegemite!
On this visit, I happened upon an interesting smoked lamb in the cured meats section. The label said 'Product of Italy' on it so I unthinkingly popped it in my ever growing cart and pressed on to the next whim purchase. This is a typical shopping characteristic of mine. Shop first, research later - upon researching smoked lamb, there wasn't much in the way of anything, so I went a little freestyle with it.
When in doubt, soup it!
After drawing a blank online, I remembered a Tuscan Lamb & Bean stew I cook often, a traditional Italian recipe. This was my starting point for this soup. Usually with a soup I'll use a smoked pork hock for flavour, but I knew this lamb, which was actually quite strong in flavour, would do the trick too. Creating a good base to any soup is imperative, it's the launching point to building flavour. A good soup should always have an anchor. If it's a meat based soup, like this one, that flavour will permeate all the other ingredients. If it'a vegetable based soup, I like to reduce a stock by about 50% first to concentrate the flavours before layering in more.
Dried beans - perfect for soup
I just LOVE beans (and ate a LOT of them in Spain) so knew that a smoky cured meat would pair very well. After rummaging into the deep recesses of my store cupboard I happened upon two lonely looking packets of dried beans at the 'not quite enough for anything' stage. Together, they finally found a home. The beans I used were Heirloom Marcella and Red Beans - both from the amazing Rancho Gordo. Lamb stew with Cannellini Beans is the classic combo, but the Marcella beans were very similar so went in, and the red beans were not going to waste so they went in too!
When making soups, It's always a great way to use up bits and pieces from the cupboard and fridge. My soups are never quite the same each time - I'll invariably find a shrivelled package in the cupboard that gets incorporated or an 'on the turn' vegetable that gets chopped and added. There's no right or wrong option.
Beans bring a distinct texture and flavour to a soup, they enhance the creaminess and richness and of course add many many invaluable nutrients. Beans are also a great way to create a filling dish - beans are magical, I can't get enough of them.
The smoked lamb was, salty and rich. I knew it would impart all that smokiness into the soup - and I was right! It was indeed smoky and creamy. It was also deliciously warming and filling - it kept me going all afternoon. When making mine I used the Instant Pot to cut down time - cooking from dried beans is easy with the Instant pot, but you can of course adapt the recipe to use canned beans on the stove top and cook for less time. This soup would also be great in the slow cooker. Just pop it on in the morning and you'll have a delicious soup, come dinner time.
Serving suggestions and more soup recipes
Soup should always be served with copious amounts of bread, preferably a chewy, crusty sourdough. I get very sad if I don't have bread with soup. I'll generally just tear my slices into big chunks and throw them all in the soup at once, like giant sized croutons. That makes me very happy indeed. I also like to dollop in a spoonful of sour cream to my soup - it just enhances everything!
If, like me you're a big fan of soup, then you will love these other recipes! Try my Italian Red Bean & Salami Soup, or my Turkish Sucuk & Black Chickpea Soup. If you like chicken noodle soup, my Italian Chicken Soup with Fregola will knock your socks off. For something different, maybe try one of my classic Mexican soups using the wonderful corn ingredient hominy in my Pork Posole Rojo or Chicken Posole Verde.
How to make my Smoked Lamb & Bean Soup
Smoked Lamb & Bean Soup
Rate this recipe
Print Recipe
Pin Recipe
Calories (per serving) |
391
Ingredients
1

onion (chopped)

1

celery stick (chopped)

2

garlic cloves (chopped)

1/2

cup

cured smoked lamb (thinly sliced) (you could also use another smoked cured meat, like smoked pork hock, bacon or pancetta.

1

cup

borlotti beans (dried)

1

cup

cannellini beans (dried)

500

ml

chicken stock

Salt & pepper
Instructions
Using the Instant Pot, or in a large pan - sauce the onion, celery and garlic for 2-3 minutes until softened.

Add the lamb and fry for a further 5 minutes before adding the beans, bay leaves, chicken stock and 1 litre of water.

Cook on high pressure for 60-70 minutes using the Instant Pot Simmer gently for 2-3 hours over a low heat for traditional pan.

Continue until the beans are soft and creamy - this time can vary.

Once done, remove half the beans and using a stick blender or food processor blend them into a thick puree. Return this to the pan and stir through to create a creamier texture to the soup. Serve with lots of crusty bread.
Nutrition
Calories:
391
kcal
(20%)
|
Carbohydrates:
68
g
(23%)
|
Protein:
27
g
(54%)
|
Fat:
3
g
(5%)
|
Saturated Fat:
1
g
(6%)
|
Cholesterol:
4
mg
(1%)
|
Sodium:
199
mg
(9%)
|
Potassium:
1753
mg
(50%)
|
Fiber:
20
g
(83%)
|
Sugar:
4
g
(4%)
|
Vitamin A:
45
IU
(1%)
|
Vitamin C:
3
mg
(4%)
|
Calcium:
200
mg
(20%)
|
Iron:
8
mg
(44%)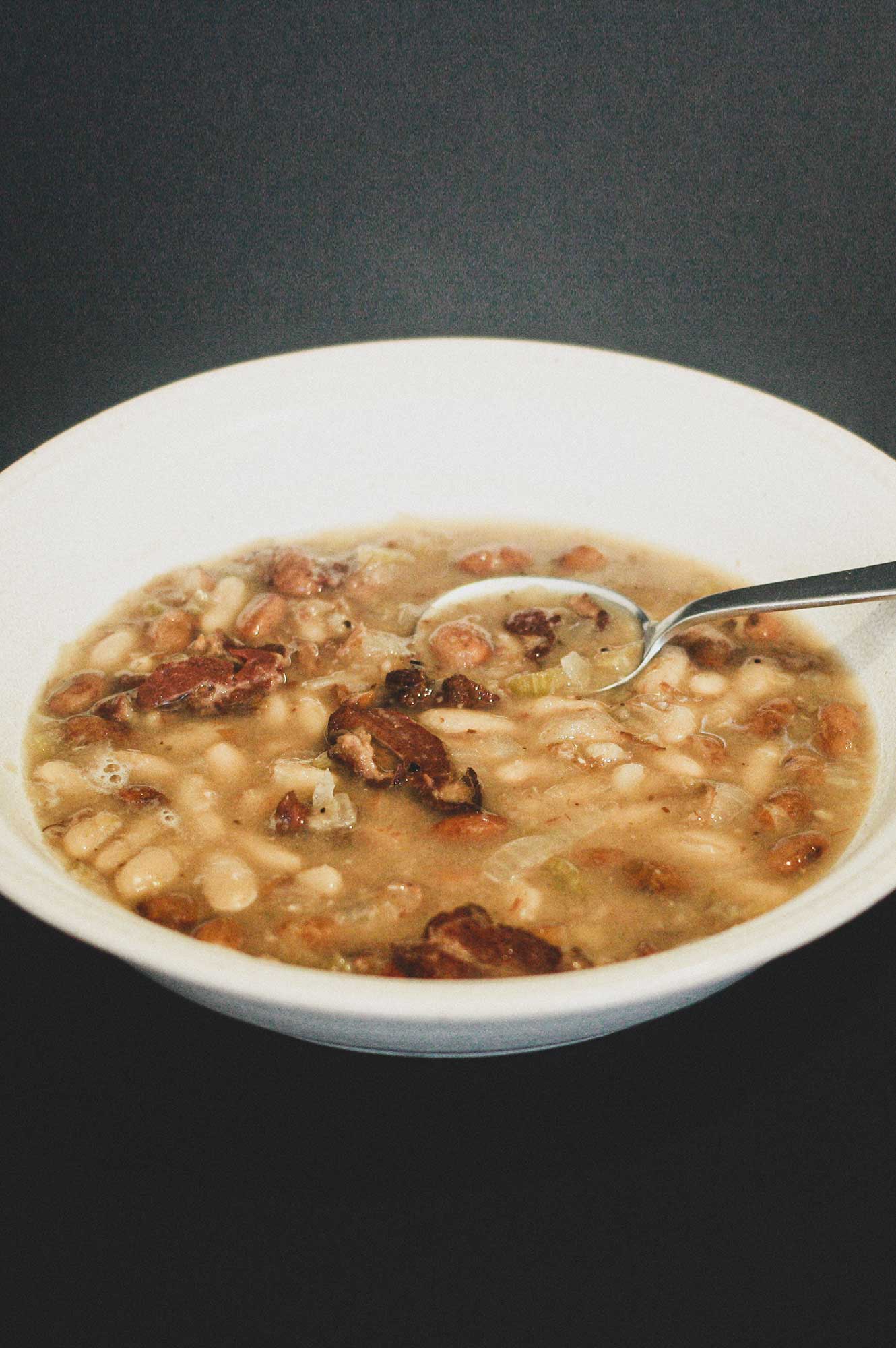 Did you make my Smoked Lamb & Bean Soup?
How did you go? Let me know in the comments below and be sure to tag @cookeatworld at Instagram.