Taiwanese Turkey Rice with Forbidden Rice
Whether you're buying Turkey for Thanksgiving, Christmas or neither, this Taiwanese Turkey Rice is joyous any time of year. There may few ingredients, but the flavours and textures are amazing. Whether you're using leftover bird or fresh, this turkey rice bowl is a triumph!
Twice a year the World begrudgingly buys turkey - Thanksgiving and Christmas. We're all too familiar with mountains of meat leftover. This dish can be created using either fresh or leftover meat - I'll describe each option in the recipe below.
But before all that, let's talk about this National Treasure. It's a very popular dish in Taiwan - a simple, cheap offering to prepare. In Taiwan, rice bowls are popular - none more than the mind-bendingly delicious Lu Rou Fan - a meltingly stewed pork belly over rice that is beloved by the entire nation (and me). This is a similar, but simpler version.
Extracting all the flavour from Turkey skin and bones
This dish extracts as much flavour from the bird as possible, firstly the skin and then the bones. The skin creates a turkey 'schmaltz' and the bones a fragrant broth - when the two are combined and reduced, the flavours are an intensified turkey greatness.
Forbidden Rice - a nutty accompaniment for the broth
Black rice, often called Forbidden rice, is a wonderful ingredient - it has a crunchier, nuttier texture and flavour than regular rice. I use a 2:1 ratio of white and black rice for this recipe to give a striking deep purple appearance and lovely texture. When paired with the tender, juicy turkey and sweet, meaty broth it's a combination sensation. It's an ideal dish for a cold winter's day - rice bowls are so comforting, and this is no exception.
The pinnacle of the rice bowl must be the garnish - the fried turkey skins! Left to my own devices, I would eat these by the handful. But if push came to shove, I'll settle for a light scattering. When you taste one with the other ingredients it's like a pop of turkey gravy in your mouth. Nothing short of miraculous!
Taiwanese Turkey Rice is so simple to make too, no tricky techniques, no roll-call of ingredients and no all-day wait! It's a simple, quick, flavourful delight. It's no wonder that it's so popular! What are you waiting for?
What is Forbidden Rice?
A variety of black rice, used throughout Asia in sweet and savoury recipes.

Why is it called Forbidden Rice?
It gets its name as it was once reserved only for the Chinese Emperor to ensure his health and longevity - and forbidden to anyone else.

Is Forbidden Rice healthy?
YES! Since black rice doesn't undergo any refining or processing, it is able to retain its antioxidants, vitamins, minerals, and fiber. Black rice also contains important antioxidant- Vitamin E, which is useful in maintaining eye, skin, and immune health.

What's the best way to cook Forbidden rice?
I soak mine for 30 minutes first, to reduce the cooking time. Then I cook as normal in my rice cooker or on the stove using the absorption method.
More delicious Asian Rice Recipes
If you liked this rice bowl, try one of my other favourite Asian Rice Dishes.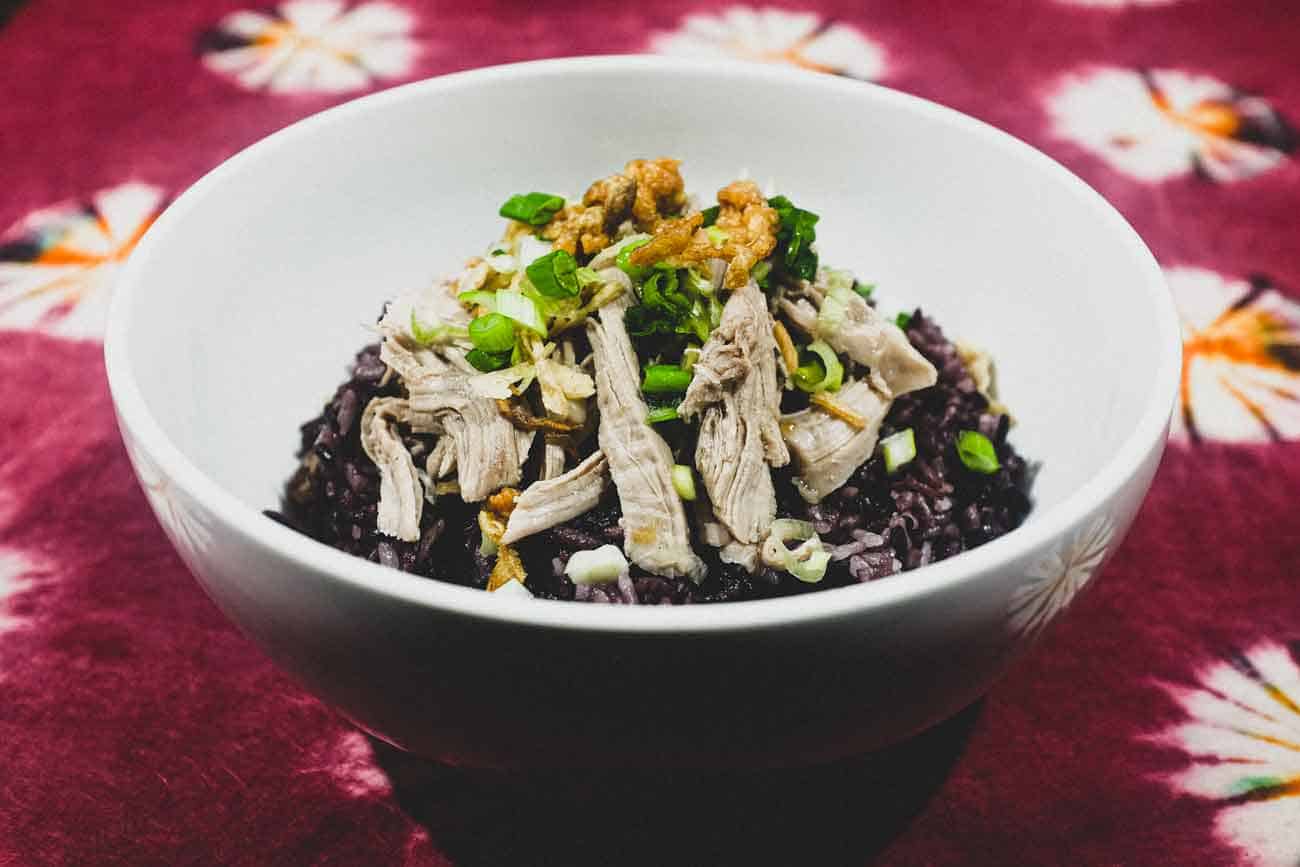 Taiwanese Turkey Rice with Forbidden Rice
Rate this recipe
Print Recipe
Pin Recipe
Calories (per serving) |
551
Ingredients
Fresh turkey version ingredients
Leftover turkey version ingredients
3

cup

turkey meat

2

cup

turkey bones/carcas (cut into small pieces)
Instructions
Start with the rice
Black rice takes a little longer to cook, so we help it along by soaking it in water for 30 minutes. Once soaked, drain and add to a rice cooker or pan. Rinse the white rice until all the excess starch has drained away. Add this to the rice cooker or pan too. Give it a light stir to combine. If you're using a rice cooker: Add water to level 2 and cook. If you're using a pan, add 4 cups hot water and bring to a boil. Reduce the heat to low and cover. Cook without stirring EVER until all the water has evaporated and the rice is just starting to catch on the bottom of the pan. Remove from the heat, cover the pan with a clean tea towel and return the lid. Let it rest until you're good to serve.
Fresh turkey version
Remove the skin from the turkey thigh, don't throw it away! Place the thigh in a pan, just large enough to house it and pour in just enough water to cover. Add the Sichuan and black peppercorns and one of the spring onions/scallions, whole. Turn on the heat and bring to a boil. Pop on a lid and reduce the heat to low and cook gently for 35 minutes.

Meanwhile, chop the turkey skin into small pieces and place in a small cold frying pan. Turn on the heat to medium and let the turkey skins start to fry. We want a medium temperature so that the fat will render and the skins crisp. After about 5 minutes, the skins should be golden and the fat rendered. Remove the skins from the pan and drain on paper towels. Retain the rendered fat, we're adding some to the gravy for flavour.

When the turkey has cooked, remove it from the pan to cool for 15 minutes. Strain and discard the solids from the stock. Place the stock back on the stove and turn up the heat. Add the soy sauce, sugar and about 2 tablespoons of turkey fat. Let it simmer for 10 minutes to reduce and intensify the flavour.

When the turkey thigh is cooled enough to handle, strip off the meat and discard the bones. Tear the meat into small strips and set aside.
Leftover Turkey version
Strip about 2 cups of turkey meat from wherever you like on the bird and set aside.

Take some of the turkey bones and carcass - enough to fill 2-3 cups and carefully chop them up a bit with a meat cleaver or large knife. Put them into a medium sized saucepan and cover with around 3 cups water. Add the Sichuan and black peppercorns and 1 spring onion/scallion. Bring to a boil, reduce the heat to low and cook gently for 40 minutes. Strain the bones and solids from the stock and discard. Put the stock back on the stove and add the soy sauce and sugar and simmer to reduce for 10 minutes over a medium heat.
Finishing the Taiwanese Turkey Rice
In a Asian rice bowl, Add a helping of rice, then arrange 1 cup of turkey meat. Ladle over some sauce (about 2 ladlefuls) then sprinkle with spring onion/scallion, fried onions and if you made the turkey fresh, some fried skins. That's it!
Nutrition
Calories:
551
kcal
(28%)
|
Carbohydrates:
63
g
(21%)
|
Protein:
55
g
(110%)
|
Fat:
8
g
(12%)
|
Saturated Fat:
2
g
(13%)
|
Cholesterol:
141
mg
(47%)
|
Sodium:
1304
mg
(57%)
|
Potassium:
686
mg
(20%)
|
Fiber:
3
g
(13%)
|
Sugar:
3
g
(3%)
|
Vitamin A:
242
IU
(5%)
|
Vitamin C:
3
mg
(4%)
|
Calcium:
54
mg
(5%)
|
Iron:
3
mg
(17%)
Did you make my Taiwanese Turkey Rice with Forbidden Rice?
How did you go? Let me know in the comments below and be sure to tag @cookeatworld at Instagram.