We're in Italia!
In September we made the move from Las Vegas, Nevada to Abruzzo Italy. Find out how my blogging journey is changing to life on the road. And how Shirley the dog is adapting to her new Italian home!
This year was the year of BIG changes to us here at Cook Eat World! We decided that after 7 years in the USA, Las Vegas had served us well but that it was time to move on! Neither myself or my husband Brendan wanted to go back to Australia right away, so we settled on Europe, and Italy in particular.
Having a family home (his late grandparent's) at his disposal in the Abruzzo region seemed like the perfect option for us as a family (me, Brendan and Shirley the dog). So, we sold our lovely Vegas mid-Century home and flew to Rome, ready for the new adventure.
Where is Introdacqua?
Only 2 hours out the capital is the tiny village of Introdacqua in Abruzzo. An often overlooked area of Italy, Abruzzo stretches east to the coast over the Apennine Mountains to the Adriatic Sea, across the greenest part of Italy and the magnificent Majella National Park. The region hosts many spectacular villages perched high on mountainsides. Everywhere you look all manner of culinary spectacles are being proudly served – from delicious pastas and pizza to the juiciest lamb and freshest seafood, Abruzzo has some of Italy's most delectable offerings, and from the first moment, we hit the ground eating!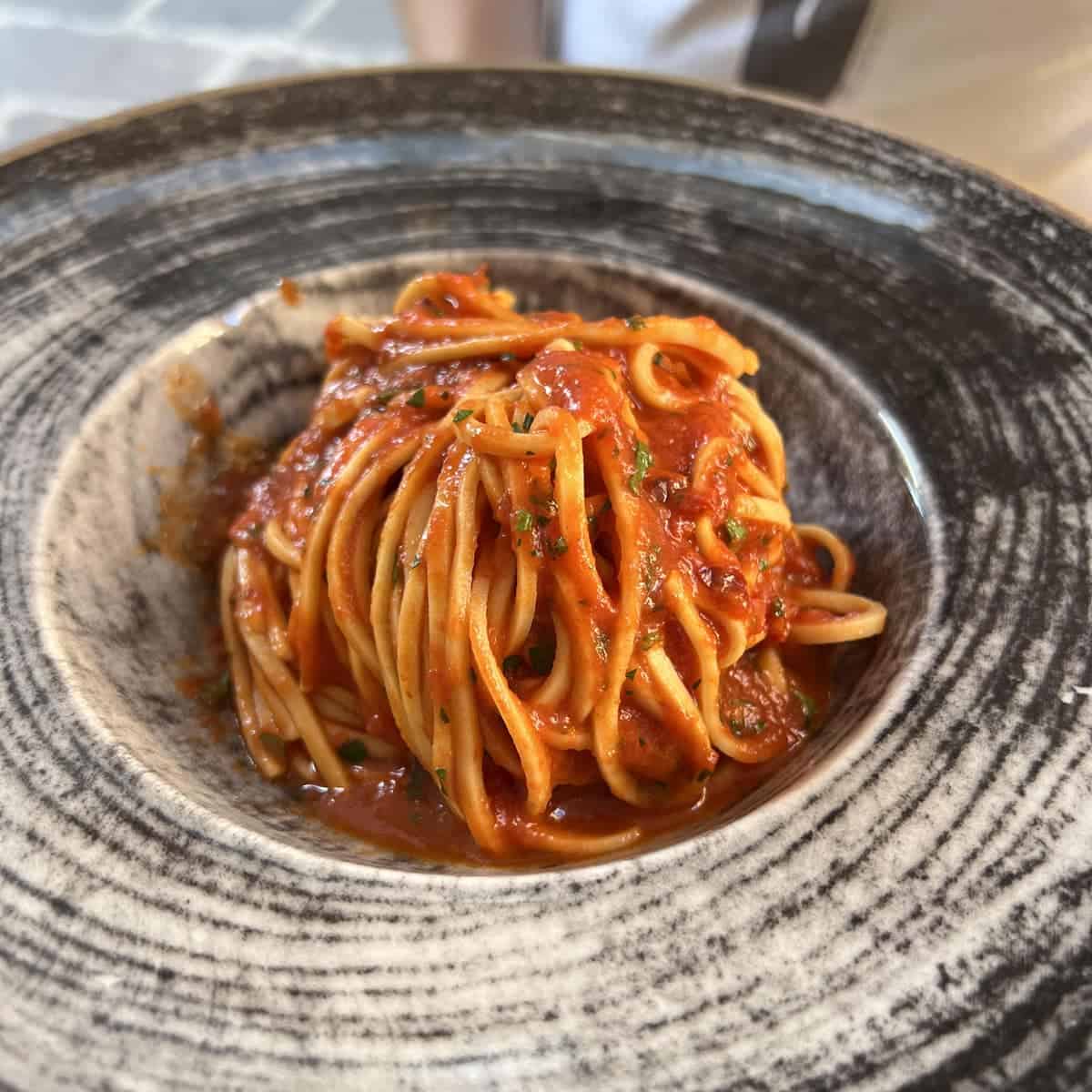 There's been so much food 'research' done that there's been little time to blog new recipes. That was compounded by the obstacle of installing Internet to a tiny house in a tiny village up a not so tiny hill. Luckily we finally conquered Italian bureaucracy and Internet became reality and we were finally reconnected to the World again. In the meantime we get to experience just a tiny slice of the beautiful Abruzzese region. Shiely is LOVING it! A far cry from the Nevada desert.
Back to blogging
Now that we're settled, food blogging has resumed. Mainly updating old posts to help with SEO and ranking, which is going very well. Numbers are up and I'll be starting to make a living out of this blogging game in the very near future. The funny thing is, most of the cooking I'm doing at home is Asian food! I've cooked more curries than anything, as we're both missing Thai, Indian, Chinese, Malaysian and Vietnamese! It's virtually non-existent in Italy! I found some Asian stores in a nearby town so am cooking my own recipes to satisfy the cravings.
With all that said, I'm experiencing some amazing food that will indeed make its way onto the site, an amazing bread dish with cheese and eggs, Italy's answer to quesadillas and the most insanely tasty risotto, all of which will come soon!
Next on the horizon
As much as we'd love to stay here forever, we're only allowed to stay for 3 months this visit (thanks Brexiteers!), so we're leaving in a few weeks for a road trip through Italy, Switzerland, Germany and France to take the ferry to the UK (returning to the homeland after almost 20 years). We'll drive through England to Scotland's capital Edinburgh, where I used to live. Thankfully, I sensibly held on to my tiny apartment in the New Town, so we have somewhere to live! Shirley will be one well travelled dog!
But first, I have to soak in as much as is humanly possible of everything Italy has to offer. We're off to Naples in Campania and Lecce in Apulia in a few days, so that sounds like a great place to start! Stay tuned for my version on some of the culinary treats I've been enjoying in the coming weeks and months.
Ciao Ciao and stay tuned…
Lee