How to Make Fresh Egg Pasta
Learn How to Make Fresh Egg Pasta! It isn't difficult to make at home! I've been making my own for years and it's really not a chore.
Making fresh pasta at home is as easy as mixing egg and flour! Sure, there are purists out there who I'm sure like to create the illusion that there's some unfathomable techniques at play – but in reality – if you want to make pasta using your own hands, that is totally delicious and edible it's not a scary situation!
There are plenty of recipes for 'the greatest pasta ever' etc. But mine follows a simple recipe adapted from all the lovely Instagram nonnas at @pastagrannies – if it's good enough for the nonnas then who am I to argue!?
The magic ratio for fresh egg pasta
For every 4 oz/110g of flour I use 1 large egg + 1 egg yolk.
This will make a lovely smooth pasta with a rich, silky texture from the egg yolks. 4oz/110g will serve 2 people a nice portion of fresh pasta. The recipe shown is using this amount.
Get the tech
Now, you will need some technology here to help you roll out the pasta. I'm not such a purist that I'm going to have you roll it out by hand with a traditional matarello (rolling pin) – so I'm going to require you purchase a pasta rolling machine. Manual is perfectly fine and great fun – especially for kids! There are some great electric rollers too. Oh, and if you own a Kitchen Aid Mixer, you can buy a pasta rolling attachment. I've included some great options to purchase at Amazon (including the machine I use) here.
Once you learn how to make fresh egg pasta – the doors are open to a delicious array of creations like Lamb Ragu with Pappardelle or Spaghetti Amatriciana that will feel even more special with the unique texture of home made pasta.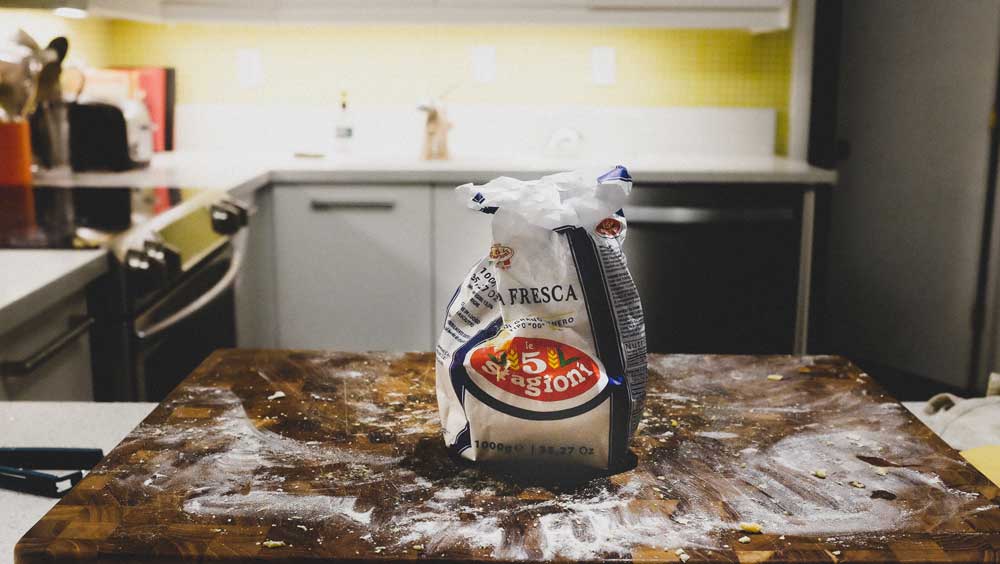 How to make fresh egg pasta
Rate this recipe
Print Recipe
Pin Recipe
Save Recipe
Go to Collections
Calories (per serving) |
281
Instructions
1. Choosing the right flour
If you want the best textured pasta, use 'Tipo 00' - it's a flour that's been milled twice to make give it a more refined texture. This is what makes it best for pasta. You can of course use plain/all-purpose flour.
2. Whisk
Tip the flour onto a board or large bowl and make a well in the centre. Break your egg into the centre and then add your egg yolk. Using a fork, start to whisk the eggs. Gradually the flour will begin to mix with the eggs and thicken.
3. Bring Together
Once the egg becomes too stiff to whisk, use your hands to bring the mixture together into a soft dough. If the dough feels too wet, add a little flour. If it's too dry, add a tablespoon of water. It should come together into something that doesn't stick to the board or your hands.
4. Knead
Knead the pasta using your hands, for a good 10 minutes to create a smooth texture.
5. Cover & Rest
Roll the dough into a ball and cover with a small bowl and rest for 30 minutes.
6. Roll & Shape
Cut the dough in half and then, using your pasta machine roll the pasta through on the largest setting. Fold it into three then repeat the process a couple of times. Now roll the sheet through the machine, reducing the roller width each time until you reach the desired thickness - the pasta sheet will grow longer and longer. Don't drop it. My machine has 9 roller widths and I usually stop at 7 or 8. This gives a decent thickness of pasta that won't fall apart in the pan.

Your machine will most likely have two extra rollers - one to cut fettuccini/tagliatelle and another for spaghetti. To make these, just attach the roller you'd like and feed the pasta through. When you're done - dust the pasta with plenty of flour and separate each strand, then cover with a tea towel until you're ready to use.

You can also hang the pasta to dry - It'll stay good for around 90 minutes. If you're in a humid environment or the kitchen is hot check regularly to ensure it's not sticking. Add more flour if it is.

When you're ready to eat - cook in plenty of generously salted water for 1-3 minutes.
Nutrition
Calories:
281
kcal
(14%)
|
Carbohydrates:
46
g
(15%)
|
Protein:
12
g
(24%)
|
Fat:
5
g
(8%)
|
Saturated Fat:
1
g
(6%)
|
Cholesterol:
164
mg
(55%)
|
Sodium:
64
mg
(3%)
|
Potassium:
125
mg
(4%)
|
Fiber:
2
g
(8%)
|
Sugar:
1
g
(1%)
|
Vitamin A:
238
IU
(5%)
|
Calcium:
34
mg
(3%)
|
Iron:
4
mg
(22%)
Did you make my How to Make Fresh Egg Pasta?
How did you go? Let me know in the comments below and be sure to tag @cookeatworld at Instagram.