If you're not familiar with the delights of the Hugo Spritz cocktail, may I introduce one of the most refreshingly delicious treats of your life. The perfect blend of fragrance and flavour in this sparkling Italian favourite.
I'm a big fan of a Spritz! Having lived in Italy, I pretty much started every evening with one. Aperol, Campari and Limoncello were my go-to regulars, but on one trip to Rome I glanced upon the Hugo Spritz (pronounced 'YOU-GO') scribbled on a chalk board. Why not I thought...
Where has this refreshing life-giving delight been all my life I asked. A fresh and fragrant blend of elderflower liqueur, Prosecco, lime, mint and sparkling water creates one of the most truly addictive spritz cocktail ever. Dangerously, I drink it like juice, so am 'self-intervening' and limiting my intake for special occasions (weekdays and weekends only).
What is the Hugo Spritz Cocktail?
The Hugo Spritz is an Elderflower liqueur based cocktail from Italy. It was invented in 2005 by barman Roland Gruber in the far Northern province of Naturno as an alternative to the Aperol Spritz.
There are a few elderflower liqueurs out there, and I've tried most, but the best in my opinion is St Germain. It's so fragrant and flavourful - it brings all the success to the Hugo Spritz cocktail. Elderflower liqueur is made from the small white flowers of the Elderberry plant, found all across Europe.
Alongside St Germain is Prosecco alongside a fresh muddle of mint and lime. A final splash of club soda finishes off the spritz. The results are a magnificent combination of sweet, floral, herbal with a zesty citrus finish. Pure heaven if you're thirsty!
Why it works
It's a thirst quencher - Being my go-to first drink of the night the Hugo Spritz is a longer style aperitivo style cocktail that quenches the initial panic and paves the path for a second glass, to be enjoyed at a more leisurely pace. Just before the onslaught of a full Italian feast.
Elderflower! - I'm an old lady at heart and I just LOVE elderflower. I've been enjoying it as a cordial since I was a kid so to have it in adult form as a liqueur is a natural and happy progression.
Stuff you'll need
Once you have the elderflower liqueur (I literally visited every shop in Italy on MY search), you're good to go. If you can find a different elderflower cordial, be my guest.
St Germain Elderflower Liqueur - I'm obsessed, see above...
Prosecco - You can use sparkling wine or even Champagne if you're fancy.
Mint - fresh
Lime - Essential for the citrus hit we're after
Club Soda - (Soda water/Sparkling water) adds more sparkle and creates a slightly lighter and longer drink.
Ice - lots of.
All you need to do is muddle the the mint a little to help activate the flavour then mix all the ingredients together in a large spritz glass. Squeeze over one or two lime wedges and you're good to go. Lots of ice is essential.
Make it non-alcoholic
Make yours a Hugo Spritz Mocktail if you like, buy following the same recipe below with the addition of a no alcohol gin to cut through the sweetness a little.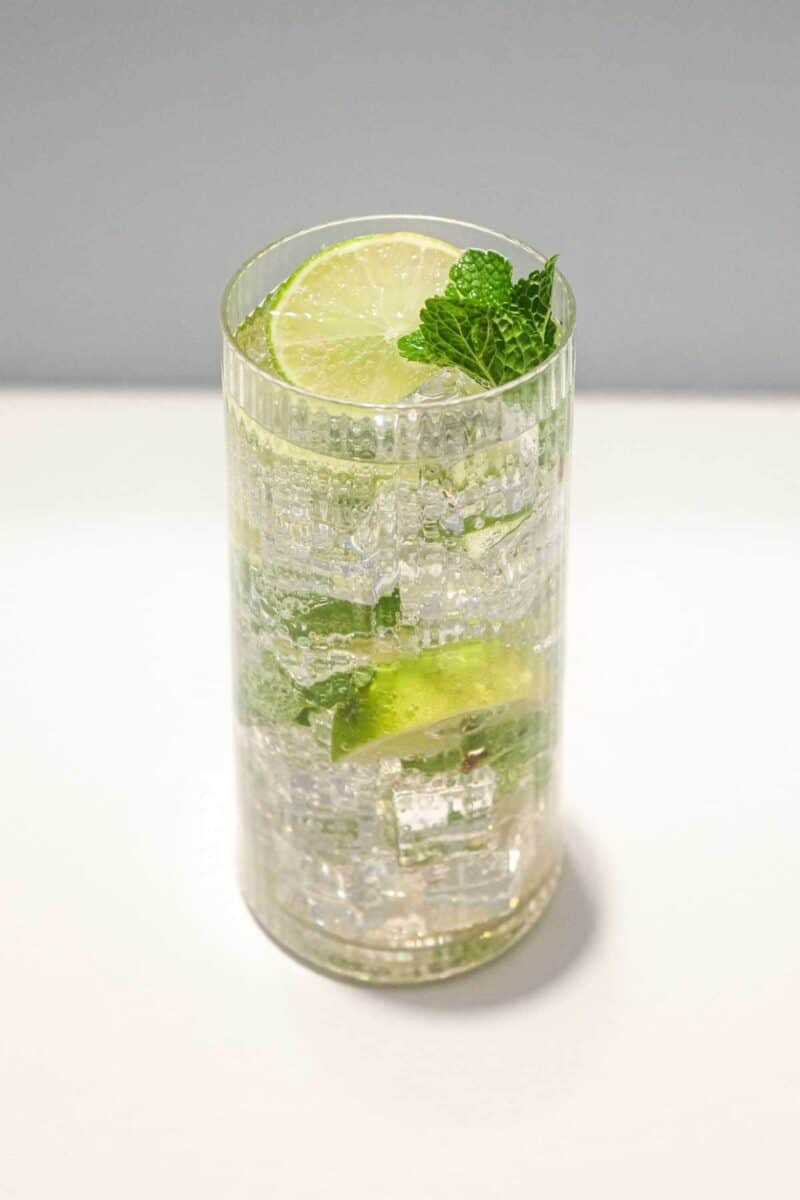 Ready to get sipping?
The Hugo Spritz cocktail truly is one of my most favourite discoveries ever. And it's a crying shame that it doesn't enjoy the same fame and fortune as the Aperol Spritz. I'm converted for life, and sure you will be too once you've sipped your first taste of the Hugo! Saluti!
Any Questions? (FAQ)
Have a question about the Hugo Spritz cocktail? Let me know in the comments.
What is Hugo Spritz made of?
My version features St Germain Elderflower liqueur, Prosecco, Club soda, fresh mint and lime wedges. You can also substitute elderflower liqueur for elderflower cordial/syrup.
What is the history of the Hugo Spritz?
It was invented in 2005 in Italy as an alternative to the Aperol Spritz. Its inventor Roland Gruber originally called it the Otto Spritz and featured lemon balm syrup instead of elderflower. He later evolved the cocktail to use elderflower liqueur and changed the name to Hugo. It has since spread in popularity across Italy and beyond.
More of my favourite cocktails recipes
If you liked this Hugo Spritz cocktail, you'll be sure to enjoy more of my favourite recipes.
Hugo Spritz
Rate this recipe
Print Recipe
Pin Recipe
Save Recipe
Go to Collections
Calories (per serving) |
84
Instructions
Add a few mint leaves and one lime wedge to the bottom of your glass and gently pound the them together to break them up a little

Add the St Germain, Prosecco and club soda along with a couple more lime wedges and mint leaves. Add lots of ice and stir once or twice to combine. Garnish with a lime slice and sprig of mint.
Notes
Tips and Aternatives
Instead of St Germain, you can substitute with the same amount of non-alcoholic Elderflower Cordial or Elderflower Mixer Syrup
Make a stronger cocktail with shot of gin or vodka
Instead of Prosecco, you can use Champagne, Cava or sparkling wine.
Instead of mint, try a little sprig of basil or tarragon.
You can substitute limes for lemons or even orange.
Nutrition
Calories:
84
kcal
(4%)
|
Carbohydrates:
6
g
(2%)
|
Protein:
0.4
g
(1%)
|
Fat:
0.1
g
|
Saturated Fat:
0.01
g
|
Polyunsaturated Fat:
0.03
g
|
Monounsaturated Fat:
0.01
g
|
Sodium:
32
mg
(1%)
|
Potassium:
167
mg
(5%)
|
Fiber:
1
g
(4%)
|
Sugar:
3
g
(3%)
|
Vitamin A:
59
IU
(1%)
|
Vitamin C:
10
mg
(12%)
|
Calcium:
31
mg
(3%)
|
Iron:
1
mg
(6%)
This recipe uses affiliations and may receive a commission based on your activity (link clicks). Learn more.