Italian Baked Lamb & Potatoes
Simple food is often the best, especially so with this Italian Baked Lamb & Potatoes – light on ingredients, big on flavour. Juicy lamb chops with soft, creamy and cheesy sliced potatoes, this is a one-pot crowd pleaser for sure.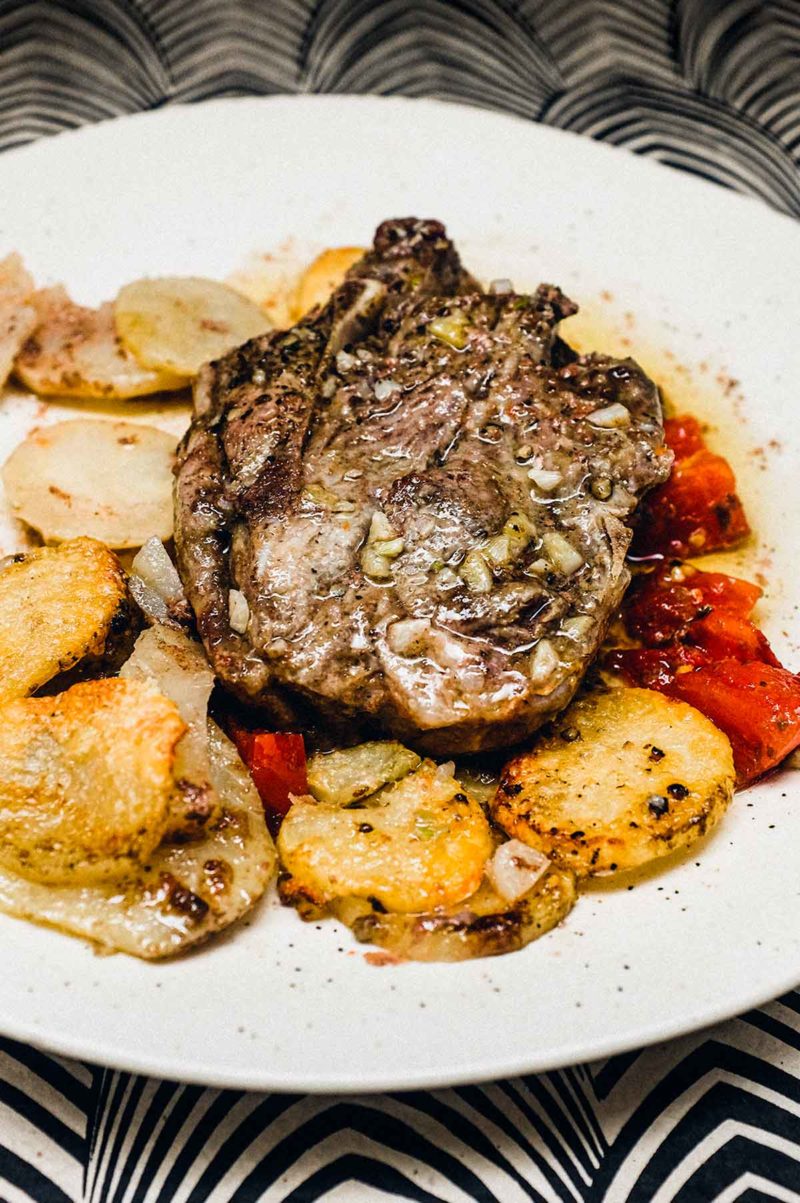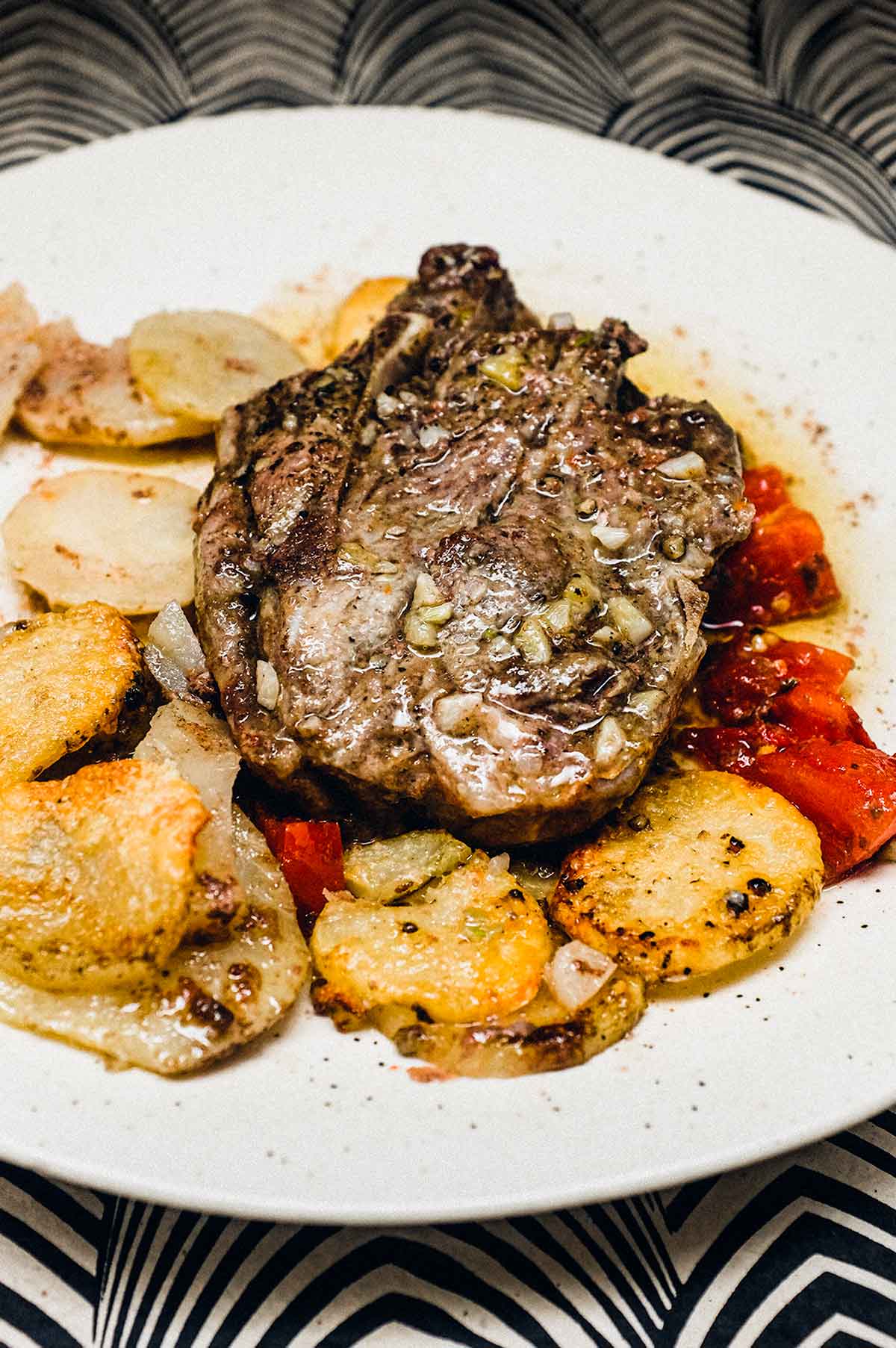 There are some days that simple, easy food is all that's on my mind. This recipe was inspired by one such day. I'd woken up in the blistering heat of a Vegas summer day, but for some reason all I wanted was a hearty, comforting winter dish. Maybe the reason was that we'd just had out air-con fixed and the house was set to 'icy'. Or maybe it was due to a lingering wine-sickness from the previous night.
My day started watching YouTube videos, which invariably turned to watching food videos. One video featured celebrated TV chef, Rick Stein on his travels in Puglia, Italy. He sampled this exact dish in a restaurant there and was blown away by its simplicity and flavour. I trust his palette and just knew I had to cook it myself.
Luckily I had some lamb in the freezer and I always have plenty of Italian cheese so, it was going to be a meal I could get on the table with little to no fuss.
Baked Lamb with potatoes - simple comforts
This recipe is very very simple to put together. All that's required is a little layering of lamb with salty and umami-rich Parmigiano Reggiano and Pecorino Romano cheeses, tomatoes, garlic and sliced potatoes. When baked, it's a soft, meltingly tender piece of lamb with flavour-packed potatoes. Pure joy! The lady in the video used a earthenware pot to cook hers in. I still can't think at any great length about the earthenware pot I dropped on the kitchen floor a few years ago. I loved that pot (devastated emoji face). I use a deep ceramic soufflé dish for my recipe (smiley emoji face).
It's Rick Stein himself said, it's like Italy's answer to British hot pot. As a fellow Brit, I see a resemblance but have to conclude this is way more tasty than hot pot!

Juicy lamb? Just add olive oil
At first, I was slightly alarmed at the generosity of olive oil used in this lamb recipe, but I've cooked this dish a few times now and must conclude, that the lamb is infinitely juicier when more oil is added. I've also noticed that, unlike a British hot pot, the sauce isn't really eaten as a sauce - it's only there to maintain the juiciness of the final product. Similarly, i've concluded that this dish should be served with a simple leaf salad. My choice is beyond simple, a butter lettuce leaf salad. That's all - nothing else, but a lemon and olive oil dressing. It's a perfect counter to the rich, juicy meat and potatoes.

Perfect lamb, 365 days of the year
As I said, I first ate mine in the height of summer in one of the hottest places on the planet, so you don't need to wait til the sun ain't shining to try this wonderful dish yourself. This is a wonderful different Easter Lamb dish to make as a change to simple roast lamb and in the height of winter, it will warm every corner of your soul while permeating every inch of the house with alluring aromas.
More delicious Italian recipes
If you're in the mood for Italian food, try another of my splendid recipes.
How to make my Italian Baked Lamb & Potatoes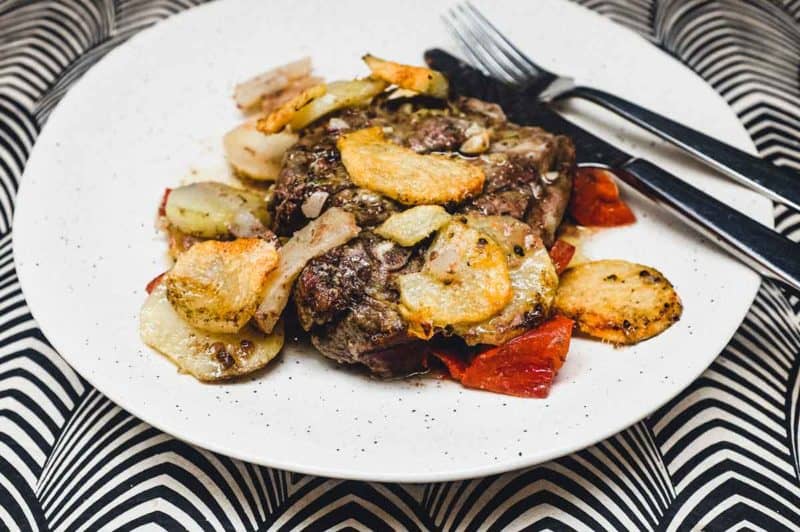 Italian Baked Lamb & Potatoes
Rate this recipe
Print Recipe
Pin Recipe
Save Recipe
Go to Collections
Calories (per serving) |
619
Instructions
Preheat oven to 400ºF/200ºC

Drizzle a little oil into the bottom of a deep ovenproof pot or dish (around 9-10")

Arrange some of the potato slices in one layer and scatter over a little of each cheese and a few pieces of the tomatoes and garlic.

Arrange a couple of the chops in one layer.

Season with a little salt & pepper and then scatter over more potatoes, tomatoes, garlic and cheeses.

Repeat the process with another layer of chops, then finish off with more tomatoes, garlic, cheeses and salt & pepper.

Top the whole thing with another layer of potatoes and then scatter over a generous layer of cheeses. Add around 1/4 cup water (you can also use dry white wine if you have some).

Drizzle over a generous guzzle of olive oil (about 1/3 cup). You CAN reduce this if you like, but this is how much the Italian Nonnas use!

Cover in foil and then bake for 1hr 15 mins.

After that time, remove the foil and bake for a further 30 minutes.

Serve with salad or crusty bread.
Nutrition
Calories:
619
kcal
(31%)
|
Carbohydrates:
3
g
(1%)
|
Protein:
27
g
(54%)
|
Fat:
55
g
(85%)
|
Saturated Fat:
20
g
(125%)
|
Cholesterol:
105
mg
(35%)
|
Sodium:
417
mg
(18%)
|
Potassium:
383
mg
(11%)
|
Fiber:
1
g
(4%)
|
Sugar:
1
g
(1%)
|
Vitamin A:
537
IU
(11%)
|
Vitamin C:
7
mg
(8%)
|
Calcium:
307
mg
(31%)
|
Iron:
2
mg
(11%)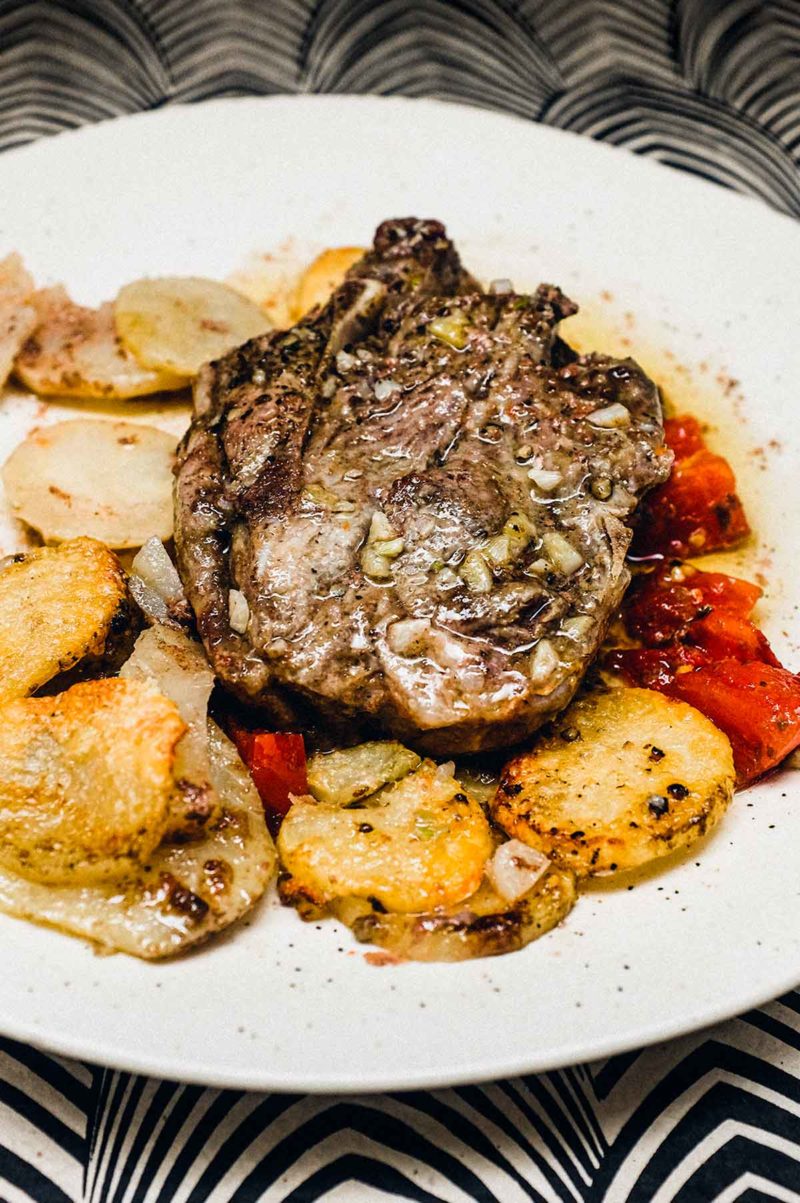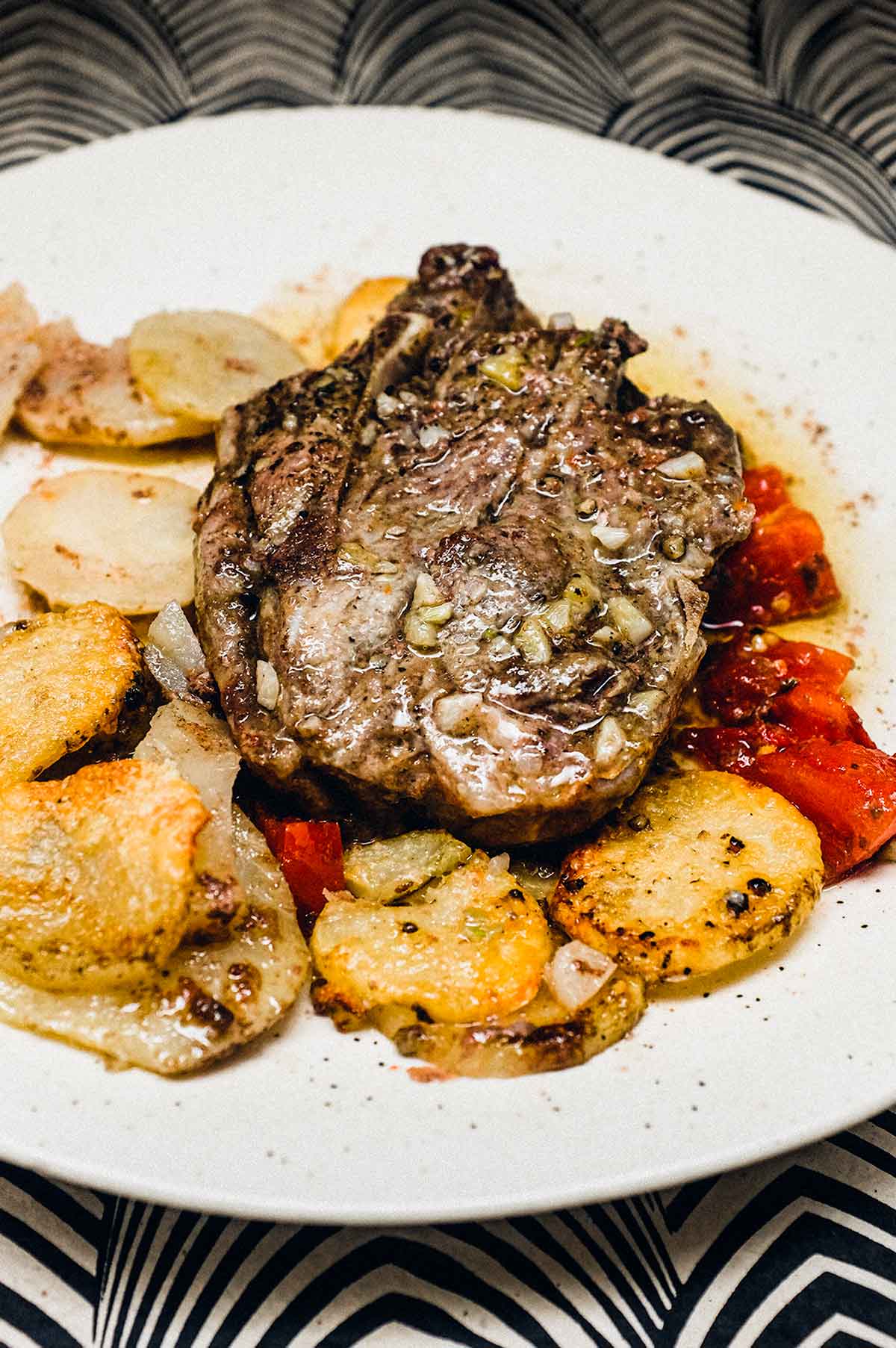 Did you make my Italian Baked Lamb & Potatoes?
How did you go? Let me know in the comments below and be sure to tag @cookeatworld at Instagram.