Chinese Xinjiang Lamb Skewers
Sweet, tender and juicy lamb is coated with the most amazing blend of earthy, warming spice with a kick of chilli heat. Charred to perfection on the grill, Chinese Xinjiang lamb skewers are one of the tastiest flavour combinations on the planet.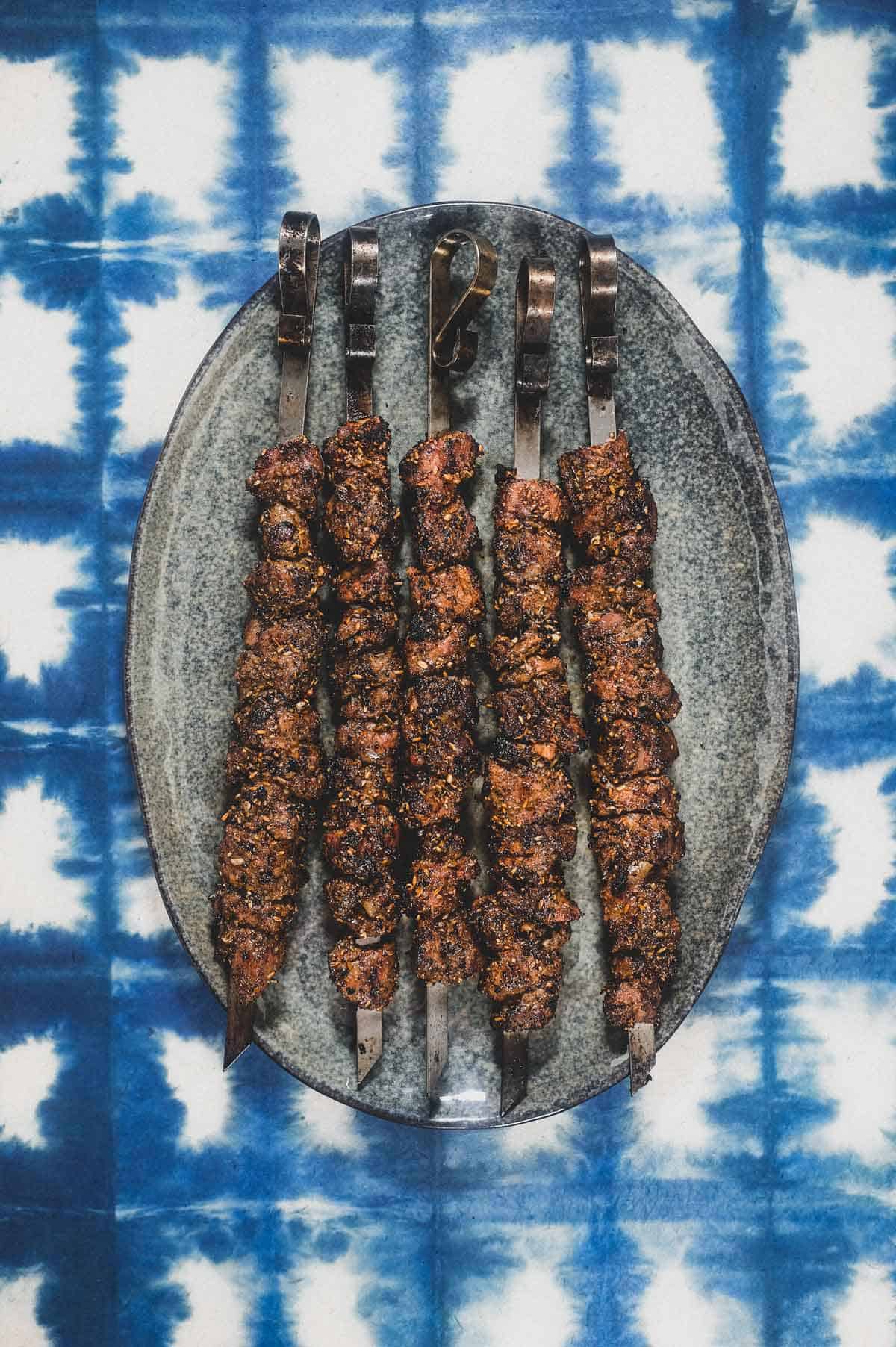 I'm a huge fan of skewered meats, all around the world there are countless memorable recipes for meat on sticks, charred to perfection on the grill. From delicious Spanish Pinchos Morunos chicken, Thai Satay sticks (one of the tastiest in the World), Argentinian Skewered Beef, Middle Eastern Kebabs and Cypriot Sheftalia, there are so many ways to enjoy a grilled skewer of juicy, meaty goodness.
This recipe for Chinese lamb skewers is one of my most favourites! A wonderful spicy mix that generously coats lamb pieces that are charred to perfection on a hot grill. Think of it somewhat of a flavour hybrid of Central Asian and Chinese flavours, unlike any other flavour you've ever experienced.
What is Xinjiang Lamb?
Xinjiang lamb is a popular dish in China and the Xinjiang region specifically. It is a traditional dish of the Uyghur people, who are the largest ethnic group in Xinjiang. The dish is typically made using lamb meat that has been coated and marinated with a blend of spices, including cumin, chilli and garlic. The lamb is then skewered and roasted on a hot grill, much like a satay grill.
Xinjiang lamb is known for its strong, aromatic flavors and tender texture. It is often served with a variety of side dishes, such as naan bread, rice, and vegetables. The dish is also commonly served at festivals and special occasions.
Due to its geographical position, there is a notable difference in their use of meat and spices – the Persian and Turkik influences of lamb and cumin are rich in this region's cuisine.
In the West, wherever you see grapes hanging from the ceiling of a Chinese restaurant, it's a strong indication that it will be a Uyghur restaurant. (The grapes represent their agricultural skills in cultivating fruits and vegetables in a difficult terrain.) You can also be fairly sure that these tasty lamb skewers will be on the menu too.
Why they work
They're intensely flavourful – The lamb on the skewers is tender and juicy. If you're up for it, the skewers can also be threaded with pieces of lamb fat, which help self-baste the meat. They also offer a burst of the most delicious lamb flavour in their own right.
They're spicy! – Most versions of the lamb skewers I've enjoyed have been SPICY! I love spicy food, but you can dial the heat down by using less chilli or a milder chilli flake like Aleppo Pepper. The cumin rounds off the spice with its warm, earthy notes.
Stuff you'll need
You won't need much to get these Xinjiang lamb skewers going – all your effort goes into creating the spice rub for the lamb.
Step by Step
Much of the heavy lifting is done by the spice rub. All you need to do is marinate the meat. A little forward-planning and patience is all that's required and pays off ten-fold in flavour. Every hour you can wait, is another notch on the flavour chart. I leave my meat to develop for 24 hours.
Step 1 – Heat a dry frying pan until hot. Add the whole spices and toast until they begin to dance around the pan.
Step 2 – Using a spice grinder or pestle & mortar into a semi-rough powder, like a fine breadcrumb, stir in the ground spices and salt and set aside.
Step 3 – Cut the lamb into smallish cubes and pop in a bag. Tip in the spice mix and toss around to coat all the lamb. Pop in the fridge for 24-hours.
Step 4 – Thread your skewers. If you're using wooden skewers, soak them first for an hour in water to stop them burning on the grill. I suggest buying some metal skewers – I've never looked back!
Step 5 – Grill the skewers for 3-4 minutes each side, basting with a little oil once or twice to keep everything nice and juicy. That's it!
Pro Tips to make your life easier
Pre-skewer your lamb – Once you've tossed the lamb in the coating, you can go right to the skewering stage. Arrange on a platter and cover with plastic. Refrigerate for 24-hours. You'll be good to grill direct from the fridge, but bringing the meat up to room temperature gives better results.
Don't like spicy? – You can replace the hot chilli flakes with a milder chilli flake like Aleppo pepper or use a little sweet paprika instead.
Don't have a BBQ grill? – No problem, heat your broiler/oven grill to the hottest setting, brush the lamb with oil on all sides and cook under the broiler until charred (4-5 minutes) then turn and repeat on the other side for 2-3 minutes more.
Don't have skewers? – You can use this rub/marinade on chops, steaks and roasts too. You can also make stir-fried lamb (cut thinly) alongside onion and green peppers in a little oil.
Serving and storing suggestions
Serving - I like to serve my Chinese lamb skewers with flatbreads, which are most common in this region. I like to sit the lamb on top of the bread to catch any juices and serve alongside a fresh salad of cooling cucumber, tomato and lettuce.
Leftovers - will stay good in the fridge for 4-5 days. Freezing

leftovers isn't so great, so I don't recommend.
Ready to get cooking?
Xinjiang lamb skewers make for a totally different BBQ experience and a great of fresh (spicy) air for special BBQ celebrations. This is one of my most favourite Chinese recipes and I cook it even in the winter (I'll pop on my coat and gloves to stand by the BBQ).
I just love the heady earthiness of all that cumin and chilli, it's a real treasure and definitely worth the wait for the marinade to do its magic.
More Chinese recipes
If you liked this recipe for Xinjiang Lamb Skewers, you'll be sure to enjoy more of my favourite Chinese recipes.
Chinese Xinjiang Lamb Skewers
Rate this recipe
Print Recipe
Pin Recipe
Save Recipe
Go to Collections
Calories (per serving) |
391
Ingredients
1 1/2

lb

lamb shoulder or leg meat (cut into 1-inch cubes)

2

tbsp

peanut oil
How to make the spice rub
Instructions
How to make the spice rub
Heat a frying pan, dry over a moderate heat until hot. Place the cumin, chilli flakes, black peppercorns and Sichuan peppercorns and toast dry for 1-2 minutes. Remove from the pan and add to a spice/coffee grinder or pestle and mortar.

Grind the spices into a rough texture (see pic above). Stir in the chilli powder, ginger powder, garlic and salt. Pour over the oil and mix to combine well. Set aside.
How to make the skewers
Add the spice rub to the lamb cubes and massage into the meat with your hands to coat all the lamb well. Place in a bag and refrigerate for as long as you can - 4 hrs minimum, 24 hours is BEST! If you're using wooden skewers, now is the time to soak these in water, to ensure they don't disintegrate on the grill.

Once marinated, thread cubes of meat (and fat) onto the skewers (about 8-10 pieces per skewer).

Cook on a hot BBQ grill or hot oven grill for about 10-12 minutes, turning regularly. Remove from the grill, rest for a couple of minutes and serve!
Notes
Suggestions:
Pre-skewer the lamb after coating it in the seasoning to save time later. Refrigerate the lamb for 24 hours, covered with plastic.
After being in the fridge, bring the lamb up to room temperature before grilling for better results.
Substitute hot chilli flakes with milder options like Aleppo pepper or sweet paprika.
Cook the lamb under a broiler or oven grill if you don't have a BBQ grill.
Use the seasoning for chops, steaks, and roasts if you don't have skewers.
Make stir-fried lamb by thinly slicing and then marinating. Fry in a little oil with onions and green peppers.
Serving and Leftovers
Serving - I like to serve my Xinjiang lamb skewers with flatbreads, which are most common in this region. I like to sit the lamb on top of the bread to catch any juices and serve alongside a fresh salad of cooling cucumber, tomato and lettuce.
Leftovers - will stay good in the fridge for 4-5 days. Freezing leftovers isn't so great, so I don't recommend.
Nutrition
Calories:
391
kcal
(20%)
|
Carbohydrates:
2.7
g
(1%)
|
Protein:
48.4
g
(97%)
|
Fat:
19.1
g
(29%)
|
Saturated Fat:
5.6
g
(35%)
|
Cholesterol:
153
mg
(51%)
|
Sodium:
427
mg
(19%)
|
Potassium:
13
mg
|
Fiber:
0.7
g
(3%)
|
Sugar:
0.1
g
This recipe uses affiliations and may receive a commission based on your activity (link clicks). Learn more.