Pork Rib Soup with Noodles
Juicy and meltingly tender pork spare ribs are bathed in the most umami, fragrant pork broth in this delicious Chinese inspired soup. Soba noodles continue the journey into Japan and add a wonderful nutty flavour and soft texture. A noodle soup guaranteed to leave you with a smile.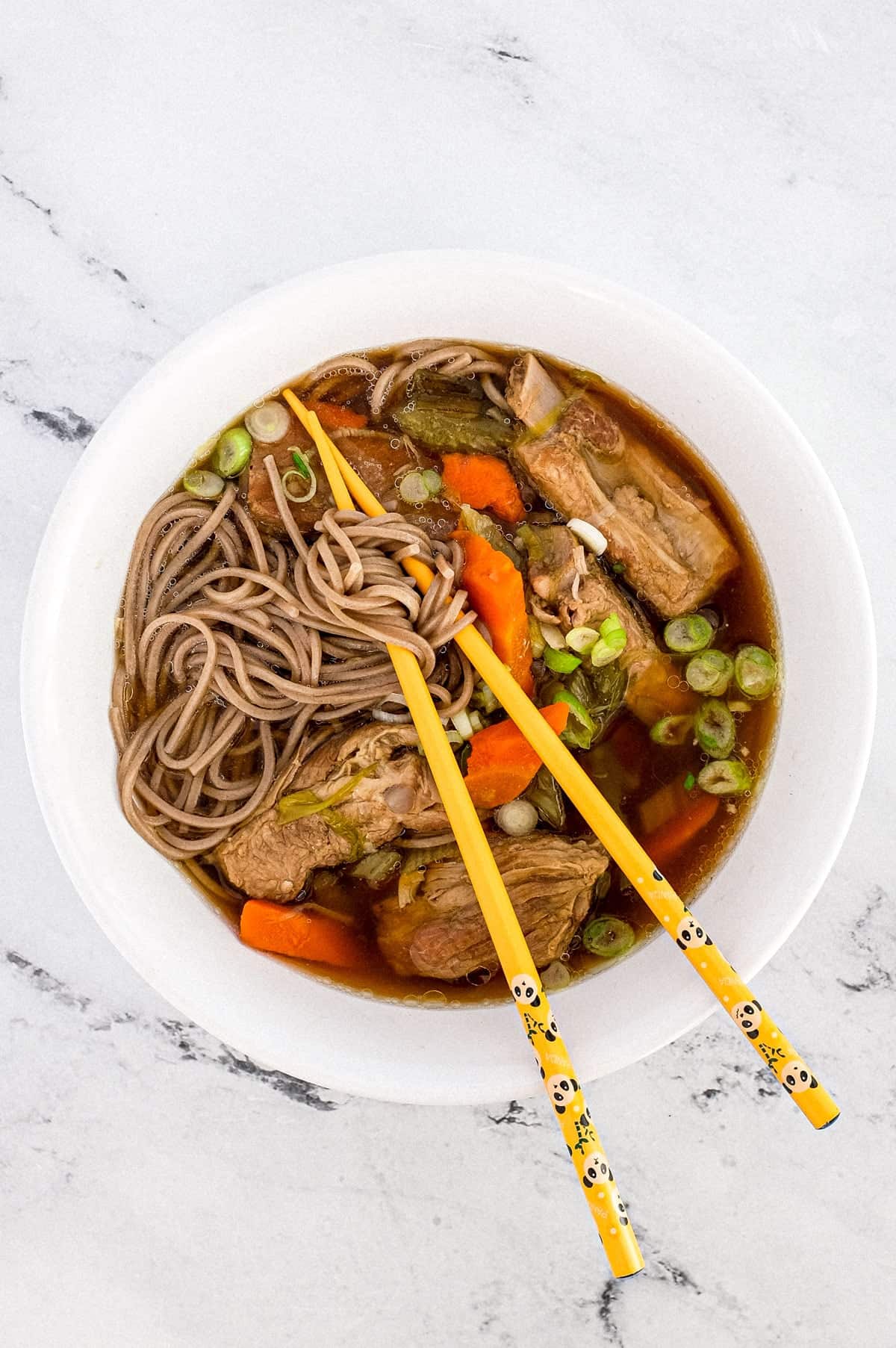 This Pan Asian pork rib soup recipe takes influence from both China and Japan. The umami greatness of a slow cooked Chinese Spare Rib Soup is one of life's great treats. Juicy, soft pork slips effortlessly from the bone and the pork bone broth is surprisingly fragrant and flavouful.
I've been making spare rib soup for many years, it's a no fuss soup that takes care of itself and never fails to warm every inch of the soul. Normally I'd either eat as a straightforward soup, maybe adding some potato or turnip near the end to add texture and sustenance, but more recently I've included noodles to make it a noodle soup option.
What's in a noodle?
There are SO MANY types of noodles to choose from and I've included many in this pork rib soup recipe in the past; from egg noodles (spaghetti), rice noodles, wonton noodles and even cellophane (glass) noodles. But it's a recent addition of Japanese soba noodle that has become my favourite.
I'm not usually one to mix cuisines, but I love soba noodles so much and just wanted both together - just to see - and I wasn't disappointed!
What are Soba Noodles?
If you're unfamiliar, soba noodles are made from buckwheat flour and have a distinctive brown appearance. They have a lovely nutty and earthy flavour with a soft texture. They're eaten across Japan as a cold preparation with dipping sauces or in hot soups, making them perfectly at home in this soup.
Stuff you'll need
This soup is a great soup to pop on the stove and forget about - it slowly comes together, filling the house with super umami flavours. A slow braise ensures all the flavours get the time they need to come together into one harmonious bowl of goodness.
There are not that many ingredients in this soup but they deliver big on flavour. There's a full recipe below, but here are the key flavours.
Pork spare ribs - (get the meatiest ones you can find) The pork will be slide-off-the-bone-tender, and those bones are key to creating the flavour for the broth too. Learn more about pork spare ribs.
Aromatics - Additional layers of flavour are courtesy of scallions (spring onions), garlic, ginger, carrot, celery and star anise.
Umami - comes from the use of salty dark and light soy sauce and for a little counter balance, a drizzle of sour rice vinegar.
Soba noodles - As I already mentioned, soba have become my favourite, but this dish works with all types of Asian noodles, so feel free to substitute for your favourite.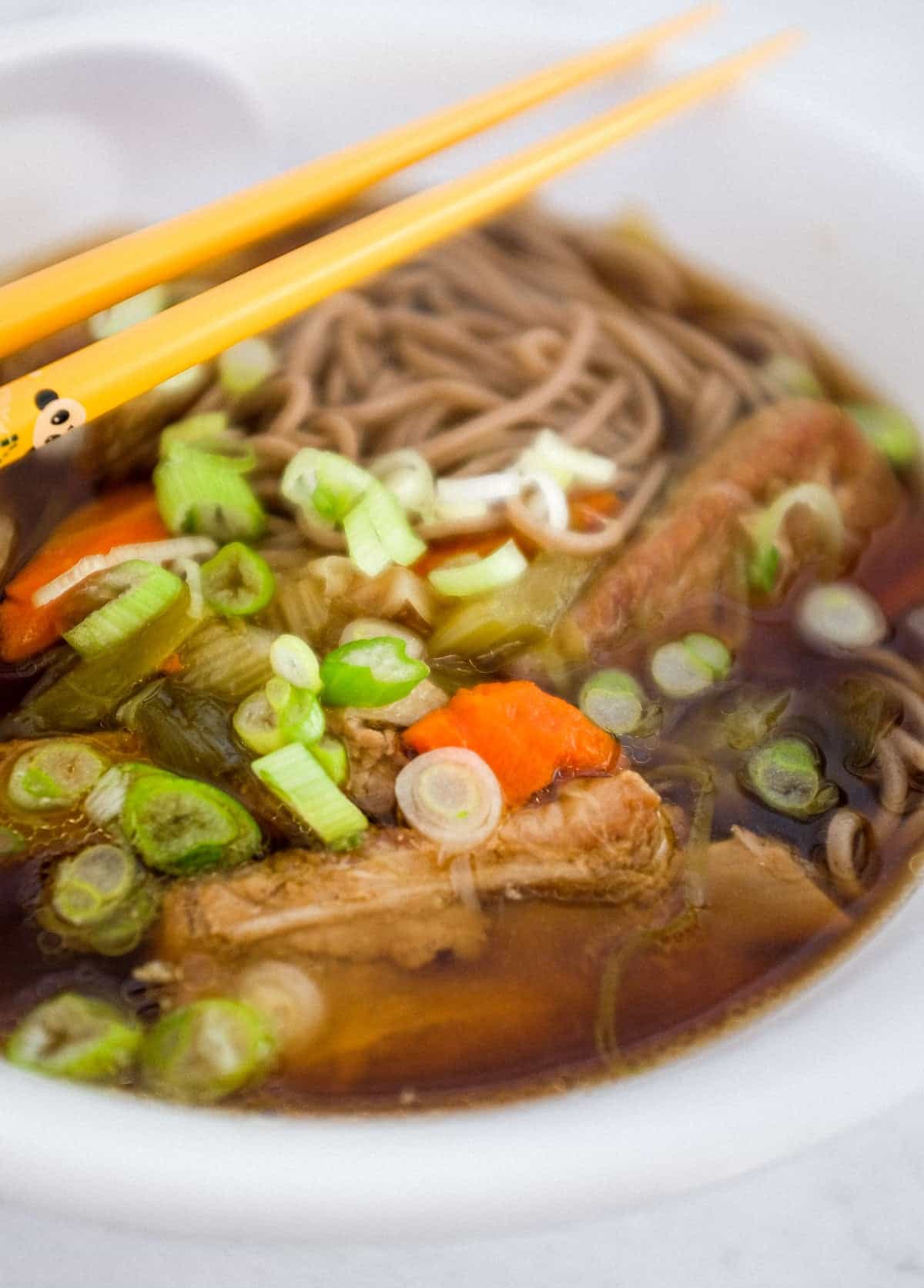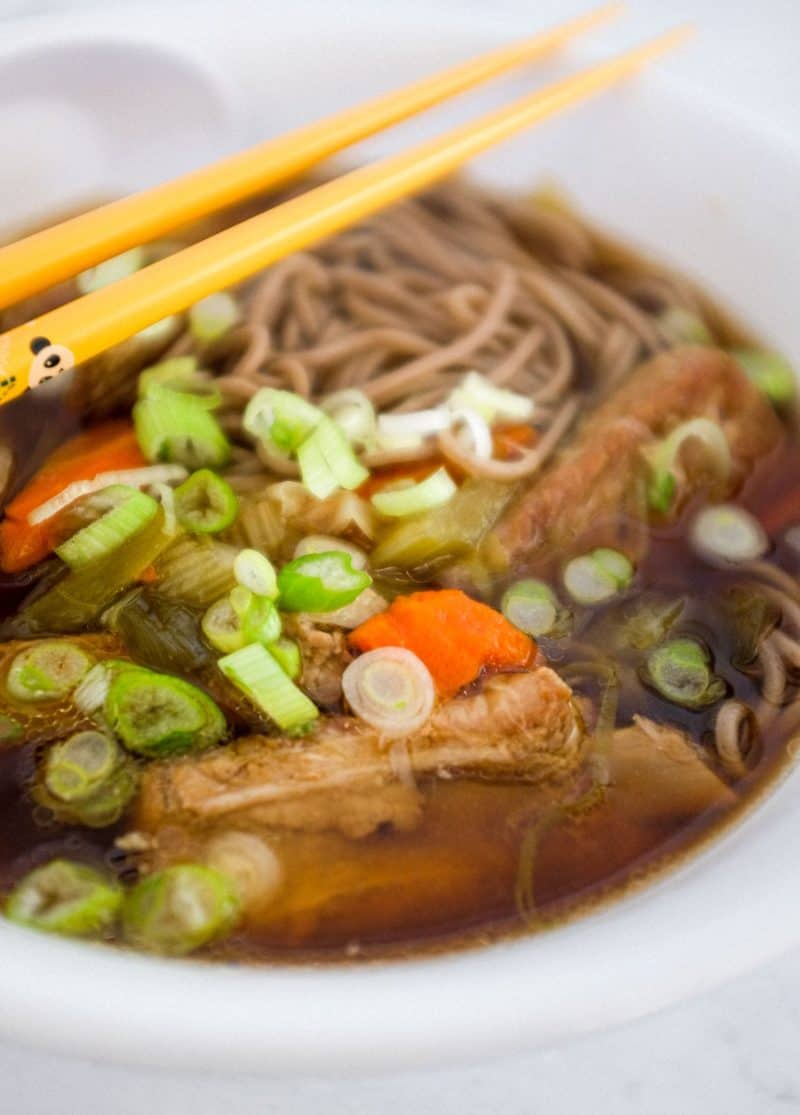 Step by Step
This soup is no fuss, just let it create the flavours over time. That's all this soup needs to be honest. Patience is a virtue.
Brown the ribs - this will give a little depth to the soup.
Quick blanch the ribs - Boiling the ribs rapidly for 3-4 minutes brings out the impurities on the meat and bones and the 'scum' rises to the top. We drain this water, rinse the ribs and then fill up the pan with water again. This ensures you get a nicer, clearer broth!
Slow cook everything - now it's just a case of cooking everything together for 2 1/2 hours. The heat is very low, so that the soup is 'just' simmering. This will create a cleaner broth and superior appearance.
Cook the noodles - Cook the soba for around 7 minutes in a big pan of water then drain and arrange in bowls. If you're cooking another type of noodle, follow the same step of cooking them separately.
Ladle over the soup along with a few ribs. Scatter over a few scallions and hunker down for your warming, fulfilling bowl of flavour.
More delicious soup recipes
Who doesn't love a big old bowl of soup!? It's one of my most favourite things to eat. Discover my Best Soup Recipes in the Cook Eat World series or sample some below:
Pork Rib Soup with Noodles
Rate this recipe
Print Recipe
Pin Recipe
Calories (per serving) |
1070
Instructions
In a large dutch oven or deep pan, heat the oil until hot and then fry the spare ribs for 2-3 minutes per side until browned. Remove from the pan.

Clean the pan and fill with about 1 litre of water. Bring to a boil and then drop in the ribs. Cook over a rolling boil for 3-4 minutes to draw out the impurities, then drain the water and rinse the spare ribs.

Wipe clean the pan and add another 2 litres of water. Return the ribs to the pan and add the spring onion, celery, ginger, garlic carrot, soy sauces, peppercorns, star anise and vinegar. 

Bring to a simmer then reduce the heat to very low. Cover the pan and cook for 2 1/2 hours, barely simmering. Season with salt to your liking and remove from the heat. Fish out the ginger and star anise.

Cook as many soba noodles as you need for about 7 minutes and then drain. Arrange the noodles in a deep bowl and ladle over some of the soup broth with the vegetables. Add a few spare ribs too then top with a sprinkling of slices scallions.
Notes
Substitutes and tips
Try beef short ribs for a delicious alternative to pork. Cook in exactly the same way.
Instead of soba noodles (which aren't traditional anyway) use glass noodles, rice noodles or just plain egg noodles.
Leave out the noodles completely if you like and instead, add a couple of chunky potatoes or turnip pieces about 30 minutes from cooking is complete for a hearty meaty soup.
Browning the ribs is an important step - it helps with flavour and colour, so be sure to get a good sear on the meat.
Storing and Preserving
This soup doesn't keep so well once the noodles are added, so eat right away if you can.
The soup itself (without noodles) can be refrigerated for 3-4 days or frozen for 3-4 months. Reheat until piping hot and poured over cooked noodles.
Nutrition
Calories:
1070
kcal
(54%)
|
Carbohydrates:
82
g
(27%)
|
Protein:
56
g
(112%)
|
Fat:
59
g
(91%)
|
Saturated Fat:
19
g
(119%)
|
Polyunsaturated Fat:
10
g
|
Monounsaturated Fat:
22
g
|
Trans Fat:
1
g
|
Cholesterol:
200
mg
(67%)
|
Sodium:
3214
mg
(140%)
|
Potassium:
1143
mg
(33%)
|
Fiber:
2
g
(8%)
|
Sugar:
3
g
(3%)
|
Vitamin A:
5399
IU
(108%)
|
Vitamin C:
7
mg
(8%)
|
Calcium:
122
mg
(12%)
|
Iron:
6
mg
(33%)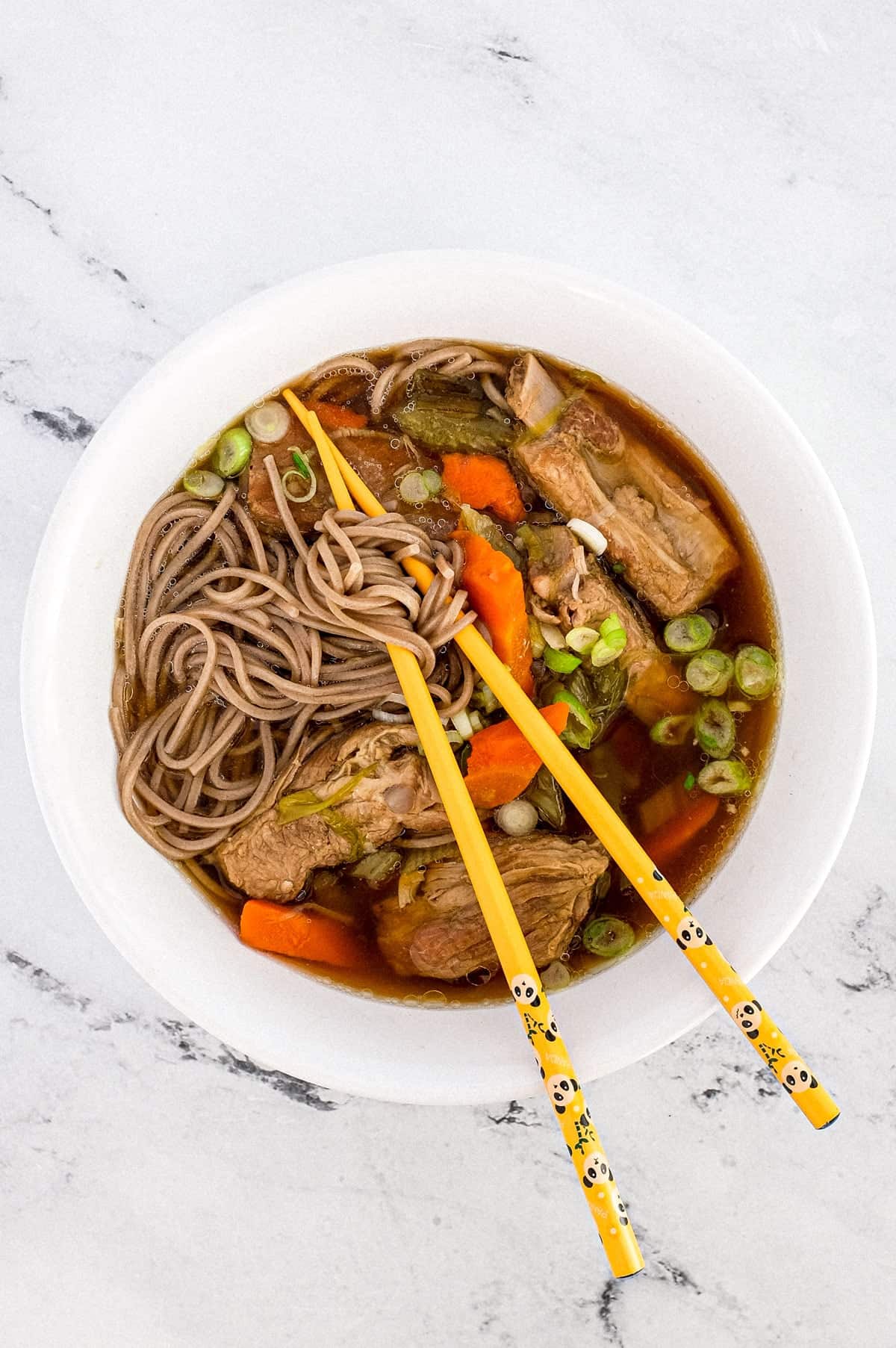 Did you make my Pork Rib Soup with Noodles
How did you go? Let me know in the comments below and be sure to tag @cookeatworld at Instagram.
This site contains affiliate links to products. We may receive a commission for purchases made through these links. Learn more.