Sweet, spicy Gochujang Chicken delivers on all fronts! A super-easy roasted delight that is packed with colour, fragrance and flavour. Taste the essence of Korea in every bite.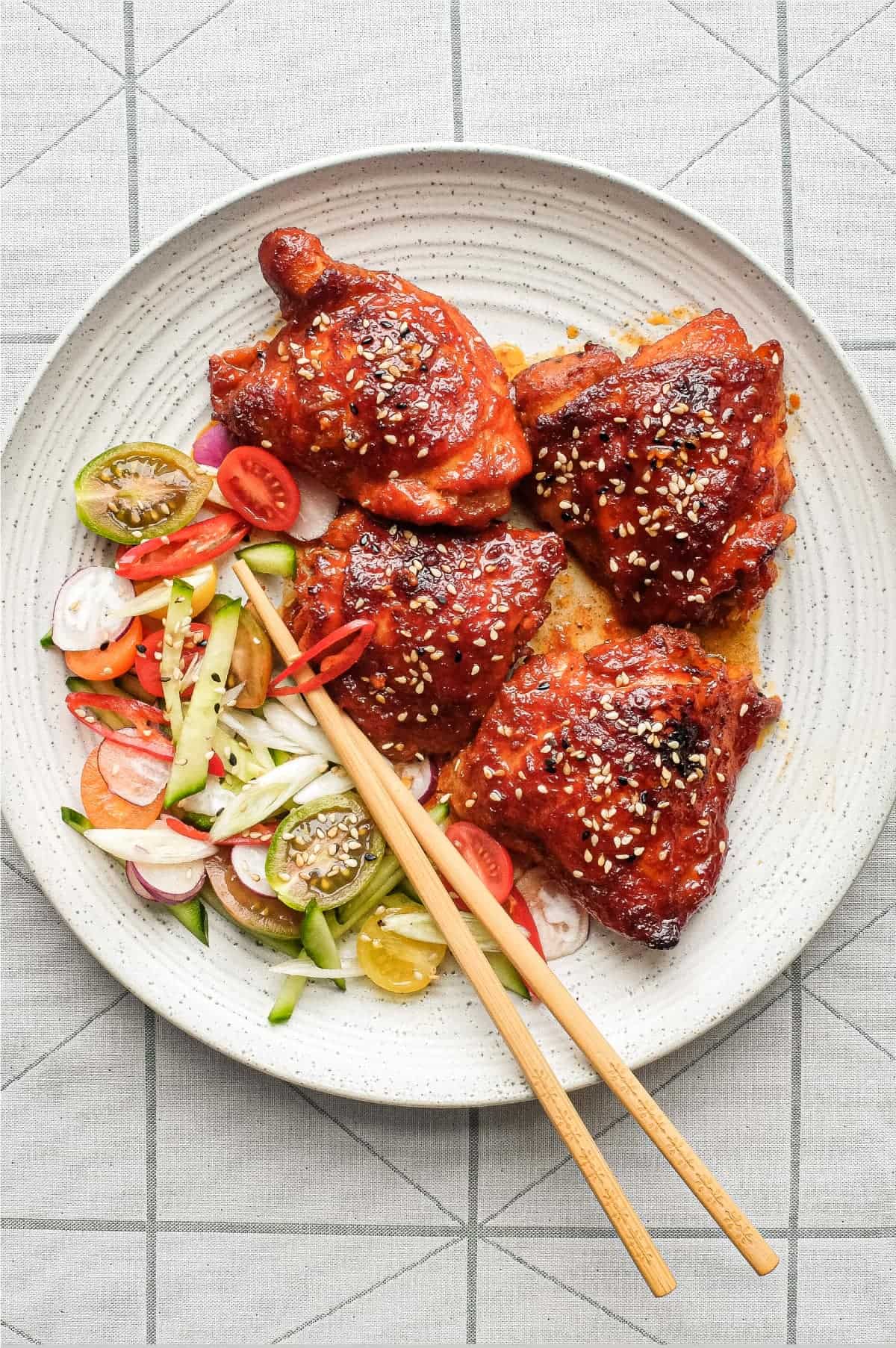 Whenever I want a quick dish that delivers on flavour, without all the effort on my part, I turn to this Gochujang chicken.
It's simple roast chicken thighs that has little to no interference on my part. It's a marinate and forget situation, followed by a roast and forget situation. Too easy!
Korean food is one of the most intensely satisfying cuisines on the planet. A bold, complex and intensely satisfying melting pot of flavour, color and fragrance.
Chilli is centre stage in so many dishes and they have one ingredient up their sleeve that is an instant hit of authentic Korean flavour... the amazing gochujang hot pepper paste!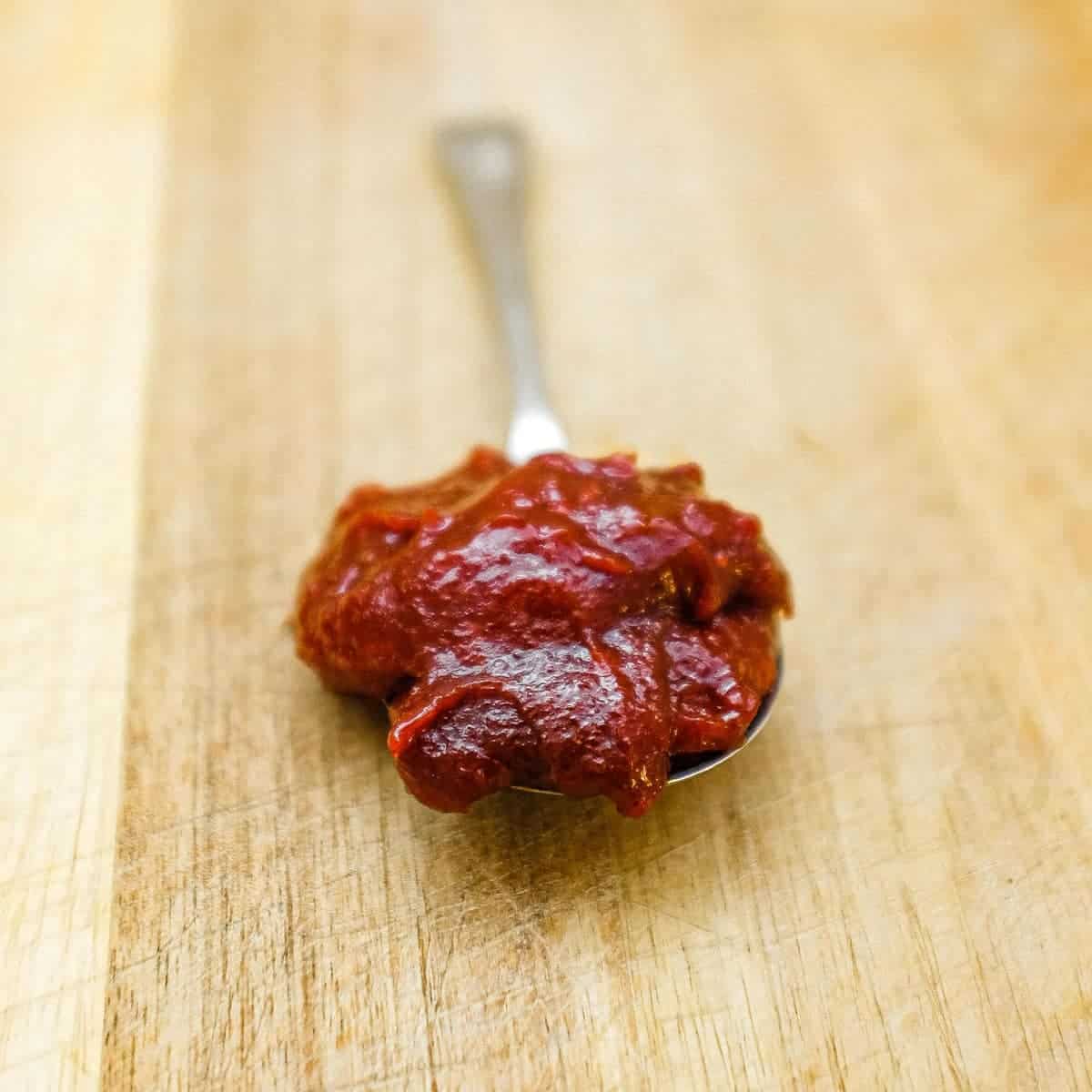 What is Gochujang?
Gochujang is a funky, sweet, savoury and spicy pepper paste from Korea.
It is made from chilli peppers, fermented soya beans, glutinous rice, and salt. It is a thick, sticky sauce that has an intense, red colour and rich, umami flavour.
Gochujang comes in a sliding scale of spiciness. There are mild and hot varieties. In my opinion, the mild gochujang sits at around 2/10 spice level and the hot at around a 6/10. It's not going to blow your head off.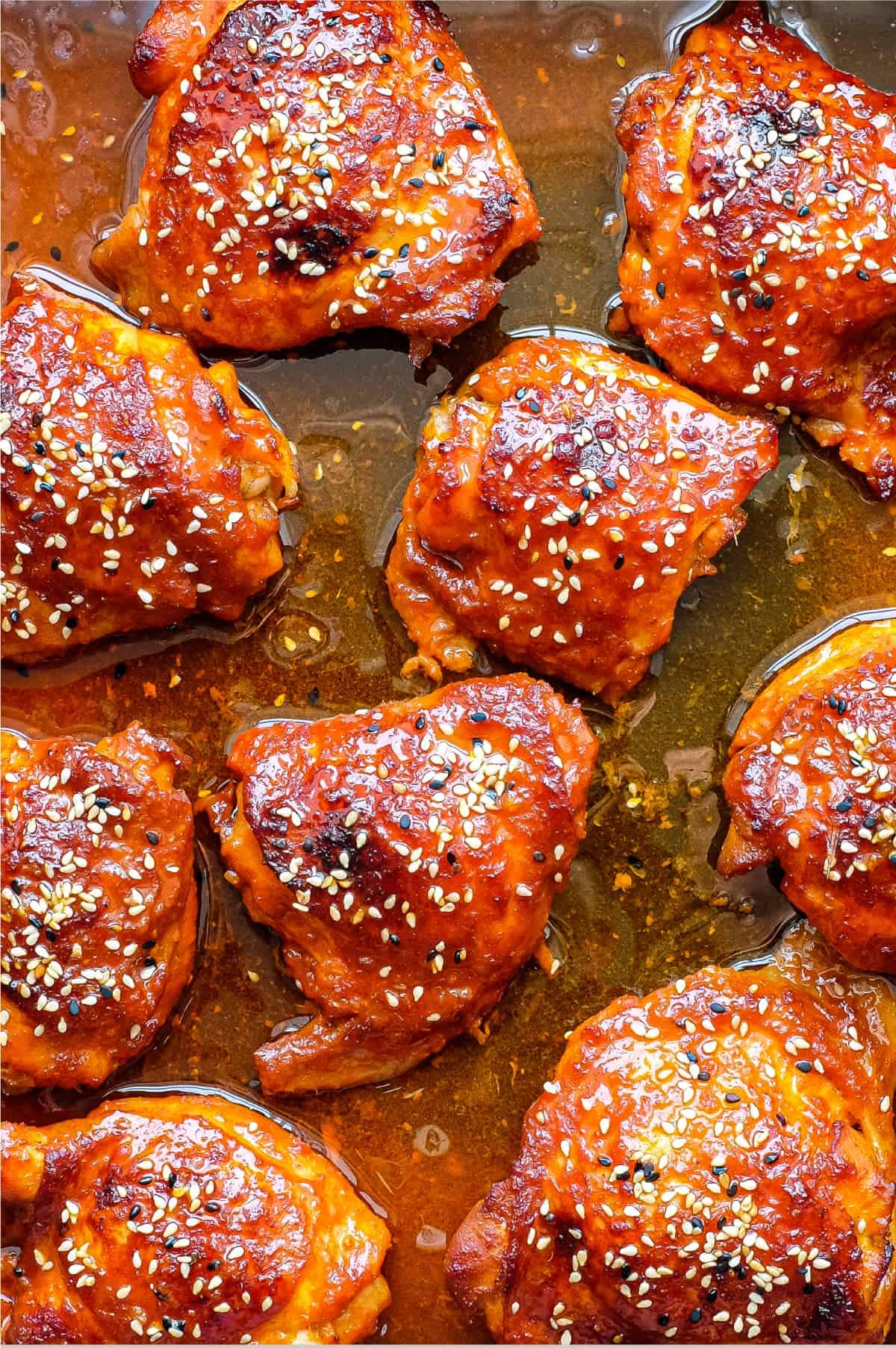 Why it works
Umami! - The funky fermented saltiness together with the spice and sweetness makes for one amazing flavour. You can't quite put your finger on it, but you can't get enough of it!
It's easy - this recipe has three hands-off steps. Marinate, wait, roast. That's it - this dish pretty much cooks itself.
Stuff you'll need
Gochujang chicken is simple, it's an easy to put together marinade and nothing else. The gochujang pepper paste does most of the heavy lifting and is the key flavour here.
Gochujang Pepper Paste - find it in the Asian aisle of most big supermarkets or in a Korean or Asian supermarket. You can of course buy Gochujang online too.
Chicken thighs - Thighs are the best cut as they're meaty and stay nice and juicy when roasting. You can also use chicken legs or party wings (for wings adjust roasting time by half). Skin on by the way, we'll be roasting that to sticky, crispy perfection!
Fresh - Ginger and Garlic. A Korean dish wouldn't be the same without a healthy dose of them.
Sriracha - I amp up the spice a bit more with some hot sriracha sauce.
Seasonings - Soy sauce, sugar, rice vinegar, Japanese sake or Korean soju and smoky sesame oil amp up the flavour a little more.
Sesame seeds - I use a mix of white and black sesame seeds and lightly toast them in a dry pan. They bring a subtle nuttiness and look nice as a garnish too!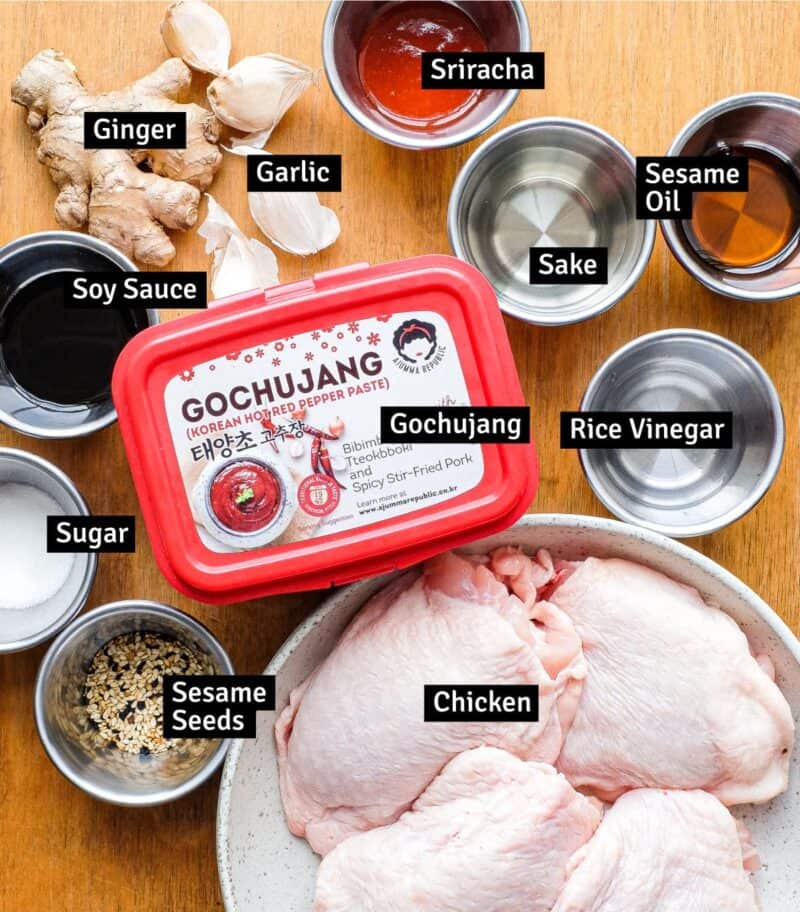 Step by Step
Like I said, gochujang chicken is not deep fried, it's roasted to crisp, juicy perfection. That also means it's super easy. All you need is a little patience to marinate the thighs to perfection. I recommend a full 24-hours or 4-6 hours if you're impatient.
Step 1 -

Add the chicken to a bag and then all the marinade

ingredients

. Seal and shake and jostle the bag to mix everything together. Pop it in the fridge and WAIT as long as you can.

Step 2 -

Tip the thighs into a roasting pan and arrange skin-up. Roast for 1 hour at 200ºc/400ºF

Step 3 - Baste

the chicken every 15 minutes in the pan juices. After 1 hour, you're good to go!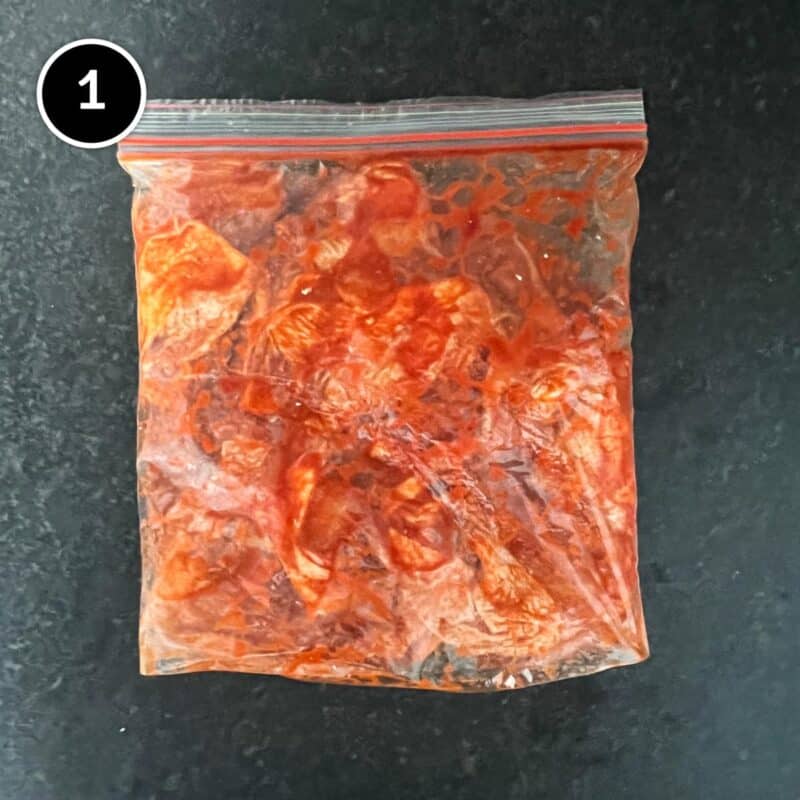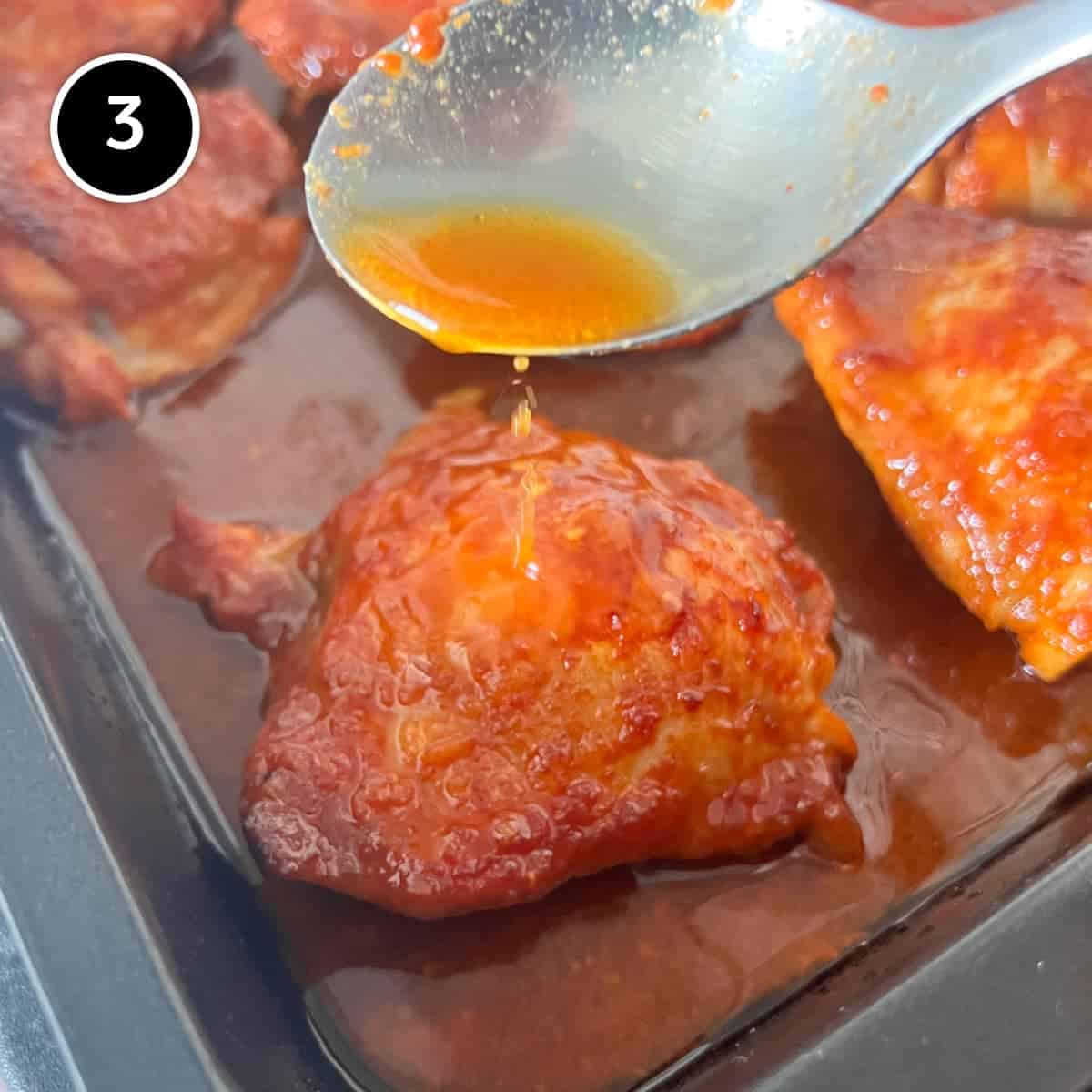 Pro Tips to make your life easier
Thighs, legs and wings are best for this recipe. Breast dries out, so I avoid.

If you're using mini drummers or wings, you should reduce the roasting time to 30-40 minutes, basting every 10 minutes.
Serving and substitutions
I serve mine with a nice, crunchy salad and some fluffy steamed rice. The salad cuts through the spicy, sweet richness of the chicken beautifully.
Salad - I'll generally use cucumber, tomato, mini radish and green onions/spring onions and fresh red chilli. You could also add a little shredded cabbage, sliced bell pepper, daikon radish, shredded carrot or whatever your favourite salad ingredients are.
Not just chicken - You can try this marinade with other meats too. Pork is great, try with ribs for a sticky, delicious treat! Beef works too, marinate a juicy steak and cook on the BBQ Grill for a charred, umami delight.
Storage
Fridge -

Gochujang chicken will be good in the fridge for up to a week. Eat cold or reheated until piping hot in the oven or microwave.

Freezer -

you can freeze and it'll be good for 3+ months. Be sure to defrost thoroughly before reheating until piping hot in the oven or microwave.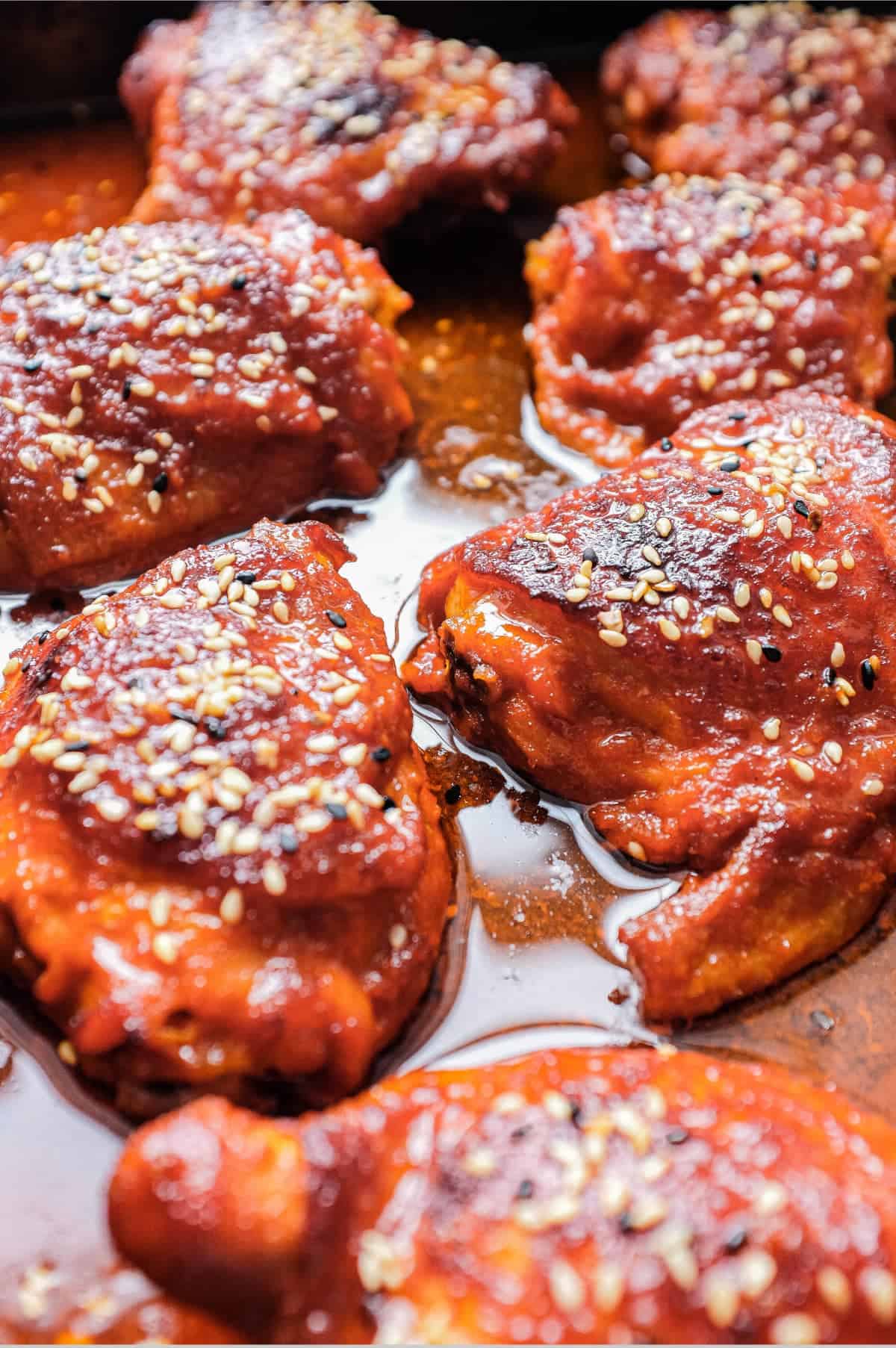 Ready to get cooking?
This ready made flavour sensation really is one of those super-special dishes you can't stop thinking about.
If you're new to the wonders of Gochujang paste, you're in for a treat - it should be added to the wonders of the world. I've been obsessed for years - I hope you enjoy!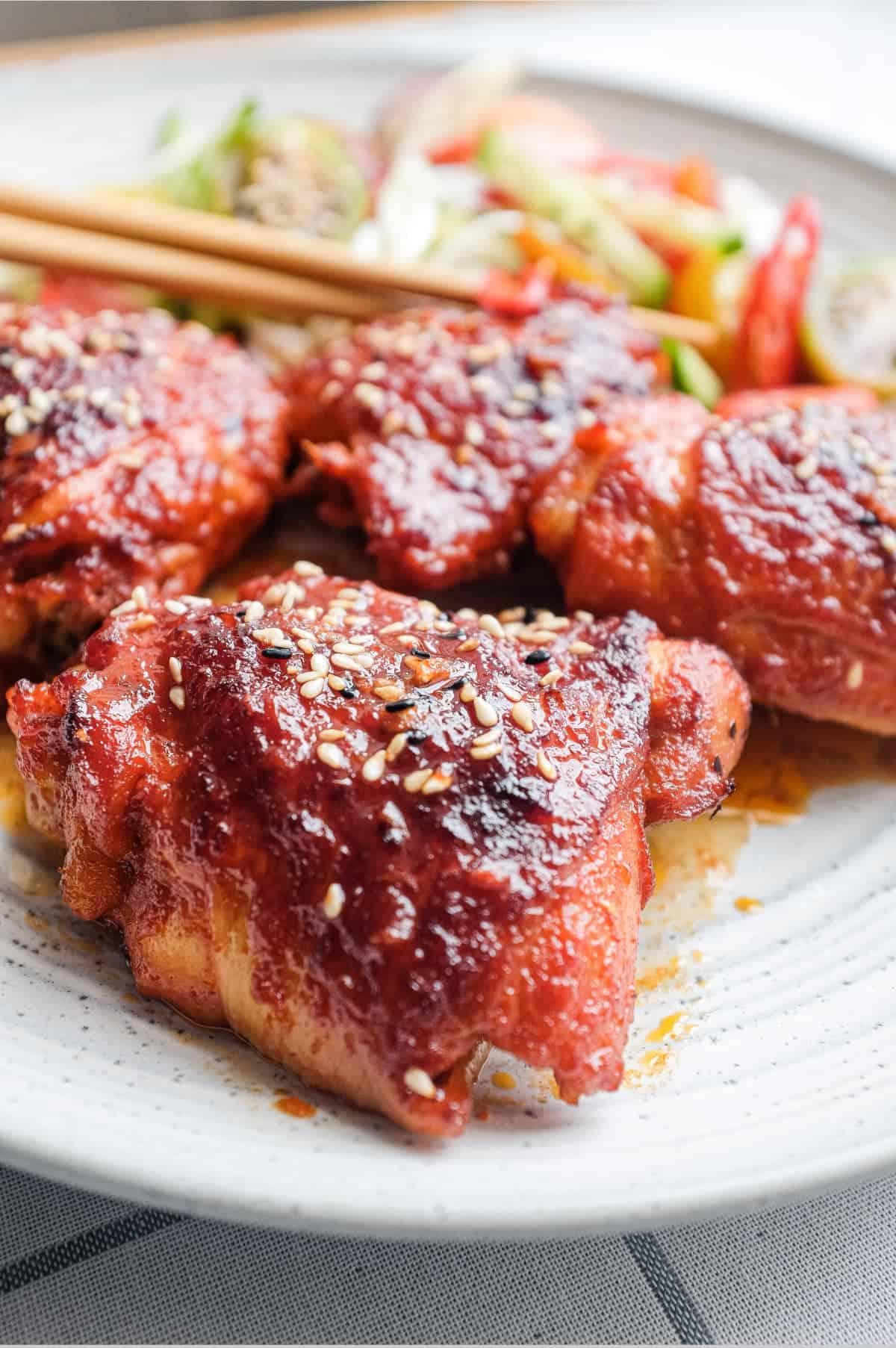 Any Questions? (FAQ)
Have a question about Gochujang Chicken? Let me know in the comments.
What flavour is Gochujang?
Gochujang is a savour, umami, sweet and spicy combination. It's primary ingredient is chilli paste which gives a hot spicy hit of flavour.
Is Gochujang spicy?
It comes in varying levels of spice - from mild to hot. In my opinion, the hot is not THAT hot, around a 6/10, which is why I amp up the spice in my recipe with the help of a little sriracha sauce.
Where can I buy Gochujang?
You can find it in most larger supermarkets and always in Asian, Korean or Japanese supermarkets. You can buy gochujang online too.
More Korean recipes
If you liked this recipe for Gochujang chicken, you'll be sure to enjoy more of my favourite Korean recipes.
Gochujang Chicken
Rate this recipe
Print Recipe
Pin Recipe
Save Recipe
Go to Collections
Calories (per serving) |
636
Instructions
Add all the marinade ingredients to a sealable plastic bag. Seal and then shake and jostle the bag to ensure it's well mixed and coating all the chicken.

Refrigerate until ready to cook. 24 hours will give the best results, but 4-6 hours will suffice if you're impatient!

Preheat oven to 200ºc/400ºf

Tip the chicken and all the marinade into a large roasting pan and arrange skin side up and add about 1/2 cup water. Shake the tin to mix in the water.

Roast for 60 minutes, basting the chicken in the pan juices every 15 minutes. Roast until well browned.

Remove from the heat and scatter over the sesame seeds. That's it, you're good to go.
Notes
Serve with a nice crunchy salad and steamed rice. I like mine with some cucumber, radish, tomato, spring onion/green onion and fresh chilli.
Change up the chicken - You can make this dish using chicken thighs, legs or drummers and wings. If you're using wings, adjust the cooking time to 30-40 minutes. Avoid using breast meat as it will dry out too much.
You can also make this with thick juicy pork belly slices or pork spare ribs.
Marination
Be sure to let the gochujang paste work its magic. a full 24 hours really makes a difference, but at a push, 4-6 hours will suffice.
Storage
Fridge - it'll stay fresh for a week in an airtight container or tightly wrapped.
Freezer - it'll be good for 3+ months in the freezer, in thick freezer bags or an airtight container.
Reheating
Reheat in the oven until piping hot (about 15 minutes) at 200ºc/400ºf. If cooking from frozen, cover in foil and cook in the oven for 25-30 minutes until piping hot (remove the foil after 15 minutes.
Reheat in the microwave from a fully defrosted state for 2-3 minutes, until hot.
Nutrition
Calories:
636
kcal
(32%)
|
Carbohydrates:
12
g
(4%)
|
Protein:
40
g
(80%)
|
Fat:
46
g
(71%)
|
Saturated Fat:
11
g
(69%)
|
Polyunsaturated Fat:
11
g
|
Monounsaturated Fat:
19
g
|
Trans Fat:
0.2
g
|
Cholesterol:
221
mg
(74%)
|
Sodium:
768
mg
(33%)
|
Potassium:
608
mg
(17%)
|
Fiber:
1
g
(4%)
|
Sugar:
4
g
(4%)
|
Vitamin A:
215
IU
(4%)
|
Vitamin C:
6
mg
(7%)
|
Calcium:
122
mg
(12%)
|
Iron:
3
mg
(17%)
This recipe uses affiliations and may receive a commission based on your activity (link clicks). Learn more.