Salmon Soba Noodles with Miso Dressing
These delicious Japanese salmon soba noodles have the tastiest combination of juicy salmon with soft soba noodles, broccoli and edamame and the most amazing umami-laden miso dressing. It's simple, it's healthy, it's completely delicious.
Noodle bowls don't come more tasty than this delicious salmon soba noodle bowl with fresh greens and a salty, nutty dressing that brings everything together in the most amazing way.
White miso paste is used to great effect in elevating the flavours to new heights. A salty, umami, sweet and smoky (YES, all those things) dressing that brings out all the wonderful flavour of the juicy, tender salmon and soft, nutty soba noodles.
I love this bowl for many reasons; it's quick and easy, hearty, healthy and versatile. It can be eaten hot or cold, making it the ideal choice for meal-prep lunches. It's so fresh and summery - a light and bright marriage of flavour, colour and texture.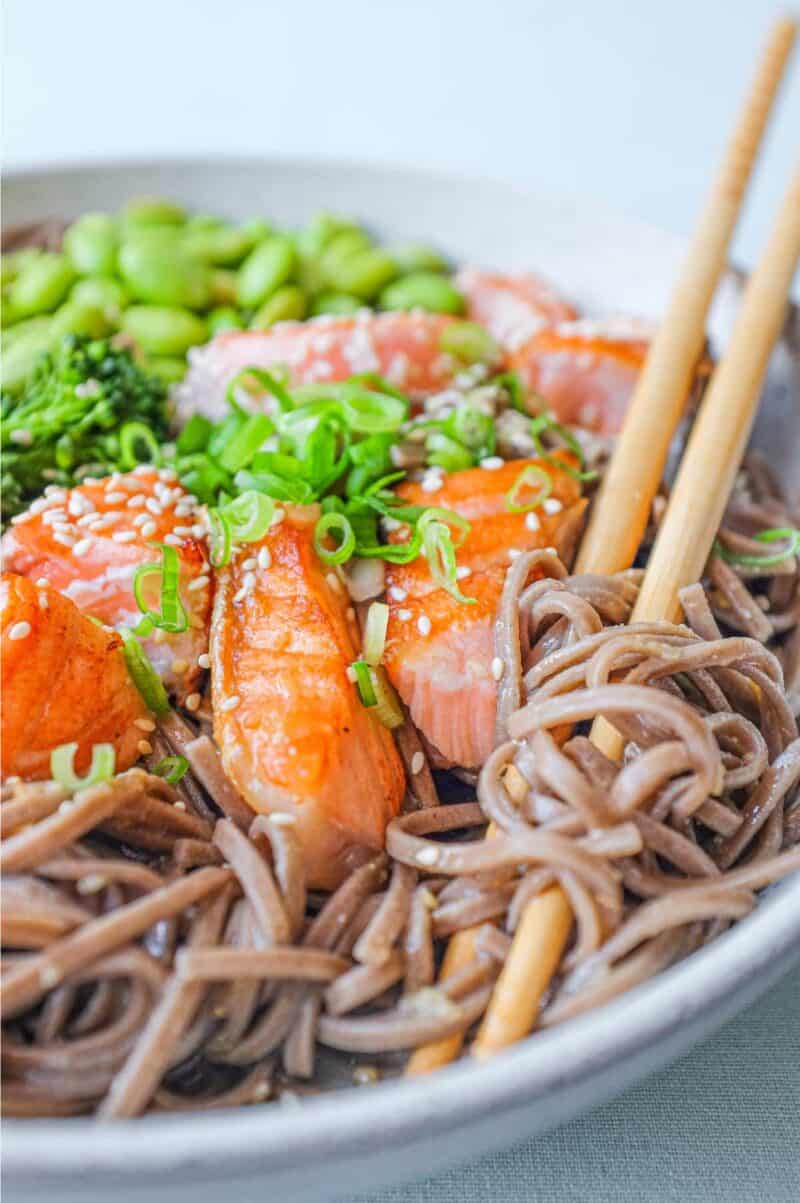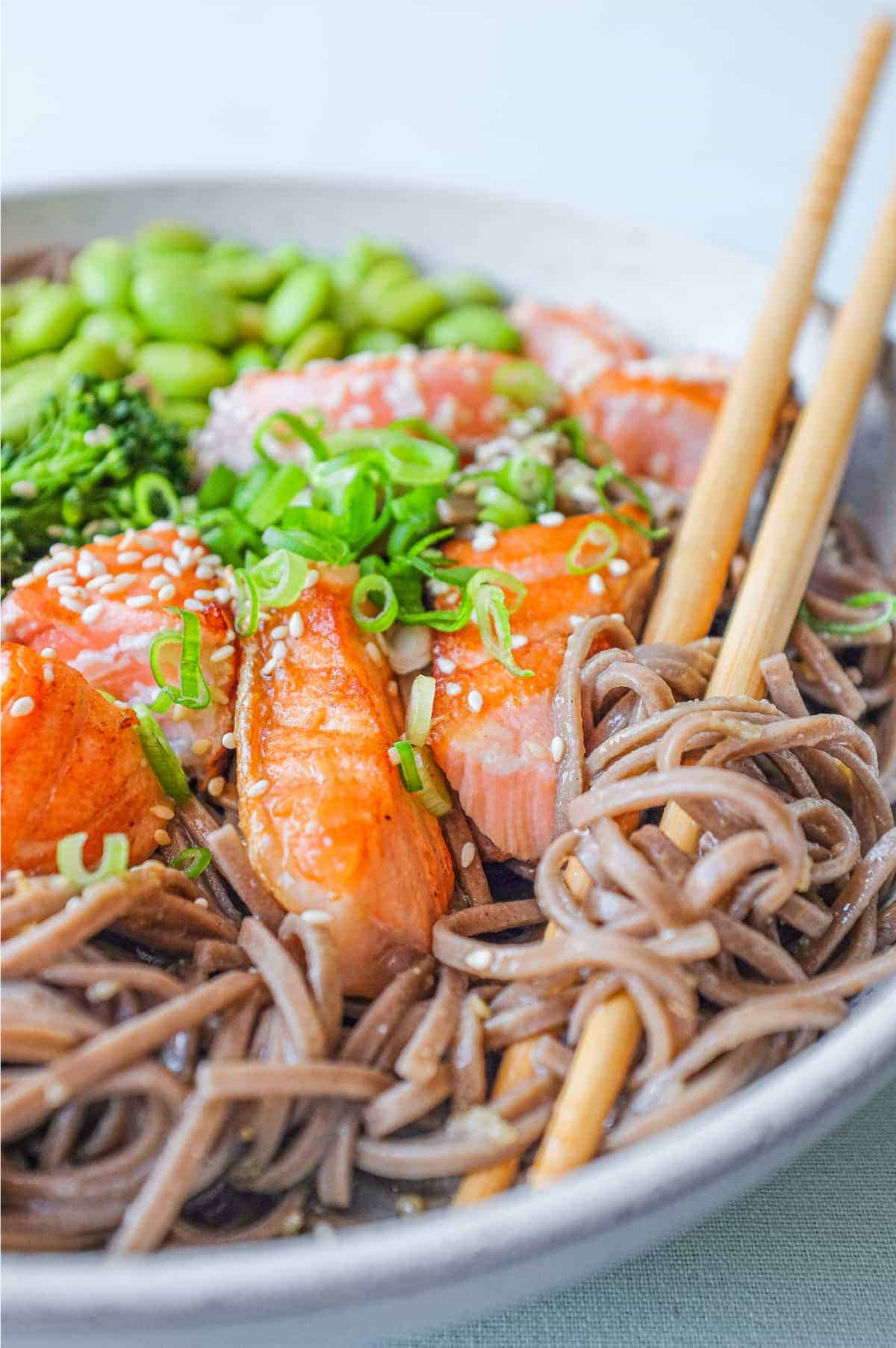 What are soba noodles?
Soba noodles are a type of traditional Japanese noodle made from buckwheat flour or often a combination of buckwheat flour with a little wheat flour. They are typically thin, brownish-grey in colour, and have a slightly nutty flavour.
Buckwheat is a plant that is not related to wheat and is actually a seed. In their whole buckwheat variety they are gluten-free and considered a nutritious ingredient (check the package ingredients before assuming your noodles are gluten-free).
Soba noodles can be used in a variety of ways, including in soups, stir-fries, both hot and cold.
Well dressed noodles
The key to this dish is the delicious miso dressing. It's created using a simple combination of flavourful ingredients that when blended create the most complex umami-rich sauce.
Miso, a funky fermented soy paste is mixed with fresh minced ginger, rice vinegar, sake, light soy sauce (or Tamari), honey and smoky sesame oil (one of life's great aromatics!).
It plays an integral part in elevating the noodles into something very special! The essence of Japan.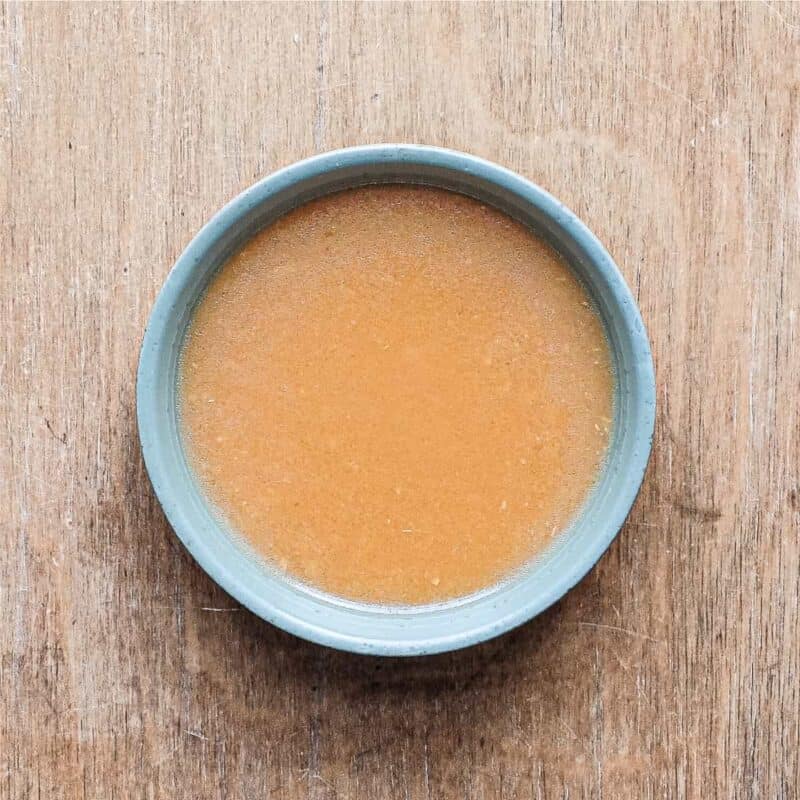 Why it works?
It's healthy and hearty - when I want to feel satisfied after a meal, without feeling groaningly full, this noodle bowl is all I want.
The salmon is just perfect on its own, but I love some greenery to accompany so broccolini and edamame are a welcome addition. And I'll say it one more time... that dressing is everything!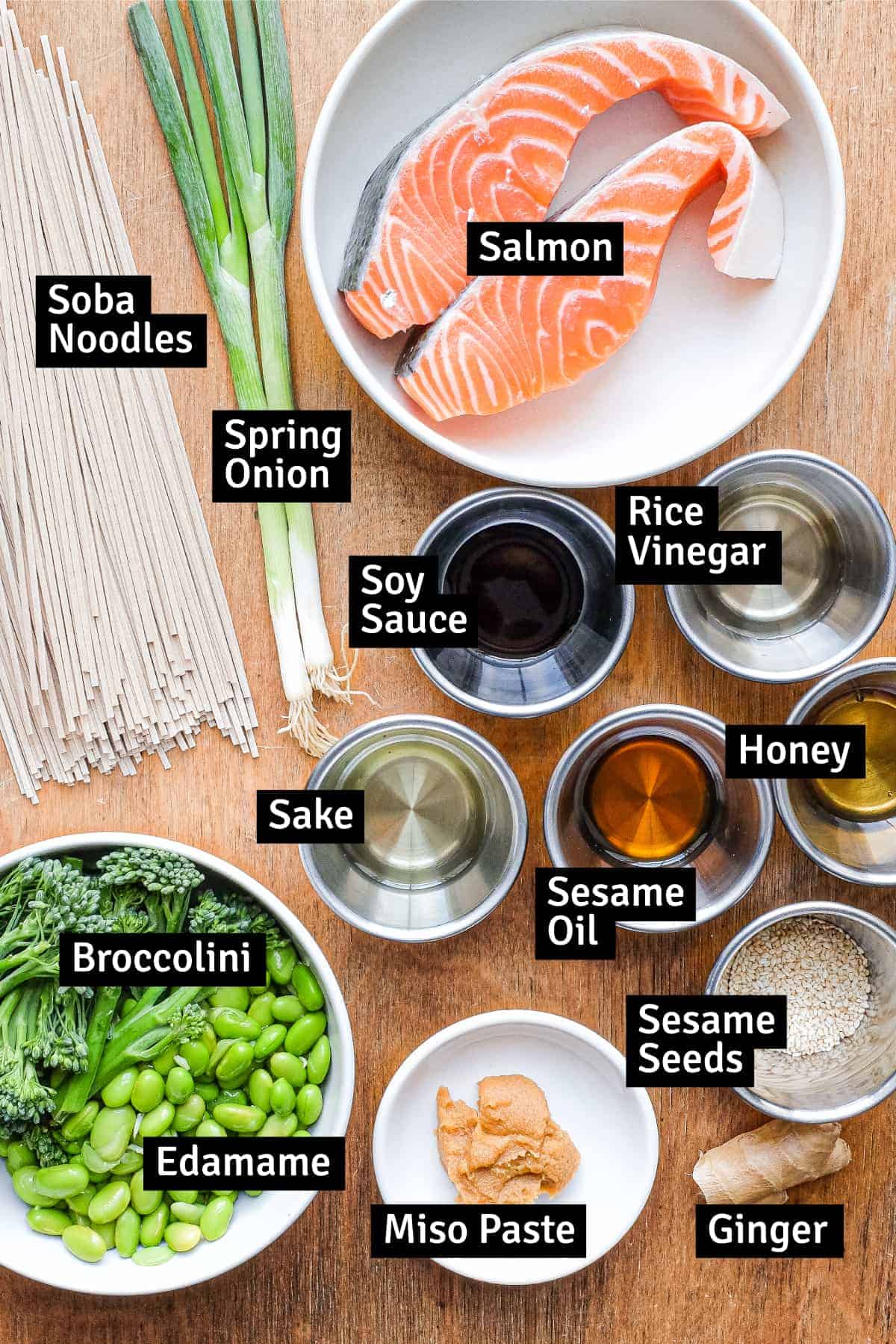 Stuff You'll Need
Making this bowl of goodness requires easy to find ingredients. Most supermarkets these days will carry all you need. If not, all Asian food stores will.
Salmon - I like mine with the skin on so I can crisp it up, but you can decide if you want it on or off.
Soba noodles - pre cook them and have them waiting for the end assembly.
White miso paste - this is mixed with fresh ginger (minced), light soy sauce, rice vinegar, honey, sake and sesame oil.
Broccolini and Edamame - for a welcome vegetable presence. I pre cook the broccolini for ease.
Spring onion/green onion and toasted sesame seeds - for a simple fragrant garnish.
Step by Step
Making your noodle bowl at home is easy! Only a few simple cooking steps then it's assembly mode to finish everything off.
Step 1 -

Make the dressing. Whisk

everything

together and set aside.

Step 2 - Cook the salmon in a little oil for a couple of minutes each side so that it's lightly crisp all-round but still pink and soft inside. I forgot to show the stage of blanching the broccolini, but at this stage I'll also simmer that for 2-3 minutes until lightly cooked but still with a bit of bite.
Step 3 - cook the noodles and cool them a little. Add some of the dressing and toss to coat.
Now all that's needed is to assemble your bowl with a bed of noodles and then break up the salmon a bit and place on top. Add a few pieces of broccoli and a spoonful of edamame and garnish with sesame and spring onion. Lastly, spoon over a little more of the dressing and you're done!
Pro Tips
You can eat this noodle bowl hot or cold, so it's great contender for meal prep. If you're serving as a meal prep, have the dressing in a separate container to pour over when you're serving. This will ensure the noodles don't become soggy.
Storage Suggestions
As a food prep bowl, this will stay fresh for 3-4 days in the fridge with the dressing stored separately. Serve cold or at room temperature and pour over the dressing just before eating.
It's not really suitable for freezing.
Ready to get cooking?
So, for a delicious summery bowl of Japanese goodness this salmon noodle bowl is just the ticket. Light, fragrant and healthy it's a great lunch or dinner. It's easy, quick and guaranteed to fill the hungriest stomach! I hope you enjoy!
More Japanese & Korean recipes
If you liked this recipe for my Salmon Soba Noodles with Miso Dressing, I'm sure you'll love some more of my tasty Japanese recipes.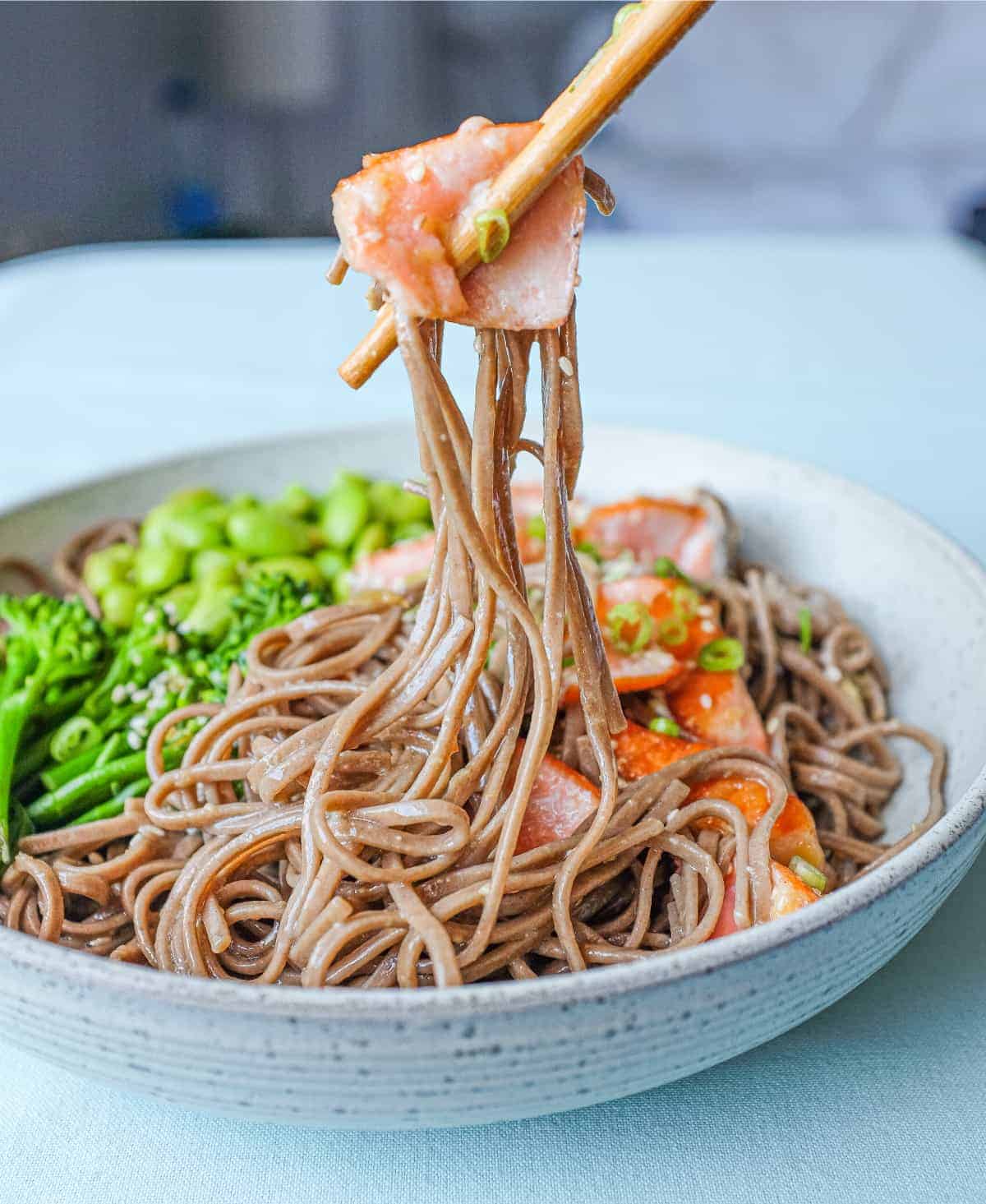 Any Questions? (FAQ)
Have a question about my salmon soba noodles? Let me know in the comments.
What are soba noodles?
Soba noodles, originating from Japan, are thin and buckwheat-based noodles that have gained popularity worldwide. Made by combining buckwheat flour with wheat flour, they offer a distinctive nutty flavor and a smooth texture. Soba noodles are often served cold with a dipping sauce, known as zaru soba, or in a hot broth as a noodle soup. They are a versatile and healthy choice, commonly enjoyed as a main course or in salads. Soba noodles are loved for their unique taste and cultural significance in Japanese cuisine.
Are soba noodles gluten-free?
It depends. It's best to check the packaging. Soba noodles made from 100% buckwheat ARE gluten-free, however many soba noodles are not gluten-free as they typically contain a combination of buckwheat and wheat flour.
Is salmon healthy?
Yes, salmon is generally considered a healthy food choice. It is a good source of high-quality protein and is rich in omega-3 fatty acids, which are beneficial for heart health. Salmon also provides essential nutrients like vitamin D, vitamin B12, and selenium. However, it's important to consider the cooking method and portion size when consuming salmon, as well as any individual dietary restrictions or health conditions.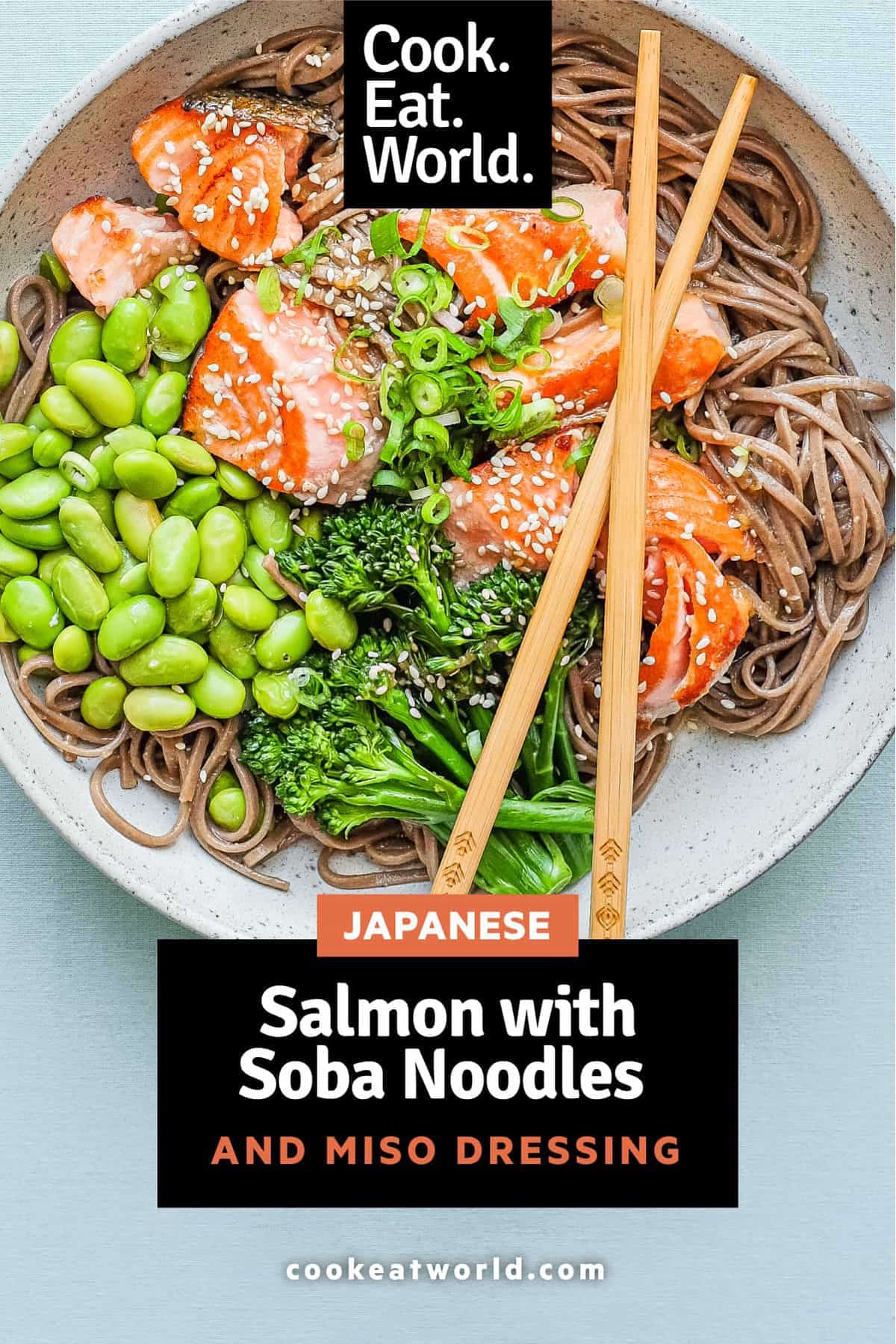 This recipe uses affiliations and may receive a commission based on your activity (link clicks). Learn more.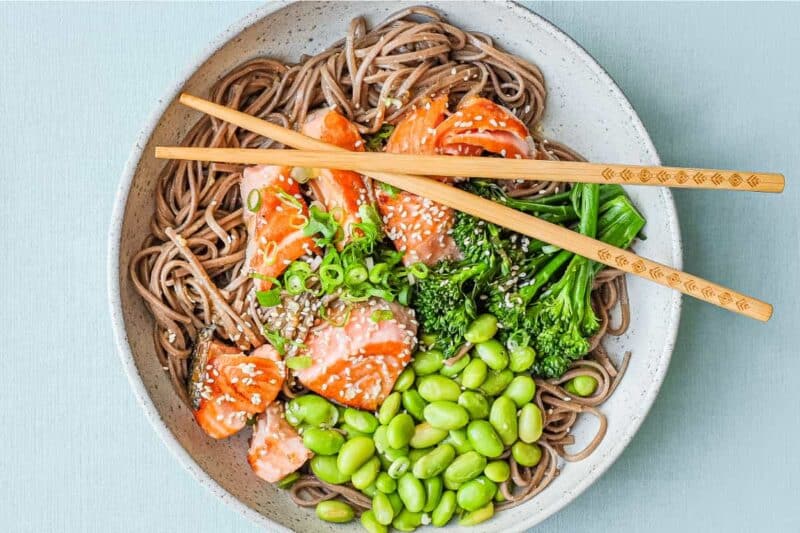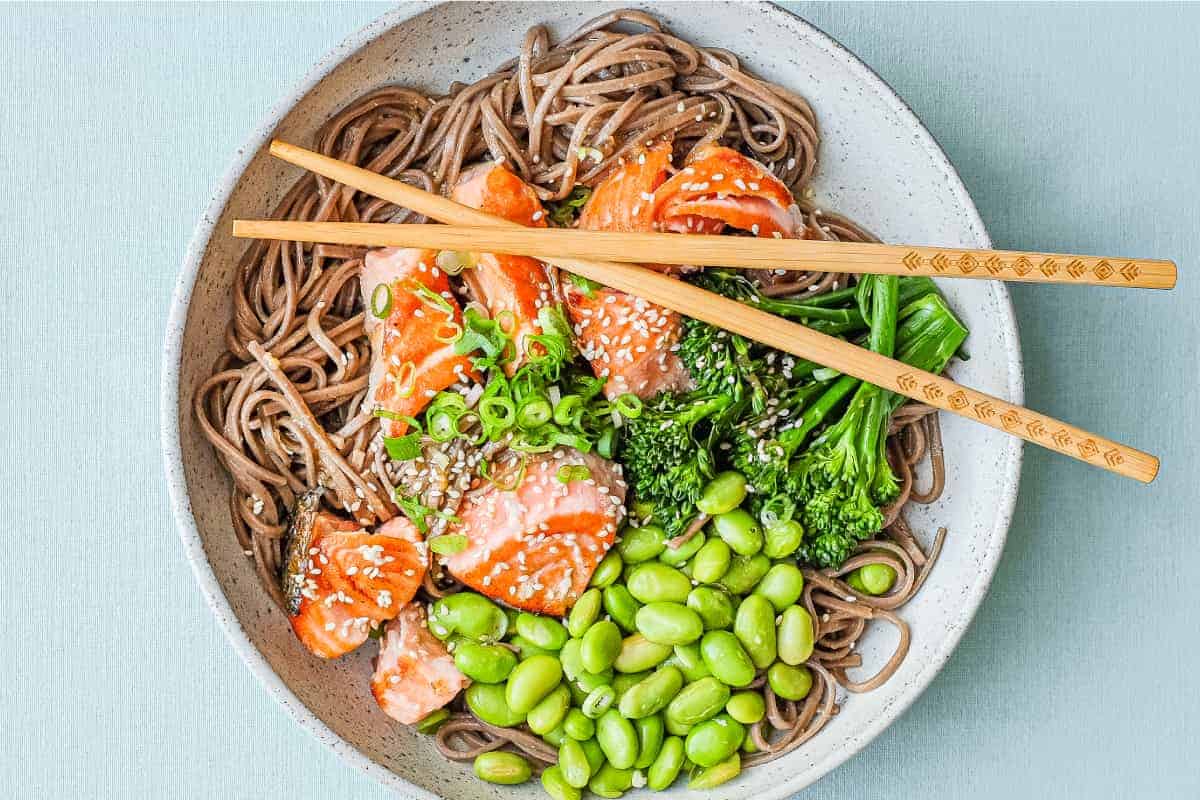 Salmon Soba Noodles with Miso Dressing
Rate this recipe
Print Recipe
Pin Recipe
Save Recipe
Go to Collections
Calories (per serving) |
810
Instructions
To make the dressing
Whisk together all the dressing ingredients with about 3 tbsp water until well combined. Set aside.
To make the noodle bowl
Cook the edamame and broccolini until just tender (3-4 minutes) Drain and set aside.

Cook the soba noodles to the packet instructions, drain and toss through a few tablespoons of the dressing then set aside to cool.

Season the salmon lightly with salt and pepper.

Heat a small, non-stick frying pan with the canola oil over a medium heat until just hot. Fry the salmon for around 2 minutes on each side (including sides) until it's cooked but lightly pink inside. Remove and drain on paper towels.

Arrange some noodles in the base of a deep Asian bowl and top with the salmon. Add some of the broccolini and edamame and then garnish with spring onion and sesame seeds. Drizzle over more of the dressing and serve.
Nutrition
Calories:
810
kcal
(41%)
|
Carbohydrates:
100
g
(33%)
|
Protein:
62
g
(124%)
|
Fat:
19
g
(29%)
|
Saturated Fat:
2
g
(13%)
|
Polyunsaturated Fat:
6
g
|
Monounsaturated Fat:
6
g
|
Trans Fat:
0.01
g
|
Cholesterol:
94
mg
(31%)
|
Sodium:
1284
mg
(56%)
|
Potassium:
1589
mg
(45%)
|
Fiber:
6
g
(25%)
|
Sugar:
9
g
(10%)
|
Vitamin A:
1944
IU
(39%)
|
Vitamin C:
93
mg
(113%)
|
Calcium:
221
mg
(22%)
|
Iron:
8
mg
(44%)