Buta Kakuni (Japanese Braised Pork)
Melting and tender pieces of pork belly, slowly stewed in a rich, umami sauce. Sticky, sweet and luxuriously tasty, Buta Kakuni is an intense hit of Japanese fragrance and flavour.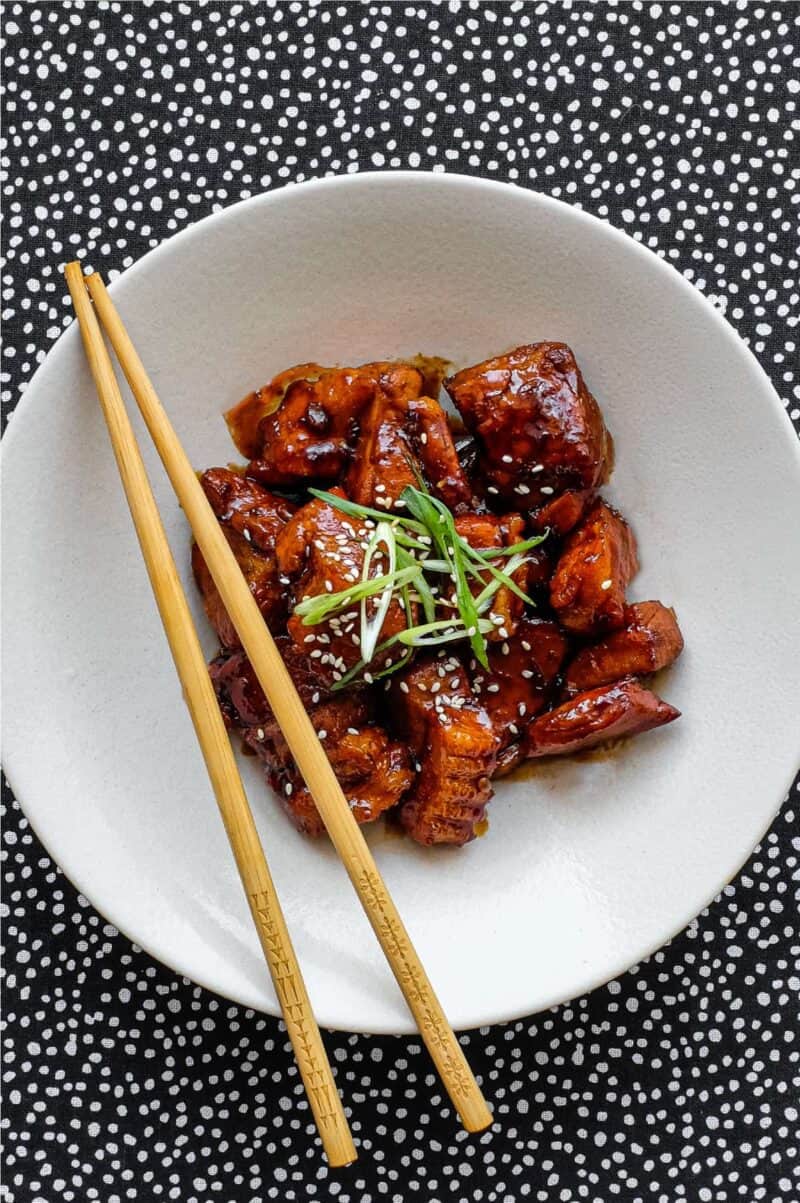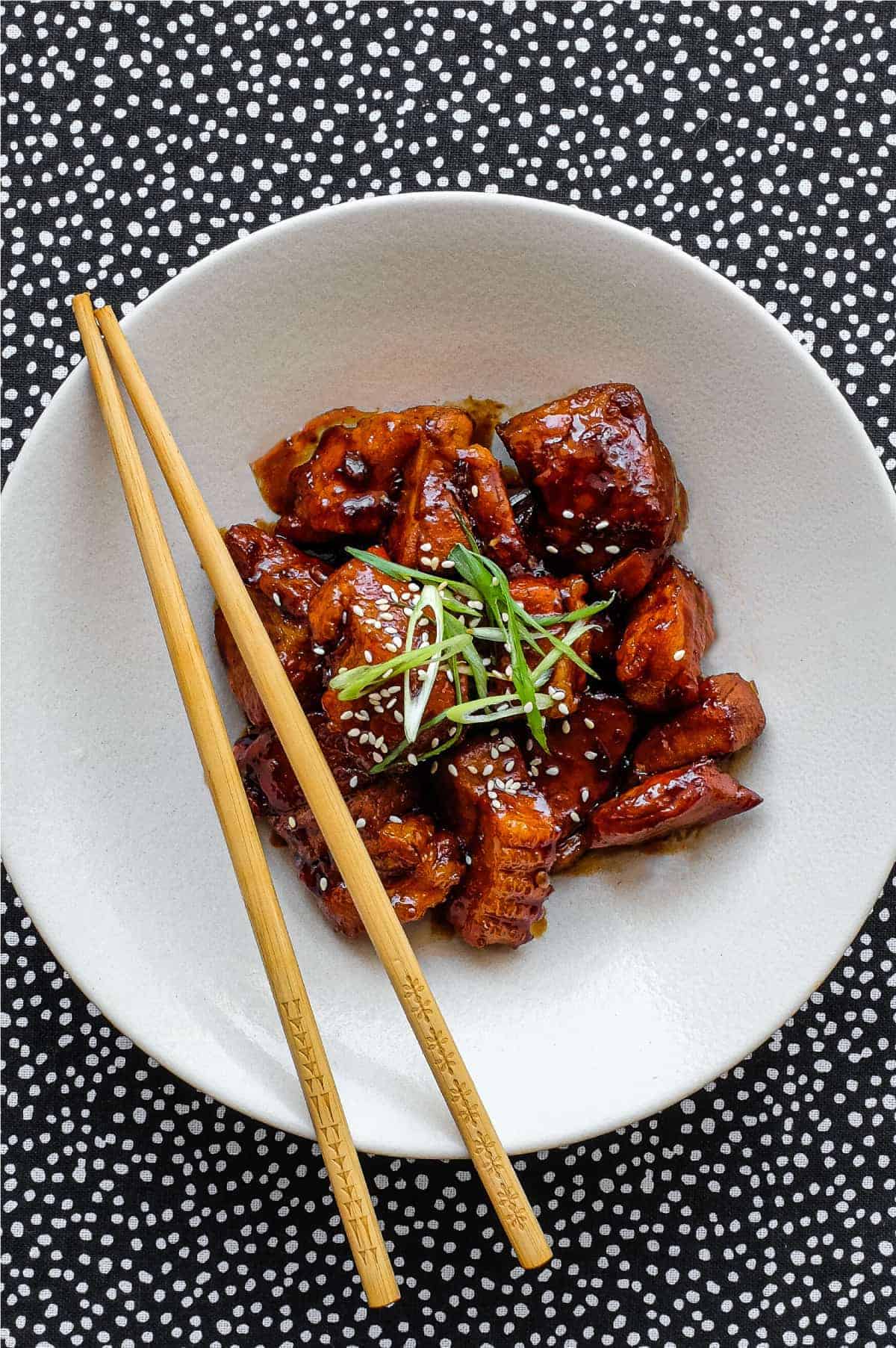 I'm a big fan of anything pork belly, especially when it comes to low and slow cooking. It's the one cut of meat that just gets better and better the longer it cooks.
It's especially successful with Asian recipes. I have a few go-to favourites that hero pork belly in this way, like Chinese Hong Shao Rou, Vietnamese Thit Kho, and Taiwanese Lu Rou Fan, and the delicious Japanese Chashu, but for the biggest hit of flavour I think my favourite night just be Japanese Buta Kakuni.
This authentic buta kakuni recipe features pork stewed in fragrant dashi broth and then simmered in a separate sauce of soy sauce, sake, mirin, sugar and ginger. The pork is tender and juicy and works so well over a little rice - it's a decadent treat, a luxurious marriage of fragrance and flavour that will keep you coming back for more.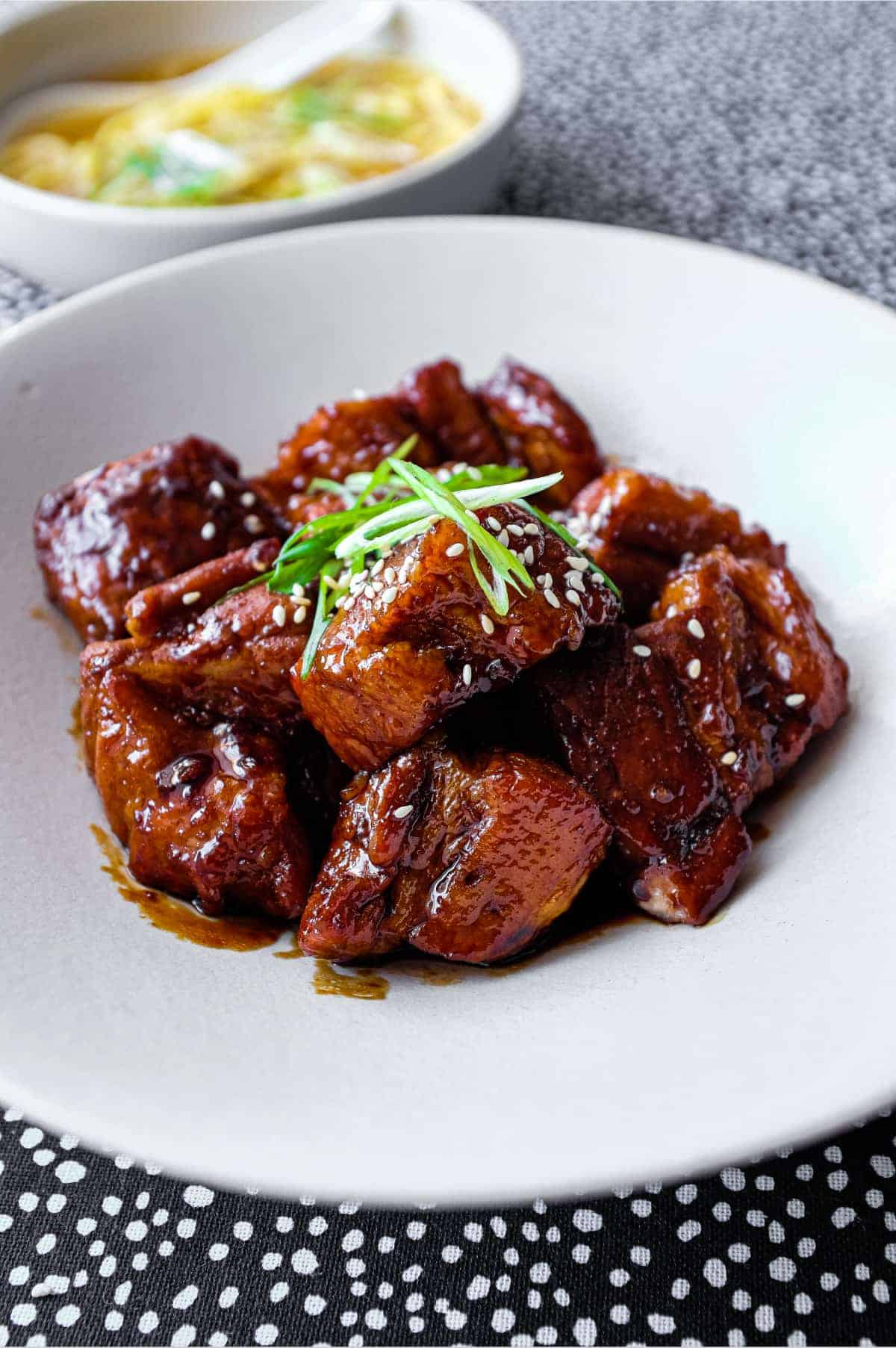 What is Buta Kakuni (猪肉角煮)?
In Japanese 'Buta' refers to 'Pork' and 'Kakuni' stewed. Buta Kakuni often goes by the names 'Buta No Kakuni' or simply 'Kakuni'.
Typically, Kakuni also refers to the shape of the pork belly, being square when cooked, although not exclusively so. That will depend on the uniformity of the pork belly used.
The cooking process involves a two-stage braise - firstly the meat is simmered with aromatics like dashi, spring onion and ginger, until tender and then further cooked in a separate sauce of soy, sake, mirin and sugar. This sauce reduced into a thick, sticky consistency which coats the pork in a deep hue.
Kakuni is served in a few ways; alongside steamed rice, as a donburi (rice bowl), steamed rice buns known as 'nikuman' or 'butaman' and even as a topping for Ramen.
It's often eaten as a celebratory dish at certain times of the year including a new year's meal called 'Osechi Ryori'. It's served in special boxes called 'Jubako' as a symbol of prosperity, health, and good fortune.
Why it works?
Flavour! - When it comes to flavour, Kakuni is jam packed. And it's easy to make that flavour happen. This is why I love it so much!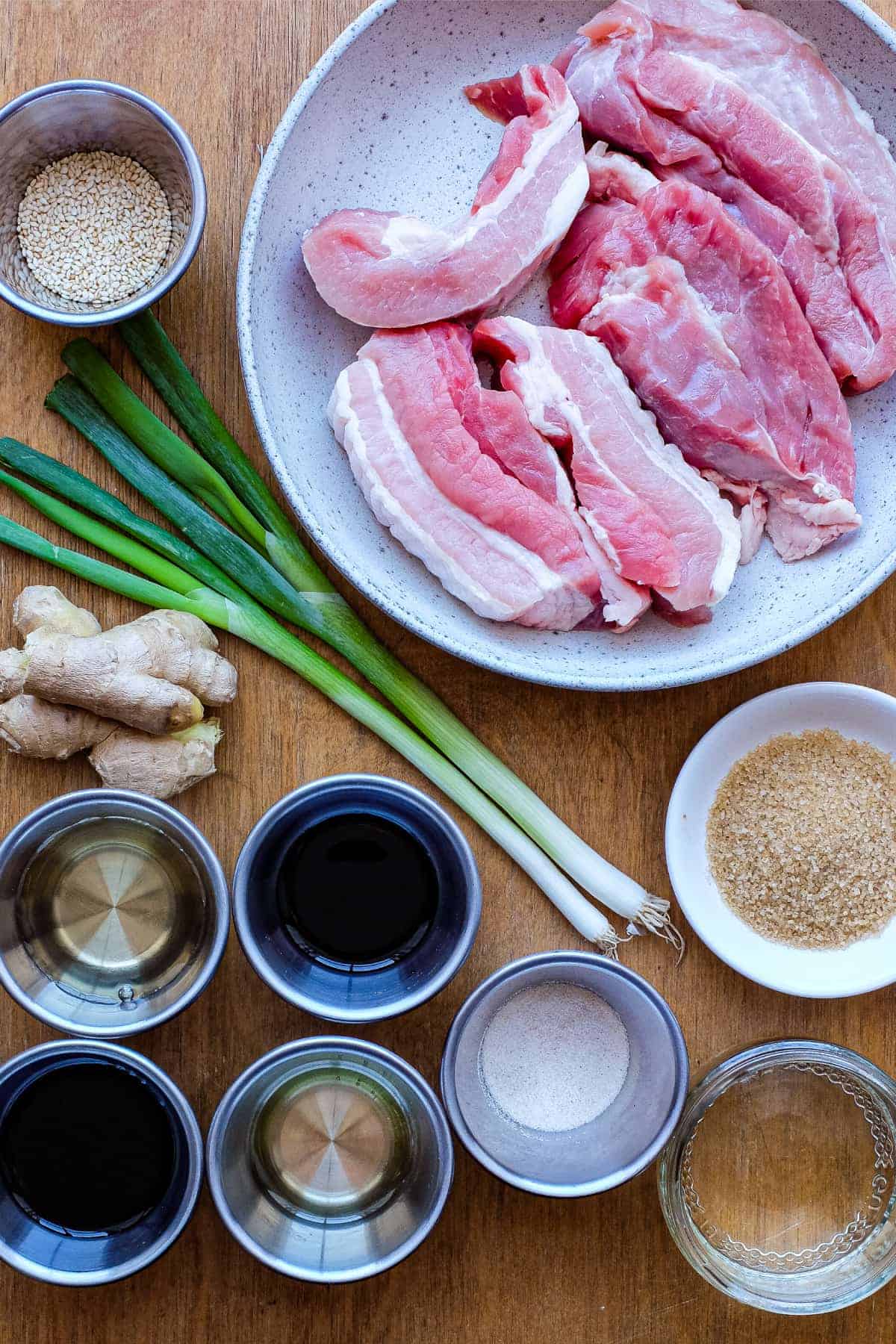 Stuff You'll Need
Making Buta Kakuni at home is easy, here are the key flavours.
Pork Belly - with layering of meat and fat, it's the perfect cut of pork for slow braising.
Dashi powder - made from seaweed and bonito brings a unique umami saltiness to the pork cooking liquid.
Fresh - spring onion and ginger bring fragrance and flavour to the cooking liquid and garnish.
Seasonings - all bases of sweet and salty are covered with light and dark soy, sake, sesame oil, mirin and sugar. The balance of flavour is perfect.
Sesame seeds - for a garnish light toasted nuttiness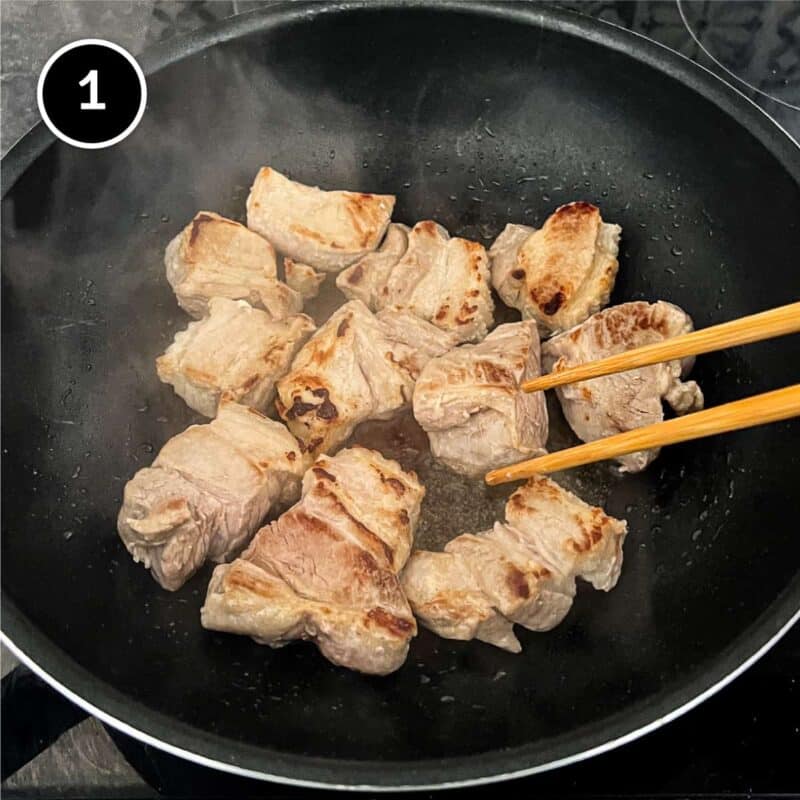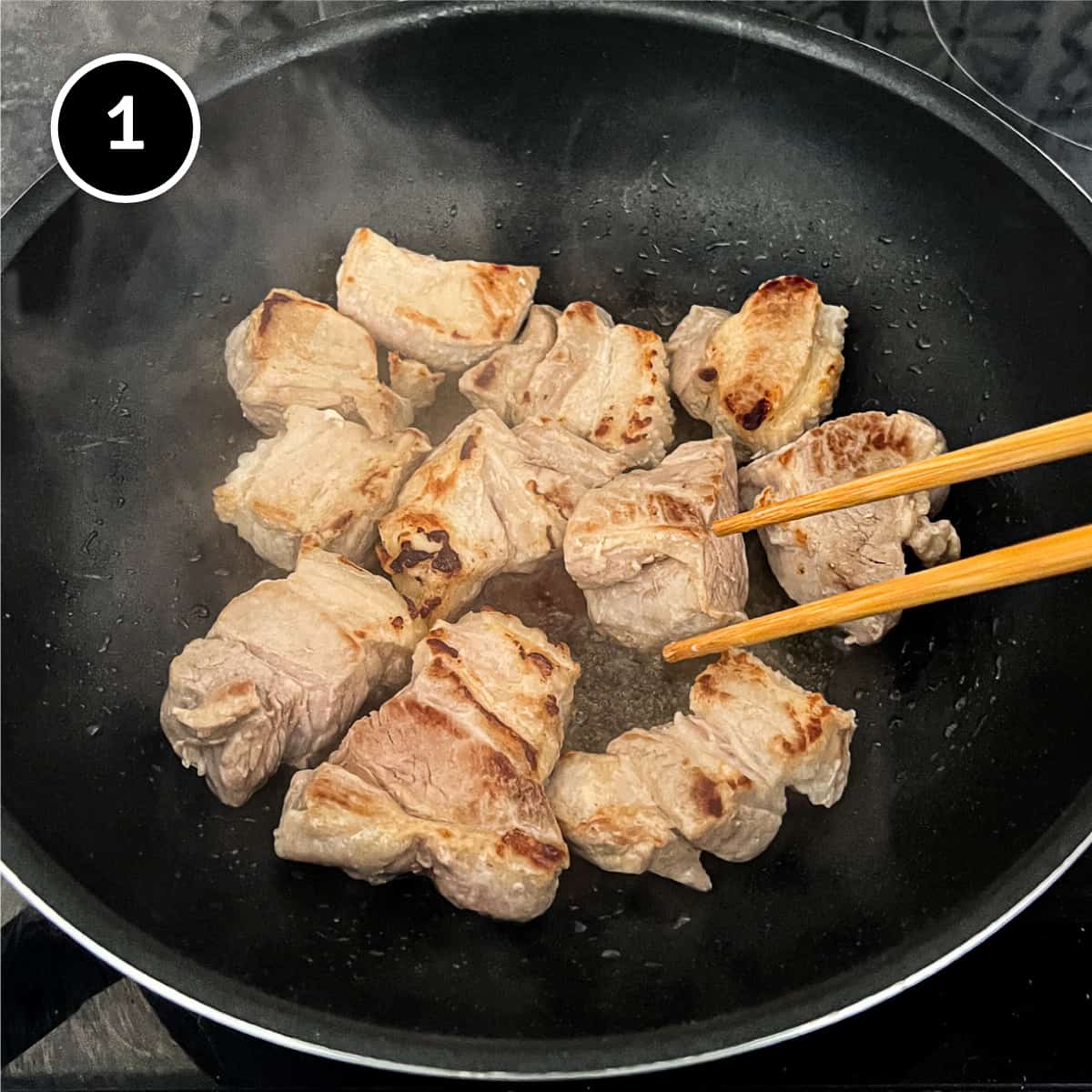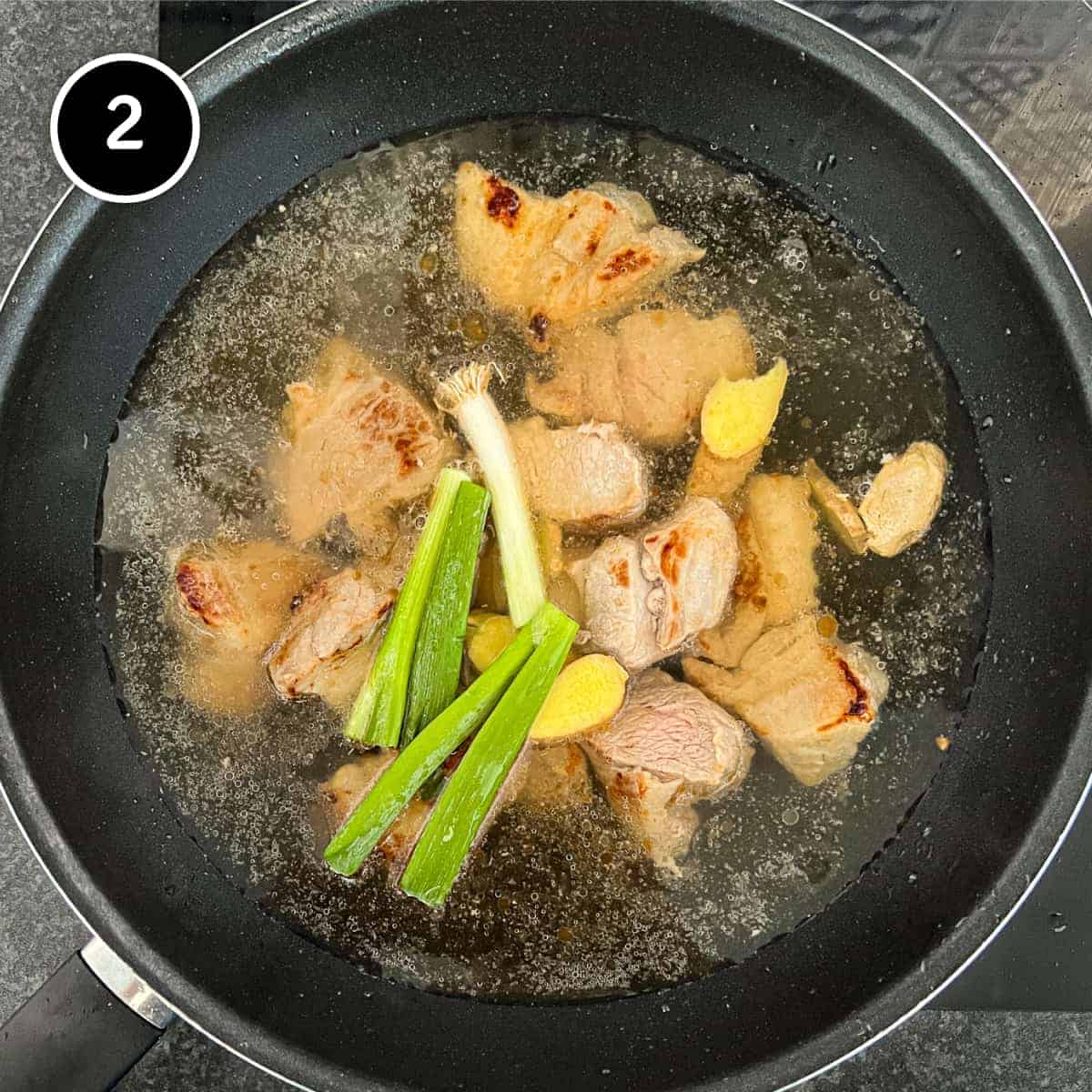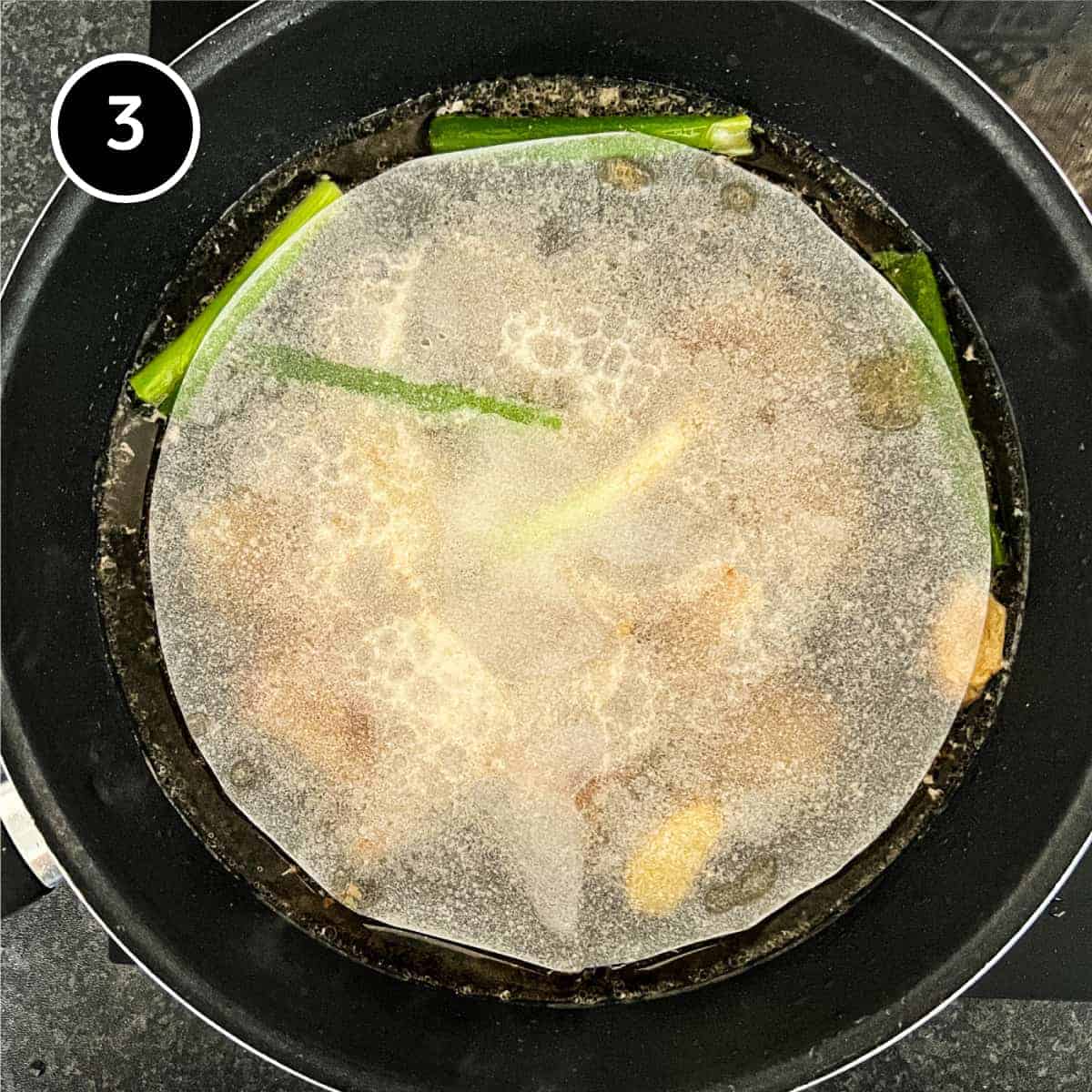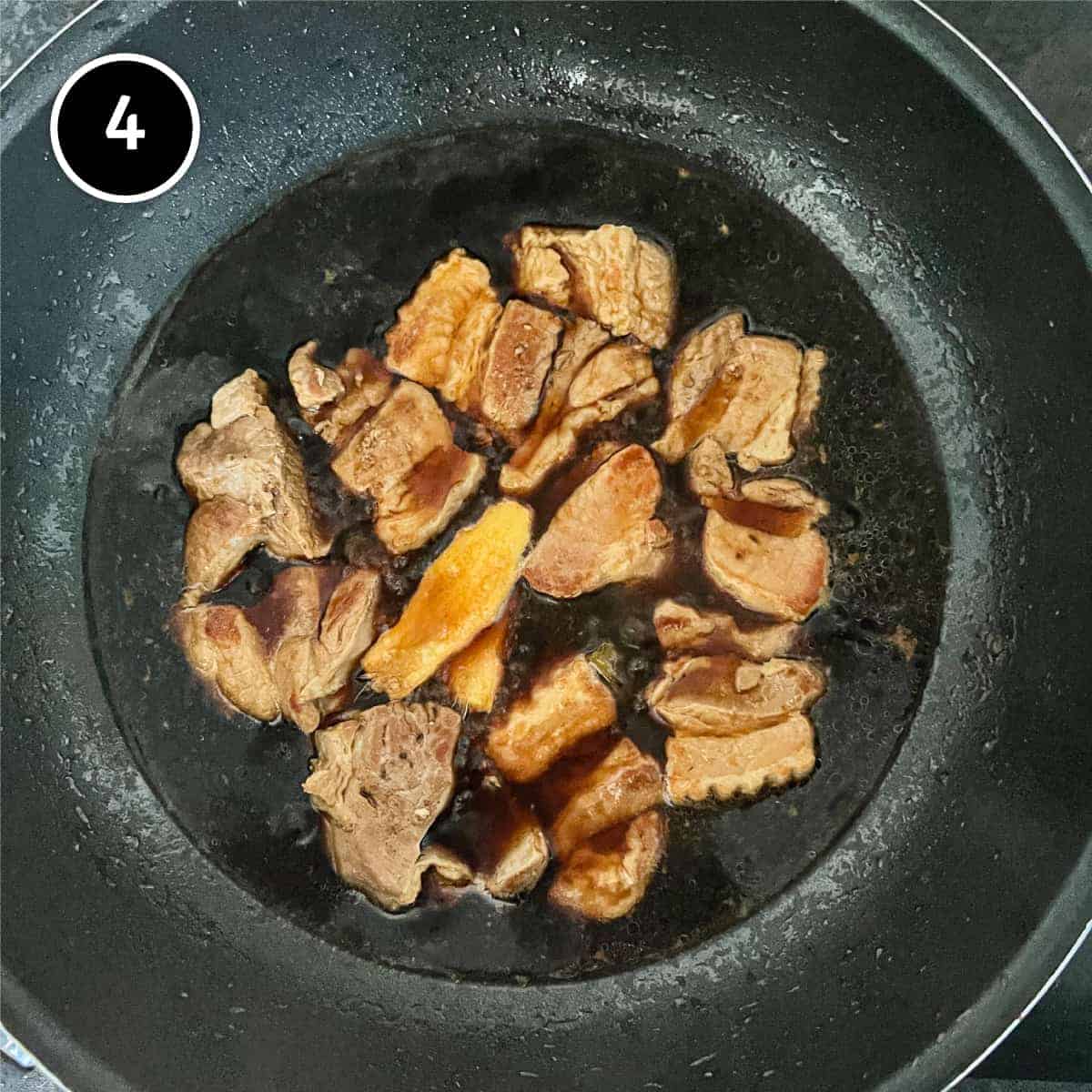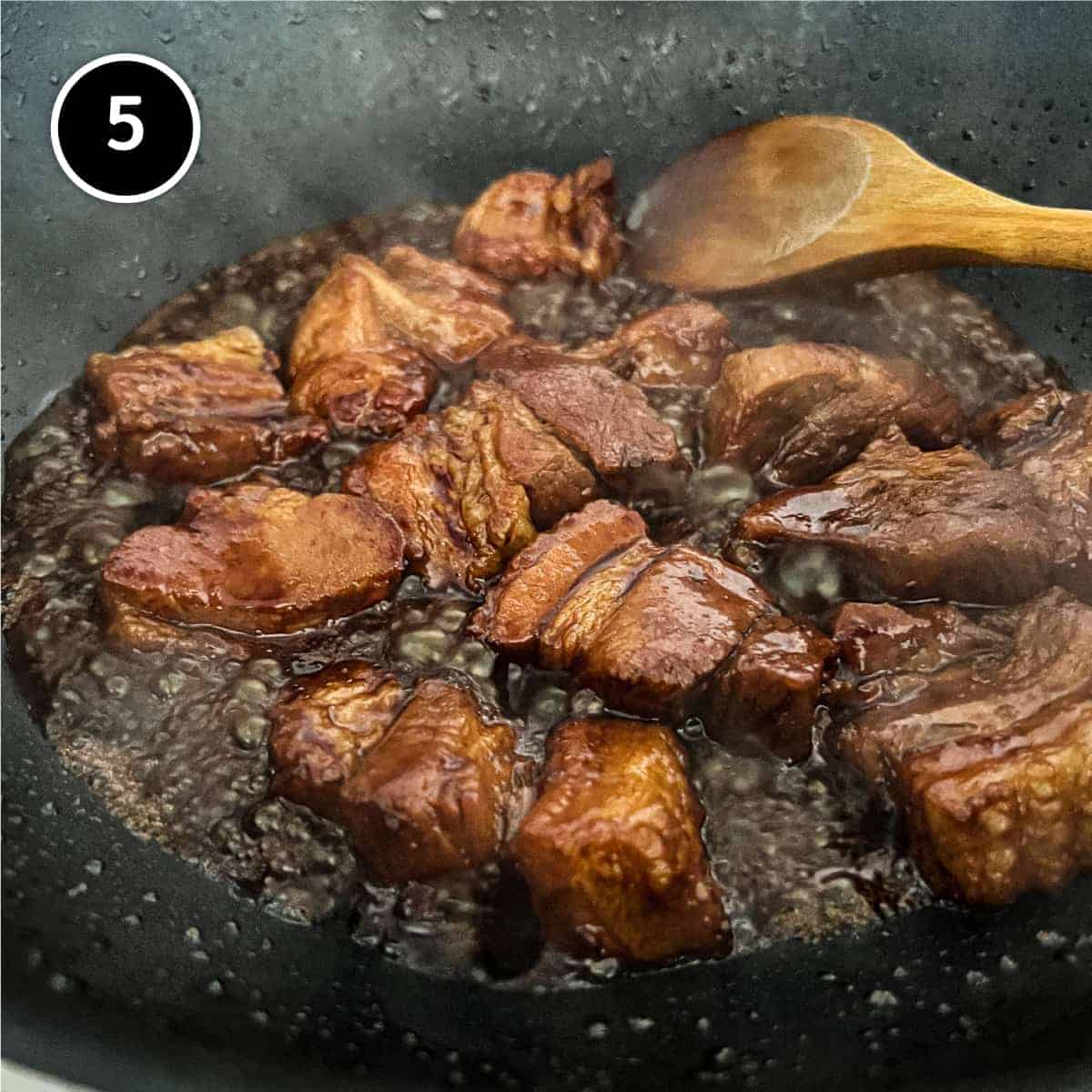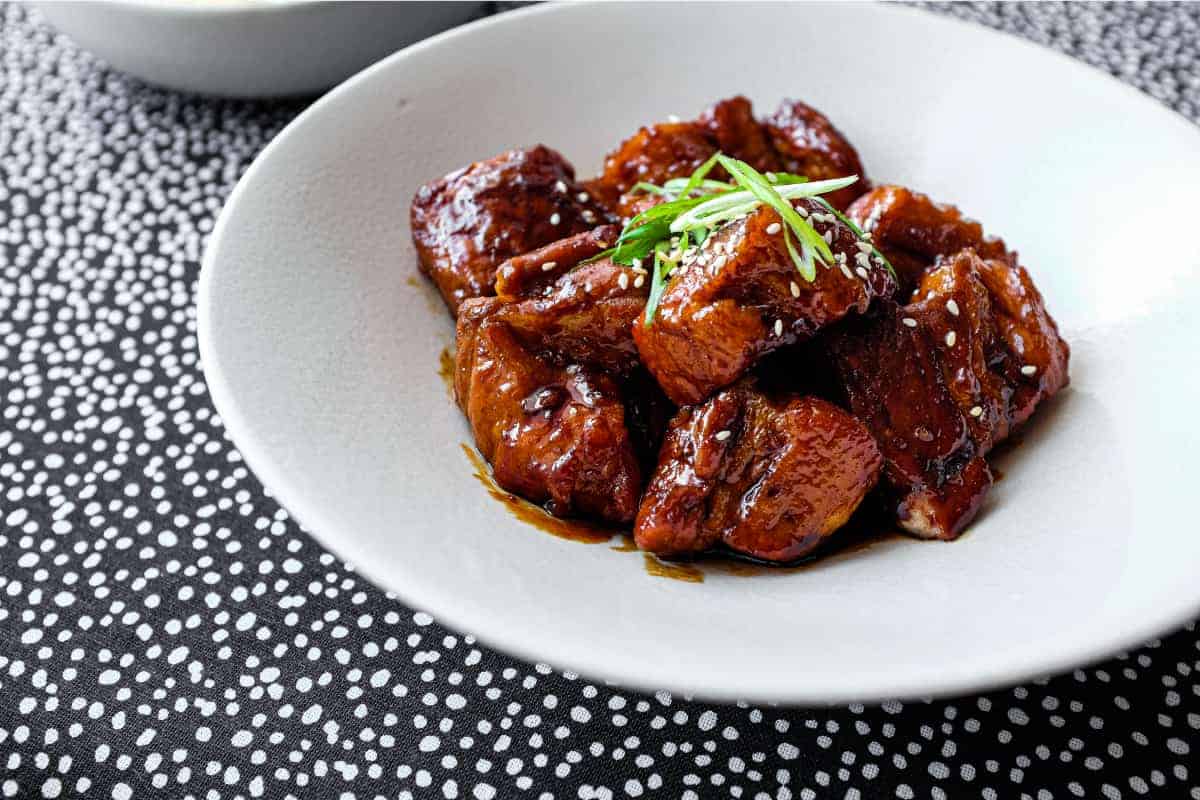 Step by Step
Let's work through just how easy this buta kakuni is to make at home. Ready in no time at all.
Step 1 - We start by searing the pork to lock in the flavour and add a little caramelised flavour.
Step 2 - Water is added along with the aromatics; ginger and spring onion.
Step 3 - This is covered by a makeshift 'otoshibuta' (a drop lid) that sits on the surface of the cooking liquid to avoid too much water evaporating. For mine I used a circular cake tin liner which was the perfect size. Use a sheet of greaseproof paper, or buy an otoshibuta online! The pork is simmered for 90 minutes until super soft and tender.
Step 4 - Remove the meat from the cooking liquid (keep the liquid) and then place the meat back in the pan. Add the soy sauces, mirin, sugar, sesame oil and sake along with a little more ginger and bring to a boil. Reduce the heat and simmer gently for 20-25 minutes until the sauce is reduced and sticky. That's it!
Garnish with a few slices of spring onion and a sprinkle of toasted sesame seeds and serve with freshly boiled rice.
Bonus Noodle Soup
The joy of Kakuni is extended further by the possibility of a delicious noodle soup. The cooking liquid from the first stage of cooking the pork is way too delicious to throw away - instead we make excellent use as a broth for soft noodles and finely sliced spring onion.
I use whatever noodles I have in the cupboard, so think egg noodles, rice vermicelli noodles, udon, soba or whatever takes YOUR fancy.
You could also drop an egg into the hot broth for a delicious egg-drop soup instead.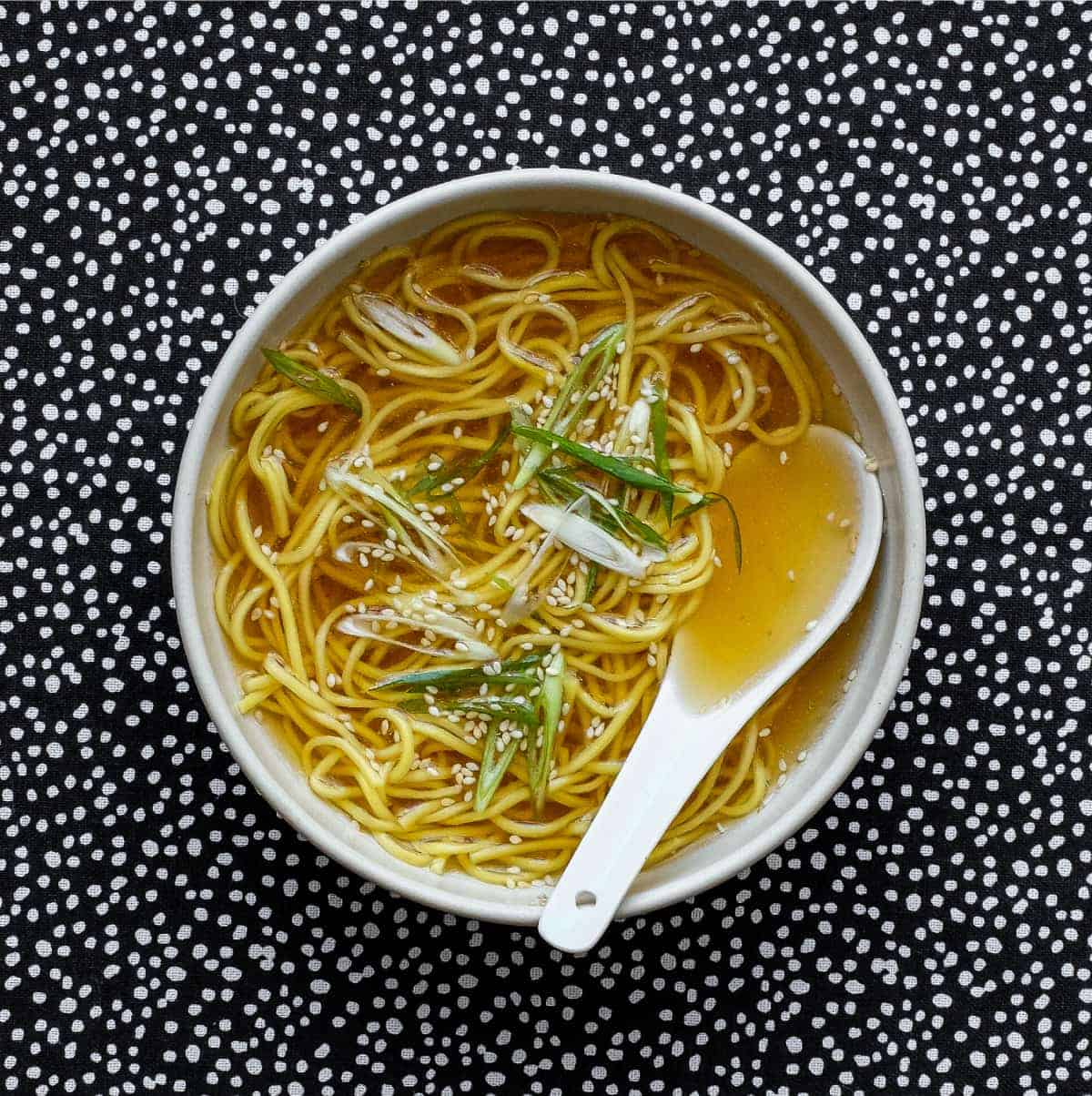 Serving & Storage Suggestions
I like to serve Kakuni with simple rice and maybe a quick salad of lettuce, cucumber and cherry tomatoes to cut through the richness.

I also love to serve Buta Kakuni as a simple donburi (rice bowl) for one. I make a bed of rice and add a few pieces of kakuni along with a jammy boiled egg, spring onion, sliced radish and a little pickled ginger.

The cooking liquid makes for a great accompanying soup - see above for suggestions.
Storage
Fridge -

kakuni will stay fresh in the fridge for 4-5 days. Reheat gently in a pan or microwave. Add a little water (1/4 cup)

to avoid it drying out too much.

Freezer - Kakuni freezes well and will be good for 3-4 months. Again, add a little water when reheating to avoid the sauce

completely

drying

out

.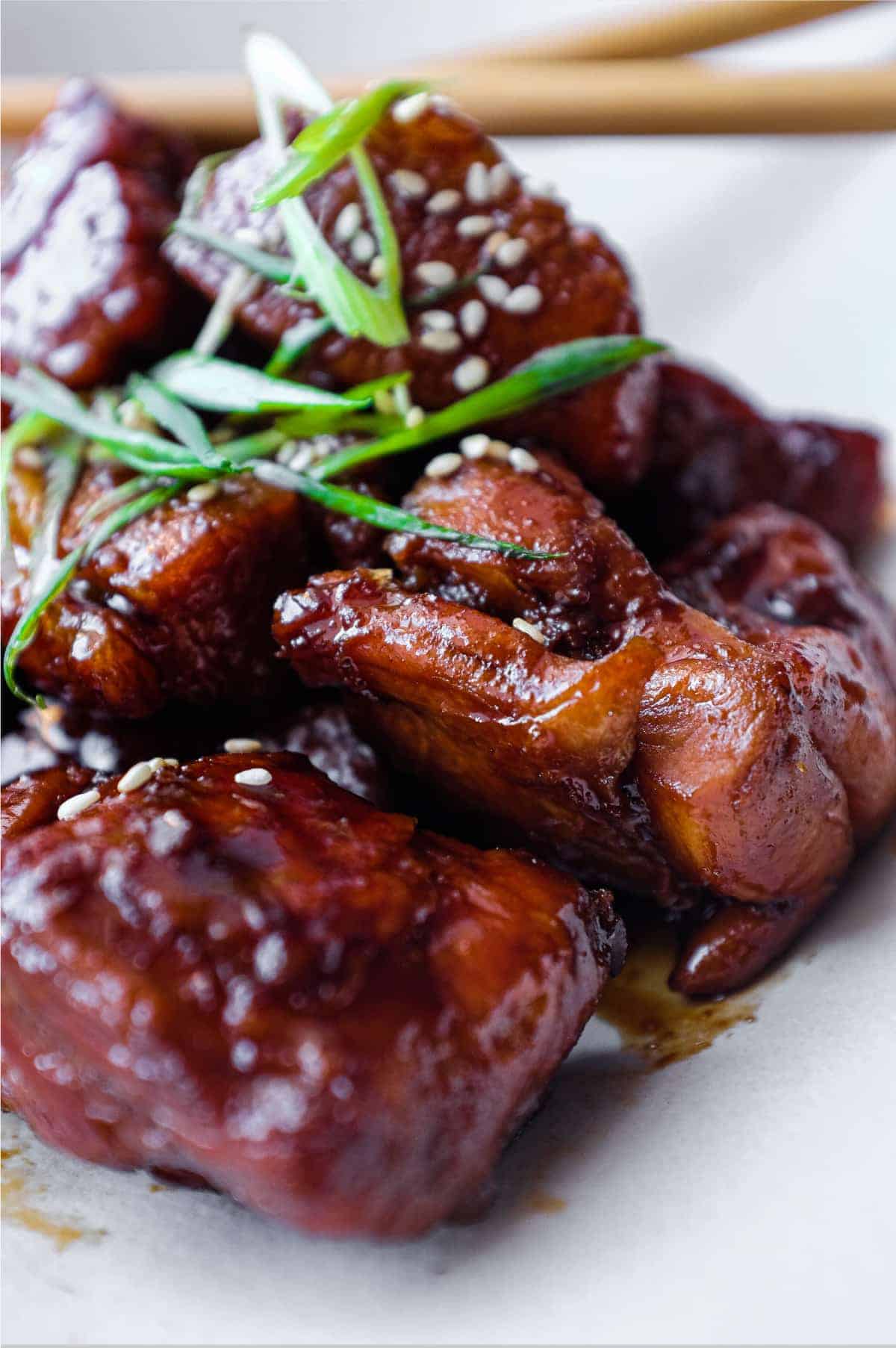 Ready to get cooking?
So! Kakuni is most definitely one of my favourite Japanese dishes to cook at home. A simple and very effective flavour bomb that packs an intense burst of umami. It's not for every day, but a delicious indulgence of juicy, tender pork - a rich and decadent morsels. So gooood! I hope you enjoy!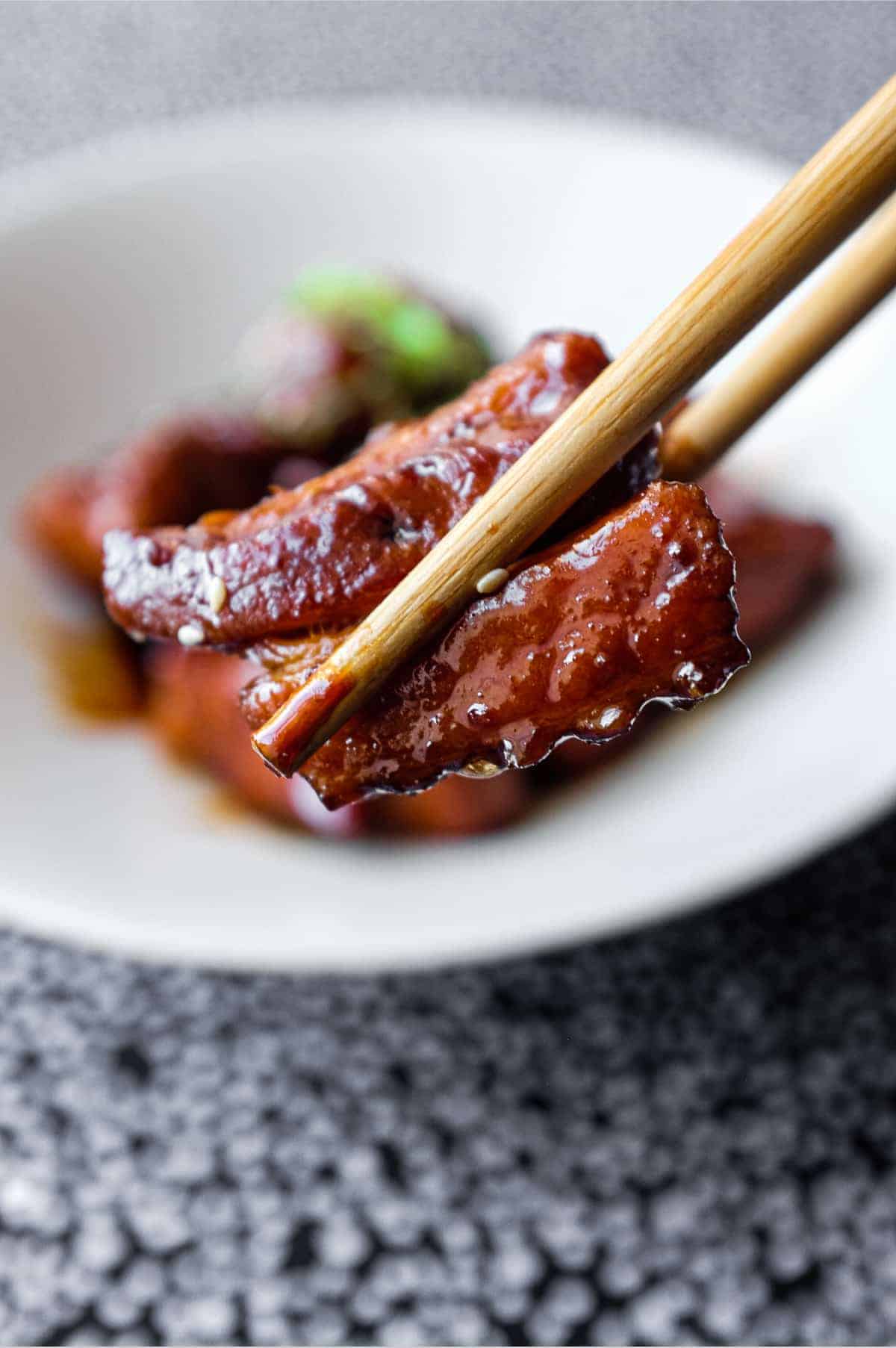 More Japanese recipes
If you liked this recipe for Buta Kakuni, I'm sure you'll love some more of my favourite Japanese recipes.
Any Questions? (FAQ)
Have a question about Buta Kakuni? Let me know in the comments.
What is Kakuni?
akuni is a Japanese dish consisting of tender, braised pork belly. The pork is simmered in a flavorful broth with soy sauce, mirin, and other seasonings until it becomes melt-in-your-mouth tender and rich in flavor.
Where does Buta Kakuni originate from?
Kakuni originates from Japan. It is a traditional Japanese dish that has been enjoyed for many years. The slow braising technique used in preparing kakuni results in tender, succulent pork belly that is deeply infused with the flavors of the broth and seasonings.
Are there any regional variations of Kakuni?
Kakuni has several regional variations. Tokyo-style kakuni is square-shaped and known for its slightly sweet flavor. Nagasaki kakuni incorporates pork cheek and additional ingredients like ginger and garlic. Hiroshima kakuni features thicker cuts of pork belly and is seasoned with Hiroshima-style okonomiyaki sauce. Okinawan Rafute uses a soy-based sauce with brown sugar, awamori, and black vinegar, resulting in a sweet and savory taste. Kyushu-style kakuni from southern Kyushu is spicier, featuring thinner slices of pork belly with garlic, ginger, and spices.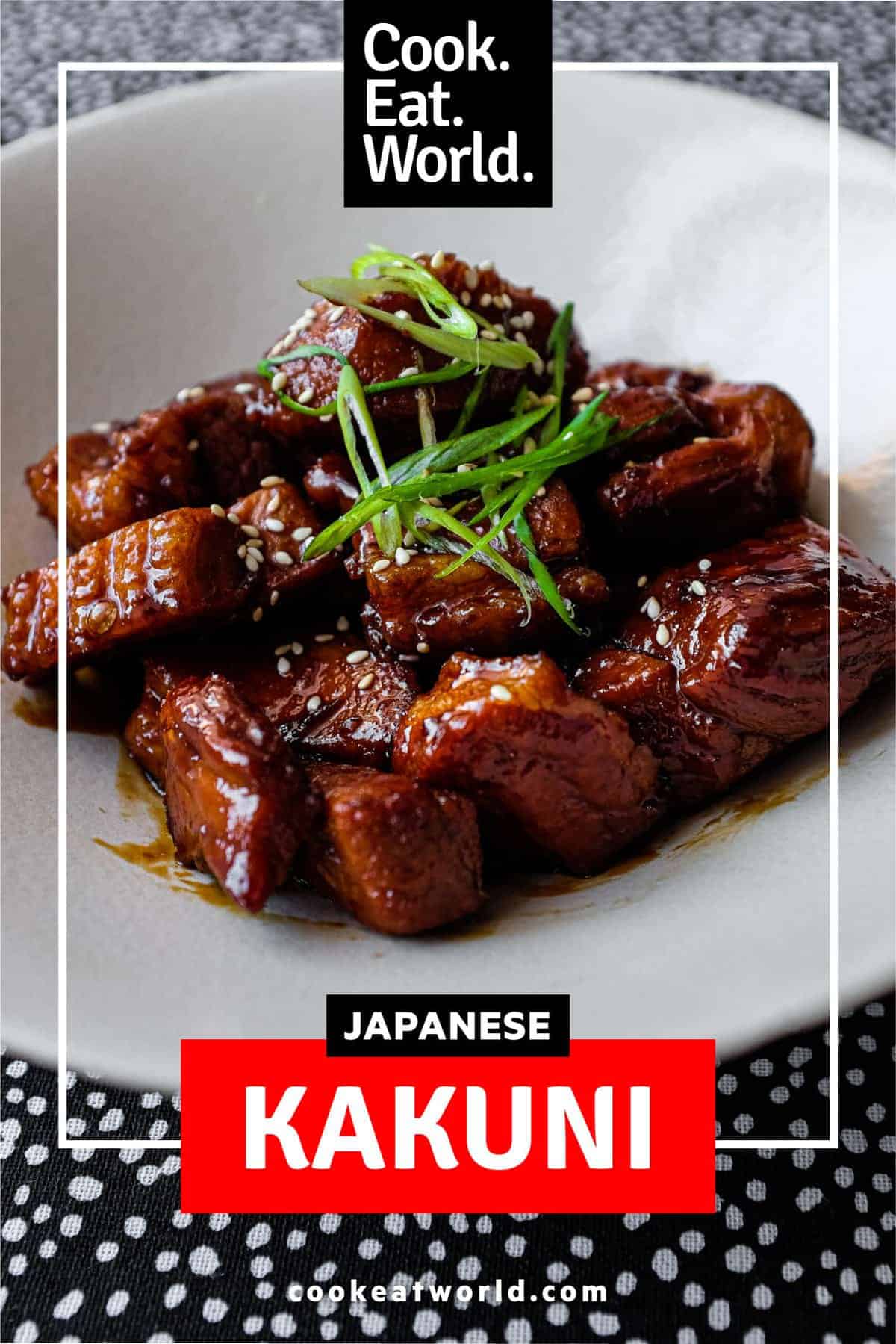 This recipe uses affiliations and may receive a commission based on your activity (link clicks). Learn more.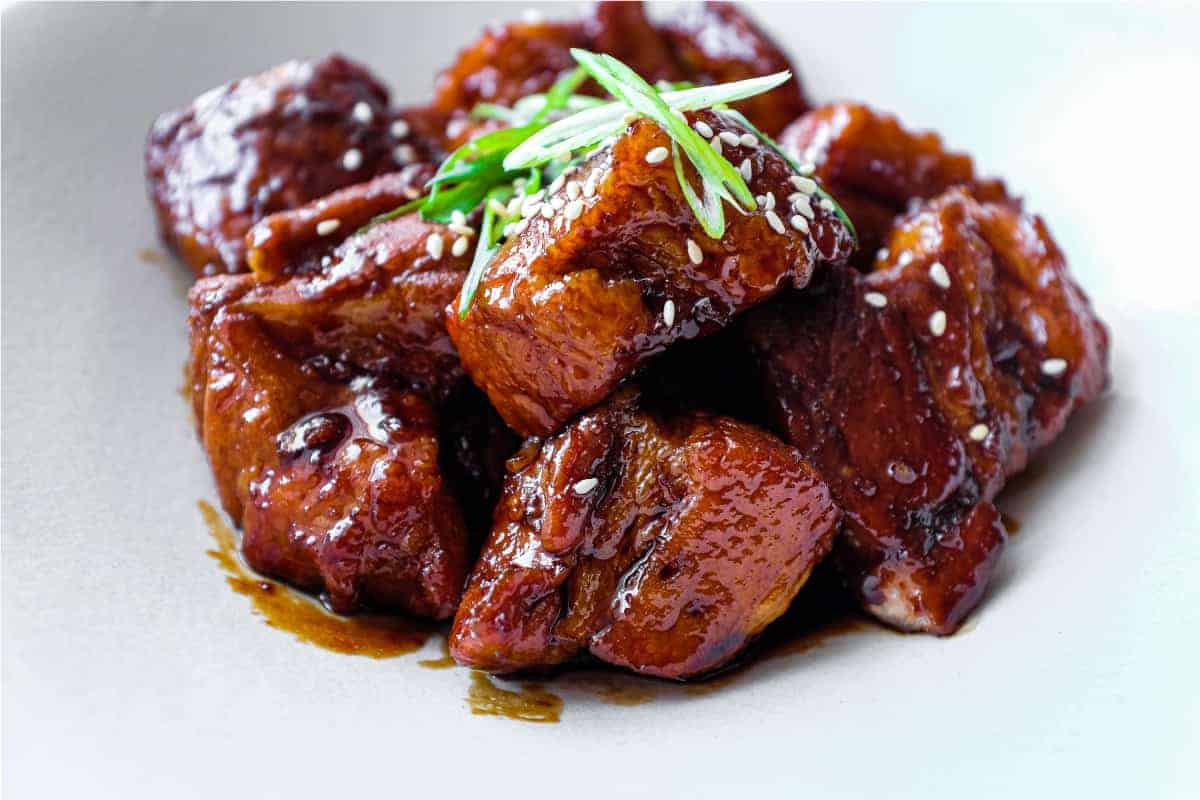 Buta Kakuni (Japanese Braised Pork)
Rate this recipe
Print Recipe
Pin Recipe
Save Recipe
Go to Collections
Calories (per serving) |
753
Ingredients
Pork cooking liquid
18

oz

pork belly

(500g) (cut into large squares/chunks)

1

tbsp

vegetable oil

1

spring onion

5

slices

ginger

1

tbsp

dashi soup mix

2½

cups

water
Instructions
Heat the oil in a wok or large pan and fry the pork pieces for 1-2 minutes per side to sear and char slightly. Do this in batches to avoid crowding the pan.

Return all the pork to the pan and pour in all the remaining ingredients for the pork cooking liquid. Bring this to a boil, then reduce the heat to low to gently simmer.

At this stage add a sheet of greaseproof paper (cut into a circle) to act as the otoshibuta (drop-lid). I used a pre-cut baking parchment circle which fit perfectly. You could also just put on a tightly fitting lid to the pan.

Gently cook the pork for 1½ hours until tender.

Remove the otoshibuta and then fish out the pork. Pour the cooking liquid through a sieve and set aside. Discard the ginger and spring onion.

Return the pork to the pan and then pour in all the simmer sauce ingredients. Bring this to a boil then reduce the heat to medium/low and simmer gently for around 25 minutes until the sauce is thick and sticky. That's it!

Serve the Kakuni alongside freshly cooked rice garnished with a little sesame seed and thinly sliced spring onions.
Nutrition
Calories:
753
kcal
(38%)
|
Carbohydrates:
13
g
(4%)
|
Protein:
14
g
(28%)
|
Fat:
68
g
(105%)
|
Saturated Fat:
25
g
(156%)
|
Polyunsaturated Fat:
7
g
|
Monounsaturated Fat:
32
g
|
Cholesterol:
92
mg
(31%)
|
Sodium:
883
mg
(38%)
|
Potassium:
307
mg
(9%)
|
Fiber:
0.4
g
(2%)
|
Sugar:
8
g
(9%)
|
Vitamin A:
73
IU
(1%)
|
Vitamin C:
2
mg
(2%)
|
Calcium:
27
mg
(3%)
|
Iron:
1
mg
(6%)