Menchi Katsu – メンチカツ
For the juiciest, crunchiest taste and texture sensation there is nothing quite like the amazing Japanese Menchi Katsu! It's actually quite the revelation – learn all about it here…
I do love a Japanese Katsu (cutlet). I've long been singing the praises of Katsudon and Katsu Curry but the newest member of my Japanese Katsu obsession is the Menchi Katsu!
What is Menchi Katsu?
From Japanese, Menchi Katsu has a roundabout translation of "minced cutlet". The cutlet itself is just that, a combination of ground (minced) pork and beef which is seasoned and shaped into patties. The real magic happens when those patties are coated in Panko breadcrumbs and deep-fried. The results are nothing short of miraculous. A crunchy, juicy, soft and crisp taste and texture delight. Panko are the king of breadcrumbs - I use them for ALL my breading needs - the larger sized crumb really does make the WORLD of difference when it comes to deep frying. The results are a crunchier, more textural experience.
Menchi katsu, named minchi-katsu (ミンチカツ) in some parts of Japan are typically included in Bento box meals, but also as a meal in itself served with shredded cabbage and salad. They're perfect snack foods too!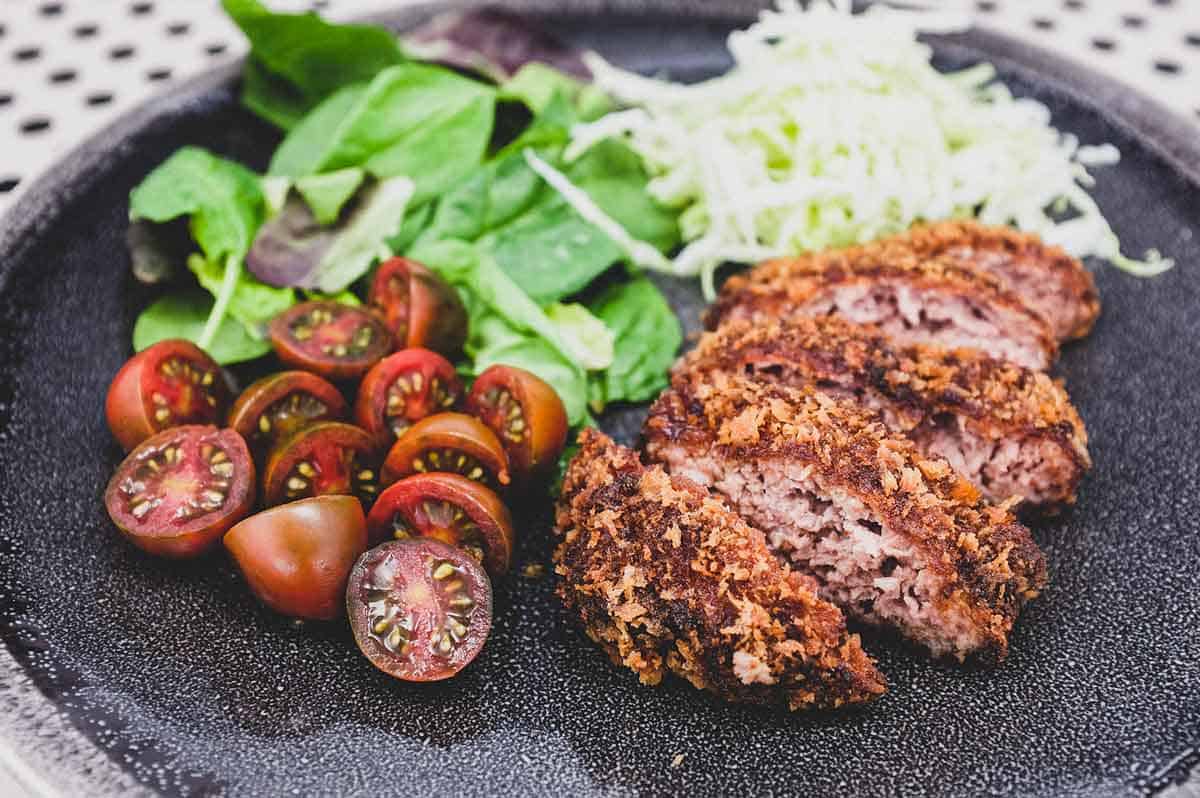 There are many reasons to love Menchi Katsu!
They're juicy and full of flavour.
They're deep-fried.
You can dip them into delicious Japanese sauces.
I just love Japanese mayonnaise! I know in my heart that it's probably the most calorific nightmare, but oh boy, it's umami heaven! And while we're on the topic of umami, my other favourite Japanese sauce is Takoyaki Sauce - a brown sauce usually reserved for takoyaki octopus balls, but I much prefer it to the traditional Tonkatsu Sauce (a Worcestershire sauce based condiment) which is most often paired with katsu. I find takoyaki milder and less astringent than tonkatsu. But you can decide yourself which you prefer.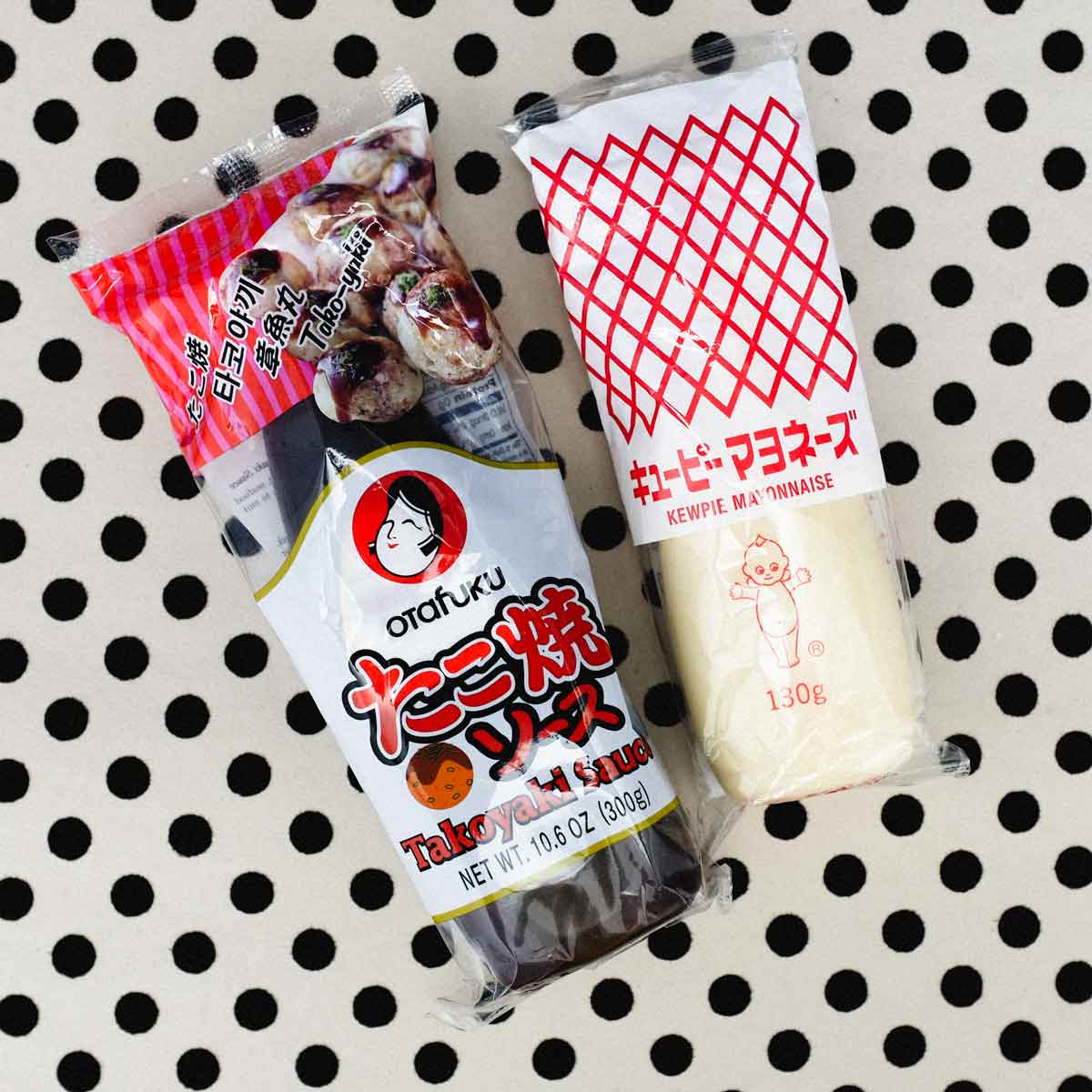 To make the menchi katsu is simple, we simply combine ground pork and beef - pork will bring the fat (moisture) and beef brings the taste. We also add lightly sauteed onion. Cooking it first will give a more mellow onion flavour. It makes a wonderful difference. Further flavour is added to the ground meats in the form of salt, pepper, soy sauce, Worcestershire sauce, nutmeg and interestingly - tomato ketchup. All this combined ensures that when the katsu are cooked they remain soft and juicy. And when I say juicy, I mean JUICY!
All that's left is to plate up. I like to eat my menchi with a simple salad of leaves and cherry tomatoes and some finely shredded cabbage. I normally don't bother with a salad dressing and instead use my dipping sauces for flavour.
I know it's not really a hard sell to a deep-fried, breaded meat pattie, but I need to underscore just how delicious these Menchi Katsu are and with a recipe so simple, you can have them whipped up and on the plate in no time at all. ENJOY!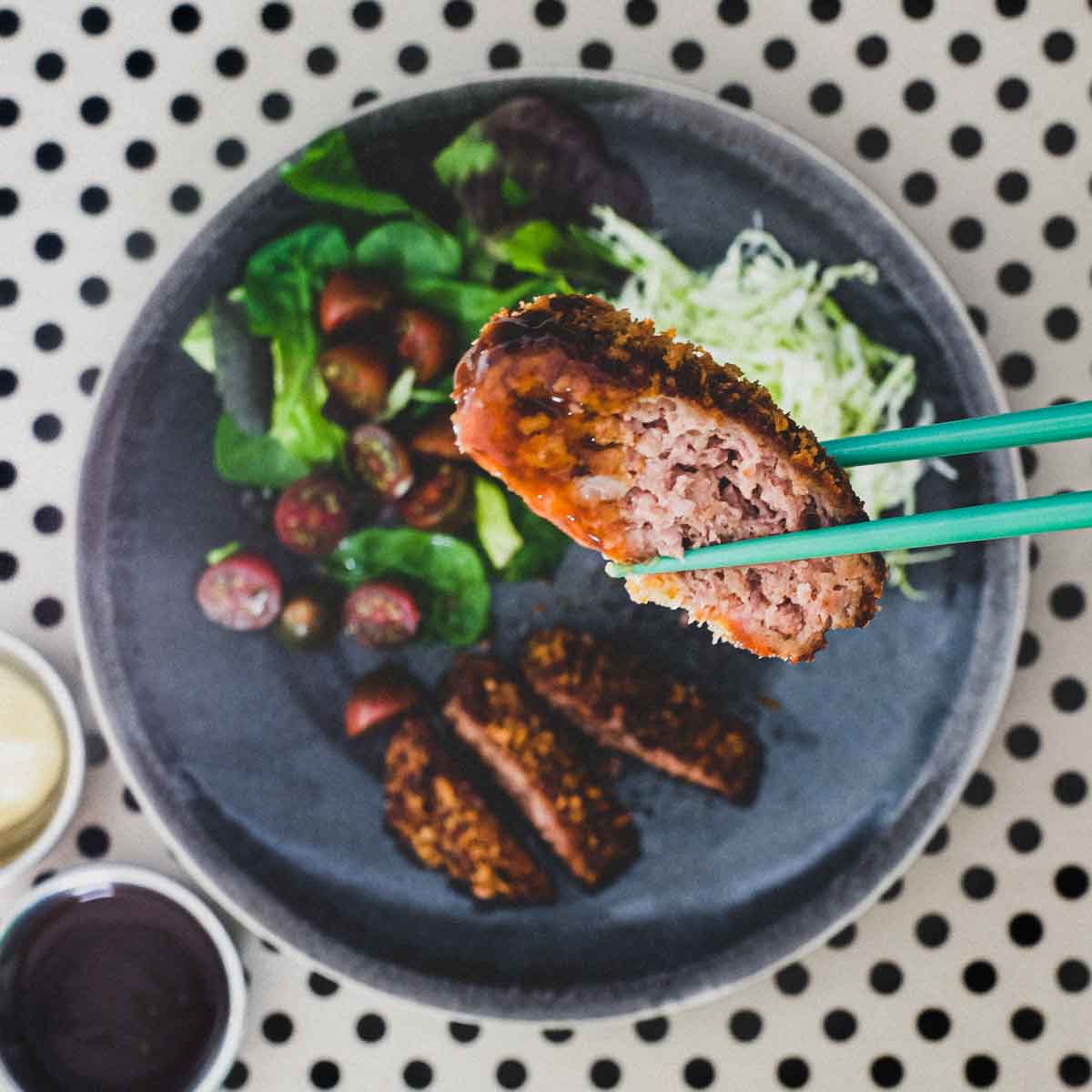 More delicious Japanese recipes
If you liked this, then you must try more of my delicious Japanese recipes.
Menchi Katsu メンチカツ
Rate this recipe
Print Recipe
Pin Recipe
Save Recipe
Go to Collections
Calories (per serving) |
686
Ingredients
For the menchi katsu patties
For the breading and frying
Garnish
white cabbage

(finely shredded)

cherry tomatoes
Instructions
To make the Menchi Katsu patties
Heat the oil in a small frying pan until just hot. Fry the onion gently for 3-4 minutes until softened and lightly golden. Remove from the pan into a mixing bowl and cool for 5 minutes.

Add all the other Menchi Katsu patty ingredients into the bowl with the onion and, using your hands, combine the mixture until very well combined. The mix should be sticky.
Create a breading station
In 3 separate bowls add one with flour, another with the beaten egg and the last with Panko

Divide the menchi mix into 8 equal portions and shape each into a thick burger-shaped patty. I press mine on either side to make them slightly oval too.

Dip the menchi into the flour to coat. Tap off any excess flour then dip into the egg. Again carefully shake off any excess before dipping into the Panko. Cover well, shake off the excess and place on a plate.

Repeat this process with all the menchi. Cover the plate loosely with plastic wrap and place in the fridge for ½ hour (or until you're ready to cook – you can make up to 2 days in advance!). Refrigerating will help the breadcrumbs set, ensuring that they don't slide off or break up during cooking.

When you're ready to cook, heat your deep fryer or heat a small pan to around 3-inches of oil until just hot (around 160ºC/320ºF) – a cube of bread should sink then gently rice to the surface bubble when added. If the oil is too hot, remove from the heat and cool.

Using a slotted spoon, add a couple of menchi to the pan and fry for 6-8 minutes, turning a few times during cooking. The menchi should turn a dark golden brown but be careful to not let them burn.

Remove the menchi and place on paper towels to absorb the excess oil. Place in a warm oven as you repeat the process with the remaining menchi in batches of two.

Serve with a little salad and shredded cabbage and the sauces on the side.
Nutrition
Calories:
686
kcal
(34%)
|
Carbohydrates:
8
g
(3%)
|
Protein:
65
g
(130%)
|
Fat:
42
g
(65%)
|
Saturated Fat:
12
g
(75%)
|
Cholesterol:
259
mg
(86%)
|
Sodium:
816
mg
(35%)
|
Potassium:
1049
mg
(30%)
|
Fiber:
1
g
(4%)
|
Sugar:
2
g
(2%)
|
Vitamin A:
311
IU
(6%)
|
Vitamin C:
2
mg
(2%)
|
Calcium:
131
mg
(13%)
|
Iron:
4
mg
(22%)
Did you make my Menchi Katsu – メンチカツ?
How did you go? Let me know in the comments below and be sure to tag @cookeatworld at Instagram.