Chicken Katsudon – チキンカツ丼
Chicken Katsudon ( – チキンカツ丼) is a big bowl of love and comfort. Crunchy katsu (deep-fried chicken cutlet) topped with soft, fragrant Japanese style eggs over a bowl of fluffy rice. Learn how to make this much loved Japanese dish with my easy recipe.
For those days when you just need something restorative in your tummy, this classic Japanese 'donburi' 丼, translated quite literally as 'bowl' is a healing, hearty fix to any hunger/hanger situation. Katsudon is just one in a long line of tasty donburi options. Crunchy cutlets of chicken or pork sit in a seasoned egg mixture and are lovingly placed over fluffy rice. It's a hearty, filling and absolutely soul-comforting bowl of heaven.
What is donburi?
Donburi is the Japanese classification that we in the English speaking world call rice bowl. Dishes served in an oversized Asian soup bowl on a bed of steamed rice. Dishes can range from fish & seafood to meats and vegetables. They're a fast-food for those on the go, and a filling hearty option to satisfy hunger at all stages. There are countless variations of don/donburi to enjoy, all served over rice, all across Japan. These are a few of my favourites.
Gyūdon - 牛丼 - Beef Bowl (beef simmered with onion in a sweet dashi broth)
Tentamadon - 天玉丼 - Delicious crunchy tempura fish or vegetables simmered in an egg dashi sauce
Oyakodon -

親子丼 - One of my personal favourites; chicken served with a sweet egg/dashi mix and fresh scallions

Tamagodon - 玉子丼 - Another favourite (because I'm obsessed with eggs) of dashi scrambled eggs over rice. (sometimes also called Tamago Soft-Scrambled Rice Bowl)
Unadon -

鰻丼 - Soy glazed eel fillets, charred over hot coals. A super tasty, humble and simple donburi to make at home.
Stuff you'll need for Katsudon
Making Katsudon is easy, but you'll need a few Japanese essentials first.
Chicken Breast
Panko Breadcrumbs (They give a wonderful crunch to the cutlet)
Canola oil (for frying)
Eggs
Mirin (a sweet Japanese cooking wine)
Hondashi mix (the key to the delicious authentic flavour - dried and powdered bonito fish)
Japanese sake
Onion
A step by step guide
Making this dish is easy and once you get the technique down you'll be making katsudon like a pro. Each serving is typically made individually, so you may need a few pans if you're cooking for more than one. My recipe makes two.
Bash the chicken breasts into thin cutlets
Set up a breading station of flour, beaten egg and breadcrumbs, then coat each cutlet in that order.
Fry the cutlets until cooked and golden brown, then set aside.
Cook the onions in a small frying pan in a dashi mixture including sugar, soy, mirin and sake until they're soft.
Cut a chicken breast into thick pieces and lay it on top of the onions
Pour the eggs over and pop on a lid to steam for a minute or two.
Slide the eggs and chicken over a waiting bowl of rice.
Garnish and eat!
Get a donburi pan...
You can buy a special Donburi pan to get the job done in true Japanese fashion. They're the perfect size for an Asian bowl and have lids that help create a good amount of steam to cook the eggs. The vertical handles help slide the katsu and egg over the rice with ease. Buy a few (they're cheap) and make all your donburi in one go! It's great fun! A regular small frying pan will do the job too.
Tips, tricks & substitutes
Instead of chicken, you can also use think pork cutlets. You can also use delicious menchi katsu (minced meat). Using the same technique of pouring over the eggs, you can use all kinds of other meats or fish instead of fried cutlets. I'll often use thin slices of beef or pork marinated in soy and sesame oil. A quick flash fry and then they're topped over the onions as usual. I also like to use salmon cutlets fried until just cooked then top the onions and add the eggs. Delicious.
The perfect garnishes
I like to keep it simple with my garnishes and serve with some seaweed flakes, thinly sliced scallions and some pickled ginger.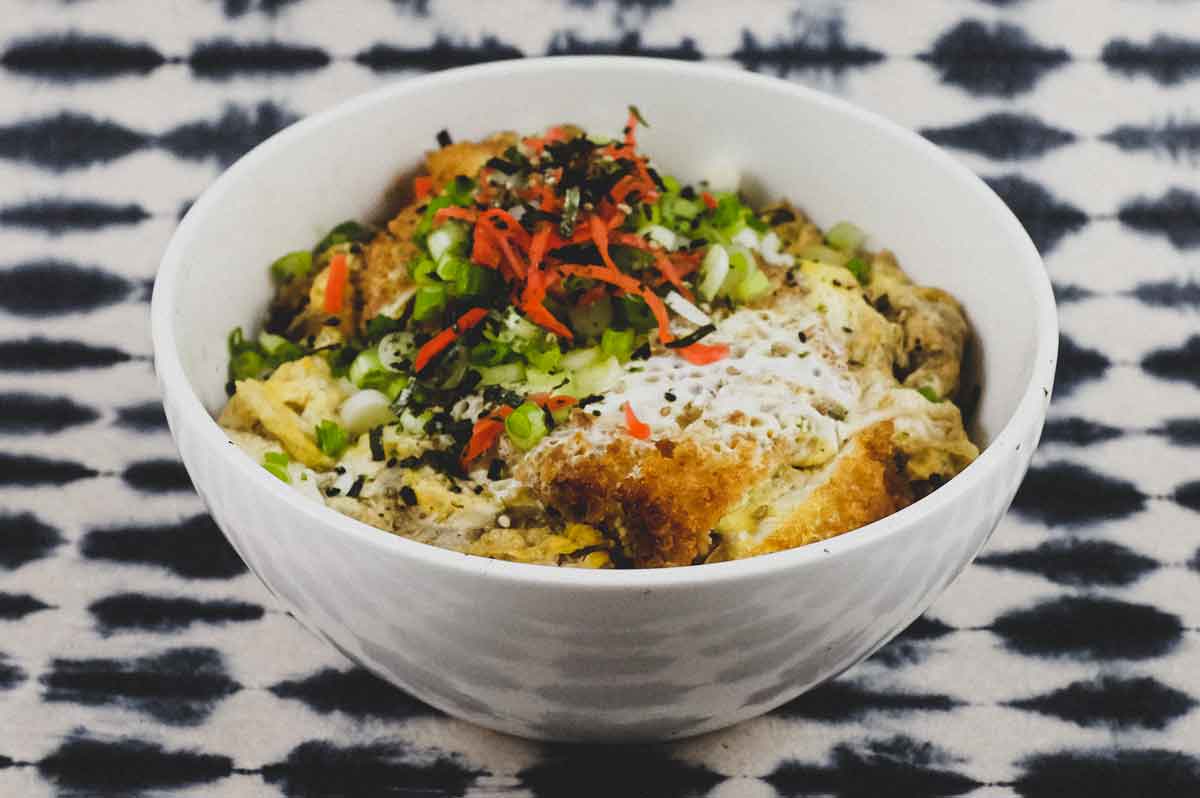 More delicious Japanese recipes
If you liked this recipe, why not try some of my other homestyle Japanese recipes.
How to make Chicken Katsudon – チキンカツ丼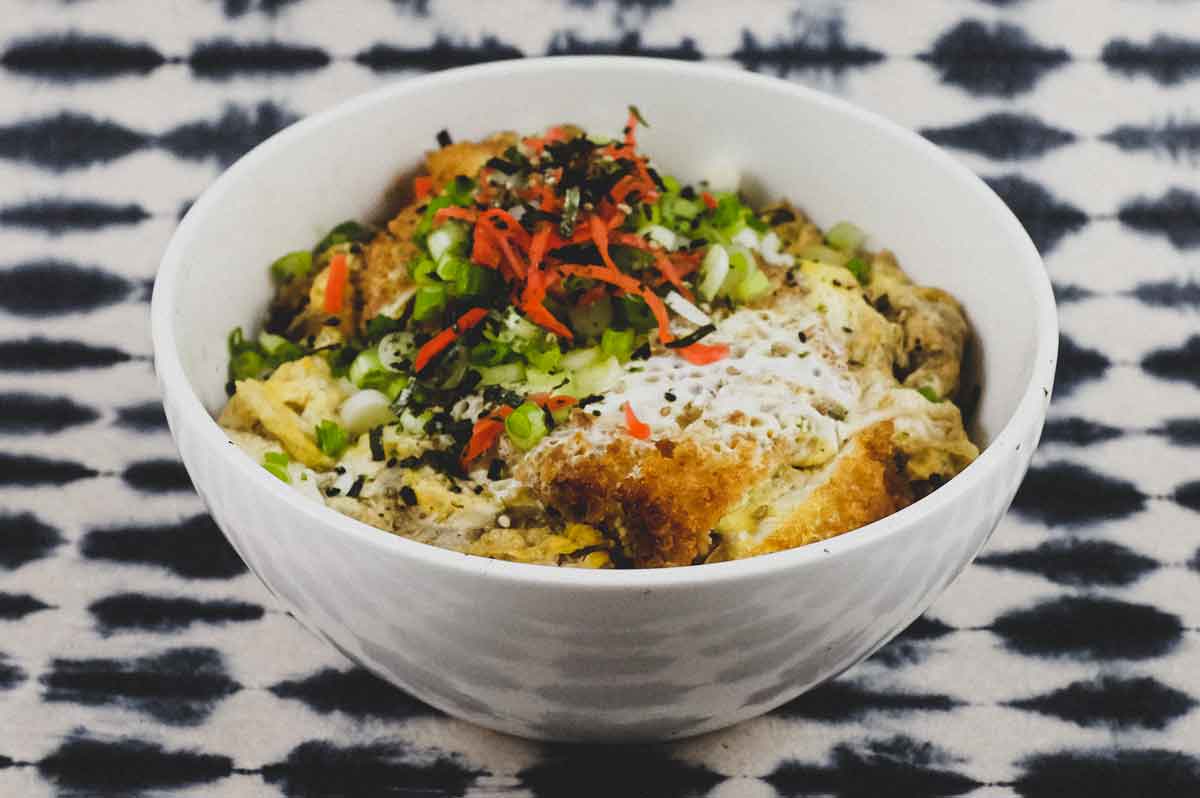 Chicken Katsudon - チキンカツ丼
Rate this recipe
Print Recipe
Pin Recipe
Save Recipe
Go to Collections
Calories (per serving) |
930
Instructions
Create a coating station! 1 small bowl of flour, another of egg and the last one of panko breadcrumbs.

Take a chicken cutlet and press into the flour on both sides. Shake off any excess flour then dip into the egg to coat fully. Shake off the excess egg then place into the panko. Press firmly to fully coat the chicken on both sides. Set onto a plate while you repeat the process with the second cutlet. Place the chicken in the fridge for 30 minutes. This time to dry will stop the breadcrumbs falling off when you fry the chicken. Discard the leftover coating ingredients.

Heat the oil in a deep frying pan until rippling hot, but not smoking. Carefully slide in each chicken cutlet and fry for 4 minutes each side until fully cooked (depending on the thickness). Drain on paper towels and set aside.

Cook the rice gently in 4 cups of simmering water until all the liquid has evaporated. Remove from the heat. Cover with a clean tea towel, then a lid and set aside. Alternatively, change your life forever and buy a rice cooker - TRUST ME!

To make the katsudon, you'll need 2 small frying pans as you'll be making each portion separately but at the same time! You can also buy special Katsudon frying pans (see link in recipe introduction)

To make the seasoning sauce combine the Hondashi mix with the hot water and stir to dissolve. Mix with all the other seasoning sauce ingredients and set aside.

Break two eggs into two bowls and beat. Set aside.

Divide the the onions equally between the two frying pans. Pour over half the seasoning sauce into each pan. Turn on the heat and bring each pan to a light simmer. Pop over a lid and let the onions cook gently for 5-6 minutes until soft.

Take your cutlets and slice each one into 1 inch slices. Leave the cutlets in their original shape as you carefully place them on top of the simmering onions. put the lids back on and cook for 30 seconds.

Pour the beaten egg over each cutlet and return the lids. Let the eggs cook for 1-2 minutes before removing from the heat.
Serving
Divide the rice between 2 Asian soup bowls. Using a flipper, gently slide each cutlet and soft egg over the rice (it should slide from the pan in one layer like a soft omelette) - tuck the edges down. Garnish each with the spring onion, pickled ginger and Seaweed seasoning and serve!
Nutrition
Calories:
930
kcal
(47%)
|
Carbohydrates:
88
g
(29%)
|
Protein:
68
g
(136%)
|
Fat:
31
g
(48%)
|
Saturated Fat:
16
g
(100%)
|
Cholesterol:
537
mg
(179%)
|
Sodium:
1769
mg
(77%)
|
Potassium:
1209
mg
(35%)
|
Fiber:
4
g
(17%)
|
Sugar:
16
g
(18%)
|
Vitamin A:
893
IU
(18%)
|
Vitamin C:
11
mg
(13%)
|
Calcium:
169
mg
(17%)
|
Iron:
6
mg
(33%)
How did you go with your version of Katsudon? Let me know in the comments below and be sure to tag @cookeatinsta at Instagram.