Kimchi Fried Rice (볶음밥)
There are few treats more satisfying than a big plate of fried rice, and this Korean kimchi fried rice sits proudly on top, as one of life's tastiest wonders. And it's super easy to make yourself.
Born out of a need to use up the previous night's leftover rice, fried rice became a staple as a morning dish throughout Asia. Most Asian countries boast a tasty fried rice dish - and they're all delicious. Have you tried a simple egg fried rice or a fried rice with salt fish from China? Or how about a Laoatian fried rice ball salad Nam Khao? it's an absolute dream! Lastly, how can I look past the mighty nasi goreng from Indonesia and Malaysia? It's one of my all time favourite foods period. But the one I find the most intoxicating and the one I find myself thinking about all-the-time is Korean kimchi fried rice (Kimchi Bokkeumbap - 볶음밥).
What is kimchi fried rice?
If you're not already familiar with this beloved Korean staple, kimchi is a fermented vegetable condiment - preserved in chilli and salt. Usually cabbage or radish, kimchi is found in every house in every town and city in Korea. It's like salt & pepper. There are literally hundreds of varieties available, and every mother, auntie and grandmother has their one secret kimchi recipe.
The magic happens when the vegetable is fermented over time in the Korean chilli, salt and other ingredients. It's left for months at a time to develop in flavour and bacteria which aids the fermentation. Kimchi is a low calorie, healthy food, rich in antioxidants and is said to help with cancer prevention and ageing amongst other things. Learn more about this superfood here.
Kimchi is elevated even further when it's combined with rice and fried. It's a taste and textural explosion. A heady, hearty and utterly delicious combo.
Best Rice for Kimchi fried rice
The key to this Korean fried rice recipe is not only the kimchi, but the leftover rice. Rice that has cooled and dried out a little is perfect for absorbing the sauce without just turning into mush. I will never really have leftover rice because I'm greedy, so I will purposely make a pan of rice the night before and when its cooked, spread onto a baking sheet, cover and refrigerate until I need it. I'll also order a couple extra portions when ordering Asian food and force myself not to eat it. The rice I love to use for this is Nishiki Medium Grain. It holds its shape and is a great option.
Kimchi bacon fried rice - I think you'll love it.
Often, kimchi fried rice comes with a salty element, like Chinese sausage or Spam (they LOVE kimchi fried rice in Hawaii) and bacon! Who doesn't love bacon?! For my recipe I like to use salt pork - it has ALL the saltiness of bacon without the smoky flavour which is what I want for the dish - I don't want the bacon to take over, more just to enhance the saltiness of my version of Korean kimchi fried rice. And let me tell you, it works an absolute dream! If you can't get hold of salt pork (I buy mine at Walmart) you can of course use slab bacon or just regular bacon.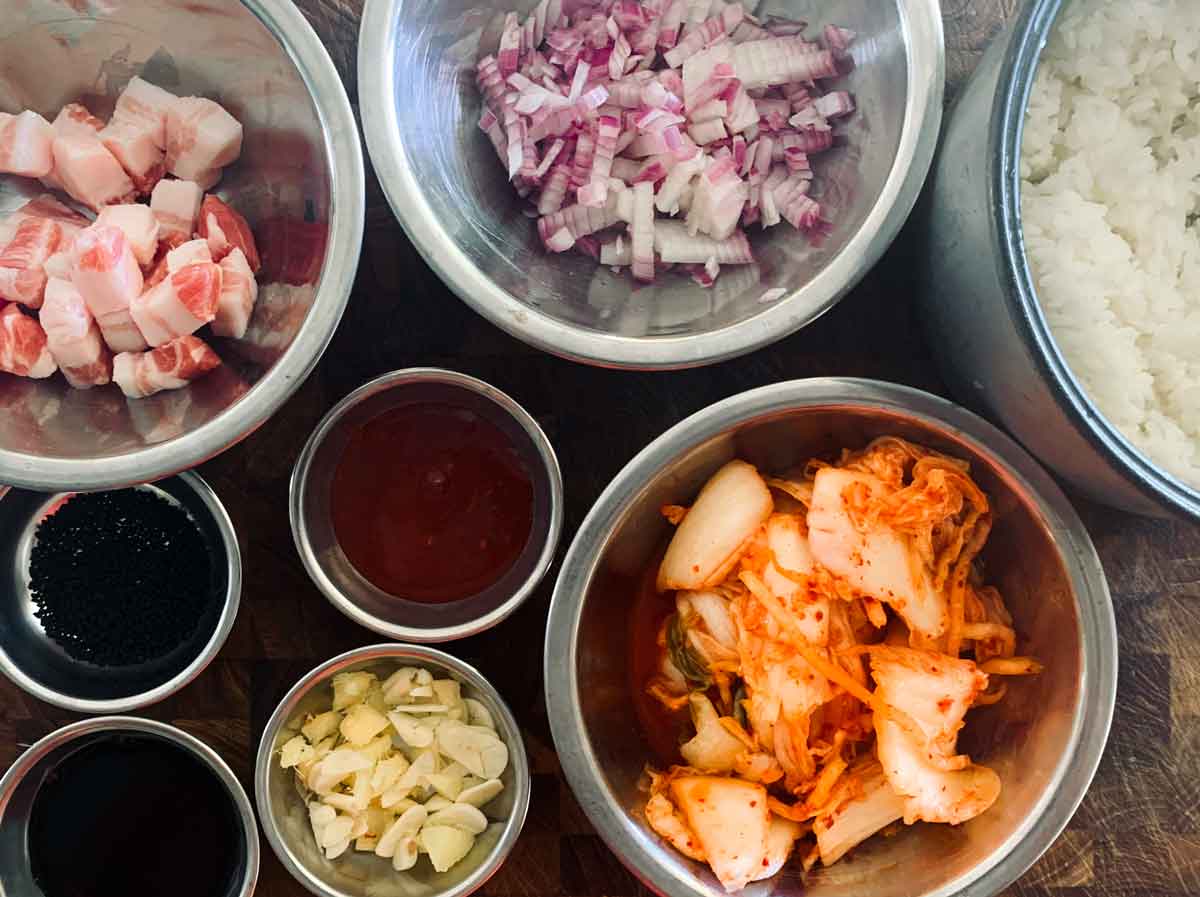 How to season kimchi fried rice
Kimchi fried rice is simple to put together - there are few ingredients and the whole dish is done before you know it. One great ingredient I haven't mentioned yet is Gochujang - Korean chilli paste. I generally use leftover kimchi for a fried rice and If it doesn't have much excess liquid I'll use some gochujang to help maintain the authentic flavour I like.
Gochujang is available from most supermarkets these days. Again, not off the chart spicy, more rounded and lightly sweet - it's completely addictive.
Serving suggestions and substitutes - gotta have a fried egg!
We can't really substitute the kimchi in this recipe, but should you not be able to get hold of any, but you DO have a tub of Gochujang chilli paste, then simply, combine some cabbage with that and you've got a quick fix kimchi - more of a Gochujang fried rice, but still utterly delicious.
One essential addition in my opinion (in fact, in most people's opinion) is a fried egg. I will never be mad at a fried egg, and a fried rice is a sadder affair without one. I fry mine in a wok with more oil than usual, the egg puffs us and I wait so that the bottom is crispy, while still having a runny yolk. The yolk runs into the rice and it's the best part of eating any fried rice! I'm tearing up! Sprinkle it with a few nigella seeds for an authentic Korean kim chi fried rice.
Another delicious Korean recipe
Incidentally, for another awesome Korean dish that's always top of my must haves (when I may have indulged in too many beers the night before) is the amazing 'summer soup' Korean Samgyetang (Ginseng Chicken Soup). It's the most intoxicating chicken (a whole Cornish hen, no less) flavoured with the aromatic and healing ginseng. It's a thing of wonder and delight and perks you up in no time. Just saying. Try it.
You might also like
How to make Kimchi Fried Rice
Kimchi Fried Rice
Rate this recipe
Print Recipe
Pin Recipe
Calories (per serving) |
665
Ingredients
1/2

cup

salt pork

(cut into dice) (or use 4-5 rashers bacon)

½

onion

(medium, diced)

1

tbsp

ginger

(chopped)

1

tbsp

garlic

(chopped)

2

cups

kimchi

(Napa cabbage variety) (roughly chopped)

3

cups

cooked rice

(left to cool completely - day old is best)

1

tbsp

Gochujang

(Korean chilli paste)

1

tbsp

light soy sauce

3

spring onion

(sliced, for garnish)
Instructions
Add the salt pork/bacon to a large dry frying pan and bring it to a medium high heat. Let it cook for 2-3 minutes to brown and render out the fat.

Remove the salt pork and if there's a lot of fat, pour out until you have about 2-3 tbsp left.

Add the onion, ginger and garlic and fry for about 2-3 minutes until browned.

Tip in the kimchi, followed by the cooked rice and stir fry to combine for about 1-2 minutes.

If you had any kimchi juice, pour in about 1/2 cup, followed by the Gochujang. Stir this into the rice to combine everything.

Return the salt pork to the pan and season with the soy sauce, stir well.

Flatten the rice over the surface and let it cook for abour 3 minutes over a medium heat to get a little crispy on the bottom, being careful not to burn. Stir the rice and repeat this process, letting it cook for a further 1 minute.

Stir the rice one more time and that's it! You're (almost) ready to serve.

Optional: Fry an egg for each person without turning. Let it get nice and crispy on the bottom. Drain on a paper towel.

Spoon a portion of the rice onto a plate and top with a fried egg and a sprinkling of spring onions. Give the egg a little sprinkle of Nigella seeds and you're ready to eat!
Nutrition
Calories:
665
kcal
(33%)
|
Carbohydrates:
75
g
(25%)
|
Protein:
11
g
(22%)
|
Fat:
35
g
(54%)
|
Saturated Fat:
13
g
(81%)
|
Cholesterol:
37
mg
(12%)
|
Sodium:
1653
mg
(72%)
|
Potassium:
250
mg
(7%)
|
Fiber:
2
g
(8%)
|
Sugar:
3
g
(3%)
|
Vitamin A:
179
IU
(4%)
|
Vitamin C:
8
mg
(10%)
|
Calcium:
50
mg
(5%)
|
Iron:
1
mg
(6%)
Did you make my Kimchi Fried Rice (볶음밥)?
How did you go? Let me know in the comments below and be sure to tag @cookeatworld at Instagram.