Laotian Nam Khao (Crispy Rice Salad)
One of South East Asia's hidden gems, Laotian Nam Khao (ແໝມເຂົ້າ) is a celebration of crunchy rice and fragrant, aromatic ingredients – it's a taste and textural sensation.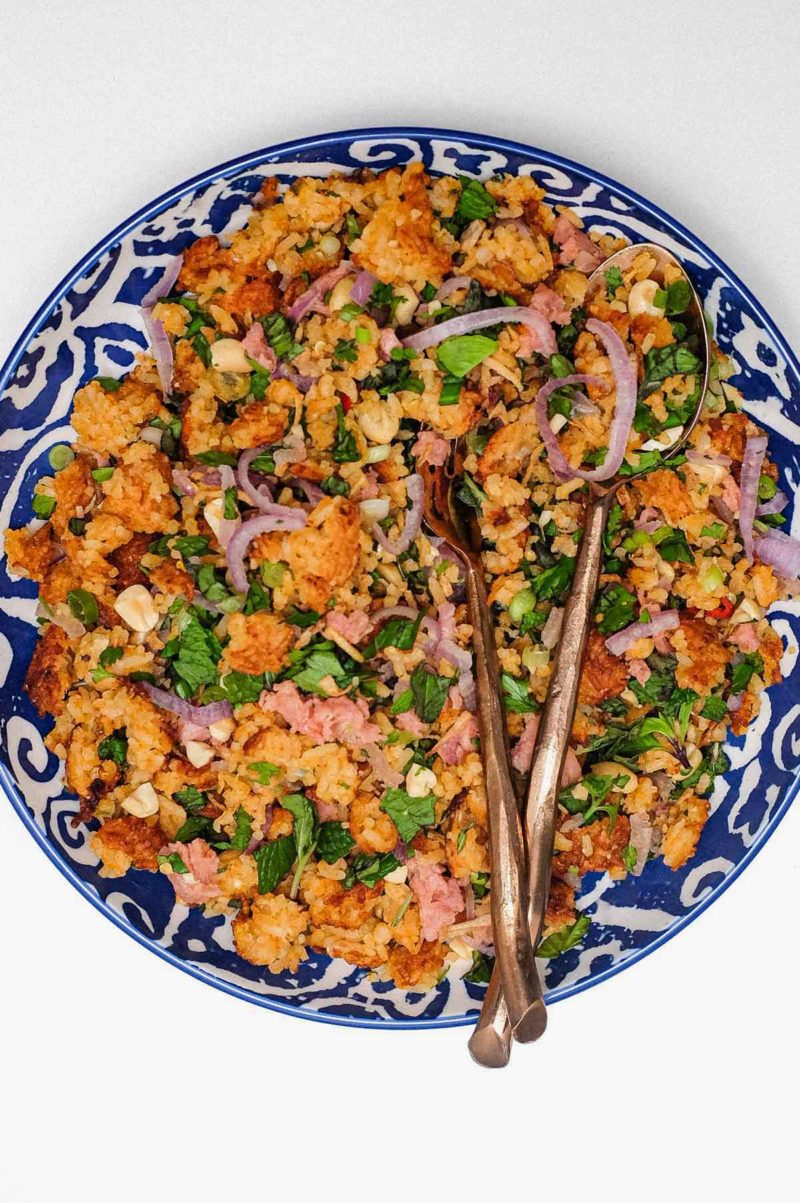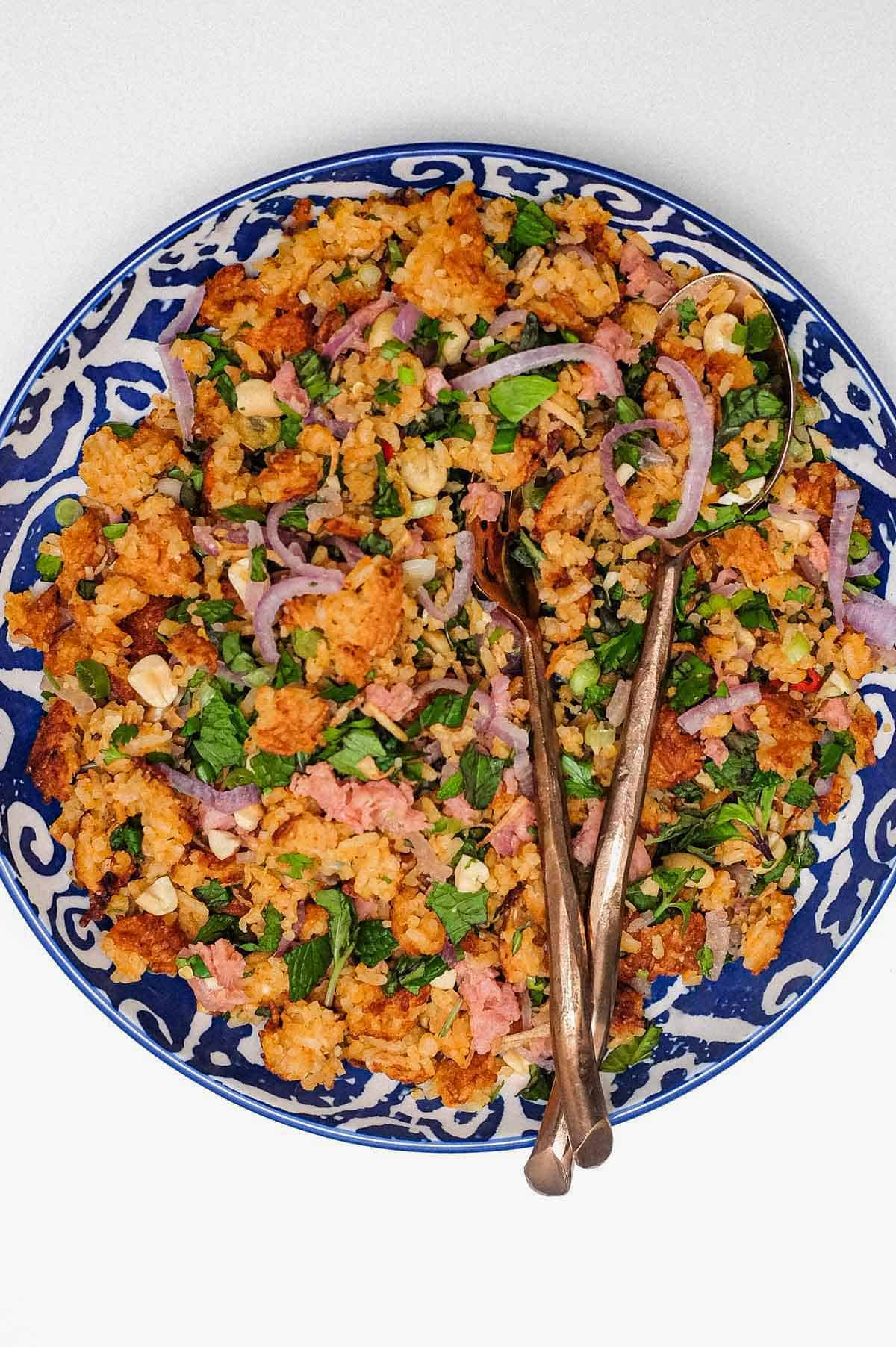 As South East Asian salad recipes go, Laotian Nam Khao (Crispy Rice Salad) is one of the best you'll ever likely experience! I first tasted this salad in a Thai restaurant in Sydney, I was blown away by the complex taste and textures light, intense and fragrant. Years passed and I never saw it again on any menu until happening upon it in a tiny Laos market a matter of minutes from my home in Vegas.
The Laos Market serves only 4-5 items inside the mini-mart. All delicious, but none more so than the traditional Laos Nam Khao. It's served simply with a big pile of crunchy lettuce and an abundance of fresh herbs to wrap around the crunchy rice salad.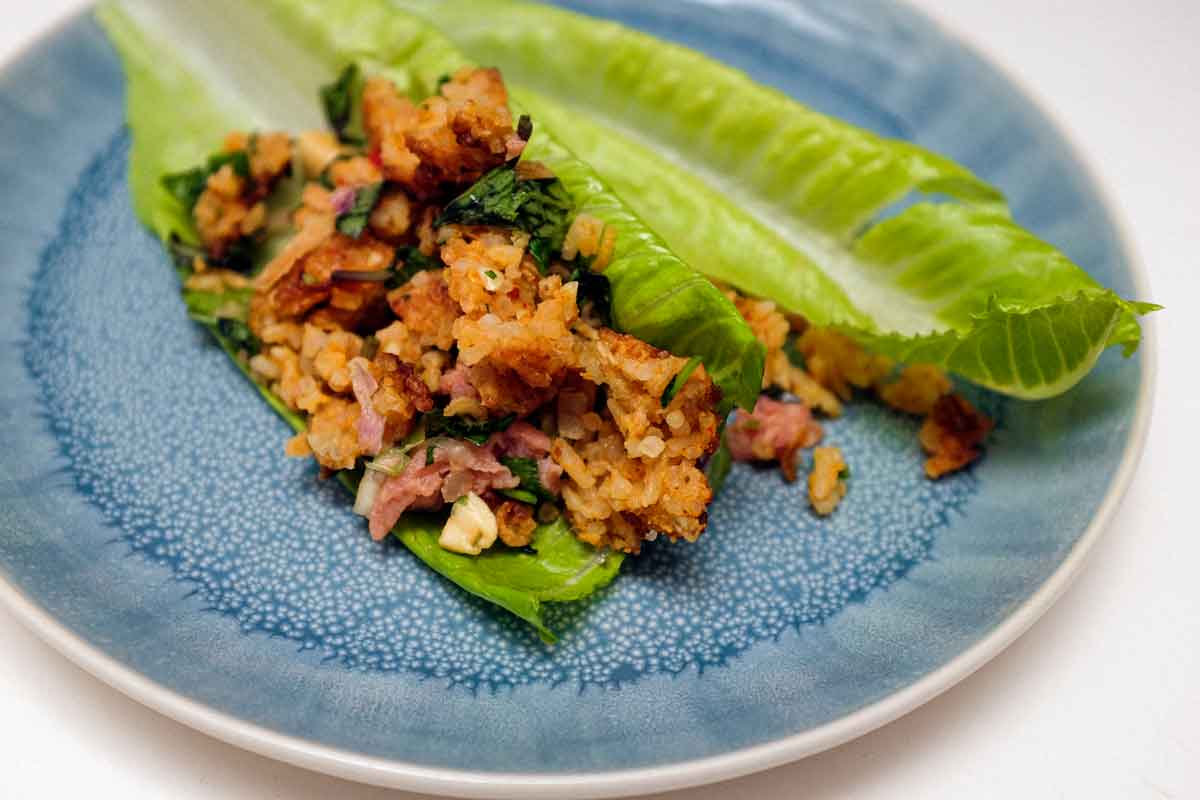 What makes Nam Khao so special?
The salad is a wonderful combination of flavour and textures. It's the texture specifically than makes it so memorable. Crispy, soft and aromatic in every bite. Here's the breakdown:
1. Cooked rice is combined with curry paste and a combination of aromatics like ginger, garlic, kaffir lime leaves and shallots. The mixture is worked into a homogenous consistency.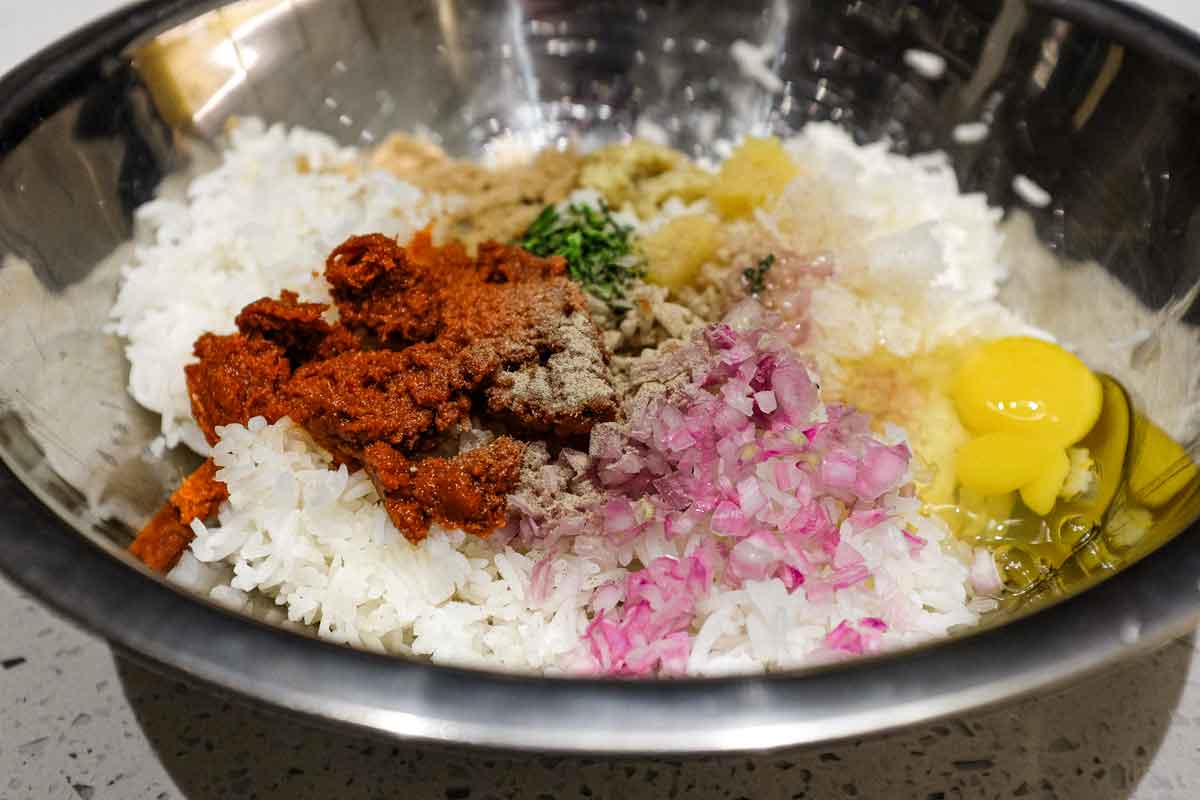 2. The rice mixture is then formed into small balls ready for the next (and magically transformative) step. Tip: I like to refrigerate the rice balls for 30 minutes to help firm up the shape to avoid breaking up during cooking.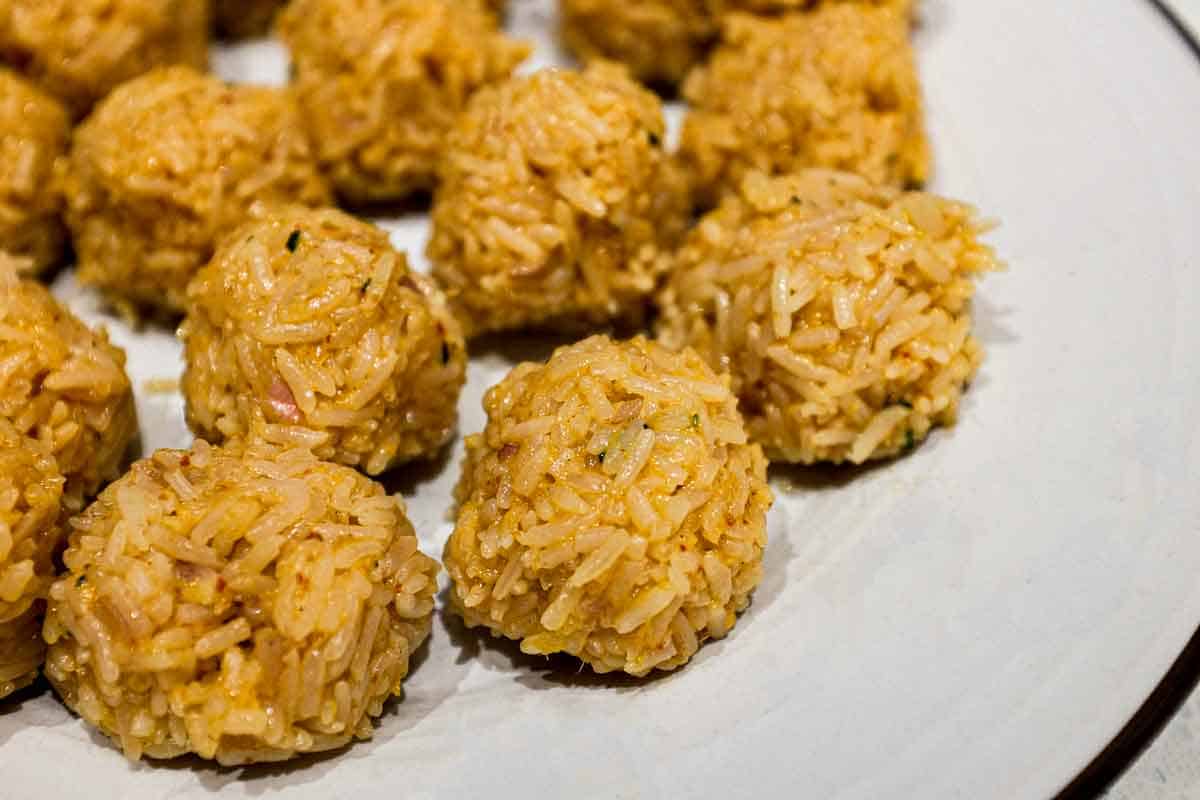 3. Deep frying the rice balls is the next step. This creates a wonderful crispy outer surface while the centre remains soft. This creates the stand out texture of the finished Nam Khao salad.
4. The rice balls are then left to cool until needed. When ready, the balls are simply broken into small pieces - this ensures a good combination of crisp and soft textures when the final Nam Khao salad is put together.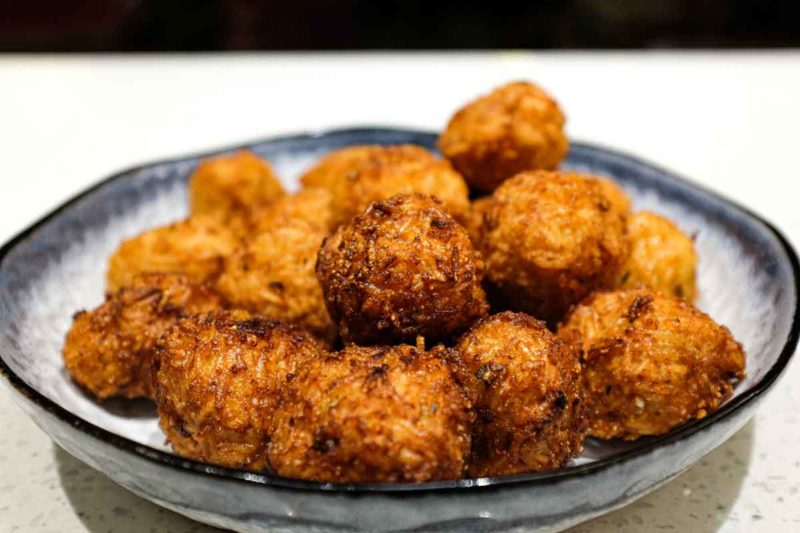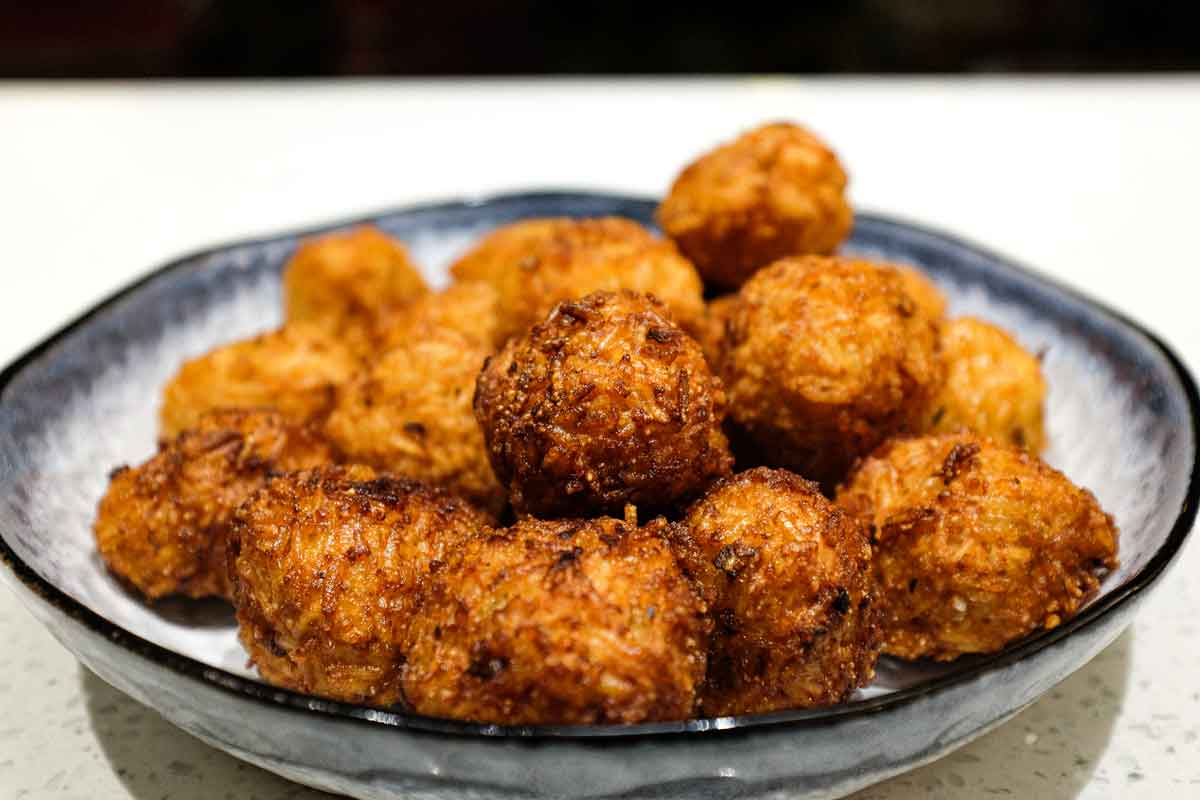 A dressing, much like the Vietnamese Nước chấm dipping sauce is created from fish sauce, lime juice, rice vinegar and sugar with garlic, cilantro and chilli. It's a complex hit of the ubiquitous 'sweet, sour, salt and spice' that South East Asia is known for.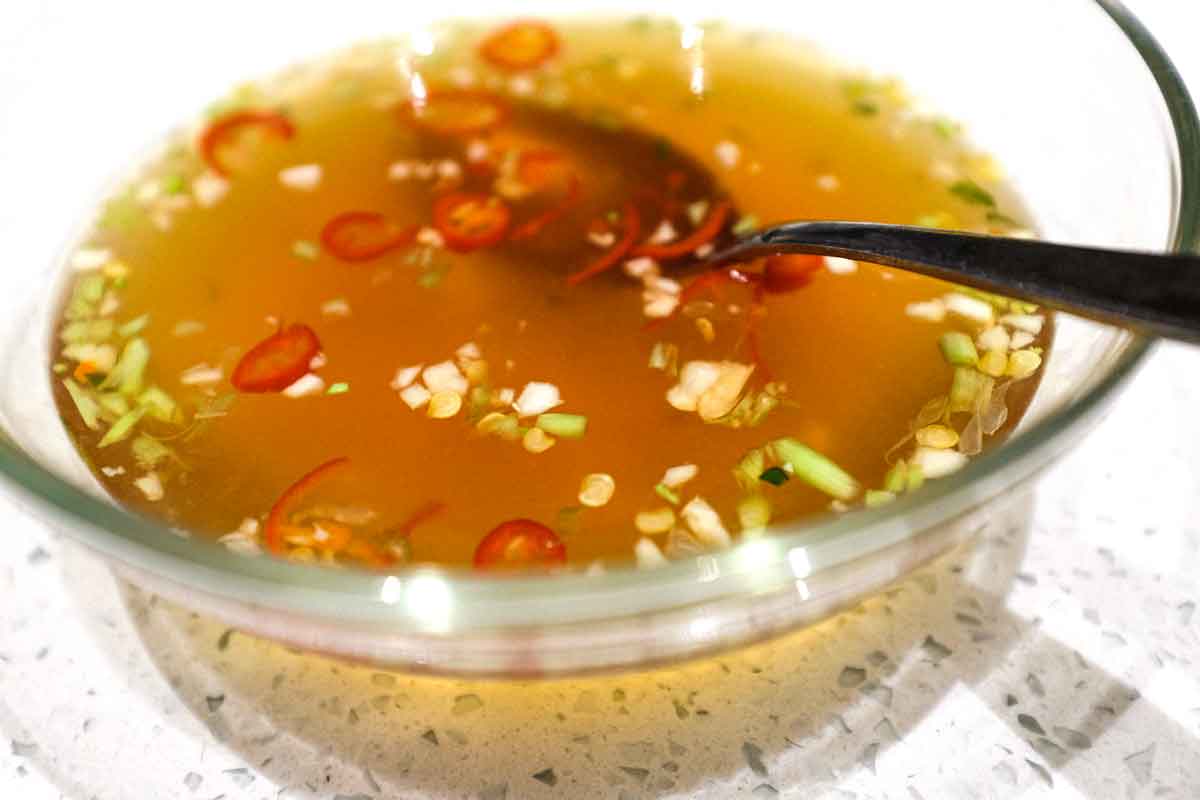 Som Moo / Naem Moo / Nam sausage
Another interesting ingredient is the amazing Som Moo sausage. A fermented sausage from Laos - it also found across South East Asia and goes under the names nam, nham, naem moo, naem maw, or chin som. I found mine in a Vietnamese supermarket called Nam.
It's made from finely ground pork and pork rinds and fermented. The som moo sausage in this salad is mashed and eaten raw, which is safe due to the fermentation process. Som Moo / Naem has a wonderful meaty, sour flavour and is really what makes this Nam Khao Salad recipe come to life! To get the authentic flavour, you really ought to hunt out some som moo. You can leave this ingredient out completely and still have a delicious salad, but... it's worth tracking down.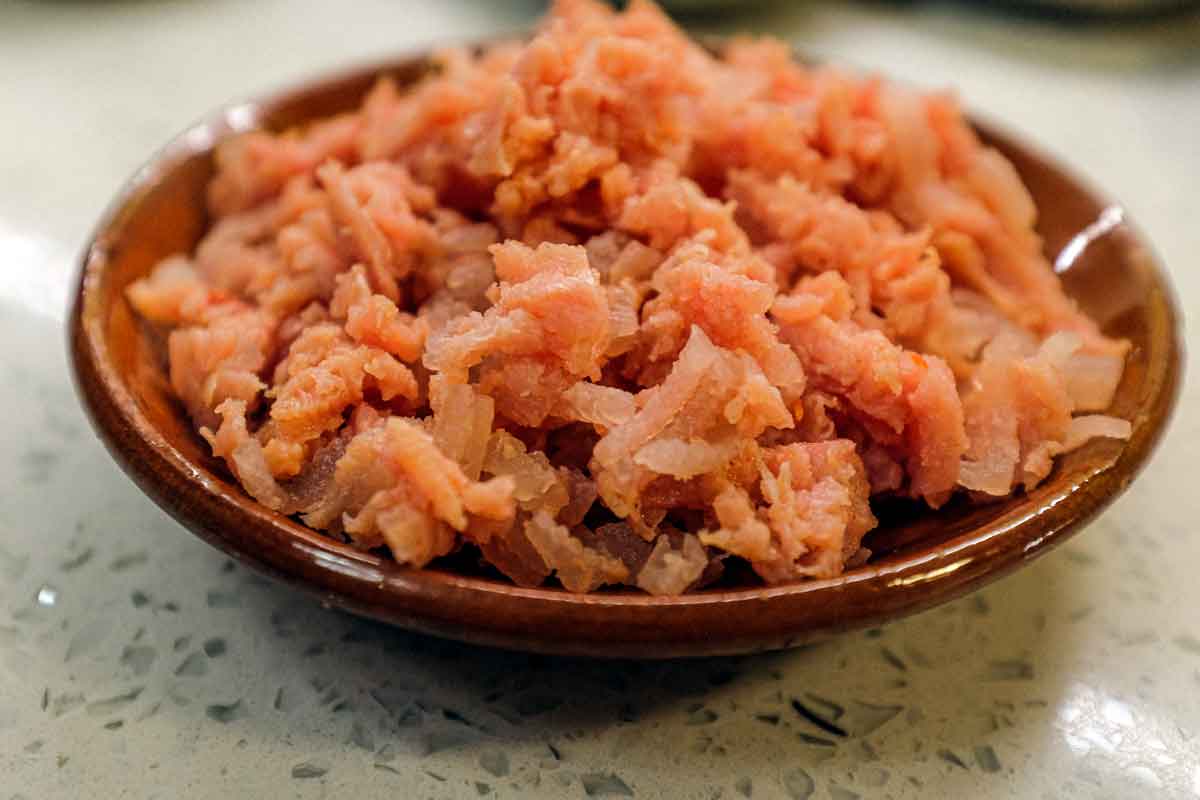 The Nam Khao salad comes together with fresh shallots, mint, cilantro, holy basil, peanuts, som moo, fried shallots and a healthy drizzle of the dressing. It looks wonderful and tastes even better. Traditionally, the salad is an appetiser or side-dish and served with lettuce leaves which are used to wrap mouthful sized portions. I also like to serve mine alongside more of the dressing, lime wedges and some dried or fresh chilli to spark things up should I feel the urge.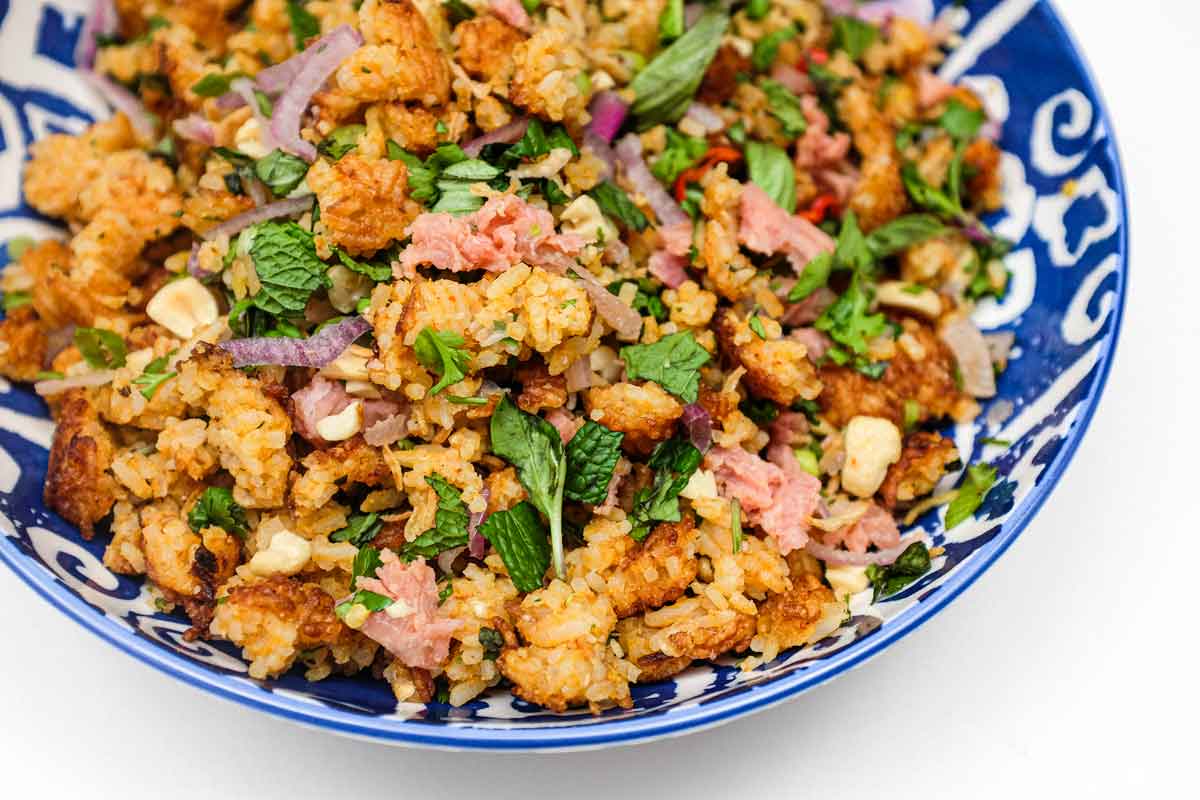 So, in essence, this Laotian Nam Khao Crispy Rice Salad is one of the tastiest South East Asian recipes I know. It's a healthy, fresh, bright and zingy taste and texture sensation! I absolutely love it and just know you'll love it too.
If you're looking for something to serve alongside this wonderful salad, then why not give some of my other South East Asian favourites: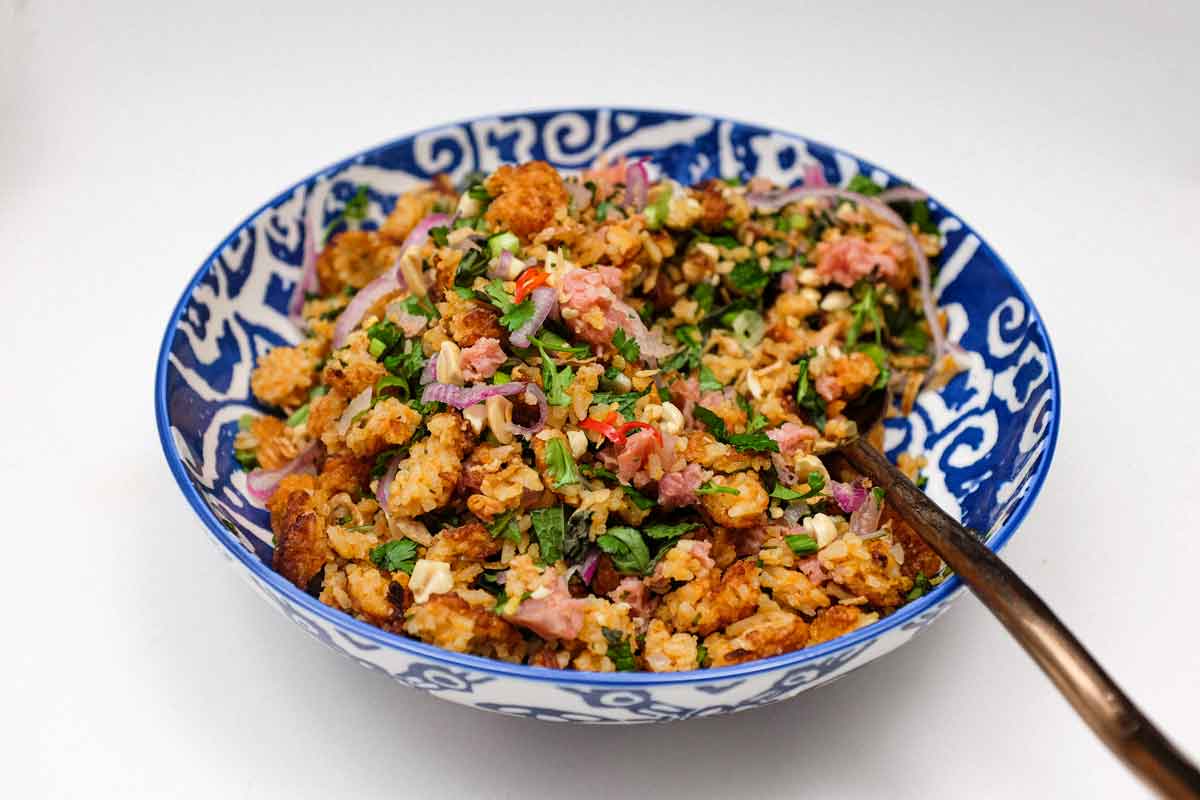 Laotian Nam Khao (Crispy Rice Salad)
Rate this recipe
Print Recipe
Pin Recipe
Save Recipe
Go to Collections
Calories (per serving) |
532
Ingredients
For the salad dressing
2

tbsp

fish sauce

2

tbsp

sugar

2

tbsp

lime juice

1

tbsp

rice vinegar

1

garlic clove

(very finely chopped)

1

stem

cilantro

(no leaves - finely chopped)

1

Thai chilli

(finely sliced)

⅓

cup

boiling water
Other salad ingredients
2

Thai Nam sausage

(Also known as Lao Som Moo sausage) - fermented sausage

⅓

cup

mint

(roughly chopped)

⅓

cup

cilantro

(roughly chopped)

⅓

cup

Thai Basil

(holy basil) (roughly chopped)

¼

cup

roasted peanuts

(unsalted)

2

fresh shallots

(thinly sliced)(soaked in ice water for 5 minutes)

2

tbsp

fried shallots

2

spring onions

(scallions)(finely sliced)

3

Thai chilles

(finely sliced) (optional)

Lettuce leaves

(for wrapping Nam Khao) (optional)
Instructions
To make the rice balls
Cook the rice until done. Remove from the heat and spread into a layer on a sheet pan (loosely covered with paper towels) to cool and dry a little. (about 2 hours)

Meanwhile, prepare all the other ingredients, ready to assemble.

When the rice is cooled, in a bowl, mix together all the other rice ball ingredients with the rice (except the oil).

Wet your hands in a little water and then create small balls (about 2-inches) with the rice mix. Arrange on a plate while you repeat the process to use up all the mix. Refrigerate until needed.

In a medium saucepan or fryer heat the oil (about 3-inches for a pan) until hot (around 160ºC / 320ºF) – a cube of bread should sink then gently rice to the surface bubble when added. If the oil is too hot, remove from the heat and cool.

Gently add about 5-6 balls into the oil and fry for 3-4 minutes each until crisp. Remove and drain on paper towels while you fry the rest in batches.
To make the dressing
Combine all the ingredients (except water) then pour in the freshly boiled water and whisk. Leave to cool completely.
Arranging the salad
Using your hands, break up the cooled rice balls into rustic pieces into a large salad bowl.

Toss together the rice pieces with all the other salad ingredients.

Pour over a little dressing and mix well.
Notes
I like to serve Nam Khao, the traditional way, with lettuce leaves to wrap spoonfuls of salad with. On the side I like extra dressing with a few lime wedges and some sliced tomato and cucumber.
Nutrition
Calories:
532
kcal
(27%)
|
Carbohydrates:
91
g
(30%)
|
Protein:
12
g
(24%)
|
Fat:
13
g
(20%)
|
Saturated Fat:
2
g
(13%)
|
Cholesterol:
20
mg
(7%)
|
Sodium:
1472
mg
(64%)
|
Potassium:
330
mg
(9%)
|
Fiber:
3
g
(13%)
|
Sugar:
11
g
(12%)
|
Vitamin A:
1642
IU
(33%)
|
Vitamin C:
10
mg
(12%)
|
Calcium:
81
mg
(8%)
|
Iron:
2
mg
(11%)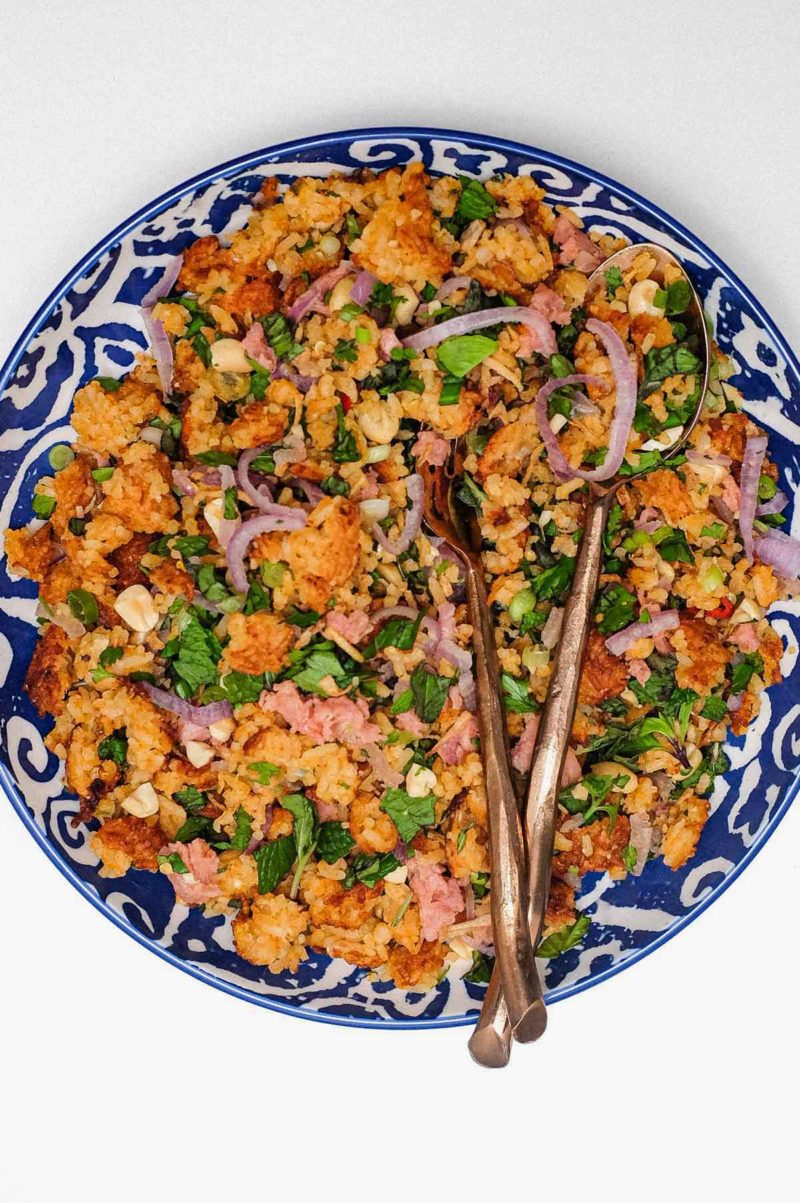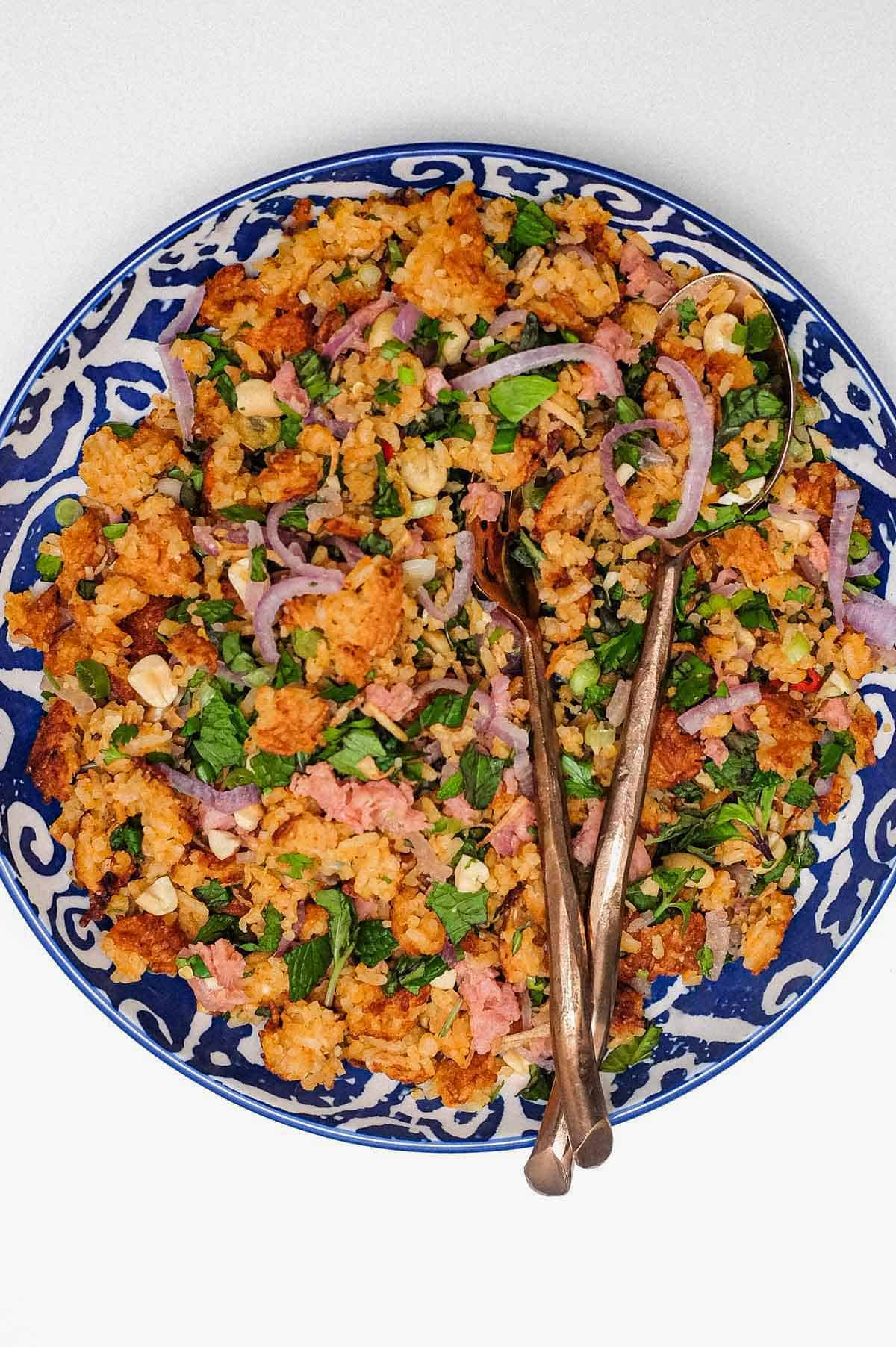 Did you make my Laotian Nam Khao (Crispy Rice Salad)?
How did you go? Let me know in the comments below and be sure to tag @cookeatworld at Instagram.