Cha Kroeung Sach Moan (Cambodian Lemongrass Chicken Stir-Fry)
For a mega-hit of South-East Asian colour, fragrance and flavour, this Amazing Cambodian Cha Kroeung Sach Moan, lemongrass chicken stir-fry delivers on all fronts! Learn how simple this authentic dish is to put together at home.
Cambodia is one of the most amazing places I've ever visited. The Khmer people are amongst some of the friendliest, funniest and most hospitable I've encountered while travelling. The country is rich with culture, natural beauty and of course, delicious food! Having long been a fan of South-East Asian cuisine like Thai, Vietnamese, Malaysian and Indonesian, I was keen to sample the delights of Cambodia and I was not to be left disappointed.
I sampled so many amazing dishes in the country and one that stayed with me all these years is the amazing Cha Kroeung Sach Moan - a wonderful Cambodian Lemongrass Chicken Stir-Fry. I ate it on my last day in the country, which was also January 01. To say I had a hangover would be an understatement, so this fragrant, colourful flavour bomb was a very very welcome relief!
What is Kroeung?
Kroeung is the stir-fry paste for the recipe. It's a combination of fresh aromatics that are synonymous with the region. This kroeung recipe can be interchanged with ingredients other than chicken, like beef, lamb or seafood - it's the same flavour base for many Khmer dishes. If you're up for the grind, then use a pestle & mortar to grind together the lemongrass, shallots, turmeric, garlic and kaffir lime leaves. If not, a food processor or stick blender does the job too!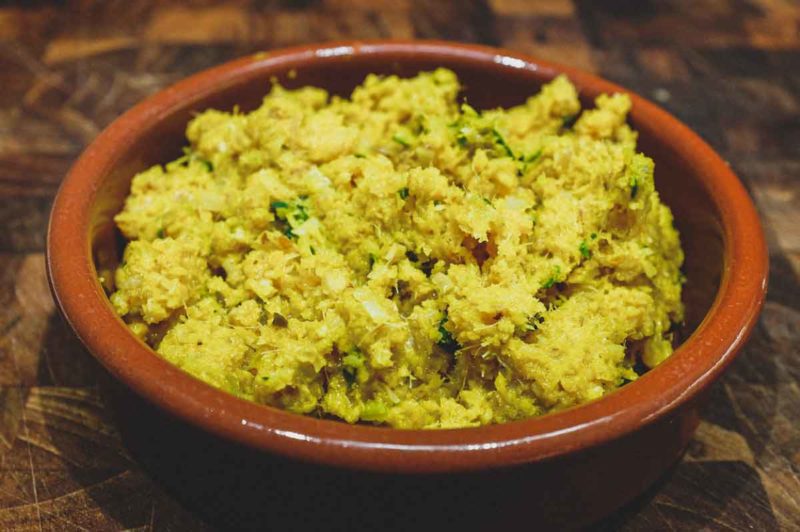 Is Cambodian food spicy?
Generally speaking, I found Cambodian food to be midway between Thai and Vietnamese - a more subtle version of Thai. That's not to say I didn't eat some nuclear-spiced curries dishes, but on the whole, it was milder. The use of Lemongrass is similar to that of Vietnamese, giving a wonderful fragrant citrus note, much like my Vietnamese Pork with Lemongrass & Chilli or the wonderful Vietnamese Grilled Lemongrass Pork Chops (Thit Heo Nuong Xa) - one of my favourites.
How to stir-fry Cha Kroeung Sach Moan
To start the Cha Kroeung Sach Moan we fry some onion in fragrant coconut oil. I just LOVE the aroma of coconut oil - takes me right back to South East Asian hawker markets. It's one of my favourite smells! We're going to fry the onion for a few minutes until just softening a little.
Next up is the Kroeung paste so, get ready for the fragrance bomb! It's almost immediate - the kitchen will be filled with the scent of lemongrass in seconds and mouths will begin to water! This paste stir-fries for a few minutes to cook out the raw ingredients.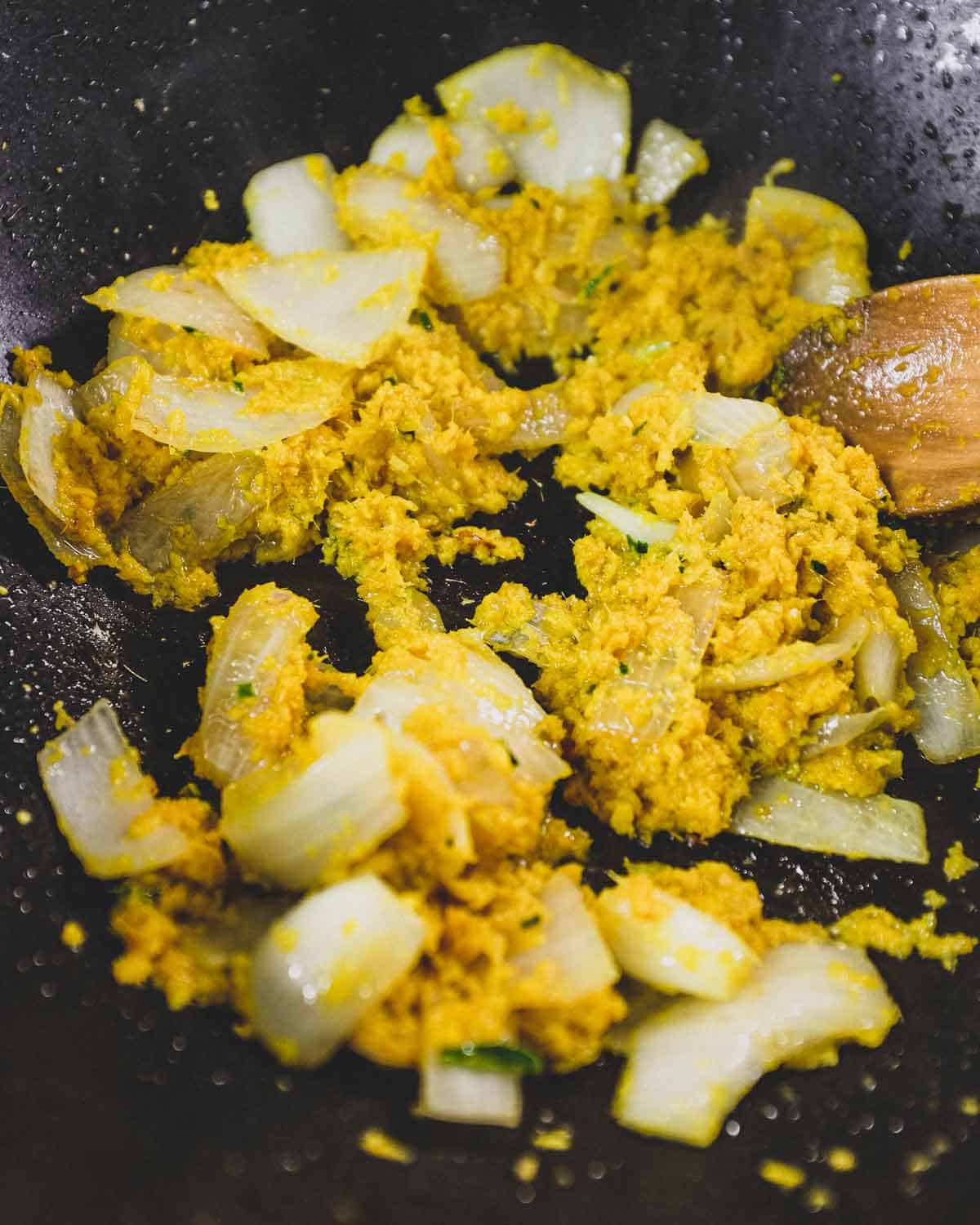 The chicken goes into the pan to cook through. As it's chicken breast, this is a relatively quick affair. Chicken breast is best for quick cooking like the Cha Kroeung Sach Moan stir-fry - it stays moist and doesn't dry out like it would in a long-cooked sauce like a Burmese Chicken curry for example. Never use breast for curry! Thighs and legs are best!
To add to the magic, we introduce another of my favourite flavours - Thai Basil. Often known as Holy Basil, it has a similar flavour and smell to Italian basil, but a more fragrant, floral note. It's amazing! You can use Italian basil if you can't find it at the store. Most Asian supermarkets will stock it, but Italian basil is fine too.
We add a few other ingredients to balance sweetness, saltiness, sourness and heat - this makes it uniquely Cambodian. I remember the version I ate in the Cambodian capital, Phnom Penh was 'hella-spicy', but you can scale the spice up or down or even leave it out completely. In fact, as a chilli-free dish, this stir fry is absolutely lovely.
And that's it! The stir fry is ready - 10 minutes to put together and you have a dish so jam-packed with flavour you'll wonder where it all came from. It's a unique glimpse into one of the world's most amazing countries. A country of immeasurable tragedy, but one that refused to lose its amazing culture, personality and cuisine. This Cha Kroeung Sach Moan stir-fry is the embodiment of Cambodian flavours and you'll just love it, I know!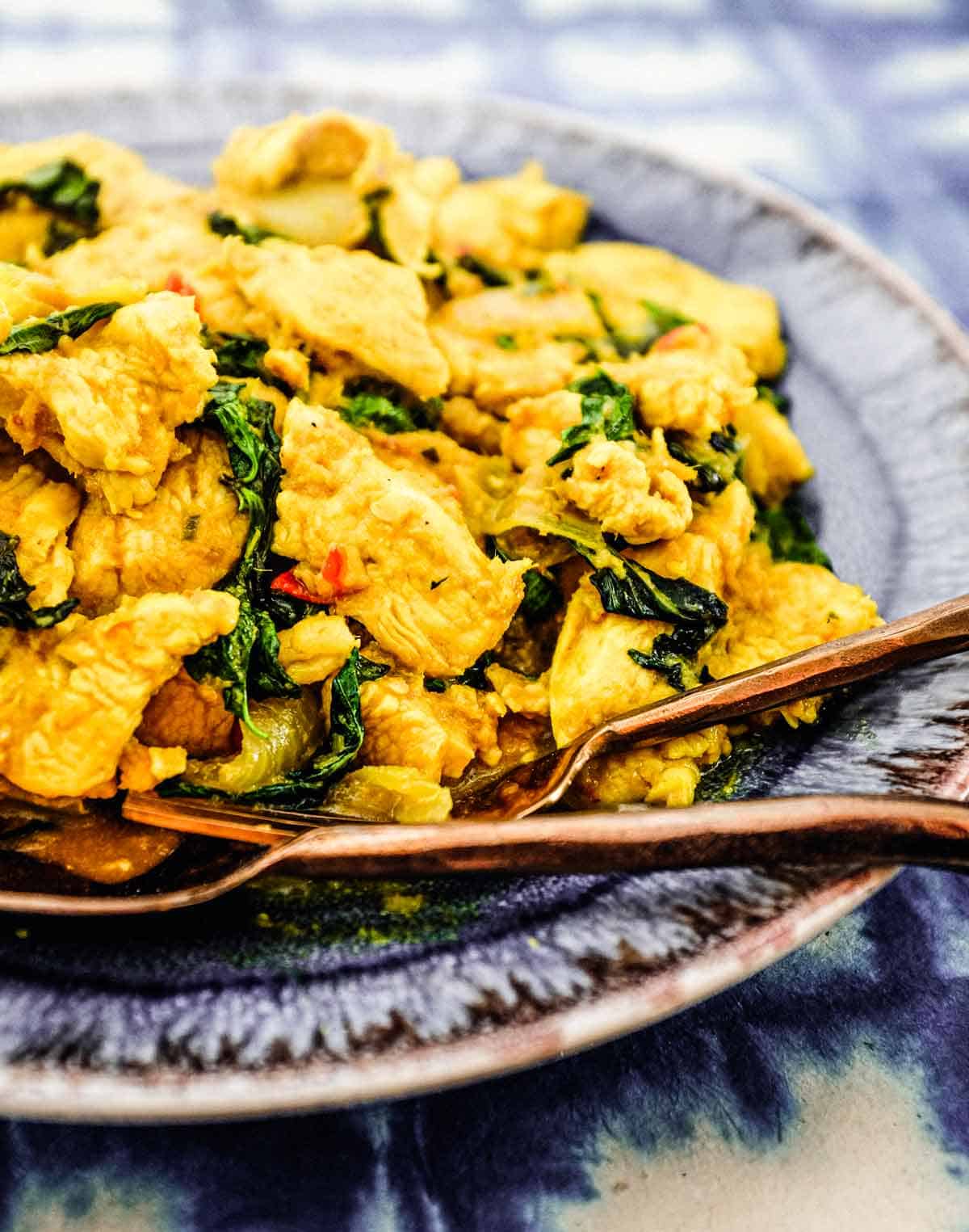 More delicious South-East Asian recipes to try at home.
How to make my Cha Kroeung Sach Moan (Cambodian Lemongrass Chicken Stir-Fry)
Cha Kroeung Sach Moan (Cambodian Lemongrass Chicken Stir-Fry)
Rate this recipe
Print Recipe
Pin Recipe
Save Recipe
Go to Collections
Calories (per serving) |
238
Instructions
To make the kroeung paste
Put all the kroeung paste ingredients into a pestle & mortar or food processor and pound/blend until smooth.
To make the stir-fry
In a wok, heat the oil until hot over a moderate heat (not too hot) – add the onion and fry for 1-2 minutes.

Add the Kreoung paste and stir-fry for a further 2 minutes.

Add the chicken, sugar and shrimp paste and stir fry for 4-5 minutes until the chicken is cooked through.

Add the tamarind, Thai basil, chillies, a dash of white pepper and a little salt to taste.

Remove from the heat, squeeze over a little lime juice and serve with fluffy Jasmine rice.
Notes
If you like, you can add vegetables to this stir-fry too. I'll often add some pre blanched long beans or French beans 1-2 minutes after adding the chicken then continue with the recipe.
You could add broccoli, carrot or cauliflower too.
Nutrition
Calories:
238
kcal
(12%)
|
Carbohydrates:
11
g
(4%)
|
Protein:
26
g
(52%)
|
Fat:
10
g
(15%)
|
Saturated Fat:
7
g
(44%)
|
Cholesterol:
87
mg
(29%)
|
Sodium:
533
mg
(23%)
|
Potassium:
583
mg
(17%)
|
Fiber:
1
g
(4%)
|
Sugar:
5
g
(6%)
|
Vitamin A:
368
IU
(7%)
|
Vitamin C:
14
mg
(17%)
|
Calcium:
43
mg
(4%)
|
Iron:
1
mg
(6%)
Did you make my Cha Kroeung Sach Moan (Cambodian Lemongrass Chicken Stir-Fry)?
How did you go? Let me know in the comments below and be sure to tag @cookeatworld at Instagram.