This intensely flavourful Indonesian Beef Rendang has it all and then some. Meltingly tender beef sits in a thick coconut sauce. It's the essence of South East Asia – a masterclass in the art of packing in as much flavour as is humanly possible!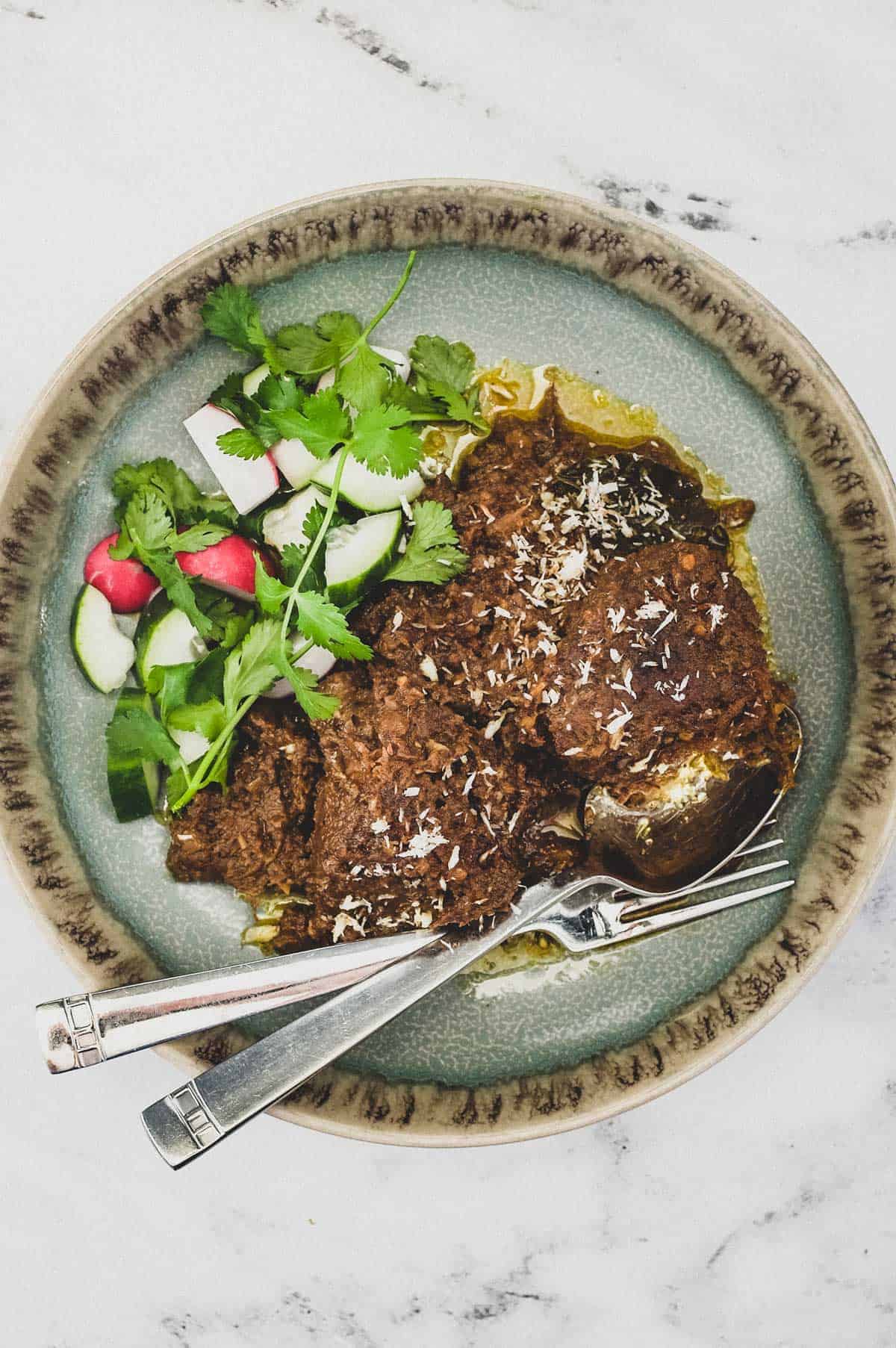 As South East Asian curries go, this Indonesian Beef Rendang recipe (rendang daging) is one of the stand-out stars. Revered in Indonesia and beyond, and epic combination of flavour and texture. A rich, mind-boggling sauce that is magnificently flavoured. A perfect lend of sweet, sour, salt and spice.
What is Rendang?
Rendang (pronounced ren-dan) is a Sumatran Indonesian dry curry. It's typically made using beef and cooked over a long period of time until the sauce becomes a thick, rich and clingy, and the meat fork tender. The sauce is intensely flavourful and aromatic.
Why it works
Beef rendang is so special because it really is a masterclass in flavour. Fragrant and rich, it's best served in small portions alongside coconut rice and a light, bright salad to counteract the sauce. It's one of the best South East Asian curries for a reason, and it's really very easy to cook at home yourself. Win. Win.
Stuff you'll need
You'll need a few special ingredients to make the most authentic rendang, but nothing too obscure. We can categorise the key flavours that go into this supercharged dish.
Aromatics – these add flavour, and fragrance to the sauce.
Other key ingredients
Coconut milk (Tempers the spice and creates the creamy sauce).

Fresh Coconut (when toasted it creates a wonderful final texture to the sauce) (you can buy it pre grated and frozen from many Asian Supermarkets.

Beef (Beef chuck/stewing steak is perfect for cooking low and slow).

Palm sugar (or brown sugar) adds a sweetness to counteract the spice.
Step by Step
There are four simple steps to follow to have this curry on the table in no time (well, it's actually quite a bit of a wait, but well worth it).
Step 1 - Make the Curry Paste and Spice Mix

Blend together all the spice paste ingredients with a hand blender or blender/food processor to form a smooth paste. Then to make the spice mix, dry roast all the whole spices to release their full potential and grind into a powder using a pestle & mortar or spice grinder.

Step 2 - Fry the Curry Paste & Spice Mix

In a little oil, fry the paste and spice mix until the rawness is gone with some of the extra whole spices.

Step 3 - Add everything else

The beef and coconut milk goes into the pan and simmers for 1 hour.

Step 4 - Toast the coconut, add to the sauce and reduce to a Rendang

In a dry pan, toast the grated coconut until it's lightly browned. After the curry has cooked for 1 hour, most of the coconut is added to the sauce and its simmered for another 1-2 hours, until the sauce is reduced and dry.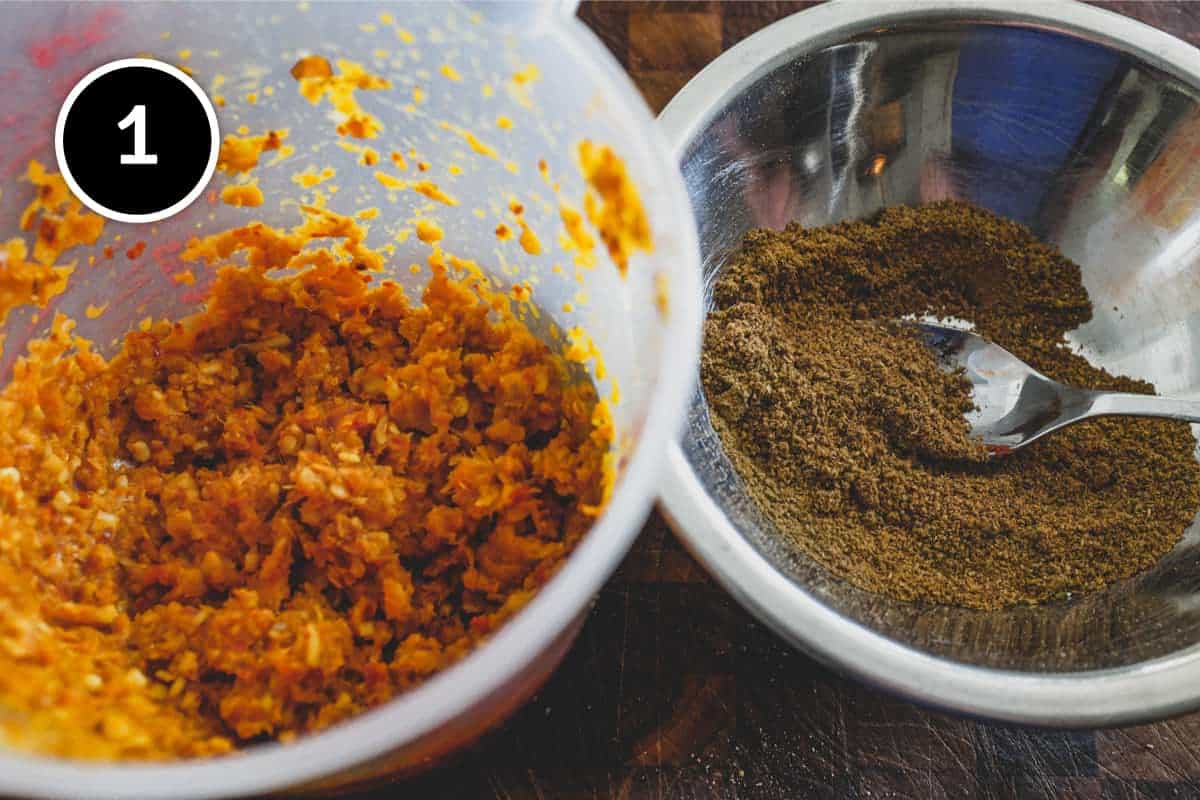 Pro Tips to get the right Rendang texture
Once the rendang sauce has reduced for the right amount of time - something seemingly alarming will happen within the last few moments. All that coconut cream and fat from the meat will suddenly separate from the sauce, leaving a thick slick of. The sauce itself will turn dark brown. This stage is essential in being able to call the curry rendang.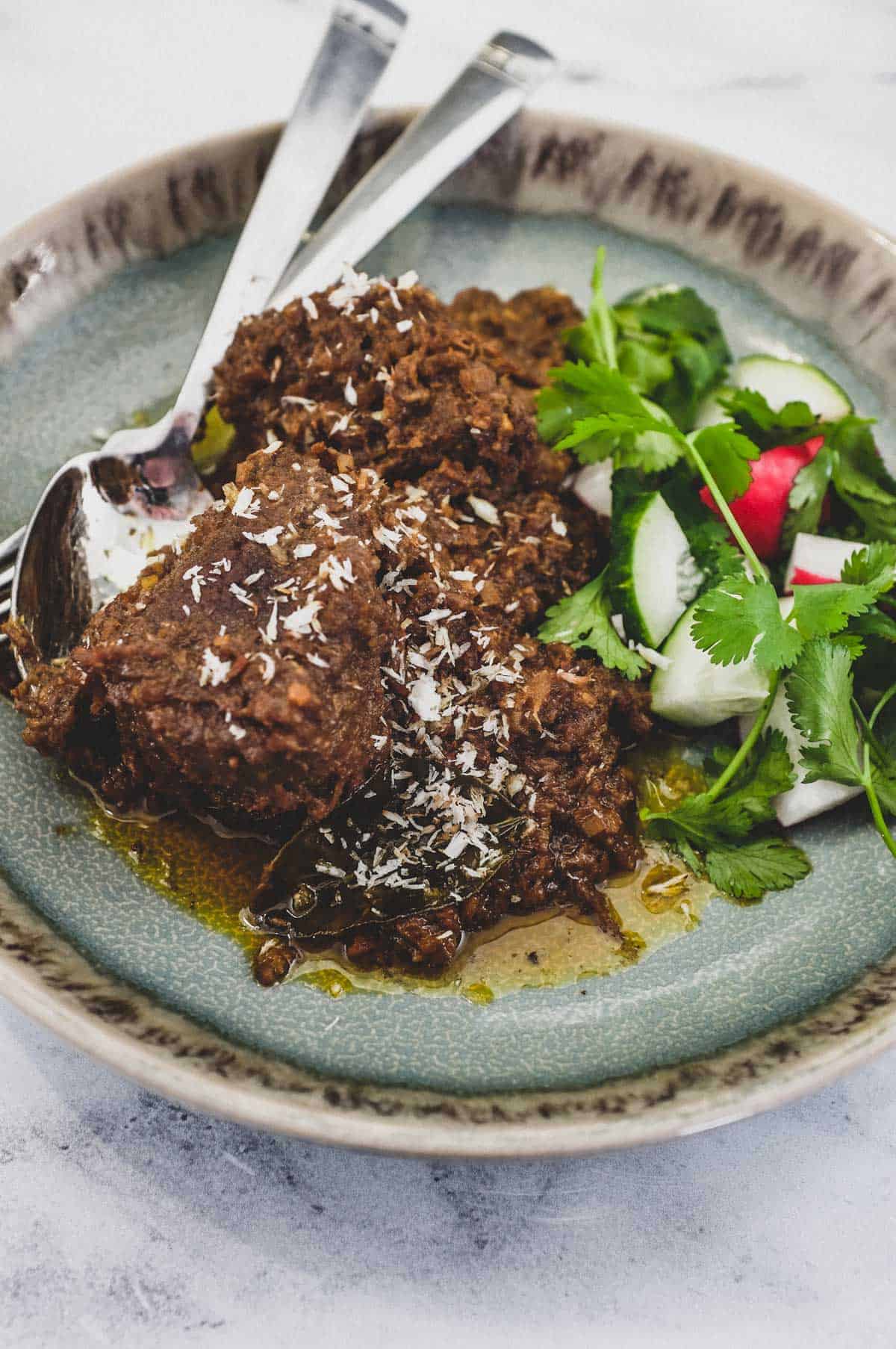 Kalio - a wet version of the sauce
Just before the creation of a dry sauce, you can stop the cooking process if you prefer more sauce. The sauce will be lighter in colour and a rich, creamy texture. This stage of cooking is called Kalio and also super delicious! One note is that Kalio will only stay fresh in the fridge for about a week as opposed to 2-3 weeks for Rendang.
Serving and storing suggestions
Rendang is typically served with some plain or coconut Jasmine rice or sticky rice with a simple side of salad vegetables - I'll usually serve with some fresh tomato wedges, a few thick slices of cucumber and a little cilantro to cut through the richness.
Rendang improves with time, so if you can handle the wait, leave it in the fridge for a day or two before eating. It'll stay fresh for up to 2 weeks in the fridge! Some say it can stay fresh for up to a month if cooked properly.
Beef Rendang is a great option for freezing, just portion into serves in small containers. I also like to add about ¼ cup water over the top which stops the curry drying out when reheating in the microwave from frozen. It'll stay perfectly delicious in the freezer for 3+ months.
Ready to get cooking?
So now you know how amazing Rendang can be, it's time to see for yourself. There are so many reasons Rendang is considered one of the World's greatest curries and the great news is that, with some patience and love (and this recipe) you really can create all the magic yourself at home.
Any Questions? (FAQ)
Have a question about Rendang? Let me know in the comments below.
What is Rendang made of?
Rendang is a complex combination of spices, aromatics, beef and coconut. It features lemongrass, galangal, toasted coconut and coconut milk, all of which are reduced into a thick, dry curry.
What does Rendang taste like?
The meat in rendang is meltingly tender, but it's the sauce that transforms this curry into something incredibly special. A rich, condensed burst of sweet, sour, salt and spice. An intense hit of aroma and flavour.
Is Rendang Indonesian or Malaysian?
Rendang originated in Minangkabau region of West Sumatra, Indonesia. However, such is its popularity, it has spread across the region into Malaysia, Singapore, Brunei and even as far as the Philippines.
How healthy is Rendang?
Rendang may not be the first choice in a healthy diet, but such is the intensity of the sauce, small portions are recommended, so moderation is encouraged and serving rendang sparingly with salad vegetables and plain rice is a good way to enjoy the curry, so you don't need to miss out on all that flavour!
More South East Asian recipes
If you love Indonesian food, try more of my delicious recipes from all across South East Asia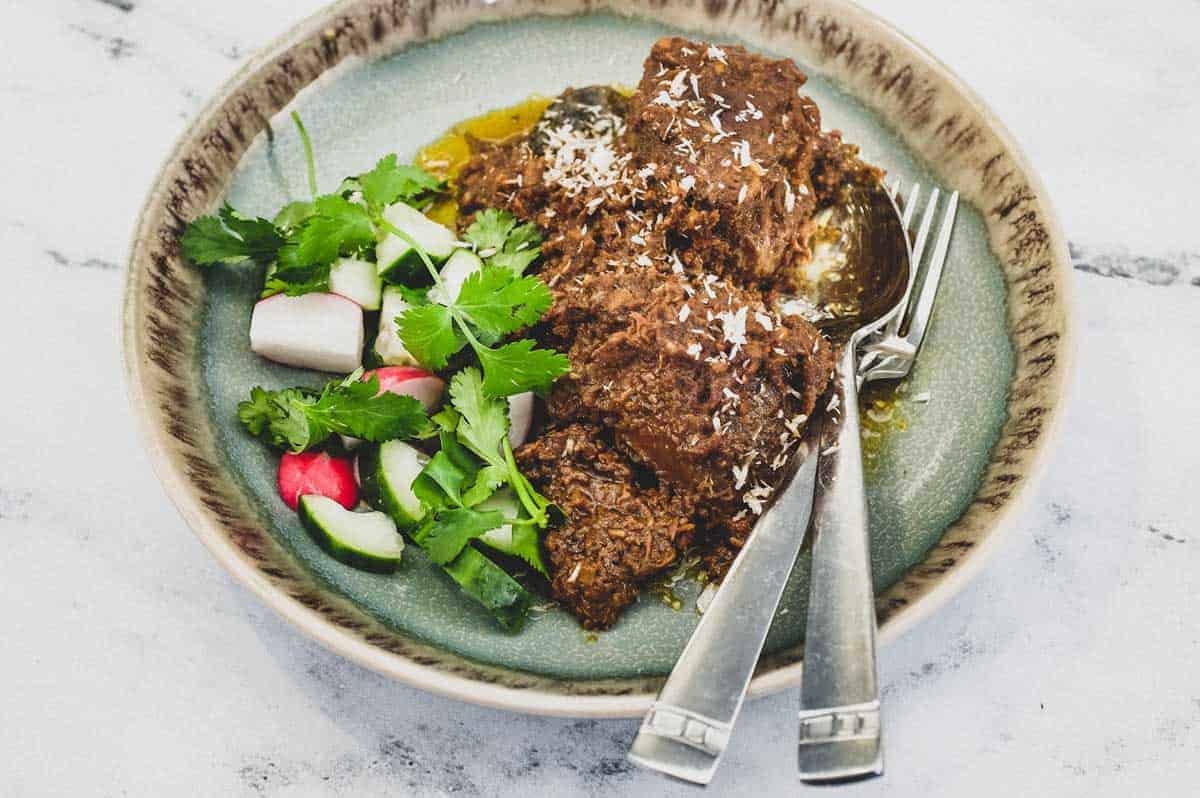 Beef Rendang
Rate this recipe
Print Recipe
Pin Recipe
Calories (per serving) |
731
Ingredients
For the paste
2

lemongrass stalks

(white parts only, thinly sliced)(keep the rest of the stalks for the sauce)

½

cup

shallots or red onion

(finely sliced)

4

slices

fresh galangal

1

tbsp

fresh ginger

(chopped)

3

garlic cloves

(peeled & chopped)

12

dried red chillies

(soaked for 15 mins)

1

tsp

shrimp paste

2

inch

fresh turmeric

(5cm) (or 1 tsp powdered turmeric)
Other
½

cup

grated coconut

(buy frozen and grated from many Asian supermarket)

⅓

cup

vegetable oil

3

lb

beef rump

(about 1.5kg) (cut into large chunks)

1

can

coconut milk

1

tsp

salt

1

tbsp

palm sugar

(or brown sugar)
Instructions
To make the paste
Add all the paste ingredients to a blender or food processor and blend into paste. Set aside.
To make the spice mix
In a dry frying pan toast the spices over a medium heat until they start to pop around the pan a little. Tip into a spice grinder or pestle & mortar and blend into a fine powder.

Combine the powder with the spice paste and set aside.
To make the curry
Heat the oil in a large pan until just hot. Add the cardamom, the leftover parts of the lemongrass stalks, and kaffir lime leaves and let them sizzle for 10 seconds before adding the spice paste.

Fry the paste for 3-4 minutes to cook out the raw ingredients a little.

Add the beef and stir to coat everything. Now, pour in the coconut milk along with 2 canfulls of water. Season with the salt and sugar.

Stir well and bring to a simmer. Reduce the heat to low and gently simmer (covered) for 1 hour.

Meanwhile, In a dry pan - toast the coconut until it's lightly golden - set aside.

After 1 hour of cooking, add 3/4 of the toasted coconut and stir well. Let This simmer for 1½-2 hours until the curry is thick and creamy. Turn up the heat a little and let the curry reduce until it is very thick and clings to the meat. The sauce will all but evaporate and turn a dark brown colour.

Remove from the heat and serve hot, sprinkled with the remaining toasted coconut.
Notes
Serving
I like to serve mine with plain or coconut jasmine rice and some crunchy, fresh salad vegetables. You can also serve with sticky rice or crisp, flaky paratha bread.
Wet vs dry sauce?
Kalio (wet) or Rendang (dry) are two variations on the sauce. A wet sauce will be a golden brown color and thick and creamy. It's fine to serve this way and has a tonne of flavour. Rendang is the stage where the sauce all but evaporates and the oil separates. This created the most intense flavour and an authentic rendang. 
Storing & reheating.
Rendang will stay fresh for 2-3 weeks in the fridge. Kalio (see above) will stay fresh for up to 1 week in the fridge. Both wet and dry versions will freeze for 3+ months.
If you're freezing rendang (dry) then add 1/4 cup water on each portion before freezing. This will avoid the meat drying out during reheating. Reheat in a microwave from frozen for 4-8 minutes.
Nutrition
Calories:
731
kcal
(37%)
|
Carbohydrates:
13
g
(4%)
|
Protein:
47
g
(94%)
|
Fat:
57
g
(88%)
|
Saturated Fat:
37
g
(231%)
|
Trans Fat:
2
g
|
Cholesterol:
166
mg
(55%)
|
Sodium:
622
mg
(27%)
|
Potassium:
1104
mg
(32%)
|
Fiber:
3
g
(13%)
|
Sugar:
4
g
(4%)
|
Vitamin A:
304
IU
(6%)
|
Vitamin C:
4
mg
(5%)
|
Calcium:
97
mg
(10%)
|
Iron:
9
mg
(50%)