Babi Pongteh (Malaysian Pork Stew)
The aromatic delights of Nyonya cuisine are on full display in the wonderful Babi Pongteh, a bold, umami burst of flavour with meltingly tender pork and meaty shiitake mushrooms.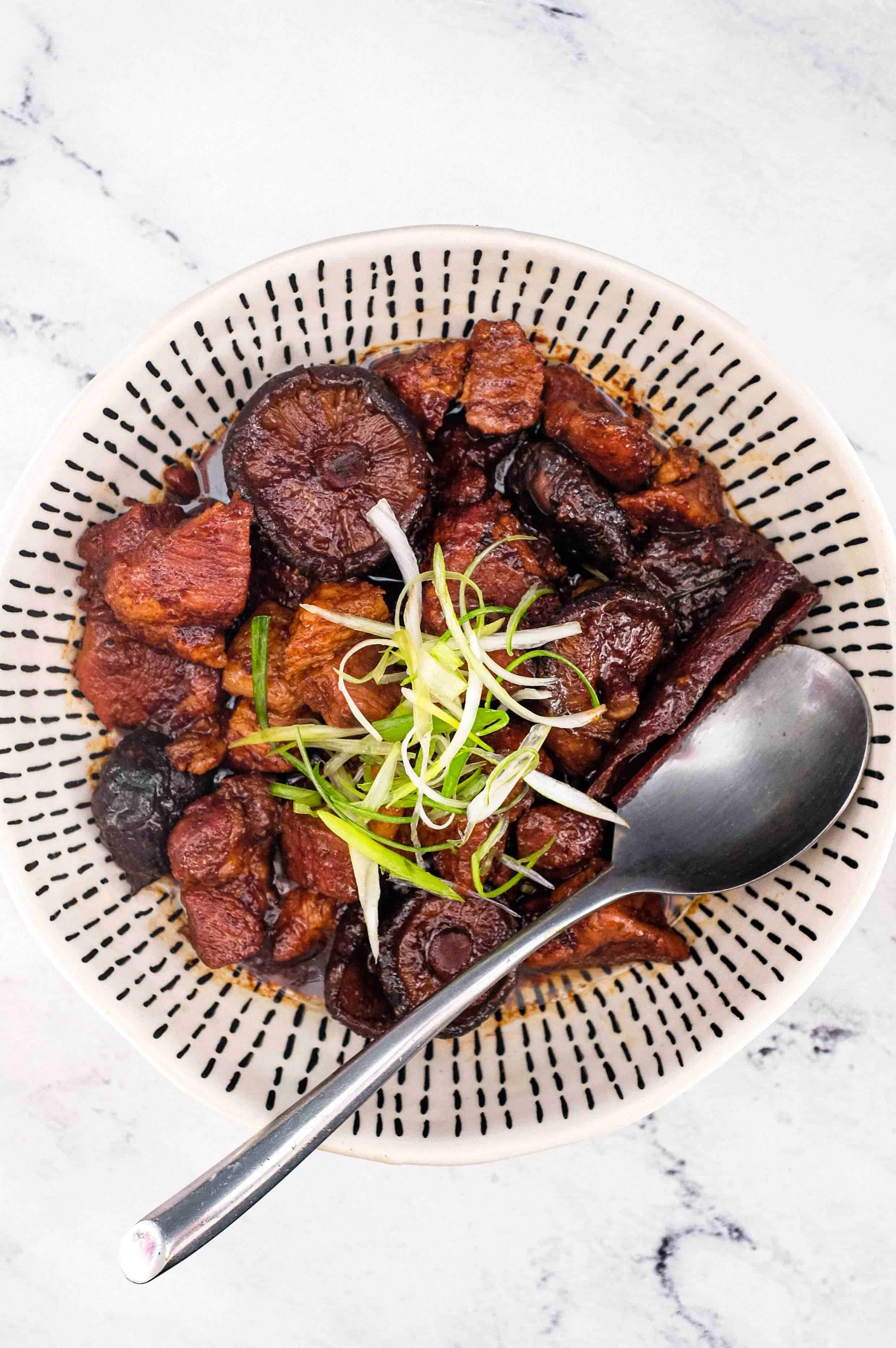 What is babi pongteh?
Babi Pongteh (pronounced BABI PONG-TAY) is a type of pork stew, combining pork, usually a fatty cut like pork belly or marbled shoulder (and if you're up for it, pig trotters), with other quintessentially Nyonyan ingredients.
The use of pork is most certainly a Chinese influence as are the dried shiitake mushrooms, soy sauce and fermented soy bean paste which gives this Nyonyan recipe its unique umami flavour.
Babi pongteh has fragrance for days, and the salty, savoury aromas wafting through the kitchen are something very special! When cooked, the sauce reduces to an intensely flavoursome gravy that clings to the juicy, tender pork.
Additional flavour comes in the form of cinnamon which imparts its unique personality through the dish. Other aromatics are often used like cloves, star anise and sometimes dried tangerine peel to offer unique flavour combinations.
The use of dried mushroom brings a wonderful flavour and texture to the babi pongteh, you can also use potatoes or fresh lotus root or whatever YOU think might work!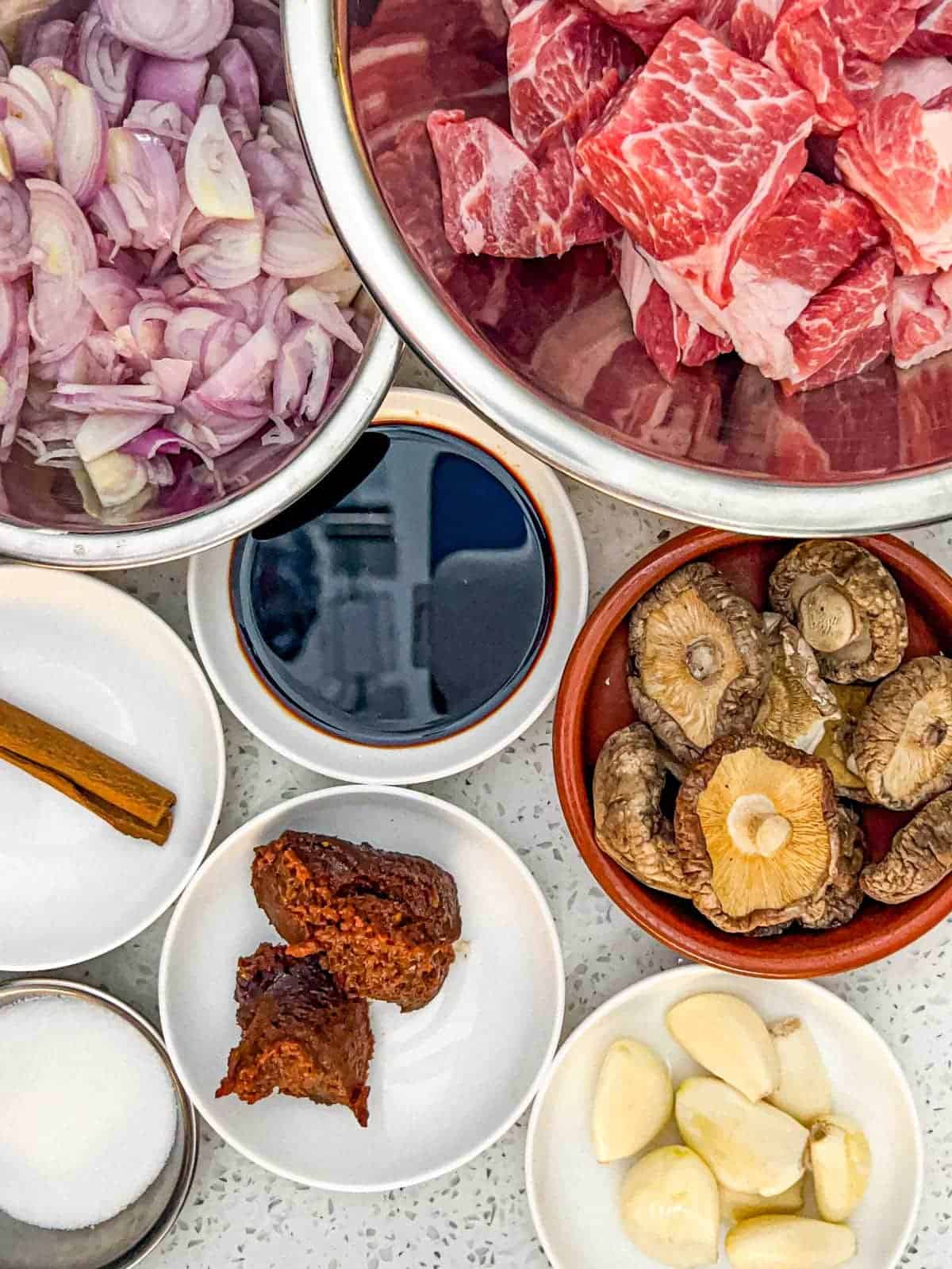 Why Babi Pongteh so umami delicious
The fifth flavour is in full effect in Babi Pongteh - it's so packed with rich, complex umami-ness. Here are the key flavours that make this Nyonyan recipe so delicious!
Pork (fatty cut like pork belly or marbled shoulder - DON'T go lean, it really needs a fatty cut!
Shallots and garlic - to make a paste or 'rempah' for the base of the sauce.
Fermented soy bean paste - the umami, salty undertones to this dish for the authentic flavour.
Dark soy sauce - this will bring its rich, umami personality as well as deep reddy brown colour. Dark soy sauce is also less salty than light soy, which is important to use as the soy bean paste can be very salty.
Sugar - all that salt needs a sweet counterbalance
Cinnamon - For a floral undertone. Try star anise too!
Dried Chinese mushrooms - These bring even more umami flavour, but most importantly a wonderful meaty texture to the finished dish.
Step by Step
Making my babi pongteh pork stew is so easy, only a few simple steps
Soak the mushrooms (30 minutes and they'll be soft again)
Make a paste (rempah) with some shallots, garlic and soy bean paste
Fry the paste with the cinnamon stick
Add the pork and gradually the rest of the ingredients with a little water. Cook for 90 minutes or until the pork is fork-tender.
Pro tips
The success to this dish is the use of fermented soy bean paste, which shouldn't be omitted. That said, try using or substituting some ingredients to make variations.
Use potatoes instead of mushrooms (add In the last 30 minutes of cooking)

Try sliced lotus root or bamboo shoots (added near the end of cooking)

Use different aromatics like cloves, dried tangerine/orange peel and star anise

Instead of regular dark soy, try Chinese mushroom flavoured soy sauce (be careful of salt levels, so taste before using).

Add fresh ingredients at the end like watercress, bok choy or scatter with cilantro or spring onions when cooked.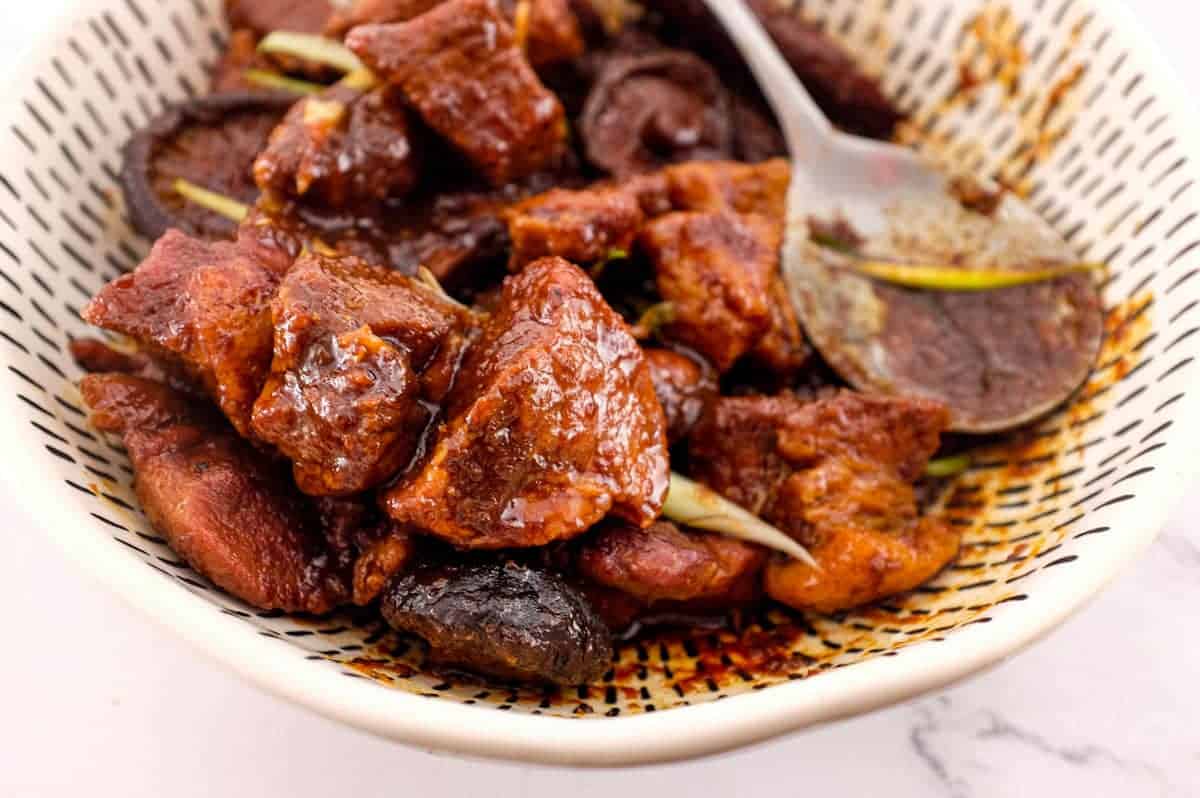 More delicious Malaysian recipes
Malaysian food has so much to offer. Here are some of my most favourite Malaysian recipes.
Frequently Asked Questions (FAQ)
Is Babi Pongteh spicy?
No, there is no chilli heat in the dish so it's mild - the flavours lean more to salty, sweet and umami.
What is Babi Pongteh?
Babi Pongteh (babi pong-tey) is a rich pork stew from Malaysia, a traditional Nyonyan/Peranakan dish from Chinese immigrants to the Malay archipelago.
The Best Malaysian Curry Recipes in the Cook Eat World.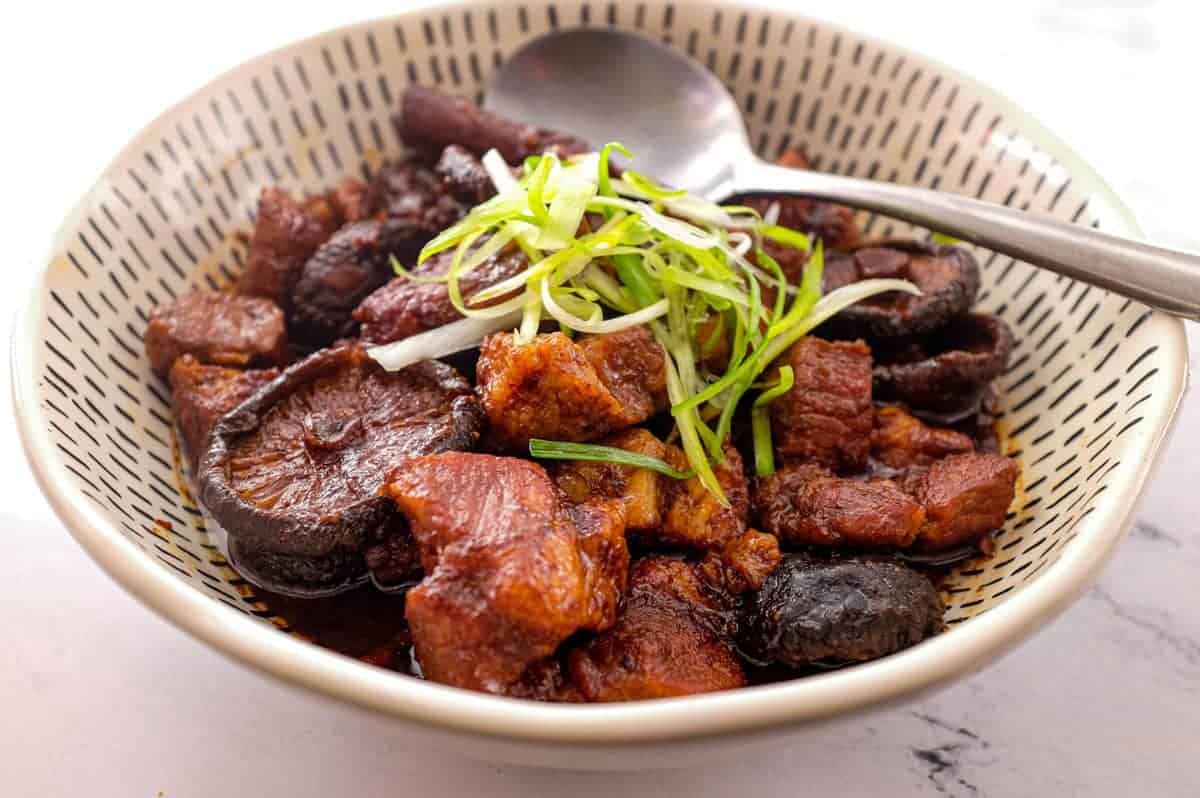 Babi Pongteh (Malaysian Pork Stew)
Rate this recipe
Print Recipe
Pin Recipe
Save Recipe
Go to Collections
Calories (per serving) |
857
Instructions
Add the shiitake mushrooms to a bowl of water and place a small plate on top to submerge them. Soak for 30 minutes then squeeze out the water. Discard the soaking liquid and set aside the mushrooms.

Using a food processor or stick blender, blend the shallots, 4 of the garlic cloves and bean paste until smooth.

Heat the oil in a wok or casserole pan over a moderate heat until hot. Add the cinnamon stick and then the shallot paste and fry for 5 minutes until the raw onion smell is gone.

Add the pork and remaining 4 garlic cloves (whole) and fry for 1-2 minutes before adding the soy sauce and sugar. Stir well and fry for a further 3-4 minutes.

Add the mushrooms to the pan and pour in the water. Bring to a simmer and then reduce the heat to low. Cover the pan and simmer for 60 minutes.

Remove the lid and turn up the heat to medium/high. Let the sauce bubble for 30 minutes to reduce the sauce. Stir frequently to avoid sticking.

Remove from the heat and serve!
Notes
Alternative serving suggestions
Instead of Shiitake mushrooms, try chunks of potatoes or turnip. Add in the last 30 minutes of cooking (for potatoes) or 20 minutes (for turnip) to ensure they're cooked through.
Try sliced lotus root or bamboo shoots (added near the end of cooking)
Experiment with other Chinese/Malay ingredients to enhance and change the flavour ingredients like cloves, dried tangerine/orange peel, star anise and 5-spice powder will all bring a new personality to the dish.
Pro tips
The stems of dried mushrooms can become a little tough, even when reconstituted, so I'll often remove them and discard.
Fermented soy bean paste is eaten in Chinese, Japanese and Korean cuisine, so search all sections of the store if you can't find right away.
Babi Pongteh works splendidly with noodles. Stir some of the sauce through some freshly boiled egg noodles.
Nutrition
Calories:
857
kcal
(43%)
|
Carbohydrates:
16
g
(5%)
|
Protein:
17
g
(34%)
|
Fat:
81
g
(125%)
|
Saturated Fat:
29
g
(181%)
|
Polyunsaturated Fat:
9
g
|
Monounsaturated Fat:
37
g
|
Cholesterol:
109
mg
(36%)
|
Sodium:
939
mg
(41%)
|
Potassium:
488
mg
(14%)
|
Fiber:
2
g
(8%)
|
Sugar:
8
g
(9%)
|
Vitamin A:
24
IU
|
Vitamin C:
5
mg
(6%)
|
Calcium:
43
mg
(4%)
|
Iron:
2
mg
(11%)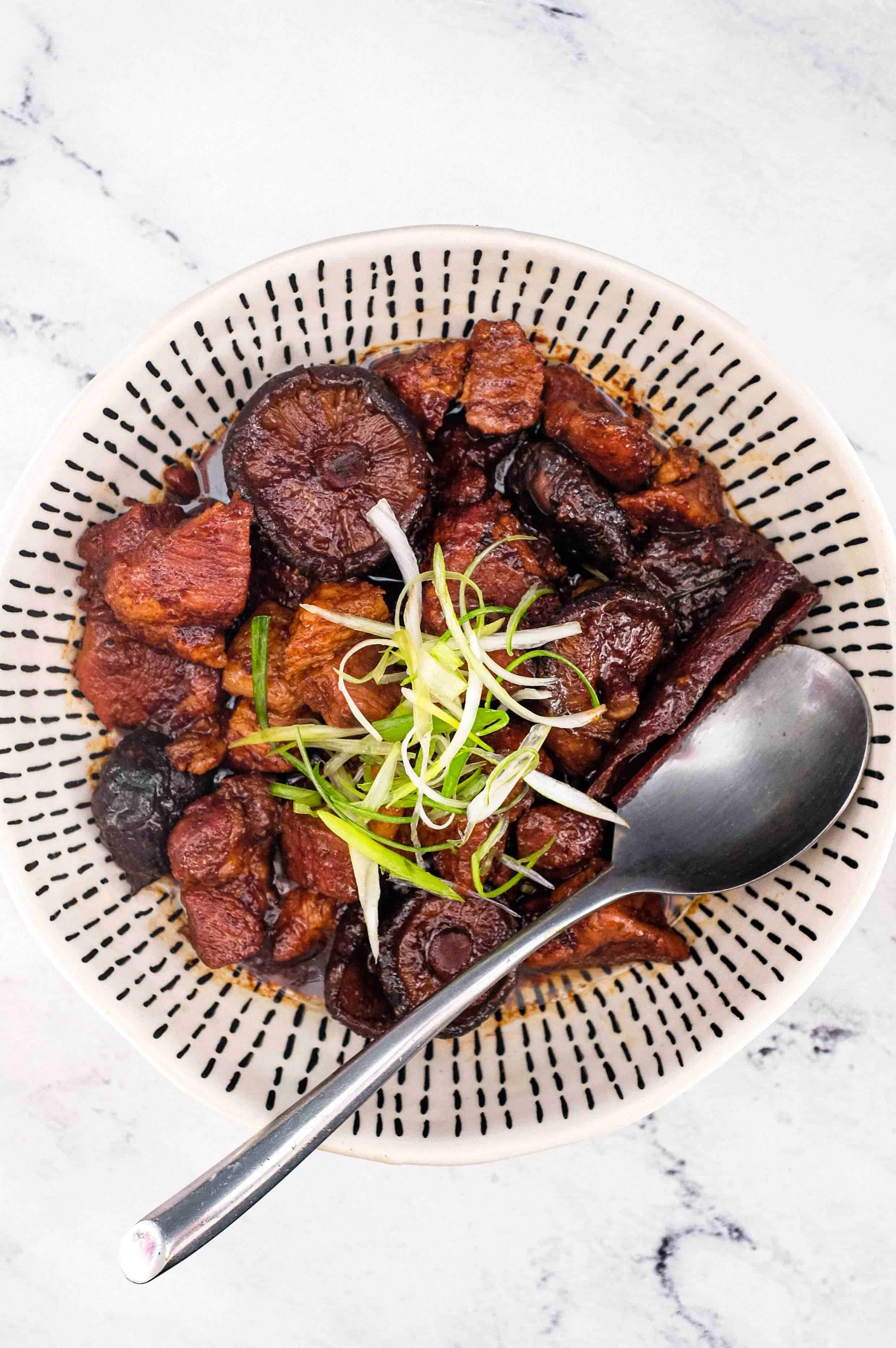 Did you make my Babi Pongteh (Malaysian Pork Stew)
How did you go? Let me know in the comments below and be sure to tag @cookeatworld at Instagram.