Malaysian Chicken Curry (Kari Ayam)
For the most authentic Malaysian Kari Ayam (Chicken Curry) you need the most authentic ingredients. Discover how to make the most wonderful Malay Chicken Curry at home – Spoiler: it couldn't be easier!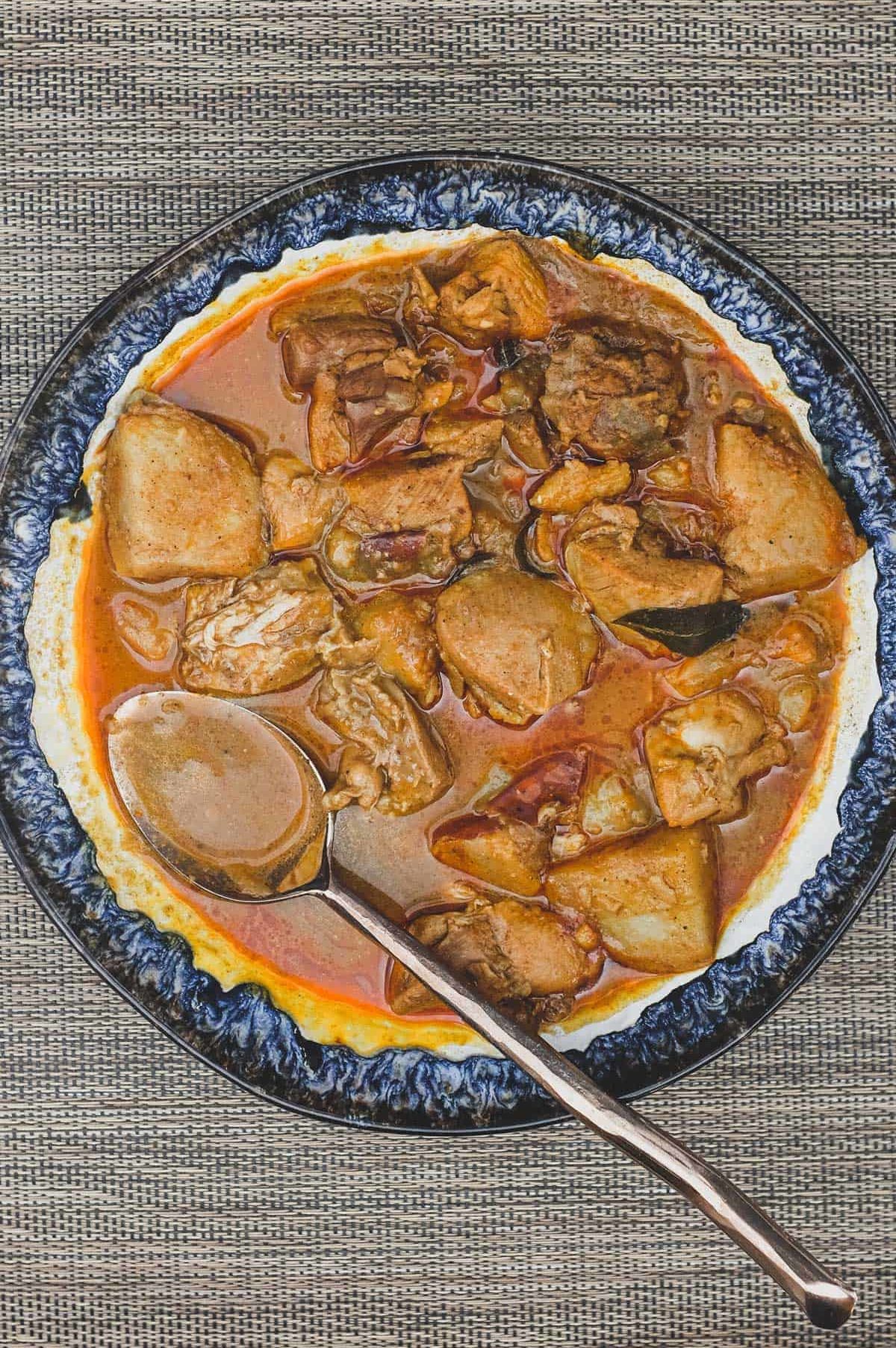 A good Malaysian Chicken Curry is truly deserving as one of the finest dishes in the world. A unique marriage of South East Asian and Indian cuisines - and this recipe creates a heady, fragrant and utterly intoxicating curry. It's just one of the specialities from my Best Malaysian Curry Recipes – a magnificent celebration of spice!
Malaysian food is a triumph of flavour, colour and fragrance and never more evident than in this fantastic Kari Ayam (Chicken Curry). And now you can create this exact and super authentic flavour at home - and the splendid news it that it couldn't be quicker or easier.
What is Kari Ayam?
Kari ayam is a simple curry eaten across Malaysia, Singapore and Indonesia. Created by Indian settlers in the region and a unique combination of Indian and South East Asian flavours. It's made from chicken pieces in a fragrant coconut based sauce. The sauce is created using a special Malaysian curry powder, packed with fragrant spices. It's this specific blending of spices that create the unique characteristics of a Malaysian chicken curry. This curry powder can be made at home (I have a superb recipe for that) or bought from many Asian supermarkets (I have a favourite powder you must try!)
Why it works
Malaysian curries work so splendidly as they really are the perfect blend of Indian and South East Asian flavours. They're light, bright and packed full of flavour without feeling oily, heavy or too rich. This particular curry has a wonderful combo of spices with a distinctive aniseed note from the generous use of star anise. Pure addictive!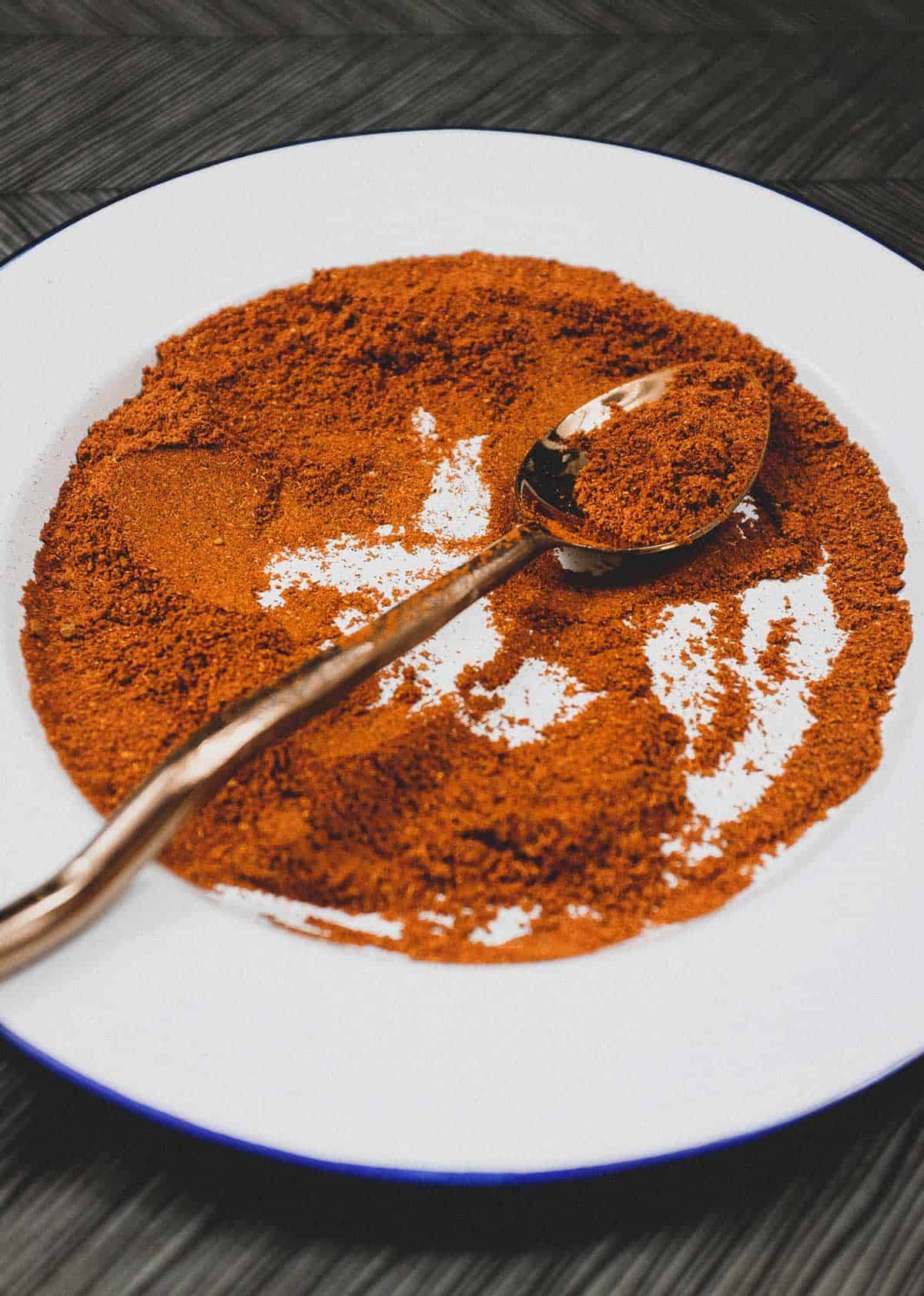 A magical curry powder
A good Malaysian Kari Ayam starts with a solid taste foundation - a good spice blend to aid in creating those unique, authentic flavours. Making your own Malaysian curry powder at home is simple - I grind a large batch from time to time and it keeps for up to 6 months - always at hand. Check out my Malaysian Curry Powder recipe to see how easy it is to make.
To create the unique character, there is no shame in buying pre-made curry powders. They have a wonderful combination of flavour and are ready-to-go from the packet. If you ARE buying a curry powder pre-made, then be sure to search for 'Malaysian curry powder'. Malaysian curry powder is not the same as powders typically labelled 'curry powder'. You'll often see powders names Malaysian Curry Powder 'for meat' or 'for fish'. Each has its own unique blend of spices.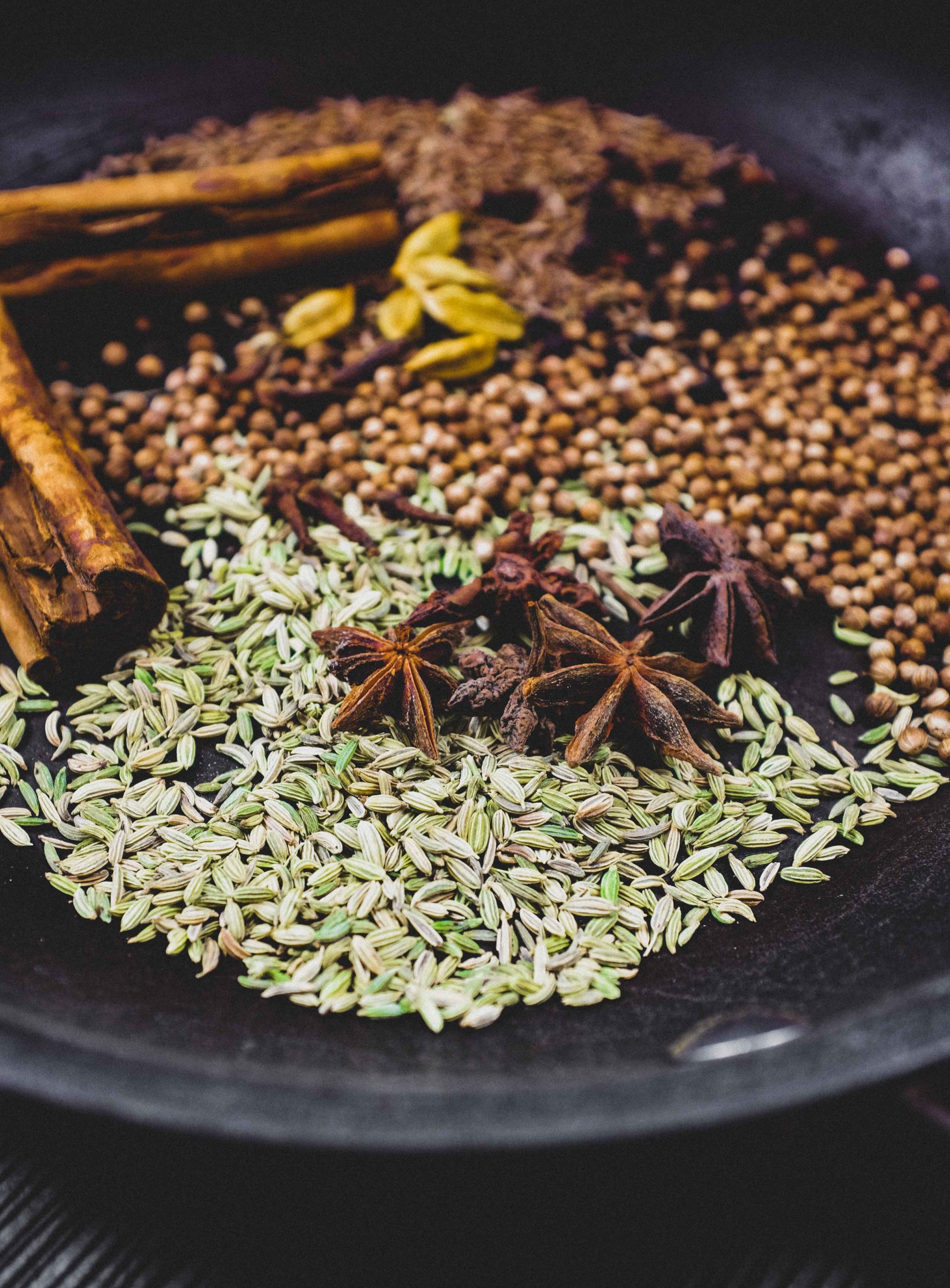 Home made curry powder
The great thing about having a homemade curry powder is that you always have it on hand - enabling you to whip up this treasure within an hour. Here's my recipe for Malaysian Curry Powder
A homemade curry powder will require a few whole spices that you'll toast and then grind into a powder: Fennel seeds, Star anise, Coriander seeds, Cumin seeds, Cardamom pods, Black pepper, Cinnamon, Cloves and ground Paprika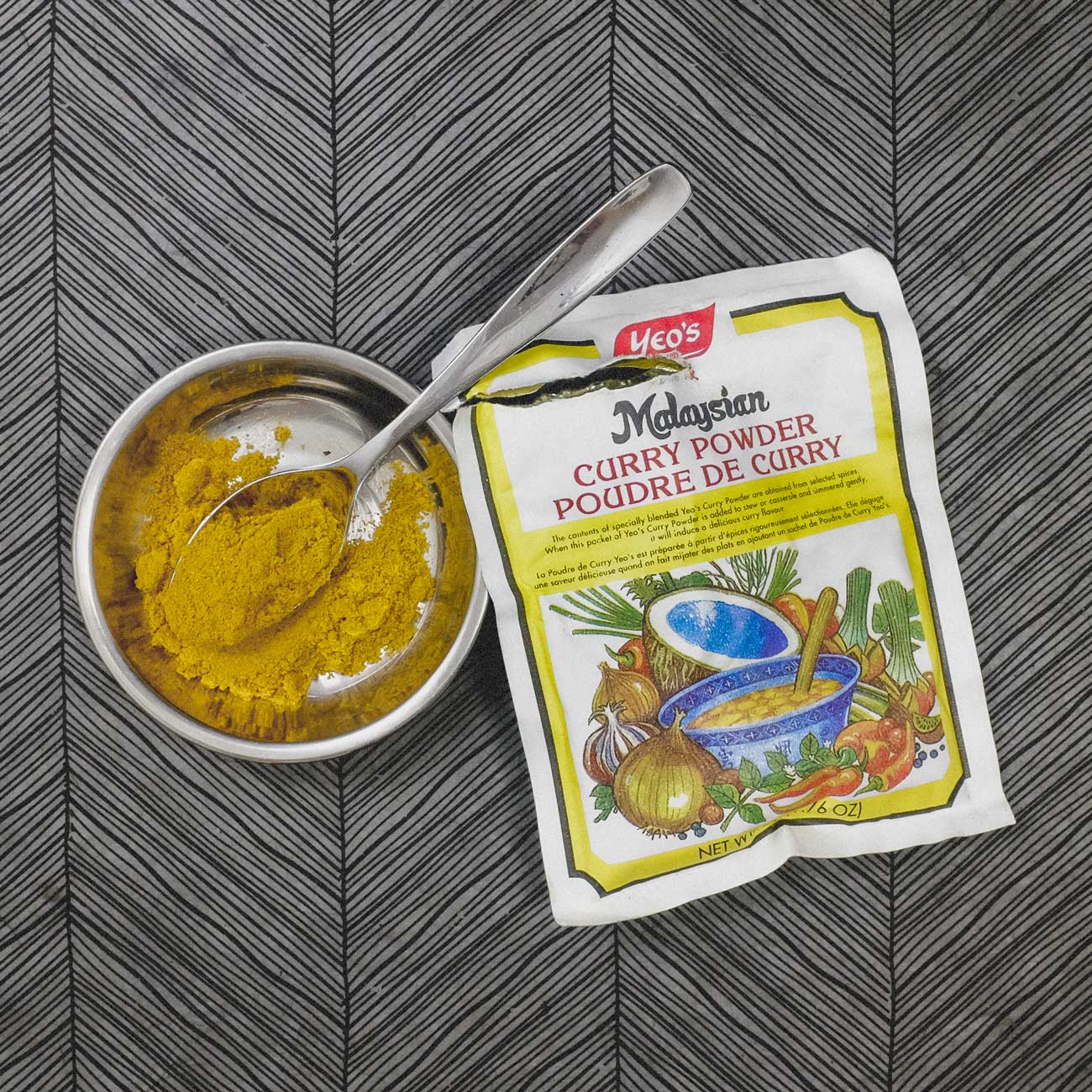 Buying store bought curry powder
If you're looking for a more convenient path to Kari Ayam, then you should also consider one of the excellent store-bought options available.
My favourite store-bought curry powder is Yeo's Malaysian Curry Powder, As a rule of thumb, always choose a powder labelled "Malaysian Curry Powder" and for Kari Ayam and similar curries, the label may also read "Malaysian Curry Powder for Meat."
Stuff you'll need
Once you have the curry powder sorted, there are not that many other ingredients. That's what makes this curry so great. It's so quick and easy to make.
Chicken (thighs are a must, you'll have a juicier texture than breasts).
Fresh curry leaves (these aren't essential, but they do add a lovely flavour and you can eat them too). Whenever you find curry leaves (any Indian supermarket) buy a lot and freeze them. They stay good for months and defrost in your hand.
Star anise. Up the ante of flavour and add more whole star anise to the curry alongside the ones in the curry powder.
Coconut milk. To create the creamy texture to the sauce, coconut milk is the go to.
Potatoes. Traditionally, potatoes are added to the sauce. They extend the curry as well as bringing a delicious and creamy counterpart to the juicy chicken.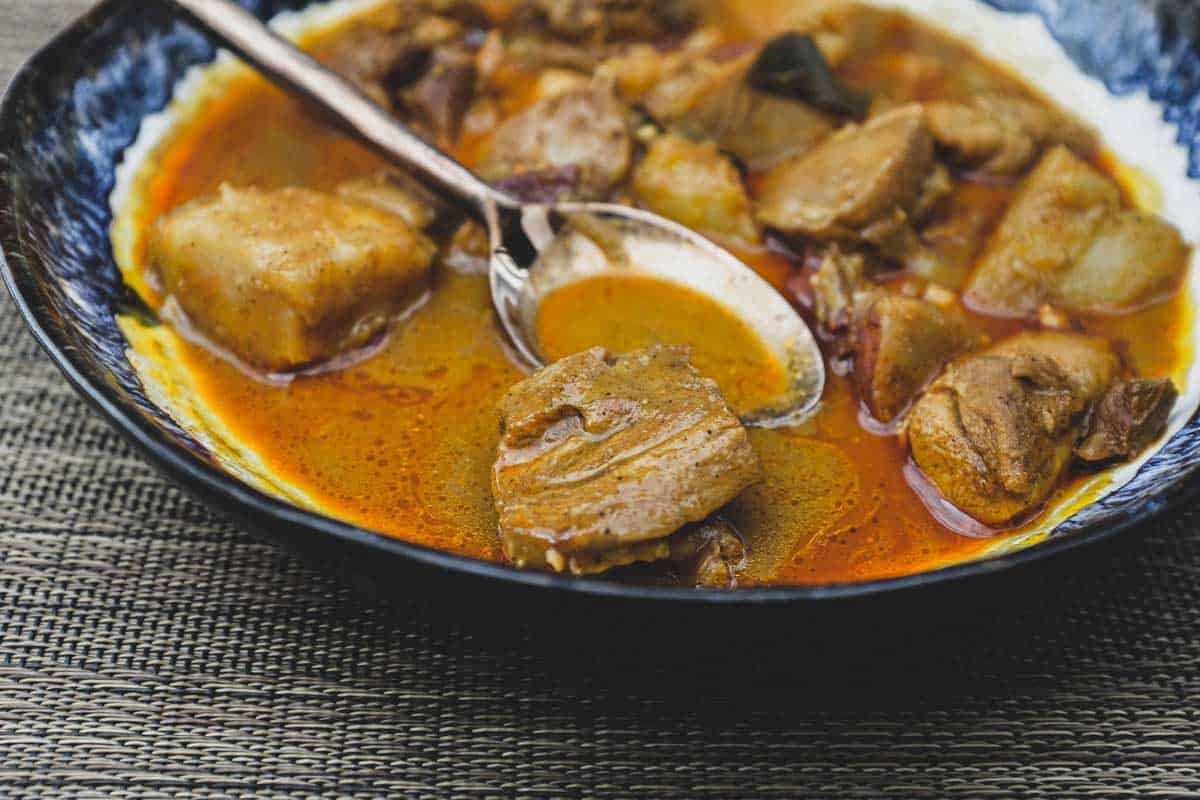 Step by Step
Making this curry is easy, and ready in 30 minutes. Here's a simple breakdown of how you'll spend your time.
Step 1 - Season the oil with fresh curry leaves and star anise
Step 2 - Seal the chicken in the fragrant oil
Step 3 - Add the Malaysian Curry Powder and get ready for an assault on the senses!
Step 4 - Pour over coconut milk to add a luxuriant flavour and texture
Step 5 - Add some potatoes to the sauce for a combination of texture.
Step 6 - Simmer for 25 minutes - and serve!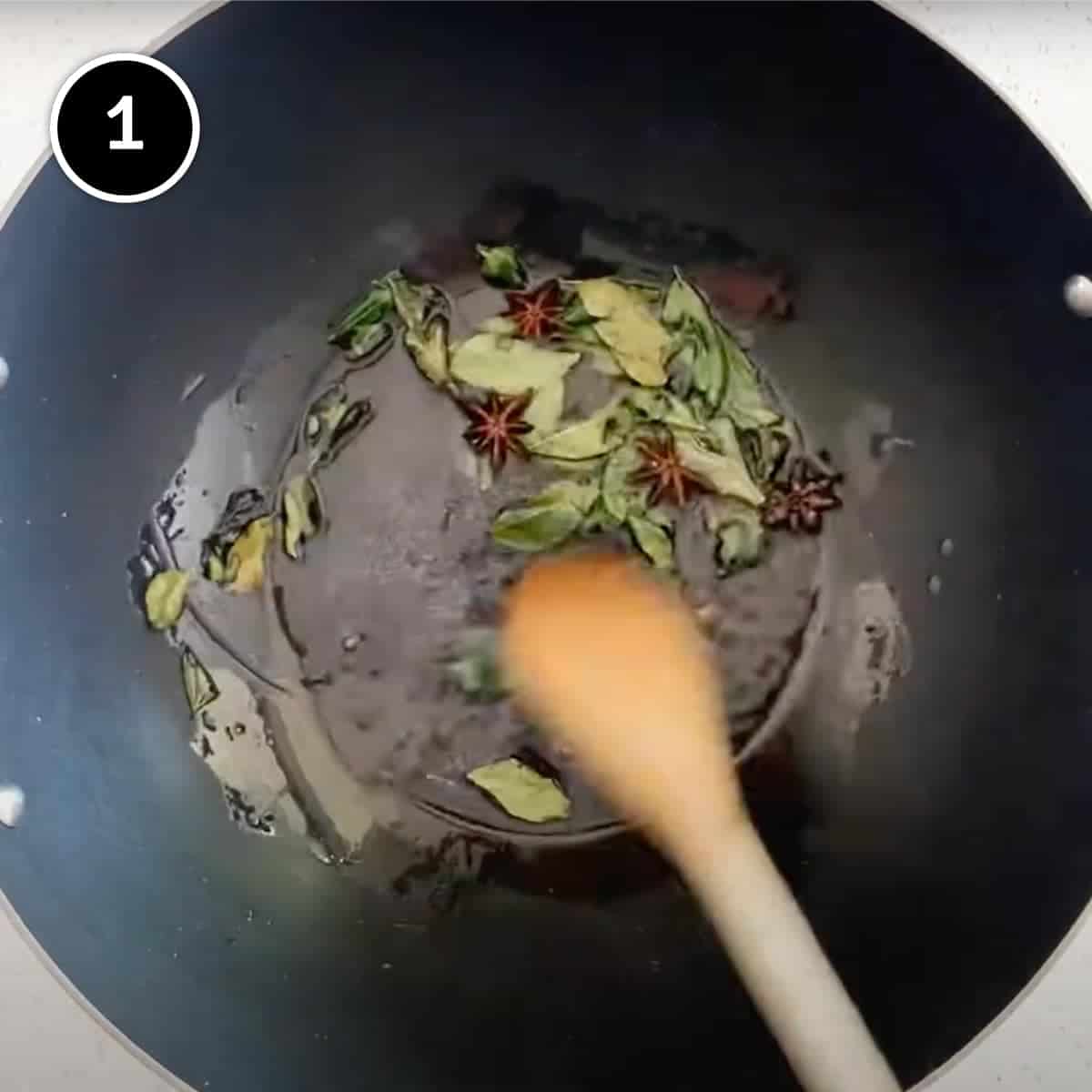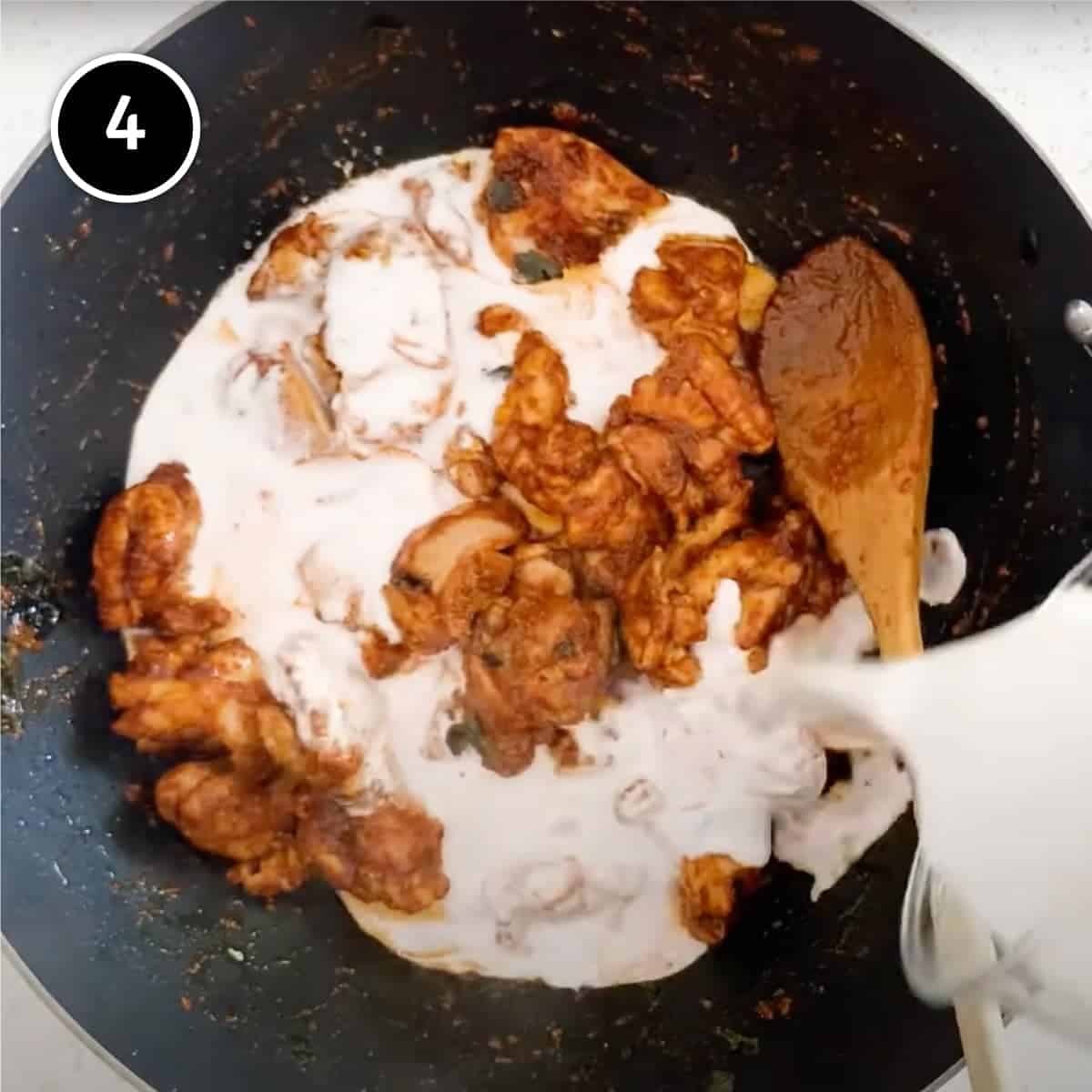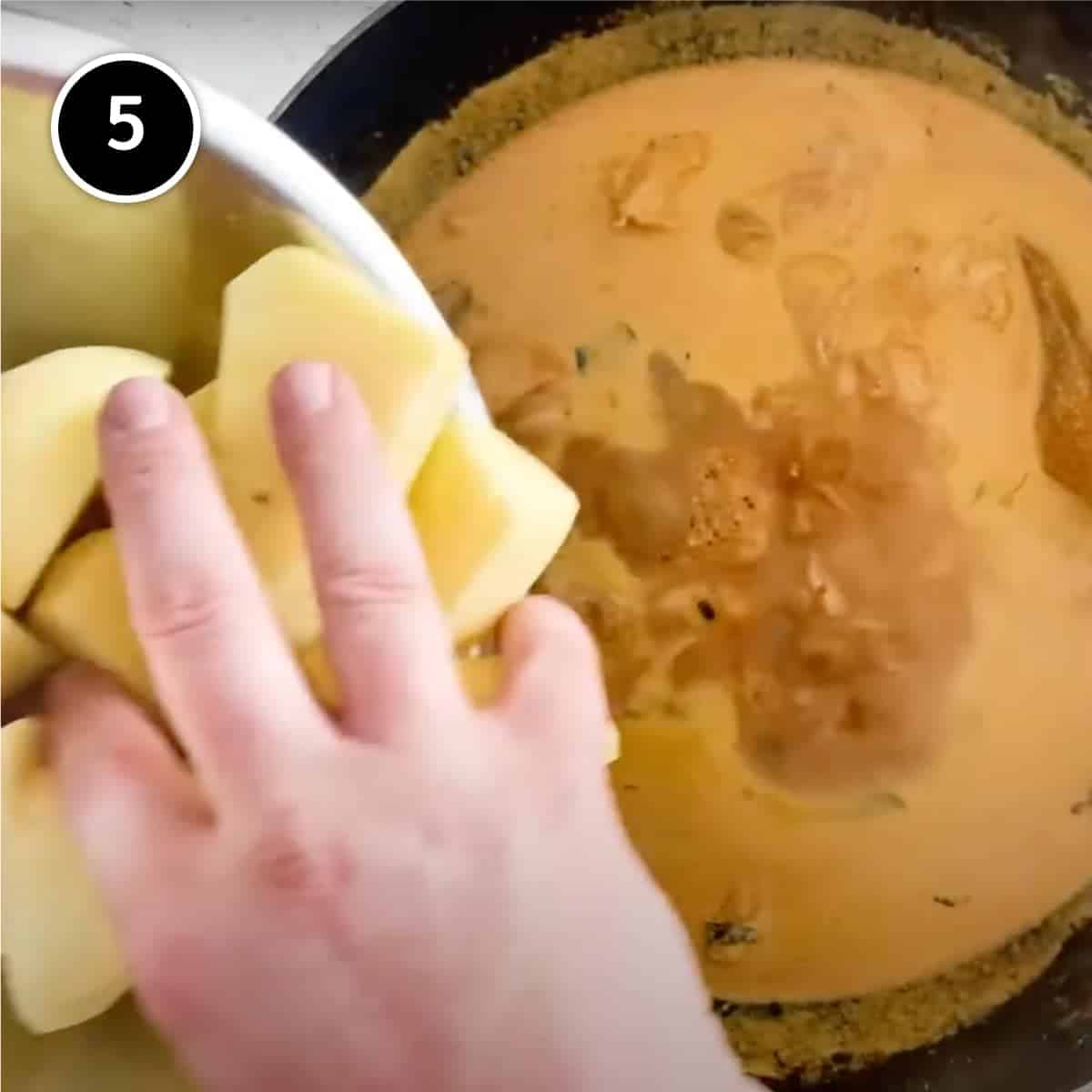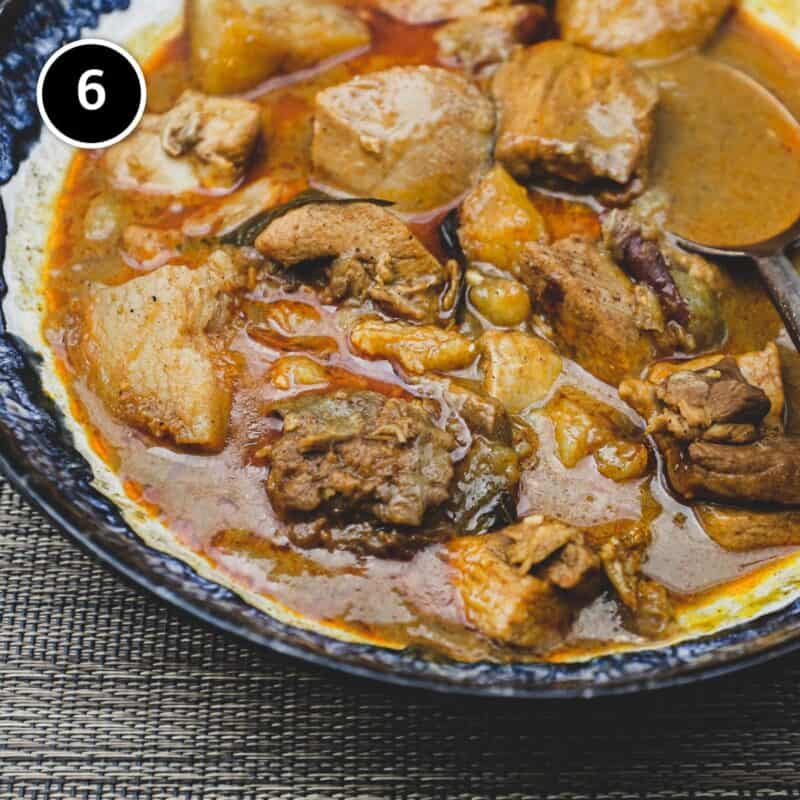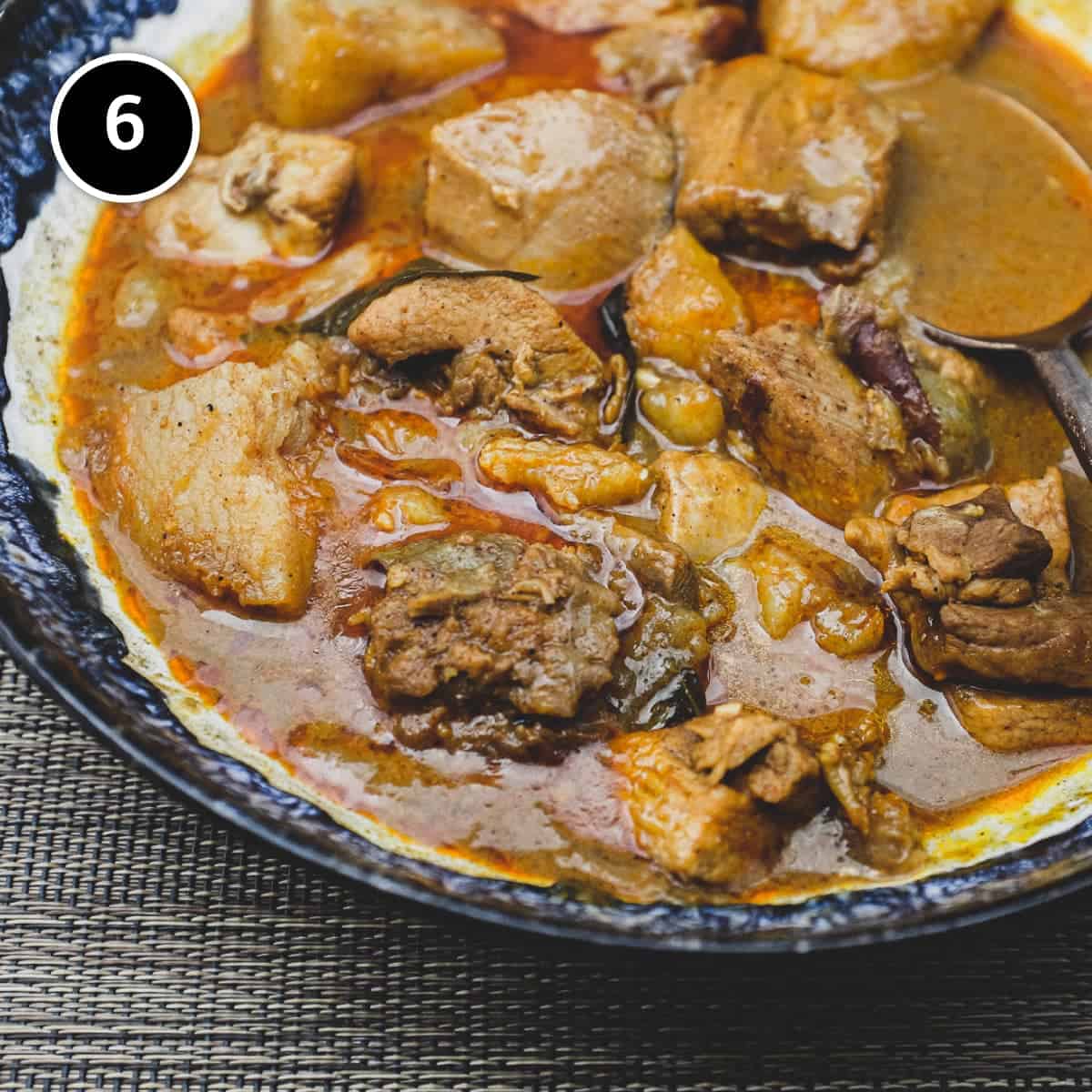 Pro Tips to make your life easier
Spicing - In my Kari Ayam recipe, the inclusion of fresh curry leaves and star anise mirror of the versions I ate in Malaysia and it's a clever way to enhance the flavour even more. You can also add a stalk of lightly bashed lemongrass, a cinnamon stick or a few cardamom pods to inject a little more flavour.
Vegetables - Potatoes are a great way to add a combination of textures to this curry. I often enjoy this dish with other vegetables too - sometimes adding Green Beans or Asian Snake Beans to the sauce and on occasion replacing regular potatoes with cauliflower or sweet potato (adjust the cooking time accordingly – i.e. less time in the sauce).
Enhancing the flavour – Time is your friend with a Malaysian curry. If left for a day, the sauce will intensify in flavour. If you have the patience or willpower, refrigerate the whole pan for a day or two before eating. You'll notice the difference for sure.
Make more curry powder than you need. Why not create a double quantity from my

Malaysian Curry

Powder recipe and you'll have more than enough ready-to-go in stock for months. As it stands, that recipe will produce enough powder for 4 curries.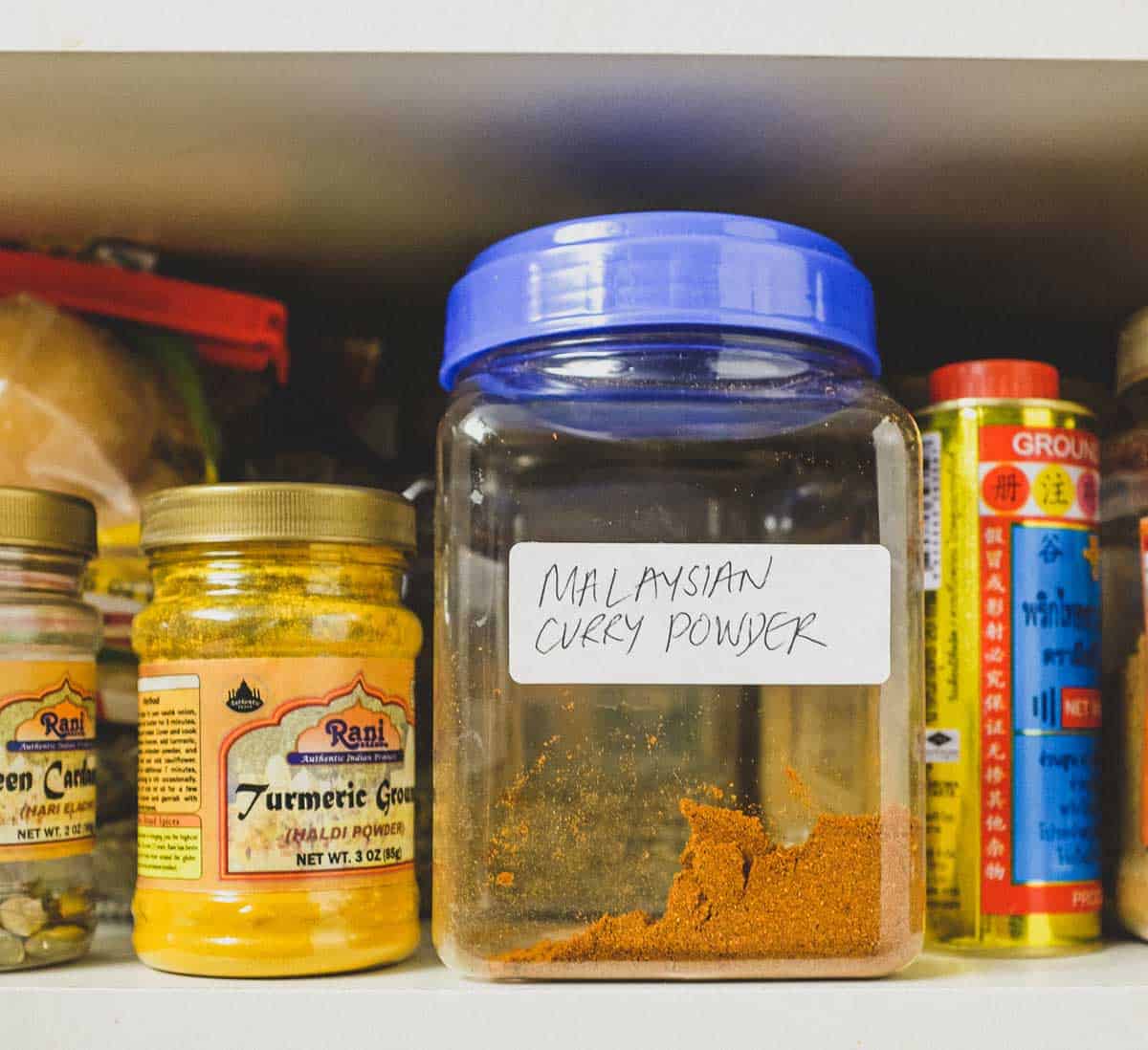 Serving and storing suggestions
In my opinion, Kari Ayam is best served with buttery and flaky Malaysian roti canai bread or paratha - you can find them from any good Asian/Indian supermarket in the frozen section (you CAN make them at home - but they're pretty tricky so best left to 400 yr old Malaysian grandmothers in my opinion. They're fried for a couple of minutes and puff up into flaky flatbreads. Fluffy Jasmine rice is also a winner.

Freezing this curry is fine. Be aware that the potatoes will most likely break up during reheating, the flavour is all there, but the potatoes might be a bit mushy. Can you live with that?

The curry will stay fresh in the fridge for 4-5 days in an airtight container.
Ready to get cooking?
If you're not familiar with the magic of Malaysian curries, then this is a great starting point. It's a super-easy curry to make at home and ready in only 30 minutes. What could be better! Malaysian food is my favourite for a reason, and this curry was where the love affair began. Be sure to give this recipe a try and let me know how delicious YOURS was!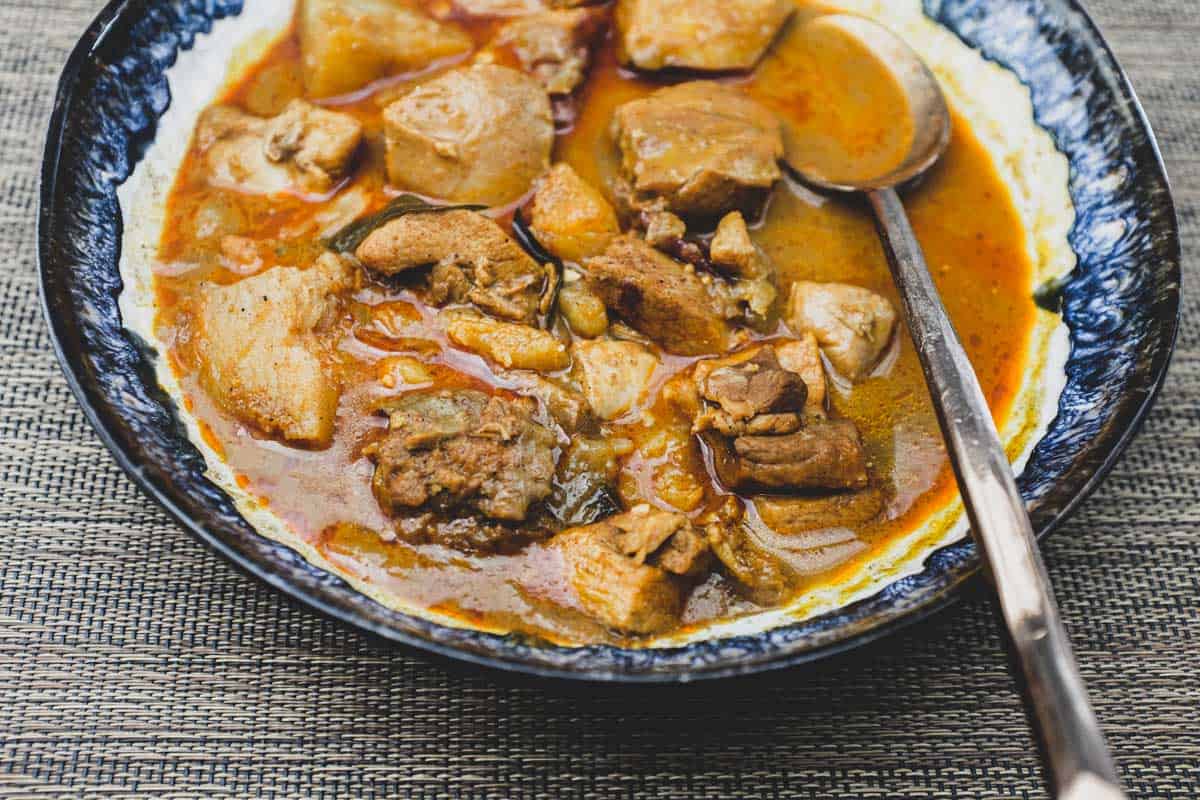 Any Questions? (FAQ)
Have a question about Malaysian Chicken Curry (Kari Ayam)? Let me know in the comments.
What is Malaysian curry powder made of?
A combination of spices, ground into a fine powder. My powder curry powder recipe includes fennel seeds, star anise, coriander seeds, cumin seeds, cardamom pods, black pepper, cinnamon, cloves and ground paprika
Is Malaysian curry powder the same as normal curry powder?
Malaysian curry powder is not the same as powders typically labelled 'curry powder'. You'll often see powders names Malaysian Curry Powder 'for meat' or 'for fish'. Each has its own unique blend of spices.
More delicious Malaysian, Singaporean and Indonesian recipes
If like me, you become OBSESSED with Malaysian & Singaporean and their neighbour, Indonesian food, you'll want to discover more. Try out some of my other tasty recipes.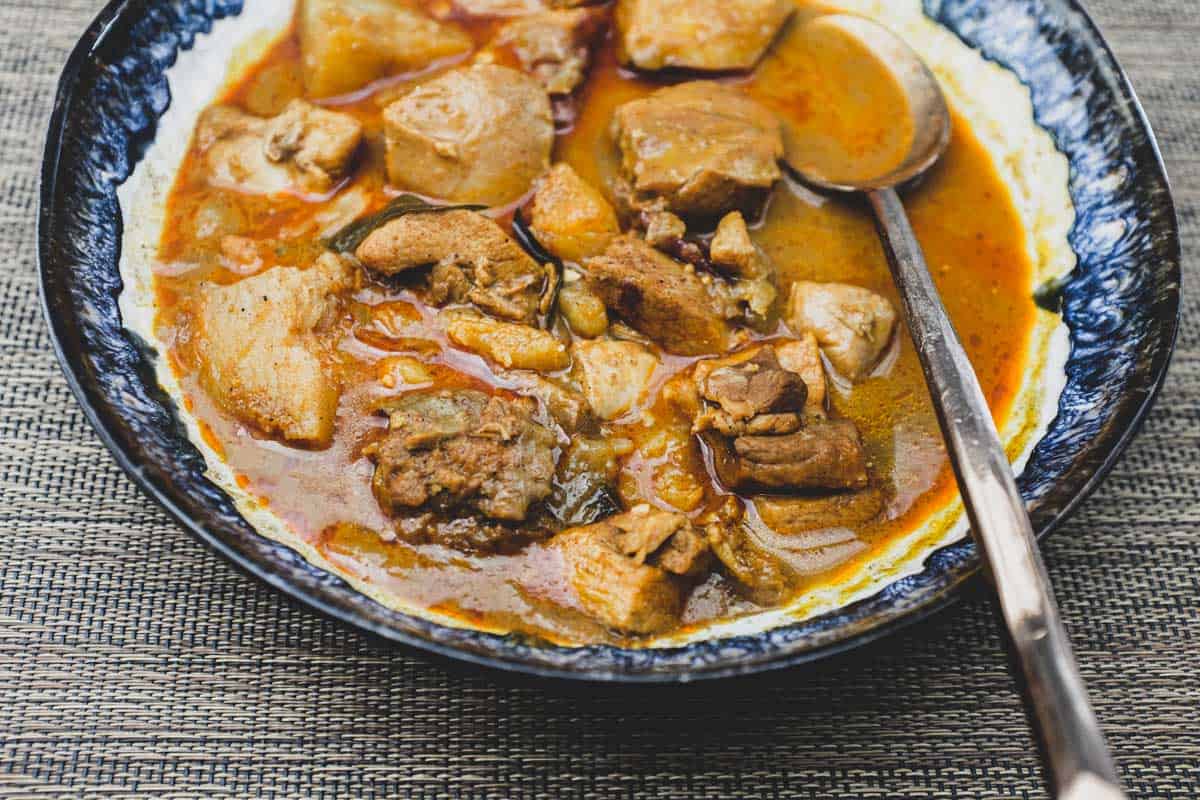 Malaysian Chicken Curry (Kari Ayam)
Rate this recipe
Print Recipe
Pin Recipe
Save Recipe
Go to Collections
Calories (per serving) |
826
Instructions
In a wok over a moderate high heat, add the oil and when hot, throw in the curry leaves and star anise. Let them sizzle briefly before adding the chicken.

Cook the chicken for 2-3 minutes to brown a little before adding the curry powder. Stir well to coat the chicken before pouring in the coconut milk and about 400-500 ml of water, until the chicken is all submerged and the sauce thin. Stir in the salt.

Bring to a boil, then if using, add the potatoes. Reduce the heat to low and simmer gently, uncovered, for 25 minutes. The sauce should have reduced to a creamy consistency, but if not, just turn up the heat and reduce until it does!
Notes
Serving
I like to serve my chicken curry as a 'Roti Canai', with flaky Malaysian paratha (find them in the frozen section of any Indian supermarket). I'll often just serve some of the sauce alongside the breads, but for a more hearty offering, a couple of spoons of curry with chicken and potato are amazing.
I'll also serve Kari Ikan with lots of fluffy jasmine rice and some fresh cucumber and tomato on the side.
Storing and reheating
Refrigerate for 4-5 days in a sealed container.
Freeze for 3+ months. One note is that the potatoes may be a little mushy when reheating from frozen, so just be aware. The taste isn't affected, and bobody died of mushy potato but I just wanted to flag!
Adding vegetables
Besides potato, I'll often add other vegetables to the sauce to get my veggie fix. Sweet potato or pumpkin are good, as is cauliflower.
My most added vegetable are green beans or Asian string beans.
Make more curry powder
My recipe for Malaysian curry powder cookeatworld.com/malaysian-curry-powder/ makes more powder than you'll need. Store it in an airtight container for up to 6 months and you'll have enough powder for at least two more curries.
Nutrition
Calories:
826
kcal
(41%)
|
Carbohydrates:
7
g
(2%)
|
Protein:
44
g
(88%)
|
Fat:
71
g
(109%)
|
Saturated Fat:
36
g
(225%)
|
Cholesterol:
245
mg
(82%)
|
Sodium:
1079
mg
(47%)
|
Potassium:
793
mg
(23%)
|
Fiber:
2
g
(8%)
|
Sugar:
1
g
(1%)
|
Vitamin A:
792
IU
(16%)
|
Vitamin C:
302
mg
(366%)
|
Calcium:
121
mg
(12%)
|
Iron:
6
mg
(33%)