Sambal Udang (Sambal Prawns)
Quick, easy and super delicious. Sambal Udang only has 5 ingredients, but these prawns pack a mighty punch of sweet, spicy and umami power. Ready in 10 minutes it's a fast and easy option for flavour without the wait.
Sambal Udang is a dish I turn to when I'm short on time (or patience) and want a quick and easy option for dinner. It's a dish with few ingredients, but each brings something special to the table and when combined create something intensely satisfying. Sweet, spicy, salty and fragrant – prawns never tasted so good!
What is Sambal Udang?
Sambal Udang, also known as Udang Balado, Sambal Goreng Udang and Sambal Tumis Udang is an Indonesian and Malaysian/Nyonya preparation of Prawns/Shrimp, stir-fried in a hot and spicy sambal sauce. The paste, a combination of belacan (shrimp paste), chillies, lemongrass and galangal and more. The sambal brings the majority of flavour, a complex balance of fragrance and spice. Sambal Udang can be served with whole or peeled prawns. You can make your own sambal sauce (use my recipe!) or you can easily get hold of Malaysian jarred versions. Look out for Sambal Oelek or Sambal Tumis.
Typically, Sambal Udang is served with Nasi Lemak, a mixed dish of coconut rice with various small servings of sambals, curries and other Malaysian recipes.
Why it works
It's Easy - Honestly, it doesn't get much easier than this, 2 simple steps!
It's Quick - Ready in under 10 minutes. Faster than delivery!
It's tangy, sweet and spicy! - The complex marriage of flavours is insanely delicious. And it's not THAT spicy, you can dial up the spice with fresh chillies if you like.
Stuff you'll need
There are only a few ingredients in Sambal Udang (sambal prawns) - here's where the flavour happens.
Sambal Sauce - a complex blend of fragrance and chillies. Follow MY recipe for Malaysian Sambal Sauce or use jarred Sambal Oelek or Sambal Tumis.
Prawns/Shrimp - I like to use large king prawns and I like to peel and devein them (to avoid the mess of trying to do it in the sauce).
Tomato - brings sweetness and a little bulk to the sauce.
Kecap Manis - Kecap Manis is a sweet soy sauce. If you can't find it mix 1tbsp light soy sauce with 1 tbsp sugar.
Kaffir lime leaves - bring a mellow, fragrance that is just the best!
Step by Step
Making Sambal Udang is the easiest! Ready in under 10 minutes. Here's how...
Step 1 - Heat the oil and then add the tomato, lime leaves and sambal sauce and stir for a little while until the tomato breaks up a bit.
Step 2 -

Add the prawns and a little water and simmer gently for a while.

Step 3 -

Once the prawns are cooked through, the sauce will be

thickened a little.
Step 4 -

That's it! It's time to serve. Hot!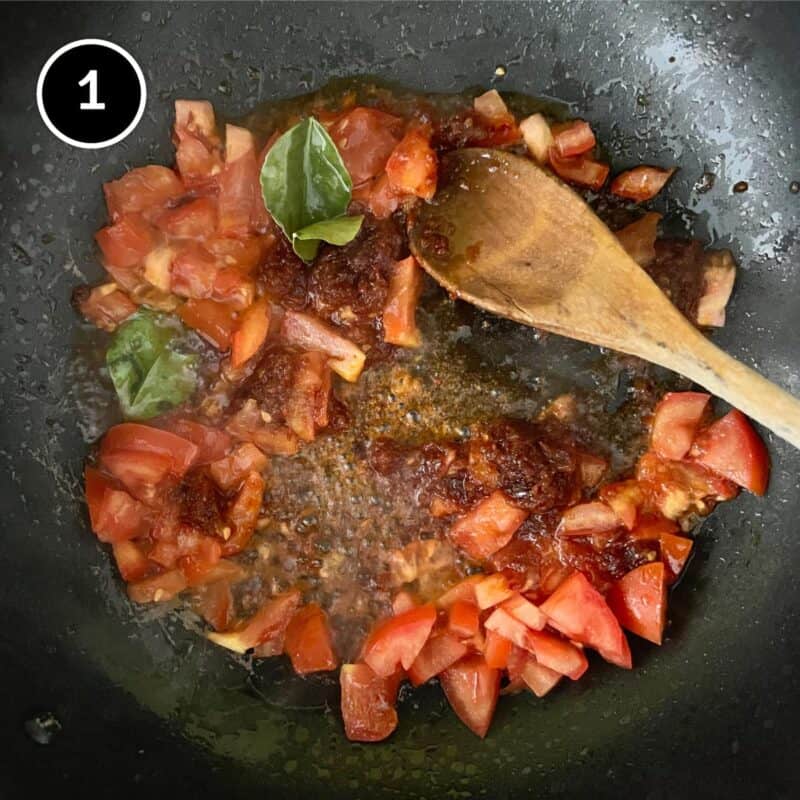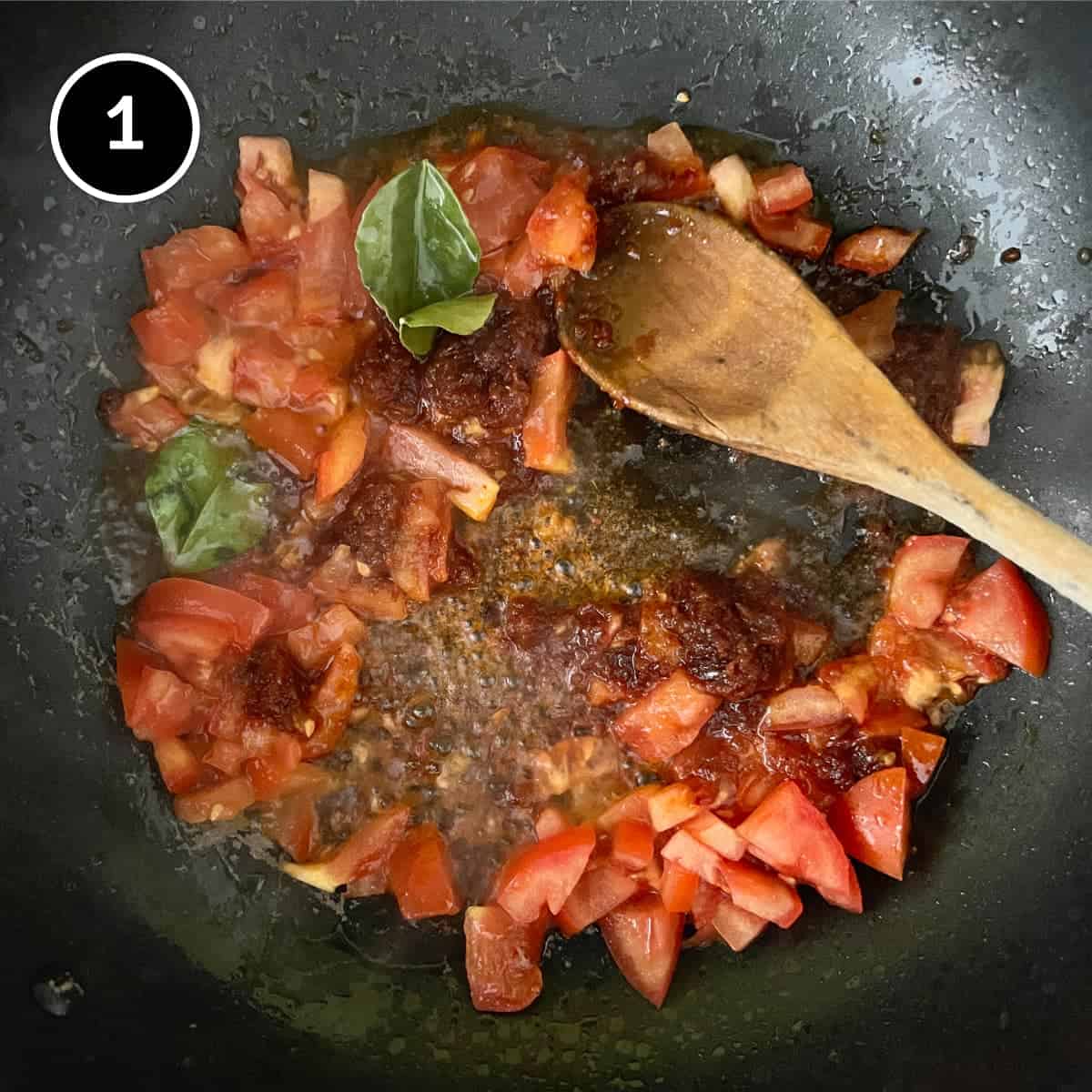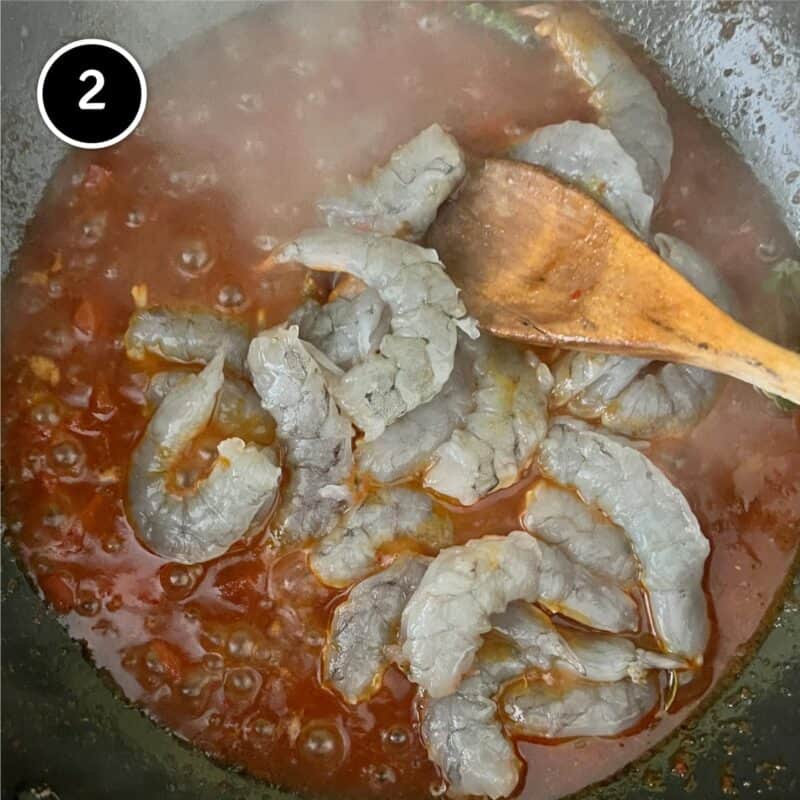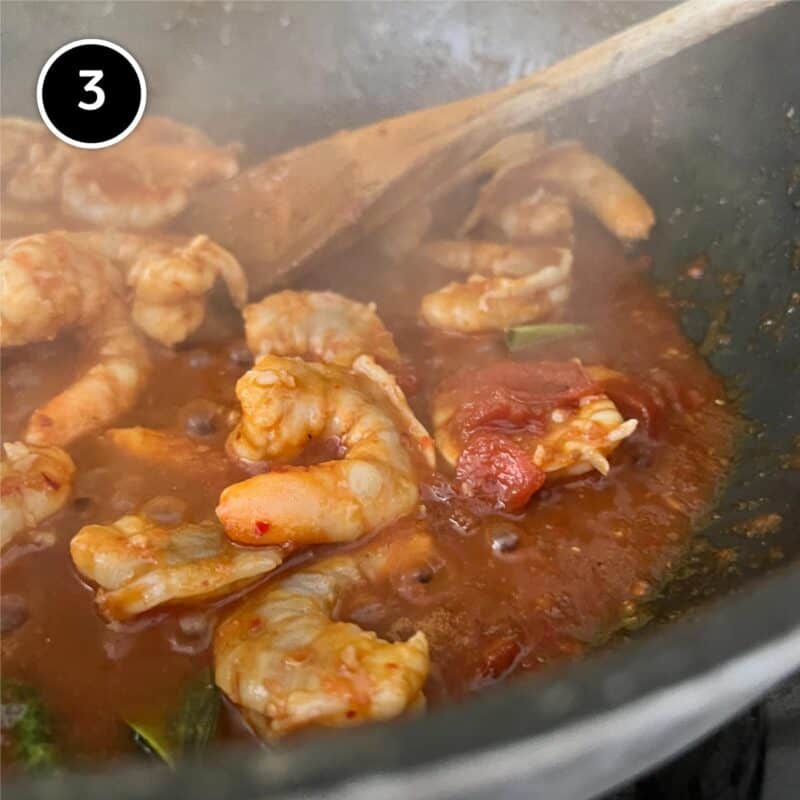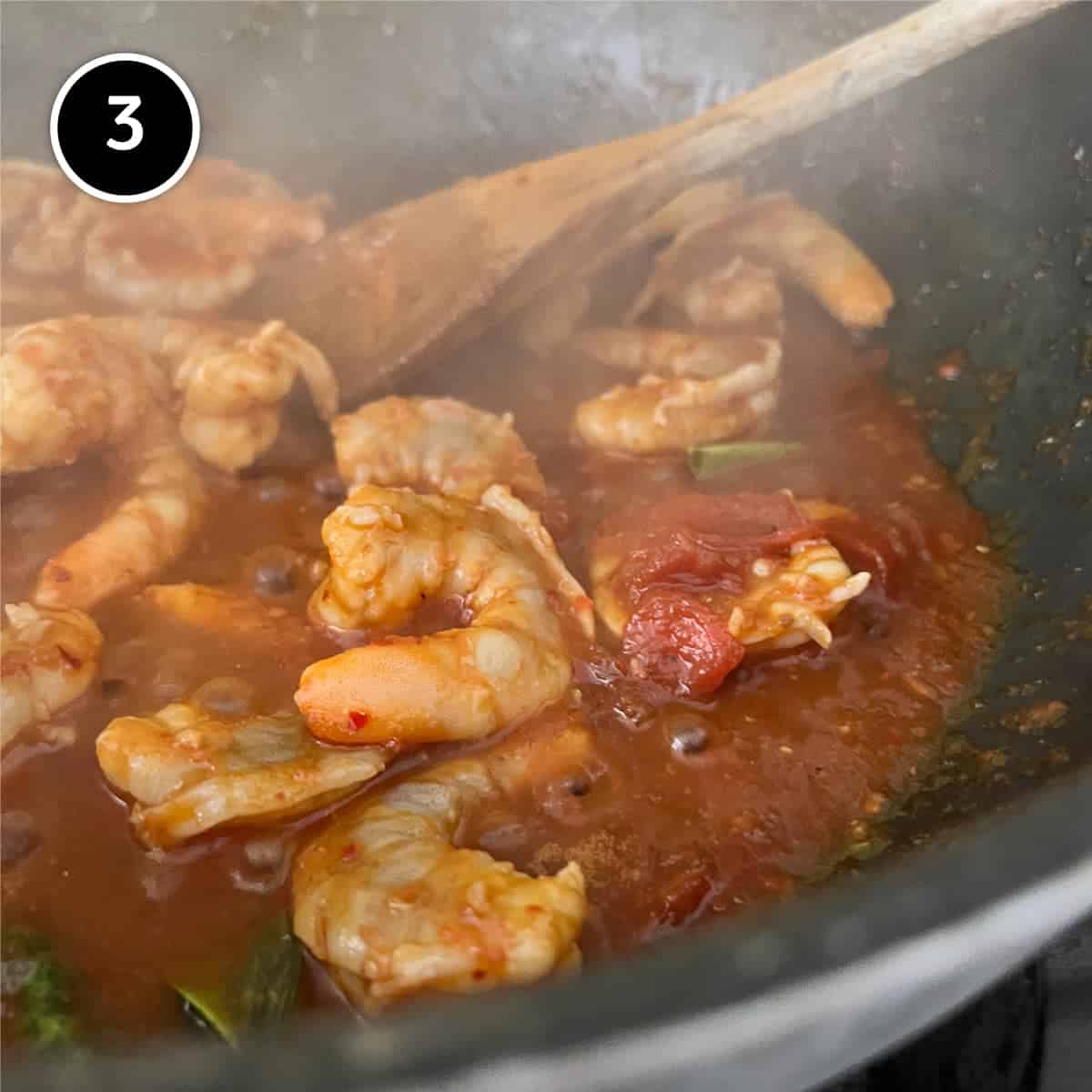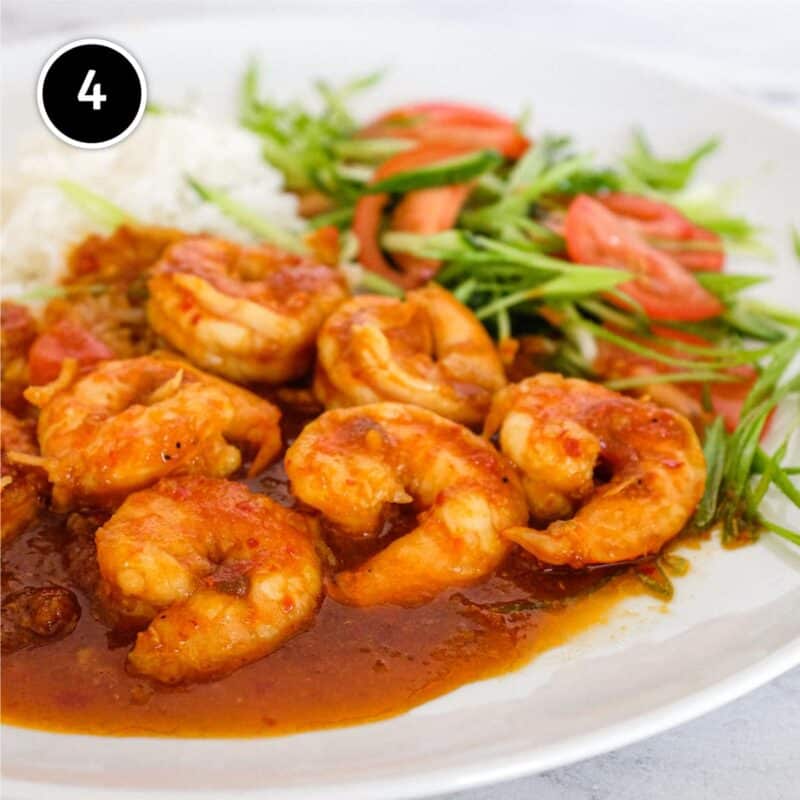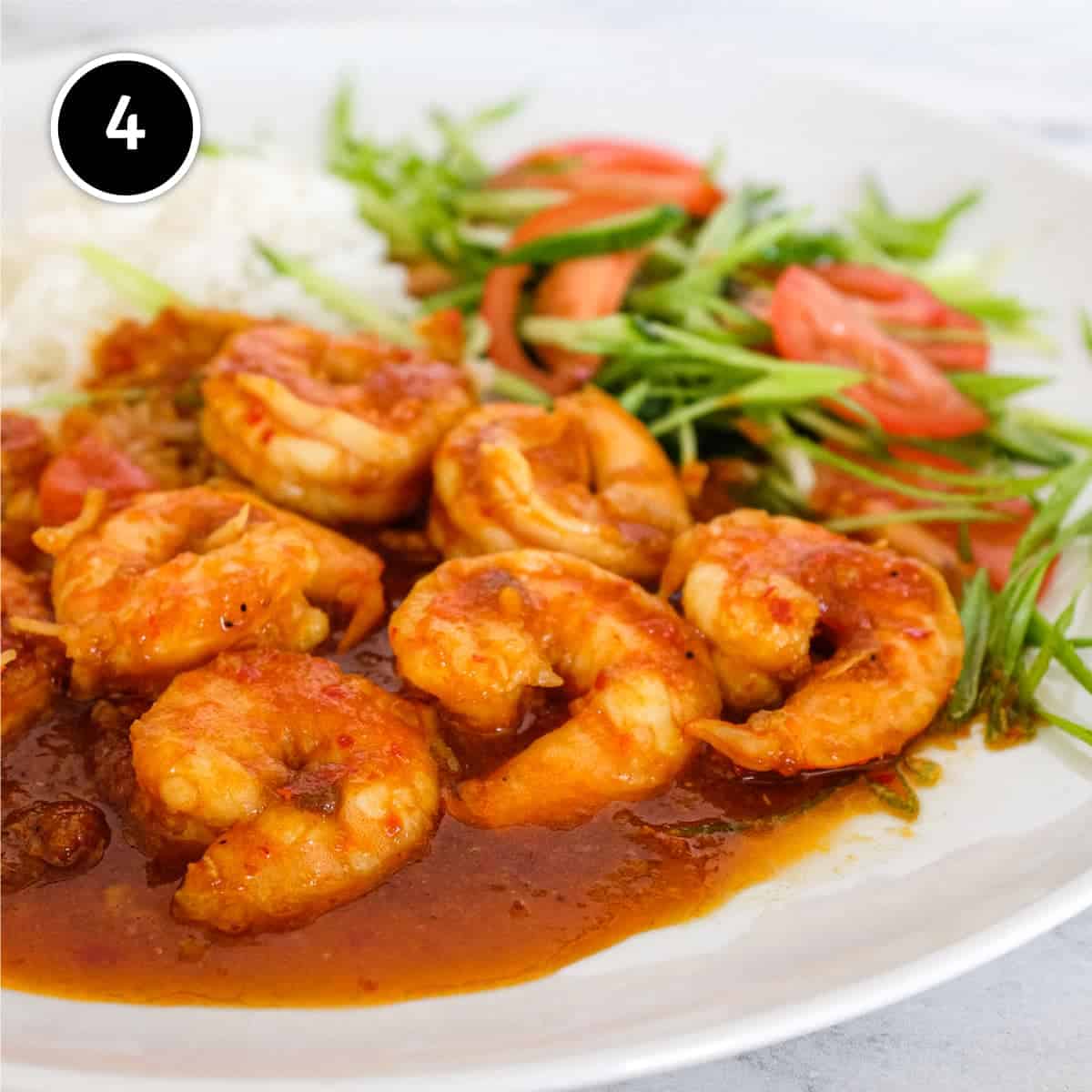 Pro Tips to make your life easier
Making a batch of your own Malaysian Sambal Sauce will ensure you always have it on hand to whip up this and other masterpieces at the drop of a hat. Homemade sambal sauce is a step up from store bought too! It stays fresh for up to 3 weeks in the fridge and 6+ months in the freezer!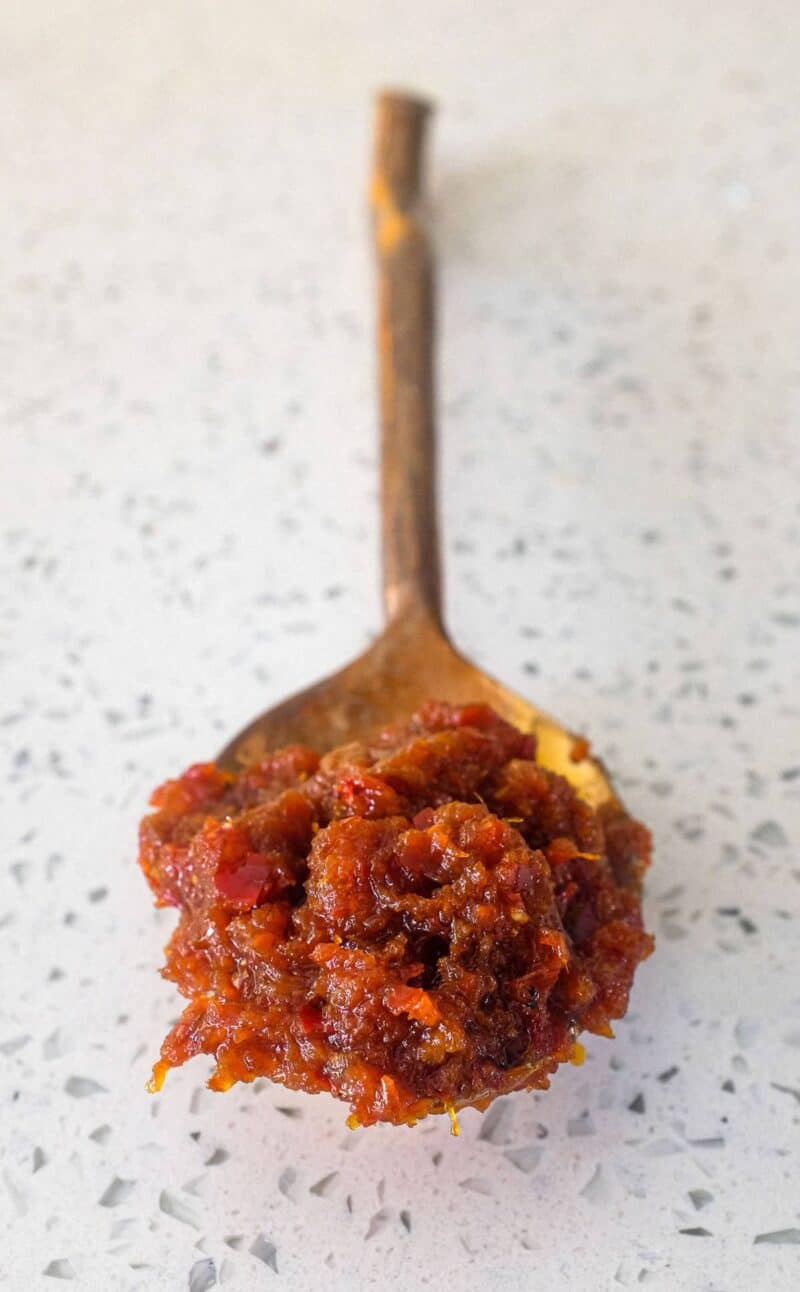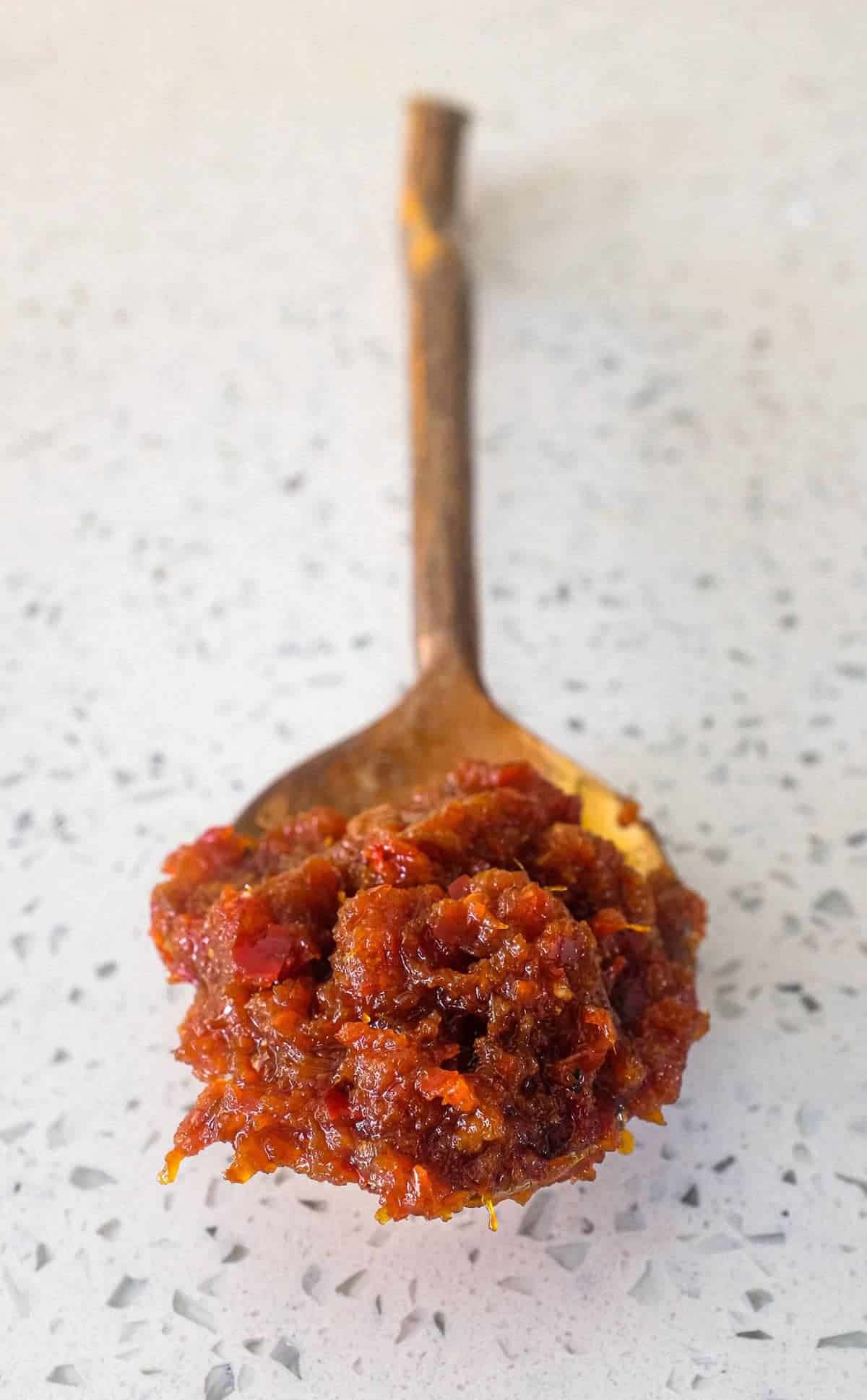 Serving and storing suggestions
I like to serve my Sambal Udang with some fluffy jasmine rice and a simple salad of cucumber, tomato and spring onion. Step it up a notch by serving with fluffy and fragrant coconut rice.

I sometimes serve it drizzled over cooked egg or rice noodles.

I'll also serve sambal

dang with a couple of fluffy, flaky paratha/roti breads. I buy mine frozen from Asian supermarkets and cook them in the pan for a minute each side. They're perfection with sambal prawns
In Malaysia, Sambal prawns are often served with bitter Petai (Stink Beans). Honestly, they're horrific! But I do like some vegetable element in my sambal udang, so I will sometimes add cooked snake beans, like the one's I use in my favourite Thai Pad Prik King or cooked French beans.
Fridge -

Store leftover sambal udang in the fridge for 1-2 days and reheat gently in a pan or microwave to avoid overcooking the prawns.

Freezer -

Sambal udang isn't really a contender for freezing. Prawns don't reheat very well, so reheating from frozen will not leave you with a great result. In this instant, fresh is best. Besides, you'll want to eat it all, first time - trust me!
Ready to get cooking?
As you see, making Sambal Udang at home is child's play! It satisfies any hunger/hanger in that it's all done and ready in under 10 minutes - fast food done properly! It couldn't be easier and the flavour it packs is unlike anything else. So delicious - ready to get cooking yet?
Any Questions? (FAQ)
Have a question about Sambal Udang? Let me know in the comments.
What is Malaysian Sambal Prawns?
Sambal Prawns/Sambal Udang is a simple stir-fry using prawns, sambal sauce and a few other ingredients. It's a quick and easy dish to cook. Jarred sambal can be used like Sambal Oelek or Sambal Tumis, but a home made sambal sauce tastes superior. Nasi Lemak, a popular mixed plate often features Sambal Udang alongside other sambals, curries, fish and vegetables.
What do you serve sambal with?
Sambal is most commonly served as a condiment in Malaysia, Singapore and Indonesia. Used to enhance the flavour and spice of many dishes like soups, stir fries, salads, rice, eggs and more. It can also be used as cooking ingredient.
Does all sambal have shrimp?
Yes. Typically all sambal sauces will use belacan (shrimp paste) as an ingredient.
Is sambal very spicy?
The answer is, probably yes! Not all sambals will blow your head off, but a lot will! Be sure to pre taste a sambal before using as a cooking ingredient or condiment. If you make your own sambal sauce at home, you can control the spice levels.
More delicious Malaysian recipes
If like me you simply can't get enough of Malaysian food, you'll love some or all of my favourite recipes.
Sambal Udang (Sambal Prawns)
Rate this recipe
Print Recipe
Pin Recipe
Save Recipe
Go to Collections
Calories (per serving) |
123
Instructions
In a deep frying pan or wok heat the oil over a medium/high heat until hot. Add the sambal, lime leaves, recap manis and tomato and let it come to a simmer. Cook for 1-2 minutes until the tomato begins to break up and create a paste.

Add the the water and the prawns/shrimp and bring to a simmer.

Simmer the prawns for 5 minutes until fully cooked and the sauce has begun to thicken. Remove from the heat and serve.
Notes
Tips
Make a batch of my Malaysian Sambal Sauce (cookeatworld.com/malaysian-sambal-sauce) and keep refrigerated so that you can whip up this recipe any time you feel the urge. The sambal sauce stays fresh in the fridge for 3 weeks and for 6 months frozen in little portions.
Ingredient Alternatives
In Malaysia, Sambal Prawns is often served with Petai (stink beans) a bitter and altogether horrible bean. As a substitution you can stir in cooked snake beans or French beans.
Serving suggestions
I like to serve mine hot over fluffy Jasmine rice with a simple salad.
You should also consider serving other ways:

With cooked egg or rice noodles
With Asian roti bread (paratha) look out for these in the frozen section of any Asian supermarket.
Storage
Fridge: Leftovers will stay fresh in the fridge for 1-2 days
Freezer: I wouldn't suggest freezing cooked sambal udang. Prawns don't reheat that well, so on this occasion fresh from the pan is best.
Nutrition
Calories:
123
kcal
(6%)
|
Carbohydrates:
11
g
(4%)
|
Protein:
2
g
(4%)
|
Fat:
0.2
g
|
Saturated Fat:
0.03
g
|
Polyunsaturated Fat:
0.1
g
|
Monounsaturated Fat:
0.03
g
|
Cholesterol:
9
mg
(3%)
|
Sodium:
213
mg
(9%)
|
Potassium:
154
mg
(4%)
|
Fiber:
1
g
(4%)
|
Sugar:
8
g
(9%)
|
Vitamin A:
526
IU
(11%)
|
Vitamin C:
8
mg
(10%)
|
Calcium:
14
mg
(1%)
|
Iron:
0.2
mg
(1%)
This recipe uses affiliations and may receive a commission based on your activity (link clicks). Learn more.