If there is any one ingredients that brings life to any Malaysian dish it is the sublime chilli sambal. A heady combination of colour, spice and flavour. My sambal recipe is the essence of Malaysia and Singapore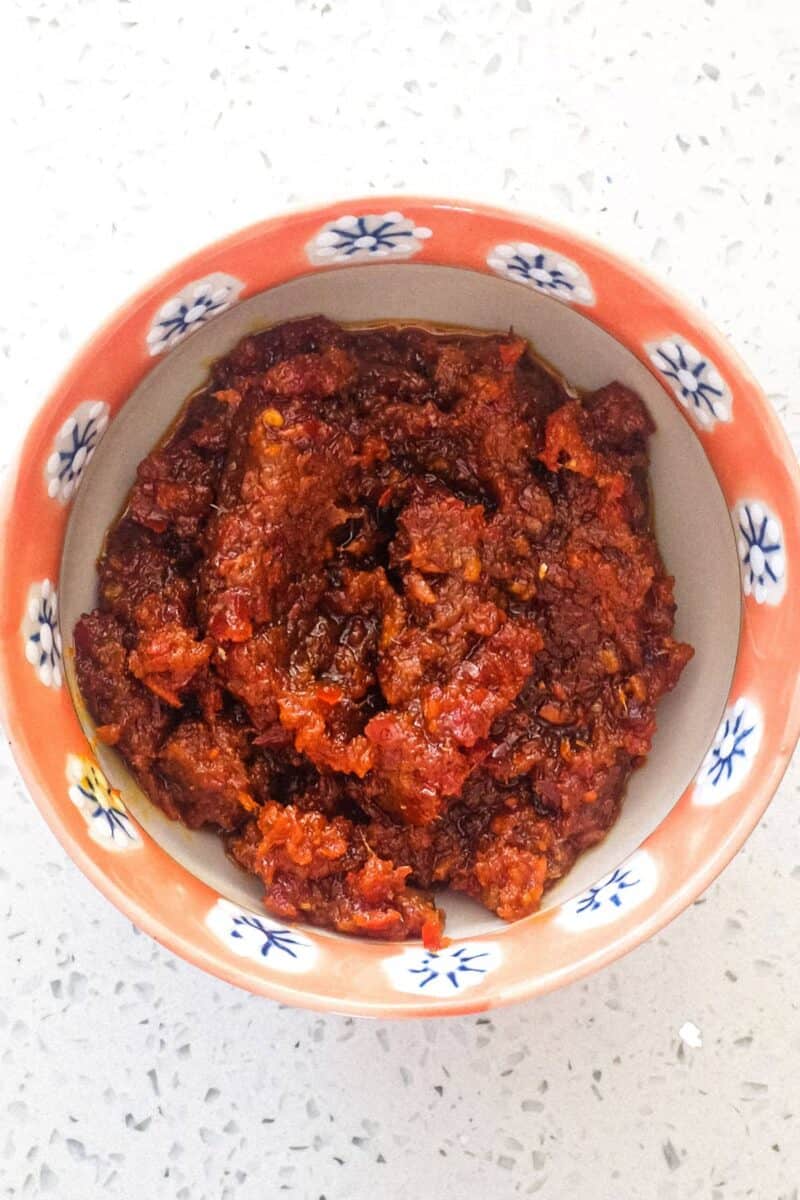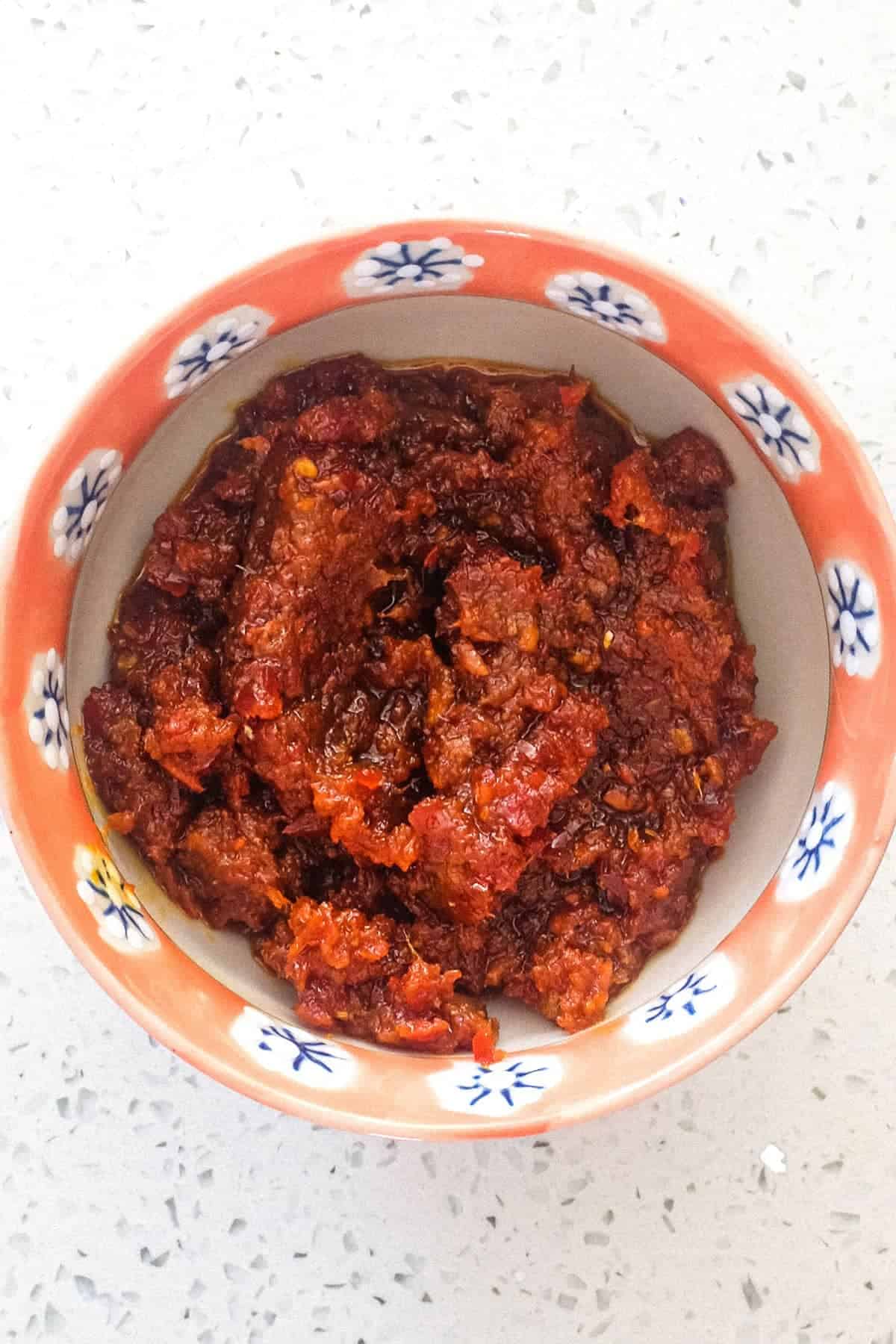 Malaysian food is amongst the World's great cuisines. A cornucopia of flavour and colour with an array of complex, intensely tasty dishes vying for attention. Aside from those dishes is an often overlooked condiment, a sauce that delivers everything we know and love about Malay food. Sambal sauce is a sauce that delivers heat, umami with an unmistakeable fragrance. It's on every table of every meal, but also flexible enough to be used as an ingredient in its own right. Sambal Sauce might just be the very essence of South East Asia.
What is Sambal Sauce?
Sambal is a popular condiment throughout Malaysia, Singapore and Indonesia. An intense reduction of chillies and aromatics into a sauce that's put to use alongside almost all dishes to add even more flavour.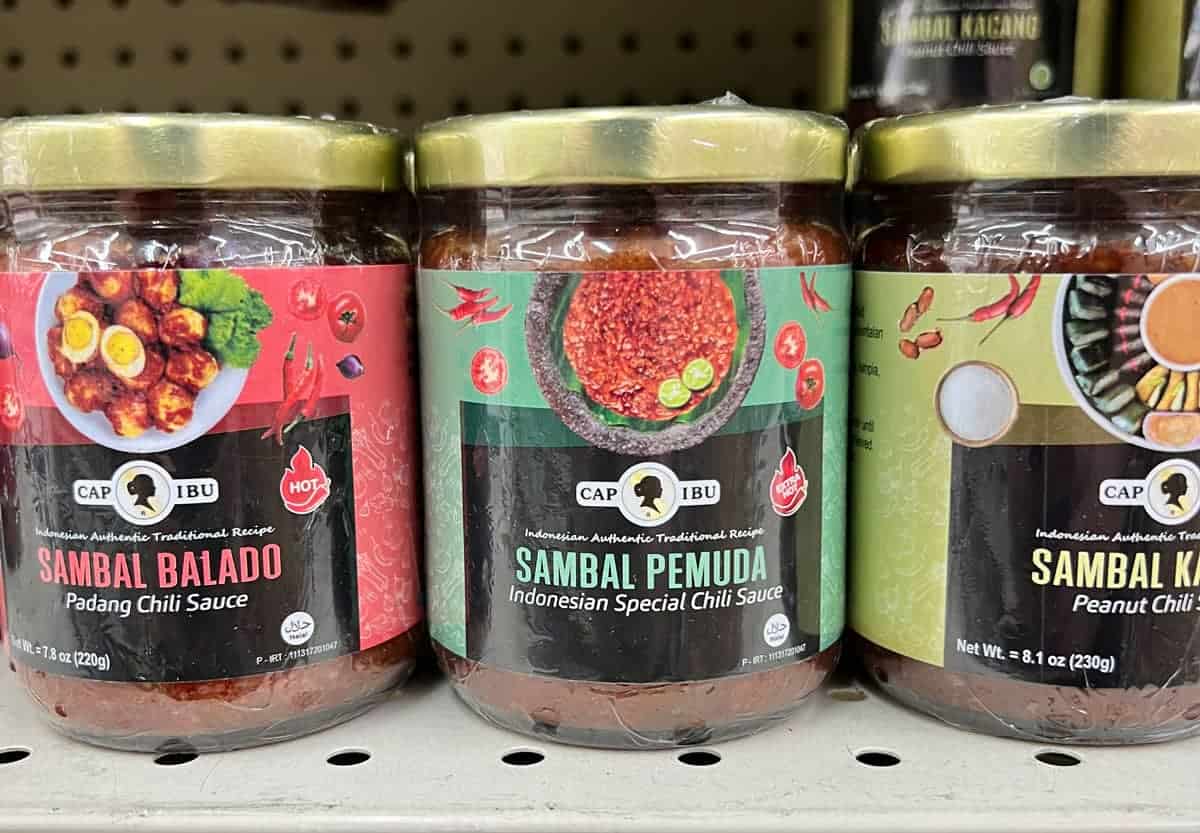 Most often sambal is bought pre-ground. It comes in a wide range of varieties and recipes with a sliding scale of spiciness, saltiness, fishiness, sourness and sweetness. The most common is the simplest Sambal Oelek, a blend of fresh chillies, vinegar and salt.
Sambal is eaten as a condiment alongside many dishes, but is especially popular alongside Nasi Lemak, a simple rice plate that can feature fish, curry, eggs and more. A little Sambal unifies all the flavours under one sweet, spicy hit. It's essential! My Malaysian sambal recipe delivers all the authentic flavours you need from a fragrant, intense sambal sauce.
Why it works
It's intensely tasty - Malaysian food is flavourful at every turn, but a little extra taste never hurt anyone, right? Sambal Sauce great in a small spoonful alongside soups, salads, rice and noodle dishes to add a little pep to the flavour - a little goes a long way.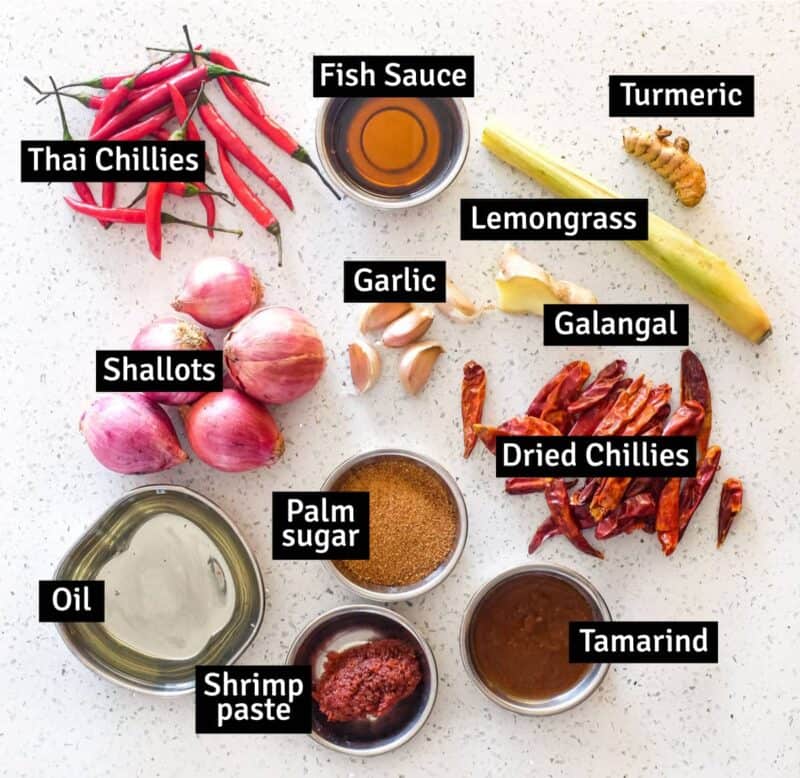 Stuff you'll need
Making your own sambal at home may seem unnecessary, especially as there are literally hundreds of varieties to choose from at the supermarket, but as with many homemade staples, the flavours of shop bought don't even come close to those of homemade! The good news, is that sambal sauce is easy to make and doesn't call on anything too obscure as an ingredient along the way.
Spice (a combination of fresh and dried – I use around 50 Thai chillies – sounds a lot, but my sambal, while spicy, won't produce a sauce that's too crazy. Trust me.
Aromatics – I use fresh turmeric, lemongrass, galangal and shallots
Saltiness

– I use shrimp paste and fish sauce to give the essential saltiness with a hint of

the sea

. It's all umami!

Sweetness – Palm sugar acts as the sweetner, there are 3tbsp, which seems a lot, but it also neutralises some of the spice, rounding it into a more pleasant, less astringent spiciness.
Sourness – Tamarind paste or pulp is added to round out the flavours even more by adding a lightly sour note. I'll also add lime juice from time to time.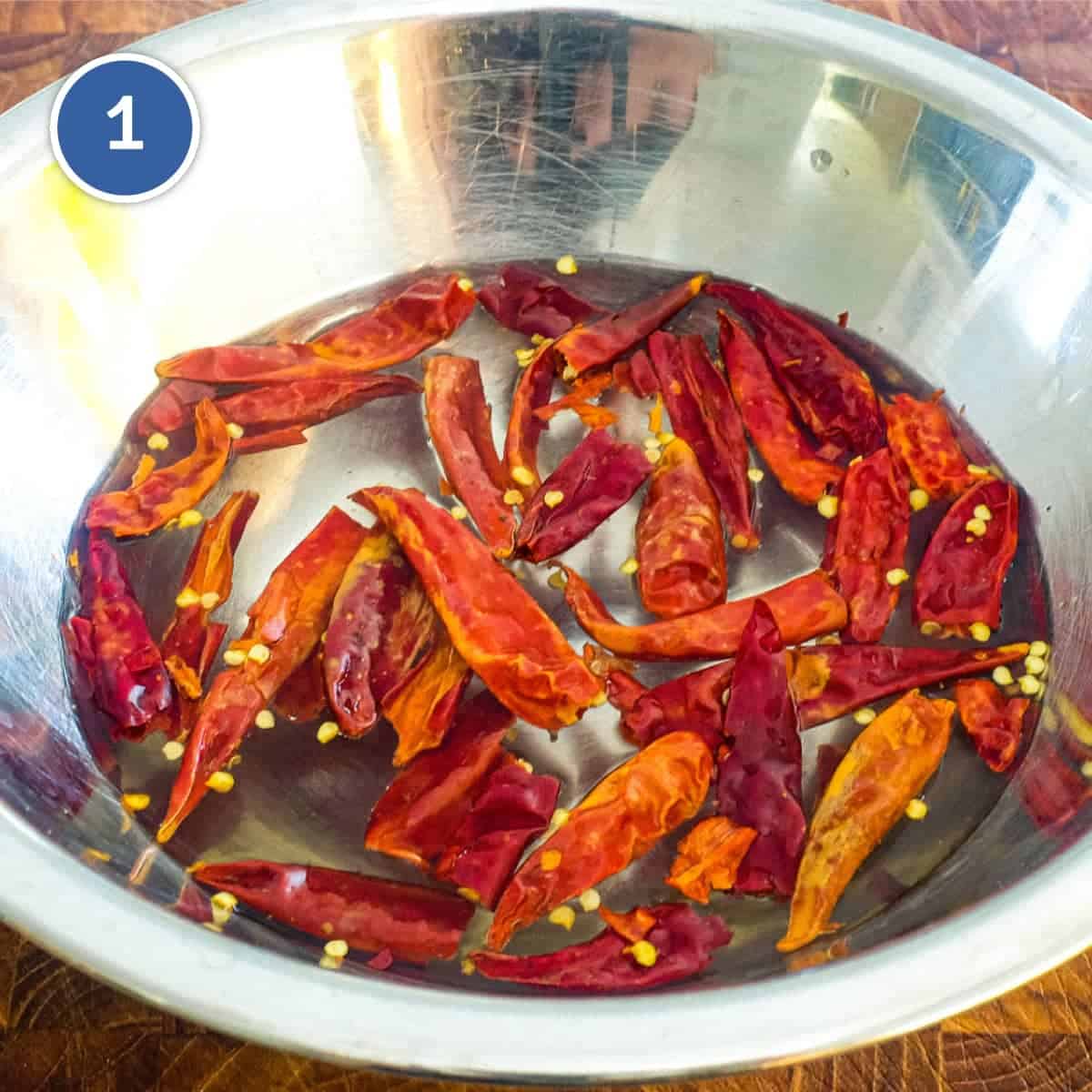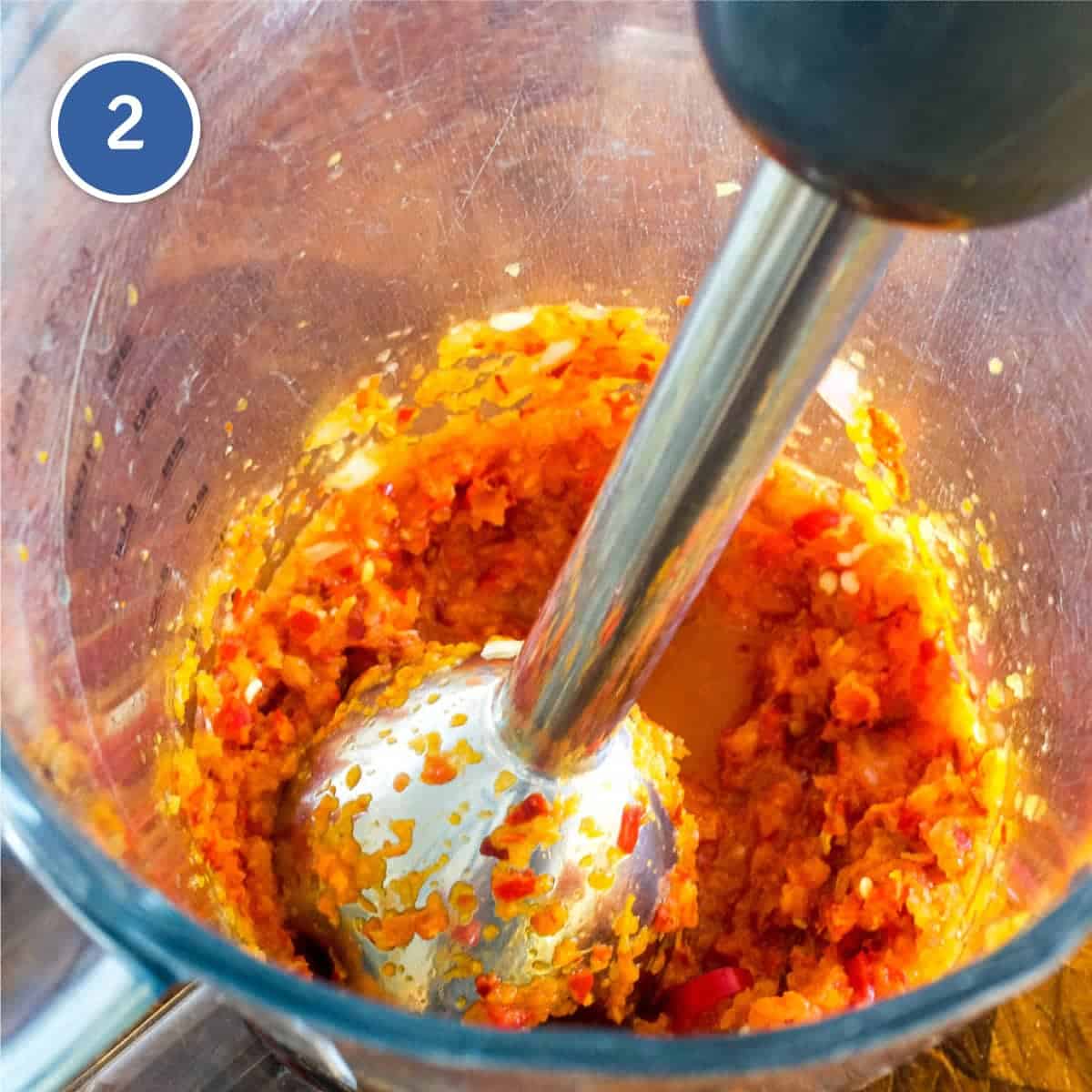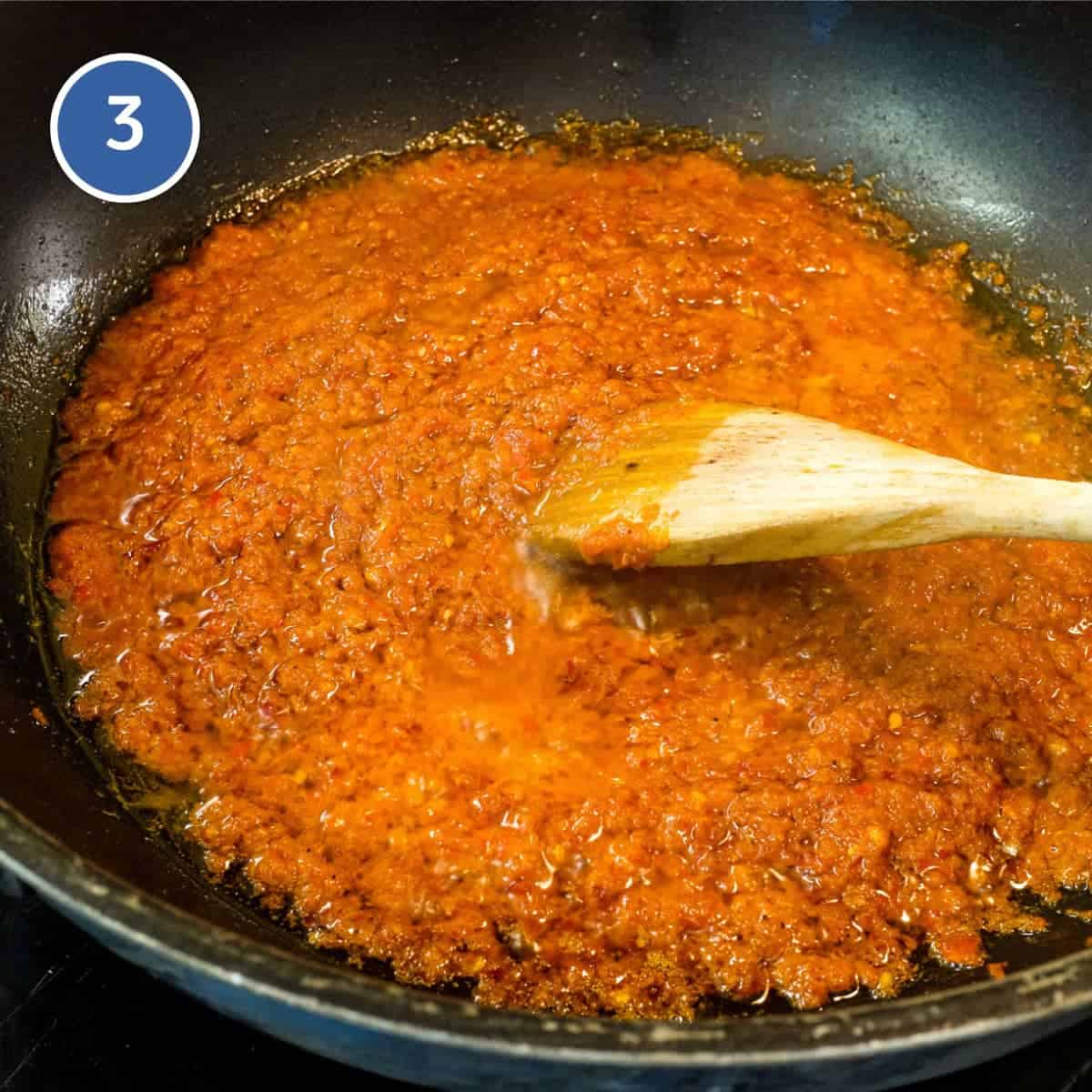 Step by Step
Now that you know WHAT goes into a chilli sambal, here's how it comes together. Traditionally, a pestle & mortar would be used, many purists will tell you the flavour is even better, which I won't argue with, but a food processor or stick/immersion blender does a sterling job too.
Soak the chillies

Soaking the chillies makes them easier to blend later. 30 minutes in hot water will do the job. The dried chillies will float, so I pop a plate on top of them to immerse them into the water. 30 minutes and you're good to go.

Blend the sambal

Drain and then blend the chillies with the aromatics into a smooth paste and then stir in the shrimp paste, fish sauce, sugar and tamarind.

Fry the sambal

This stage cooks the sambal and in turn mellows out all the raw flavours and spice. What you're left with is intensely flavourful with a pronounced spice but a smooth finish with a burn that doesn't go in for the kill! Sambal is best eaten cold, so leave to cool then decant to a small jar and refrigerate when not using.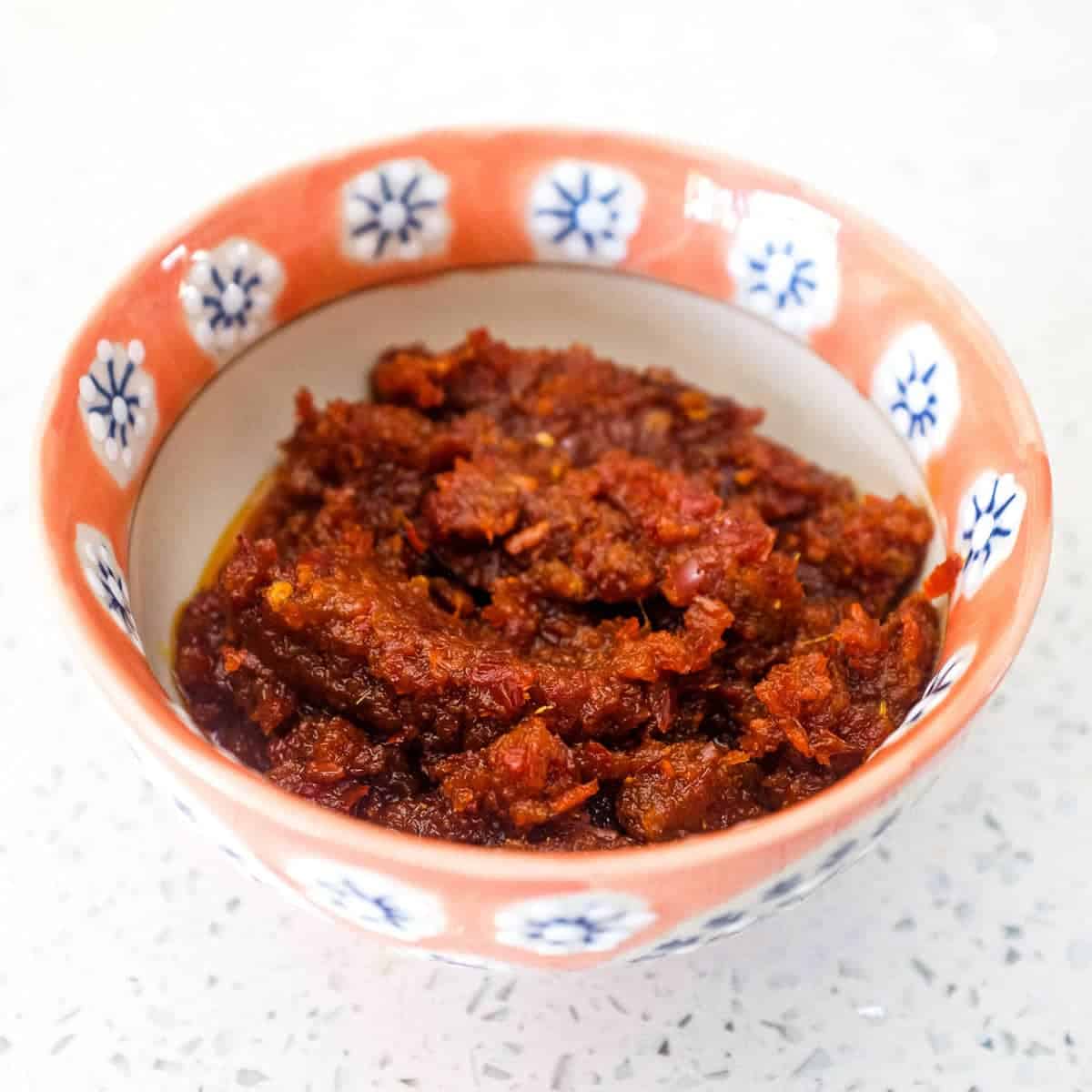 Pro Tips to make your life easier
My biggest tip is to use a stick blender. It makes light work making the paste. By All means, get a workout using a traditional

pestle & mortar

, remember the rule of thumb is to start with the toughest ingredients first and work your way to the softest, one-by-one. Start with the chillies, lemongrass and galangal and then add the rest.
Seeding or deseeding chillies?
This is a personal preference – I'm not a show off and see no point in bragging about spice for the sake of spice. Removing seeds will help reduce the spice levels – personally I'll leave the seeds in the dried chillies and remove from the fresh, and I'm happy with the spice level (around a 7/10). You can juggle what makes you happy. All the seeds in will create a spicy version (9/10), all the seeds out a more mellow version (5/10). You decide.
Serving and storing suggestions
Sambal is served as a condiment to other South East Asian dishes. It's also used as an ingredient, like a stir in paste in many stir-fries, and simple sauces. Try mixing a couple of tablespoons with 1 cup water and reduce to a creamy sauce. Pour the sauce over hard boiled eggs for the most perfect sambal eggs. Or use a tablespoon to mix with egg or rice noodles for a simple spicy side dish.
Storage
Sambal will stay fresh in the fridge for 2-3 weeks in an airtight container or jar.

You can freeze sambal for up to 6 months in an airtight container.
Ready to get cooking?
Now that you're primed for a little spice, there should be nothing to stop you creating your own sambal sauce at home. As I've mentioned before, homemade sambal is beyond superior and completely addictive. I put it on and next to everything Malaysian. I hope you enjoy! Let me know in the comments what you think.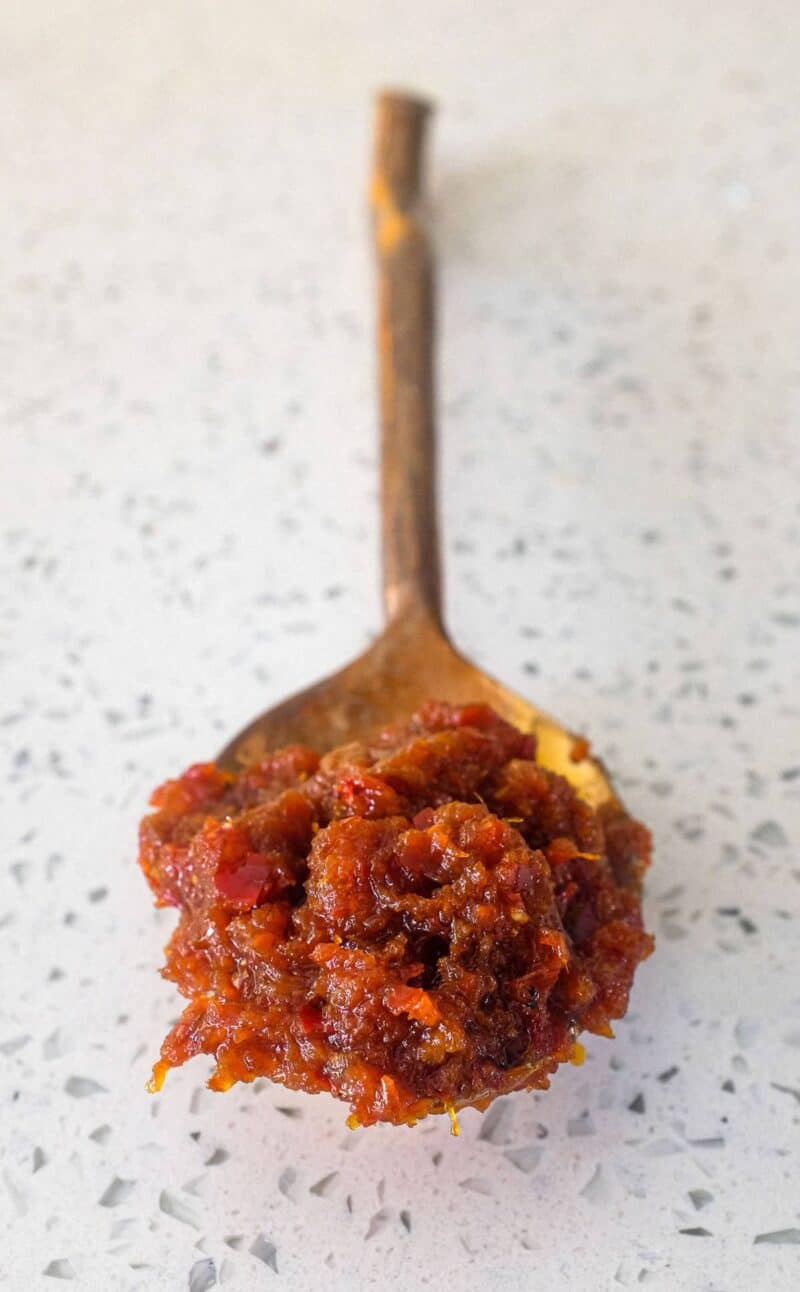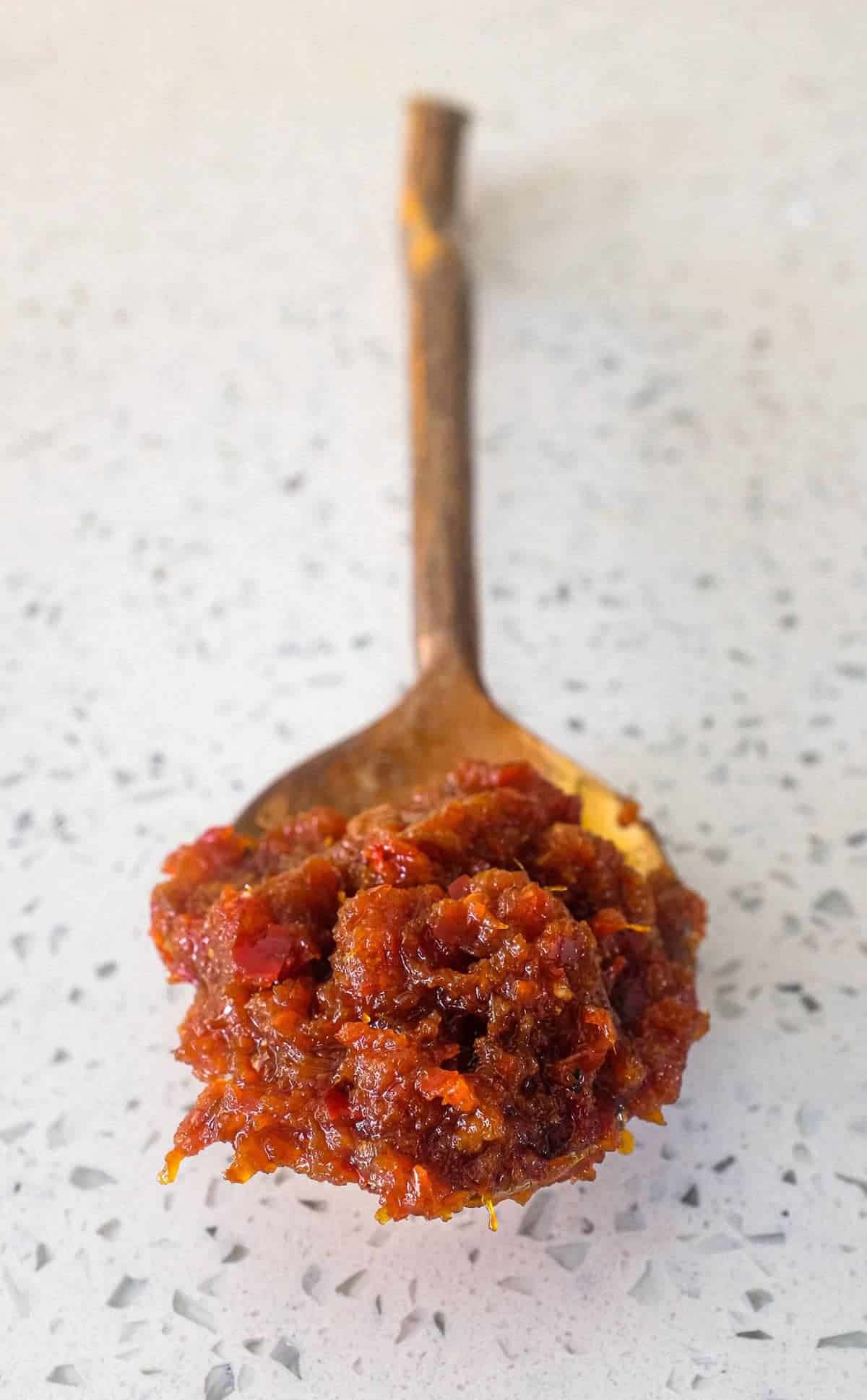 Any Questions? (FAQ)
Have a question about Malaysian Sambal Sauce? Let me know in the comments.
Is Sambal Malaysian?
Yes. However, It originated in Indonesia and spread throughout South East Asia into Malay and Singaporean cuisine too.
What is Sambal made of?
The predominant flavour and spice comes from a combination of dried and fresh chillies that are mixed with aromatics like lemongrass, ginger, galangal, turmeric and palm sugar. Shrimp paste (Belacan) and Tamarind are often added to create saltiness and sourness too.
Is Malaysian Sambal the same as Sambal Oelek?
Sambal Oelek is a simpler chilli sauce, traditionally featuring only chilli, vinegar and salt and can be a little harsher in mouth feel than a cooked Malaysian sambal sauce. Malaysian Sambal Sauce is more fragrant and mellow that Oelek.
More delicious South East Asian Recipes
Did you like my Malaysian Sambal recipe? Here are some more of my favourite South East Asian recipes.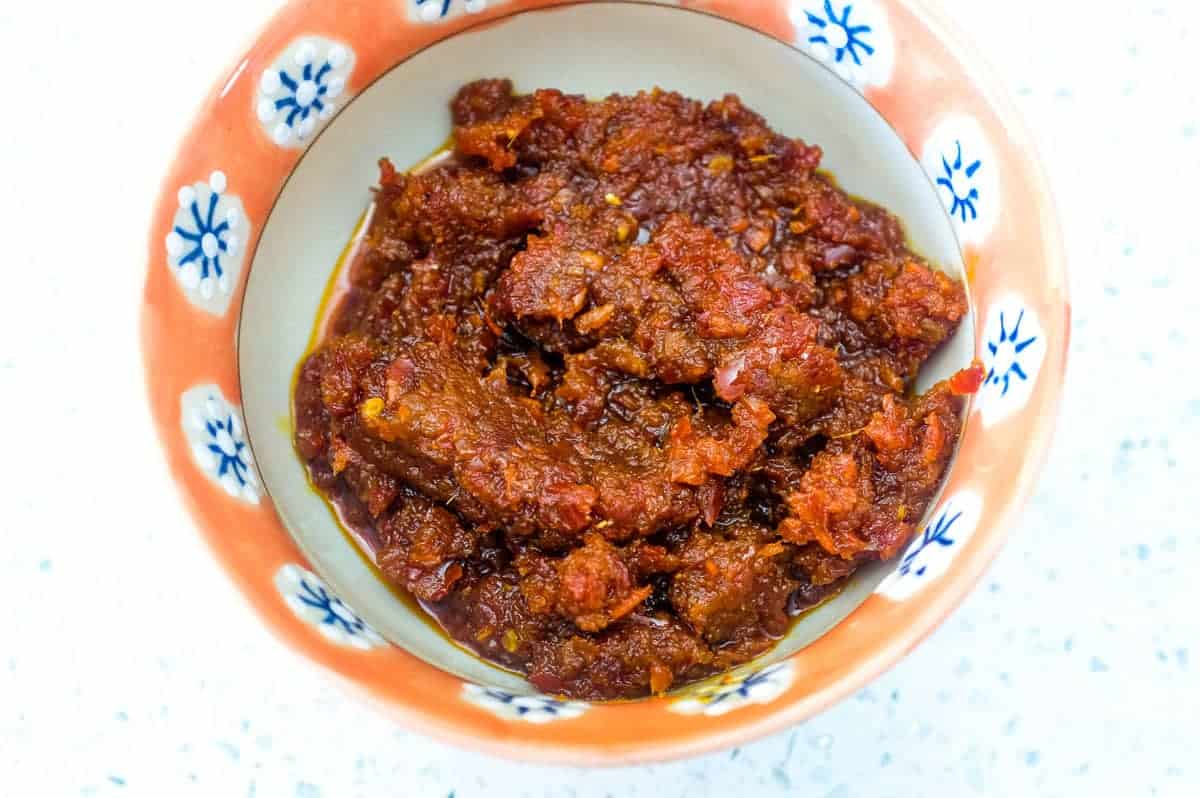 Malaysian Sambal Sauce
Rate this recipe
Print Recipe
Pin Recipe
Save Recipe
Go to Collections
Calories (per serving) |
73
Instructions
Soak dried chillies for 30 minutes in hot water and then drain and add to blender or jug

Add the fresh chillies, garlic, galangal, turmeric, lemongrass and shallots. Blend until smooth. Add the Shrimp paste, fish sauce, tamarind and sugar and stir well.

Heat a wok or deep pan with the oil until hot over a medium/hot heat. Tip in the sambal and let it sizzle in the oil. Stir in 1 cup water and let it come to a simmer. Reduce the heat a little and gently simmer for 25-30 minutes to reduce the sauce until thick and jam-like, stirring regularly to avoid sticking.

Let the sambal cool completely and decant to an airtight container or jar. Serve cold.
Notes
Storing Sambal
Sambal will stay fresh in the fridge for 2-3 weeks. Be sure to seal it in an airtight container.
Freeze sambal in small portions for up to 6 months.
Other uses
Sambal makes for the perfect chilli paste for stir fries and stir-throughs. Add 1 tbsp and a little water and simmer with some peeled boiled eggs for Sambal eggs. Stir some sambal through freshly cooked egg or rice noodles. Use 1 tbsp with some oil and day old rice for a simple fried rice. There are so many dishes that use sambal as an ingredient.
Nutrition
Calories:
73
kcal
(4%)
|
Carbohydrates:
16
g
(5%)
|
Protein:
3
g
(6%)
|
Fat:
1
g
(2%)
|
Saturated Fat:
0.1
g
(1%)
|
Polyunsaturated Fat:
0.2
g
|
Monounsaturated Fat:
0.03
g
|
Cholesterol:
14
mg
(5%)
|
Sodium:
179
mg
(8%)
|
Potassium:
366
mg
(10%)
|
Fiber:
2
g
(8%)
|
Sugar:
9
g
(10%)
|
Vitamin A:
1047
IU
(21%)
|
Vitamin C:
110
mg
(133%)
|
Calcium:
29
mg
(3%)
|
Iron:
1
mg
(6%)