Ayam Serundeng (Chicken with Crispy Coconut)
Indonesian Ayam Serundeng might well be one of their most strangely addictive exports. Fragrant fried chicken is dusted (or buried) in some of the most moreish crispy, crunchy deep fried coconut ever – I find it very hard to stop. You will too… learn how the magic happens.
As South East Asian treasure go, Ayam Serundeng may well be one of the great undiscovered treats from Indonesia. Not often seen on menus outside the country, the dish comprises fragrant coconut marinated chicken that is deep fried alongside the marinade, which has also been deep fried! You'd be right to think this a little strange, but the resulting dish is nothing short of miraculous.
Ayam serundeng is a carnival of texture and fragrant Indonesian flavour. A marinade is made from the usual suspects - think lemongrass, galangal, ginger alongside fresh grated coconut (kelapa). The 'Ayam' (chicken) sits in this dry marinade for 24 hours to take on its personality.
What makes this dish unique is that the marinade is put to good use and deep fried to create the 'serundeng' (jerky) part.
What is Serundeng?
Serundeng or Serunding is fresh grated coconut that's been spiced with various fresh ingredients like galangal, ginger, garlic, shallots, turmeric, candlenuts, lemongrass and kaffir. The combination of ingredients can vary, but the coconut remains the star of the show.
To give the coconut its crispy jerky-esque texture requires it to be deep fried in oil - coconut oil brings out even more fragrance and creates the most delicious and texturally wonderful experience.
Serundeng is used as a condiment in Indonesia, to scatter liberally over rice, stews, curries and more. And, as with Ayam Serundeng as a key component to a finished dish.
My recipe for Ayam Serundeng can be split into two components and the serundeng can be prepared separately without the need for the chicken part at all.
Stuff you'll need
To make my Ayam Serundeng is actually a piece of cake - get yourself to a South East Asian supermarket and everything will be there.
Aromatics - to create the marinade you'll need much the same ingredients as you might for an Indonesian or Malaysian curry - Lemongrass, galangal, ginger, garlic, candlenuts (or macadamia), fresh turmeric and shallots. These are blended into a 'rempah' paste.
Fresh Coconut - now, I am NOT here for grating coconuts myself, some things are best left to machines so I buy my pre grated coconut frozen - you'll find it in many supermarkets these days. Thaw it out and you're good to go. Desiccated coconut isn't right for this dish.
Chicken - I like to use legs and thighs for Ayam Serundeng as they'll stay nice and juicy, seriously though, who's still cooking with chicken breast!? Bone in or out for the thighs is fine - I use bone in and this can affect the frying time, so adjust accordingly (less time) if you use boneless.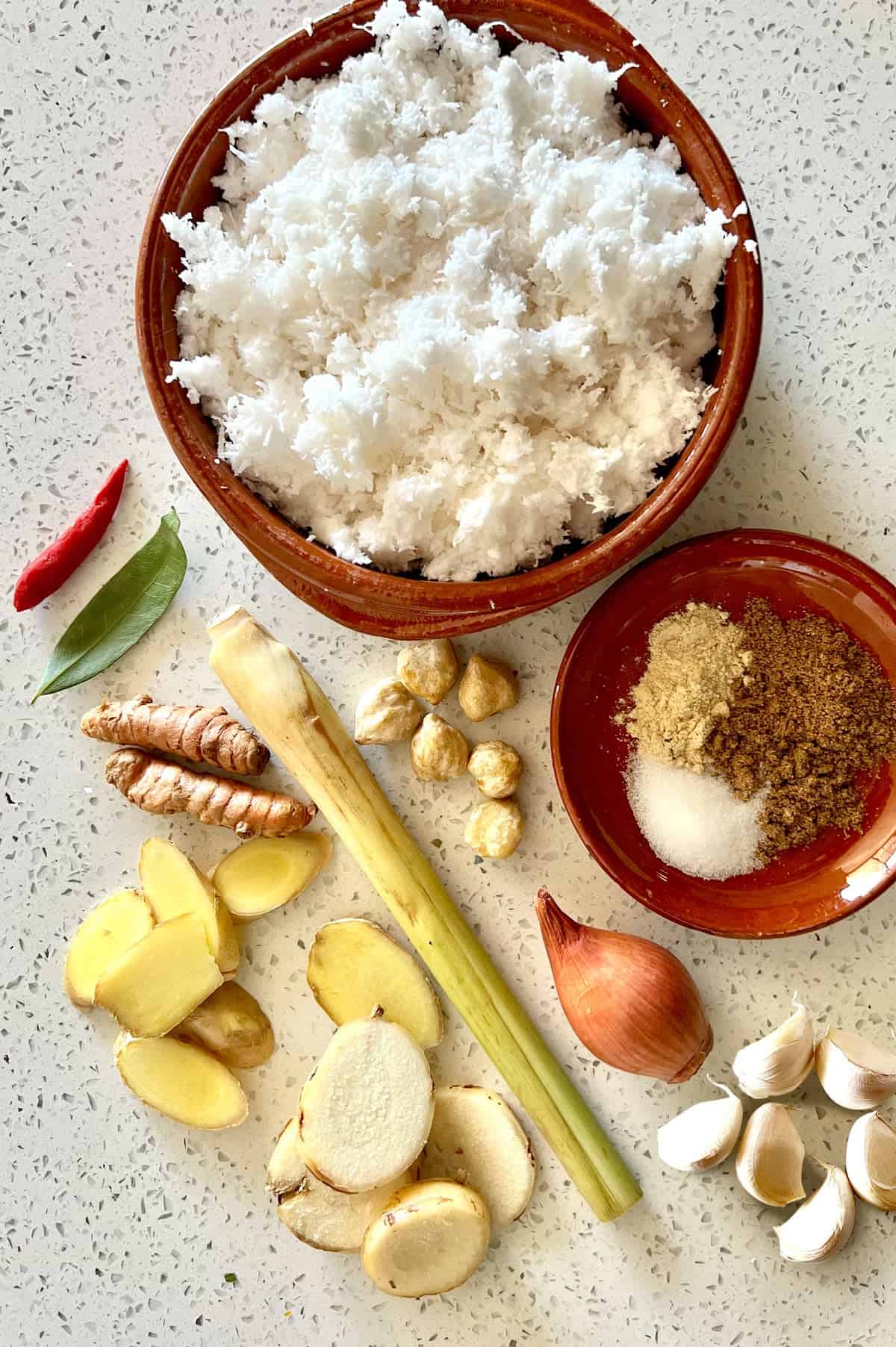 Step by Step
There are only a few steps to making Ayam Serundeng. With a bit of preparation you'll have the Crispy chicken with coconut done and eaten in no time!
Making the marinade - Blending all the rempah ingredients with a stick blender or in a blender is no work for you. Then all that's needed is to mix it into the grated coconut. It makes quite a dry mixture.
Preparing the chicken - I remove the chicken skin and stab the pieces with a sharp knife to help the marinade permeate as much of the chicken as possible. Then the chicken and marinade goes into a bag and into the fridge to work its magic. 6 hours is fine, 24 hours is best. Make the time, you'll taste the difference.
Frying the chicken - After marination, remove the chicken and dust off the excess coconut. Heat a fair amount of coconut oil (or canola) and fry the pieces in batches for 15-20 minutes (depending on the size of your portions) and then drain on paper towels. For safety, ensure the internal temperature is 165ºF/74ºC with a meat thermometer. There should be no blood pooling when the chicken comes out of the oil.
Frying the serundeng - When all your chicken is cooked, you can now fry the serundeng in two batches. It'll take 8-10 minutes to get nice and golden brown. Drain and pat down with paper towels to soak us as much excess oil as you can then leave to cool where it'll crispen up a bit more.
Serving the Ayam Serundeng is the easiest part - you can pre fry the chicken and warm it later in a hot oven then arrange on a bed of the serundeng. Scatter over more of the crispy coconut for a vision in brown! I like to break up the brown and richness with a side of cucumber and tomato.
Swipe to scroll through the pictures of each key stage
Pro tips
Leftover serundeng - The serundeng part will stay fresh in an airtight container for weeks and is the perfect additions to South East Asian curries like Beef Rendang, Kari Ayam and more.
Snack time - A great addition to the serundeng are fried peanuts and curry leaves. Fry them in a little coconut oil and leave to cool. Chop then stir into the coconut. This will stay fresh for a couple of weeks and is a great little finger-licking snack.
More Delicious South East Asian recipes
If you liked this Ayam Serundeng recipe, then try some or all of my Indonesian and South East Asian recipes. There's something for everyone.
The Best Malaysian Curry Recipes in the Cook Eat World.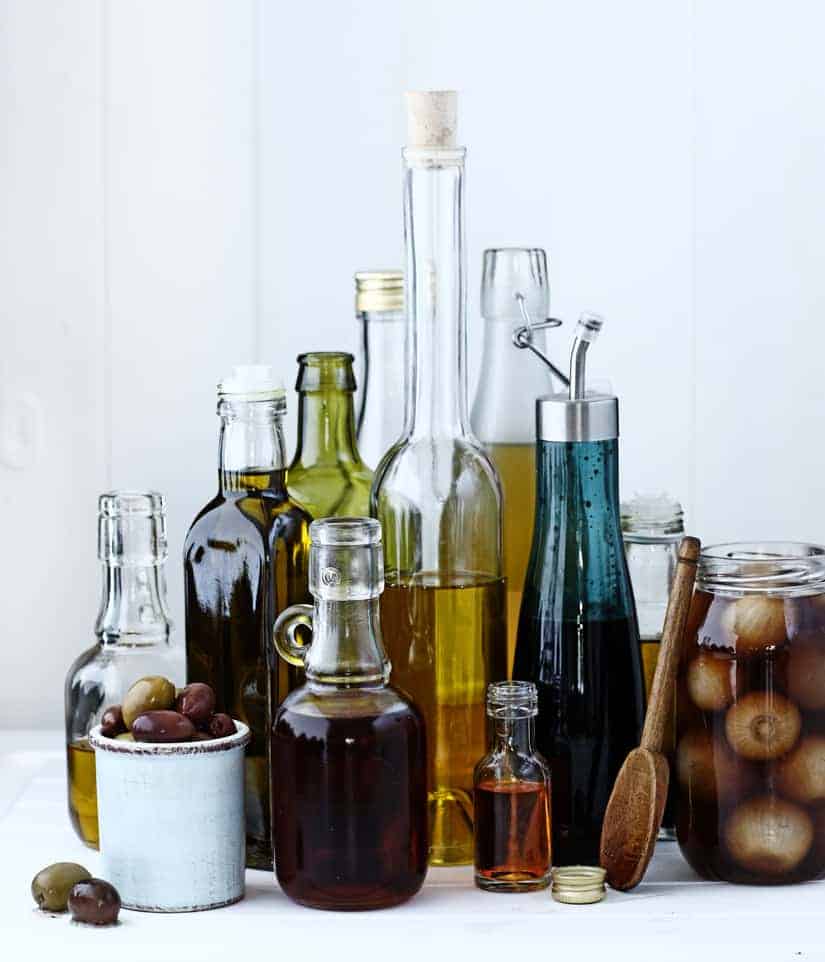 33 oils, vinegars and sauces
every home cook should have.
Ayam Serundeng - Chicken with Crispy Coconut
Rate this recipe
Print Recipe
Pin Recipe
Save Recipe
Go to Collections
Calories (per serving) |
1076
Ingredients
For the rempah paste marinade
Other ingredients
14

oz

coconut (grated)

(400g) Buy frozen and thaw before use

4

chicken thighs

(bone in, skin off)

4

chicken drumsticks

(skin off)

coconut oil

(or Canola) for deep frying
Instructions
Using a blender or stick blender, blend into a smooth paste all the paste ingredients.

Mix the paste and grated coconut and set aside.

Using a sharp knife, stab the chicken all over, this will help the marinade permeate the chicken for better flavour.

Add the chicken to a large plastic zip-lock bag and then the marinade. Jostle the bag around to ensure all the chicken is mixed with the marinade. Refrigerate for 6-24 hours.

Once marinated, remove from the fridge and remove the chicken. Dust off any of the excess coconut and arrange it on a plate. Set the marinade aside separately.

Heat about 3-inches of the coconut or canola oil in a wok or deep frying pan to around 360ºF/180ºC. Gently add the chicken thighs and let them fry, in total for 15-20 minutes (depending on their size), turning a few times during frying. Drain on paper towels.

NOTE: The internal temperature of the chicken should be +165ºF/74ºC and there should be no blood pooling when the meat is resting. If there is, fry for a few more minutes to ensure doneness.

Once all the chicken is cooked, you can leave it to cool or keep warm in the oven while you make the serundeng.

In the same frying oil, add half of the coconut mixture and let it sizzle. Stir well and then cook for 8-10 minutes until the coconut is deep golden in colour. Using a spider spoon, remove the coconut and spread it over clean paper towels. Using more paper towels, pat and rub the serundeng to mop up as much excess oil as you can.

Leave this batch of serundeng to cool while you fry the remaining coconut and repeat the process.

To serve, make a generous bed of serundeng on a platter and arrange the chicken over. Scatter over more serundeng. I like to serve with a simple salad of cucumber and tomato to counteract the rich, cripsy coconut and chicken.
Notes
Making only the Serundeng
This dish is Ayam Serundeng, meaning 'Chicken Serundeng'. The fried coconut component is the Serundeng and is a dish in its own right. Serundeng can be used separately as a snack or condiment - scattered over many different dishes. You can therefore make only this part using my recipe.
To make only Serundeng, combine the marinade ingredients and then skip the rest of the recipe and deep fry until golden. You can also combine with roasted peanuts and fried curry leaves for an extra pop of flavour and texture.
Storing and Preserving
Store the fried chicken and Serundeng separately - chicken in the fridge for up to 2 days and the Serundeng in an airtight container in the fridge for 2-3 weeks. Any leftover Serundeng will work as a garnish for many Indonesian and Malaysian recipes.
Ayam Serundeng is not suitable for freezing.
Nutrition
Calories:
1076
kcal
(54%)
|
Carbohydrates:
23
g
(8%)
|
Protein:
37
g
(74%)
|
Fat:
97
g
(149%)
|
Saturated Fat:
68
g
(425%)
|
Polyunsaturated Fat:
6
g
|
Monounsaturated Fat:
14
g
|
Trans Fat:
1
g
|
Cholesterol:
180
mg
(60%)
|
Sodium:
771
mg
(34%)
|
Potassium:
969
mg
(28%)
|
Fiber:
11
g
(46%)
|
Sugar:
7
g
(8%)
|
Vitamin A:
125
IU
(3%)
|
Vitamin C:
7
mg
(8%)
|
Calcium:
59
mg
(6%)
|
Iron:
5
mg
(28%)
Did you make my Ayam Serundeng (Chicken with Crispy Coconut)
How did you go? Let me know in the comments below and be sure to tag @cookeatworld at Instagram.