Roti Canai with Dhal
I adore the marriage of crisp, flaky roti bread to creamy Malaysian style Dhal. A combination made in South East Asian Heaven. And the good news, it's as easy as it is delicious to make at home!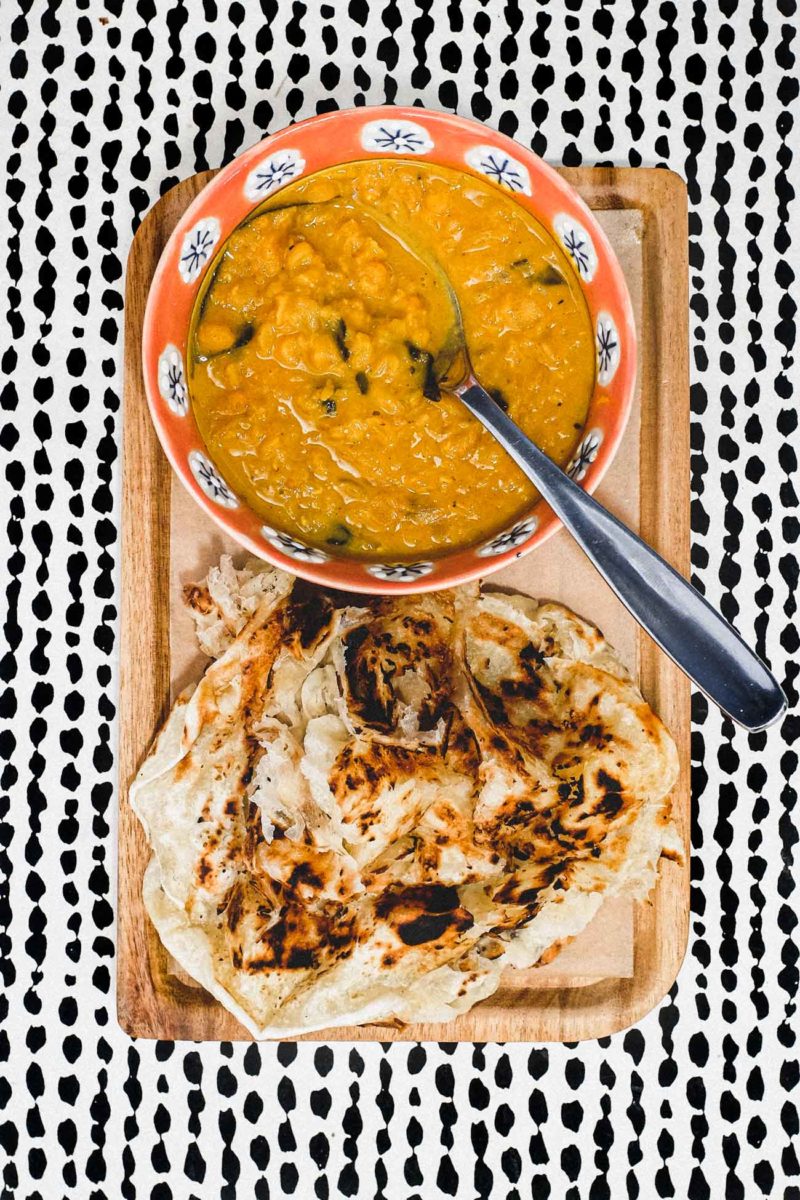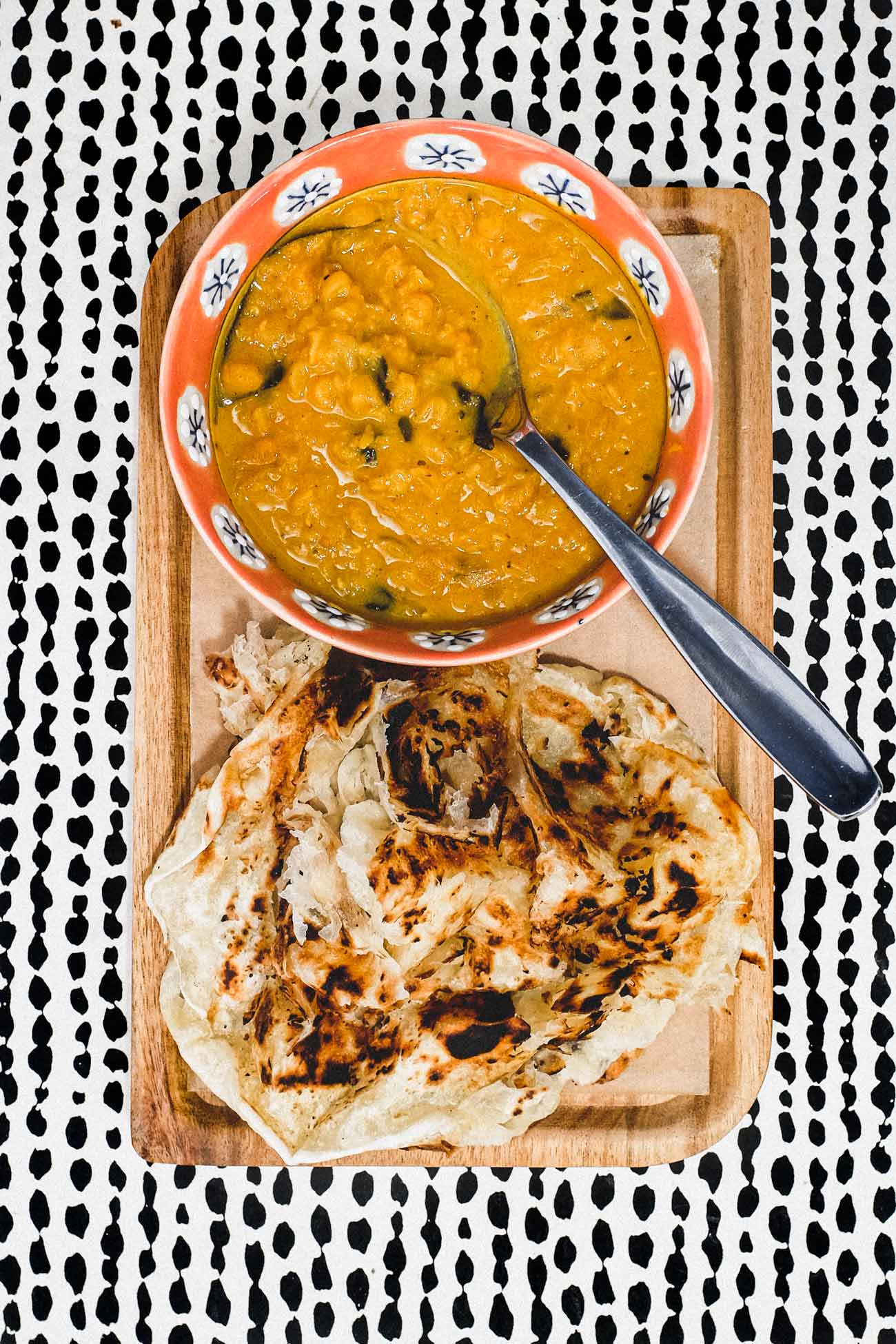 One of life's great joys in Malaysian Roti Canai. If you're unfamiliar, roti is a thin and super flaky South East Asian bread made with lots of butter or margerine and fried 'til it's a flaky, crisp texture. When served alongside a curry-style accompaniment it's known as roti canai. Often roti canai is served with a Malaysian Chicken Curry (Kari Ayam), which is sublime, but also commonly served vegetarian-style with a curry dhal. For more delicious Malaysian curry ideas best sure to check out my Best Malaysian Curry Recipes.
My Roti Canai recipe takes two types of lentils - a 'Chana Dhal' and a 'Masoor dhal'. Channa dhal (dried chickpeas cut in half) hold their shape during cooking, but the masoor dhal (the tiny split pinkish lentils) break up completely. It's the Masoor lentils that will help thicken the dhal to a perfect creamy consistency.
A dhal curry powder
Like a lot of Indian/Malaysian recipes, this dhal relies on some local Malaysian flavours - the curry powder is fairly Indian in its flavour profile, but with the addition of shrimp paste we see the Malaysian influence starting to creep in. Putting together the Malaysian Roti Canai Dhal is simple.
We mix together all the curry powder ingredients with a little coconut milk, ginger and garlic until smooth.
The curry powder becomes a curry paste, ready for the next step.
To liven up the flavours and introduce some South East Asian fragrance we use fresh curry leaves, cinnamon, star anise and kaffir lime leaves. This ensures it has a unique Malaysian flavour profile. A rich, complex depth of flavour with fresh, fragrant notes.
Which shrimp paste should I use?
Shrimp paste is also added to the mix to ramp up our South East Asian flavour. Traditionally Belacan shrimp paste is used, but I've found a wonderful alternative shrimp paste that I use for most my curries. Philippine sauteed shrimp paste (Alamang Guisado or Bagoong) is a fermented paste made from tiny prawn and krill. The difference being it's sauteed once fermented. I find it has all the intensity of shrimp paste (i.e. it STINKS) but has a rounder, fuller flavour. It gives any South East Asian curry a wonderful, authentic flavour.
You can of course use regular Thai shrimp paste or Malaysian/Indonesian Belacan shrimp paste. It all stinks the same, so it's all perfect for the job.
To start making the dhal, we first flavour the coconut oil with fresh curry leaves, star anise and cinnamon. They splutter and splatter immediately, but the aromas released are nothing short of heavenly. The leaves fry briefly before adding the next ingredients.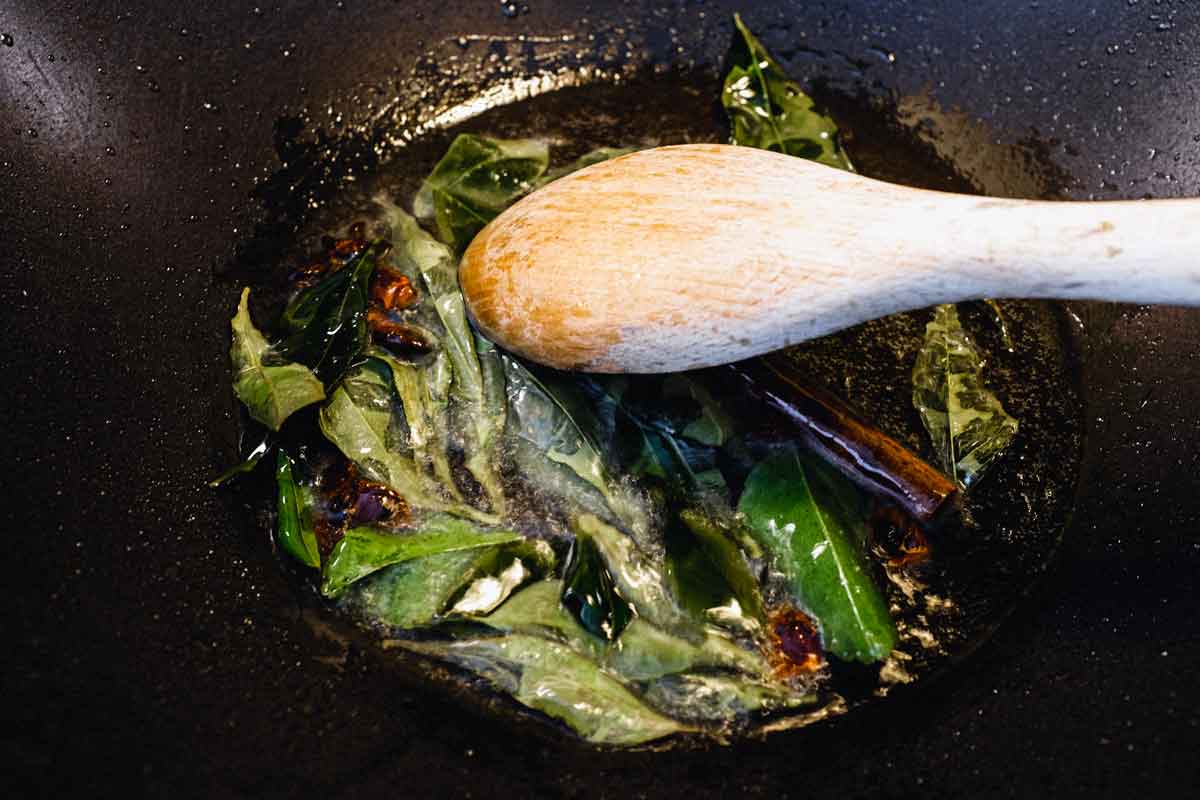 Onion is added to the mix. This is for both flavour and texture. The onion will break down slightly, helping to create a glossy, creamy appearance.
The curry paste is added and fried for a while. It's always good to fry a curry paste for a few minutes. This unlocks all the oils from the spice and give a deeper, more concentrated flavour. It also cooks out any powdery texture that you may get from dumping whole ground spice into liquid. The tip is to gently fry the spice to avoid burning. Burning the spice will create a bitter flavour to the sauce. This we want to avoid. Turn down the heat for this stage and have patience.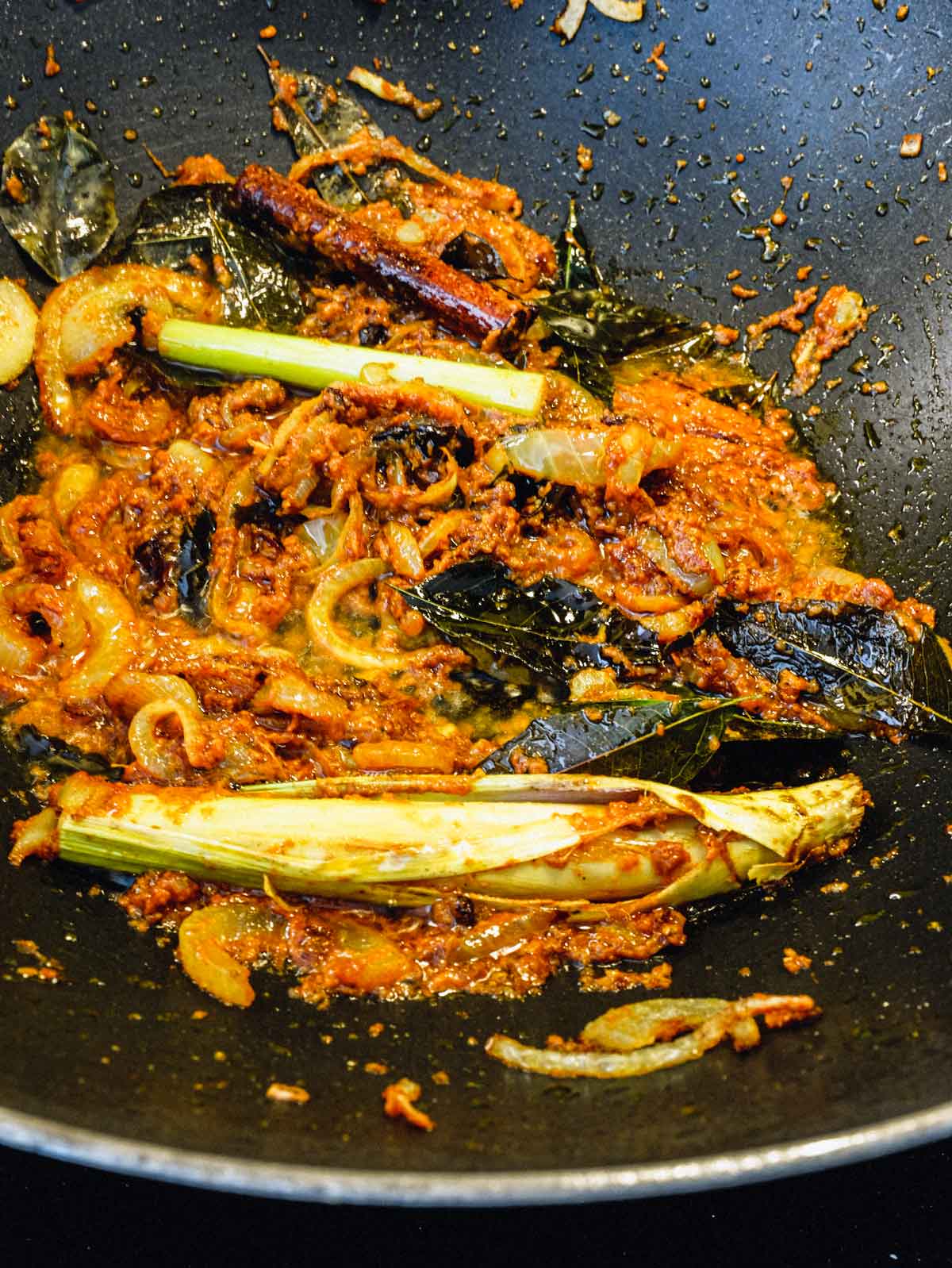 The lentils are stirred into the paste and cooked for a little while to help toast a little - it all helps develop complex, rich flavour.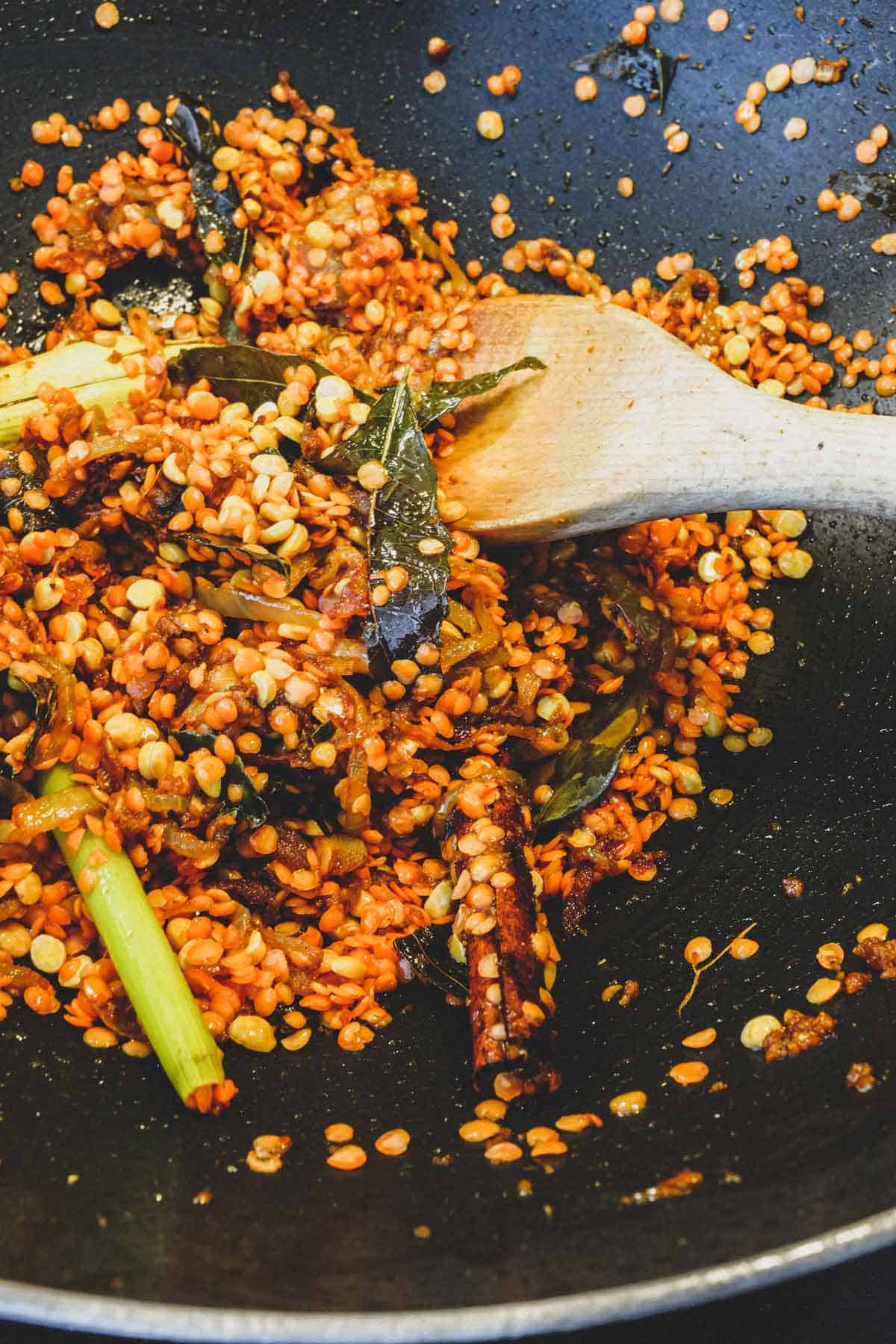 Once we've sautéed the lentils, we can add liquid. Water is perfect - there's so much flavour happening, there's no point in wasting stock. You won't notice the difference. Now we simply simmer everything until they break down and the sauce becomes rich and creamy. This is also the stage your kitchen becomes unbearably fragrant!
The finished sauce takes on a rich and decadent texture - creamy and smooth. The masoor dhal has lost the battle and broken up completely, but the chana dhal is soft but retains its shape.
How to make roti bread
Next up is the roti bread. And let's be real here, don't be trying to make it at home. I mean, you COULD, but it's definitely not easy to make. I've tried on occasion with mixed results ranging from 'passable' to 'what the hell'. Honestly, it's a serious game to make good roti bread from scratch.
I am of the mindset that some things are just best left to the experts. I love to be a have-a-go hero with food, but I also have anxiety at not eating a good meal. Roti bread requires some serious technique to get the super-thin layers just right. And it's a lot of effort. I've seem Malaysians making this in restaurant and they make it look so easy. It's not! And for being half the dish, it needs to be good.
That's why I always buy frozen Malaysian roti bread pre-made, just ready to stick in the frying pan and toast until crisp. You can find such breads in the frozen aisle of many/any Asian supermarket. They're called roti, puff paratha, paratha or puff roti. They cook in a matter of minutes and are legit delicious!
Using a dry frying pan (there is THAT much butter in each roti), the breads char a little and crispen on the outside. We then we use our hands (carefully) to fluff up the sides of the hot bread into fluffy pillows. It's now ready to meet its partner and eat!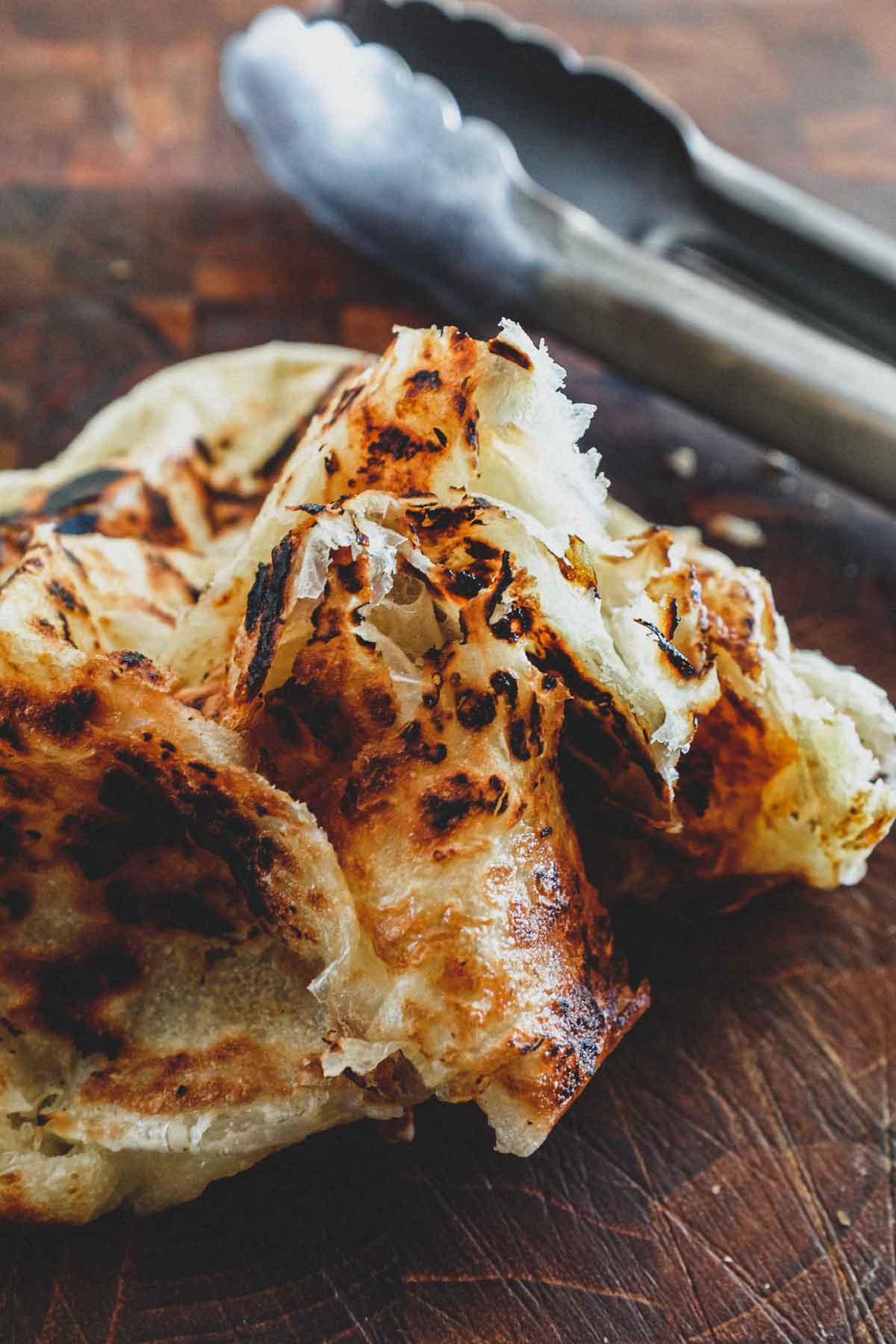 I dare you to not fall completely in love with roti canai. The marriage of textures is sublime as the rich buttery bread pairs excellently with the fragrant, flavourful dhal. It's a great dish any time of the day, but I particularly love it for breakfast. If truth be told, I'll eat it any time of the day, at the drop of a hat.
In Malaysia, every time I saw a hawker stall or food court stall selling roti canai, I'd be there, stuffing it into my face. It's genuinely one of my favourite dishes (period) to eat and cook at home. There are always a couple of packs of frozen roti breads in my freezer and ALWAYS some frozen dhal nearby in perfect little roti canai portions.
Get ready for the most delicious, most authentic home cooked Malaysian roti canai. Enjoy!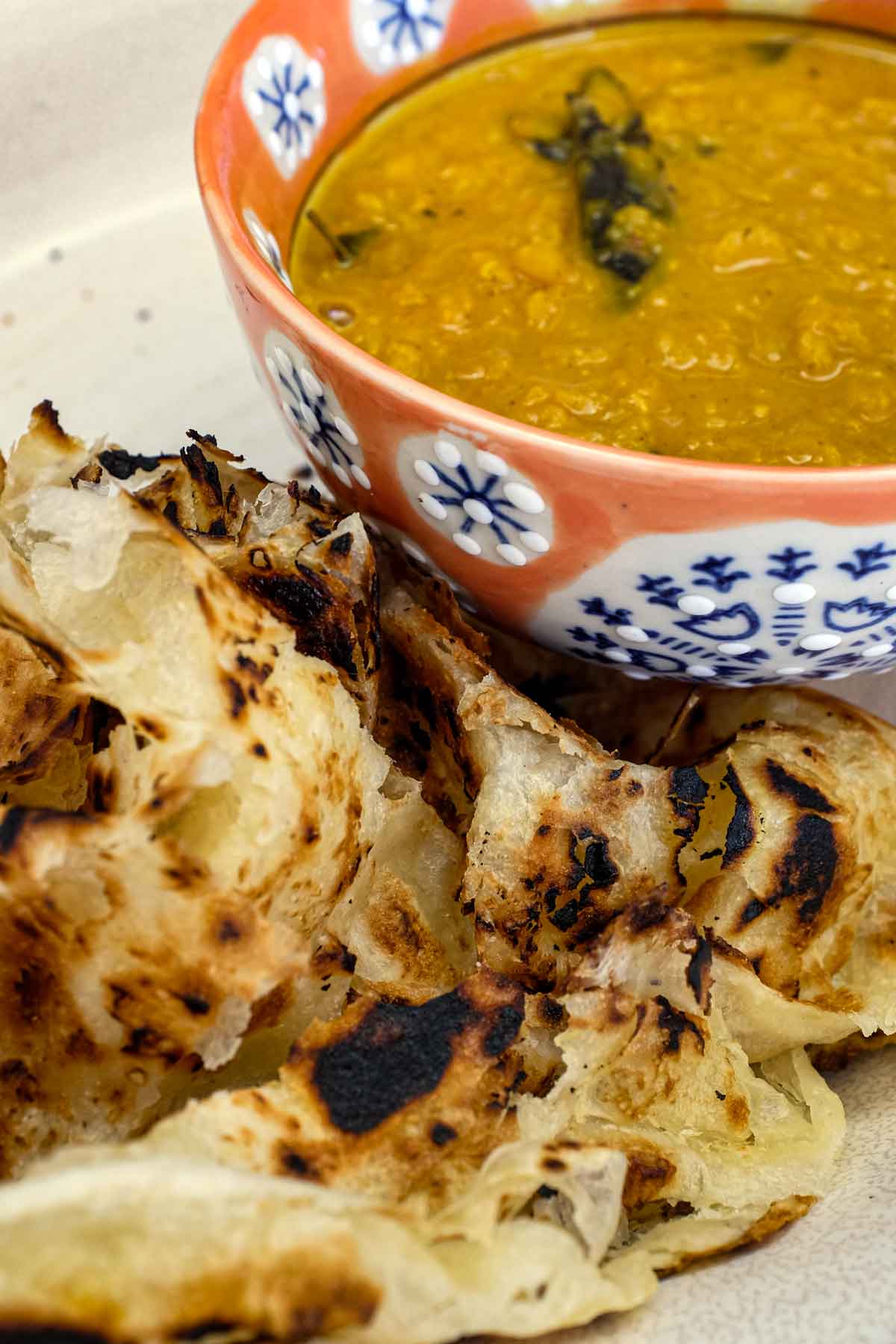 More delicious Malaysian curries you can serve as Roti Canai.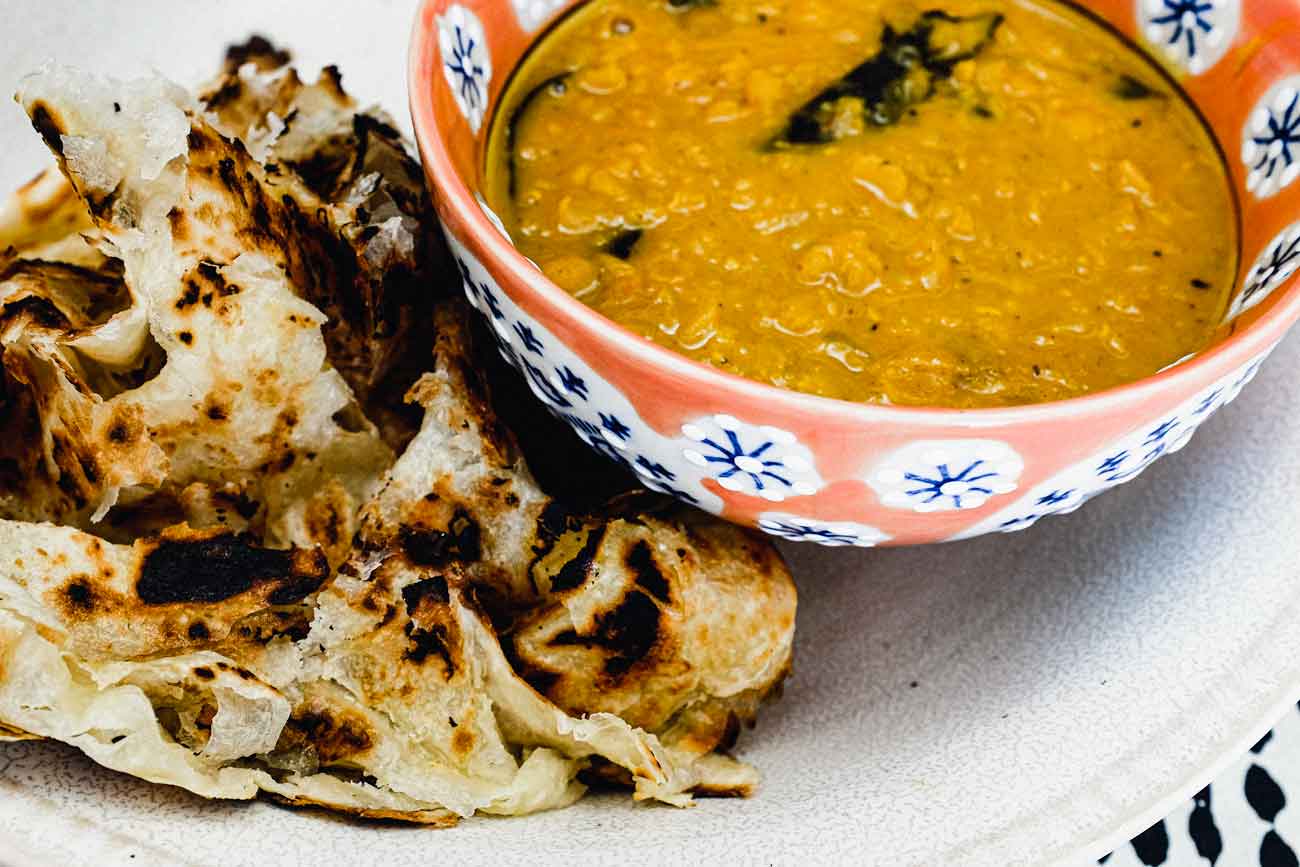 Roti Canai with Dhal
Rate this recipe
Print Recipe
Pin Recipe
Save Recipe
Go to Collections
Calories (per serving) |
439
Ingredients
Roti breads
frozen roti bread

1-2 per person (or more as needed)
Instructions
To make the curry paste
In a small bowl, combine all the curry paste ingredients until smooth. Set aside

Heat the coconut oil in a wok or large saucepan and when just hot, add the curry leaves, cinnamon and star anise. Let them sizzle for 10 seconds before adding the onion, lemongrass stalk and lime leaves.

Sautée the onions for 4 minutes until softened a little.

Add the curry paste and stir well. Let this fry gently for 3-4 minutes, reduce the heat to low to avoid sticking or burning the paste.

Stir the two types of lentils and pour in the 1 cup of coconut milk and around 5 cups of water. Bring to a simmer then reduce the heat and lightly simmer (partially covered) for 40-50 minutes, stirring occasionally to avoid sticking. Cook until the red lentils have broken down completely. The chana dal should still be visible, but soft and not grainy.

If they're not cooked after 50 minutes, continue to cook until soft, adding more water if needed.

Season with salt and a little sugar. Keep warm.
To make the roti
Heat a small frying pan over a medium heat until hot. Add a roti bread (FROM FROZEN) and cook for 1-2 minutes each side. As you turn the roti, it will puff up naturally from the steam inside. You can turn the roti for 5-10 seconds each side a couple more times to ensure it's cooked and crisp. Just keep a watch on it, as they can burn easily.

Repeat this process with as many roti breads as you need.

Using your hands (carefully) or a pair of tongs, bring in the sides of each roti bread to form puffed up pillows. Serve hot alongside small bowls of the dhal for each person.
Nutrition
Calories:
439
kcal
(22%)
|
Carbohydrates:
46
g
(15%)
|
Protein:
14
g
(28%)
|
Fat:
24
g
(37%)
|
Saturated Fat:
19
g
(119%)
|
Cholesterol:
10
mg
(3%)
|
Sodium:
493
mg
(21%)
|
Potassium:
469
mg
(13%)
|
Fiber:
15
g
(63%)
|
Sugar:
3
g
(3%)
|
Vitamin A:
548
IU
(11%)
|
Vitamin C:
17
mg
(21%)
|
Calcium:
97
mg
(10%)
|
Iron:
6
mg
(33%)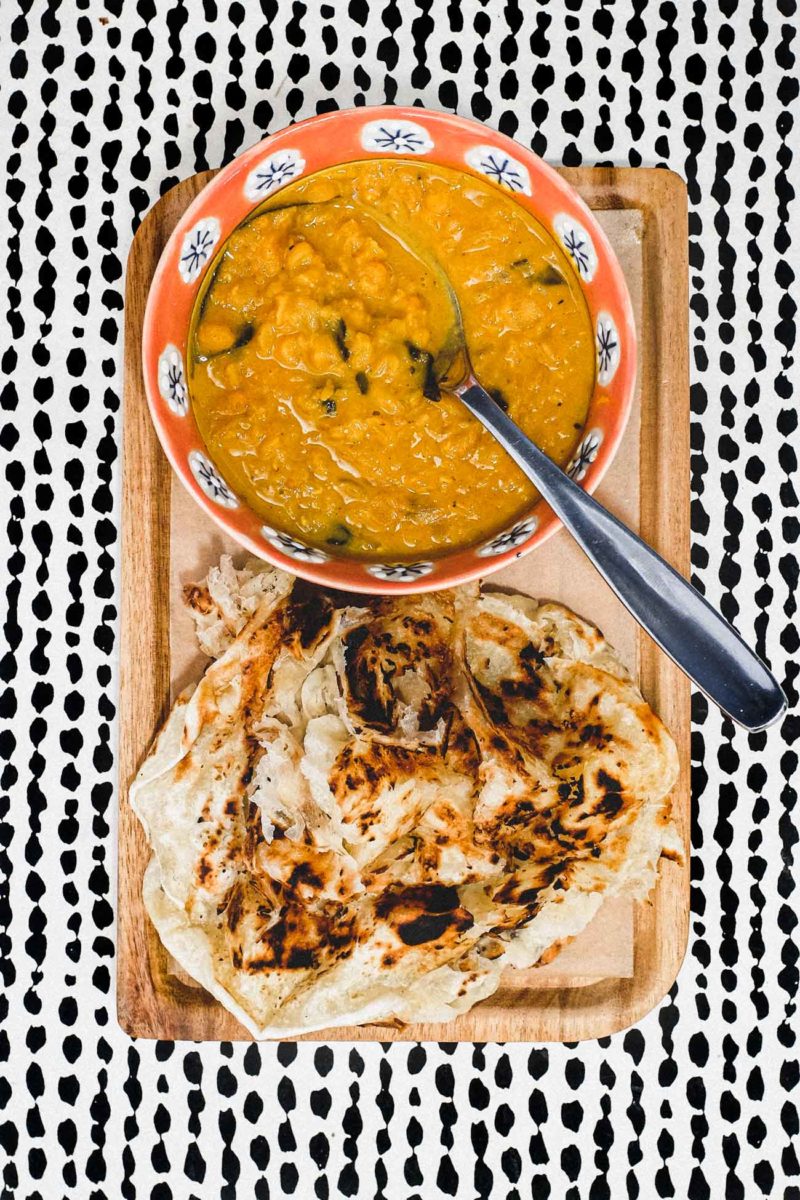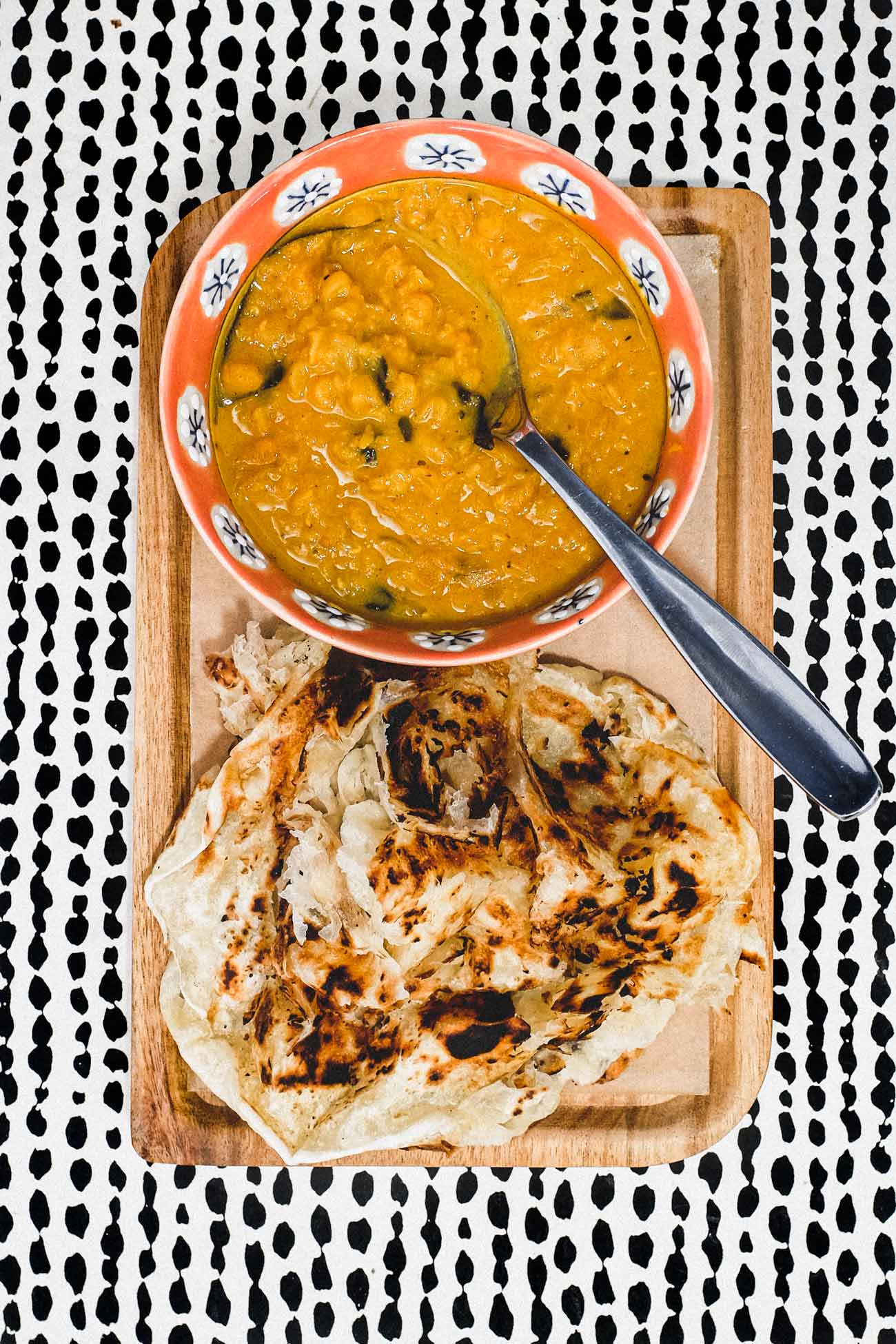 Did you make my Roti Canai with Dhal?
How did you go? Let me know in the comments below and be sure to tag @cookeatworld at Instagram.