Malaysian Beef Curry
This Malaysian Beef Curry (Kari Daging) is so insanely flavourful. An intense burst of South-East Asian Magic! Like the wonderful Malaysian Beef Rendang, this curry is packed with flavour, texture and fragrance. Learn how to pack a punch at home with this delicious treasure…
I first tasted this Malaysian Beef Curry in a food court in Kulala Lumpur, Malaysia. I had decided to go for a walk that day and in temperatures akin the the face of the sun, this soon proved to be a mistake. Kuala Lumpur is also pretty built up and spread out, so walking around isn't easy! After about 3 hours of pain I concluded that I needed air conditioning immediately.
I hopped into a taxi and it took me to the famous Petronas Towers, where there is a giant mega-mall. The joy of that cool mega-mall was all consuming. My pink/salmon British skin must have looked hilarious to everyone. The first thing I did was make a bee-line for something to drink. I stumbled into a giant food court, filled with every type of cuisine imaginable. Pizza, middle-eastern, pastries, burgers; you name it, it was there. I can never quite bring myself to eat Western food in Asia - it's such a cop-out. So I'll always go for the South East Asian Food in the hope it's not just a fast-food version of their cuisine.
After guzzling a gallon of water, I decided to eat too. When in Rome! Usually, in Malaysia I'll default to my favourites; Curry Laksa or Malaysian Chicken Curry with bread - Roti Canai, but this time I opted for a beef curry and a lentil dal combo. I remember it so vividly - the meal was handed to me and I thought it looked meagre on the meat front: barely a spoonful of beef, while the lentil curry and rice came in large bowls. I was a little disappointed.
A little beef curry goes a long way.
The small portions seemed contrary to our western portioning theory of meat accompanied by vegetable. But it would transpire that Malaysia has it completely correct. The beef curry is almost a seasoning for the delicious dal. (my Malaysian Dal recipe is coming soon incidentally). This beef curry is intensely flavoured, and not in a spicy hot way, more an aromatic concentrate. There are so many fragrances compacted into each tiny mouthful. It's something to be savoured. And I treasured every mouthful, leaving me satisfied and once-again ready to hit the never ending streets of Kuala Lumpur.
Back at home, I discovered this is a pretty simple dish to prepare too. In Malaysia I saw shelves full of curry powders in the supermarkets and shops. So I've always felt it authentic to use a good pre-mixed curry powder. This Malaysian curry powder is one I use most. That said, I almost always have a stash of homemade Malaysian Curry Powder in the cupboard, so will use that too - if I haven't used it all up on my DELICIOUS Malaysian Chicken Curry (Kari Ayam) that is!
To speed up the long cooking time, I'll also use the Instant Pot. An Instant Pot Curry can be left to fend for itself and cut the cooking in half so it's great if you're running short on time. I give directions for cooking both with and without the Instant Pot.
You'll soon appreciate the fantastic intensity of this curry, and understand why you need not have a giant bowl! It's a fabulous fragrant curry!
More delicious Malaysian recipes.
Try some of my most favourite flavours in the World with these authentic Malaysian recipes - the Curry Laksa is my #1 dish of all time! You can check out my Best Malaysian Curry Recipes for all the favourites...
How to make my Malaysian Beef Curry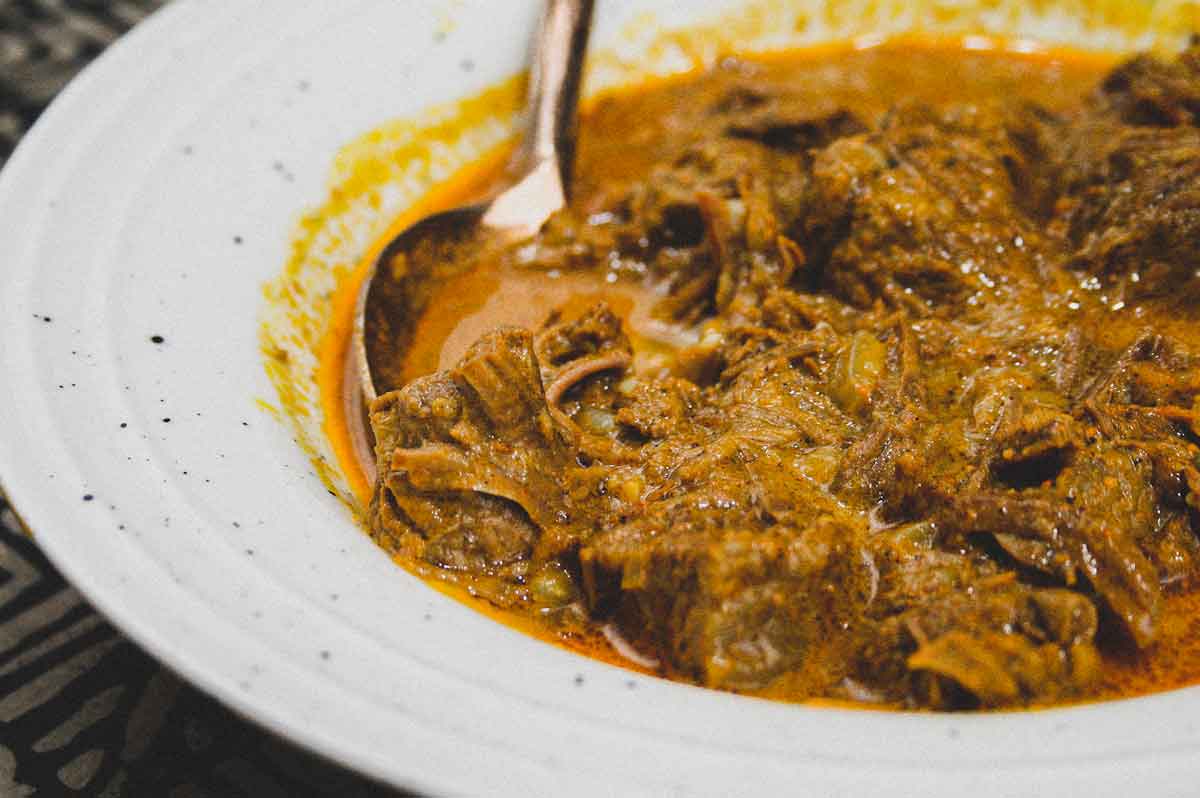 Malaysian Beef Curry
Rate this recipe
Print Recipe
Pin Recipe
Calories (per serving) |
525
Instructions
For Conventional cooking: Heat a large pan over a moderate heat with the oil until hot.

For Instant Pot: Turn on the 'Saute' function of your Instant Pot and heat the oil.

Add the curry leaves and star anise and let them splutter for 30 seconds before adding the onions. Sauté the onions for 5 minutes to soften slightly.

Add the beef, tomato, curry powder, coconut milk, salt, pepper and sugar and cover with around 4 cups water.

For conventional cooking: Bring to a boil, then reduce the heat to low and cook, partially covered for 2 hours until the meat is tender.

For Instant pot: Switch to the 'Pressure Cooking' setting and put the lid on. Cook under pressure for 45 minutes.

Remove from the heat / Stop cooking and stir in the fish sauce.

That's it! Serve with plenty of fluffy Jasmine rice or Malaysian Paratha or Roti breads and a Malaysian style Dal or salad.
Notes
I sometimes like to add some potatoes to the sauce near the end of cooking. Just cut up a peeled potato into quarters and cook conventionally for 15-20 minutes or in the instant Pot for 5 minutes.
I also sometimes add some green beans at the end for 5 minutes simmering in the sauce.
Nutrition
Calories:
525
kcal
(26%)
|
Carbohydrates:
10
g
(3%)
|
Protein:
35
g
(70%)
|
Fat:
40
g
(62%)
|
Saturated Fat:
23
g
(144%)
|
Cholesterol:
115
mg
(38%)
|
Sodium:
1395
mg
(61%)
|
Potassium:
882
mg
(25%)
|
Fiber:
3
g
(13%)
|
Sugar:
5
g
(6%)
|
Vitamin A:
244
IU
(5%)
|
Vitamin C:
13
mg
(16%)
|
Calcium:
69
mg
(7%)
|
Iron:
6
mg
(33%)
Did you make my Malaysian Beef Curry?
How did you go? Let me know in the comments below and be sure to tag @cookeatworld at Instagram.