Ayam Goreng (Malaysian Fried Chicken)
Crispy spiced Ayam Goreng, Malaysian Fried Chicken has all the South East Asian fragrance and flavour you could possibly need. Sweet and spicy juicy chicken is perfection with every bite – and incredible addictive too!
Who doesn't love fried chicken?! It's a universally accepted fact that fried chicken is just one of those things that pretty much all meat eaters love! But have you experienced the splendour that is Malaysian Fried Chicken?
Ayam Goreng is a complex spiced chicken fried to crisp perfection. But first, a marinade of South East Asian flavours infuses the meat overnight. It permeates the chicken to not only tenderise, but imbues a fragrance and flavour that transports you directly to Malaysia.
Dredging the chicken in a spiced flour (a combination of wheat and chickpea) gives the perfect start in creating a crisp, crunchy coating for frying. I can't tell you how satisfying this delight really is.
What is Ayam Goreng?
Ayam Goreng is a popular Indonesian, Malaysian and Singaporean dish that translates to "fried chicken" in English. It is a dish where chicken pieces, are marinated in a flavourful mixture of spices and then deep-fried until crispy and golden brown.
The marinade for Ayam Goreng typically includes ingredients such as garlic, shallots, turmeric, ginger, lemongrass, coriander, and various other spices. The chicken is usually marinated for a few hours or overnight to allow the flavours to penetrate the meat.
After marinating, the chicken pieces are deep-fried until they are cooked through and develop a crispy exterior. The result is tender, juicy chicken with a flavorful and aromatic crust. Ayam Goreng is often served with steamed rice and a side of sambal sauce (chili paste) or other condiments for dipping.
Why it works?
It's crunchy AND juicy! - I often say that my favourite flavour is crunch! 😄 That first crisp bite into crunchy, juicy fried chicken is like nothing else! Chicken lovers need look no further for one of the greatest fried chicken recipes in the world. In my opinion, it's head and shoulders above Southern-style fried chicken.
It's a crowd pleaser - I make this on the regular for weekend hangouts, for whoever decides to drop in for Saturday or Sunday lunch. It never lasts more than a few minutes, and the moans and groans that accompany are guaranteed. I'll make a whole bunch and serve with coconut rice, salads and a large bowl of Malaysian Sambal Sauce to spice things up even more.
Stuff You'll Need
There are a fair few ingredients that go into this super special fried chicken, but nothing too taxing to find. Take a look at the key flavours in making your own Ayam Goreng.
Chicken - my recipe uses boneless and skinless chicken thighs. It's quicker to cook than bone in cuts, but you can also use bone-in thighs and drumsticks too. You'll

just need to cook them for longer.

The marinade - contains whizzed-up lemongrass, garlic and shallots with soy sauce, a little oil and sugar. Then we add a few ground spices:

coriander,

chilli powder, black

pepper,

turmeric,

ground

f

ennel and

cumin.

The flour dredge - is a combination of wheat and chickpea flours alongside

salt,

coriander,

paprika,

turmeric,

ground fennel,

cumin and

ground cloves.

Eggs - help during the dredging process to glue the flour to the chicken. This stops it sliding off during frying.
Canola oil - for frying the chicken.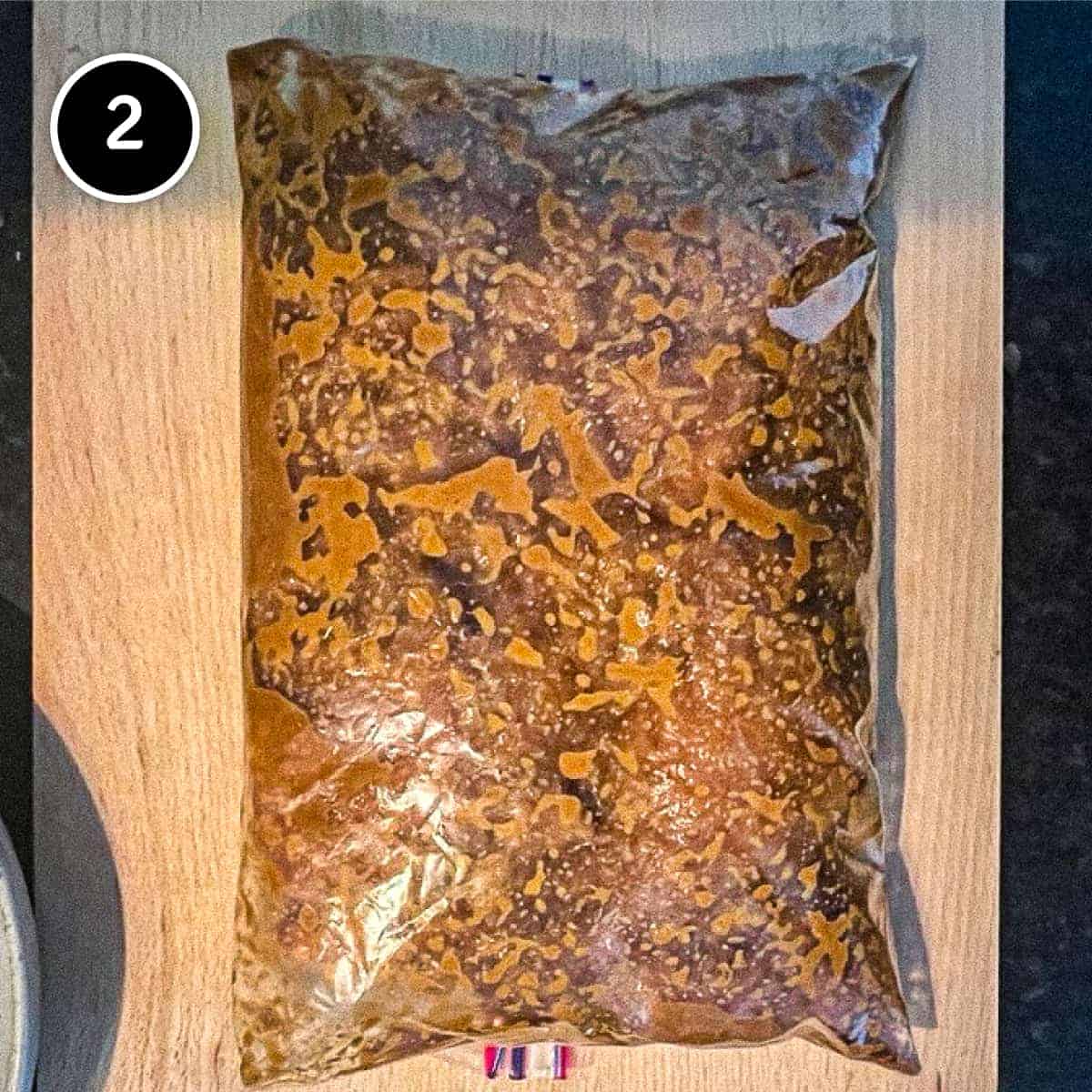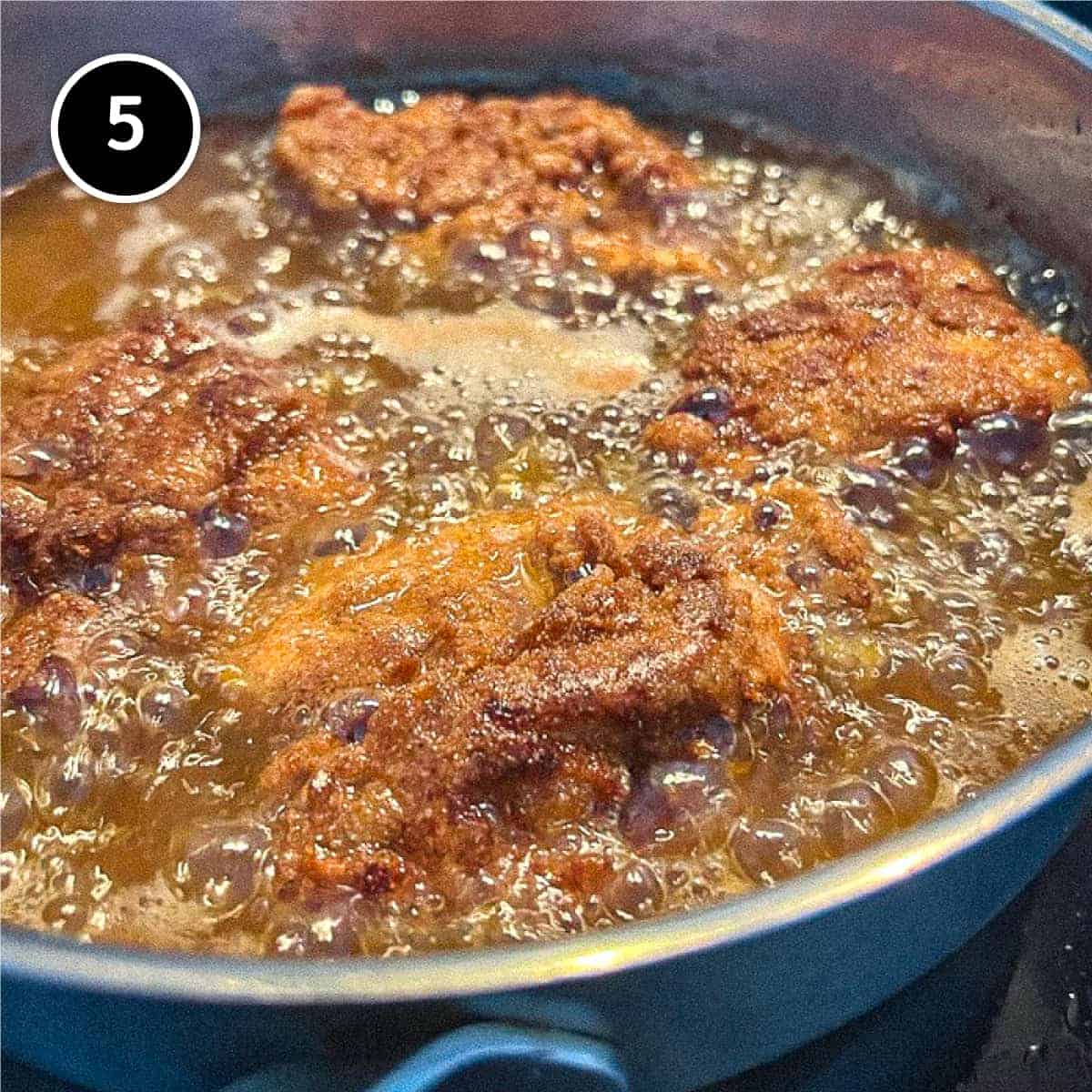 Step by Step
Creating your own Malaysian Fried Chicken is nothing to be intimidated by. Yes, there are a few ingredients, but serious flavour requires serious ingredients! But the complexity stops there, the actual cooking couldn't be easier!
Step 1 - Make your marinade by whizzing all the ingredients with a stick blender or regular blender until smooth.
Step 2 -

Add all your

chicken

to a large bag then tip in the marinade. Jostle the bag around to coat

everything

and then seal and pop in the fridge. Leave it overnight to develop all that amazing flavour. The longer the better - but if you're super impatient 4-5 hours is acceptable!

Step 3 - create your dredging station with two bowls, one with beaten eggs and the other with the spiced flour. First, add a chicken piece to the egg. Make use it's covered in egg then gently shake off any excess.
Step 4 - Pop it into the spiced flour and do the same. Arrange on a plate in a single layer. I like to leave the chicken for 10 minutes to 'set'. This gives even more security to the coating when cooking. to ensure it doesn't

slide off.

Step 5 - Heat your oil to a temperature of around 350ºF/180ºC. Add the chicken in batches of 4-5 (avoid crowding the pan as it will reduce the temperature of the oil and result in greasy chicken). Let the chicken fry (turning once or twice) for about 15 minutes or until you have an internal temperature of around 75ºF/165ºC. Use a kitchen thermometer if you have one or test cut into the deepest part of one piece to see if it's cooked.
Step 6 - Drain the chicken pieces on paper towels briefly to soak up any excess oil then serve hot!
Pro Tips
Boneless thighs are so good for this recipe. They cook quickly and have no mess, no bones.

Make a delicious Malaysian sambal sauce to serve alongside. It's easy and packed with flavour.

The use of two flours mixed

gives

a great texture, but you can use one or the other too.
Serving & Storage Suggestions
Serve: I like to serve mine with either plain boiled jasmine rice or coconut jasmine rice alongside some salads and a generous serving of sambal sauce. I'll always have a few lime wedges too, to squeeze over its citrus brightness.
Serve: It's best served right away, but you can keep it warm in the oven on a low heat. You can also warm from cold in the oven in a medium heat until hot.
Leftovers: will stay fresh for 4-5 days in the fridge and can be reheated or eaten cold. You might also try slicing any leftovers and using in a salad - it's delicious.
Freezing: I don't think this is a good contender for freezing once cooked, although you can freeze the chicken in its marinade for 3+ months. Be sure to fully defrost before cooking.
Ready to get cooking?
So, as fried chicken of the World goes, I actually think this is my favourite recipe. There's something so light, bright, fresh and fragrant about Malaysian and Indonesian food and it's in full effect with this decadent Ayam Goreng.
Be sure to try this once in your life and I'm sure you'll be a as big a fan as I am. Hope you enjoy!
Any Questions? (FAQ)
Have a question about Ayam Goreng? Let me know in the comments.
What is the flavour of Ayam Goreng?
Ayam goreng has a fragrant lightly spiced flavour. Slightly sweet, coconut infused and earthy.
What does Ayam Goreng mean?
It translates as 'Chicken Fried' - Ayam is chicken and Goreng is fried.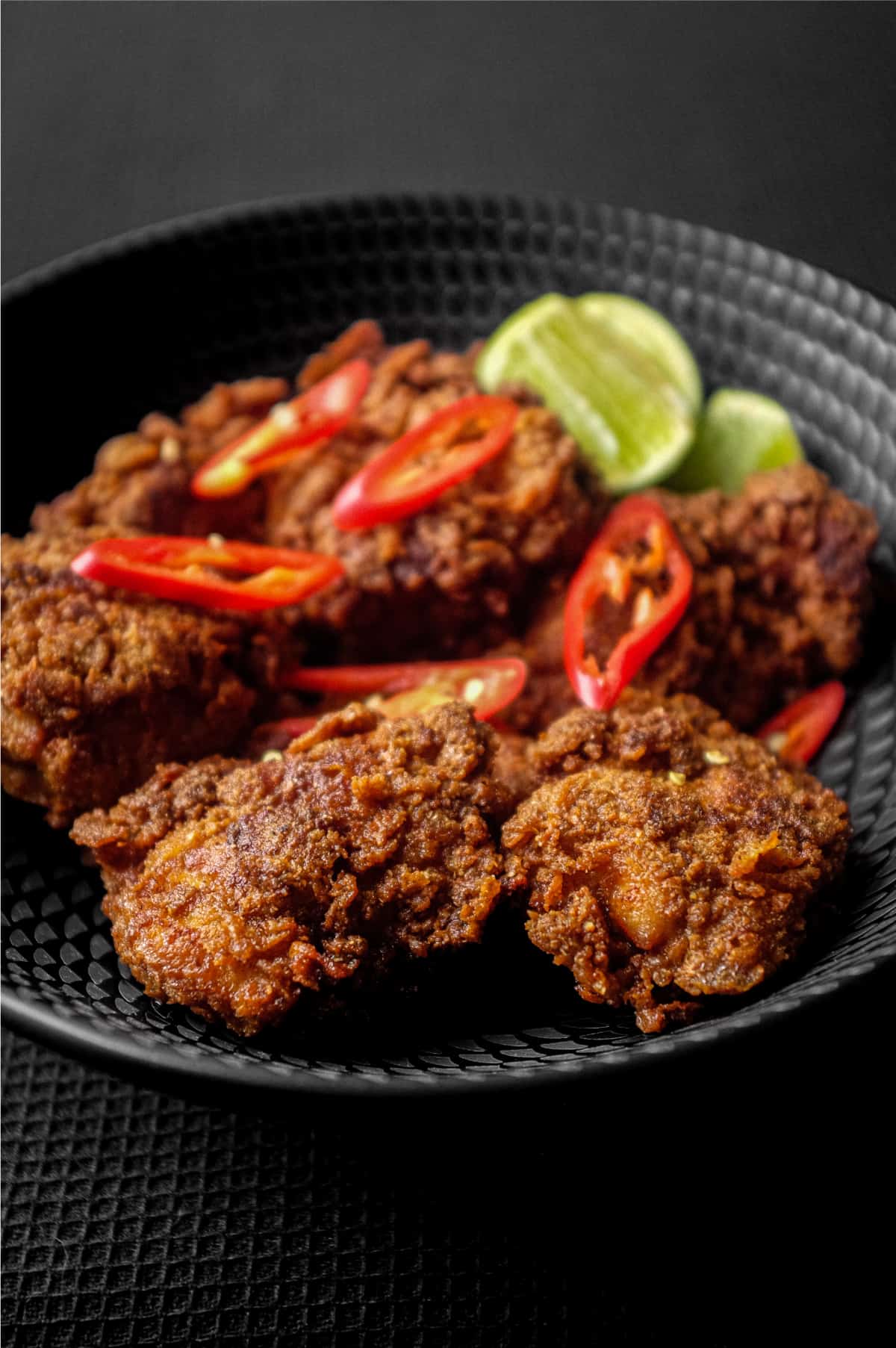 More Malaysian and Indonesian recipes
If you liked this recipe for Ayam Goreng, I'm sure you'll love some more of my favourite Malaysian and Indonesian recipes.
The Best Malaysian Curry Recipes in the Cook Eat World.
This recipe uses affiliations and may receive a commission based on your activity (link clicks). Learn more.
Ayam Goreng (Malaysian Fried Chicken)
Rate this recipe
Print Recipe
Pin Recipe
Save Recipe
Go to Collections
Calories (per serving) |
759
Ingredients
Other ingredients
2.2

lb

chicken thighs

(skinless and boneless) (cut in half)

3

eggs

canola oil

(for frying)
Instructions
Using a blender or stick blender, blend together all the marinade ingredients until smooth.

Add the chicken and the marinade to a large sealable bag. Jostle the chicken around to ensure everything is coated in the marinade, then seal the bag and pop into the fridge for 24 hours.

If you don't have 24 hours to wait, 4 hours will do in a pinch.

Beat the eggs in a large bowl and set aside.

Mix the two flours with the dredge spices in another large bowl and set aside.

Remove the chicken from the fridge and take out a piece. Wipe off any excess marinade and then dip the chicken into the beaten egg. Make sure it's all covered then remove and gently shake off any excess.

Toss the chicken into the flour mix and jiggle around until it's completely coated in flour. Remove and gently shake any excess. Arrange on a large platter or baking sheet in a single layer. Leave to 'set' for 10 minutes or so. This will help the flour stick to the chicken.

Heat a large deep frying pan or skillet with about 2 inches of oil over a moderate heat until the oil reaches a temperature of about 350ºF/180ºC. Carefully place 4-5 pieces of chicken into the pan. They should sizzle but not too rapidly. Let them cook for around 12-15 minutes or until cooked through.

The internal temperature of fully cooked chicken is about 165ºF/85ºC. Place a thermometer into the ticket part to test, or cut open a test piece to see if it's fully cooked.

Remove the cooked chicken and place on waiting paper towels to drain the excess oil. Repeat with all the chicken.

You can keep your chicken warm in a preheated 200ºF/100ºC oven while you cook the rest.

Serve hot for best results with some jasmine rice, salad and a bowl of Malaysian sambal sauce. I also like to sprinkle with fiery red chillies and serve a few lime wedges alongside to squeeze over.
Notes
Serving suggestion: I enjoy accompanying mine with either plain boiled jasmine rice or coconut jasmine rice, along with some salads and a generous portion of sambal sauce. Additionally, I always include a few lime wedges to add a touch of citrus brightness.
Serving instructions: It is recommended to serve the dish immediately, but if needed, you can keep it warm in the oven at a low temperature. Alternatively, you can warm it from a cold state in the oven at a medium heat until it is hot.
Leftovers: If there are any leftovers, they can be stored in the refrigerator and will remain fresh for 4-5 days. They can be reheated or enjoyed cold. Another delightful option is to slice any remaining chicken and use it in a salad.
Freezing advice: While freezing the cooked dish is not ideal, you can freeze the chicken in its marinade for 3+ months. Remember to fully defrost the chicken before cooking it.
Nutrition
Calories:
759
kcal
(38%)
|
Carbohydrates:
46
g
(15%)
|
Protein:
39
g
(78%)
|
Fat:
46
g
(71%)
|
Saturated Fat:
10
g
(63%)
|
Polyunsaturated Fat:
11
g
|
Monounsaturated Fat:
21
g
|
Trans Fat:
0.2
g
|
Cholesterol:
245
mg
(82%)
|
Sodium:
713
mg
(31%)
|
Potassium:
777
mg
(22%)
|
Fiber:
5
g
(21%)
|
Sugar:
12
g
(13%)
|
Vitamin A:
941
IU
(19%)
|
Vitamin C:
2
mg
(2%)
|
Calcium:
89
mg
(9%)
|
Iron:
6
mg
(33%)