Vitello Tonnato (Veal with Tuna & Anchovy Sauce)
Vitello Tonnato features the unlikely partnership of juicy veal with the most amazing Tuna Mayonnaise sauce. Once you discover this Italian gem, you'll never want to eat veal any other way. Truly Italian, Truly delicious.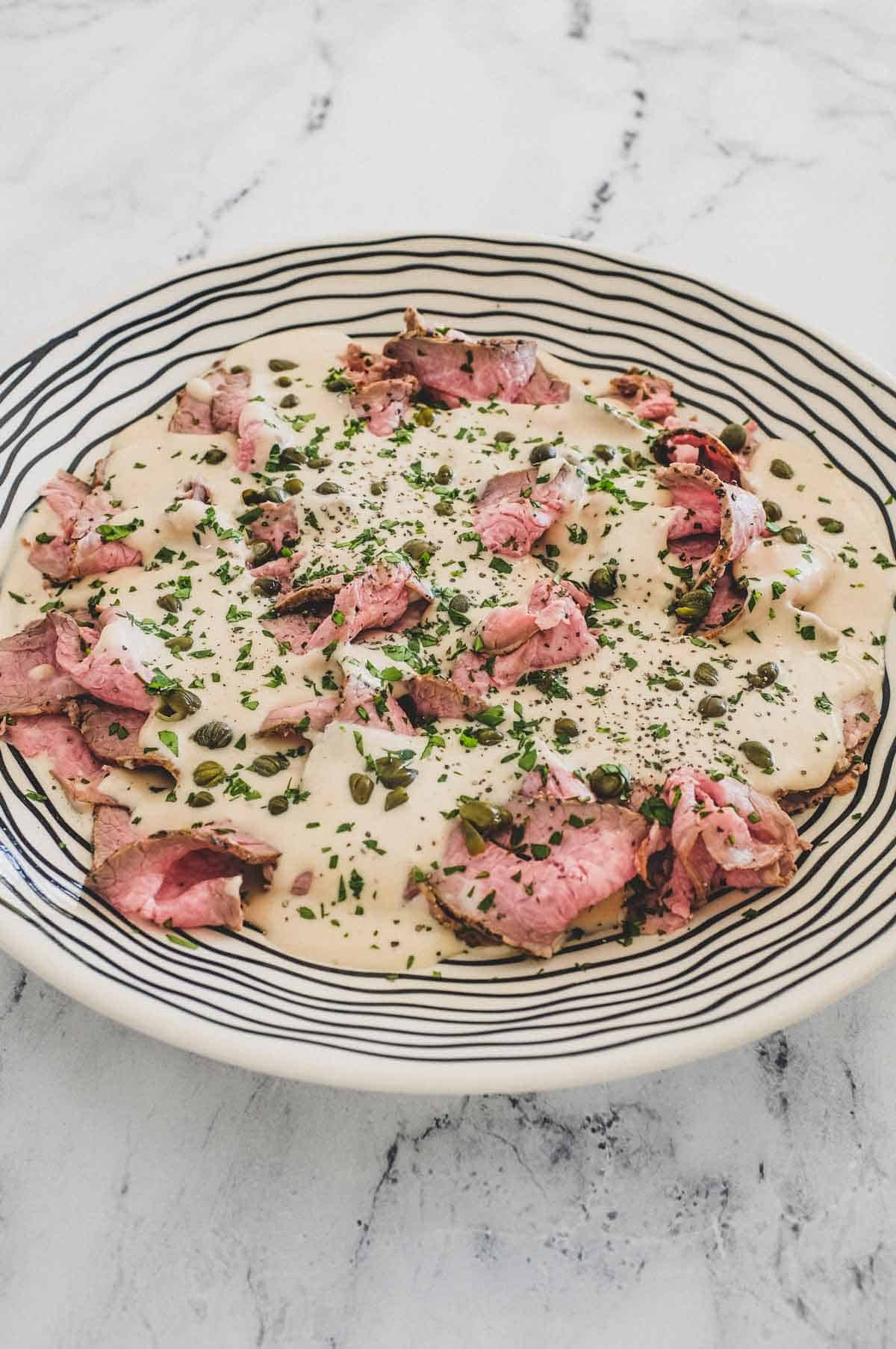 "Where has this been my entire life?!" I exclaimed, sitting outside the wonderful La Drogeria restaurant in the city of Bologna one balmy summer evening. My ignorance of the very spectacular Vitello Tonnato was shameful. How had I not experienced this before!? For those similarly in the dark, let me share the joy!
What is Vitello Tonnato?
In Italian, vitello means 'veal' and tonnato, 'tuna sauce'. Now if the thought of veal and tuna doesn't sound the most appetising, you'd be very very wrong! It is quite unlike anything you've ever tasted before and I mean in a very good way.
The tuna plays its part in creating a wonderful, umami hit in the rich, glossy mayonnaise-style sauce. Together with anchovies, it becomes a bright, glossy, salty flavour-bomb. It's the perfect match for the meaty, tender veal slices.
Vitello Tonnato is a Northern Italian dish, hailing from Piedmont. The dish traditionally uses veal, but tonnato sauce can also be paired with other meats like beef (veal is beef obviously), pork, poultry and lamb too. I would imagine it's great with fish too... And vegetables! I'll often have leftover sauce poured over hot boiled fingerling potatoes, which is an utter delight.
It's traditionally a summer dish, but in Argentina where it's hugely popular (thanks to Italian immigrants), 'Vitel tonnè' is a popular Christmas dish.
Which cut of veal should you use?
Traditionally, a rump/round cut is used but if I can find veal tri-tip, I'll use that. Both give juicy, tender slices when cooked. Typically the meat is poached with aromatics like peppercorns, fennel and onion, but I mostly roast mine.
I find roasting more convenient and don't think it detracts from the flavour - all of the taste comes from the intense sauce after all. Veal can be tricky to find, so as I said earlier, beef is just fine. If you're Italian and have other ideas... let me know in the comments. :)
Stuff you'll need
In essence, Vitello Tonnato is simple to make at home. You just need a few good quality ingredients to make the magic happen. Here are the key flavours.
Veal - Traditionally prepared with veal, but as mentioned above many other meats can be used. If I don't have veal, pork is my next go-to. My Vitello Tonnato recipe shows how to cook two cuts of veal or beef - rump and tri-tip.
Canned/Jarred tuna - The magical sauce would not be possible without the presence of preserved tuna. Buy good quality tuna in oil or water for the best flavour and texture.
Anchovies - again, good quality anchovies are essential. They bring an amazing umami burst of salty flavour to the sauce.
Lemon - to counter all the intense saltiness, lemon adds its burst of sweet/sour citrus.
Eggs & Oil - We're making our own mayonnaise, so eggs and oil make up the final ingredients to our delicious tuna sauce.
Capers - For a splendid pop of tart saltiness, capers are scattered over the finished dish.
Step by Step
There are many ways of preparing the veal. Some recipes choose to poach the meat with aromatics, I prefer to roast the meat.
Step 1 - Roast the meat.

There's a recipe below for tri-tip and rump cuts. Essentially, you just need to have cooked meat, so if you're not using veal prepare your choice how you like it. Once cooked, cool to room temperature and then refrigerate until needed.

Refrigerating the meat enables you to cut it into thin slices more easily.
Step 2 - Make the Mayonnaise.

Making mayonnaise is not difficult - it's simply egg yolks whisked with oil. I use a balloon whisk and make it by hand - I have more control of the texture and the sauce never splits! Once you learn how to make your own mayo, you'll never buy store bought again!

Step 3 - Puree the tuna & anchovies

until smooth

Step 4 - Combine the mayonnaise with the puree and season with lemon juice and pepper.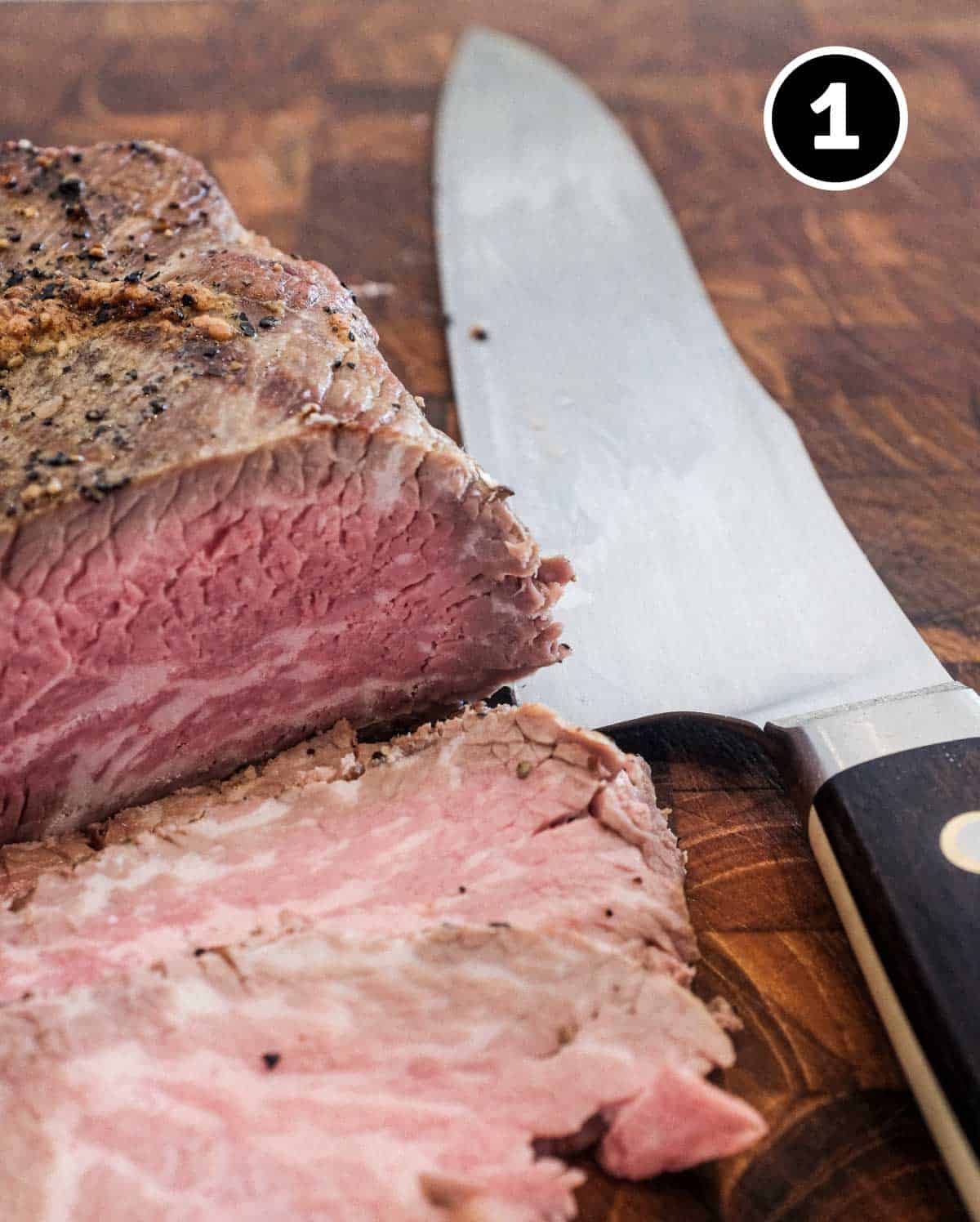 Take the meat from the fridge and slice into thin slices. Arrange in a single layer on a large platter and then generously (and I mean generously) top with the creamy Tonnato sauce. Garnish with parsley, pepper and juicy capers.
How to serve Vitello Tonnato
Vitello tonnato is a dish best served later. Once you've made and arranged it on the platter, it's a wonderful idea to pop it in the fridge and wait a day or two (YES, a DAY or TWO) before eating. The flavour of the sauce noticeably improves with time. Vitello Tonnato is best served at room temperature, so whichever way you choose to eat it, make sure it has time to come to temperature first.
It's a dish often served as part of an antipasti, to be eaten before a main course. I love to serve lots of bread with mine and a simple plate of crunchy lettuce 'cups' to pop a little sauce and meat on. Belissimo!
Storing suggestions
Vitello Tonnato should be stored in the fridge, well covered and eaten within 5-6 days. It's not suitable for freezing.
Ready to get cooking?
Once you taste the delights of Vitello Tonnato, I'm convinced you'll never want to eat sliced meat in any other way. A triumph of flavour and texture and a marvel of meat and fish together. It's one of my most favourite dishes in the World.
Any Questions? (FAQ)
Have a question about Vitello Tonnato? Ask me in the comments below.
What cut of veal to use for Vitello Tonnato?
I like to use rump or tri-tip if I can get it. They stay juicy and are great when sliced thinly. If you can't get veal, try beef, pork, lamb or even duck.
What to serve with Vitello Tonnato?
My favourite thing to serve is simply bread. There's so much going on with this dish that you don't really need to complicate the flavour with more. That said, I find that baby- gem lettuce slices are a great way to give a little crunch alongside being the perfect vehicle to hold a little meat and sauce.
What does Vitello Tonnato mean? - tunnied veal or veal in tuna sauce.
The literal translation is Veal in Tuna Sauce. It's derived from the term 'tunnied' meaning 'in tuna'.
Where is Vitello Tonnato from?
The dish was popularised in Italy, but the recipe actually derives from older French and English preparations of the 18th C.
More delicious Italian recipes
If you're creating an Italian spread, be sure to explore and cook some of my other delicious recipes.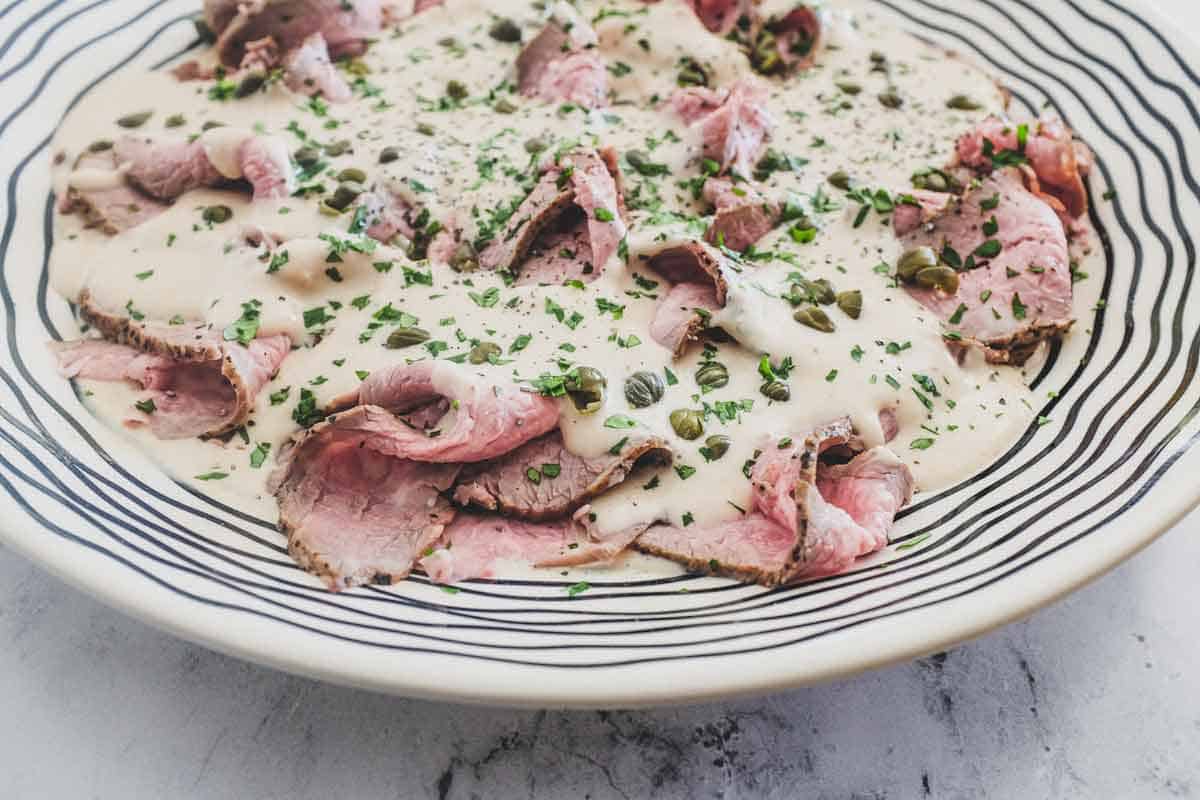 Vitello Tonnato
Rate this recipe
Print Recipe
Pin Recipe
Save Recipe
Go to Collections
Calories (per serving) |
602
Ingredients
2.5

lb

veal rump or tri-tip

(roasted and cooled)
For the Tonnato Sauce
12

anchovies

(salted)

2

cups

olive oil

(if your tuna or anchovies are in olive oil, add the drained oil to the mix and make up the rest with regular olive oil).

2

egg yolks

1

lemon

12

oz

good quality tuna

(350g) canned or jarred in olive oil or water (drained).

3

tbsp

capers

1

tbsp

parsley

(finely chopped)

pepper
Instructions
Roasting the veal (tri-tip)
Pre-heat oven to 420ºF/215ºC

Season the veal with salt & pepper. Sear the meat in a hot pan, on both sides for 1 minute.

Place in the oven and cook for 10 minutes per lb.

So, a 2.5lb tri-tip will take around 25-30 minutes. Check after 20 minutes and remove when the internal temp is 135ºF.
Roasting the veal (rump)
Preheat oven to 350ºF/180ºC

Season the veal with salt & pepper. Sear the meat on all sides in a hot pan.

Place the veal into a roasting tin and roast for 13-15 minutes per lb.

So, a 2.5lb veal rump would take around 30-45 minutes. Check after 30 minutes and remove when the internal temp is around 135ºF

Cover the meat and let it cool completely. Wrap in foil and refrigerate until needed.
Making the tonnato sauce
Place the egg yolks and juice of ½ lemon in a bowl. Using a balloon whisk, whisk the yolks until well combined and creamy.

Drizzle around 1tbsp olive oil into the yolks and whisk well to combine. Add another tablespoon and whisk again. Repeat this process a couple more times. The mayonnaise should start to emulsify and become thick, you can now start to drizzle the olive oil in a thin stream as you whisk until you've used it all.

Don't add the oil too quickly as the mayonnaise will split and become unsalvageable.

Drain the tuna and flake into a food processor. Add the anchovies and a little black pepper.

Add 2-3 tbsp of the mayonnaise and then blend until smooth.

Stir the tuna mix into the remaining mayonnaise.

If the sauce is too thick, dilute with a little water. You need a thick sauce, but still a little pourable.

Take the chilled veal and using a sharp knife, slice the meat into very thin slices.

On a serving platter, spread a thin layer of tonnato sauce. Arrange the veal in a layer over the sauce. Pour over the remaining sauce to cover most of the veal.

Sprinkle generously with the capers and parsley.

Serve with a few lemon wedges.
Notes
Refrigerating the meat before slicing
If you refrigerate the meat after it has cooled it will be much easier to cut into thin slices. Vitello Tonnato works well with finely sliced meat, so this is a great way to get that authentic appearance.
Make in advance
I prepare my vitello tonnato well in advance to let the flavour develop. You can make yours up to 4 days in advance and keep in the fridge. This REALLY makes a wonderful difference. It's not essential, but try both and you'll agree I'm sure. Remove about 1 hour before you want to eat to come to room temperature. The flavour is better at room temperature!
Use any leftover sauce
If there's any leftover sauce, try tossing some freshly boiled baby potatoes into the mix. They're absolutely divine!
Make a tuna burger! This is one of the most delicious ways to use up some sauce. I seared a thick tuna or swordfish steak on the BBQ grill and popped into a burger bun with rocket and lettuce, red onion slices and a healthy dollop of Tonnato sauce. Divine!
It's also just amazing with some French fries!
Nutrition
Calories:
602
kcal
(30%)
|
Carbohydrates:
3
g
(1%)
|
Protein:
31
g
(62%)
|
Fat:
53
g
(82%)
|
Saturated Fat:
10
g
(63%)
|
Cholesterol:
147
mg
(49%)
|
Sodium:
252
mg
(11%)
|
Potassium:
485
mg
(14%)
|
Fiber:
1
g
(4%)
|
Sugar:
1
g
(1%)
|
Vitamin A:
112
IU
(2%)
|
Vitamin C:
18
mg
(22%)
|
Calcium:
43
mg
(4%)
|
Iron:
2
mg
(11%)