Thin slices of veal are topped with the most flavoursome tuna & anchovy sauce – Vitello Tonnato is one of Italy's most delicious dishes, and the good news is that it's not at all difficult to make at home… Want to learn how?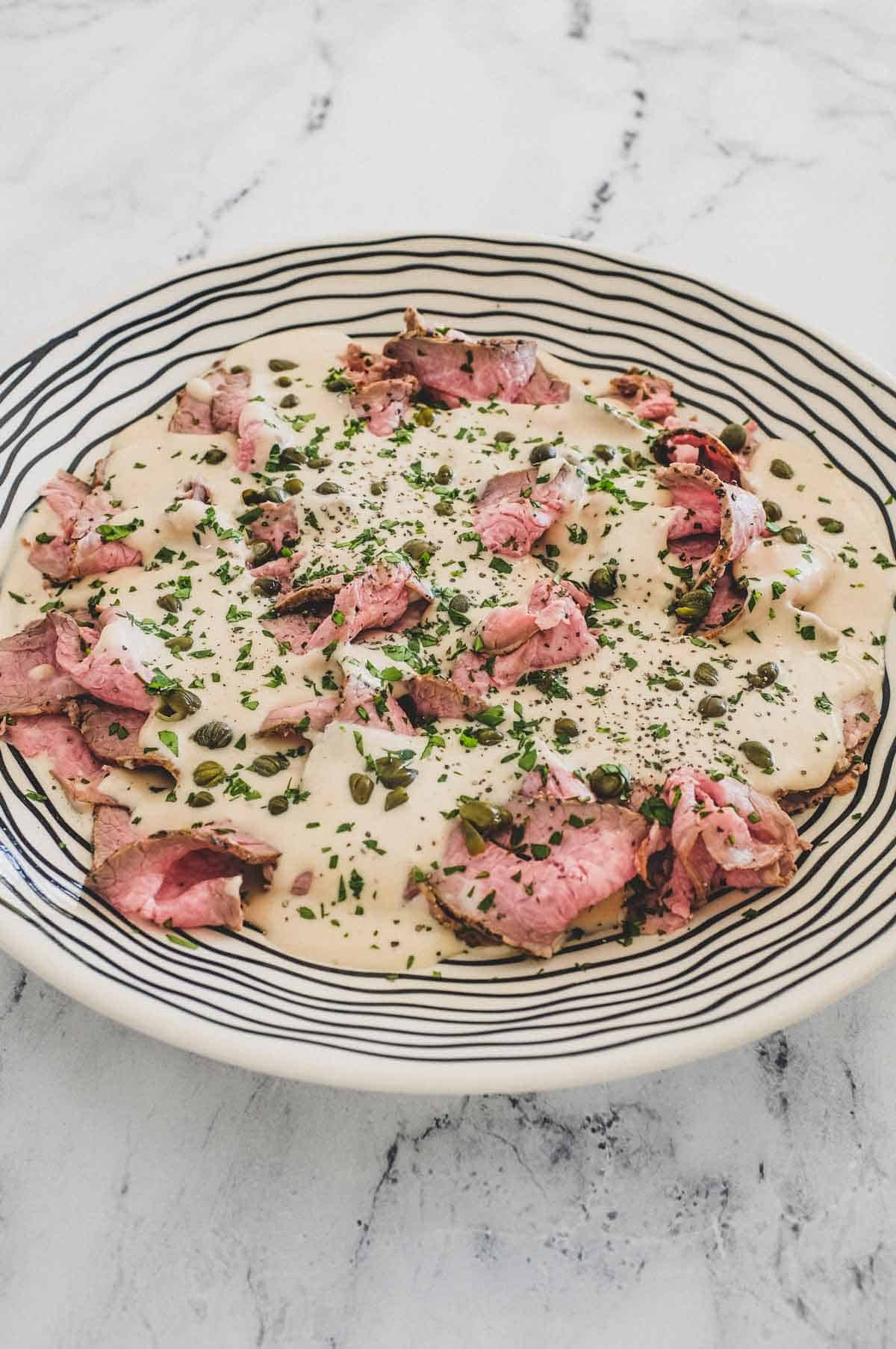 "Where has this been my entire life?!" I exclaimed, sitting outside the wonderful La Drogeria restaurant in the city of Bologna one balmy summer evening. My ignorance of the very spectacular Vitello Tonnato was shameful. How had I not experienced this before!? For those similarly in the dark, let me share the joy!
What is Vitello Tonnato?
In Italian, vitello means 'veal' and tonnato, 'tuna sauce'. Now if the thought of veal and tuna doesn't sound the most appetising, you'd be very very wrong! It is quite unlike anything you've ever tasted before and I mean in a very good way. The tuna plays its part in creating a wonderful, umami hit in the rich, glossy mayonnaise-style sauce. Together with anchovies, it becomes a bright, glossy, salty flavour-bomb. It's the perfect match for the meaty, tender veal slices.
Vitello Tonnato is a Northern Italian dish, hailing from Piedmont. The dish traditionally uses veal, but tonnato sauce can also be paired with other meats like beef (veal is beef obviously), pork, poultry and lamb too. I would imagine it's great with fish too... And vegetables! I'll often have leftover sauce poured over hot boiled fingerling potatoes, which is an utter delight.
It's traditionally a summer dish, but in Argentina where it's hugely popular (thanks to Italian immigrants), 'Vitel tonnè' is a popular Christmas dish.
What cut of veal should I use?
Traditionally, a rump/round cut is used but if I can find veal tri-tip, I'll use that. Both give juicy, tender slices when cooked.  Typically the meat is poached with aromatics like peppercorns, fennel and onion, but I mostly roast mine. I find roasting more convenient and don't think it detracts from the flavour - all of the taste comes from the intense sauce after all. Veal can be tricky to find, so as I said earlier, beef is just fine. If you're Italian and have other ideas... let me know in the comments. :)
Making Tonnato sauce
Tonatto sauce is created exactly as you would making a mayonnaise, egg yolks are whisked with olive oil until thick and creamy. Lemon juice is added and then pureed tuna and anchovies.
1. A simple mayonnaise of egg yolks and olive oil are combined with lemon juice.
2. A combination of anchovies and tuna are pureed with a little of the mayonnaise.
3. The pureed tuna and anchovies are then combined and watered down a little to create the tonnato sauce.
4. The sauce is then generously poured over thin slices of veal and scattered with capers and parsley.
Developing the flavours - How to serve Vitello Tonnato
Vitello tonnato is a dish best served later. Once you've made and arranged it on the platter, it's a wonderful idea to pop it in the fridge and wait a day or two before eating. The flavour of the sauce noticeably improves with time. Vitello Tonnato is best served at room temperature, so whichever way you choose to eat it, make sure it has time to come to temperature first. I'm sure you'll agree - this is one of Italy's finest gifts to the world - splendidly flavoursome and guaranteed to impress at any Italian feast.
More delicious Italian recipes.
If you're creating an Italian spread, be sure to explore and cook some of my other delicious recipes.
How to make my Vitello Tonnato (Veal with Tuna & Anchovy Sauce)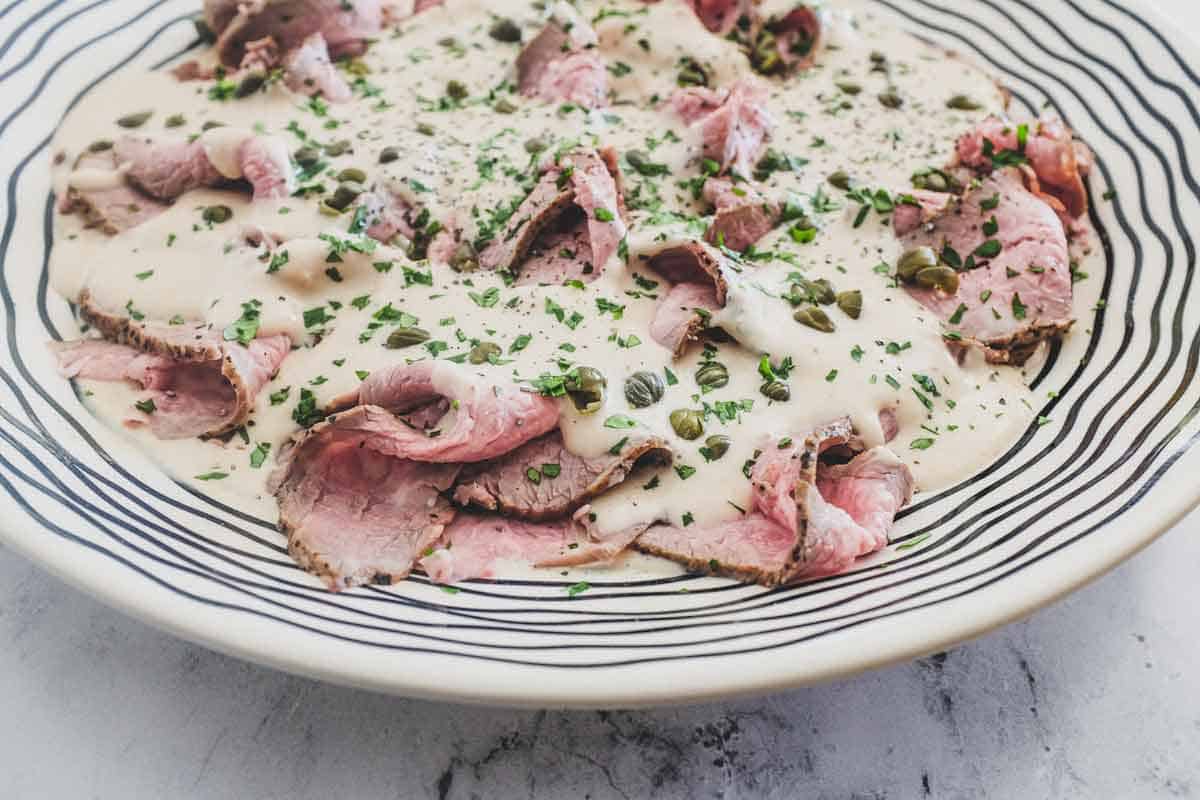 Vitello Tonnato
Rate this recipe
Print Recipe
Pin Recipe
Calories (per serving) |
602
Ingredients
2.5

lb

veal rump or tri-tip

(roasted and cooled)
For the Tonnato Sauce
12

anchovies

(salted)

2

cups

olive oil

(if your tuna or anchovies are in olive oil, add the drained oil to the mix and make up the rest with regular olive oil).

2

egg yolks

1

lemon

12

oz

good quality tuna

(350g) canned or jarred in olive oil or water (drained).

3

tbsp

capers

1

tbsp

parsley

(finely chopped)

pepper
Instructions
Roasting the veal (tri-tip)
Pre-heat oven to 420ºF/215ºC

Season the veal with salt & pepper. Sear the meat in a hot pan, on both sides for 1 minute.

Place in the oven and cook for 10 minutes per lb.

So, a 2.5lb tri-tip will take around 25-30 minutes. Check after 20 minutes and remove when the internal temp is 135ºF.
Roasting the veal (rump)
Preheat oven to 350ºF/180ºC

Season the veal with salt & pepper. Sear the meat on all sides in a hot pan.

Place the veal into a roasting tin and roast for 13-15 minutes per lb.

So, a 2.5lb veal rump would take around 30-45 minutes. Check after 30 minutes and remove when the internal temp is around 135ºF

Cover the meat and let it cool completely. Wrap in foil and refrigerate until needed.
Making the tonnato sauce
Place the egg yolks and juice of ½ lemon in a bowl. Using a balloon whisk, whisk the yolks until well combined and creamy.

Drizzle around 1tbsp olive oil into the yolks and whisk well to combine. Add another tablespoon and whisk again. Repeat this process a couple more times. The mayonnaise should start to emulsify and become thick, you can now start to drizzle the olive oil in a thin stream as you whisk until you've used it all.

Don't add the oil too quickly as the mayonnaise will split and become unsalvageable.

Drain the tuna and flake into a food processor. Add the anchovies and a little black pepper.

Add 2-3 tbsp of the mayonnaise and then blend until smooth.

Stir the tuna mix into the remaining mayonnaise.

If the sauce is too thick, dilute with a little water. You need a thick sauce, but still a little pourable.

Take the chilled veal and using a sharp knife, slice the meat into very thin slices.

On a serving platter, spread a thin layer of tonnato sauce. Arrange the veal in a layer over the sauce. Pour over the remaining sauce to cover most of the veal.

Sprinkle generously with the capers and parsley.

Serve with a few lemon wedges.
Notes
I prepare my vitello tonnato well in advance to let the flavour develop. You can make yours up to 4 days in advance and keep in the fridge. This REALLY makes a wonderful difference.
Remove about 1 hour before you want to eat to come to room temperature. 
Nutrition
Nutrition Facts
Vitello Tonnato
Amount Per Serving
Calories 602
Calories from Fat 477
% Daily Value*
Fat 53g82%
Cholesterol 147mg49%
Sodium 252mg11%
Potassium 485mg14%
Carbohydrates 3g1%
Protein 31g62%
Vitamin A 112IU2%
Vitamin C 18mg22%
Calcium 43mg4%
Iron 2mg11%
* Percent Daily Values are based on a 2000 calorie diet.
This site contains affiliate links to products. We may receive a commission for purchases made through these links. Learn more.