Supplì (Italian Rice Balls)
If there's one Italian snack I had to call my favourite, it's Supplì (Italian Rice Balls). Addictive crunchy risotto balls, stuffed with cheese and coated in breadcrumbs, then deep fried into something quite magical.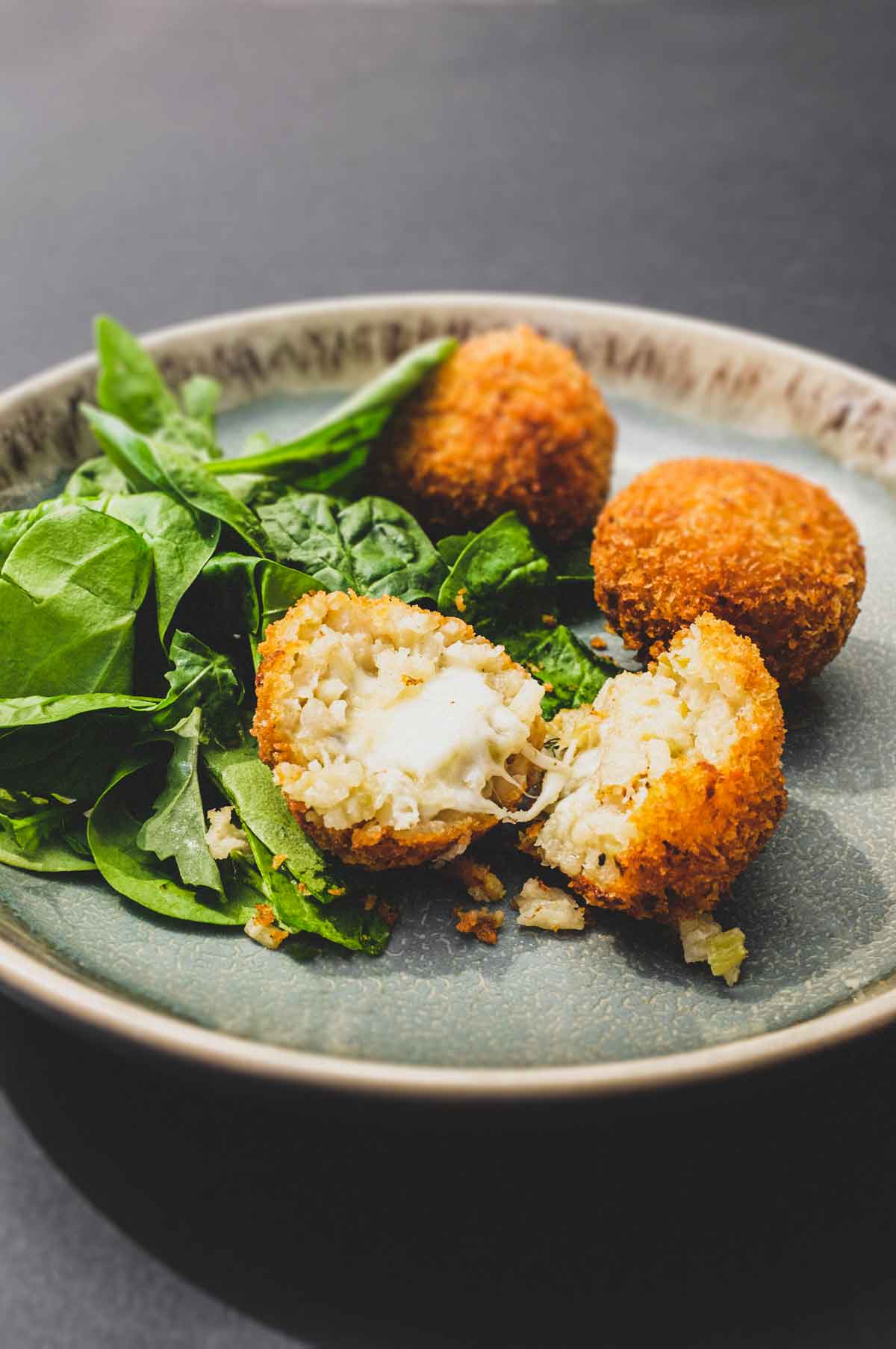 All across Lazio, the region including Rome, tiny rice croquettes known as supplì are enjoyed. Like their big Sicilian cousins 'arancini', supplì are the perfect bite-sized vehicles of flavour and texture – and completely addictive.
Supplì are perfect for any get together - a splendid finger food, you can cook them in advance and then pop in the oven for 5-10 minutes to warm through. Excellent served with a simple marinara sauce to dip them into. I also love a home made garlic aioli to act as a dip. Delicious! They're also great snacks, served at room temperature, but be careful - a snack can easily turn into a meal where Supplì are concerned.
What are Supplì?
Supplì are an Italian fried rice ball from the Lazio region. A simple street food made from cooled risotto that is rolled into balls or sausage shapes, stuffed with cheese then breaded and deep fried. They're served in friggitorie (shops that sell fried food), bakeries, pinsa (Roman pizza) shops, and delis across the region. They're often called 'Supplì al Telefono' (Supplì on the Telephone) as the stringy cheese is said to resemble a telephone wire! The word Supplì is derived from the French word for surprise which can only refer to this hidden stuffing.
Supplì are made using risotto rice like arborio, carnaroli or vialone nano. A short grain rice that has a lot of starch, and ensures creamy results. When it cools it becomes thick and malleable, perfect for shaping supplì.
Why they work!
They're crunchy – The breaded outer layer becomes a crisp, crunchy deep-fried delight.
They're creamy – Inside, the risotto is a creamy, soft texture that's a splendid counter to the crunchy outer layer.
They're cheesy – The surprise is the stringy, gooey cheese stuffed inside. Usually mozzarella (sometimes smoked), I'll use cubes of taleggio, fontina, provolone and even gorgonzola from time to time.
They're easy - Once you have your risotto, they're easy to make at home. They're also a great Kids activity to shape and stuff. Just be sure to not let your child deep fry anything!
Stuff you'll need
My recipe is for the supplì element only, and not the initial risotto, so to find a good risotto recipe, try my delicious Fennel Risotto or even my Beetroot Risotto (both work SO WELL for supplì). Here are the key flavours.
Cooked Risotto – You decide which flavour, but try one of my risotto recipes

for sure!

Panko Breadcrumbs – regular breadcrumbs are traditional, but Japanese panko breadcrumbs are better in my opinion, they have a superior crunch! They're one third of the breading station of flour, egg and breadcrumb.
Cheese – mozzarella, scamorza, taleggio, fontina or provelone to stuff the supplì. It's the cheesy surprise that everyone loves the most.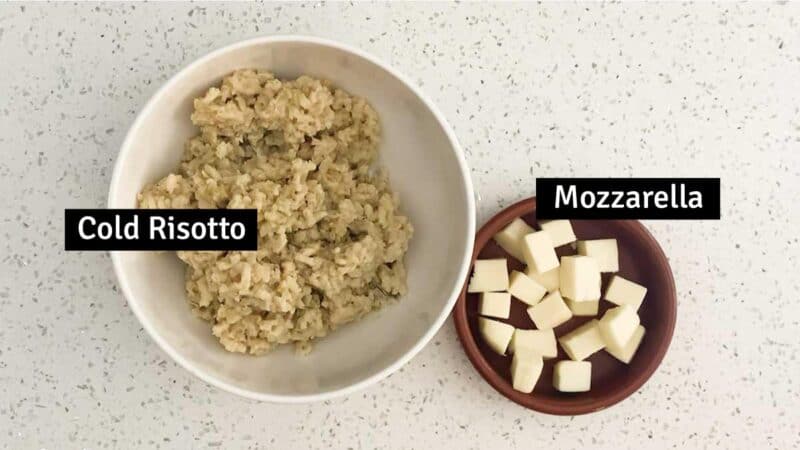 Step by Step
Creating suppli is very easy once you have your risotto ready. Make that the day before and you're ready to roll.
Step 1 -

Make a breading station – arrange three bowls and place the flour in one, the egg in another and the breadcrumbs in the final one.

Step 2 -

Roll a ping pong ball sized amount of rice in your hands to form a ball. Using a finger, make a deep hole into the centre and place a cube of cheese into the hole. Gently cover over the cheese and re roll the ball.

Step 3 -

Toss the ball into the flour and shake a little to remove the excess. Dip the ball into the beaten egg and shake to remove the excess, then finally toss the wet ball into the breadcrumbs to coat completely.

Optional - At this stage, you can gently shape the ball into a short, thick sausage shape that is a common, traditional shape for supplì, or like me, leave as a ball.
Step 4 -

Leave to dry a little (10-20 minutes) to help the breadcrumbs stick. You can stop at this stage if you're making in advance.

Step 5 -

Heat the oil until it's around 175ºC/350ºF. Add small batches of supplì at a time to fry for about 5 minutes until golden brown. Drain on paper towels and that's it.

Step 6 - Serve hot, warm or at room temperature!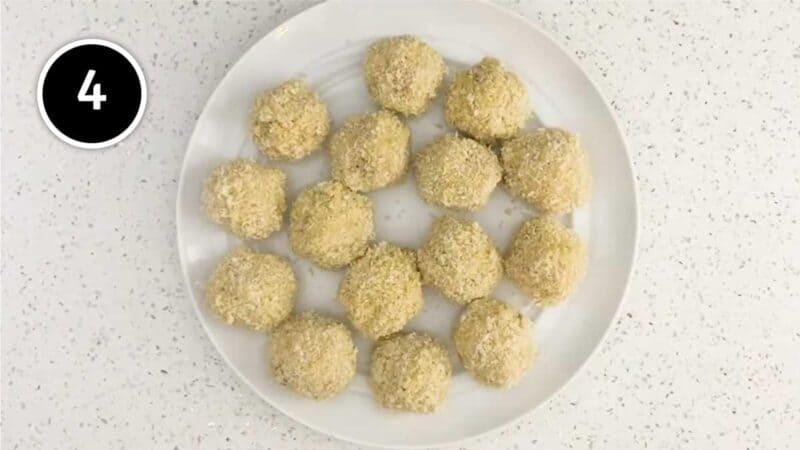 Pro Tips to make your life easier
In order to make sure you get a good amount, my Supplì recipe uses a full portion of risotto. This version used my delicious Fennel Risotto. I'll generally double up on the recipe, so that I have a guaranteed portion of leftovers. I'll then try to stop myself eating it all in one sitting. Make sure you let the risotto go completely cold - this will create the thick homogenous texture you'll need to shape the balls. Next day risotto is the best - pop it in the fridge until you're ready to roll.
Serving and storing suggestions
Flavours. Imagine that any risotto can make a supplì, so the flavour combinations are endless. That's part of the eating surprise. Traditionally, they're either a plain risotto or including tomato and often ground beef. That said, my favourite versions are mushroom, fennel, beetroot and saffron stuffed with whatever cheese I have, I particularly love taleggio or a super stringy smoked mozzarella or scarmoza.
Serving. Supplì can be served as a simple snack or appetiser either hot or at room temperature. They're often served alongside a simple tomato marinara sauce to use as a dip. Personally, I love them served with a homemade garlic mayonnaise (aoli).
Make in advance. Follow the recipe until you've breaded them and then refrigerate for up to day (covered in plastic wrap). Then deep fry when you're ready.
Refrigerating. Once cooked, you can store them in the fridge for 2-3 days.
Freezing. Make the supplì in advance up to the deep frying stage. Freeze in a single layer on a tray until solid, then tip into a bag, this will help avoid them sticking together.
Reheating. Cook on a tray in a 200ºC/395ºF oven for 5-10 minutes until hot.
Ready to get cooking?
Once you've made your first supply of supplì, you'll see why they're so beloved in Italy. The thought of cooking risotto for me is twofold. I know I'm going to get two delicious meals out of one simple dish. I love a creamy risotto as a meal and I adore the bi-product of supplì equally. Win, win! I hope you agree…
Any Questions? (FAQ)
Have a question about supplì? Let me know in the comments.
What is the difference between supplì and arancini?
Arancini, a Sicilian innovation are much larger than suppli and are commonly stuffed with cheese and/or meat ragu. They're essentially the same in process, only their size and shape differ. Arancini are shaped as large balls or more traditionally pear shaped.
What is supplì called In English?
There's not a direct translation, but 'Italian Rice Balls' would be a good start. The name is derived from the French word for 'surprise' which likely relates to the hidden cheese stuffing.
More Italian recipes
If you liked this recipe for supplì, you'll be sure to love some or all my favourite Italian recipes. Be sure to let me know in the comments.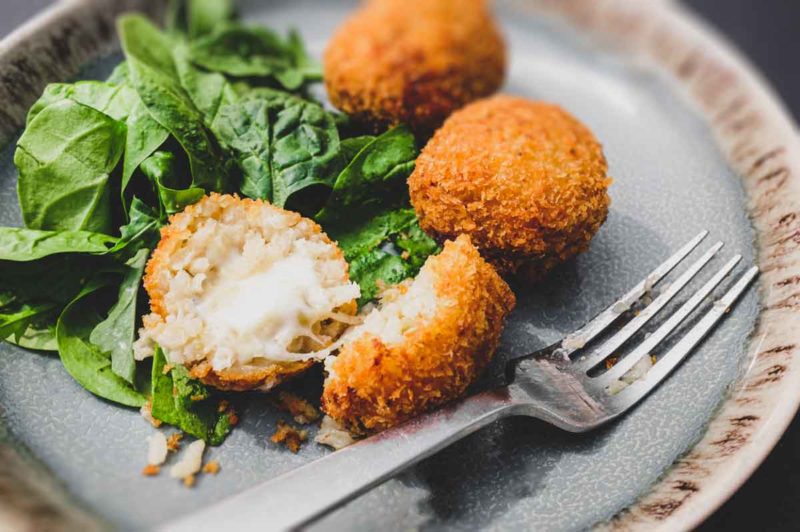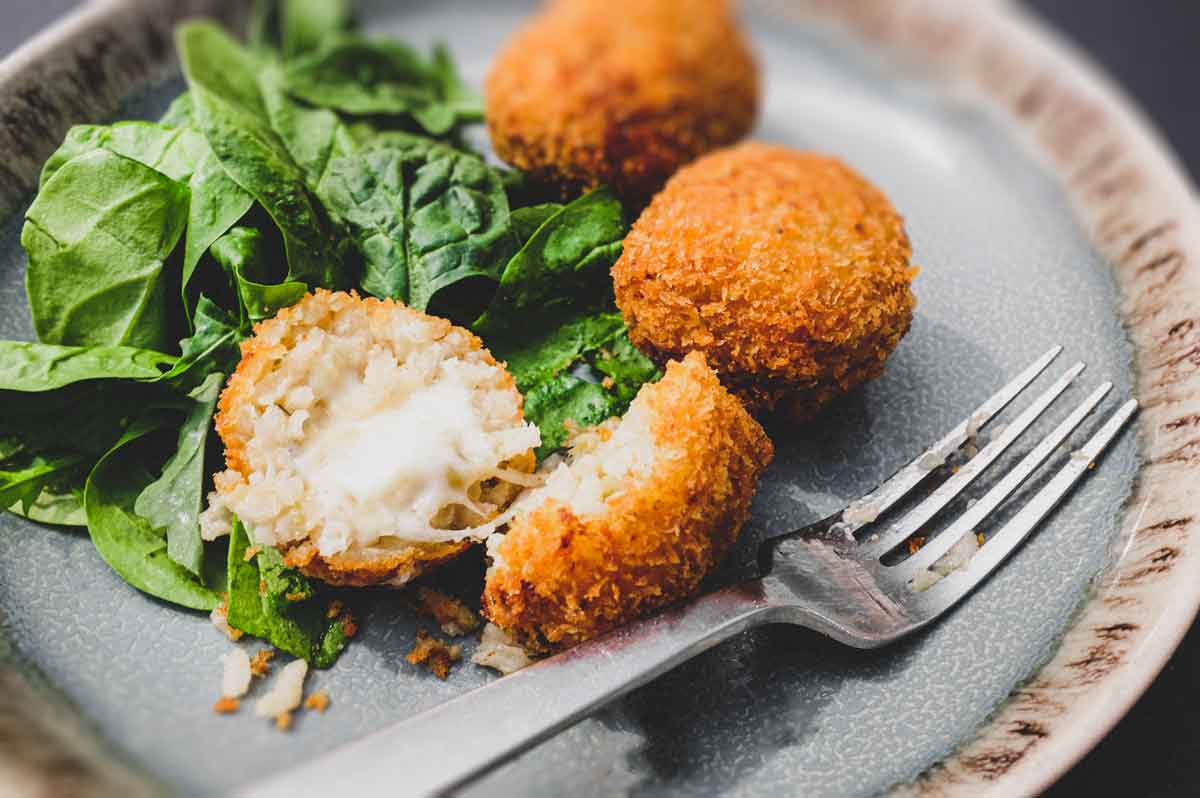 Supplì (Italian Rice Balls)
Rate this recipe
Print Recipe
Pin Recipe
Save Recipe
Go to Collections
Calories (per serving) |
492
Instructions
Set up your breading station:

Bowl 1: Flour

Bowl 2: Egg

Bowl 3: Breadcrumbs

Take a small amount of the cold risotto and roll into a ball about the size of a ping pong ball. Press a finger into the centre to make an indent. Place a cube of mozzarella into the hole then carefully resmooth the risotto over the cheese and then roll back into a ball.

Set aside while you repeat the process to use up all the risotto.

Add a risotto ball to the flour and roll around to coat. Take out and jigge a little to knock off the excess flour. Dip the Supplì into the egg and toss around to coat. Shake off the exess egg and then dip into the breadcrumbs. Toss around carefully to fully coat the Supplì then set aside on a plate.

Repeat this process with all the Supplì balls.

Heat around 2" (5cm) of canola oil over a moderate heat until around 350ºf (170ºc).

Using a slotted spoon or spider spoon, lower a few Supplì into the oil. 4-5 at a time will ensure the oil stays hot. If you put too many in at once, the oil will lose heat and you'll end up with greasy Supplì.

Deep fry the Supplì (moving them around freuqntly) for 4-5 minutes until browned. Remove and rest on paper towels while you cook the remaining Supplì.

That's it! Serve them hot with a sauce or at room temperature.

If you're reheating, heat an oven to 400ºf/200ºc and warm through for 5-10 minutes on a sheet pan.
Notes
Making in advance
You can prepare supplì in advance and stop before deep frying. Then, you can either refrigerate (covered) until you're ready or freeze until ready. To freeze, arrange in a single layer on a tray and freeze until solid. Then tip into a bag – the pre-freeze will help avoid them sticking together. Defrost thoroughly before frying.
You can make in advance by cooking completely and then either eat at room temperature or cook in a hot oven (200ºC/400ºF) for 5-10 minutes.
Ingredient Substitutions
The ingredients can differ wildly depending on what risotto you decide to make. Keep the risotto ingredients small (i.e. no big chunks of sausage or vegetables). My favourite risotto varieties are pea, mushroom, asparagus, beetroot, fennel, saffron and good old plain risotto.
The stuffing can vary too. My go to cheeses are mozzarella (look out for smoked mozzarella too), scarmoza, taleggio, fontina and gorgonzola.
Serving suggestions
I like to serve my supplì at parties as a snack, antipasti or appetiser. I'll often serve it with a simple dipping sauce, like a plain tomato marinara sauce or sometimes a delicious creamy homemade aioli (garlic mayonnaise).
I like to serve mine hot, but room temperature are good too.
Storage
Fridge: Once cooked, leftovers will stay fresh for 2-3 days in the fridge.
Fridge: Pre-prepared (before cooking) will stay fresh for 2 days in the fridge.
Freezer: Pre-prepared (before cooking) will stay fresh for 3+ months in the freezer. Defrost thoroughly before cooking.
Nutrition
Calories:
492
kcal
(25%)
|
Carbohydrates:
17
g
(6%)
|
Protein:
7
g
(14%)
|
Fat:
5
g
(8%)
|
Saturated Fat:
2
g
(13%)
|
Cholesterol:
38
mg
(13%)
|
Sodium:
246
mg
(11%)
|
Potassium:
60
mg
(2%)
|
Fiber:
1
g
(4%)
|
Sugar:
1
g
(1%)
|
Vitamin A:
135
IU
(3%)
|
Calcium:
112
mg
(11%)
|
Iron:
1
mg
(6%)