If there's one thing I might well love more than Italian risotto it's Supplì (Italian Rice Balls). Addictive cheese stuffed balls of leftover risotto, coated in breadcrumbs and deep fried into crunch, magical heaven. They're completely delicious and as you'll see, not at all difficult to make at home with your own clever hands.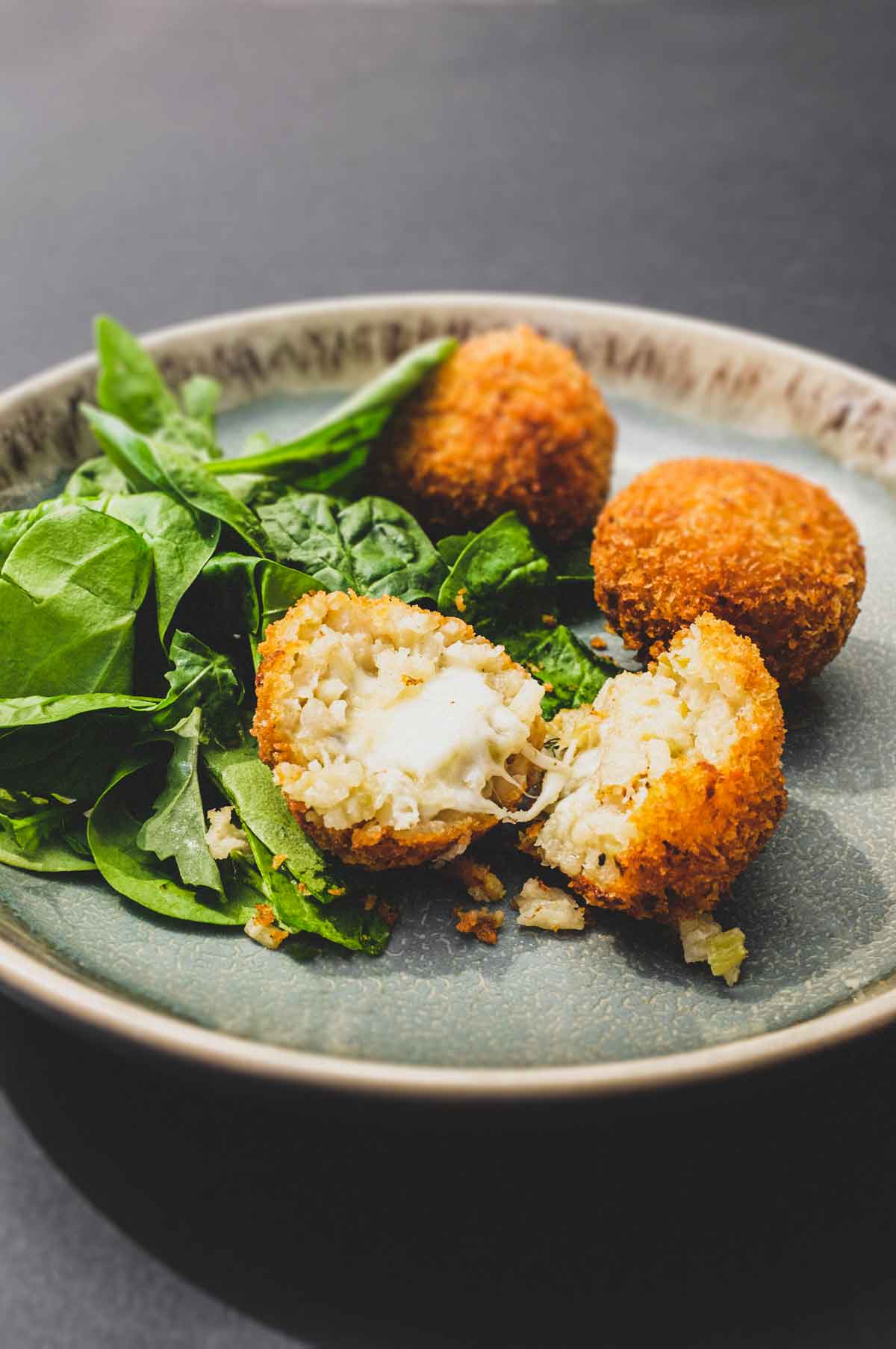 Supplì vs Arancini?
Supplì (Italian Rice Balls) and Arancini are to essentially the same thing. Supplì originated in the Lazio region of Italy and are generally smaller than Arancini which originated in Sicily. Supplì are stuffed most often with mozzarella cheese commonly served with simple tomato sauce. Arancini are stuffed with some type of ragu, often including peas and are are typically (bot not always) a larger conical shape. There are of course an array of local variations but, for the lay-person, Supplì and Arancini are much the same.
As they're typically smaller, Supplì offer the option to subtly eat an entire platter to myself. I'll tell myself I'm just eating one... then another, then another - you get the picture.
An extra Supplì of risotto.
In order to make sure you get a good amount, my Supplì recipe uses a full portion of risotto. This recipe used my delicious Fennel Risotto. I'll generally double up on a recipe of the risotto, so that I have a guaranteed portion of leftovers. I'll then try to stop myself eating it all in one sitting. Make sure you let the risotto go completely cold - this will create the thick homogenous texture you'll need to shape the balls. Next day risotto is the best - pop it in the fridge until you're ready to roll.
You can create authentic Supplì with any flavour of risotto, one of my favourites is mushroom, which I'll stuff with fontina or gorgonzola cheese. The most commonly used cheese is mozzarella, a squeaky elastic cheese - a wonderful surprise when you bite into your Supplì. They're simple to make at home, all you'll need is a breading station set up. Flour to coat, egg to give a sticky glue for the next step... breadcrumbs. I like to use Japanese Panko breadcrumbs. They have a larger crumb which give an amazing crunch when deep fried.
The perfect party food.
Supplì are perfect for any get together - a splendid finger food, you can cook them in advance and then pop in the oven for 5-10 minutes to warm through. Excellent served with a simple marinara sauce to dip them into. I also love a home made garlic aioli to act as a dip. Delicious! They're also great snacks, served at room temperature, but be careful - a snack can easily turn into a meal where Supplì are concerned.
Suggestions and other delicious Italian recipes
Like I said, you can use any flavour of risotto for your rice balls, which offers up an endless supply of flavour combinations. Subscribe to cookeatblog.com to receive my e-cookbook which features my basic risotto recipe. Try stuffing your Supplì with other types of cheese for more flavour combos. Once you've eaten your supply of Supplì, why not work your way through more of Cook Eat Blog's delicious authentic Italian recipes:
How to make my Supplì (Italian Rice Balls)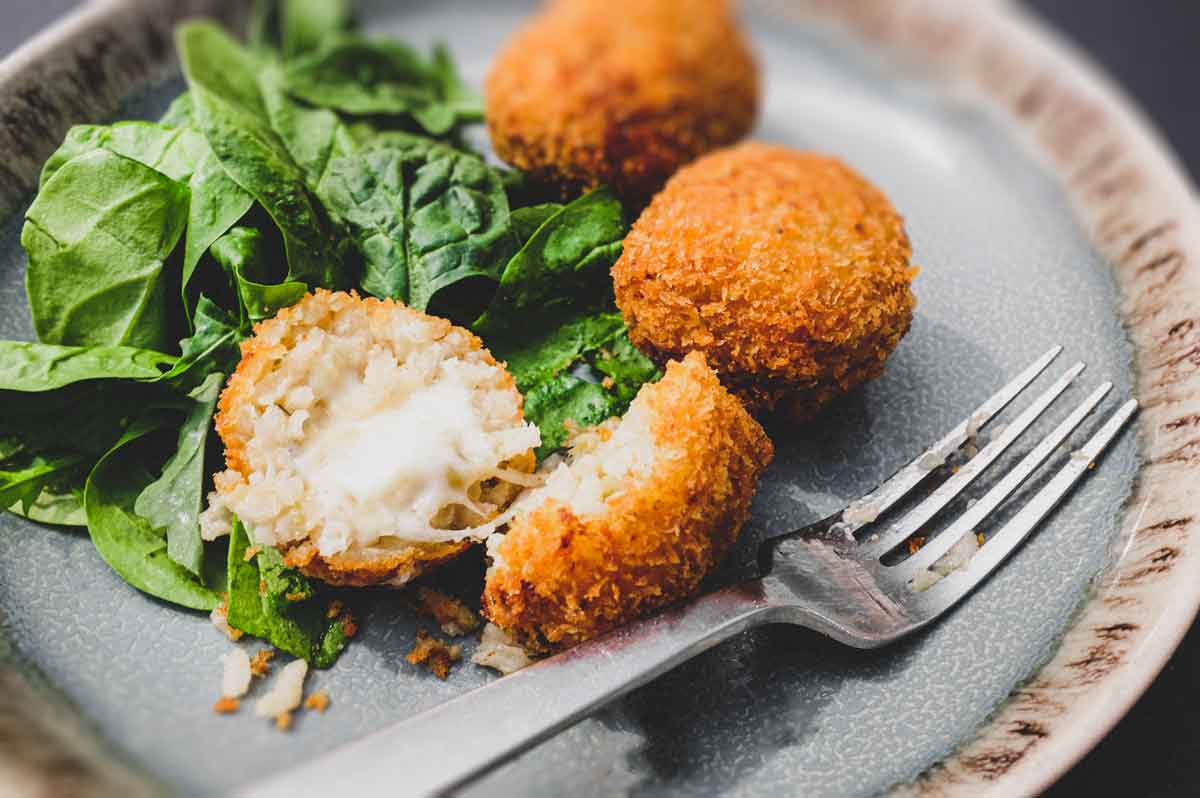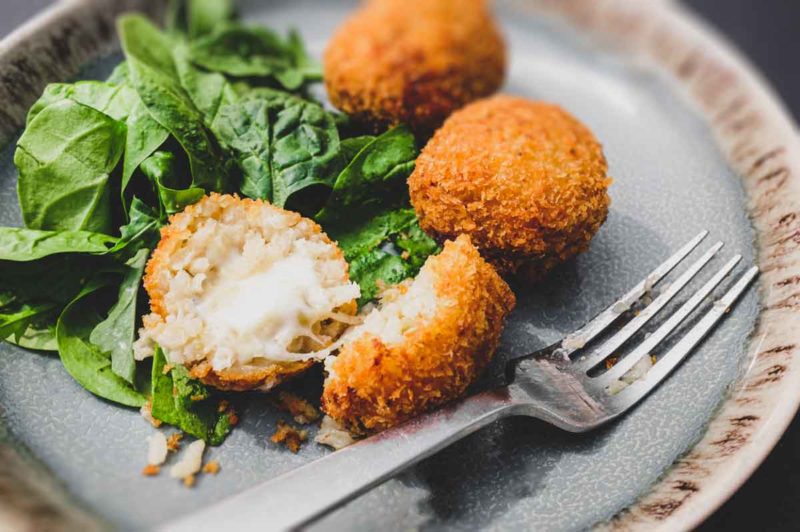 Supplì (Italian Rice Balls)
Rate this recipe
Print Recipe
Pin Recipe
Calories (per serving) |
492
Ingredients
1

portion of risotto

(left to cool completely - overnight is best)

3

oz

mozzarella

(cut into small cubes)

2

tbsp

all purpose (plain) flour

(seasoned with salt & pepper)

1

egg

beaten with 1/4 cup water

2

cups

panko breadcrumbs
canola oil

(for deep frying)
Instructions
Take a small amount of the cold risotto and roll into a ball about hte size of a ping pong ball. Press a finger into the centre to make an indent. Place a cube of mozzarella into the hole then carefully resmooth the risotto over the cheese and then roll back into a ball.

Set aside while you repeat the process to use up all the risotto.

Set up your breading station:

Bowl 1: Flour

Bowl 2: Egg

Bowl 3: Breadcrumbs

Add a risotto ball to the flour and roll around to coat. Take out and jigge a little to knock off the excess flour. Dip the Supplì into the egg and toss around to coat. Shake off the exess egg and then dip into the breadcrumbs. Toss around carefully to fully coat the Supplì then set aside on a plate.

Repeat this process with all the Supplì balls.

Heat around 2" (5cm) of canola oil over a moderate heat until around 350ºf (170ºc).

Using a slotted spoon or spider spoon, lower a few Supplì into the oil. 4-5 at a time will ensure the oil stays hot. If you put too many in at once, the oil will lose heat and you'll end up with greasy Supplì.

Deep fry the Supplì (moving them around freuqntly) for 4-5 minutes until browned. Remove and rest on paper towels while you cook the remaining Supplì.

That's it! Serve them hot with a sauce or at room temperature.

If you're reheating, heat an oven to 400ºf/200ºc and warm through for 5-10 minutes on a sheet pan.
Nutrition
Nutrition Facts
Supplì (Italian Rice Balls)
Amount Per Serving
Calories 492
Calories from Fat 45
% Daily Value*
Fat 5g8%
Cholesterol 38mg13%
Sodium 246mg11%
Potassium 60mg2%
Carbohydrates 17g6%
Protein 7g14%
Vitamin A 135IU3%
Calcium 112mg11%
Iron 1mg6%
* Percent Daily Values are based on a 2000 calorie diet.
This site contains affiliate links to products. We may receive a commission for purchases made through these links. Learn more.