Taralli Pugliesi (or Tarallini) are an iconic Italian favourite from Puglia/Apulia. A crunchy bread snack served everywhere, with everything! They're completely addictive and the perfect accompaniment at aperitivo time. They're also really easy to make at home.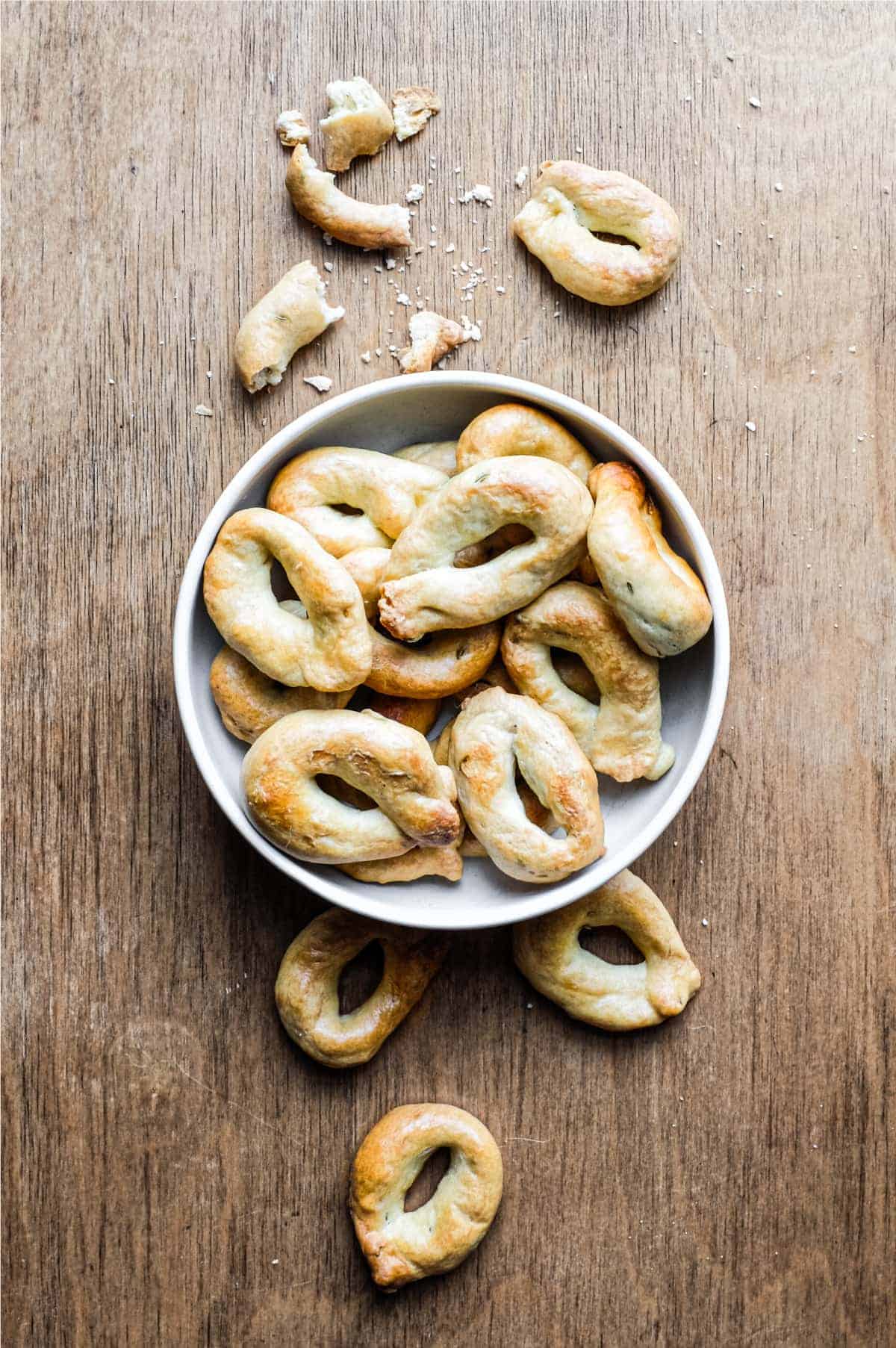 Sitting at a bar or restaurant in Puglia you can be sure of one thing (other than delicious food), you can be certain that a small bowl of bread rings will be placed in front of you to accompany your drink. Taralli are unassuming in appearance, but moreish in nature! Once you nibble on one, you'll find yourself going in again, and again and again...
There's something so addictive about the crunch of these amazing little snacks. Pugliese are proud of their Taralli, and rightly so. The region is famed for its flours and bread products so it's no wonder Tarallini came to be one of their most emblematic favourites.
There are many flavours both savoury and sweet - in a range of sizes too - one flavour reigns supreme as a favourite - fennel with its fragrant anise fragrance. It's this flavour I've gone for in my recipe - it's my favourite flavour, but I've listed some more suggestions down below for those who are interested.
Taralli are versatile and served alongside cured meats and salami, cheeses and often replace the need for fresh bread completely. They're my favourite Italian snack and soon to be yours when you learn how easy they are to make at home.
What are Taralli Pugliesi?
Taralli or Tarrallini are a type of traditional Italian snack from the Apulia region of southern Italy. They are small, round, and typically made from a simple dough that includes ingredients like wheat flour, olive oil, white wine, salt. The dough is usually rolled into small rings or knots, boiled briefly and then baked until they become crisp and golden brown.
Why they work
They're addictive! - put something/anything crunchy in front of me and I won't stop until there isn't a scrap left. Taralli are completely moreish and pair so well with an Aperol spritz or glass of red.
Stuff You'll Need
Making my Fennel Taralli Pugliesi at home requires only 5 ingredients. Simple!
Flour - use all purpose/plain or bread flour - you can experiment with whatever wheat flour you like.
White wine - a dry white wine is the liquid, bringing more flavour to the Tarallini.
Olive oil - I use a good quality and robust Pugliese extra virgin olive oil (Puglia is famed for the olives too!)
Fennel seeds - in all their anise splendour.
Salt
Step by Step
The process of making taralli is simple with one interesting step worth noting. After the dough is created and the taralli shaped into small rings/knots, they're briefly boiled in water, like a pretzel or bagel before being baked. This gives them their distinctive texture. Here's how to make them:
Step 1 -

Combine all the ingredients with your hands and form a dough. Knead this dough for a few

minutes then cover in plastic wrap and rest it for 10 minutes.
Step 2 - Take off a small handful and roll into thin sausages. Cut them into 5-10cm pieces and shape into a circle press the two edges together to secure. You can make the taralli any size you like. I prefer them slightly larger at around 5cm. Continue until you've used up all the dough.
Step 3 - Cook 5-6 taralli at a time in a pan of boiling water until they rise to the top, a couple of minutes. Fish them out and leave to cool on a clean tea towel. Repeat with all the taralli.
Step 4 - Arrange the taralli on baking sheet(s) in one layer (not touching) and bake for 40 minutes at 425ºf/220ºc until golden brown. Leave to cool and crispen.
Shaping Taralli
Taralli are humble and rustic, so don't worry too much about making them super uniform and perfect unless that's the kind of person you are. Mine are uniform enough to cook evenly, but certainly not identical to each other and I'm at peace with this.
Alternative flavours
Taralli come in a variety of flavours, so feel free to experiment. One thing to remember is to try and keep your flavour additions as dry as possible to avoid any excess moisture from the dough and run the risk of it not becoming crisp. Some of the flavours I enjoyed in Puglia are:
Black olives

Caramelised onion & raisin
Basil Seed
Black pepper
Parmigiano Reggiano
Chilli flakes
Rosemary
Chocolate

Garlic

Sun-dried

tomato & oregano

Sesame
Poppy seeds
Hazelnut
Porcini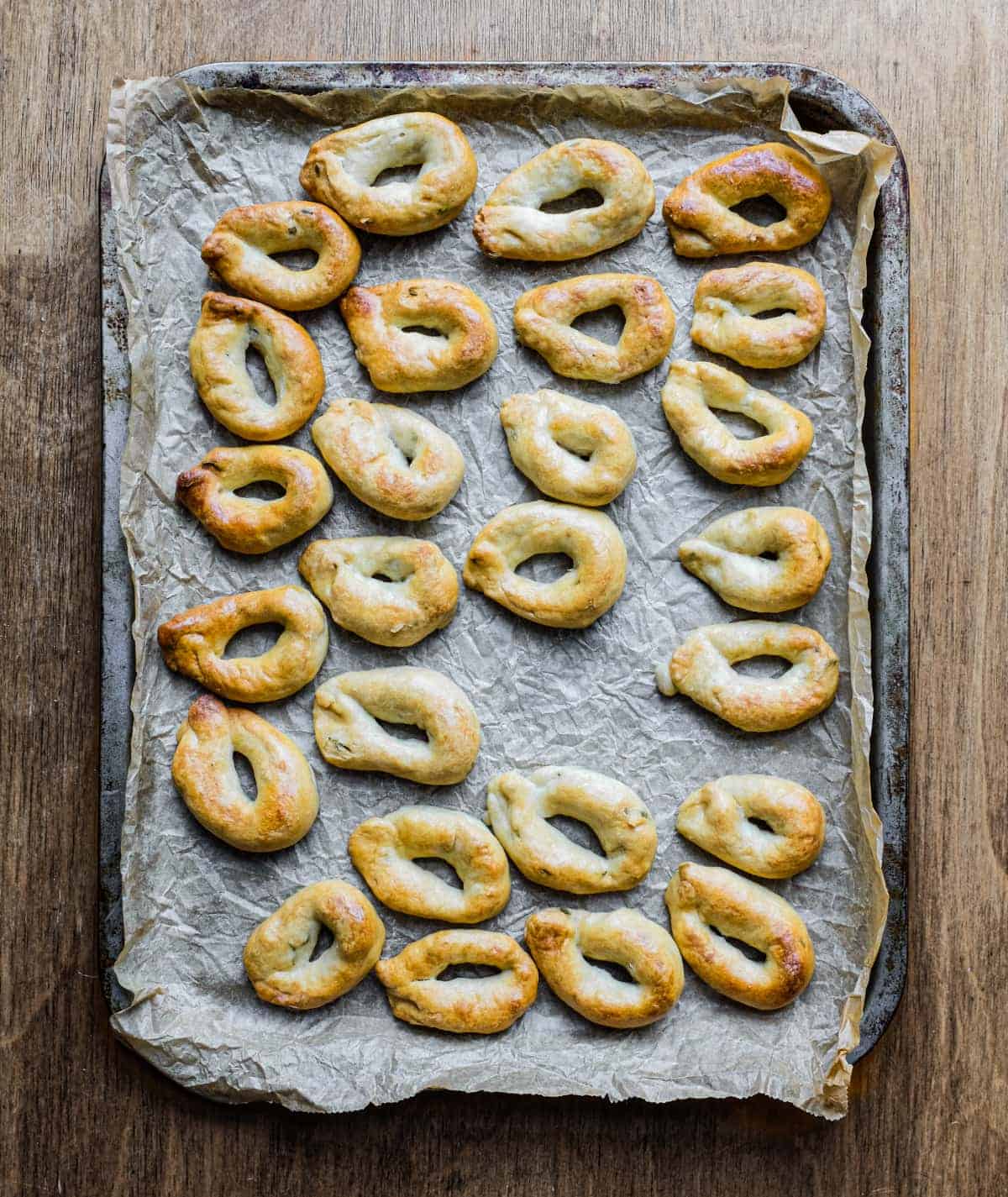 Serving & Storage Suggestions
Serving - Serve as a snack alongside a charcuterie board with meats, cheese and fruits. Serve simply on their own with your favourite aperitivo like Hugo Spritz, Campari Pink Fizz or just a glass of wine.
Storage - Taralli will stay fresh for a few weeks if you store them in an airtight container in the cupboard and are a perfect little crunch on hand to satiate any hunger. Just remember to refrain from eating them in one go.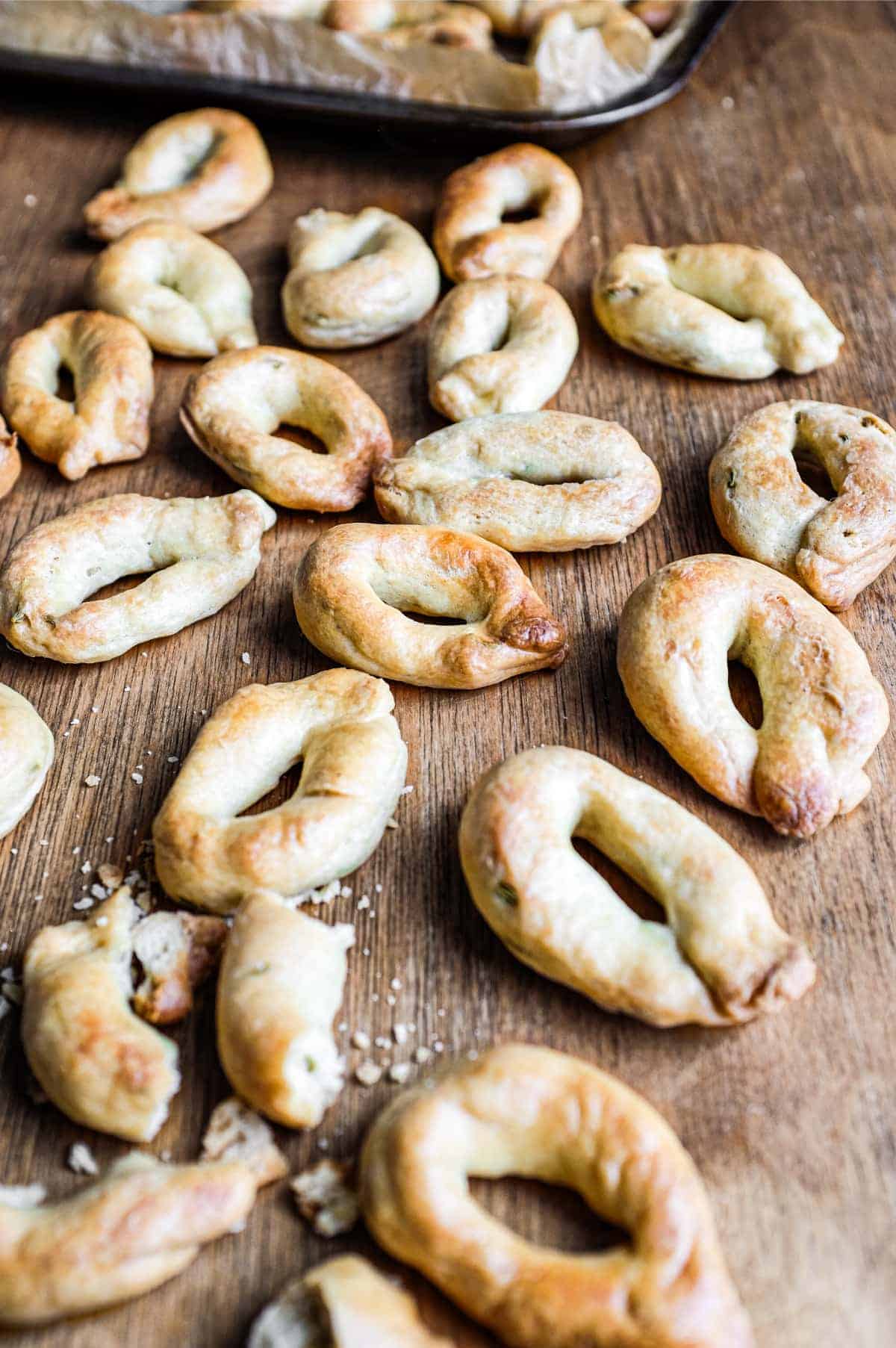 Ready to get cooking?
It's crunch time, you've seen for yourself just how simple these delightful taralli Pugliesi are to whip up at home, so there's nothing to stop you now! Honestly, give me a bowl of these ANY day of the week over potato chips, I can't get enough! I hope you try and more importantly, enjoy!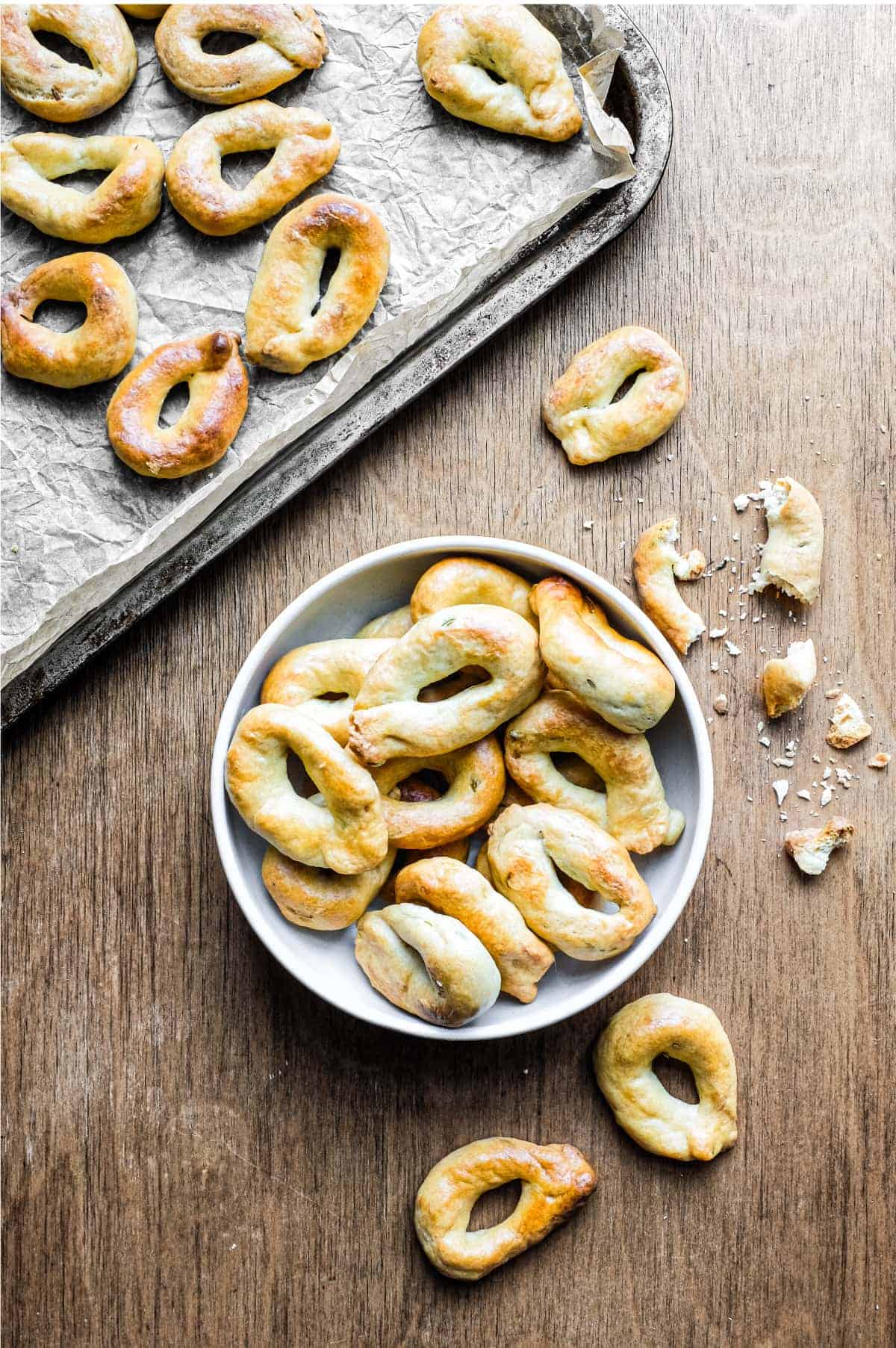 More Italian recipes
If you liked this recipe for Taralli Pugliesi, I'm sure you'll love some more of my tasty Italian recipes.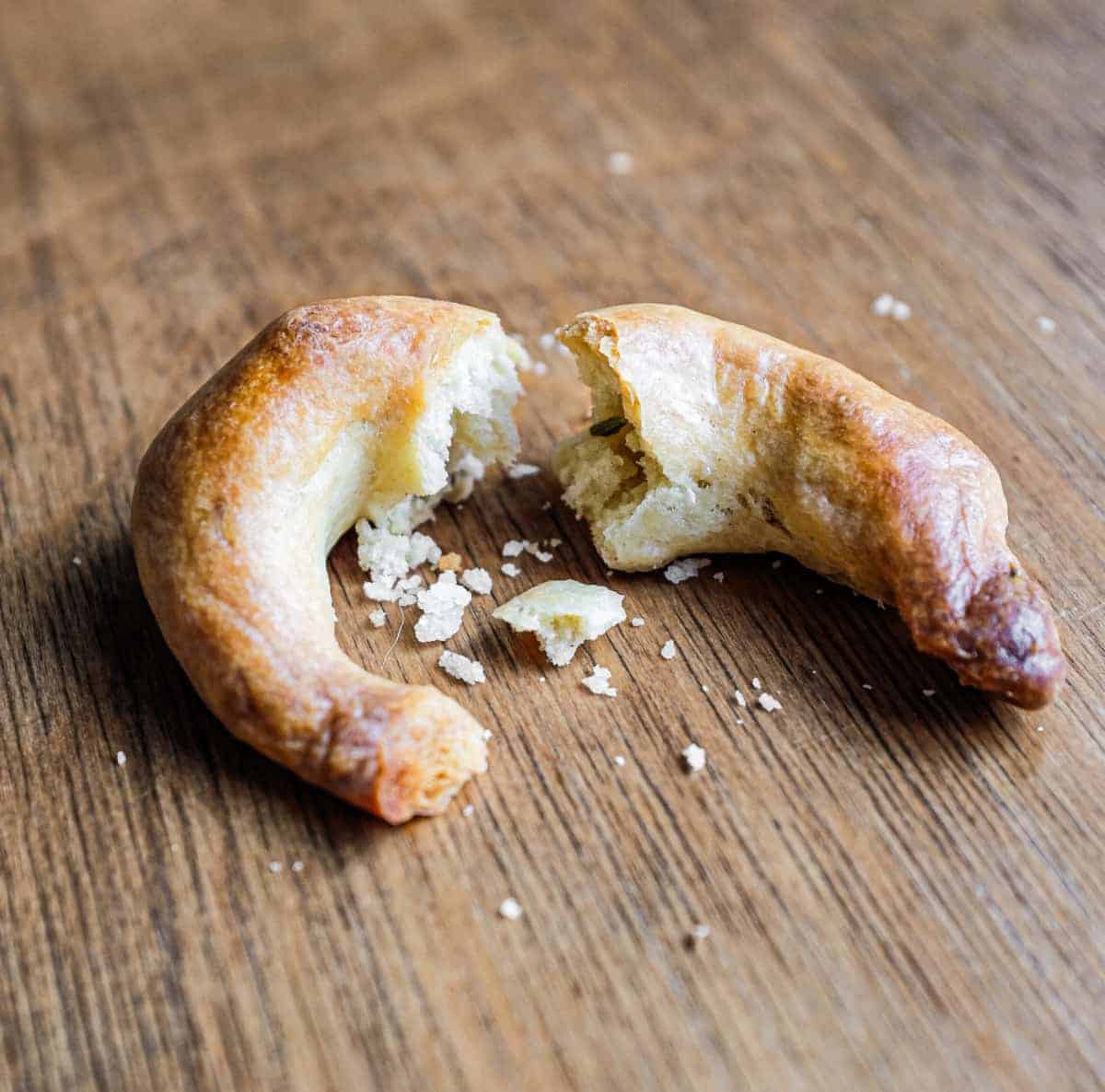 Any Questions? (FAQ)
Have a question about Taralli/Tarallini? Let me know in the comments.
What are Taralli Pugliesi?
Taralli Pugliesi are a popular Italian snack from the Apulia region. They are small, ring-shaped, and typically made from wheat flour, olive oil, and flavored with ingredients like fennel seeds or black pepper.
How are Taralli Pugliesi typically served?
Taralli Pugliesi are often served as an appetizer or snack alongside wine or cheese. They can also be enjoyed as a crunchy accompaniment to salads and soups. They're a versatile, savory treat.
Are there different flavours of Taralli Pugliesi?
Yes, there are various flavours of Taralli Pugliesi. Traditional versions include plain, fennel, and black pepper varieties. However, creative variations may include ingredients like red pepper flakes, garlic, or even sweet versions with chocolate and sugar & lemon zest.
This recipe uses affiliations and may receive a commission based on your activity (link clicks). Learn more.
Taralli Pugliesi
Rate this recipe
Print Recipe
Pin Recipe
Save Recipe
Go to Collections
Servings (adjustable)
36
taralli (roughly)
Calories (per serving) |
89
Instructions
Combine all the ingredients together with your hands to form the dough. Knead the dough for 5 minutes until well combined then cover in plastic wrap and rest for 10 minutes.

Take a small handful of the dough and roll into sausages about ½-inch/1.2cm thick. Cut a length of about 2-4 inches / 5-10 cm depending on how big you want to make yours (I used around 4-inch/10cm lengths for mine).

Form a circle with the dough and press the two ends firmly together. Stretch out the taralli a little to create a large enough hole that won't seal up when cooking. Arrange on a baking sheet lined with baking parchment.

Repeat this process until you've used up all your dough.

Heat a large pan of water until boiling.

Drop 5-6 taralli into the simmering water at a time (to avoid sticking) and let them cook for 1-2 minutes until they rise to the surface. Fish them out and let them cool on a clean tea towel. Repeat this with all the taralli. Arrange them without touching to avoid sticking. Let them cool completely for about 10 minutes.

Preheat oven to 375ºF/190ºC

Once cooled, arrange the taralli on a baking sheet(s) in one layer without touching. Bake in the oven for 40 minutes until golden brown.

Let them cool completely before eating as they'll become crunchier once cooled.

Serve as you see fit, with a charcuterie board, glass of wine, aperitivo or just on their own as a snack.
Notes
Storage
Store taralli in airtight containers or jars for weeks.
Alternative flavours.
Experiment with all kinds of flavours. The key is to keep the additions free from as much moisture as possible to avoid the taralli from softening. My favourites are:
Parmigiano reggiano
Roughly ground black pepper
Caramelised onion with raisins
Chilli flakes
Chopped fresh rosemary or sage
Poppy seeds
Chopped hazelnut
Nutrition
Calories:
89
kcal
(4%)
|
Carbohydrates:
12
g
(4%)
|
Protein:
2
g
(4%)
|
Fat:
3
g
(5%)
|
Saturated Fat:
0.5
g
(3%)
|
Polyunsaturated Fat:
0.4
g
|
Monounsaturated Fat:
2
g
|
Sodium:
98
mg
(4%)
|
Potassium:
22
mg
(1%)
|
Fiber:
0.5
g
(2%)
|
Sugar:
0.1
g
|
Vitamin A:
0.5
IU
|
Vitamin C:
0.02
mg
|
Calcium:
4
mg
|
Iron:
1
mg
(6%)