Tuscan Beans with Pancetta & Cavolo Nero
Unapologetically simple, humble and magnificently tasty, Tuscan Beans flavoured with salty pancetta and cavolo nero cabbage is one of my all time favourite dishes. A rich, hearty and healthy combo of everything I love about Italian food.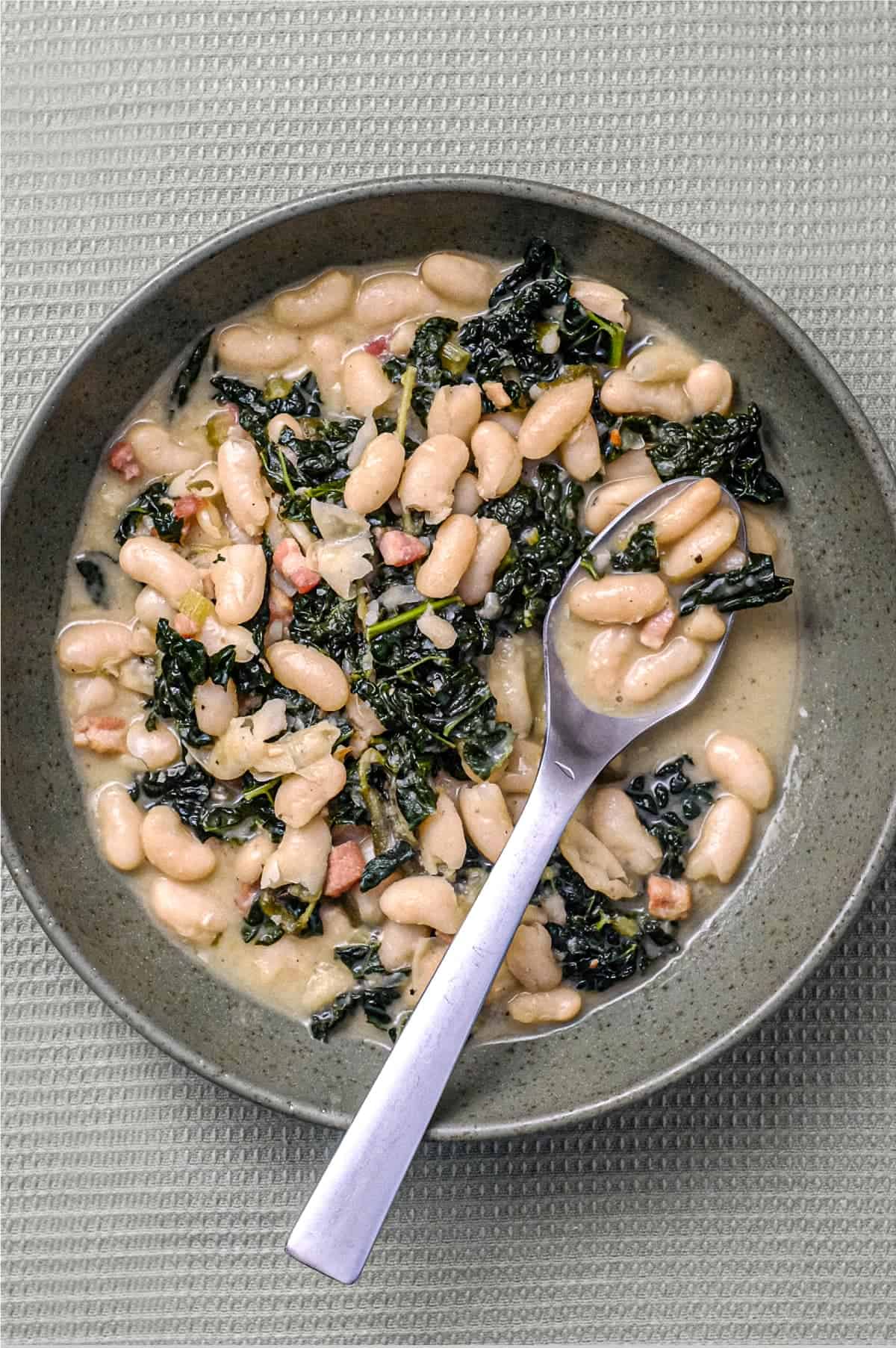 I've spent many a mealtime in Italy moaning and groaning with each mouthful of delicious flavour combinations. None mores than this fabulous creamy, salty, hearty and humble dish from Tuscany.
White beans are slow-cooked alongside salty bacon (pancetta) and iron-rich black cavolo nero (often called Tuscan cabbage, Tuscan kale or lacinato kale), there's a thick, creamy sauce too, flavoured with more umami greatness from pecorino cheese.
Tuscan beans are a wonderful side dish, but I often eat them as a feast in their own right, with nothing more than a big spoon and plenty of crusty bread to mop up every last delicious drip of sauce.
What is Fagioli Toscani con Pancetta e Cavolo Nero?
Beans are eaten all across Italy, but in Toscano (Tuscany) there are a cornucopia of varieties that make the 'poor man's meat' into something very special.
The famed Tuscan Ribollita features white beans in a hefty bread and bean soup that will fill every available space in your body. But it's THIS simple side recipe for creamy white beans with salty bacon that I love the most.
Beans are filling and healthy - a good source of protein and fibre, it's for that reason than this dish was born from poverty, using ingredients most households could access. A sparingly small amount of meat (if any) combined with cabbage to bulk it up and seasoned with salty pecorino cheese. Rustic, but divine.
Browsing the supermarket shelves in Tuscany is a real treat and you'll come across a world of beans that you can use for this recipe, like Zolfino, Sorana, Schiaccione or Coco Nano and so many more. I use Cannellini bean in my recipe - they're readily available in the rest of the world.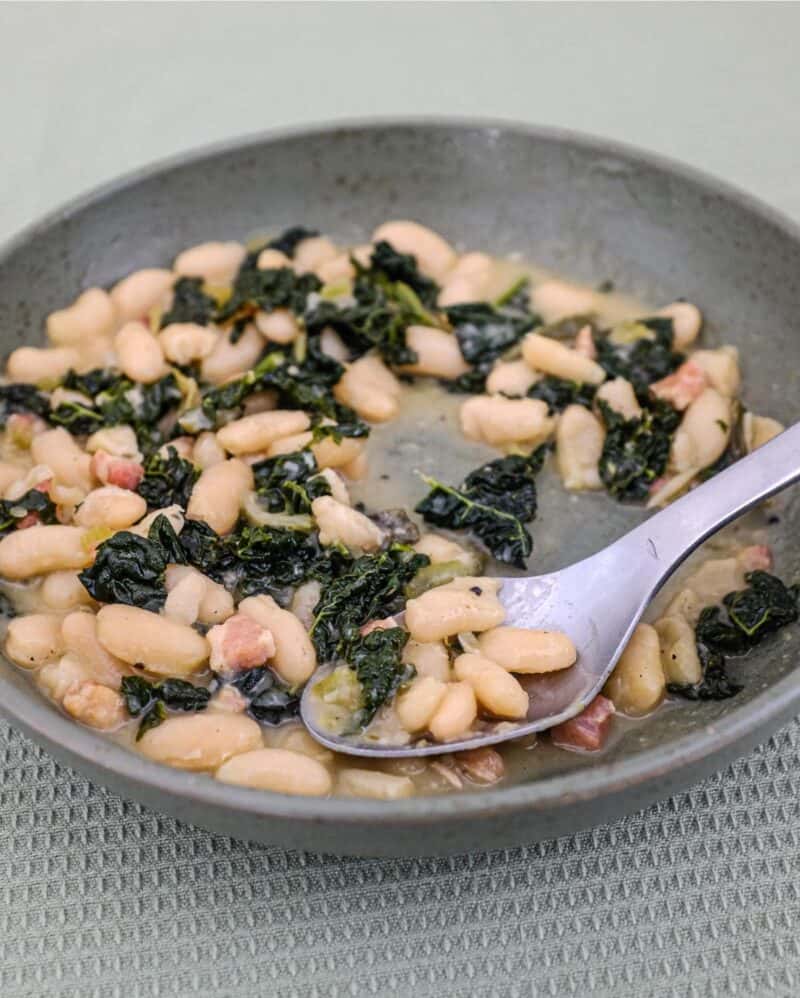 Why it works
It's comfort food - without all the hefty doses fat, sugar or salt. You can fill up, feel comforted in the knowledge that you did yourself some good too!
It's easy - I don't pre-soak my beans, I just put everything in the pan and cook.
Stuff you'll need
Like so many Italian recipes, Tuscan beans don't call upon a long list of ingredients. Clean flavours, only the necessary ingredients are required. Love it!
Cannellini beans - dried beans for this recipe. The low-slow cooking of cannellini beans creates the creamy texture. Canned beans simply can't achieve this.
Pancetta - In Tuscany they'd also use Guanciale (pig cheek) bacon, called Gota. It's the salty flavour that goes so well with beans! Other than pancetta, you can also use lardons, salt pork or smoked bacon as a substitute.
Cavolo nero - the firm black cabbage from Tuscany gives the authentic flavour and lovely texture.
Onion, celery and garlic - will bring a little backbone to the sauce.
Sage - brings its herbaceous flavour.
Pecorino Cheese - stirred into the sauce at the end, adds a salty and umami flavour. You can also use Parmigiano Reggiano.
Step by Step
You'll have your delicious beans on a plate in no time, just follow these simple steps.
Step 1 -

Fry the pancetta to

render

out some of that delicious fat.

Step 2 -

Fry the celery, onion, garlic and sage

until

soft

Step 3 - Add the beans and then followed by water
Step 4 - Cook the beans for 90 minutes or until the beans are soft and creamy
Step 5 - Add the

cavolo nero and cook for 5-10 minutes to cook through

Step 6 - Remove from the heat and stir in the cheese to finish.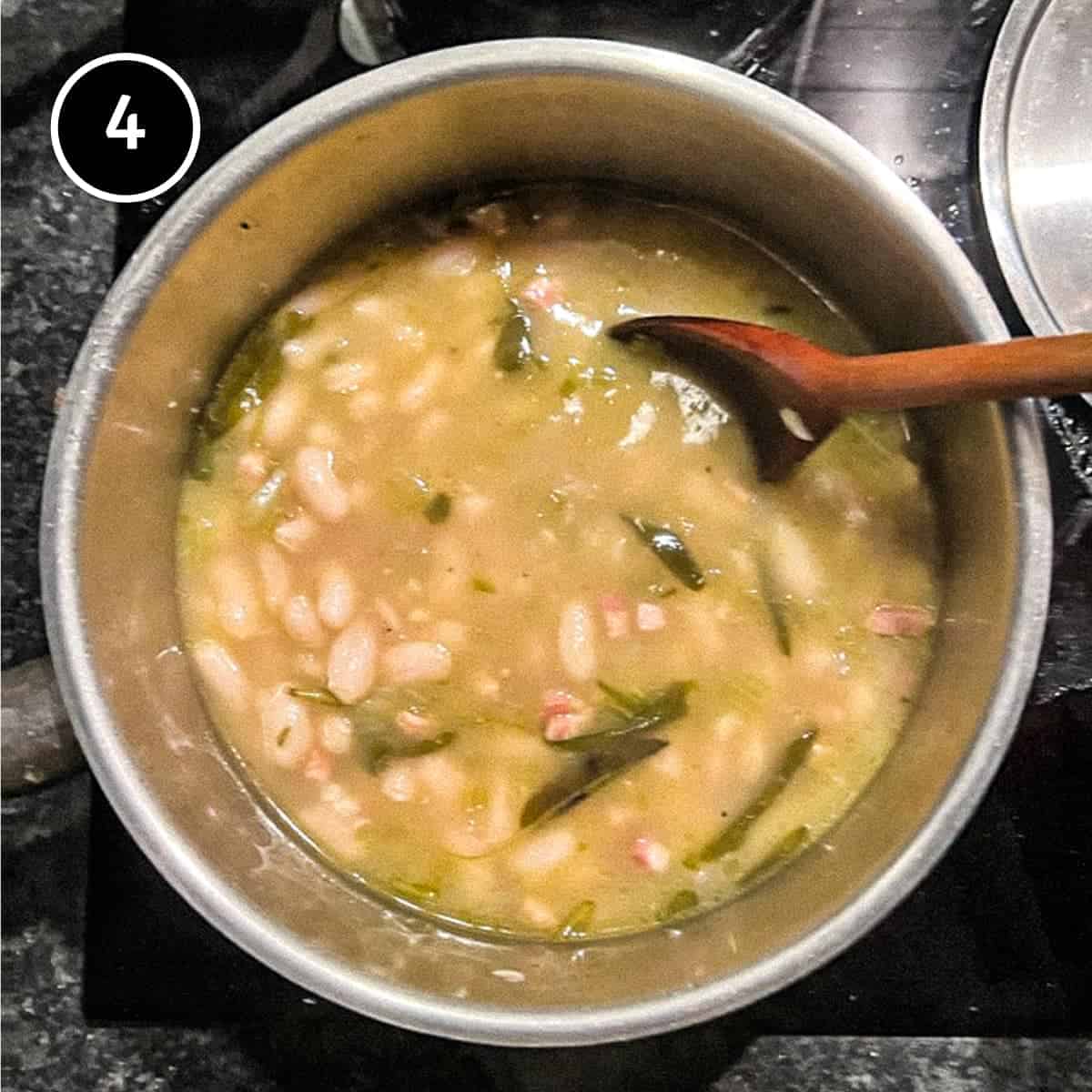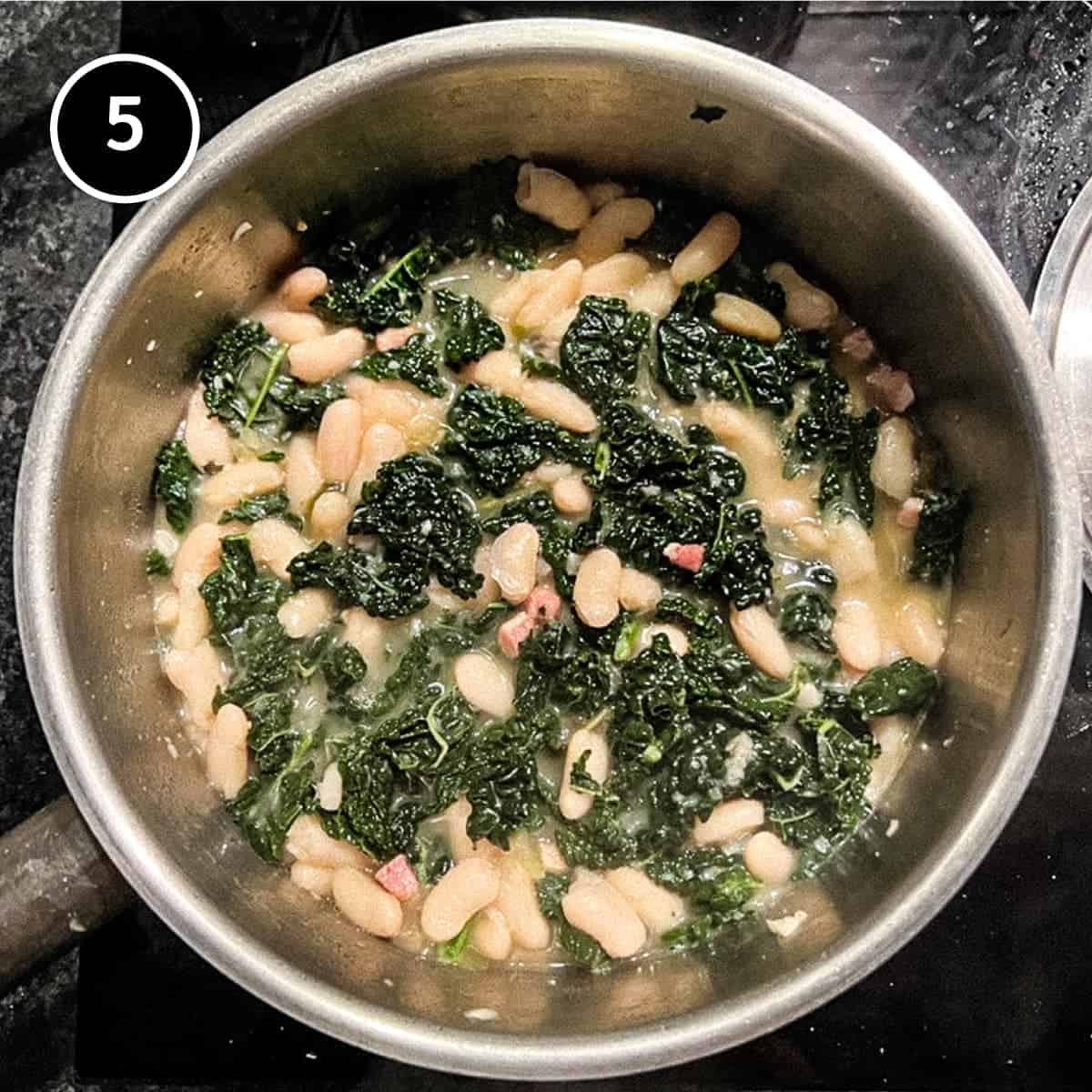 Pro Tips to make your life easier
I've had many a 'discussions' with people about the need to soak beans or not. Honestly, people can be pretty hostile in their assertion that beans must be soaked. I'm of the belief that that's not necessarily true.
These Tuscan beans aren't soaked but create the most wonderful creamy consistency regardless. End of argument!
Serving suggestions
I serve these beans hot or at room temperature with so many Italian dishes. Roast meats like porchetta or lamb with potatoes or even pampanella Molisana are a great partner. You might also pair it alongside the Tuscan favourite Peposo Alla Fornacino or a hunk of Tuscan steak (Bistecca alla Fiorentina) - the options are endless.
Storage
Fridge - these beans will stay fresh for a week in the fridge in an airtight container.
Freezer - Tuscan beans are a great contender for the freezer. I keep them in single portions in an airtight container. They'll stay good for 3+ months. I'll add 1/4 cup water and reheat in the microwave until hot. You can also defrost then cook in a pan until hot.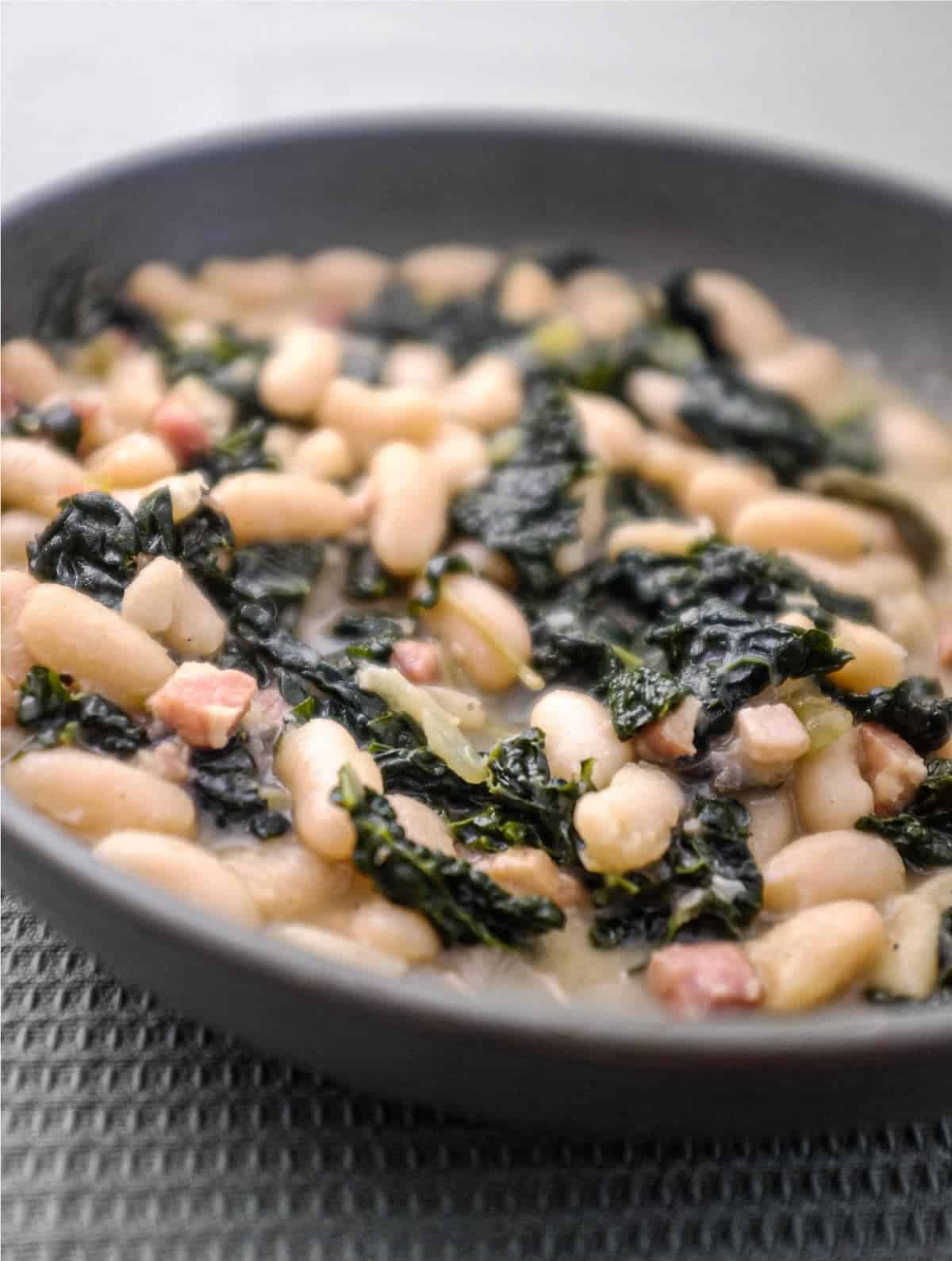 Ready to get cooking?
So, if comfort food is your thing, do it Italian-style with Fagioli Toscani! They're quintessentially Italian and deliver a hearty, wholesome hug of flavour. Hope you enjoy!
Any Questions? (FAQ)
Have a question about Tuscan beans? Let me know in the comments.
What are Tuscan bean varieties?
In Tuscany, you'll be spoilt for choice of white beans, Zolfino, Sorana, Schiaccione, Coco Nano and Rosso di Lucca can be used for this dish. I use the more readily available Cannellini beans.
What are Italian white beans called?
Cannellini beans are often the variety most people prefer to as white beans.
Are Tuscan beans ribollita?
Yes, Ribollita is a soup made from Tuscan beans. This recipe is more of a side dish than a soup.
Is Cavolo Nero the same as kale?
Similar, but not the same. Cavolo nero is more like regular cabbage while kale is closer to a spinach.
Is pancetta the same as guanciale?
They're both from the pig, but different cuts. Pancetta is from the belly and Guanciale from the jowl/cheek. Guanciale is higher in fat as a result.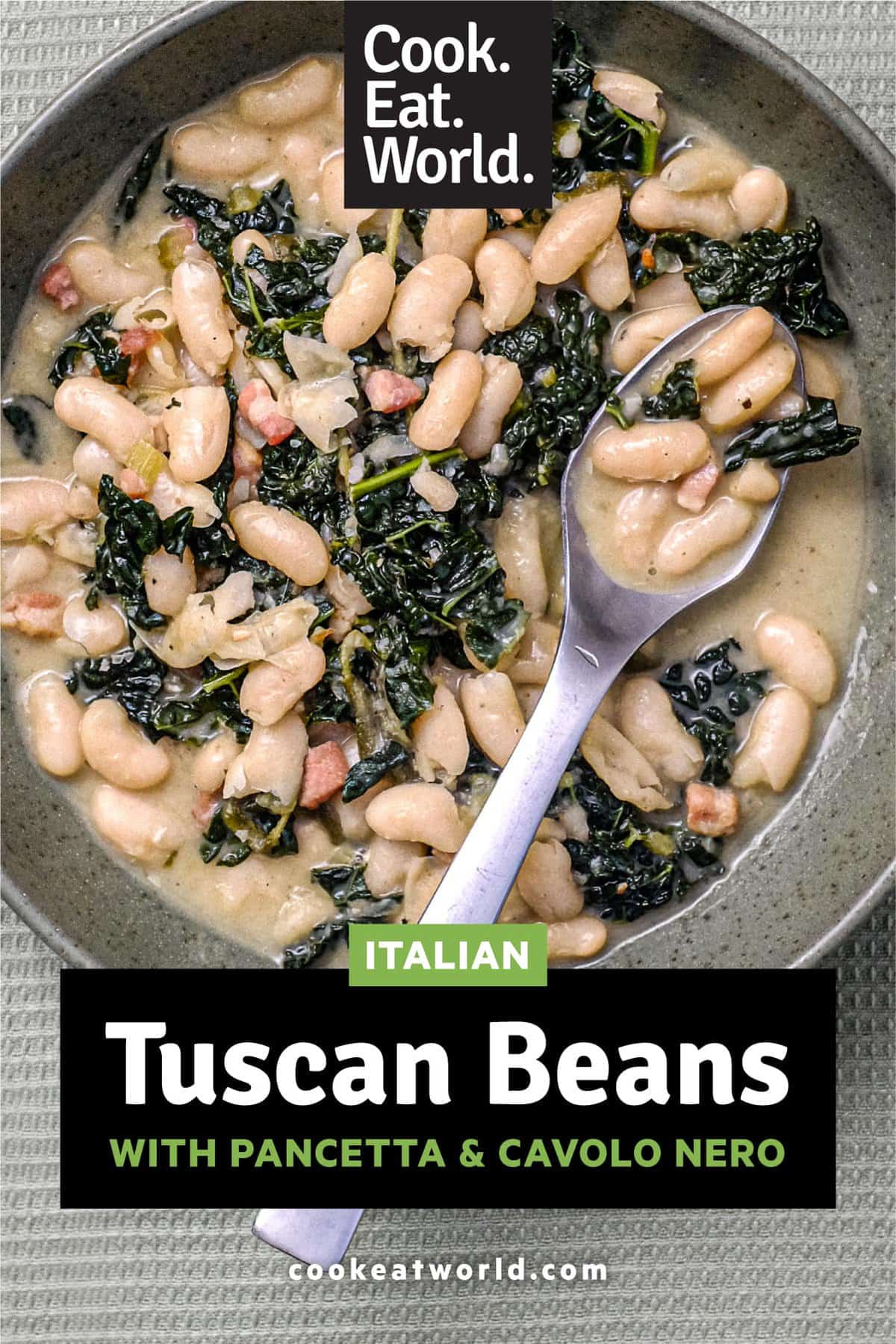 More Italian recipes
If you liked this recipe for Tuscan Beans, you'll be sure to enjoy more of my favourite Italian recipes.
Tuscan Beans with Pancetta & Cavolo Nero
Rate this recipe
Print Recipe
Pin Recipe
Save Recipe
Go to Collections
Calories (per serving) |
349
Instructions
Heat the oil in a large sauté pan until just hot. Add the pancetta and fry for 1-2 minutes.

Add the onion, celery, garlic and sage leaves. Stir fry for 4-5 minutes until the onion is golden brown.

Add the cannellini beans and stir briefly before adding the water. Season well with salt & pepper.

Bring the water to a boil and then reduce the heat to low so that the beans are barely simmering. Partially cover and cook for 1 1/2 hours, or until the beans are soft. Fish out the sage stems and discard.

Take each stem of cavolo nero and strip off the leaves. Discard the stems. Roughly chop the leaves and add them to the beans. Cook for 5-10 minutes until wilted and cooked through.

Remove from the heat and stir in the pecorino cheese. Check for seasoning then serve.

Serve with a generous drizzle of best quality Tuscan extra-virgin olive oil.
Notes
Substitutions
Cavolo nero - you can also use kale, chard/silverbeet, collard greens or spinach.
Beans - You can use dried navy beans/pea beans and great northern beans or one of the Italian varieties I mention in the main body of the recipe.
Pancetta - Pancetta is simply Italian bacon, so any kind of bacon will work well. If you want to go super authentic, hunt out some guanciale (pork cheek). You can also use lardons or just regular smoked bacon.
Storage
Fridge - These beans willl stay good in the fridge for a week (be sure to keep them in airtight containers)
Freezer - Keep in airtight containers in single portions for 3+ months. I'll often add a little water to the top and cook from frozen in the microwave until piping hot. I'll also sometimes leave it to completely defrost and then reheat in a pan until hot, adding a little water if it's too thick.
Nutrition
Calories:
349
kcal
(17%)
|
Carbohydrates:
13
g
(4%)
|
Protein:
17
g
(34%)
|
Fat:
27
g
(42%)
|
Saturated Fat:
9
g
(56%)
|
Polyunsaturated Fat:
3
g
|
Monounsaturated Fat:
12
g
|
Trans Fat:
0.04
g
|
Cholesterol:
46
mg
(15%)
|
Sodium:
650
mg
(28%)
|
Potassium:
355
mg
(10%)
|
Fiber:
5
g
(21%)
|
Sugar:
1
g
(1%)
|
Vitamin A:
6863
IU
(137%)
|
Vitamin C:
65
mg
(79%)
|
Calcium:
501
mg
(50%)
|
Iron:
3
mg
(17%)
This recipe uses affiliations and may receive a commission based on your activity (link clicks). Learn more.