Garganelli Pasta with Mushroom Ragù
Garganelli are amazing! Ingenious ridged quills of fresh homemade pasta make for the perfect vehicle to catch all the umami-charged mushroom ragù. The perfect combination of flavour and texture. A recipe for the ages!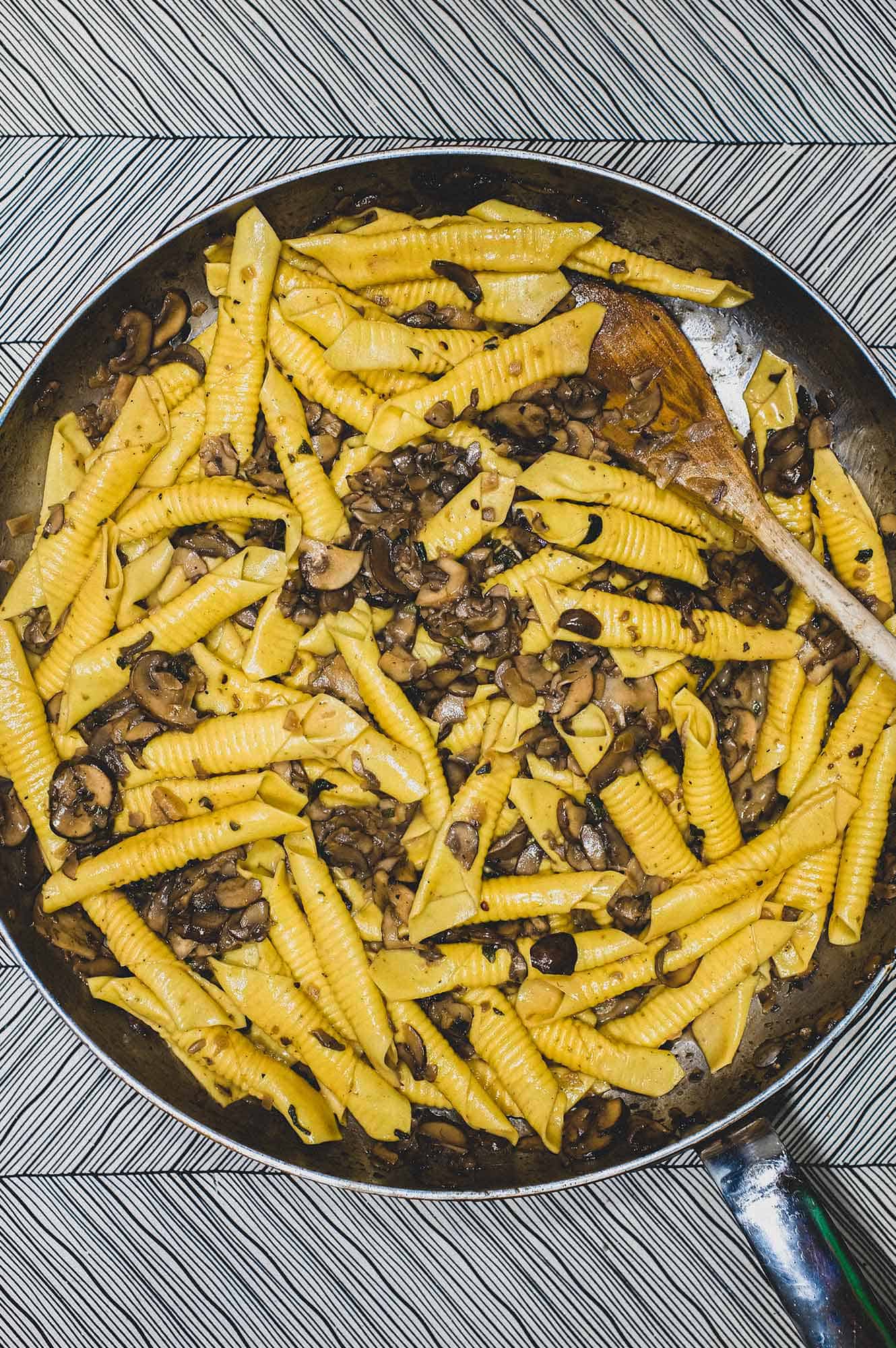 Whether you're new to the delights of fresh pasta or looking for something different to create with it then let me introduce you to Garganelli - one of the most perfect pasta treats in Italy. Homemade pasta squares are rolled on a gnocchi board to create little quills, like penne. They become the perfect shape to catch and soak up sauces, and the best sauce for garganelli, in my opinion, is a flavoursome mushroom ragu. It makes for one of Italy's finest combinations – are you ready to roll?
What are Garganelli?
Garganelli are fresh pasta quills or tubes that are traditionally rolled on a gnocchi board or 'strings' to create ridges. These ridges help capture sauces, creating a better eating experience. Originating in the Emilia-Romagna region of Italy, they are typically made using fresh egg pasta.
Garganelli are often paired with a hearty meat sauces like lamb or sausage ragu. However, they are often eaten with wild mushrooms and seasonal vegetables too.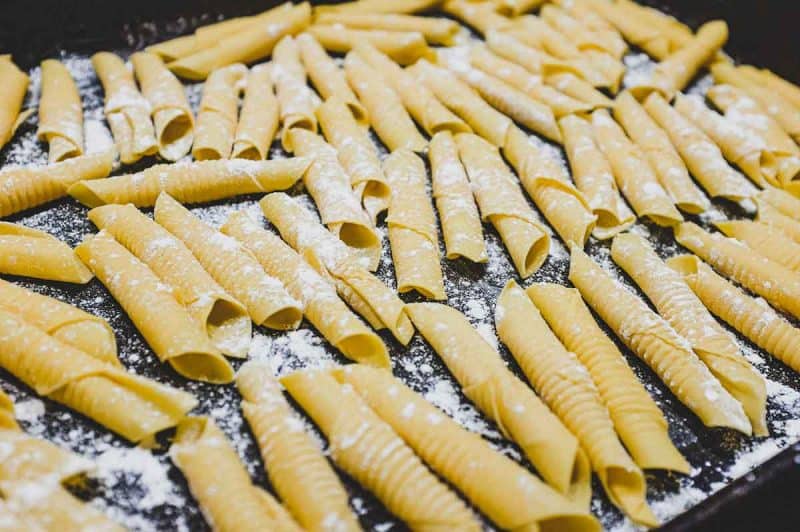 Why this recipe works
The reason garganelli with mushroom ragu works so well is for two main reasons.
The fresh pasta has the most amazing texture along with the little ridges to catch all the sauce.

The umami-packed mushroom ragù has a rich and meaty texture that's even better than a meat ragù!
Stuff you'll need
As far as ingredients go, this garganelli pasta recipe is pretty straight forward. It does require some special equipment too… Here's what you'll need to make it happen at home.
Equipment:
A pasta rolling machine - Buy one and you'll never look back! It makes light work of rolling fresh pasta into the most perfect, ready-to-shape pasta.
A garganelli/gnocchi board – you can find these boards online very cheaply – this is essential for creating the ridges on the garganelli. If you can't fine one, you can make garganelli without ridges, they'll just officially be homemade 'penne' instead.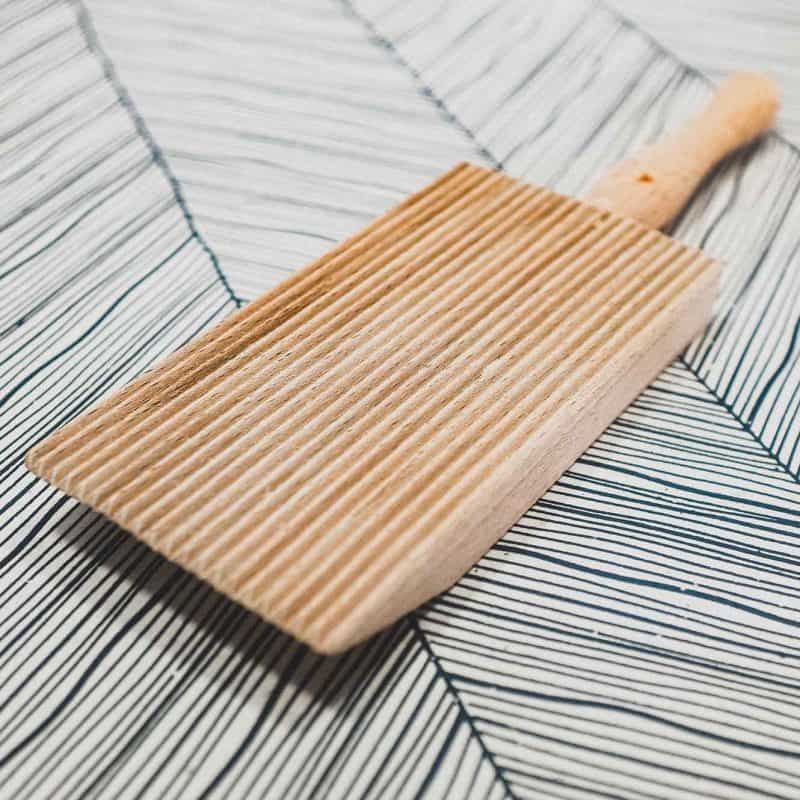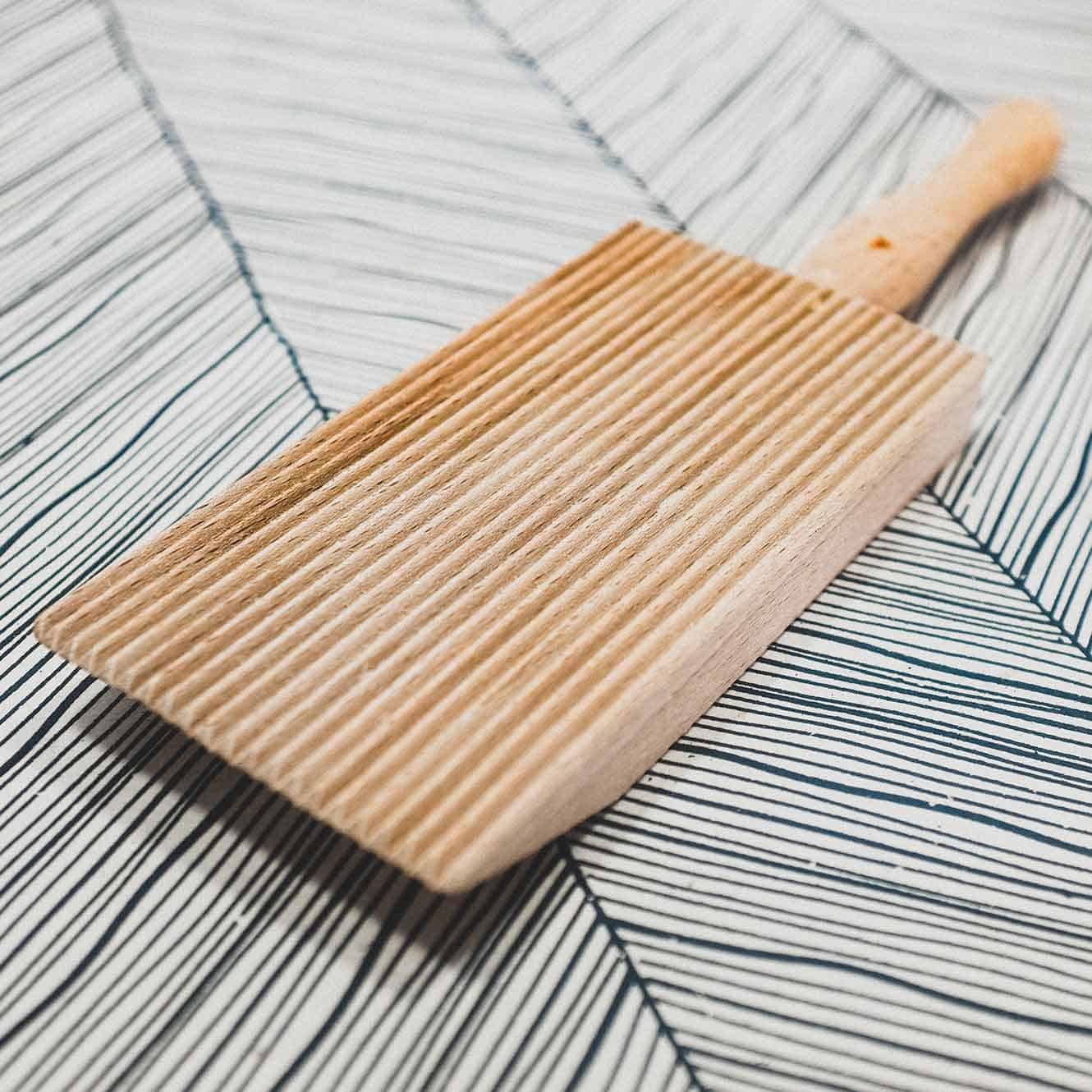 Ingredients:
Fresh pasta – making your own at home will require eggs and flour. And some of your time! Learn how to make fresh pasta with my simple how-to guide and video.
Mushrooms – I live in a city, wild mushrooms are not on my doorstep so I go for regular button, brown or Portabello varieties.
Herbs – I'll generally use sage and oregano, but will sometimes use basil, marjoram, thyme or even rosemary.
White wine & stock/broth – this will help give a back-bone to the sauce. You can use mushroom stock (if you can find it) vegetable, chicken or beef.
Step by Step
My recipe comes in three stages. There's a bit of work , granted, but all good things come to those who… make their own garganelli pasta!
Stage 1 - Making the fresh Pasta
If you haven't done so before, making fresh pasta is both enjoyable and a complete revelation of flavour and texture. The quality of texture is like nothing else and the amazing thing, homemade pasta is not difficult at all! Follow my recipe for making fresh pasta at home and then you can get started on the sauce.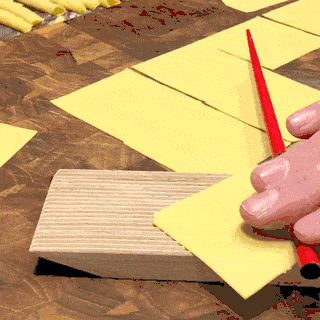 Stage 2 - Shaping the fresh Garganelli
Shaping the garganelli pasta is easy.
Step 1. Roll out your pasta to a couple of notches from the thinnest setting and then cut into 5cm/2-inch squares.
Step 2. Sit the square in front of you on the gnocchi board on a diagonal - like a diamond.
Step 3. Place a chopstick (or thin piece of dowling over the corner) and begin to roll the pasta away from yourself and around the chopstick. Slide the pasta off the chopstick and that's it, you made your first garganelli! Now, just repeat until you've used up all the pasta. Arrange them in a single layer on a floured board or platter and when done, cover with a tea towel. They'll hold for a few hours before cooking.
Stage 3 - Making the sauce
All the hard work is done, the sauce is super easy.
1. Sautee the mushrooms – with the garlic and herbs until they're nice and soft and have intensified in flavour (umami).
2. Add the wine & stock and let it simmer.
3. Add some butter to help create a delicious creamy texture.
4. Cook your Garganelli in a large pan in plenty of salted water for 2-3 minutes and drain. (keep about a cup of the pasta water).
5. Tip the pasta into the sauce along with half the retained pasta water and stir until it's all coated. Add more water if needed.
6. Parmigiano Reggiano – portion up your pasta and scatter as much cheese as you want over!
Pro Tips and alternative suggestions
Herbs – For this recipe I combine oregano and sage but you can switch up the herbs to your liking. Try Thyme, Marjoram, Rosemary or Basil too.
Mushrooms – To up the ante on umami (I know I'm overusing this!) I'll often add reconstituted dried porchini mushrooms. I'll soak them for a while then drain and chop and add along with the soaking liquid.
Pasta water – Most pasta recipes use a technique of using a little pasta cooking liquid to help thin out or emulsify sauces when it's time to combine sauce and pasta. It's a clever tip to remember and really does help with the consistency. It's also a good way of seasoning a little at the end.
Serving and storage
Serving fresh pasta is pretty much perfection right away. For that reason, I wouldn't suggest freezing or refrigerating this dish when it's mixed as the magic really happens when it's fresh out of the pan.
Refrigerate leftovers for a day or two and loosen a little with water or stock when reheating.
Freezing fresh garganelli.
You CAN freeze fresh garganelli. When you shape them lay them on a clean tea towel on a board or platter. Make sure there is space between each so they don't stick. Let them dry slightly for 15 minutes. Roll them to expose what was on the bottom and dry for 5 minutes more. Place the whole board into the freezer and freeze for 1-2 hours until they're solid. Then quickly tip them into a thick freezer bag. They'll stay separated this way. Cook them from frozen in plenty of salted water for 4-5 minutes.
Ready to get cooking?
Trust me when I say, that fresh pasta and especially fresh, homemade garganelli pasta is one of life's great pleasures! It's certainly worth the extra effort in making your own pasta and lovingly shaping each of the garganelli quills yourself (or have the whole family help). The sauce compensates for all that effort by being a cinch to make and it really does elevate everything into a giant flavour bomb! Garganelli really are one of MY personal favourites so I'm keen to see if anyone agrees. Do let me know in the comments if you enjoyed. Buon Appetito!
Any Questions? (FAQ)
Have any questions about my Garganelli Pasta with Mushroom Ragù? Let me know in the comments.
Where is Garganelli Pasta from?
Emilia-Romagna – in Italy's North. These days, Garganelli is eaten widely across Italy.
What shape is Garganelli Pasta?
Tubular or cylindrical. It's wrapped around something like a dowling rod about the thickness of a pencil.
How do you pronounce garganelli?
Gar-Guh-NAY-lee
What is a gnocchi board?
It's a small wooden board that has ridges or shapes carved into it so that pasta dough or gnocchi dough can be rolled into or over it to create ridged patterns. These ridges are not only decorative, but they also help trap sauces making for a wonderful eating experience.
Some gnocchi boards are created with strings that are stretched tightly together over a frame. The pasta dough is rolled over the strings to create the same ridged effect.
More sauces that will pair with garganelli
favourite recipes. Just switch the pasta for your homemade garganelli!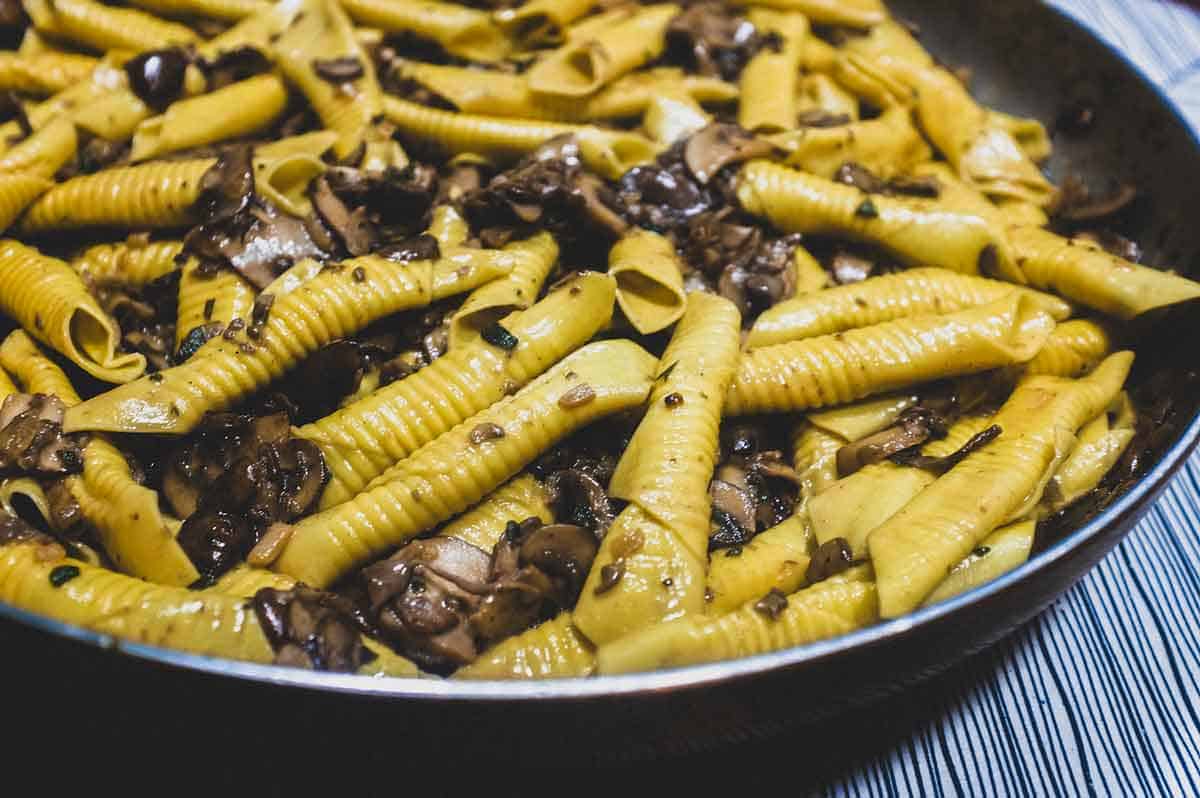 Garganelli Pasta with Mushroom Ragù
Rate this recipe
Print Recipe
Pin Recipe
Save Recipe
Go to Collections
Calories (per serving) |
343
Ingredients
For the fresh pasta
1

4oz batch of fresh egg pasta dough
For the mushroom sauce
3

tbsp

olive oil

18

oz

(500g) mushrooms - button or brown (thinly sliced)

3

garlic cloves (chopped)

3

sage leaves (finely chopped)

1

tbsp

fresh oregano (chopped)

1/2

cup

dry white wine

1

cup

vegetable stock (or chicken or beef)

1/2

stick

(50g) unsalted butter (optional)

salt & pepper
Other ingredients
Fresh Parmigiano Reggiano (parmesan)
Instructions
Making the Garganelli Pasta
Once you've created your pasta dough, let it rest, covered in a cool place for 30 minutes. Once rested, cut the dough in half. Cover one half and set aside. Using your pasta rolling machine, on the widest setting, begin rolling the pasta through once. Fold into thirds then roll again. Repeat a couple of times to get the dough started.

Gradually begin to roll the pasta dough through the machine, reducing the roller width each time to get the sheets thinner. Stop at the second to last setting (7 or 8) for a good thickness. Cut the pasta sheet in half lenghtways to make it easier to work with. Trim off the rough edges from each sheet and discard. Now cut the pasta into roughly 2"/5cm squares.

Using a round chopstick or something similar (something round!).1. Place one pasta square in front of you like a diamond. If you're using a gnocchi board place on the board in this manner.2. Place the chopstick across the bottom corner3. Lift up the corner and roll it around the chopstick.4. Roll the chopstick away from yourself to create a garganelli5. Slide the garganelli off the chopstick and place on a floured board. Repeat! Repeat! Repeat!

Cover the garganelli until you need it. (it'll stay good for up to 4 hours)
To make the Mushroom Sauce
Heat a large pan of generously salted water for the pasta

Heat the oil in a large frying pan over a moderate heat until hot. Add the mushroom, garlic, sage and oregano and start to fry. Fry the mushrooms gently for 10 minutes until soft. Pour in the white wine and let the alcohol sizzle for 30 seconds before pouring in the stock. Bring to a boil and let it simmer for 10 minutes to reduce by half. Add the butter (if using) it gives a lovely glossy appearance and nice flavour, but it's half a stick of butter I know! So if you want to leave it out, do!

Season generously with salt & pepper and let the sauce simmer for a further 5 minutes until it becomes creamy. Remove from the heat.

Bring your pasta water to a boil. Tip the garganelli into the boiling water and let them cook for 3-4 minutes. Using a sieve, scoop out the garganelli and toss them into the mushroom sauce. Mix gently and add a couple of spoonfuls of pasta water to thin out the sauce if needed. That's it!

Portion into bowls and then sprinkle over lots of freshly grated Parmigiano Reggiano.
Notes
Make the garganelli in advance
You can make the garganelli pasta up to 4 hours ahead of time. Just cover it in area towel and keep it somewhere not too humid.
Freezing garganelli
While the finished dish isn't a contender for freezing (it's best eaten right away) the garganelli can be frozen when freshly made.
Make the garganelli as ususal
Arrange on a large platter lined with a clean tea towel. Give space between each piece.
leave to dry for 15 minutes then roll to expose the underside. Dry for a further 5 minutes.
Place in the freezer for 1-2 hours until solid.
Decant into a thick zip-lock bag.
Cook from frozen in boiling salted water for 4-5 minutes.
Nutrition
Calories:
343
kcal
(17%)
|
Carbohydrates:
10
g
(3%)
|
Protein:
6
g
(12%)
|
Fat:
30
g
(46%)
|
Saturated Fat:
12
g
(75%)
|
Polyunsaturated Fat:
2
g
|
Monounsaturated Fat:
14
g
|
Trans Fat:
1
g
|
Cholesterol:
40
mg
(13%)
|
Sodium:
328
mg
(14%)
|
Potassium:
607
mg
(17%)
|
Fiber:
2
g
(8%)
|
Sugar:
5
g
(6%)
|
Vitamin A:
666
IU
(13%)
|
Vitamin C:
5
mg
(6%)
|
Calcium:
46
mg
(5%)
|
Iron:
2
mg
(11%)