Pasta Alla Gricia (Pasta with Guanciale & Pecorino Romano)
Pasta Alla Gricia is a magnificent marriage of Guanciale, black pepper and Pecorino Romano – a delicious minimalist sauce that clings to soft rigatoni pasta tubes. It's as perfectly simple and delicious as pasta gets.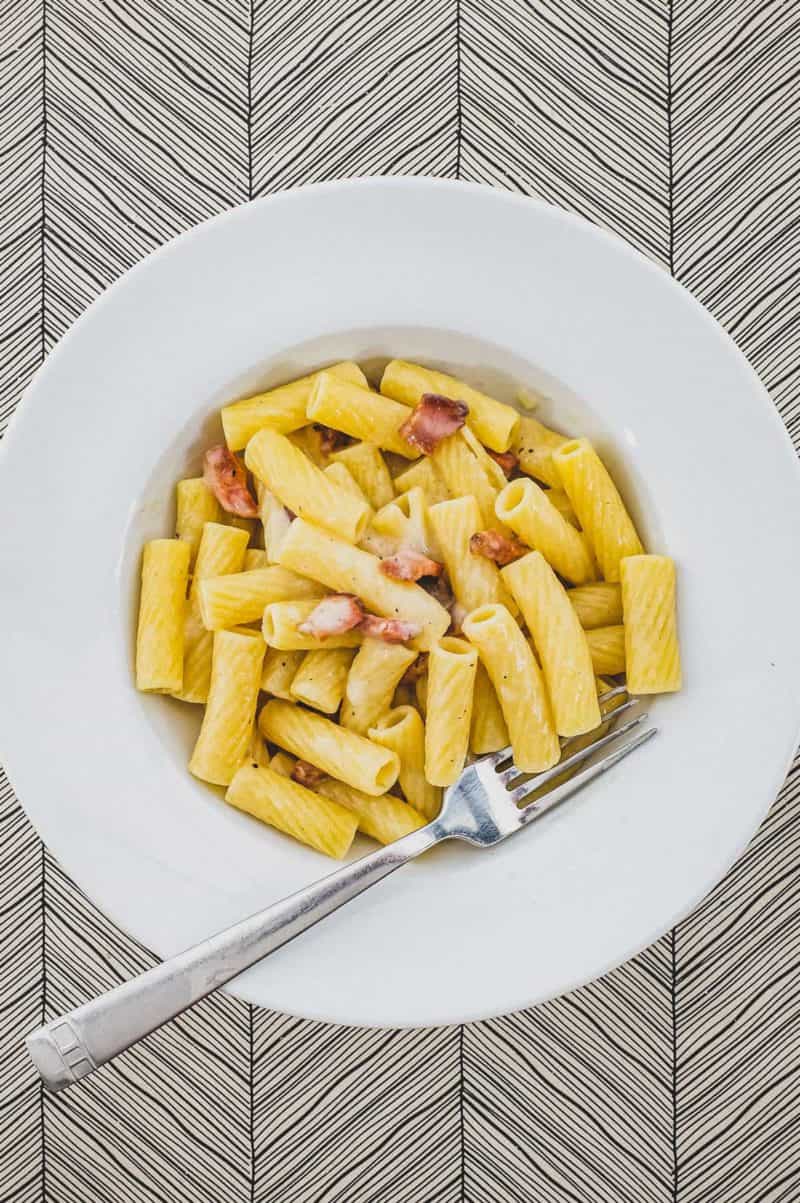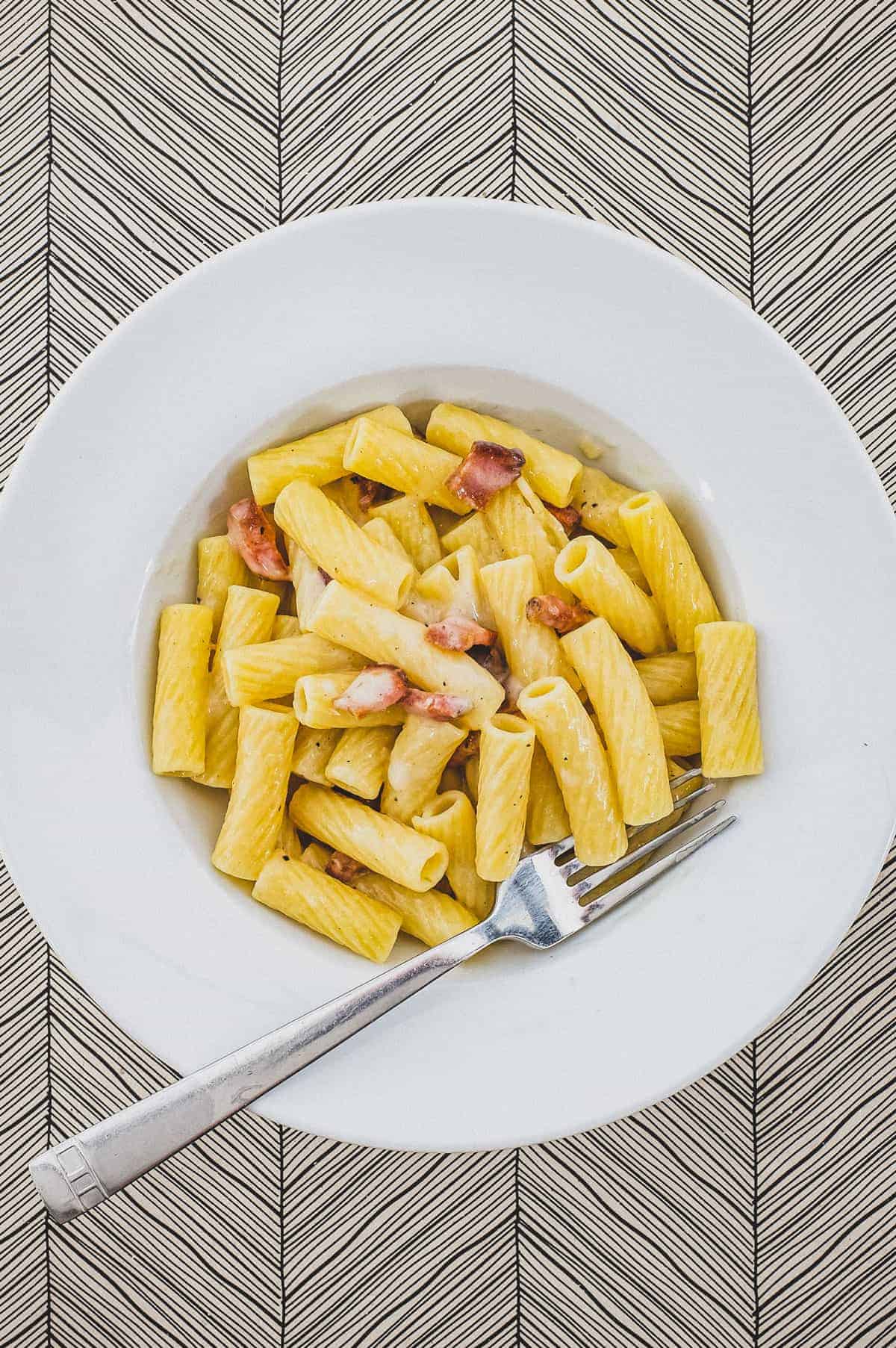 Gricia is a classic Roman dish eaten in the City, but all around Lazio and Umbria too. A wonderful lunch or dinner dish. A great appetiser or main course - it's a quick, simple burst of umami flavour. It's one of four cornerstone Roman pastas; namely (carbonara, amatriciana, gricia, and cacio e pepe)
Like many Italian pasta dishes, the ingredients for Gricia are few, but all are special and bring their unique personality to the final dish. Rendered Guanciale pork is the main flavour along with sharp, salty Pecorino Romano. Gricia is very similar to a carbonara sauce - the only difference being where carbonara uses egg yolk in the sauce for a richer, creamier result, gricia is more humble - no egg, just a little pasta water magic.
What is Guanciale?
Guanciale is pork cheek/jowl that has been rubbed in spices, like salt, pepper, fennel, thyme and sometimes garlic. It's then cured to give a robust flavour.
Slowly rendering Guanciale in a dry pan creates crispy cubes of meat along with a generous amount of flavourful fat to help achieve the emulsified sauce so vital in its success.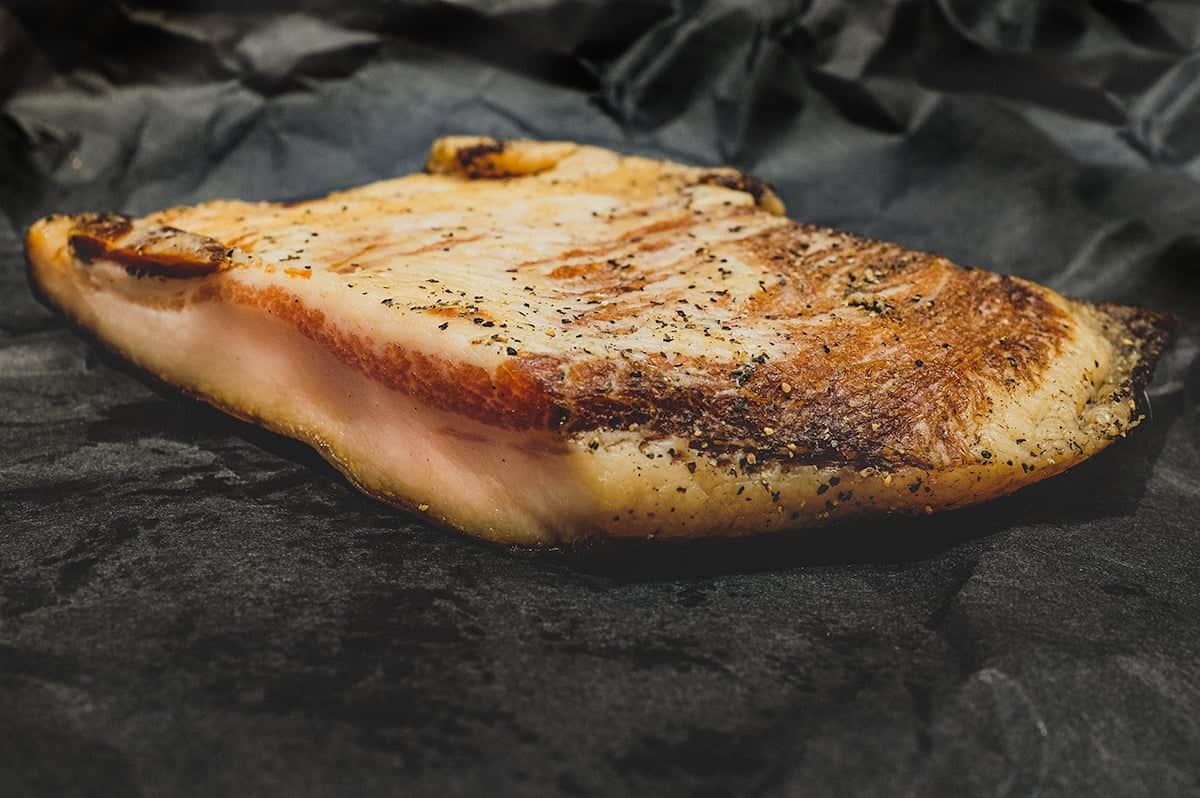 Is there a substitute for Guanciale?
If you can't get hold of any guanciale pork, you could substitute with pancetta (Italian bacon) - if you do, use caution with salt, as pancetta is saltier than guanciale. You COULD use bacon, but you'd have a completely different dish and face the wrath of any Italian!
What cheese to use for Gricia sauce
Purists will tell you to use only Pecorino Romano cheese, a hard and sharp variety, common to Rome. I do use Pecorino Romano, but also add a little good quality Parmigiano Reggiano, another hard cheese which has a rounded, salty and tangy flavour. Combining the two cheeses in my experience, makes for a delicious result. I've discovered many chefs in Rome do this too!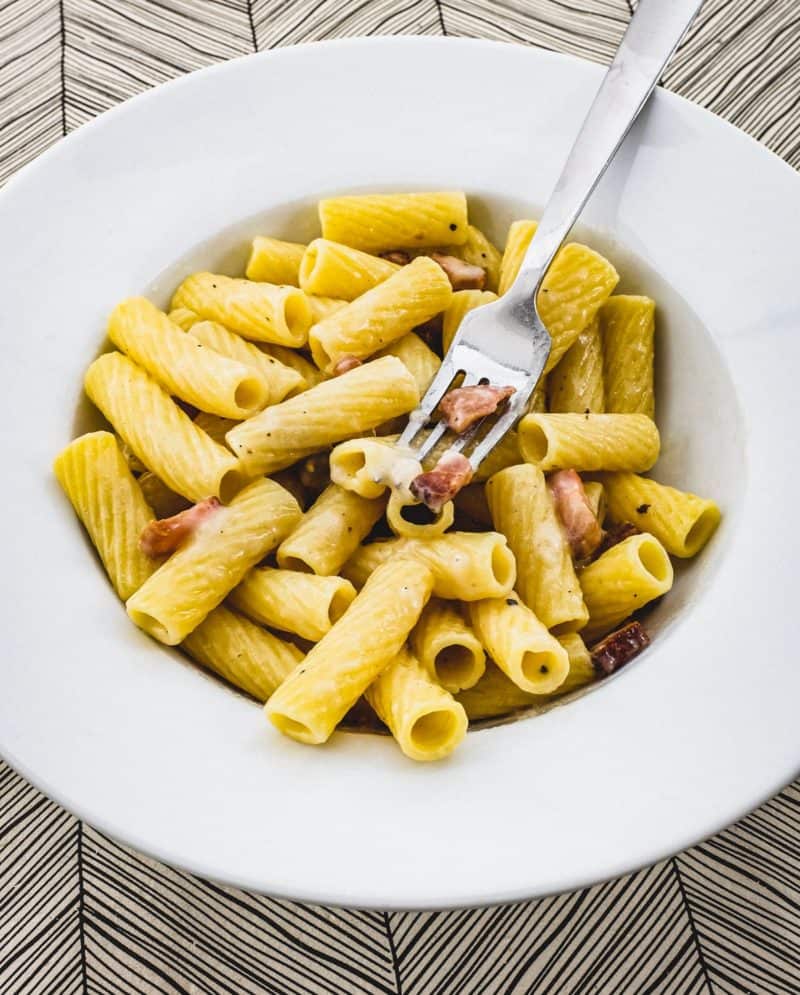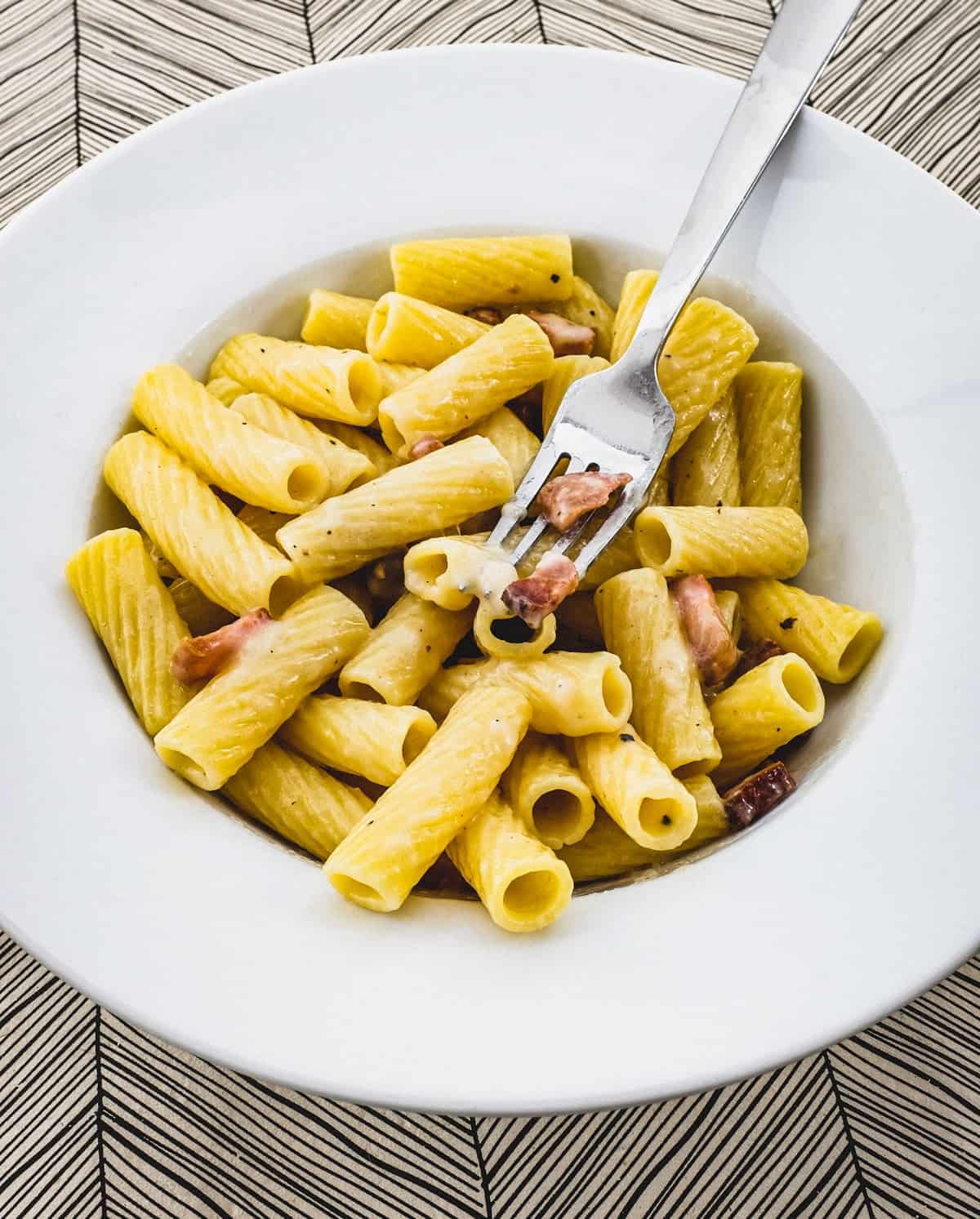 How to make the perfect Gricia sauce
To create the creamy Gricia sauce is not too difficult. Just remember a couple of things:
Use your pasta cooking liquid -

Before draining, keep back some of the starchy pasta cooking liquid. Adding a little to the guanciale fat starts off an emulsification process and helps create the

authentic Gricia

sauce creaminess and, because you salt your pasta water, it'll also help season the sauce too.

Mix the sauce OFF the heat - Adding the cheese to a pan over the flame will result in it coagulating and the sauce won't emulsify properly. Simply take the pan off the heat and add the cheese. Work quickly, adding more pasta water as you go and you'll be left with a creamy sauce that lightly coats the pasta. Bellissimo!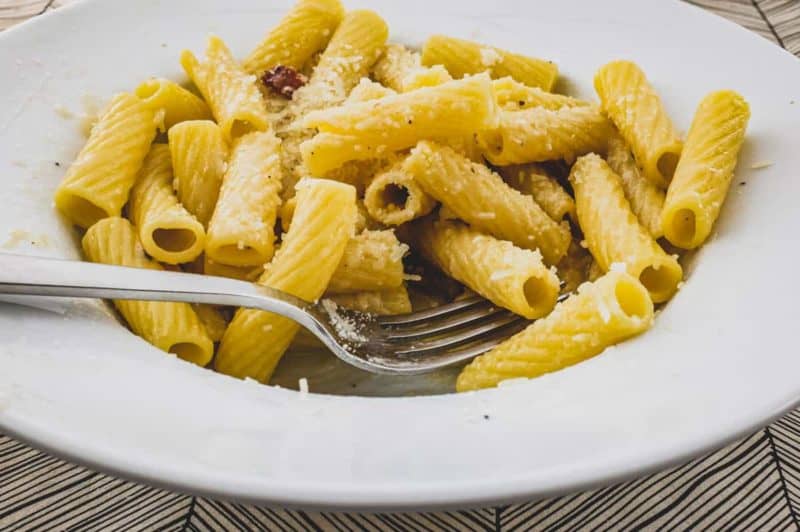 SO now all that's left to do is EAT IT HOT with plenty of extra cheese to sprinkle over. Get ready for one of the quickest, tastiest little pasta treats that Italy has to offer. Enjoy!
More of my favourite pasta recipes
I love pasta! All shapes, all sizes... homemade pasta is the best but shop bought is just fine too. I have recipes for all occasions - here are a few of my favourites.
Pasta Alla Gricia (Pasta with Guanciale & Pecorino Romano)
Rate this recipe
Print Recipe
Pin Recipe
Save Recipe
Go to Collections
Calories (per serving) |
1176
Instructions
Cook the pasta in a large pan of generously salted water for about 1-2 minutes short of the packet instructions

Meanwhile, add the guanciale to a large, deep frying pan and heat over a moderate heat. The guanciale will slowly begin to render its fat and start frying. Fry for 3-4 minutes until the fat has rendered out and the giancale begins to brown. Remove from the heat while you wait for the pasta to finish cooking.

Once the pasta has cooked, return the guanciale to a moderate heat. Drain the pasta, retaining 2 cups of the cooking liquid.

Tumble the rigatoni into the pan along with 1/2 cup of the pasta water. Stir for 1 minute before removing from the heat.

Quickly sprinkle over the pecorino and Parmigiano cheeses and stir into the pasta. Add another 1/2-3/4 cup of the pasta liquid and stir well until the sauce becomes thick and creamy and coats all the pasta. DO NOT put back on the heat. Add a little more pasta water if needed.

Spoon the pasta into bowls and serve HOT! You can serve extra cheese to grate over as you wish - a little extra cheese never hurt, right!?
Nutrition
Calories:
1176
kcal
(59%)
|
Carbohydrates:
113
g
(38%)
|
Protein:
35
g
(70%)
|
Fat:
64
g
(98%)
|
Saturated Fat:
26
g
(163%)
|
Polyunsaturated Fat:
1
g
|
Monounsaturated Fat:
2
g
|
Cholesterol:
101
mg
(34%)
|
Sodium:
932
mg
(41%)
|
Potassium:
353
mg
(10%)
|
Fiber:
5
g
(21%)
|
Sugar:
4
g
(4%)
|
Vitamin A:
108
IU
(2%)
|
Calcium:
268
mg
(27%)
|
Iron:
2
mg
(11%)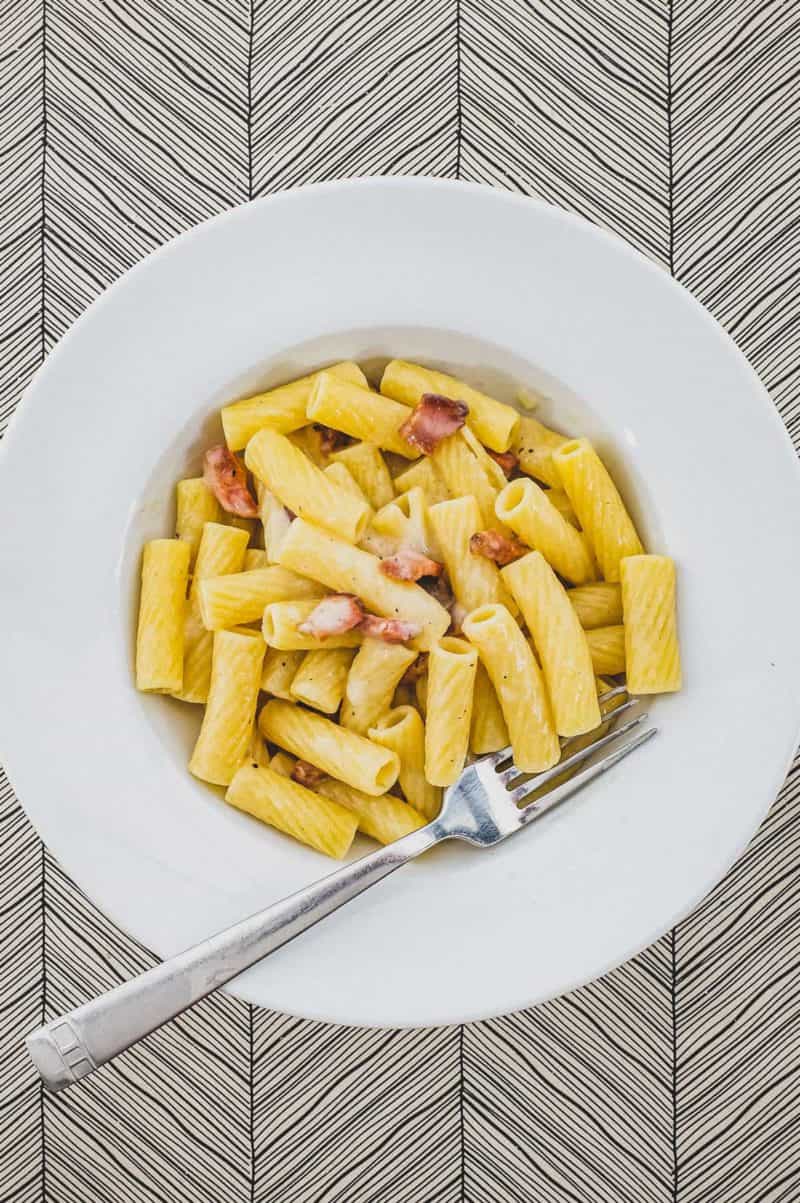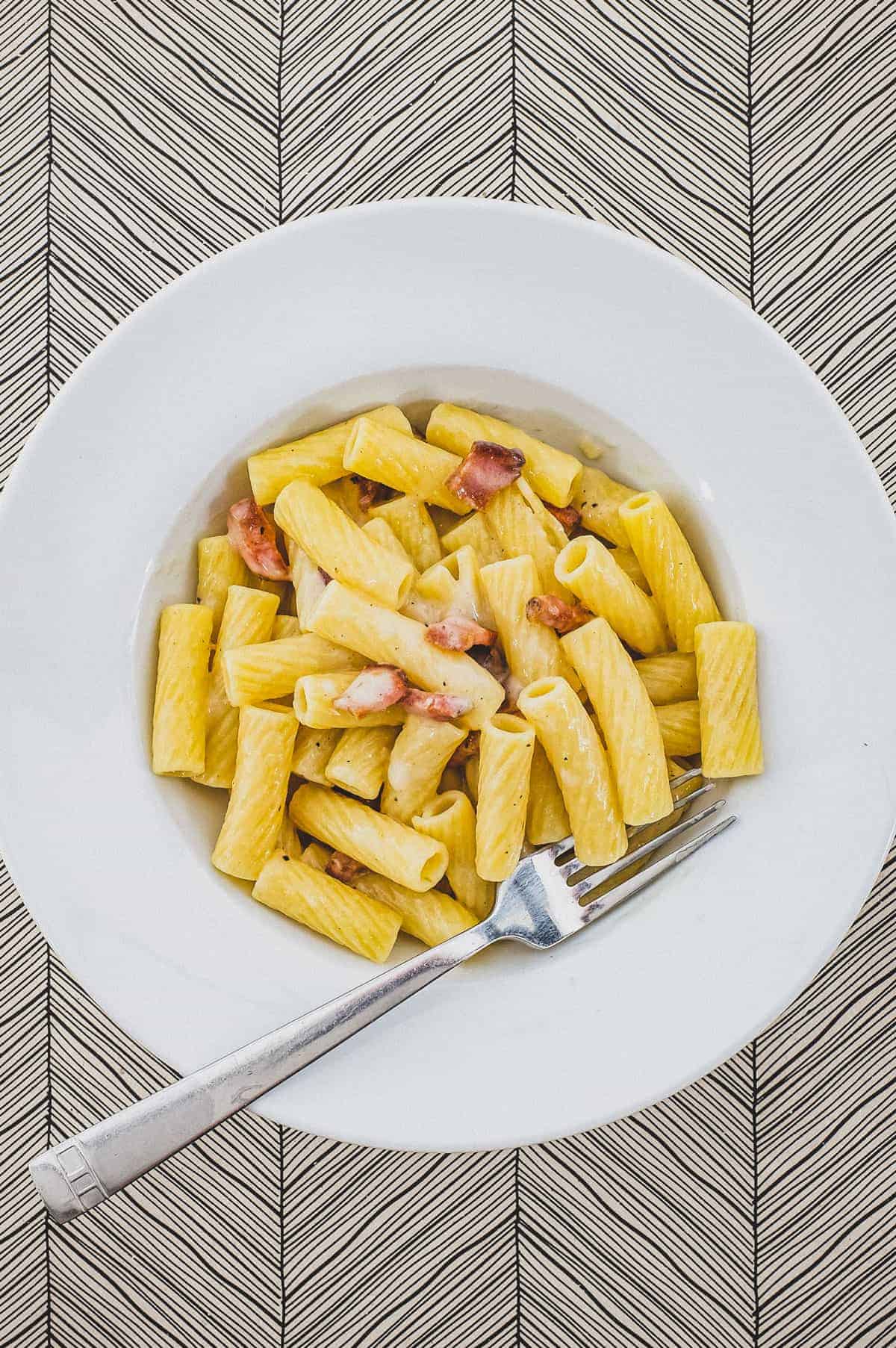 Did you make my Pasta Alla Gricia (Pasta with Guanciale & Pecorino Romano)
How did you go? Let me know in the comments below and be sure to tag @cookeatworld at Instagram.