Radicchio Pasta with Guanciale, Gorgonzola & Walnuts
The combination of flavours in this simple pasta dish is perfection. Bitter, salty, earthy and nutty come together in one harmonious bowl of goodness. This radicchio pasta with guanciale, Gorgonzola and walnuts is something else!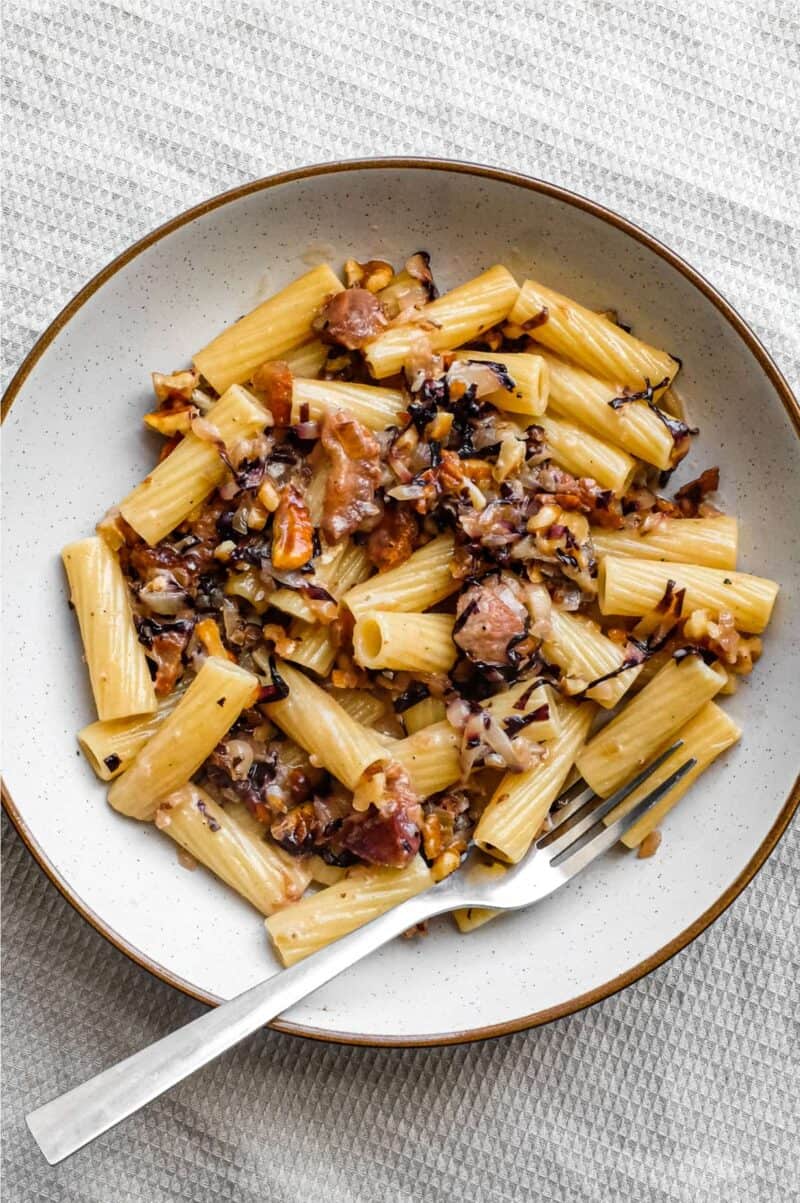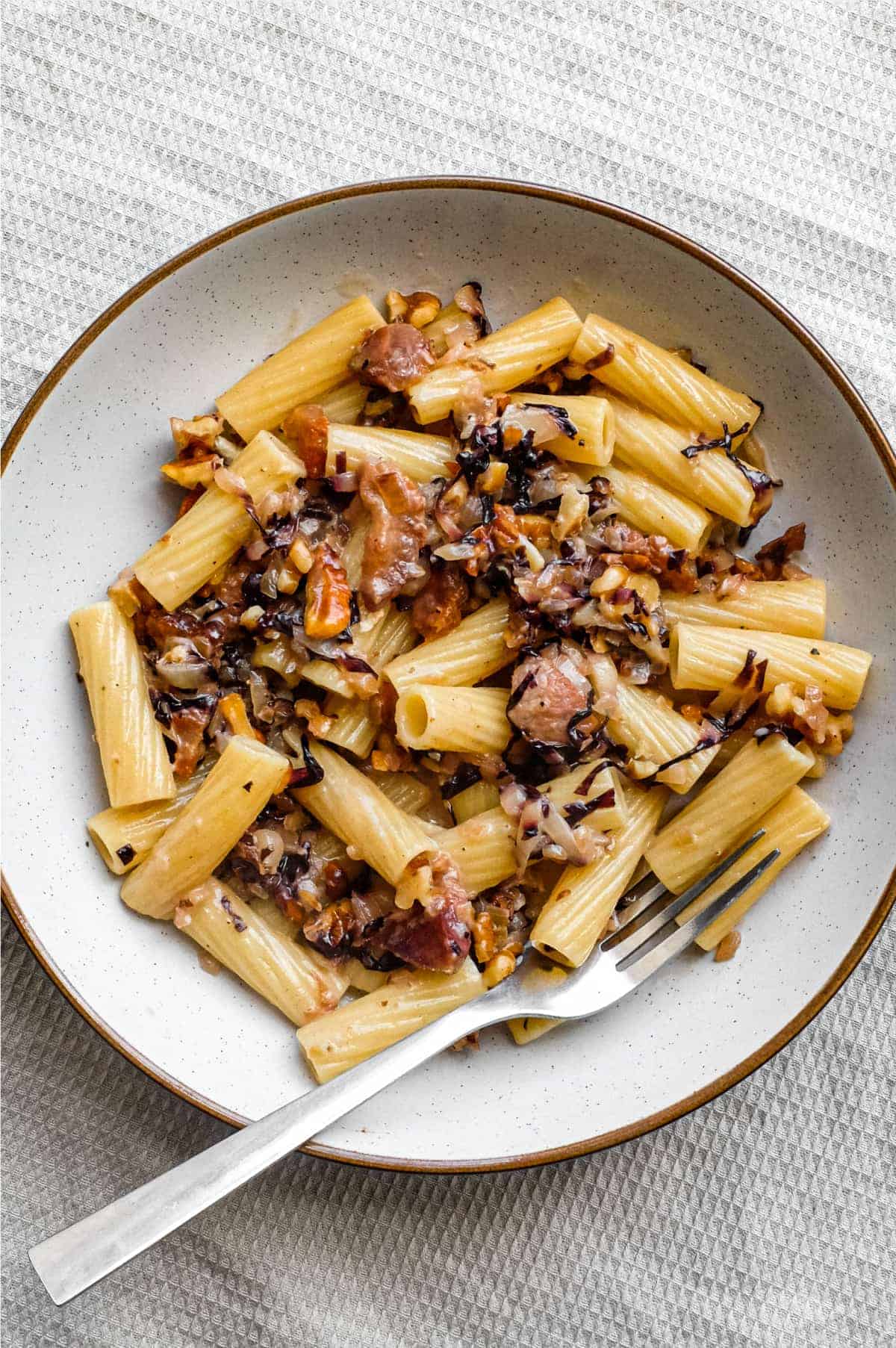 When in Italy I solidified my love for the bitter leaves of radicchio. I add them to all my Italian style salads and recently discovered the joy of grilling them on the bbq! But incorporating them into pasta might just be my new favourite way to enjoy.
In Italy, there are many dishes that are expected to be together. Italians are acutely aware (and won't shy away from telling you) that "this, belongs with that". I recently discovered that radicchio has many 'approved partnerships'.
The bitter pink leaves pair perfectly with walnuts, pungent gorgonzola cheese and salty guanciale bacon. So, why not put ALL of these together to form a simple, and simply delicious pasta sauce I thought?
Then of course I discovered I've already been beaten to that thought (probably by a couple of hundred years). This is a tried and tested flavour combination and gets full approval from me. A wonderful balance of flavour and texture. The bitterness of the radicchio is a fantastic partner to the salty pork cheek guanciale, and to counteract the saltiness, the sweet, creamy (and mildly funky) Gorgonzola rounds things off perfectly. All that's needed is a final light crunch of walnuts. Delights!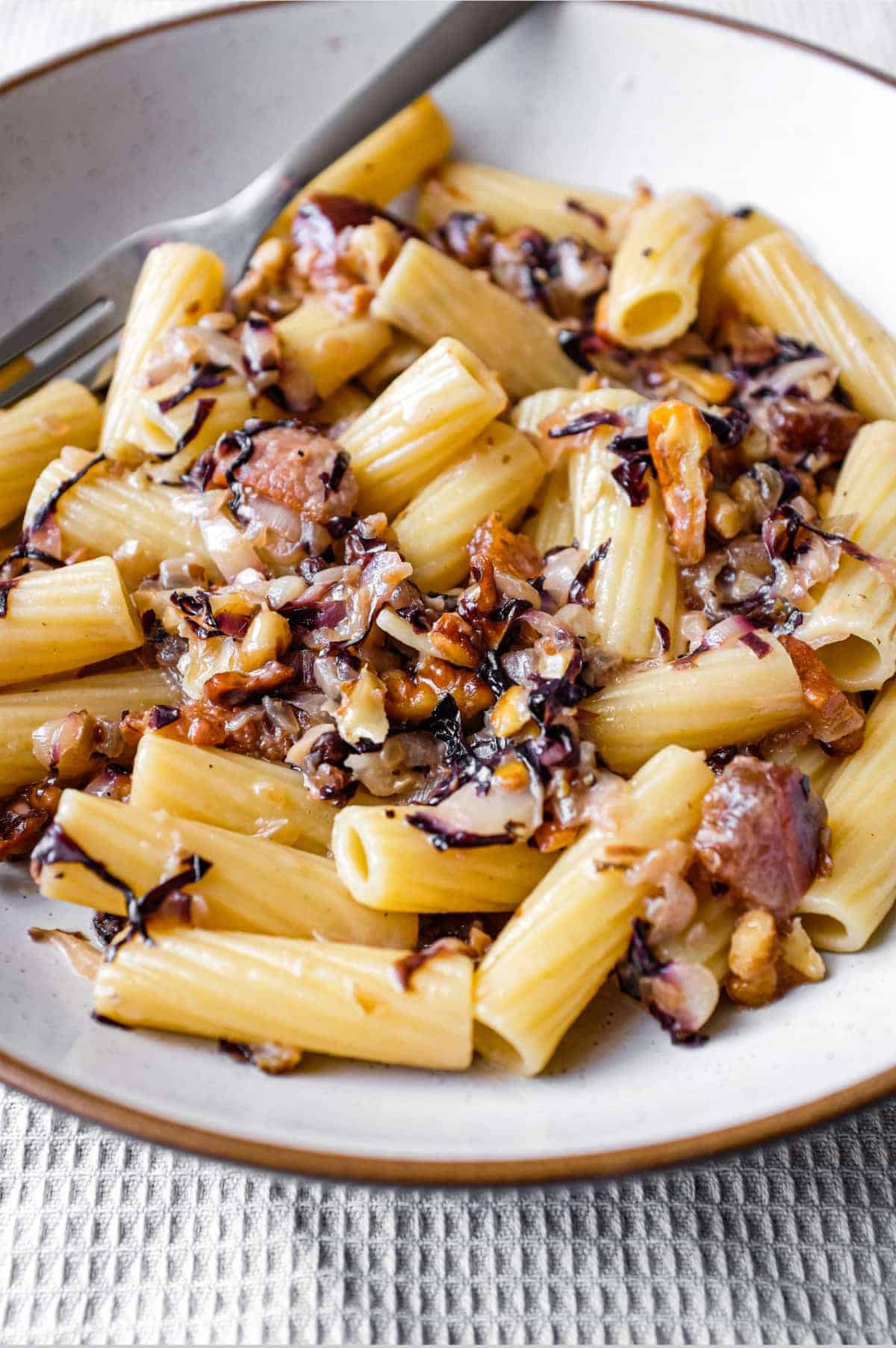 What is Radicchio?
Radicchio is a leafy vegetable that belongs to the chicory family. It has vibrant red or purple leaves with white veins and a slightly bitter taste. Radicchio is often used in salads, but it can also be grilled, roasted, or sautéed. It is a popular ingredient in Italian cuisine and adds a distinct flavor and color to dishes.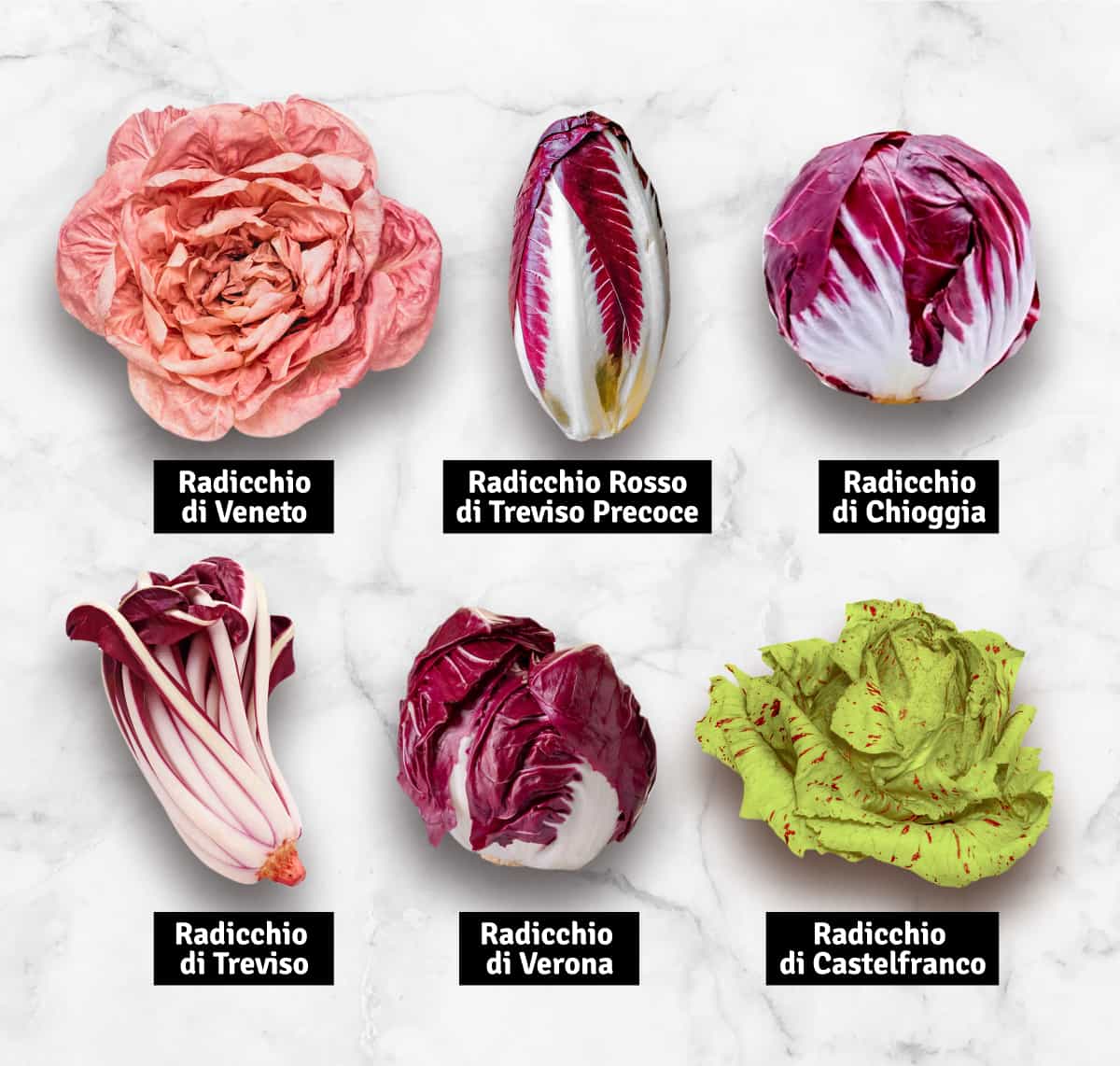 There are several varieties of radicchio, each with its own unique characteristics. Some of the commonly cultivated varieties, all fine for this recipe, include:
Rosso di Treviso Precoce*: Long leaves that are arguably less bitter than other varieties.
Radicchio di Treviso: Elongated heads, deep red leaves, milder and sweeter flavor.
Radicchio di Chioggia: Red or purple leaves with a slight bitterness.

Radicchio di Castelfranco: Round or oval heads, pale green to yellow leaves with red/purple speckles, mild and slightly bitter taste.
Radicchio di Verona: Elongated heads, deep red leaves with white veins, crisp texture, slightly bitter taste.
Radicchio di Veneto: Rose Shaped, pink in colour and one of the most bitter varieties.
* used in this recipe.
Why it works?
It's so well balanced - All these flavours have forthright personalities of their own, but when paired together they play so well together without one overbearing the other. It's a harmonious blend of flavour.
It's quick and easy - Making this sauce is simple with only six ingredients. No waiting around, it's in the pan and into a bowl in no time at all.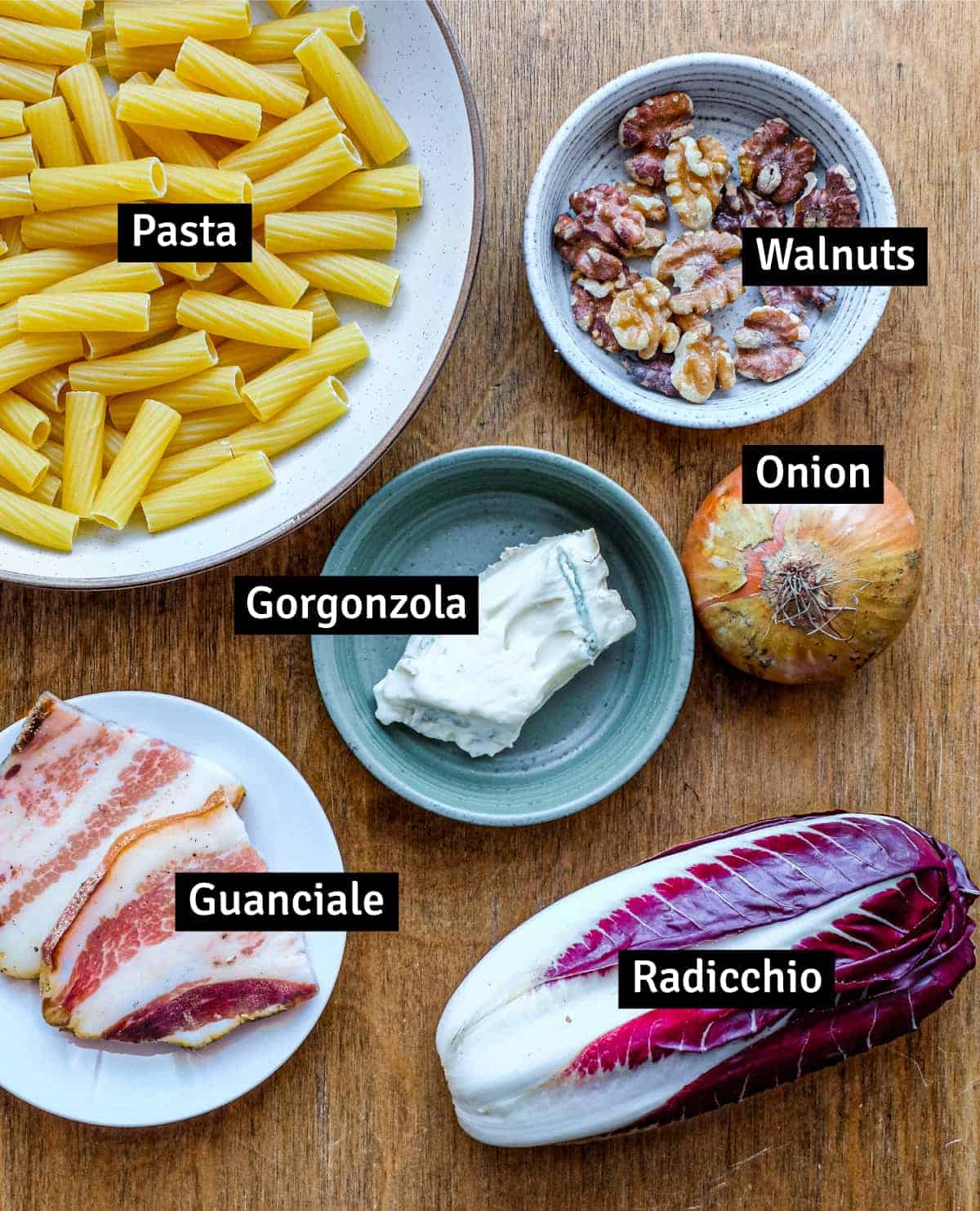 Stuff You'll Need
A stripped back recipe is commonplace in Italian cooking, this radicchio pasta is no exception, but the each plays a pivotal role in the dish.
Radicchio - Use whatever

you can find, varieties differ wherever you are, but all are OK for this recipe. As an alternative you could use

chicory

leaves too.

Guanciale - Guanciale is a type of Italian bacon from the

pig's cheek/jowl. You can substitute with pancetta or salty, unsmoked bacon.

Walnuts - brings a soft, nutty flavour and light crunch to the dish
Gorgonzola - brings the lightly funky blue cheese flavour. Use a mild blue cheese if you can't get hold of Gorgonzola.
Onion - adds a little backbone to the sauce
Pasta - a short pasta is ideal like rigatoni, penne or paccheri. But in all honesty, use whatever you like.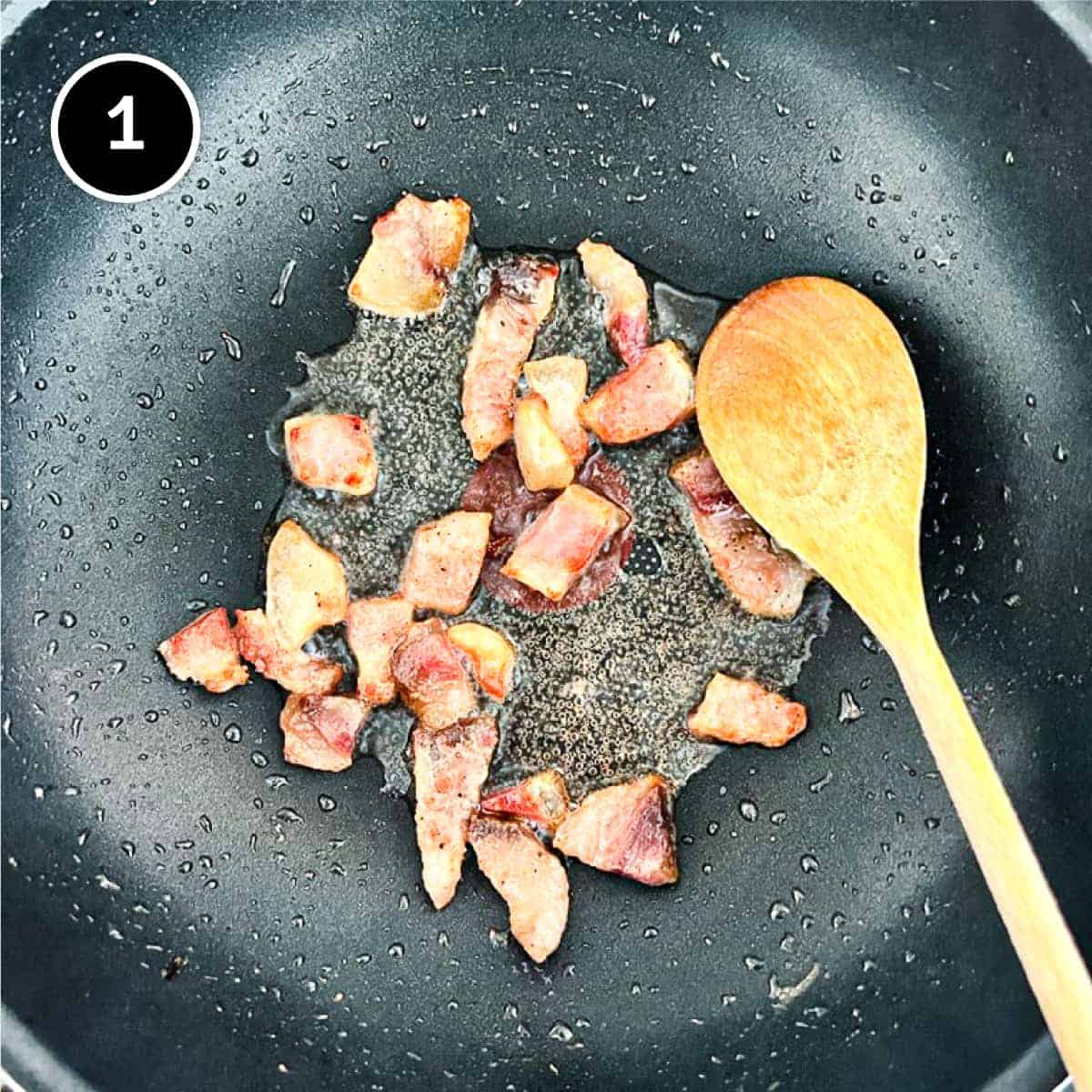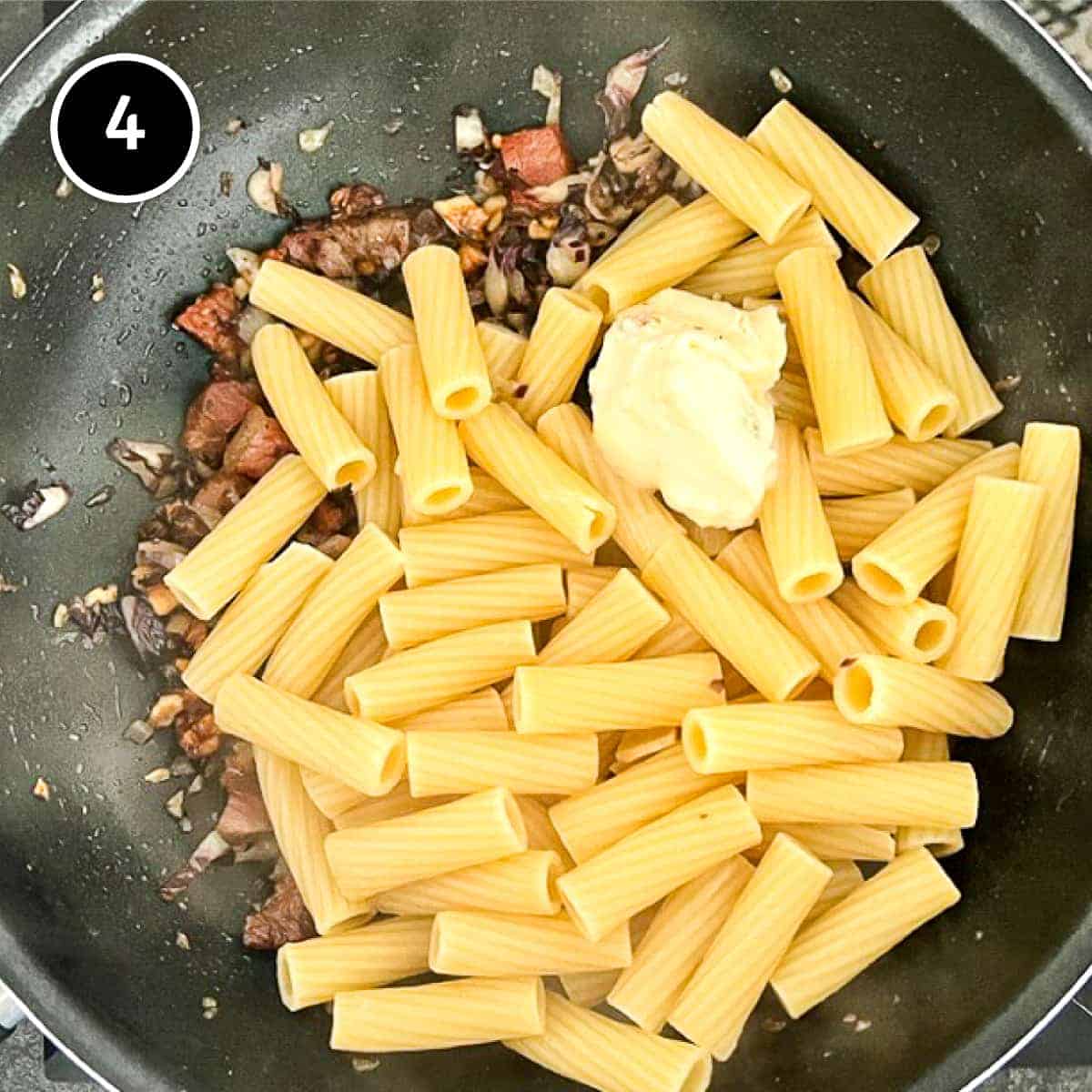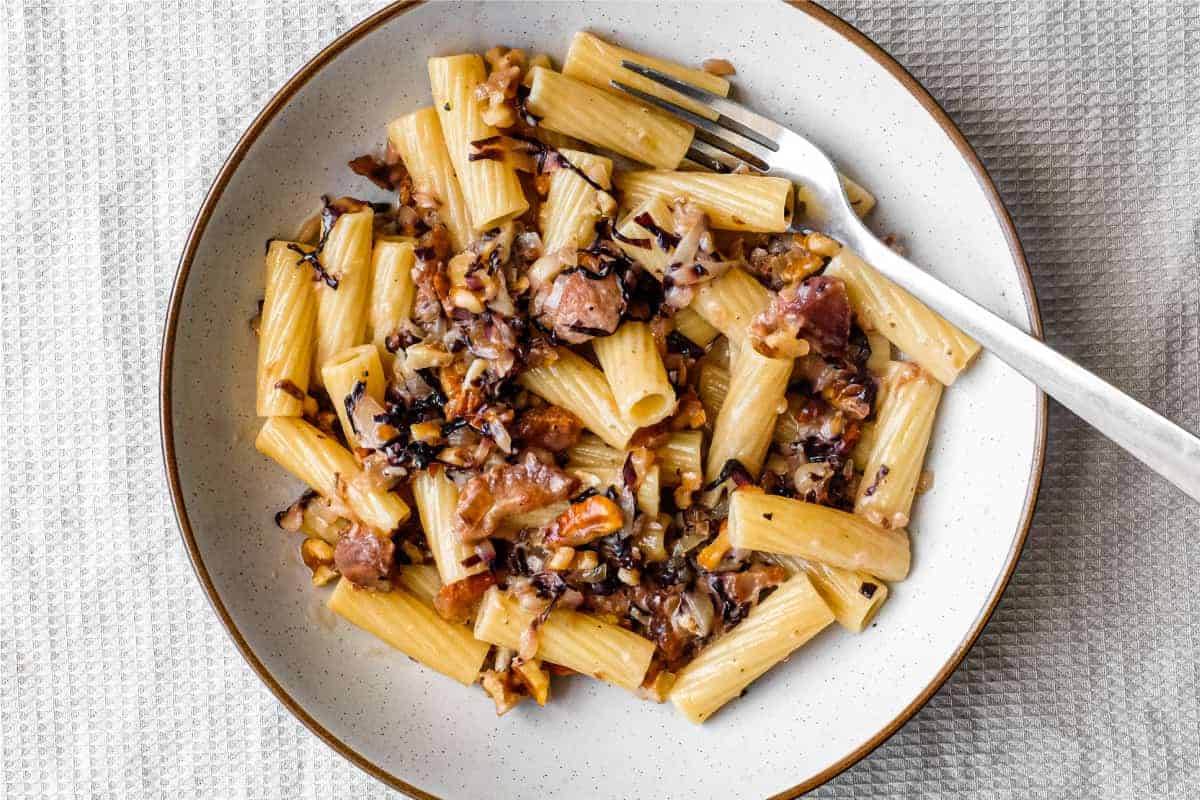 Step by Step
Making this radicchio pasta is super-easy and quick - here are the key stages to help you out. Start by popping your pasta on to cook.
Step 1 - Fry the guanciale. It's a fatty cut, so I don't add any extra oil to fry in. I just cook in the pan from cold over a moderate heat until the fat renders out.
Step 2 -

Add the onion to the

guanciale

fat and fry until golden.

Step 3 - Add the radicchio and walnuts and fry for a couple of minutes to incorporate.
Step 4 - Add the cooked pasta along with the Gorgonzola.
Step 5 - Add a ladleful of hot pasta water then quickly

stir until emulsified and

creamy. Add a little more pasta water if you like a thinner sauce.
That's it! Serve immediately!
Serving, Substitution & Storage Suggestions
Serving -

Serve hot and right away, the longer it sits, the more the sauce is sucked into the pasta, we want the sauce to stay creamy so speed is of the essence!

Different cheese -

You can substitute Gorgonzola for another blue cheese, but be careful not to overpower the sauce with something crazy strong. If blue cheese isn't your thing, substitute with Mascarpone cheese or softer cheese like taleggio for a decadent creamy finish.

No Radicchio? -

Use a bitter leaf like chicory instead. You could opt out of bitterness altogether and use spinach, cavolo nero or

chard leaves too.
No guanciale? - Use Italian pancetta or an unsmoked, salty bacon or even salt pork.
No Walnuts? - Pecans or Hazelnuts work well for this dish too.
Storage
Fresh is best, but any leftovers can be refrigerated for 1-2 days. I suggest adding a little water for reheating to ensure you get a little creaminess in the sauce. Freezing is not recommended for this dish.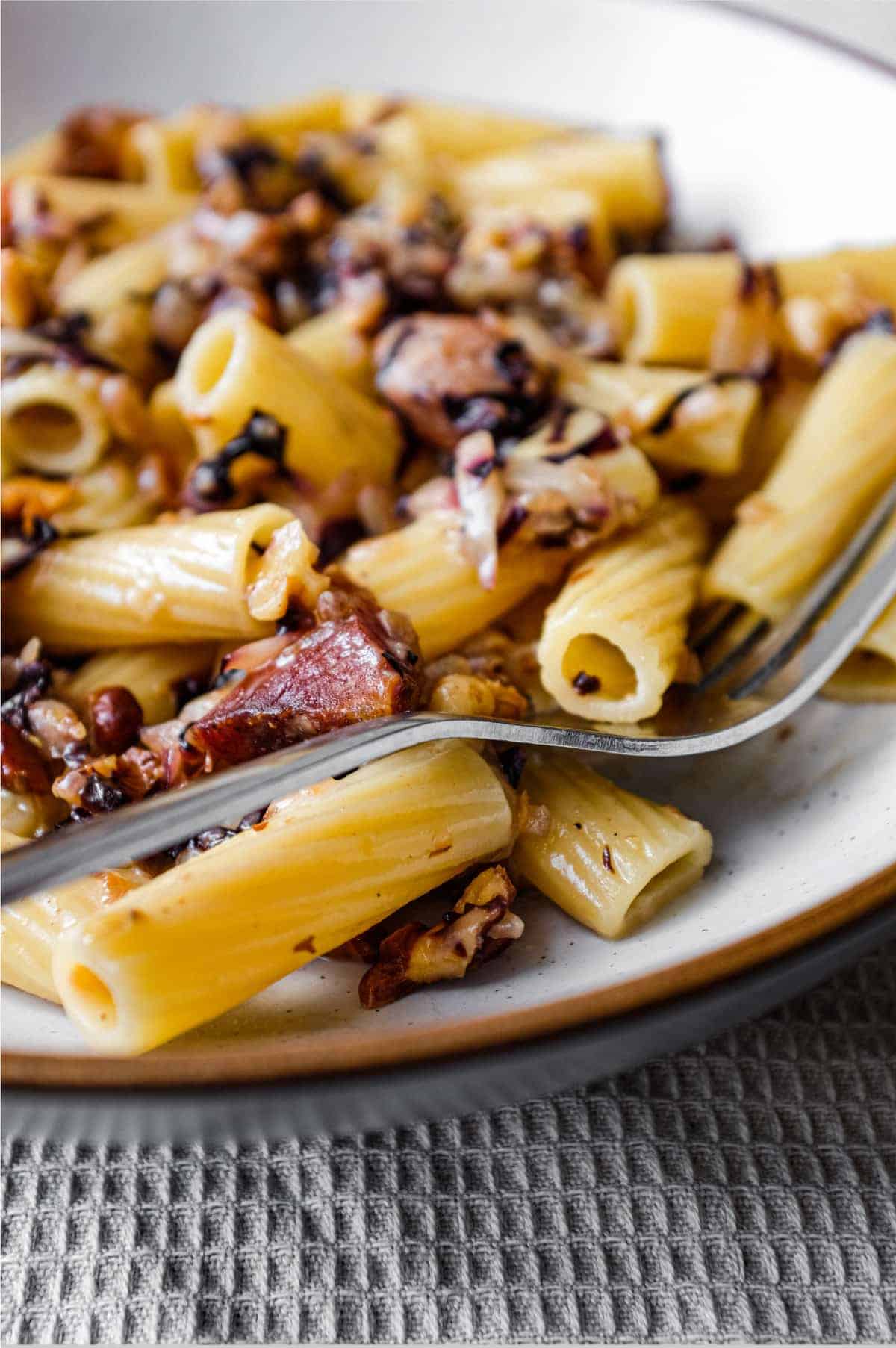 Ready to get cooking?
I can't sing the praises enough of this crafty combination of flavour and texture. I love each ingredient individually, and when combined, each brings a little more magic to the next.
Radicchio pasta is quick, easy and on the table in the time it takes to cook the pasta - my kind of meal! I hope you enjoy!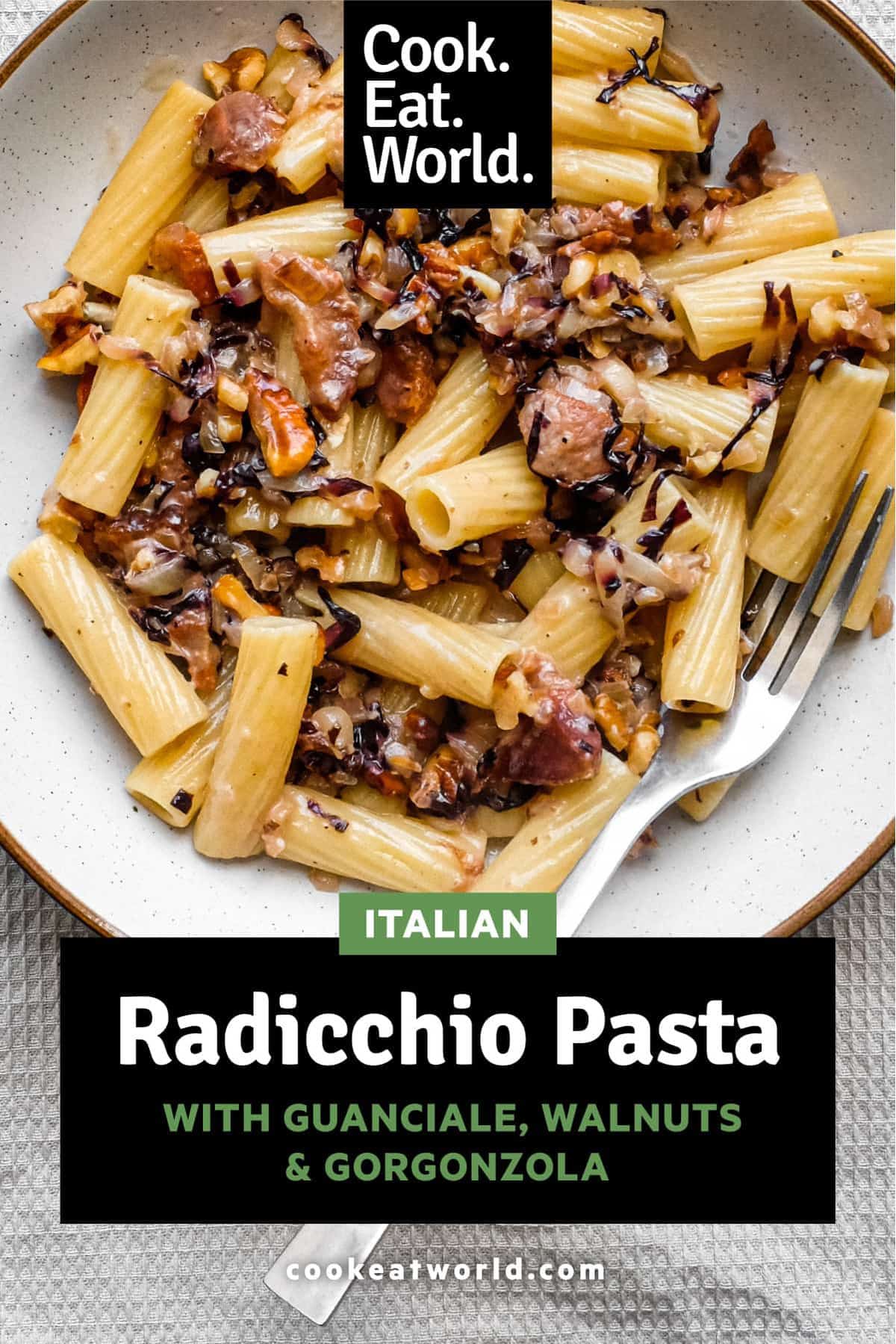 More Italian recipes
If you liked this recipe for my Radicchio Pasta with Guanciale, Walnuts and Gorgonzola, I'm sure you'll love some more of my favourite Italian recipes.
Any Questions? (FAQ)
Have a question about this Radicchio Pasta? Let me know in the comments.
What is Radicchio?
Radicchio is a leafy vegetable with a vibrant red color and bitter taste. It belongs to the chicory family and is commonly used in salads, adding a distinctive flavor and crunch. Its bitter notes make it a versatile ingredient raw or cooked.
What is Guanciale?
Guanciale is a type of Italian cured meat made from pork jowl or cheeks. It is characterized by its rich flavor and delicate texture, with a high fat content that renders when cooked, infusing dishes with a unique savory taste. It is a key ingredient in traditional Italian pasta dishes like spaghetti carbonara, pasta alla gricia and amatriciana.
What is Gorgonzola?
Gorgonzola is a blue cheese originating from Italy. It is made from cow's milk and known for its creamy texture and distinctive blue-green veins. The cheese has a pungent aroma and a tangy, creamy taste with hints of earthiness. It is often used as a topping for salads, in sauces, or enjoyed on its own with bread.
This recipe uses affiliations and may receive a commission based on your activity (link clicks). Learn more.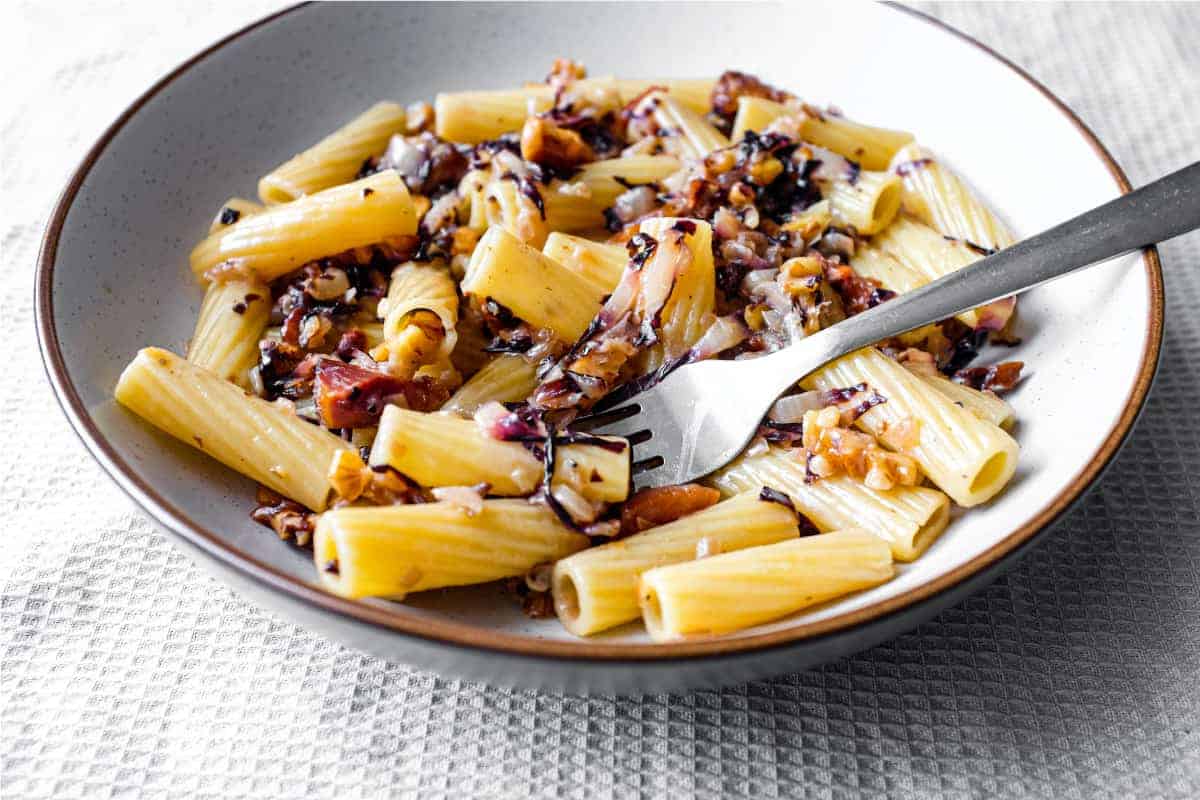 Radicchio Pasta with Guanciale, Gorgonzola & Walnuts
Rate this recipe
Print Recipe
Pin Recipe
Save Recipe
Go to Collections
Calories (per serving) |
942
Ingredients
6

oz

rigatoni

(170g)(or your choice of pasta)

5

oz

guanciale

(150g) (or pancetta)

1

small onion

(finely diced - about ½ cup)

1

small radicchio

(roughly shredded - about 4 cups)

15

walnuts

(roughly chopped)

salt & pepper
Instructions
In a large pan of boiling salted water, cook your pasta shapes to the packet instruction until cooked.

While the pasta cooks, add the guanciale to a deep sauté pan then turn to heat to moderate. Let the guanciale gradually start to sizzle and render out its fat (about 4-5 minutes)

Add the onion to the pan and let this cook for 3-4 minutes until soft and golden.

Add the radicchio leaves and walnuts and stir for 1-2 minutes to wilt and cook the radicchio. Remove from heat until your pasta cooks.

When the pasta is cooked, return the sauce to the heat and add the hot pasta along with 1 ladle of the pasta water and the gorgonzola cheese.

Stir quickly to incorporate everything and create an emulsifies creamy sauce. Add a little more pasta water if needed. Season with pepper then taste and add a little salt if needed.

Spoon into bowls and serve immediately.
Notes
Serving Suggestions:
Serve immediately while hot to maintain a creamy sauce; prolonged sitting absorbs the sauce into the pasta.
If you prefer a different blue cheese, be cautious not to overpower the sauce. Consider substituting with Mascarpone or Camembert for a luxurious creamy touch.
No Radicchio? Substitute with chicory or other bitter greens like spinach, cavolo nero, or chard.
In the absence of guanciale, use Italian pancetta, unsmoked salty bacon, or salt pork.
If you don't have walnuts, pecans or hazelnuts can be used as alternatives for this dish.
Storage Suggestions:
Ideally, consume fresh, but refrigerate any leftovers for 1-2 days.
To reheat, add a little water to maintain creaminess in the sauce.
Freezing is not recommended for this particular dish.
Nutrition
Calories:
942
kcal
(47%)
|
Carbohydrates:
71
g
(24%)
|
Protein:
22
g
(44%)
|
Fat:
64
g
(98%)
|
Saturated Fat:
21
g
(131%)
|
Polyunsaturated Fat:
8
g
|
Monounsaturated Fat:
1
g
|
Cholesterol:
76
mg
(25%)
|
Sodium:
615
mg
(27%)
|
Potassium:
338
mg
(10%)
|
Fiber:
5
g
(21%)
|
Sugar:
5
g
(6%)
|
Vitamin A:
4
IU
|
Vitamin C:
4
mg
(5%)
|
Calcium:
45
mg
(5%)
|
Iron:
2
mg
(11%)