Borlotti Beans with Chard
Borlotti beans (or Cranberry Beans) are an Italian staple and eaten throughout the country. This filling and nutritious borlotti bean recipe is the perfect partner to meats, fish, and other vegetables and can be enjoyed year-round.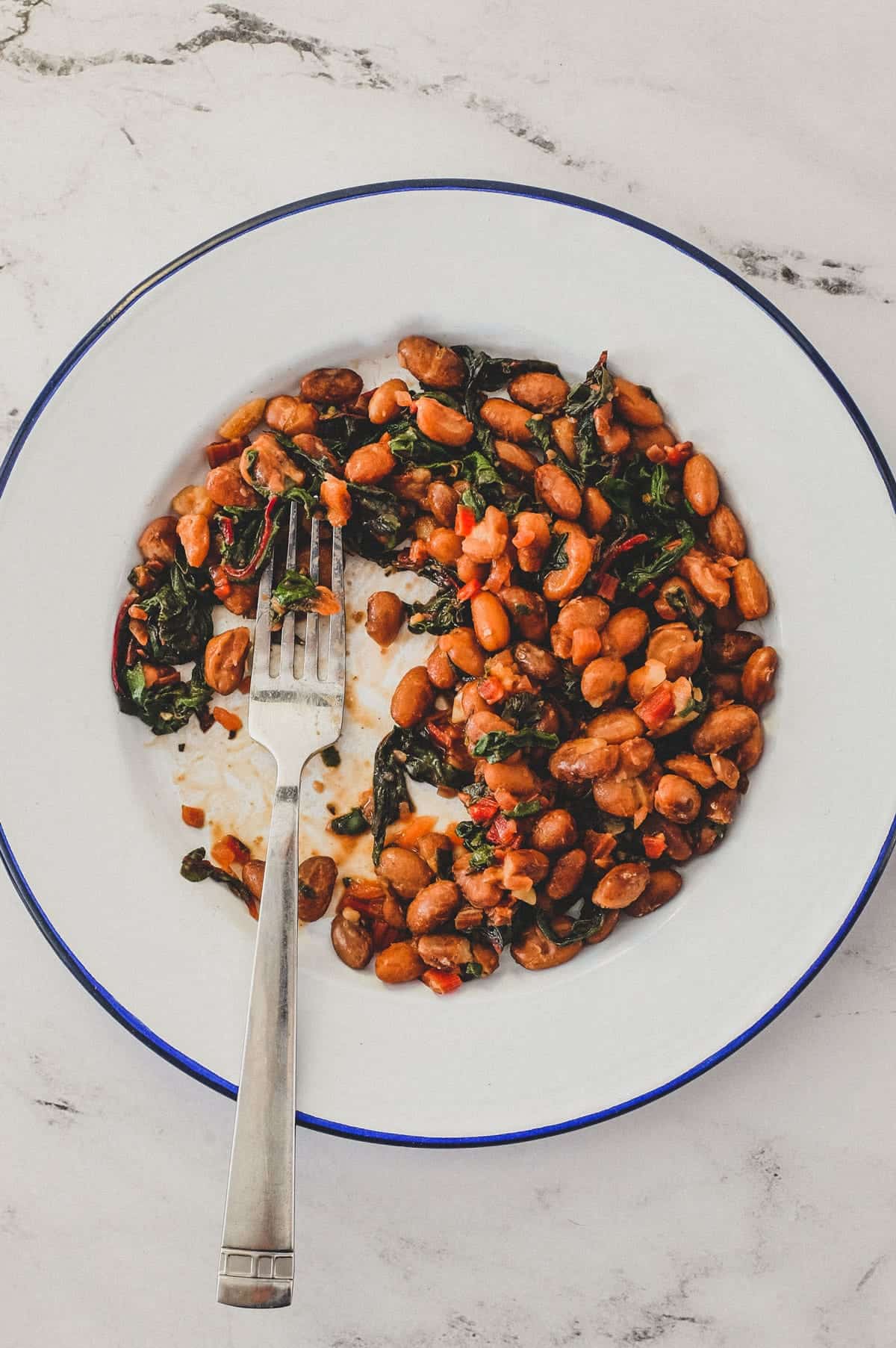 I LOVE beans of any shape or form. There's something intensely satisfying about them. From soaking your own, to whizzing them up in the food processor to make dips, or creating mouthwatering sauces for them. This Italian borlotti beans recipe pairs the beans with another superfood (and another personal favourite) chard/silverbeet.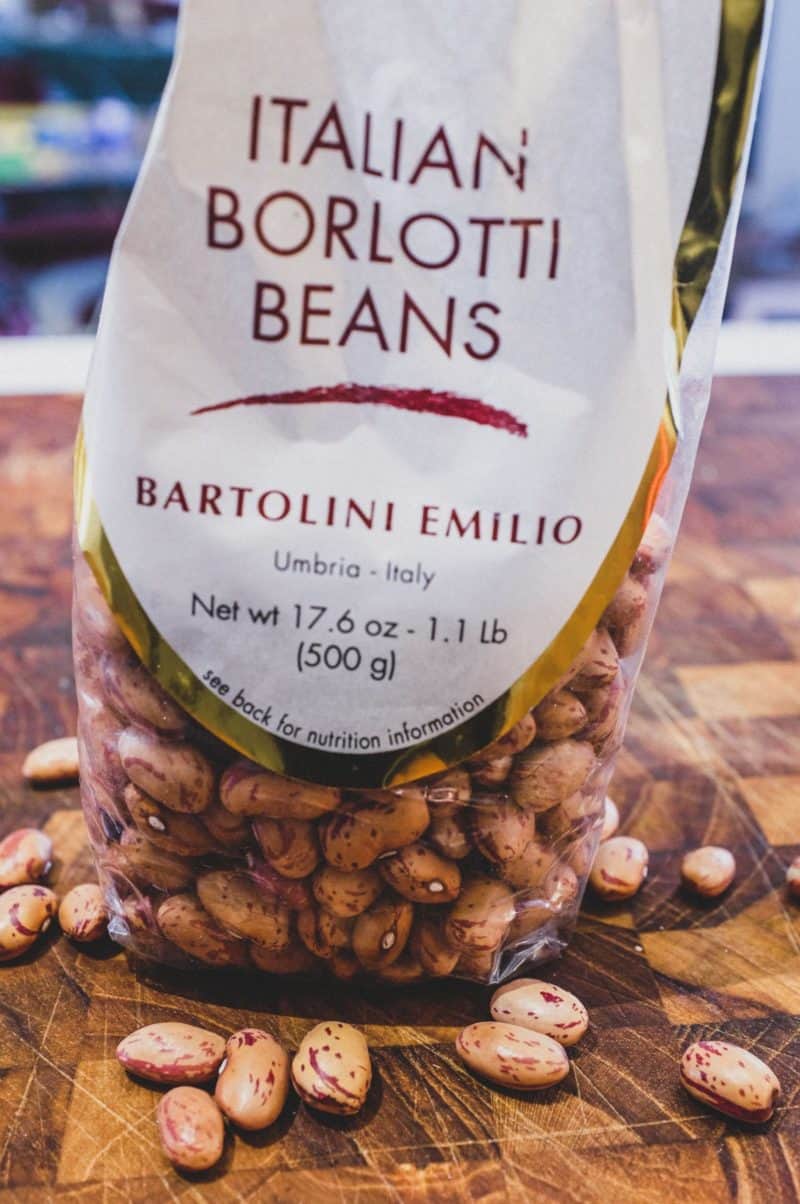 What are Borlotti Beans?
Like many ingredients, Borlotti have different names around the World. Being European, I've always called them Borlotti, but they're also widely known as Cranberry Beans, Roman Bean, Romano Beans, Saluggia Bean, Gadhra Bean or Rosecoco beans! It's exhausting I know - for the purpose of this recipe we're calling them Borlotti.
Borlotti are medium-sized, around the size of a kidney bean. They're super healthy, and packed with Fibre, Protein, Potassium, Magnesium and Iron.
Why this combination just works
It's Hearty, Healthy and Versatile - I LOVE beans and I love chard/silverbeet, so these two together are just perfect. the combination really fills you up and is the perfect little side dish to so many other dishes; fish, meat, poultry or just other veggie dishes.
Stuff you'll need + how to
Making this dish is pretty easy, and the results are so special. Here's the low down.
Borlotti beans - get the dried variety - cooking them yourself is easy, but if you're sort on time you can also used canned.
Chard - I like to use rainbow chard/silverbeet, but any variety is fine. You can also use Italian black cabbage, cavolo nero.
Aromatics - Onion, garlic and sage bring a little extra flavour
Stock - some vegetable or chicken broth/stock will add a depth of flavour
Parmigiano Reggiano - Everything tastes better with a dusting of Italy's tastiest cheese, right?
How to
Cook the beans - I give you two methods, one in an Instant Pot/pressure cooker and the other on the stovetop. There's no need to soak the beans, I never soak any beans and never have an issue.
Sauté the chard - Tip: I chop and fry the stems first then add the leaves. I'll also add some onion, garlic and sage at this stage for more flavour.
Add the beans and stock - I cook everything together until the stock is absorbed and that's it! Done!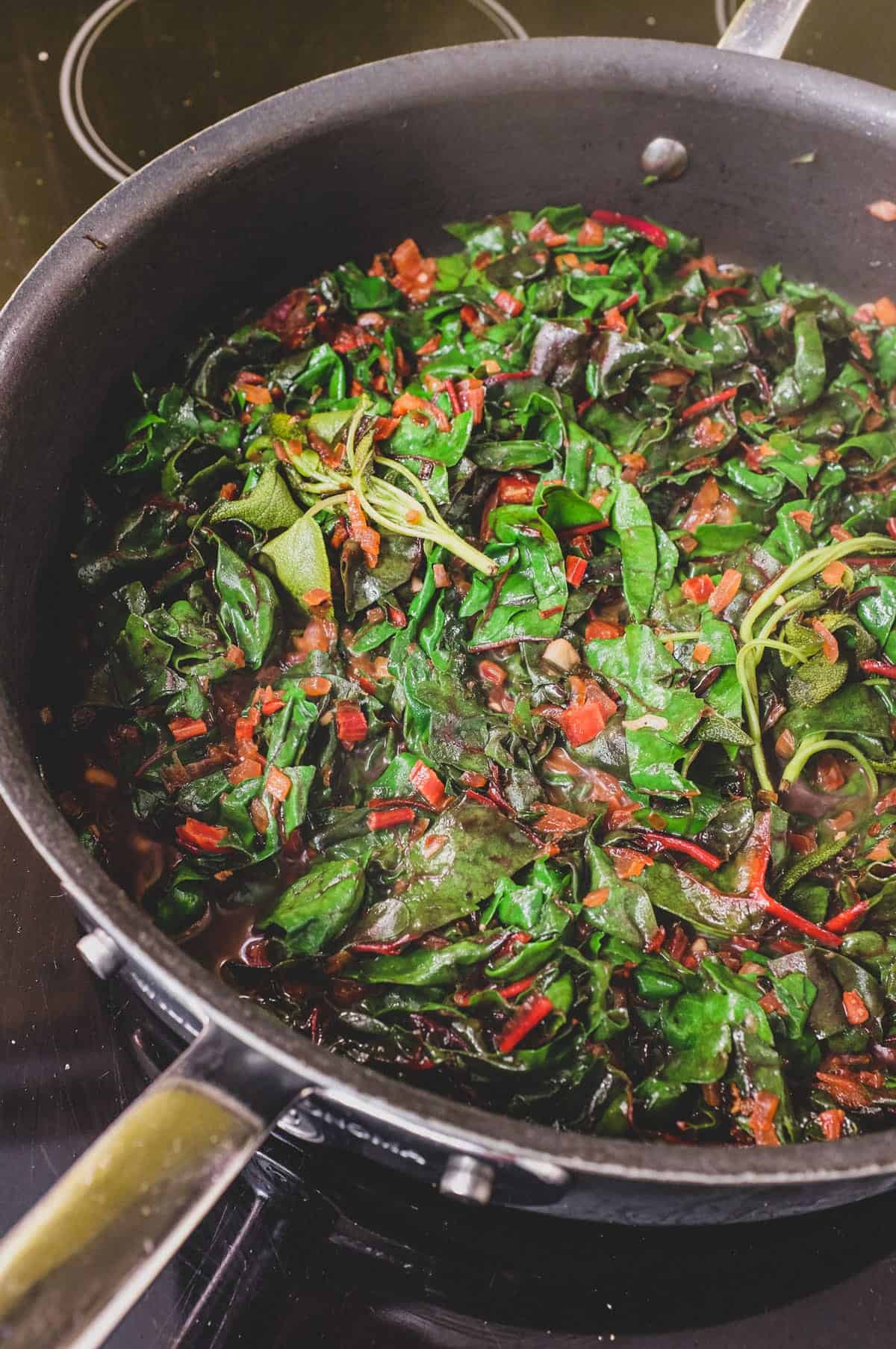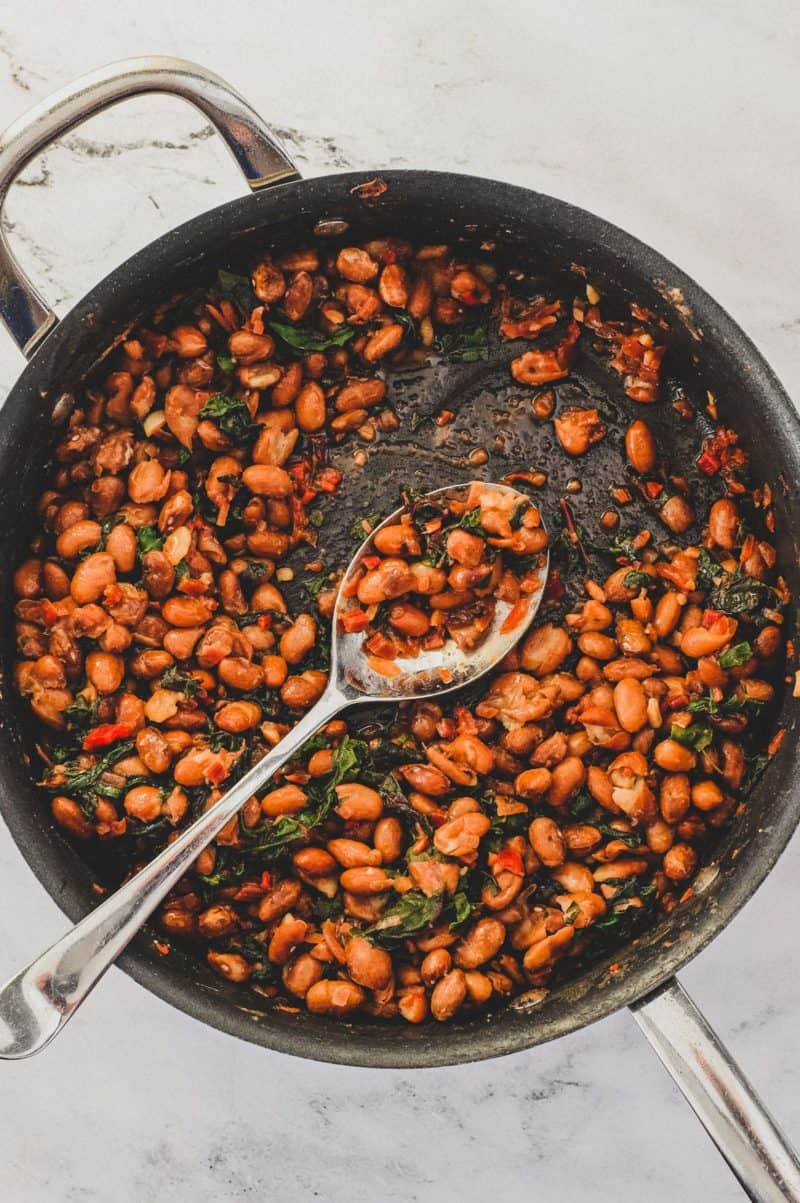 Pro Tips to make your life easier
To my horror, I see people throw away the stalks from chard. They have so much flavour. Chop them up and sauté along with the onion. This = much flavour!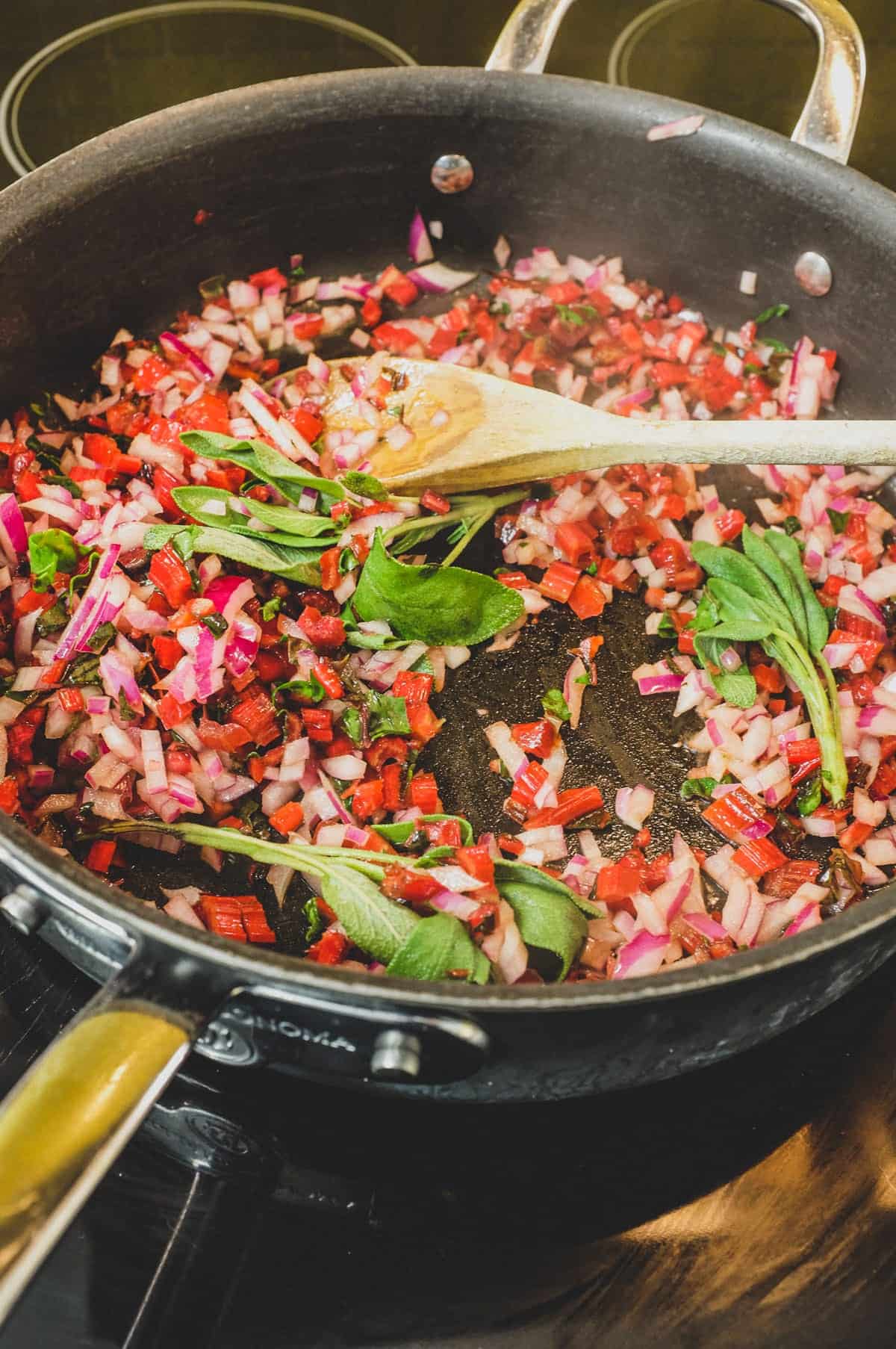 My borlotti bean recipe is versatile and isn't limited to just using borlotti – white beans or cannellini are perfect, as are kidney beans, butter beans and even black beans.

Instead of fresh sage, you could use marjoram, rosemary, thyme, oregano or tarragon. If you don't have fresh, substitute with about 1-2 teaspoons of dried.

If you want to change up the chard, try spinach, kale or cavolo nero cabbage, and use a little more onion or a little celery instead of the cavolo nero stalks as they can be a bit tough.
Serving and storing suggestions
Fridge - In an airtight container these borlotti beans will stay fresh for up to a week.
Freezer - Portion up into servings, in airtight containers or freezer bags and they'll be good for 3+ months.
Ready to get cooking?
I seriously can't get enough beans in my life (is that weird?) and I'll cook them in some variety once or twice a week. This borlotti recipe is one of my favourites, so versatile and at home with so many other dishes.
Great hot or at room temperature in spring, summer, autumn or winter. They pack a hearty, healthy punch and you just know they're doing all kinds of wonders to your wellbeing! Get into Borlotti, people!
Any Questions? (FAQ)
Have a question about this recipe for Borlotti Beans? Let me know in the comments.
Should borlotti beans be soaked before cooking?
Soaking beans makes them a little easier to cook. But honestly folks, this myth that beans MUST be soaked before cooking is not strictly true. I NEVER soak my beans and they cook just fine, every time. Don't fret, just cook from dried, low and slow and your beans will come out perfect every time.
Are borlotti beans the same as cannellini beans?
No, borlotti are a different variety. They have a mottled pattern when fresh and dried and are plumper than cannellini. They have a similar creamy consistency, but a notably more nutty flavour.
Are Borlotti beans easy to digest?
Yes! Most beans are easy to digest, in fact they provide a great form of fibre which, as we know, actually helps with digestion.
More delicious recipes for beans and pulses
If you like this recipe for Borlotti beans, and are as obsessed with pulses and beans as I am, try some more of my favourite recipes.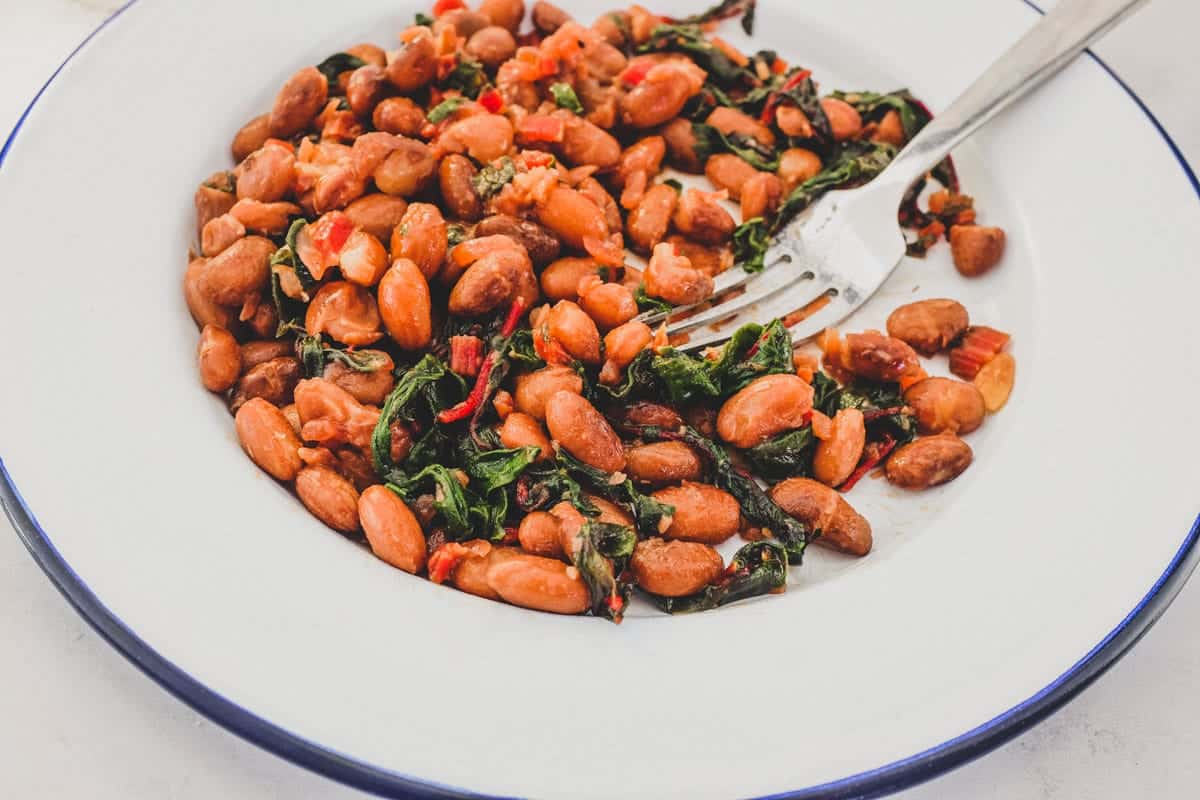 Borlotti Beans with Chard
Rate this recipe
Print Recipe
Save Recipe
Go to Collections
Calories (per serving) |
287
Ingredients
Other Ingredients
2

tbsp

olive oil

1/2

onion

(finely diced)

1

bunch

chard

2

garlic cloves

(peeled & finely chopped)

3

sprigs

sage

(about 10-12 leaves)(left whole)

1

cup

stock

(chicken or vegetable)

salt & pepper

Parmigiano reggiano

(or pecorino, finely grated) (optional)
Instructions
Cooking the Borlotti Beans (skip this stage if using canned beans)
Instant Pot Method
Put the borlotti beans, onion, bay leaf and peppercorns into the Instant pot and cover with about 1.5 litres/qt of water.

Cook under pressure for 35 minutes then test for doneness. The beans should be soft and creamy. Cook in 5 minute bursts until done.
Stove-top method
Put the borlotti beans, onion, bay leaf and peppercorns into a large pan and cover with about 1.5 litres/qt of water.

Bring to a boil then reduce the heat and simmer gently (partially covered) for about 1 1/2 hours on a slow simmer until the borlotti beans are soft and creamy.

Drain the beans and discard the water, onion and bay leaf and set aside.
Making the dish
If you're using canned beans, drain well and set aside.

Strip the leaves from the chard and roughly chop. Finely dice the stems and set aside.

Fry the onion, chard stems and sage leaves gently in the olive oil for about 5 minutes until the onions are soft and golden.

Add the garlic and fry briefly before adding the chard leaves. Let these sauté for 3-4 minutes until they're wilted before returning the borlotti beans to the pan along with the stock.

Stir well to incorporate everything and let it sizzle for 3-4 minutes until all the stock has been absorbed. Remove from the heat.

Season with salt & pepper and fish out the sage leaves and discard.

Serve hot or at room temperature with a generous dusting of cheese (if using) and a drizzle of extra virgin olive oil.
Notes
Change up the beans
In Italy, you can also make this dish with white beans or cannellini beans. But honestly, any bean will do.
Add a little meat
For a meaty version, you could fry some pancetta, or Italian sausage with the onion and chard.
Change up the greens
I make this dish mostly with chard, but it'll work equally well with cavolo nero cabbage, kale or collard greens too.
Storage
Fridge: Keep in an airtight container for up to a week and eat either at room temperature or warm.
Freezer: The beans will be good for 3+ months in an airtight container or freezer bag. I like to freeze them in portion sizes. That way, if I'm looking for an easy side dish, I can whip this out of the freezer, minus effort and fuss.
Nutrition
Calories:
287
kcal
(14%)
|
Carbohydrates:
46
g
(15%)
|
Protein:
16
g
(32%)
|
Fat:
6
g
(9%)
|
Saturated Fat:
1
g
(6%)
|
Polyunsaturated Fat:
1
g
|
Monounsaturated Fat:
4
g
|
Sodium:
269
mg
(12%)
|
Potassium:
1125
mg
(32%)
|
Fiber:
18
g
(75%)
|
Sugar:
2
g
(2%)
|
Vitamin A:
3208
IU
(64%)
|
Vitamin C:
27
mg
(33%)
|
Calcium:
123
mg
(12%)
|
Iron:
4
mg
(22%)
This recipe uses affiliations and may receive a commission based on your activity (link clicks). Learn more.