Borlotti Beans with Chard
Borlotti beans (or Cranberry Beans) are an Italian staple and eaten throughout the country. This filling and nutritious borlotti bean recipe is the perfect partner to meats, fish, and other vegetables and can be enjoyed year-round.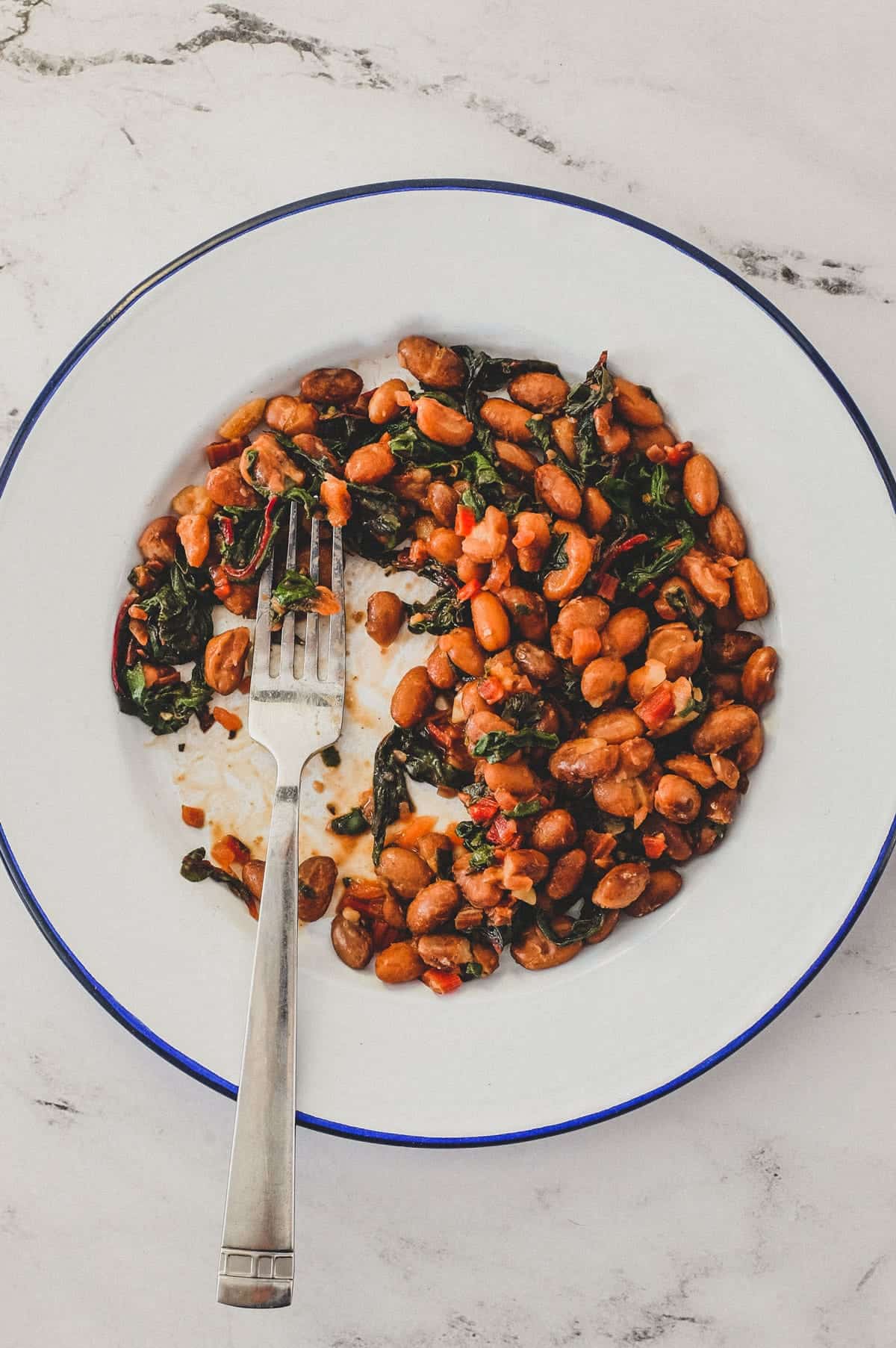 I LOVE beans of any shape or form. There's something intensely satisfying about them. From soaking your own, to whizzing them up in the food processor to make dips, or creating mouthwatering sauces for them. This Italian borlotti beans recipe pairs the beans with another superfood (and another personal favourite) chard/silverbeet.
What's in a name?
Like many ingredients, Borlotti have different names around the World. Being European, I've always called them Borlotti, but they're also widely known as Cranberry Beans, Roman Bean, Romano Beans, Saluggia Bean, Gadhra Bean or Rosecoco beans! It's exhausting I know - for the purpose of this recipe we're calling them Borlotti.
Borlotti are medium-sized, around the size of a kidney bean. They're super healthy, and packed with Fibre, Protein, Potassium, Magnesium and Iron.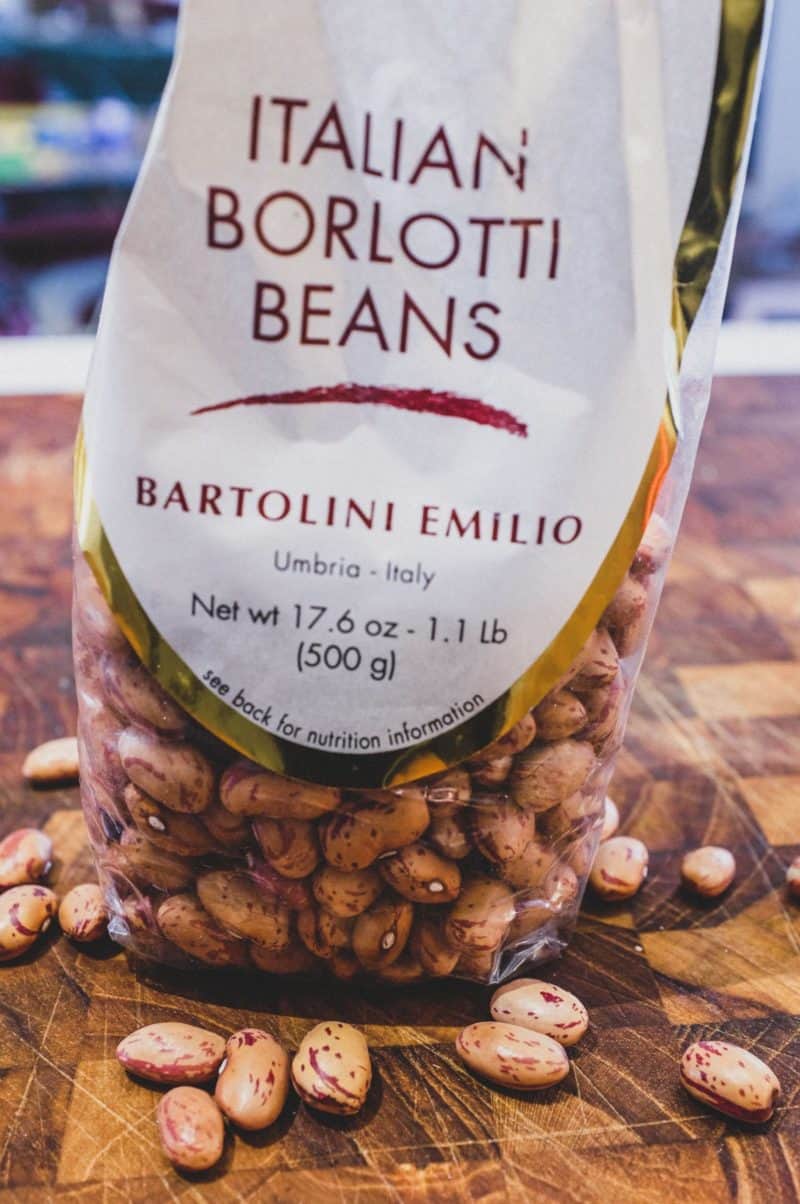 Stuff you'll need
For my borlotti bean recipe, you'll need a few key ingredients to make the magic happen. There's a full recipe below.
Borlotti beans! - For the best results you can use dried beans (cooking borlotti beans is easy!) or if you want a shortcut, tinned borlotti beans get the job done too.
Chard - like Borlotti, chard goes by all manner of names around the world - notably silverbeet, perpetual spinach, beet spinach, seakale beet, or leaf beet!
Sage - Italy on a plate, imparting its wonderful fragrance to the dish.
Onion & Garlic - a great base to build flavour from.
How to cook borlotti beans
It's simple! A few steps and you'll be done. Cooking borlotti beans from dried requires a bit of time, but there's is nothing more satisfying than bringing a big pan of dried beans back to life - give it a try - it's well worth it.
Cooking the beans - If you're going down the dried bean route, I have two methods for you. Traditional stove-top or Instant Pot, you decide. Both methods are outlined below. You can also opt for tinned borlotti beans, in which case you can skip this stage completely and prepare yourself for the food to be ready a full 1 1/2 hours early! Once they're cooked we can get to work on the finished dish.
Strip the chard leaves from the stalks - nothing goes to waste here, we finely dice the stalks and roughly chop the leaves.
Fry up the stalks, onion, and garlic with the sage
Add the chard leaves
Add the beans, season and we're done! They can be served warm or at room temperature - I can't decide which I prefer.
I generally stick the pan in the middle of the table to serve.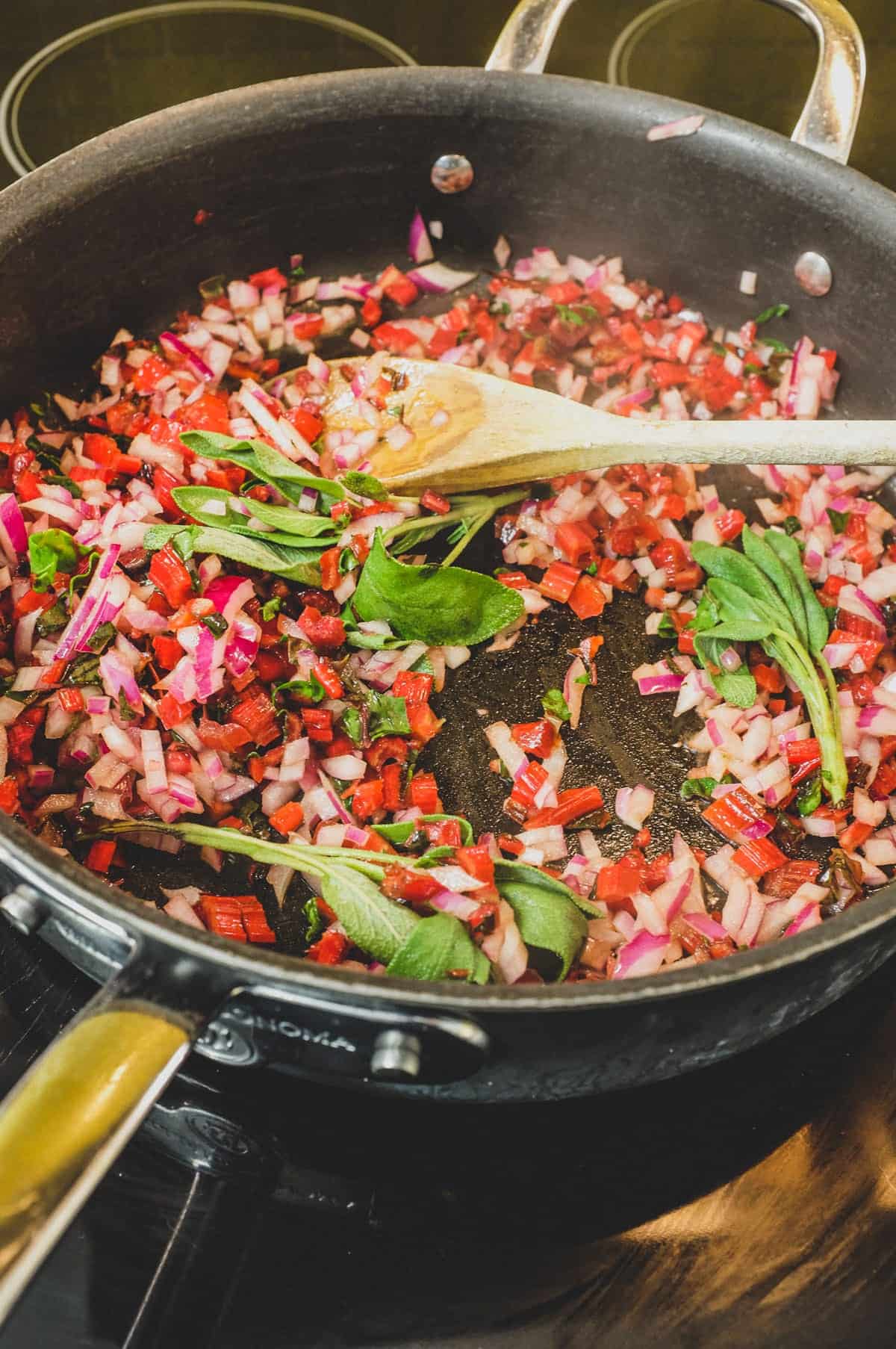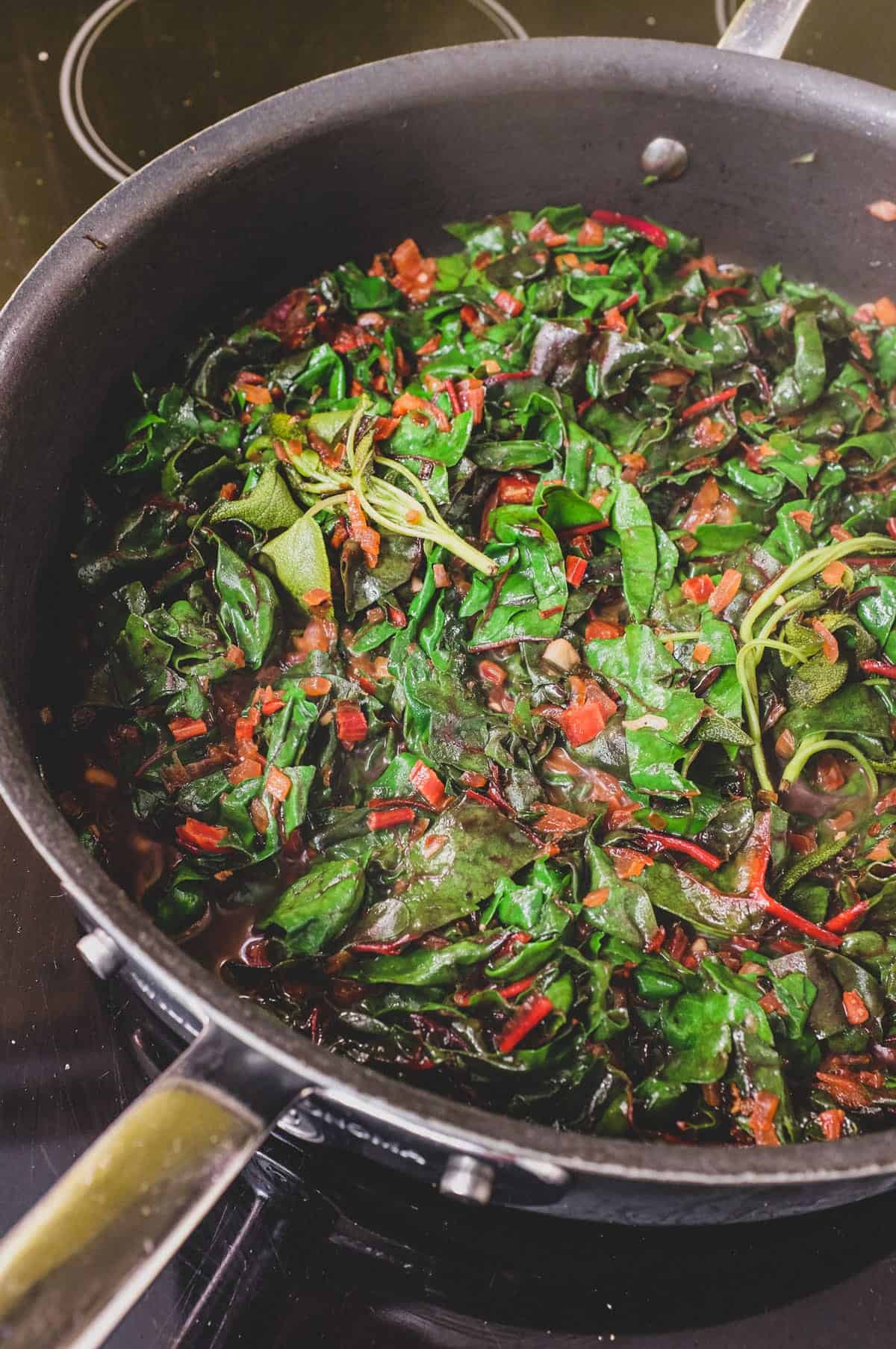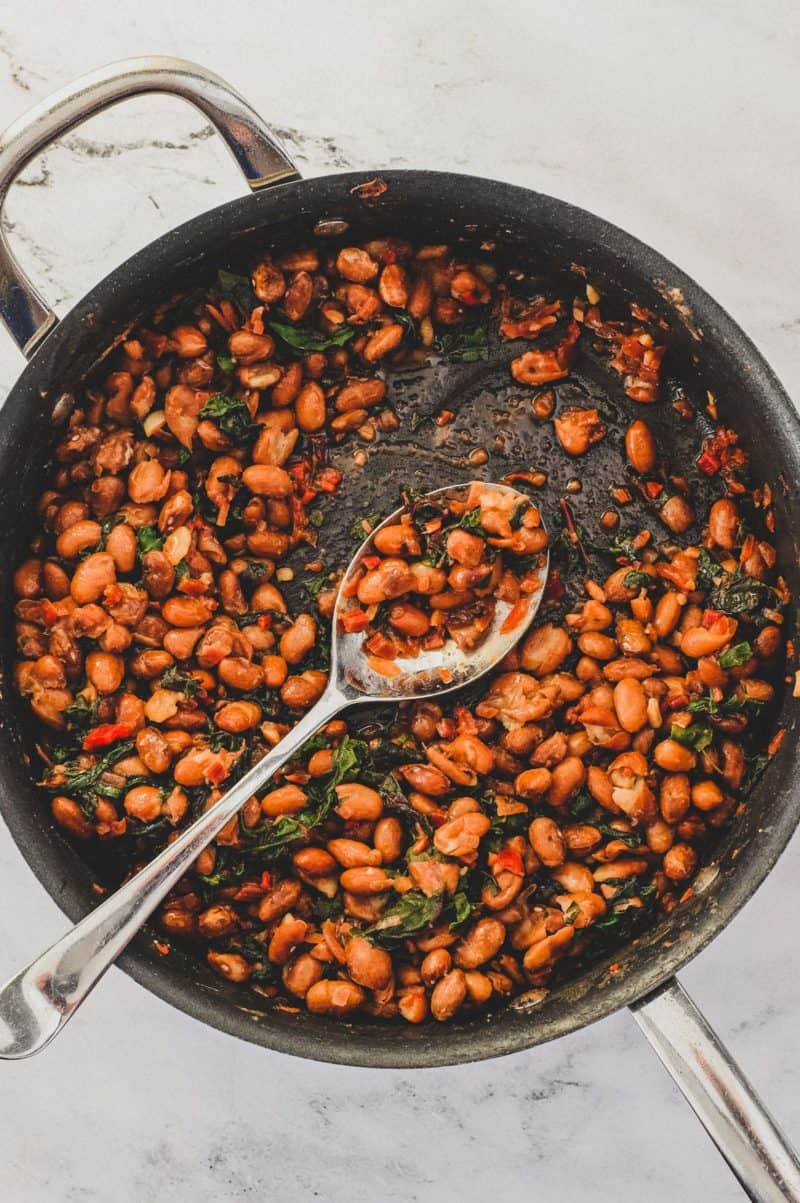 Tips, Tricks and substitutes
My borlotti bean recipe is versatile and isn't limited to just borlotti – white beans or cannellini are perfect, as are kidney beans, butter beans and even black beans. Instead of fresh sage, you could use marjoram, rosemary, thyme, oregano or perhaps even tarragon. If you don't have fresh, substitute with about 1-2 teaspoons of dried.
If you want to change up the chard, try spinach, kale or cavolo nero cabbage, and use a little more onion or a little celery instead of the stalks as they can be a bit tough.
Freezing and saving for later
These beans will stay fresh for 4-5 days in the fridge or 3-4 months in the freezer.
More delicious recipes for beans and pulses
How to make Borlotti Beans with Chard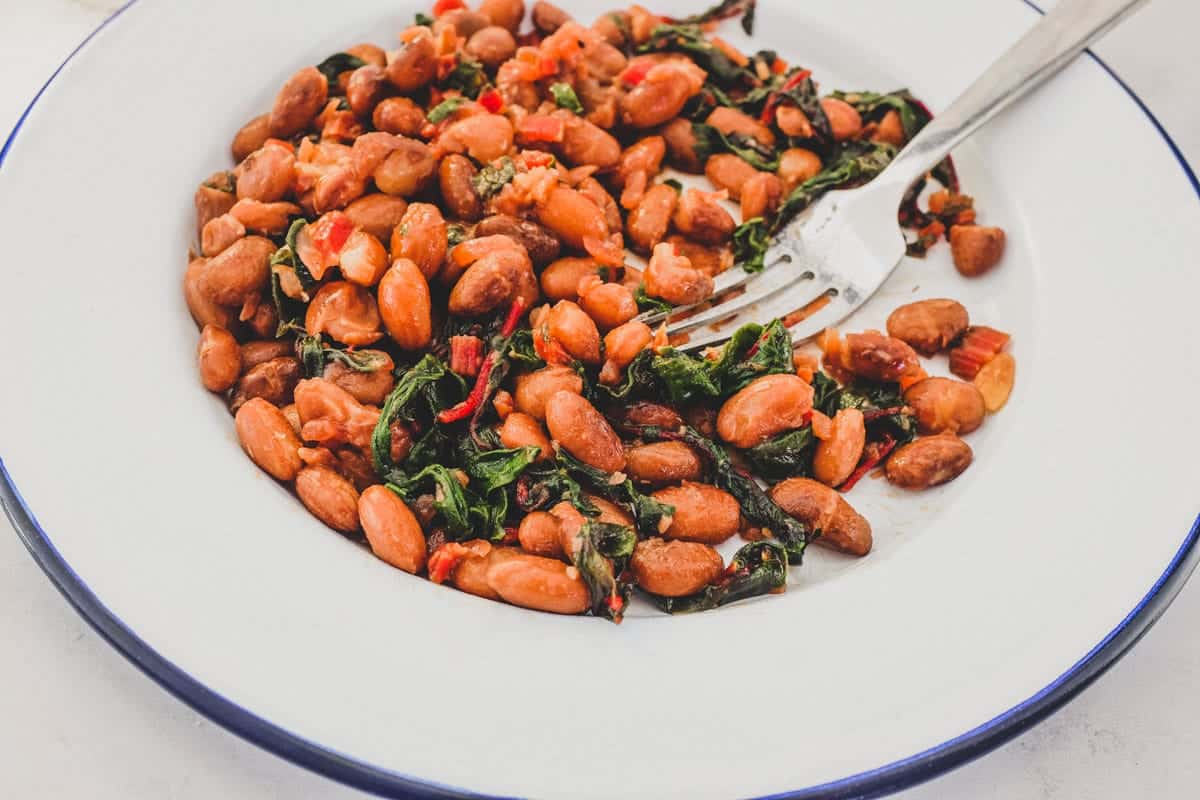 Borlotti Beans with Chard
Rate this recipe
Print Recipe
Pin Recipe
Calories (per serving) |
287
Ingredients
Other Ingredients
2

tbsp

olive oil

1/2

onion

(finely diced)

1

bunch

chard

2

garlic cloves

(peeled & finely chopped)

3

sprigs

sage

(about 10-12 leaves)(left whole)

1

cup

stock

(chicken or vegetable)

salt & pepper

Parmigiano reggiano

(or pecorino, finely grated) (optional)
Instructions
Cooking the Borlotti Beans (skip this stage if using canned beans)
Instant Pot Method
Put the borlotti beans, onion, bay leaf and peppercorns into the Instant pot and cover with about 1.5 litres/qt of water.

Cook under pressure for 35 minutes then test for doneness. The beans should be soft and creamy. Cook in 5 minute bursts until done.
Stove-top method
Put the borlotti beans, onion, bay leaf and peppercorns into a large pan and cover with about 1.5 litres/qt of water.

Bring to a boil then reduce the heat and simmer gently (partially covered) for about 1 1/2 hours on a slow simmer until the borlotti beans are soft and creamy.

Drain the beans and discard the water, onion and bay leaf and set aside.
Making the dish
If you're using canned beans, drain well and set aside.

Strip the leaves from the chard and roughly chop. Finely dice the stems and set aside.

Fry the onion, chard stems and sage leaves gently in the olive oil for about 5 minutes until the onions are soft and golden.

Add the garlic and fry briefly before adding the chard leaves. Let these sauté for 3-4 minutes until they're wilted before returning the borlotti beans to the pan along with the stock.

Stir well to incorporate everything and let it sizzle for 3-4 minutes until all the stock has been absorbed. Remove from the heat.

Season with salt & pepper and fish out the sage leaves and discard.

Serve hot or at room temperature with a generous dusting of cheese (if using) and a drizzle of extra virgin olive oil.
Nutrition
Calories:
287
kcal
(14%)
|
Carbohydrates:
46
g
(15%)
|
Protein:
16
g
(32%)
|
Fat:
6
g
(9%)
|
Saturated Fat:
1
g
(6%)
|
Polyunsaturated Fat:
1
g
|
Monounsaturated Fat:
4
g
|
Sodium:
269
mg
(12%)
|
Potassium:
1125
mg
(32%)
|
Fiber:
18
g
(75%)
|
Sugar:
2
g
(2%)
|
Vitamin A:
3208
IU
(64%)
|
Vitamin C:
27
mg
(33%)
|
Calcium:
123
mg
(12%)
|
Iron:
4
mg
(22%)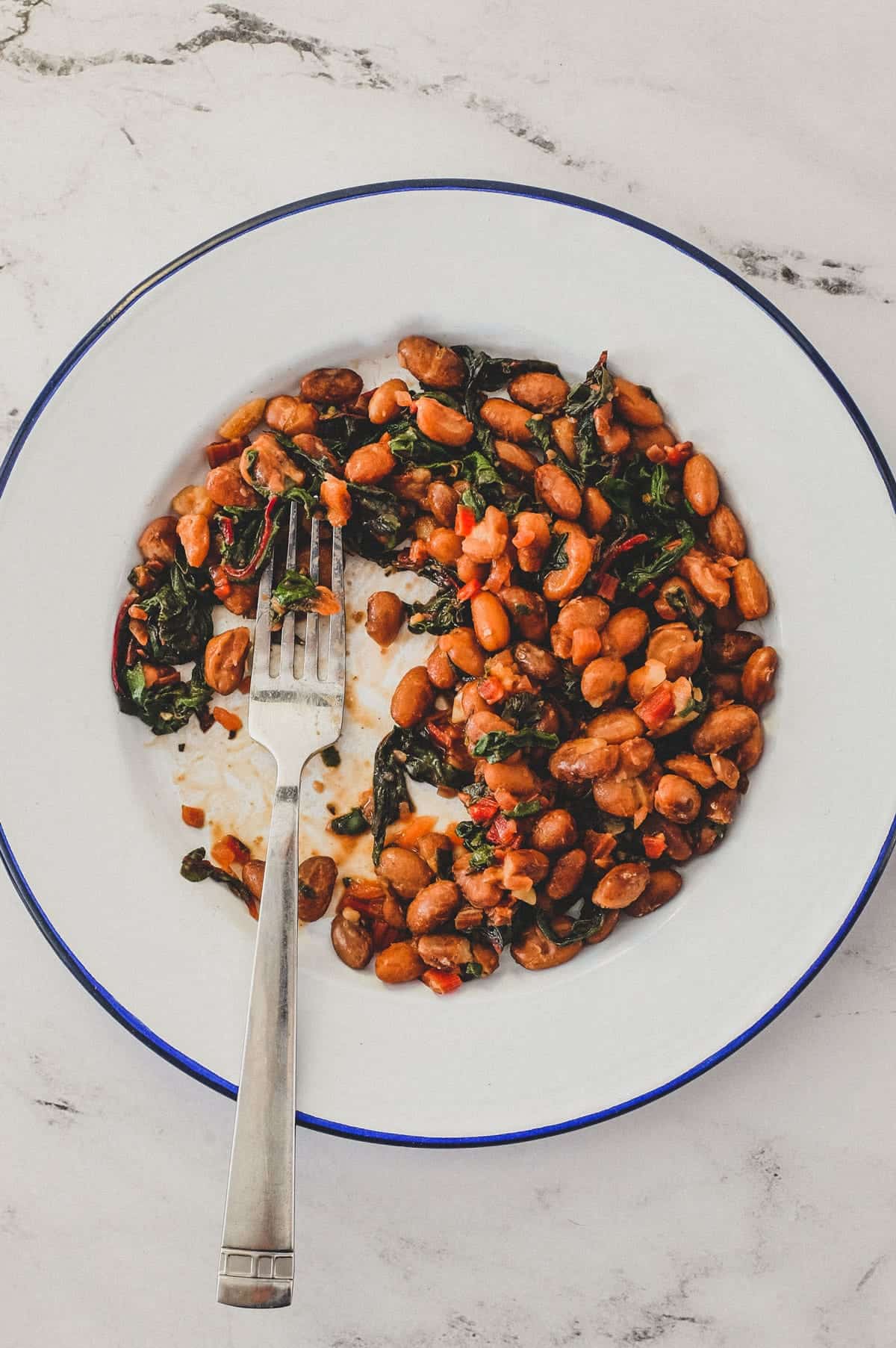 Did you make my Borlotti Beans with Chard
Have you made this at home? Let me know in the comments below and be sure to tag @cookeatworld on Instagram.