Greek Tarhana Soup with Lentils & Herbs
This classic and simple soup from Greece uses one of the most intriguing and ancient ingredients – Tarhana. Learn all about it and how to make this hearty, healthy, and super-delicious soup…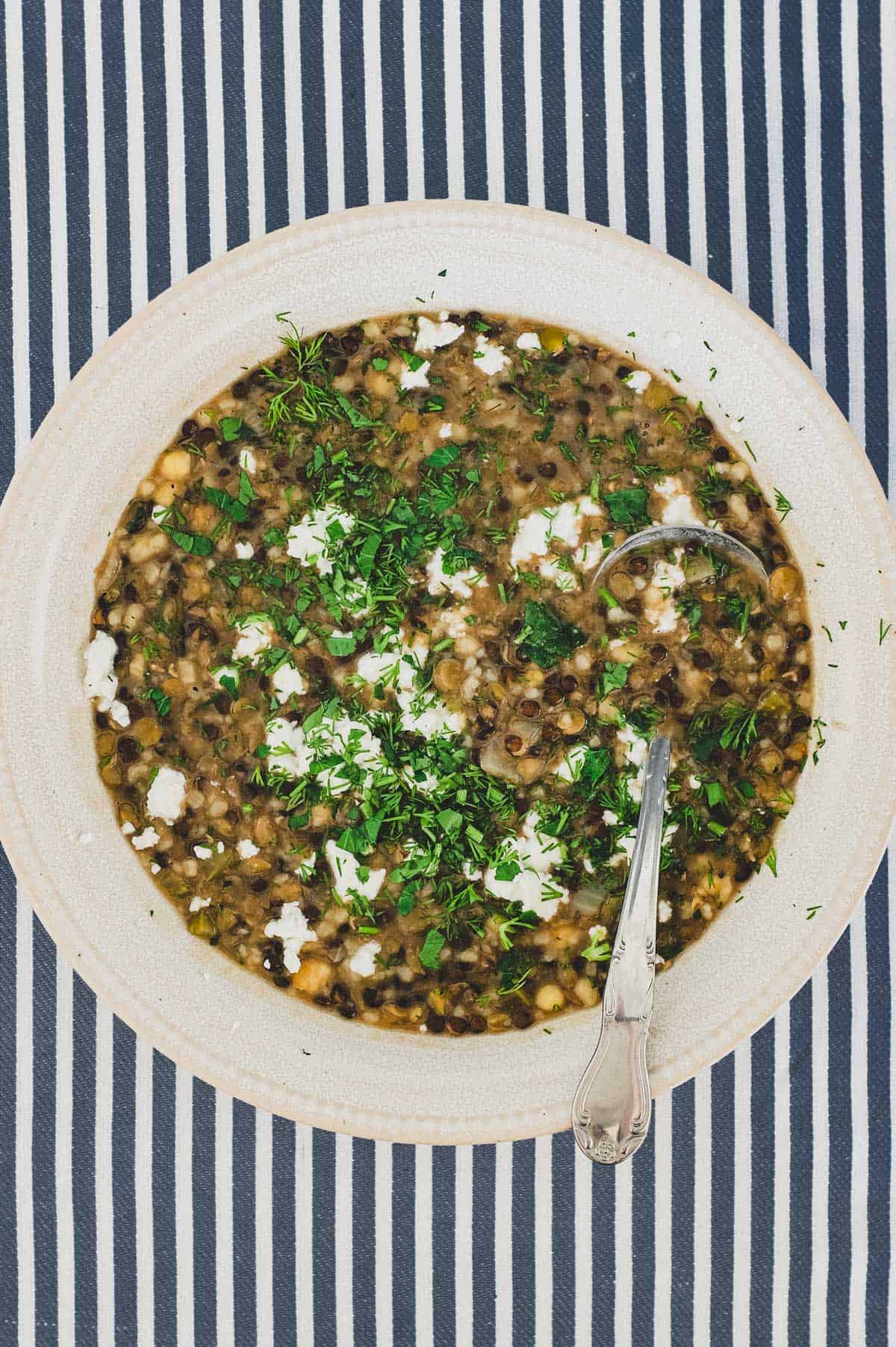 This healthy and hearty lentil soup hails from Greece - a wonderful combination of flavour and textures quite like any other. Greece has some of the most delicious ingredients in the World and the healthy Mediterranean diet is in full display with this wonderful soup, using an ingredient loved around Turkey, The Mediterranean and Middle East - Tarhana/Trahana - τραχανάς.
What is Tarhana / τραχανάς?
Tarhana is an ancient preparation thought to have originated in ancient Persia. It was used as a way to preserve dairy products, namely milk, cream and yoghurt, by mixing them with grain (bulgur wheat) and often other ingredients and then drying in the sun. The resulting mixture forms a crisp, crackerbread which is crumbled or ground into soups and stews to act as a flavouring or thickener.
It is a much-loved ingredient in Turkey, Southern Europe and the Middle East. In Greece & Cyprus, tarhana is used in soups and stews and sometimes fried, absorbing liquid and creating all manner of delicious flavour combinations.
What does Tarhana taste like?
Tarnaha has a nutty, sour flavour. Nutty from the wheat, sour from the fermentation that happens during the drying process. It adds a wonderful mild sourness to dishes.
Lentils, Tarhana, Herbs and Feta - a perfect combination.
This soup uses many ingredients loved across Greece. Lentils are rich in nutrients, filling and the perfect vehicle for many soups. I use a combination in this recipe. Generally, I'll use green or brown lentils and as in this preparation, black or Puy (beluga lentils). A good counterbalance of flavour to lentils and the sour tarhana are fresh herbs. Parsley & dill work their magic to lighten the flavour and add a herbaceous hit of colour and flavour. The last ingredient to bring another level of flavour is salty feta cheese. The marriage of all four flavours is complex, full and utterly delicious!
To begin our soup, we fry some onion and celery with a bay leaf until soft, then add our lentils. A quick fry later and in goes the stock - vegetable or chicken is good. I also add the tarhana at this point to ensure it dissolves properly.
Cooking lentils properly
Cooking lentils gently is essential to ensure they don't break up. Bring the pan to a simmer then reduce the heat to low to let them bubbly gently. They'll be plump and whole, with a great texture for eating. It's also important to note that some lentils will absorb more than others so the liquid in the recipe below is a guide - we want a soupy consistency, so if yours looks too thick, add more stock or water to 'soupify' it.
After 30 minutes the lentils should be tender and most if not all the tarhana will be gone. If some of the larger pieces are still intact, don't worry too much - they're actually a lovely bit of texture with a nutty bite.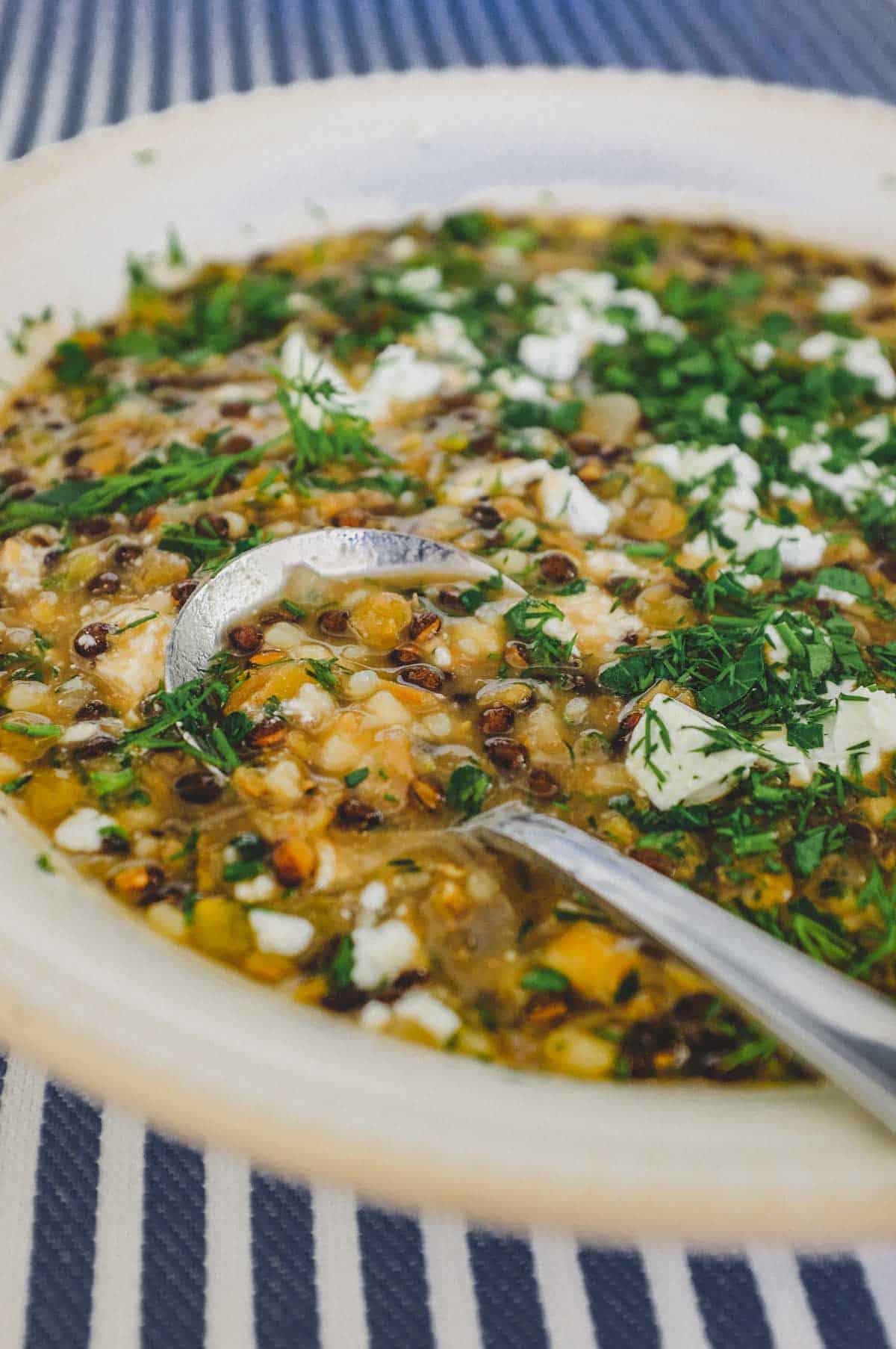 Now all that's needed is to add a generous amount of herbs to the soup. Serve the soup with more herbs and a good scattering of feta cheese. You could also use a few cubes of Halloumi cheese instead. I'm sure you'll agree, this soup looks the part and I can assure you that it tastes the part too. Tarhana is definitely an ingredient worth hunting out, and this soup a simple, delicious way of showcasing its flavour.
More delicious soup recipes to try at home.
If you like soup as much as I do, why not check our my curated list of my best recipes.
More Greek & Cypriot recipes
Discover more of my best Greek & Cypriot recipes to cook at home.
Greek Tarhana Soup with Lentils & Herbs
Rate this recipe
Print Recipe
Pin Recipe
Save Recipe
Go to Collections
Calories (per serving) |
441
Instructions
In a large pan, heat the oil over a moderate heat. When hot, add the bay leaf, onion, celery and garlic. Fry gently for 5 minutes until the onion and celery are soft.

Add the lentils and stir for 1 minute before pouring in the stock. Add the tarhana and season with pepper and about 1 tsp salt (you can adjust later). Stir well and bring to a simmer.

Turn down the heat to low and simmer the lentils gently for 30-35 minutes. Stir often as the tarnaha can sometimes stick to the bottom of the pan. If you soup looks too thick, add more stock or water to thin out.

Once the lentils are tender, remove from the heat. Adjust the salt levels if you need then stir in ¾ of the herbs.

Ladle into serving bowls and scatter generously with more herbs. If using, scatter over some feta cheese and serve hot.
Nutrition
Calories:
441
kcal
(22%)
|
Carbohydrates:
42
g
(14%)
|
Protein:
21
g
(42%)
|
Fat:
13
g
(20%)
|
Saturated Fat:
5
g
(31%)
|
Cholesterol:
22
mg
(7%)
|
Sodium:
292
mg
(13%)
|
Potassium:
412
mg
(12%)
|
Fiber:
20
g
(83%)
|
Sugar:
3
g
(3%)
|
Vitamin A:
850
IU
(17%)
|
Vitamin C:
15
mg
(18%)
|
Calcium:
183
mg
(18%)
|
Iron:
6
mg
(33%)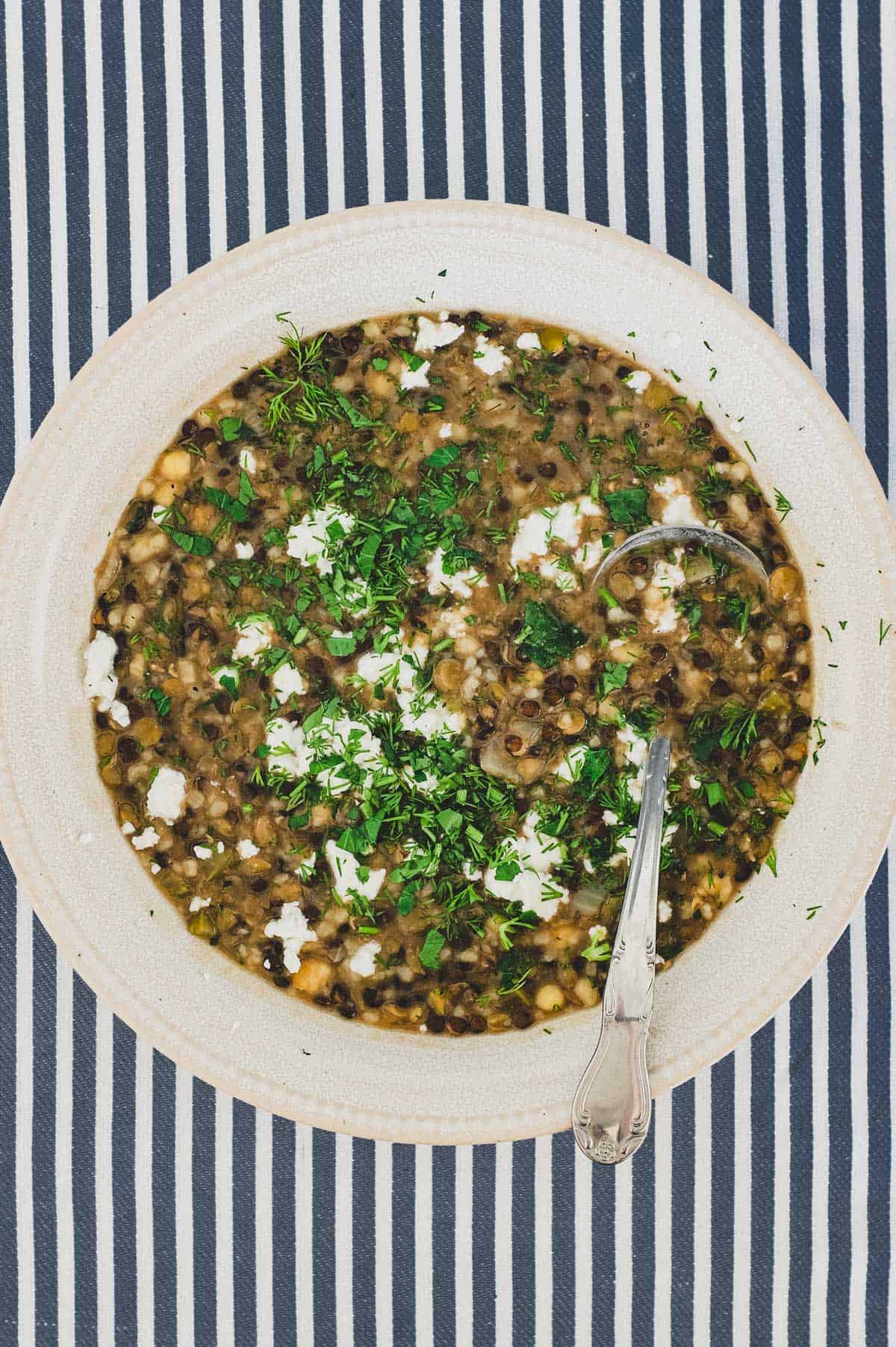 Did you make my Greek Tarhana Soup with Lentils & Herbs?
How did you go? Let me know in the comments below and be sure to tag @cookeatworld at Instagram.