Pozole Verde
With a magnificent array of green vegetables used in this wonderful soup from Mexico, you can rest assured it's going to be tasty and healthy. Learn how my green version of the famous hominy soup captures all the flavours and textures of Mexico…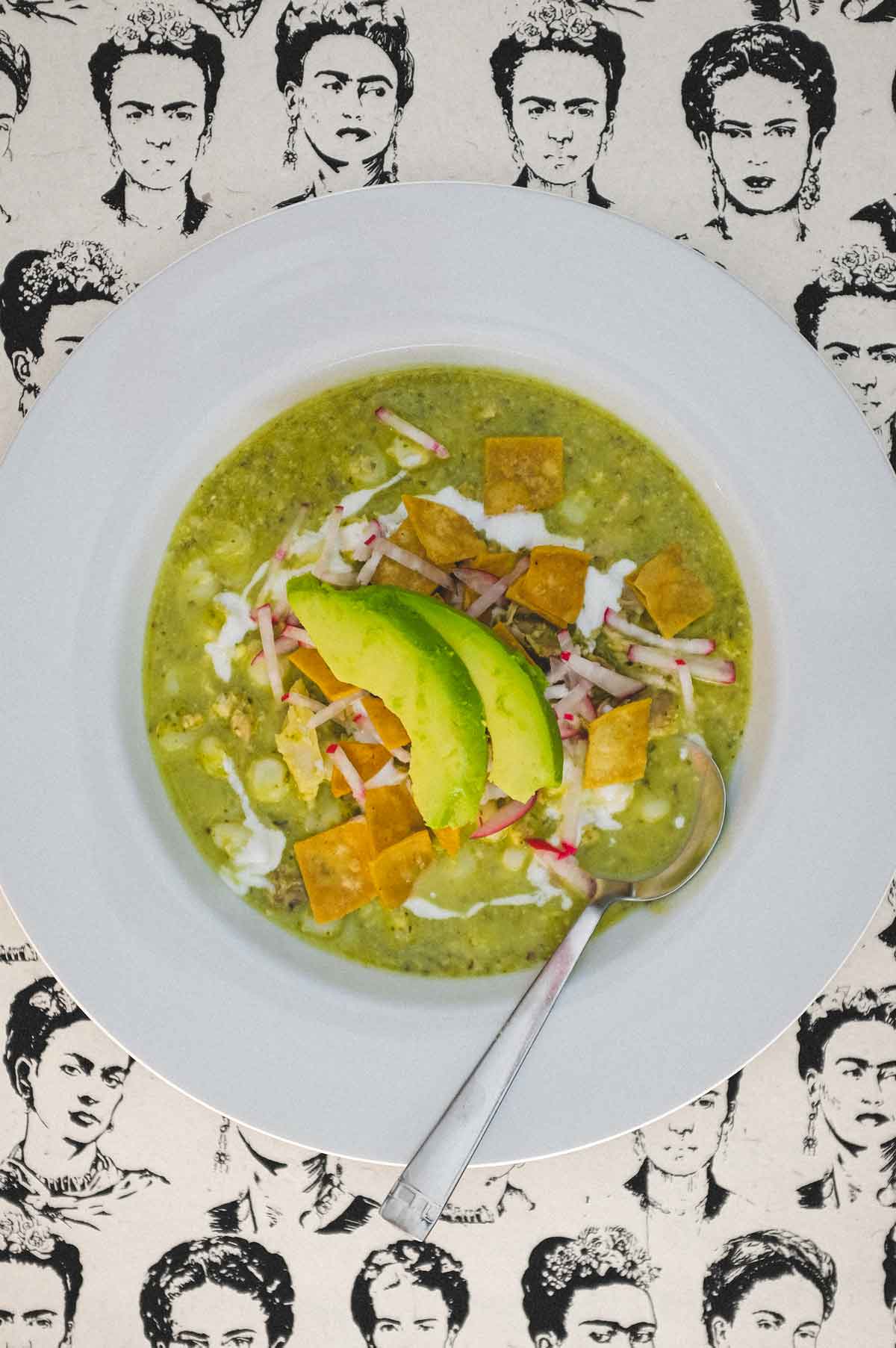 Pozole verde (green pozole) is one of Mexico's most insanely tasty contributions to world cuisine. I've long been a champion of Pozle Rojo (red pozole) a divine soup/stew using pork - a national treasure to boot. And also a big big fan of the white counterpart Pozole Blanco (a monotone dream!). I am however, a relative newbie to the delights of Pozole Verde. The concept is the same, a rich soupy sauce combining all things Mexican (more on that later) with puffy corn kernels known as hominy. I first tried pozole verde in Guadalajara, Mexico; the home of pozole rojo. I was precariously perched on a tiny stool at a posole stall in the giant Mercado Libertad - San Juan de Dios. From the first spoonful I was in LOVE! The version I ate featured chicken and I could tell it was packed with every green vegetable known to Mexico!
Pozole Verde is a fiesta of all things green
Upon return, I set out to create my own at home. To give the soup its lovely green hue, I supermarket swept my way through my local Cardenas, grabbing anything and everything green. So many fresh choices so much flavour. It's comforting to know that ALL THIS GOODNESS is included in every mouthful. Just look at all that fresh greenery!
Pozole verde is super simple to create at home. It's literally just a case of boiling everything and then blending. Other than a little chicken stripping, there's not much effort at all. Little effort, big pay off.
Tomatillo - the key to any pozole verde's success.
Tomatillo is an ingredient I'd not really encountered before I came to live in the US. I'd used canned versions, when living in Australia but they were over $8 a can! I now live in a predominantly latin neighbourhood so shop at latin supermarkets most days. The produce is always seasonal, so to see fresh tomatillos suddenly appear left me super excited! I bought a sackful on one trip and created all kinds of salsas and sauces - just LOVE the sour note that tomatillos bring to any dish. The rest of the world needs to wake up to these little flavour bombs.
What is a tomatillo?
Tomatillo (pronounced tom-a-tee-yo) is a fruit from a plant of the nightshade family. Sometimes called the Mexican husk tomato, it in fact is no relation to the tomato at all. The tomatillo may look like a green tomato, but unlike a tomato it doesn't change colour and is protected by a papery leaf when growing. The flesh too is grainy and sour and acidic over sweet.
What can I use tomatillo for?
Tomatillo is a key ingredient to salsa verde and other fresh Mexican salsas and dressings. It can be cooked in soups (like pozole) and stews and used fresh in salads.
I can't get hold of Tomatillo what should I use instead?
If you can't find fresh, substitute with canned. Simply drain and use as you would fresh. If you can't get either, there isn't really a great substitute to give you the same authentic flavour, but green tomato would be the closest cousin.
Where can I buy Tomatillo?
Your best bet is in a latin supermarket. When they're in season (late spring to Autumn) they are at their freshest and cheapest. With that said, they can be found all year round at most larger latin supermarkets.
Now that I have access to fresh tomatillo, I pretty much always have a few posole verde or pozole rojo portions in my freezer. I can have a hot steaming bowl of health in no time at all. Watch the video recipe below to see just how easy it is to whip up a nice big batch of pozole verde at home. I'm sure you'll fall in love with it as much as I have.
More Mexican Soup Recipes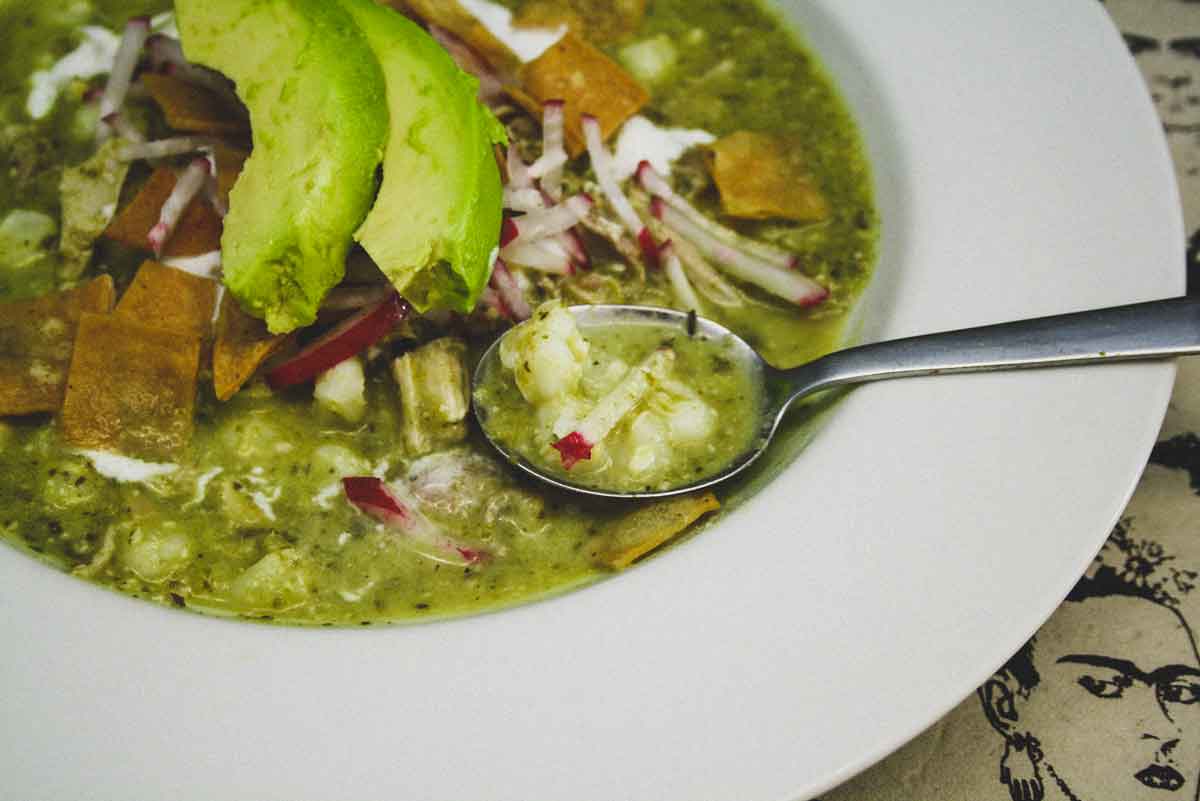 Pozole Verde
Rate this recipe
Print Recipe
Pin Recipe
Calories (per serving) |
351
Ingredients
2

chicken leg & thigh portions

2

tbsp

olive oil

1

white onion

(large, chopped)

4

poblano chillies

(seeded & chopped)

1

green bell pepper

(seede & chopped)

1

jalapeño pepper

(seeded & chopped)

1

cup

pumpkin seeds

4

tbsp

oregano

(fresh, chopped)

1

cup

cilantro

(chopped)

6

fresh tomatillos

(medium size, chopped) (or 1 1/2 cups canned, drained)

2

tsp

salt

black pepper

1

lime

1/2

cup

sour cream

2

cans

hominy

(29oz cans, drained)
For garnish (optional)
fried corn chips

radish

lime wedges

avocado slices
Instructions
Heat the olive oil in a large pan until just hot. Add the onion and fry for 1-2 minutes to soften lightly. Now add the poblano peppers, bell peppers, jalapeño, pumpkin seeds, garlic, bay leaves, oregano, cilantro, tomatillo and salt & pepper.

Pour over 8 cups of just boiled water.

Place the whole chicken portions on top then using a spoon, push into the liquid to submerge.

Season well with salt & pepper, then bring to a simmer. Reduce the heat to low and simmer gently (covered) for 45 minutes.

Remove the bay leaves and discard, then remove the chicken and set aside to cool.

Add the sour cream and using a stick blender or food processor, blend the soup until smooth. Squeeze over the lime then add the drained hominy and return to the heat for 5 minutes to warm through. Remove from heat.

Remove the skin and strip the chicken from the bones (discard the skin and bones) and tear or chop the meat into small pieces. Add this to the soup and adjust seasoning as needed.
Serving
Spoon the soup into bowls and drizzle over a little sour cream. Scatter some freshly fried corn tortilla chips, chopped radish and a couple of wedges of avocado. You might also like to squeeze over a little more lime just before eating.
Nutrition
Calories:
351
kcal
(18%)
|
Carbohydrates:
40
g
(13%)
|
Protein:
12
g
(24%)
|
Fat:
17
g
(26%)
|
Saturated Fat:
4
g
(25%)
|
Cholesterol:
35
mg
(12%)
|
Sodium:
1354
mg
(59%)
|
Potassium:
369
mg
(11%)
|
Fiber:
9
g
(38%)
|
Sugar:
7
g
(8%)
|
Vitamin A:
583
IU
(12%)
|
Vitamin C:
67
mg
(81%)
|
Calcium:
100
mg
(10%)
|
Iron:
4
mg
(22%)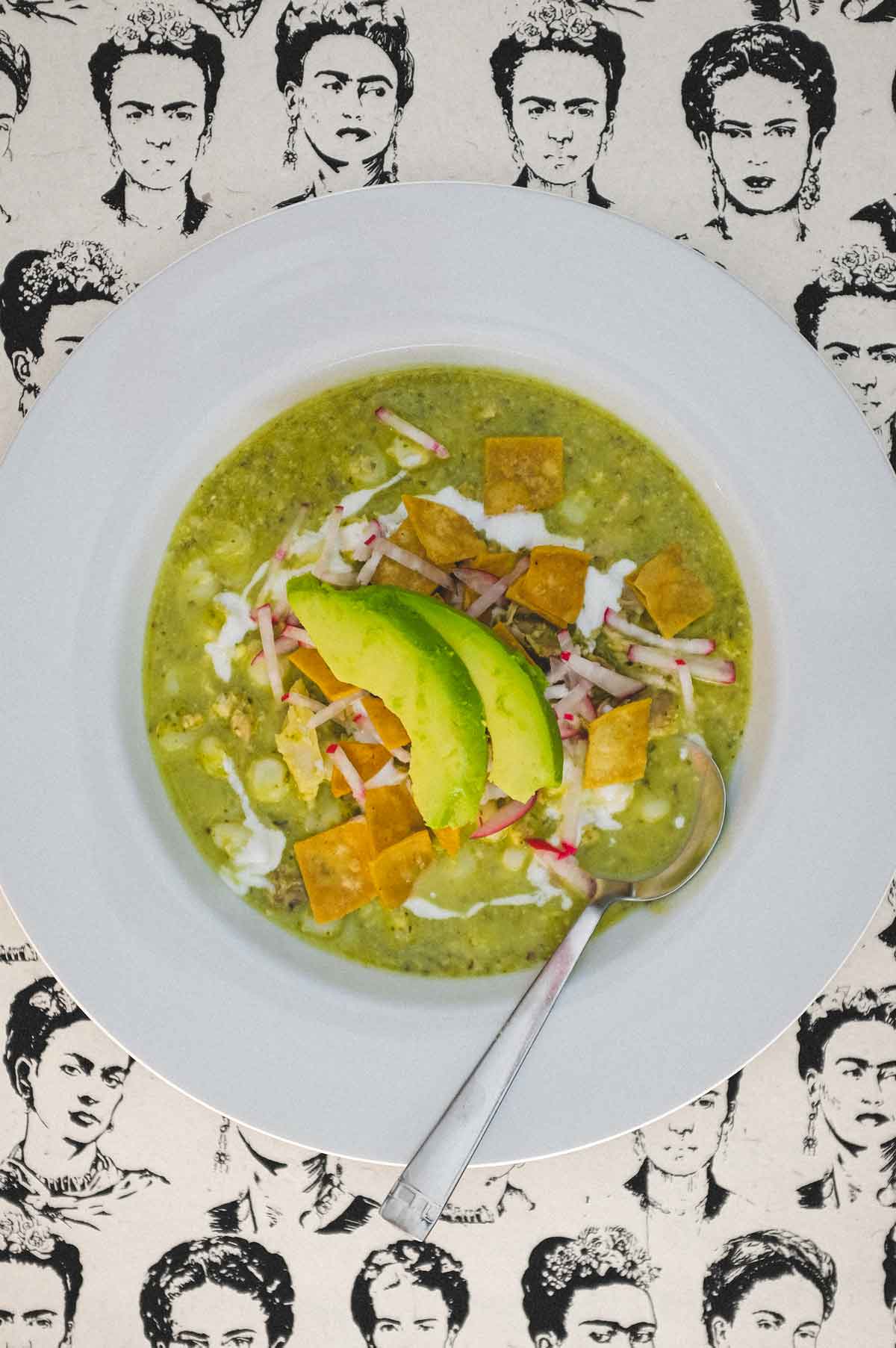 Did you make my Pozole Verde?
How did you go? Let me know in the comments below and be sure to tag @cookeatworld at Instagram.