A Oaxacan wonder! Mexican Tlayudas are a delicious response to Pizza! Crunchy, soft, meaty and jam-packed with flavour. A textural and flavourful street food that is a national treasure!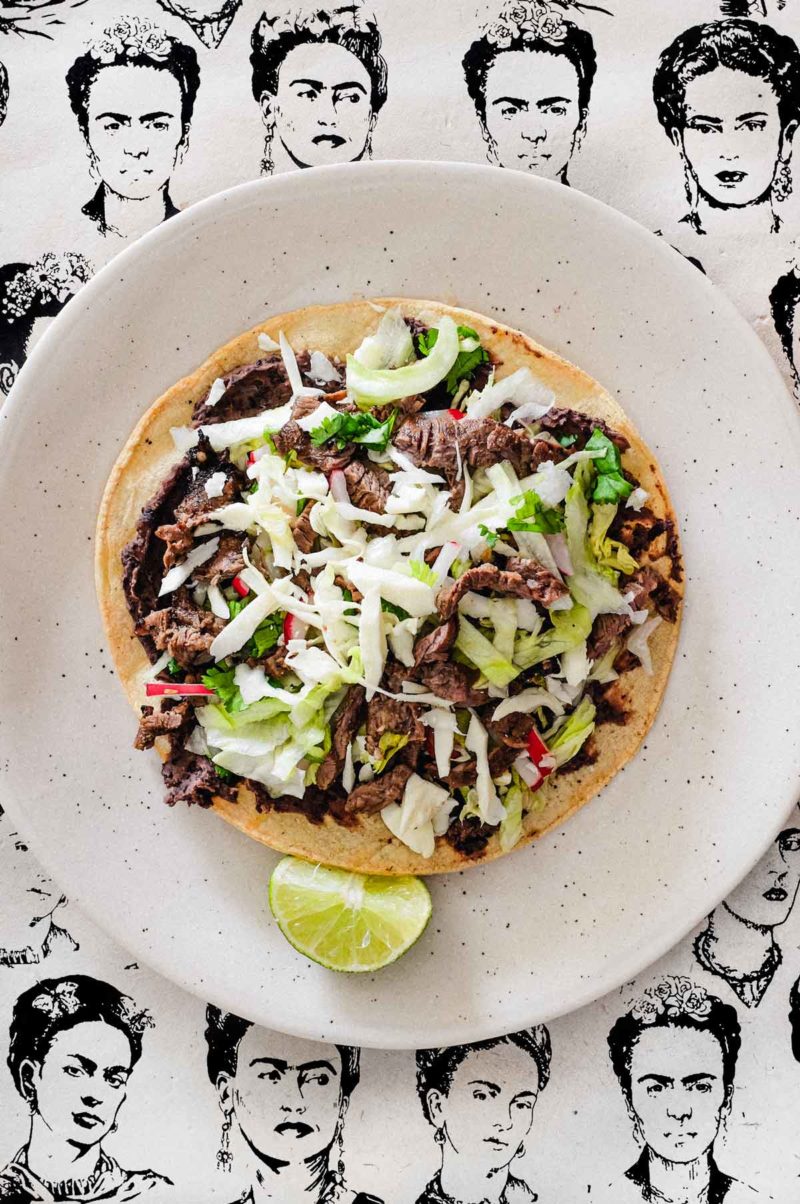 The biggest and most amazing surprise of visiting Mexico's Oaxaca (pronounced wa-ha-ca), besides it's sheer beauty, is the unforgettable food. Celebrated across Mexico as a culinary hotspot, Oaxaca boasts many unique dishes, once such treasure is the iconic Tlayuda (sometimes called 'clayuda' or Mexican Pizza - A thin, crisp corn tortilla topped with all manner of Mexican flavours. It was and is a complete revelation.
What are Tlayudas?
To the western tongue, tlayuda is closest to being pronounced 'cla-you-da'. The premise of Tlayuda is to offer a crisp corn tortilla, topped with all manner of flavourful options. Much like a tostada, but uniquely Oaxacan. It's served predominantly as a street food, but also enjoyed in high end restaurants too.
In Oaxaca the tortilla (always corn) comes in many sizes, but always thin and crisp. Mostly simply topped with ingredients and served, but sometimes they are folded and given an extra toast, like a quesadilla. Tlayudas can feature many different toppings from the traditional to the modern. In Oaxaca I ate a very traditional version of crickets, chillies and ant mayonnaise which was surprisingly delicious. But my favourite was meat (and drippings) from the Asada grill with beans and cheese and a healthy scattering of crunchy greens on top.
Why Tlayudas work so well
Like a pizza, tlayudas offer everything you need in one place! It's all there, and you get to eat the plate too! There's a wonderful combination of colour, texture and flavour and pops of richness, meatiness and freshness. Everything works in complete harmony to offer every Mexican sensation in every crunchy bite.
They're great for just one, or excellent for communal or party food, and if you arrange all your toppings separately, everyone gets to build-a-tlayuda that suits them, no complaints!
Stuff you'll need
This Tlayuda recipe follows a traditional recipe, the most common topping I ate while in Oaxaca and features:
Carne Asada - thin beef steak. Mexican butchery is slightly different to the rest of the World - beef steaks are thin so they can be flash cooked on the parilla (grill). Use thin flank steak or even skirt. Cut into thin slices that can be cooked in a couple of minutes.
Black beans - I save us all a lot of time and use canned (no haters), but traditionally dried would be used and stewed for hours. These are cooked with various flavours (including arbol chiles and dried avocado leaves) into a thick, spreadable refried bean paste.
Salad vegetables - A generous handful of freshness and extra crunch in the form of lettuce, cabbage, radish, cilantro and tomato.
Quesillo - A scattering of the much loved Oaxacan cheese - a stringy mozzarella-esque cheese synonymous with Oaxaca.
Lime - it wouldn't be a Tlaydas if it didn't include a spritz of Mexico!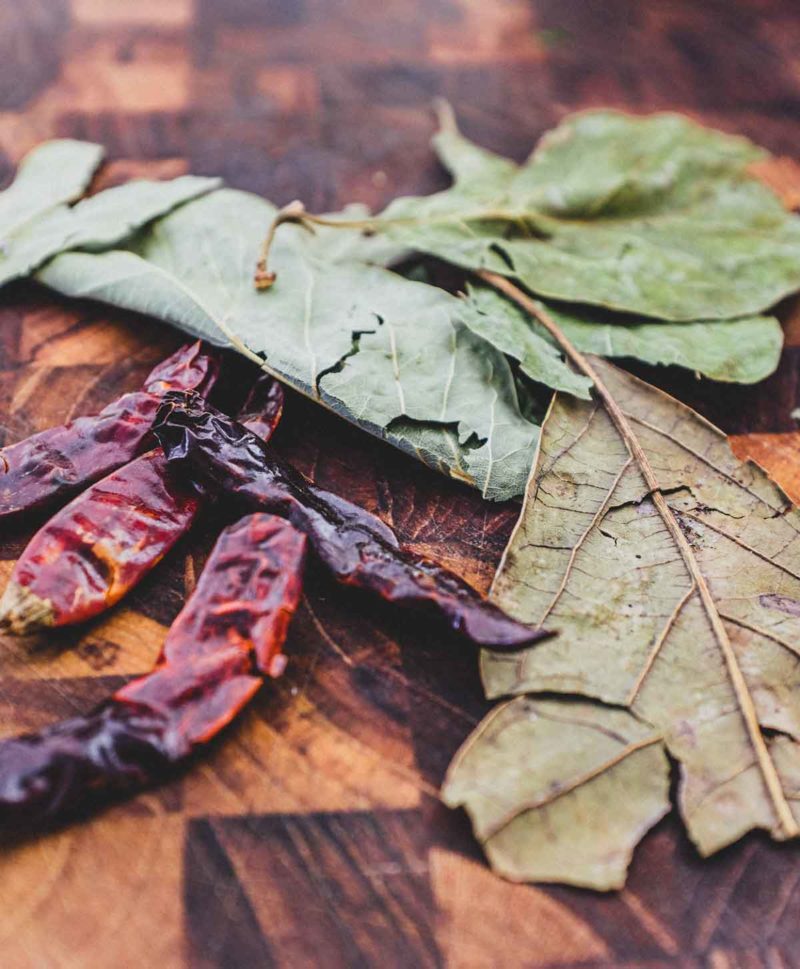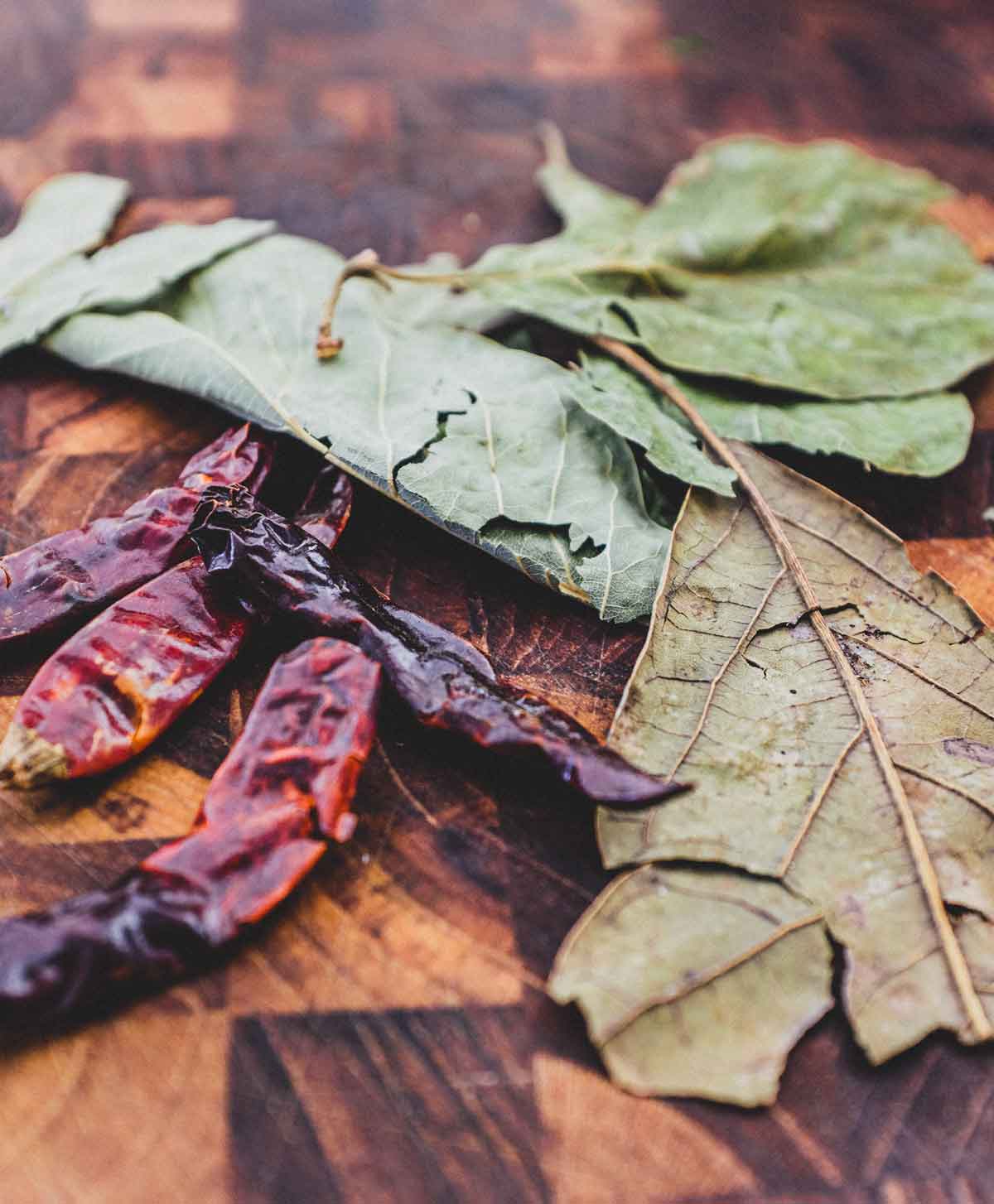 Step by Step
My recipe is simple to follow, there are a few simple steps, and the overall coming together of your final tlayuda is beyond simple. Here are the key steps:
Marinating the beef

We make a simple marinade to help flavour and tenderise the beef so that it's the juiciest it can be. A couple of hours at the least, but overnight is even better.

Making the beans

Because we're using canned beans, the cooking time is a fraction of what it would be otherwise. We start by toasting the chillies and avocado leaves (you can also use bay leaf) and then blend them with the beans into a puree.

The puree is then fried with onion for 30 minutes until it's thick, creamy and ready!

Toasting the tortillas

I use store-bought corn tortillas which crisp up in the oven in a matter of minutes. You can crisp them up on the BBQ grill too, just be careful not to burn them.

Making a salad garnish

Simply chop your salad ingredients and dress with a little lime juice. This will be your garnish.

Pulling the cheese

Quesillo (Oaxacan cheese) is like mozzarella and can be pulled apart into strands. Do this just before serving and set aside.

Building the Tlayudas

Start by spreading the beans as a base then follow with the meat, salad and cheese. A final spritz of lime juice finishes your tlayuda. Repeat until you're out of ingredients!
Pro tips and suggestions
Make in advance - have all the ingredients ready to go and serve them all on one table so that each person can build their own tlayudas.
Quesillo - Oaxacan cheese can be hard to find, so I suggest using mozzarella if you can't get hold of quesillo. It has a similar taste and texture and won't ruin the eating experience. Buy a whole fresh piece (not pre grated) and pull it apart yourself.
Toppings - Toppings can vary wildly, my version is a standard and traditional version, but feel free to experiment with other toppings. The beans are flexible enough to pair with many flavours - here are a few suggestions:
Shrimp/Prawns

Carnitas
Grilled Chicken
Mexican Chorizo
Slow cooked pork/beef
Shredded cabbage

Grilled corn kernels
Avocado slices
Guacamole
Pico De Gallo
Grilled bell pepper

Pumpkin seeds
Pickled vegetables
White Onion
Cotija cheese
Serving and storing suggestions
Eating Tlayudas can be a solo affair, they're a great lunch option is you have everything pre-planned and can be thrown together in seconds. And they're also a great communal, party food. Everyone gets to make their own, how they like it.
Once the tlayuda is made it should be eaten right away, but each element will stay fresh on its own in the fridge.
Tlayudas are not a good contender for the freezer.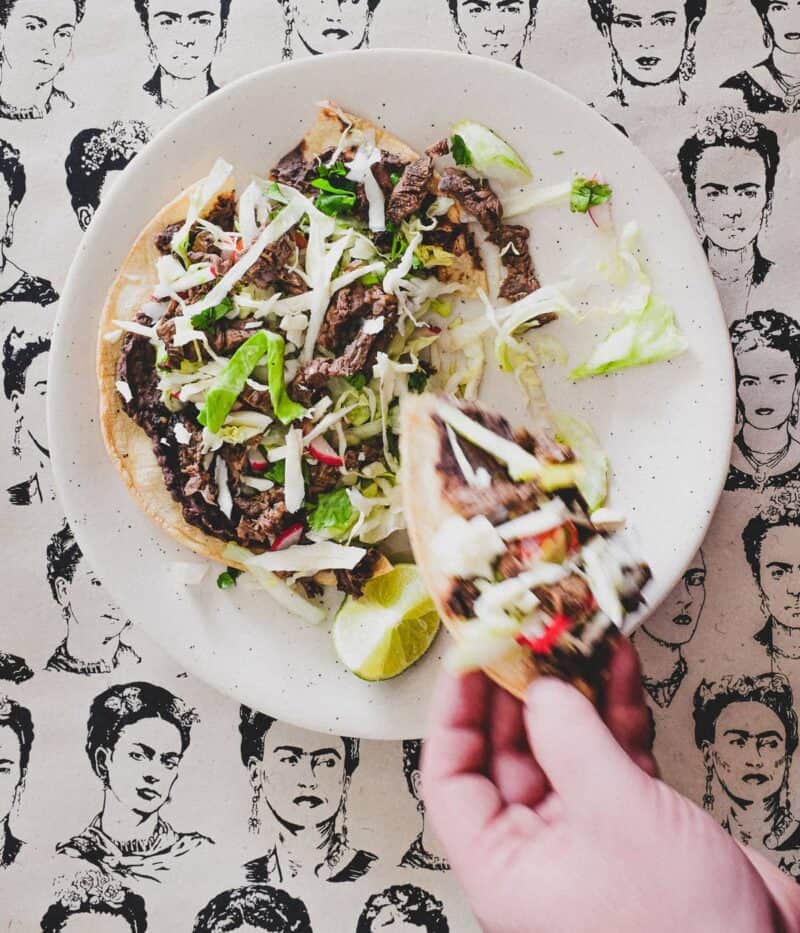 Ready to get cooking?
So now that you've learned a little more about the wondrous flavour and texture opportunities of Tlayudas it's up to you what you make of it for yourself. My recipe is a straightforward, simple combination of flavours that works on every level of taste and texture, so you'll be off to a great start with this, but feel free to mix, match and make it your own - that's the very spirit of the Tlayudas! Enjoy!
Any Questions? (FAQ)
Have a question about my Mexican Tlayudas Recipe? Let me know in the comments below.
What is a Tlayudas in Mexico?
A common street food from Oaxaca. It features a thin, crunchy corn tortilla topped with various ingredients, like beans, meat, seafood and more. It is often referred to as Mexican Pizza.
How should I pronounce Tlayuda?
A close pronunciation for Tlayudas is "CLA-You-Da"
How do you eat Tlayudas?
Serve them whole and then snap or cut off pieces as you like. They're impossible to cut like a pizza so don't try!
How big are tlayudas?
Traditionally, tlayudas are between 12-13" and more in diameter. My recipe around 8".
More delicious Mexican recipes
If you liked this Tlayudas recipe, try one of my other delicious Mexican recipes.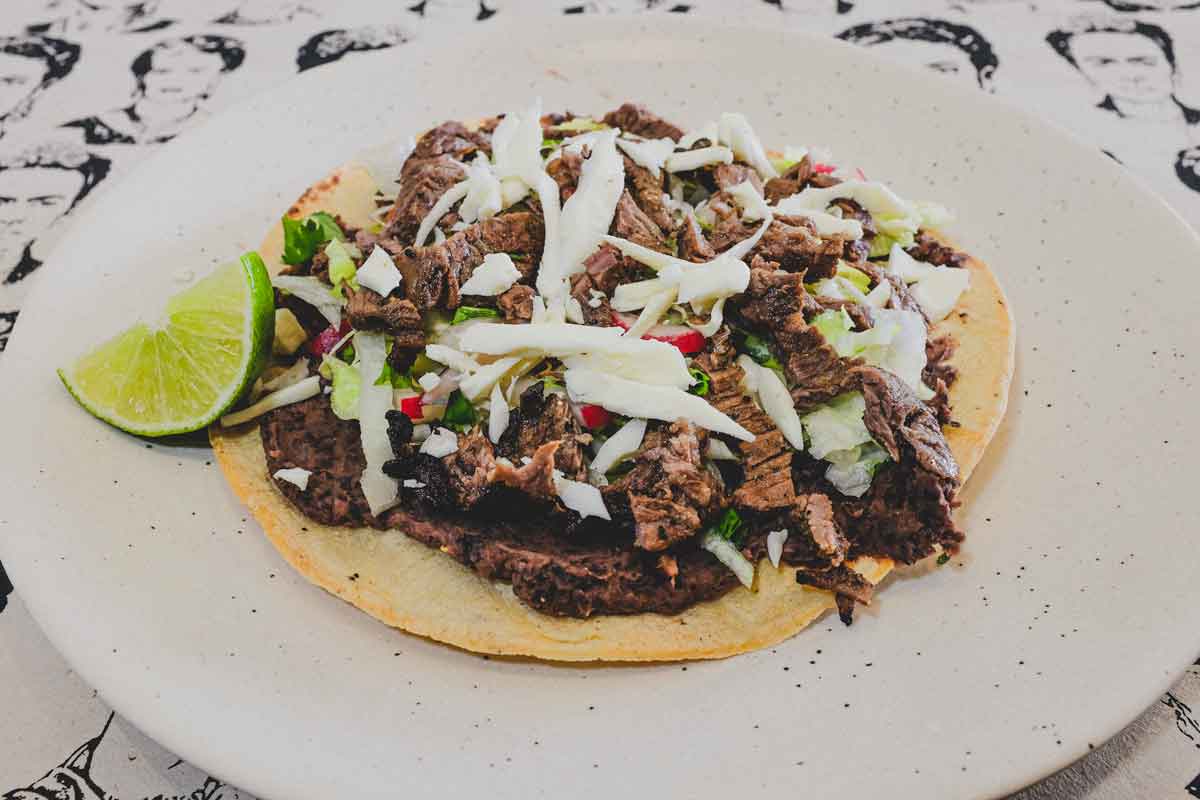 Mexican Tlayudas
Rate this recipe
Print Recipe
Save Recipe
Go to Collections
Calories (per serving) |
432
Ingredients
For the refried beans
1

can

black beans

(400g)(frijol negro)

3

dried avocado leaves

(sub: 2 dried bay leaves + 1 tsp anisee or fennel seeds)

¼

cup

olive oil

¼

onion

(chopped)

4

cilantro stems

(finely chopped)

½

tsp

salt
Other ingredients
8

corn tortilla

(7" size)

1

iceberg lettuce

(shredded)

1

cup

white cabbage

(shredded)

1

bunch

radishes

(cut into julienne)

1

cup

cherry tomatoes

(cut in half)

1

cup

Oaxacan cheese

(chopped)(or firm mozzarella)

2

limes

(cut into wedges for garnish)
Instructions
For the steak marinade
Put the beef (whole) into a zip-lock bag. Combine all the marinade ingredients and pour into the bag. Seal the bag then agitate coat all the meat. Refrigerate for at least 4 hours, 24 hours is best.
For the refried beans
Drain the beans, and retain 1 cup of the liquid (if you need to top up the liquid with water, that's OK).

In a dry frying pan, toast the avocado leaves and arból chillies for a minute to release the aroma.

Tip the beans, avocado leaves, arból and cooking liquid into a blender and blend to a smooth paste.

Heat a large pan with the oil over a moderate heat and gently fry the onion and cilantro stems for 1-2 minutes until soft. Add the bean paste and the salt and stir well. Cook over a medium/low heat for 20-30 minutes, stirring regularly to avoid sticking. The beans should be thick! Check for seasoning and then leave to cool.
Baking the tortillas
Preheat oven to 350ºF/180ºC

Place 2 tortillas on a baking sheet (without overlapping). Bake in oven for 10-15 minutes until crisp. Repeat with the remaining tortillas and then leave to cool. You can do this in advance and leave, covered in a cool place - they'll stay crisp.
Cooking the steak
Using a BBQ grill or a hot griddle pan, cook the steak for 2 minutes each side (or more depending how thick your steaks are). Cook until you have some good char on the outside.

Let the steak rest for 1-2 minutes, then thinly slice.
Arranging the Tlayudas
Using a spoon or spatula, smooth over a few spoonfuls of refried beans onto each tortilla.

Scatter over some lettuce, cabbage and radish and then a few slices of steak. Finish with some Oaxacan cheese.

When serving, offer a wedge of lime to squeeze over and if you're feeling generous, a little Mexican sour cream!
Notes
This recipe states a serving for 8 people... You may want one or two tlayudas per serve, so you do the math! You'll get 8 servings, you decide if you eat 1 or all 8!
I used large 7" corn tortillas, you can use any size - just follow the same premise of decorating and eat them until you run out of toppings!
Substitutions:
There are many options for different toppings. Here are a few easy, accessible suggestions.
Shrimp/Prawns
Carnitas
Grilled Chicken
Mexican Chorizo
Slow cooked pork/beef
Shredded cabbage
Grilled corn kernels
Avocado slices
Guacamole
Pico De Gallo
Grilled bell pepper
Pumpkin seeds
Pickled vegetables
White Onion
Cotija cheese
Nutrition
Calories:
432
kcal
(22%)
|
Carbohydrates:
21
g
(7%)
|
Protein:
27
g
(54%)
|
Fat:
27
g
(42%)
|
Saturated Fat:
10
g
(63%)
|
Cholesterol:
62
mg
(21%)
|
Sodium:
525
mg
(23%)
|
Potassium:
580
mg
(17%)
|
Fiber:
4
g
(17%)
|
Sugar:
4
g
(4%)
|
Vitamin A:
668
IU
(13%)
|
Vitamin C:
25
mg
(30%)
|
Calcium:
88
mg
(9%)
|
Iron:
3
mg
(17%)