Asparagus with Dijon Mustard
The delicious earthiness of asparagus is perfectly matched with the spiced umami hit of Dijon mustard. This simple side dish recipe makes great use of this combination – a wonderfully fragrant and tasty melding of ingredients. Learn how simple this impressive side is to make at home yourself.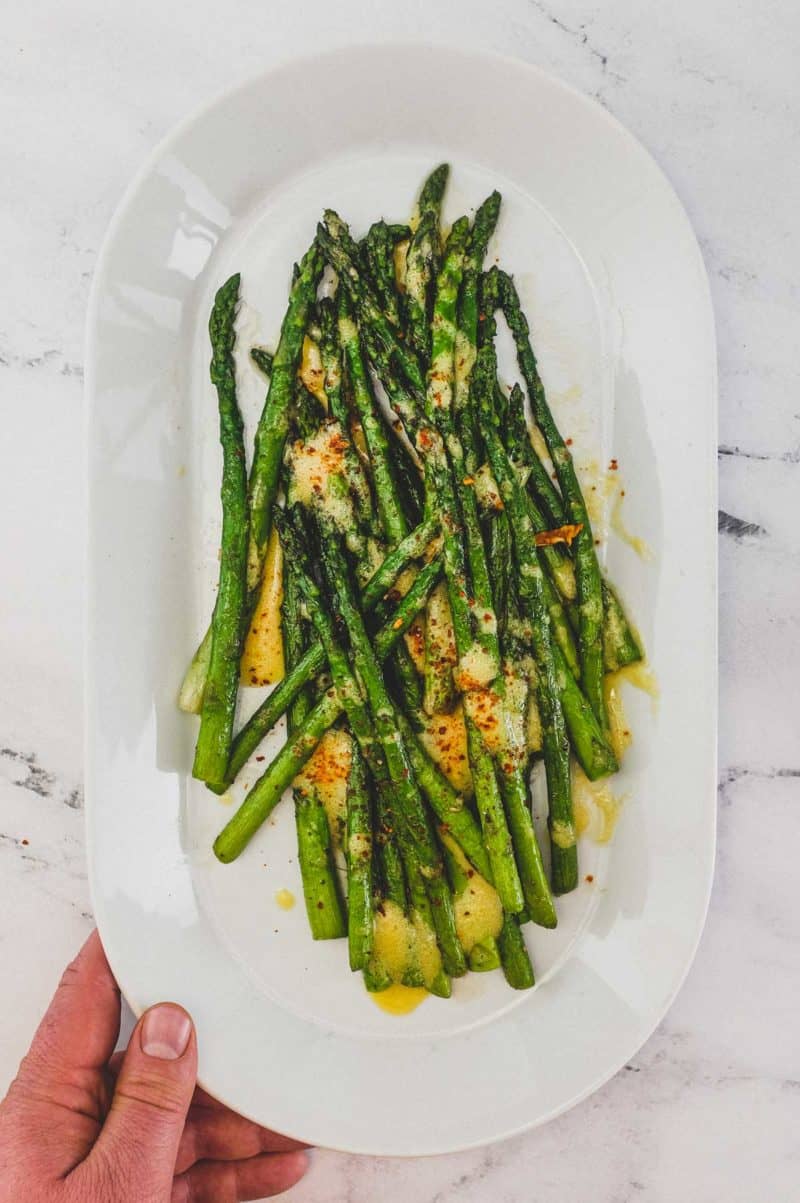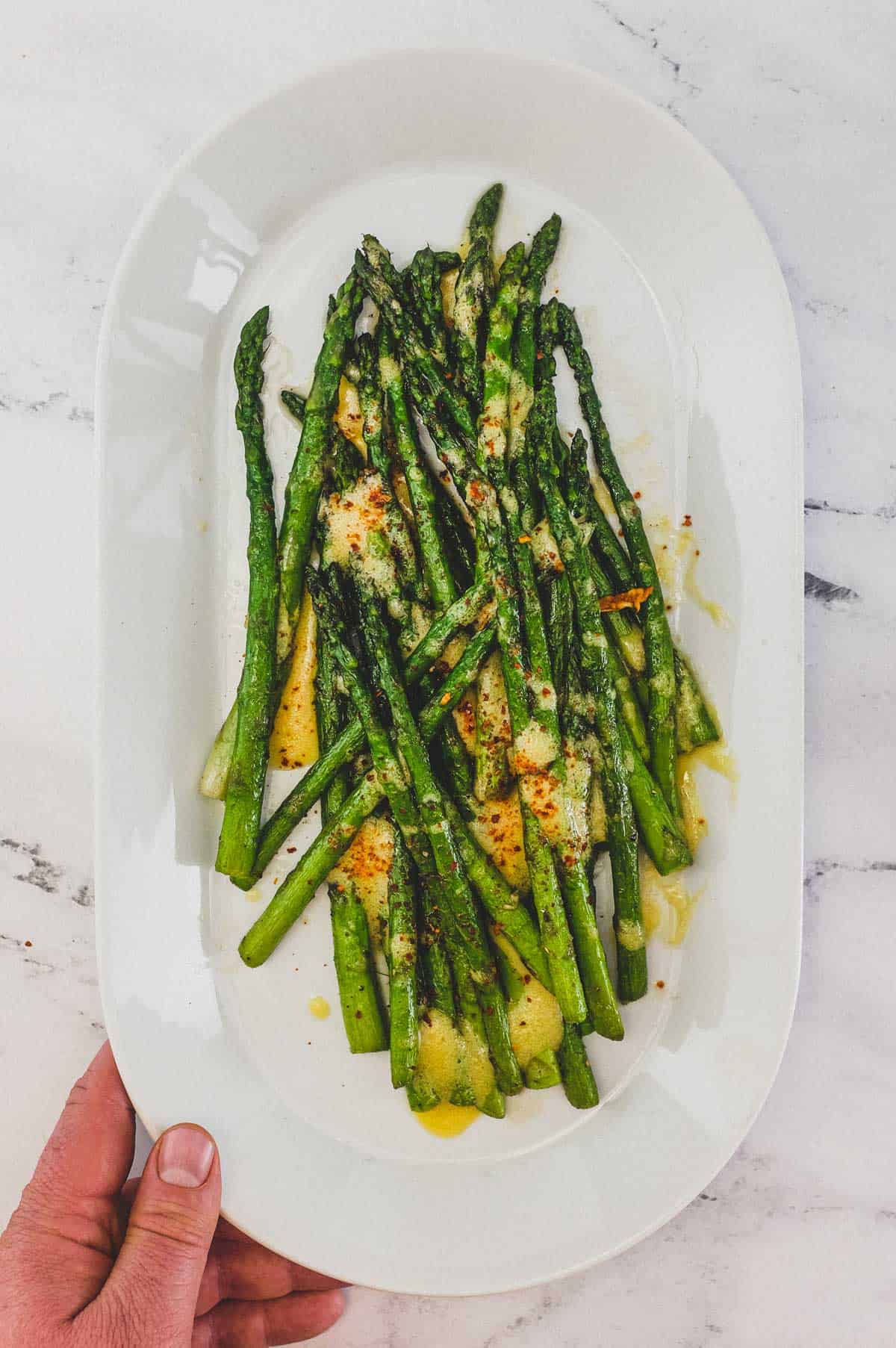 I love to have a wide range of tasty side dishes that I can make at the drop of a hat. Dishes that don't take too much time, but deliver big on flavour. Quite often vegetable dishes are relegated to quietly sit alongside the main dish - seen but not heard.
Asparagus is a great vegetable, one of my favourites - the earthy sweetness is delicious and simple steamed is no consolation prize. But when you cook asparagus in this French way the addition of garlic and a flavourful dressing of the classic Dijon mustard, the humble asparagus can easily become the star attraction of any dinner table.
What is Dijon Mustard?
Dijon, a town in Burgundy, France made this style of mustard famous as long ago as the 14th Century. The mustard is made from brown mustard seeds and white wine, or white wine vinegar. Interestingly, Dijon mustard is no longer a protected geographic product, and technically any mustard product could name itself Dijon mustard. In fact, the famous Maille mustard brand uses mustard seeds mostly grown in Canada.
The flavour of Dijon is fruity, spicy and slightly bitter. It's milder than its English counterpart and has a brownish/yellow hue. Mustard is used throughout French cuisine as simply as a condiment for meats or in soups, stews and sauces to enhance flavour.
Making a simple dressing
For our asparagus we simple blanch them in boiling water first - this will help cook them more quickly in the frying pan, giving a better texture. Sautéing in butter after blanching with Garlic is very French, and creates a wonderful nutty, savoury flavour - the perfect accompaniment is the mustard dressing - a sweet, spiced and creamy recipe featuring extra virgin olive oil, vinegar and mustard.
To finish, I also like to add a light sprinkling of chilli flakes. I use the Syrian Aleppo Pepper flakes for this kind of garnish - they have beautiful red colour, while not being very spicy - I'm looking for a little chilli flavour, but mostly a contrasting colour to the vibrant green of the asparagus.
Once you try this splendid little dish, you'll be so happy to add it to your own repertoire of simple vegetable sides. And this dish needn't be a side dish - I'll often cook this and include a fried or poached egg and a slice of prosciutto ham for a wonderful breakfast or brunch.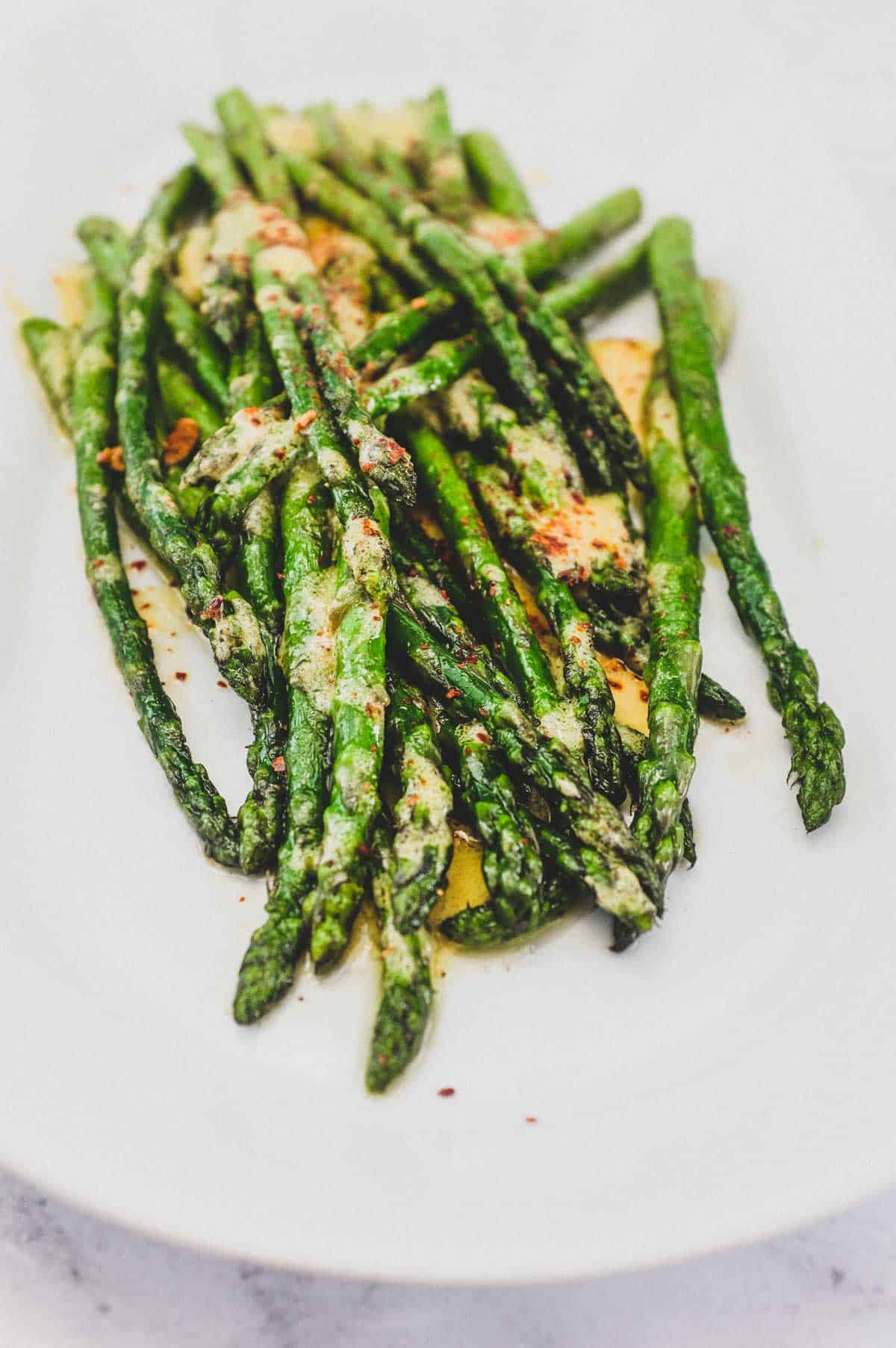 More delicious vegetable recipes
If you like this dish, then why not try one (or all) of my other delicious vegetable dishes.
More French Recipes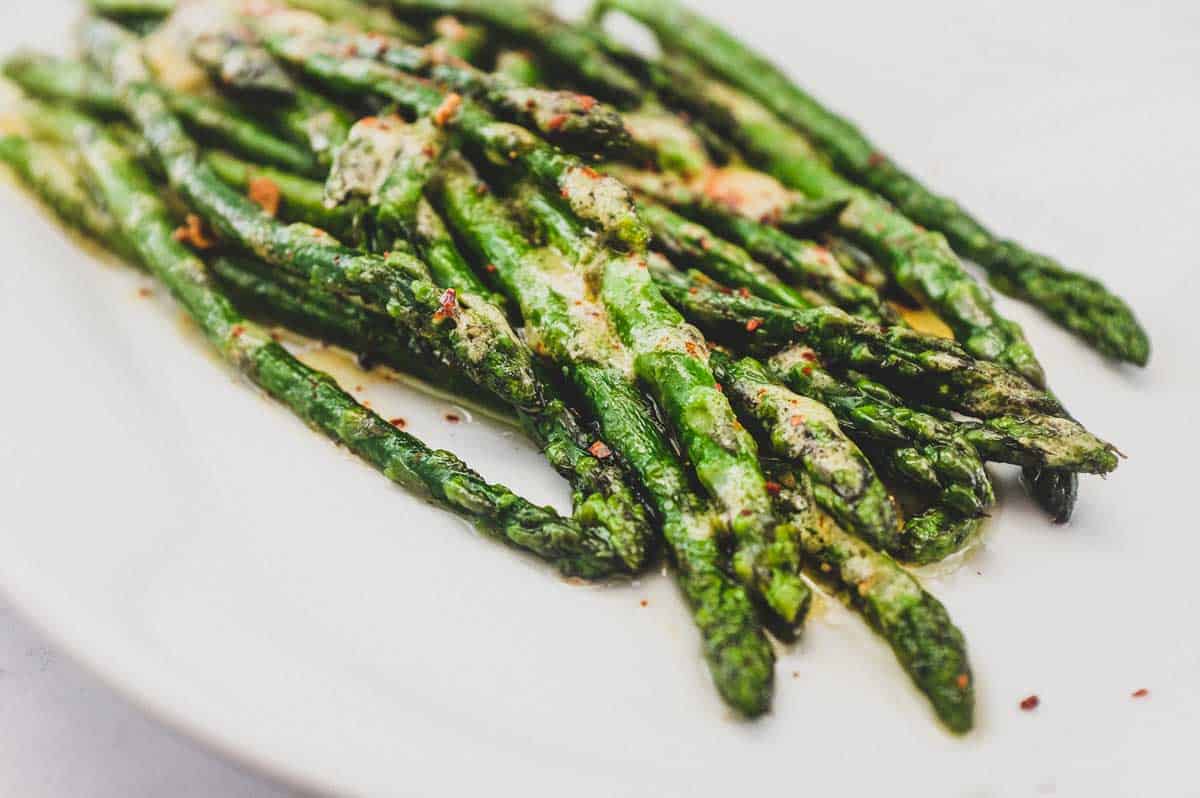 Asparagus with Dijon Mustard
Rate this recipe
Print Recipe
Pin Recipe
Save Recipe
Go to Collections
Calories (per serving) |
201
Instructions
Heat about 2 cups lightly salted water in a deep frying pan until boiling

Add the asparagus and blanch for 2 minutes. Remove from the pan and drain the water.

Wipe the pan and return to the heat (medium). Add the olive oil and heat until just hot.

Add the garlic and fry briefly before adding the asparagus back to the pan. Let the asparagus fry for 3-4 minutes, tossing to turn frequently.

Remove from the heat and using tongs, arrange the asparagus on a platter.

Whisk together the extra virgin olive oil, Dijon mustard, and vinegar until creamy and smooth.

Drizzle this over the asparagus then, if using, sprinkle with the pepper flakes. Season with a little salt and black pepper and serve.

Serve warm or at room temperature.
Notes
To make this a delicious appetiser, poach or fry a couple of eggs and serve alongside with some toasted crunchy bread.
Nutrition
Calories:
201
kcal
(10%)
|
Carbohydrates:
5
g
(2%)
|
Protein:
3
g
(6%)
|
Fat:
20
g
(31%)
|
Saturated Fat:
6
g
(38%)
|
Trans Fat:
1
g
|
Cholesterol:
15
mg
(5%)
|
Sodium:
71
mg
(3%)
|
Potassium:
243
mg
(7%)
|
Fiber:
3
g
(13%)
|
Sugar:
2
g
(2%)
|
Vitamin A:
1101
IU
(22%)
|
Vitamin C:
7
mg
(8%)
|
Calcium:
33
mg
(3%)
|
Iron:
3
mg
(17%)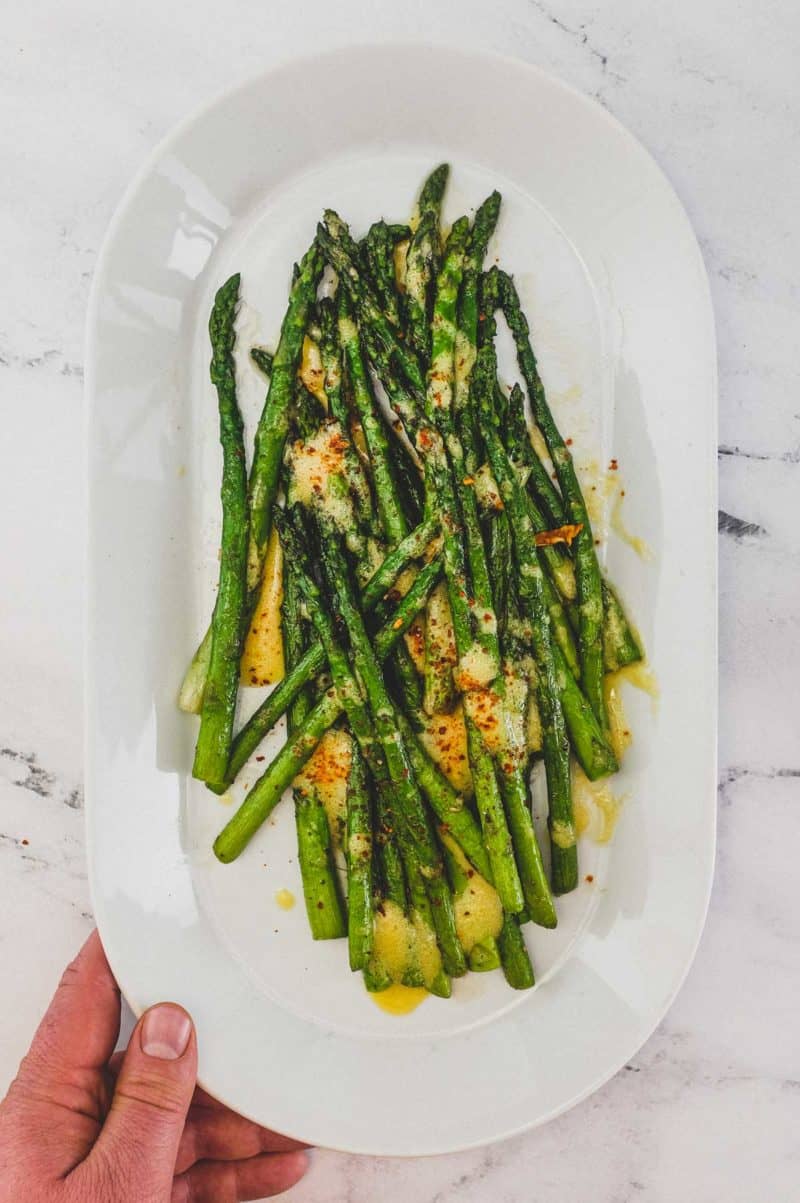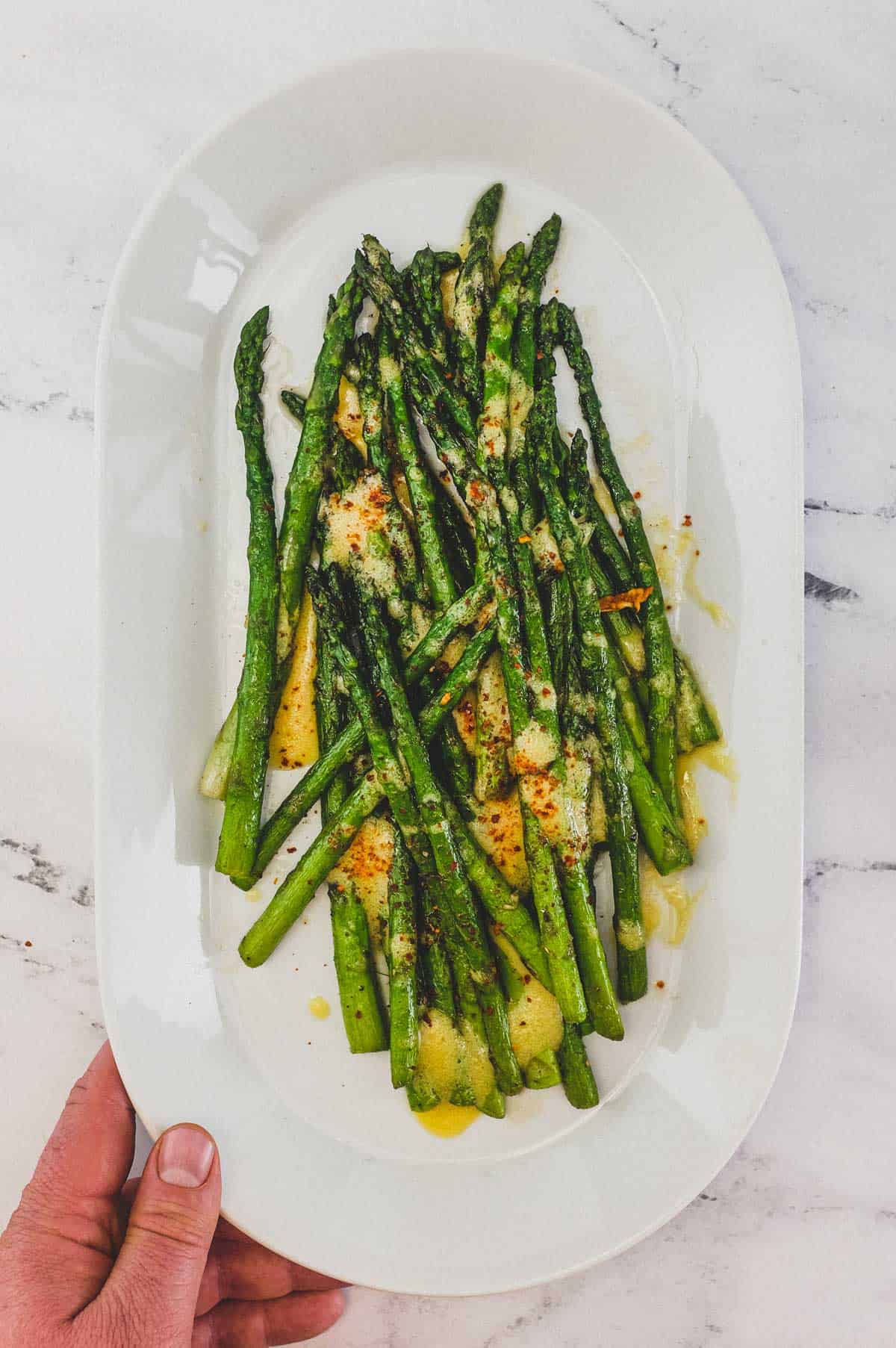 Did you make my Asparagus with Dijon Mustard?
How did you go? Let me know in the comments below and be sure to tag @cookeatworld at Instagram.