Achari Chicken – Chicken in Pickling Spices
Achari Chicken Curry is an amazing (and I mean amazing) North Indian treasure. A flavour sensation of sour, sweet and spice – brimming with flavour, colour and texture. Discover how Indian pickles transform this curry into something very special indeed…
Achari Chicken is a curry that is so full of flavour. A rich, decadent North Indian, Punjabi recipe - it features spices associated with pickling in India. Interestingly, it also includes Indian pickles in the sauce, creating a rounded sourness and triumph of flavour too!
What is Achari Chicken Curry?
Achaar in Hindi (अचार) means pickle, and this curry takes on all the wonderful flavours associated with pickling - mustard, nigella, coriander and fenugreek seeds. There is an abundance of flavour created with the achari masala spice mix, a curry powder full of colour and flavour. This is the base of our flavour, but we have one more trick up our sleeve to elevate this curry sauce even further - Indian pickles.
Why it works
Stirring a couple of tablespoons of pickles at the end, add an amazing sour and spicy note to the sauce which gives us our distinctive flavour. It REALLY makes the most amazing difference. I use whatever Indian pickles I have in the fridge - this time I had a fiery mixed pickle which was intensely sour and spicy - you can use lime, mango or whatever Indian pickles you have.
Stuff you'll need
My Achari chicken curry recipe is easy to make yourself at home. To get the authentic flavour you'll need a couple of specific ingredients. Get yourself to and Indian supermarket or all the ingredients can be had online failing that. There's a full recipe below but here are the key ingredients to give that amazing flavour.
Spices - This curry uses spices that also feature prominently in Indian pickling. You'll need (

fenugreek,

fennel,

coriander,

cloves,

black peppercorns,

nigella seeds,

cumin,

turmeric

and

Kashmiri chilli powder).

Mustard Oil & Seeds - Punjabi cuisine features a lot of mustard. The oil has a kick and is used in copious amounts - i've dialled it back a little for health! In addition, the seeds pop in the oil giving even more complexity of mustard flavour.
Chicken thighs - I love to use thighs in my curry as they don't dry out - juicy chicken is the goal, and breast meat just transforms into cardboard over 30 minutes. If you're using a whole jointed chicken, pop the breast part in after 15 minutes of cooking to help with drying out.
Indian Pickles - at the end of cooking, Indian pickles (my faves are mixed pickles or lime) are roughly chopped and stirred into the sauce. It's a magical introduction to the sauce!
Curry leaves - Fresh curry leaves are another wonderful addition. Their subtle floral note is something very special, especially when they're fried in more mustard oil!
Step by Step
My Achari Chicken recipe is pretty straightforward. You'll be amazed how so much flavour is achieved with so little degree of difficulty! See how it's broken down.
Step 1

Dry toast the spices - this will release the natural oils and enhance the flavour. Then using a pestle & mortar or spice/coffee grinder, grind the spices into a fine powder. The perfect Achari curry powder.

Step 2

Season the oil and fry the onion and garlic until soft and golden. Note: don't pop your head over the pan, hot mustard oil is like napalm if your get a noseful! Add the spices to gently unlock even more flavour.

Step 3

Add the chicken, tomato and yoghurt in a gradual succession

Step 4

Chop and stir in the Indian pickles - your achari curry will be transformed. For a garnish, you can also fry fresh curry leaves and scatter over the finished curry. You can also just toss them in fresh, straight from the vine. Fresh cilantro is a good option too.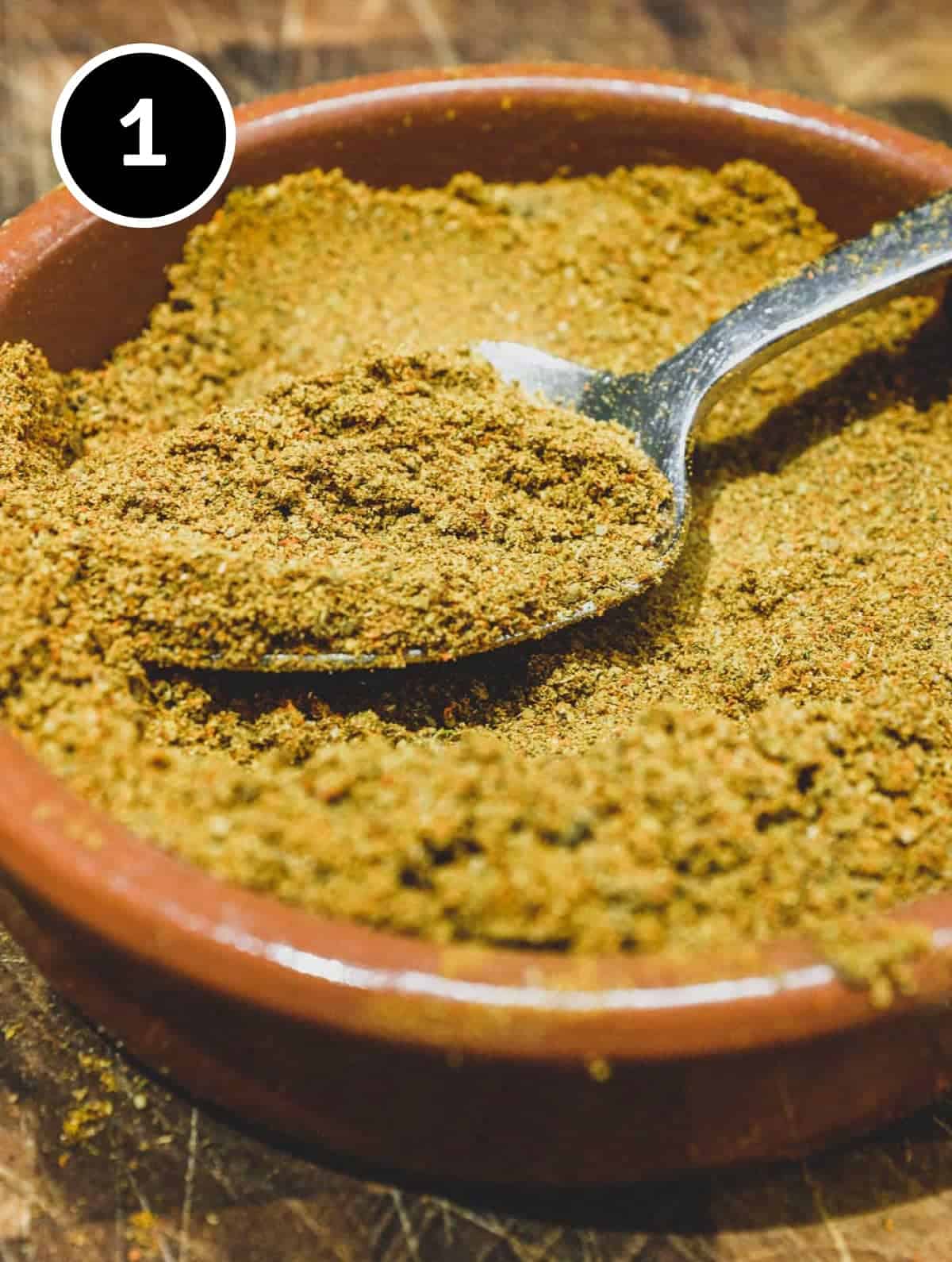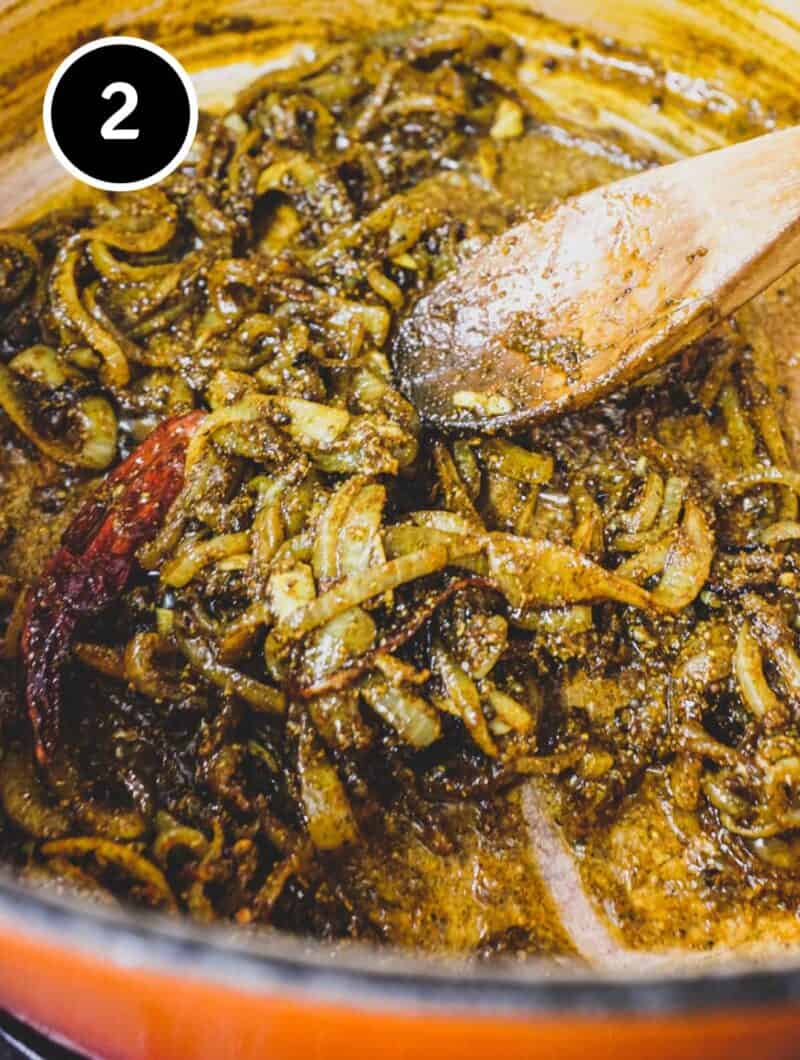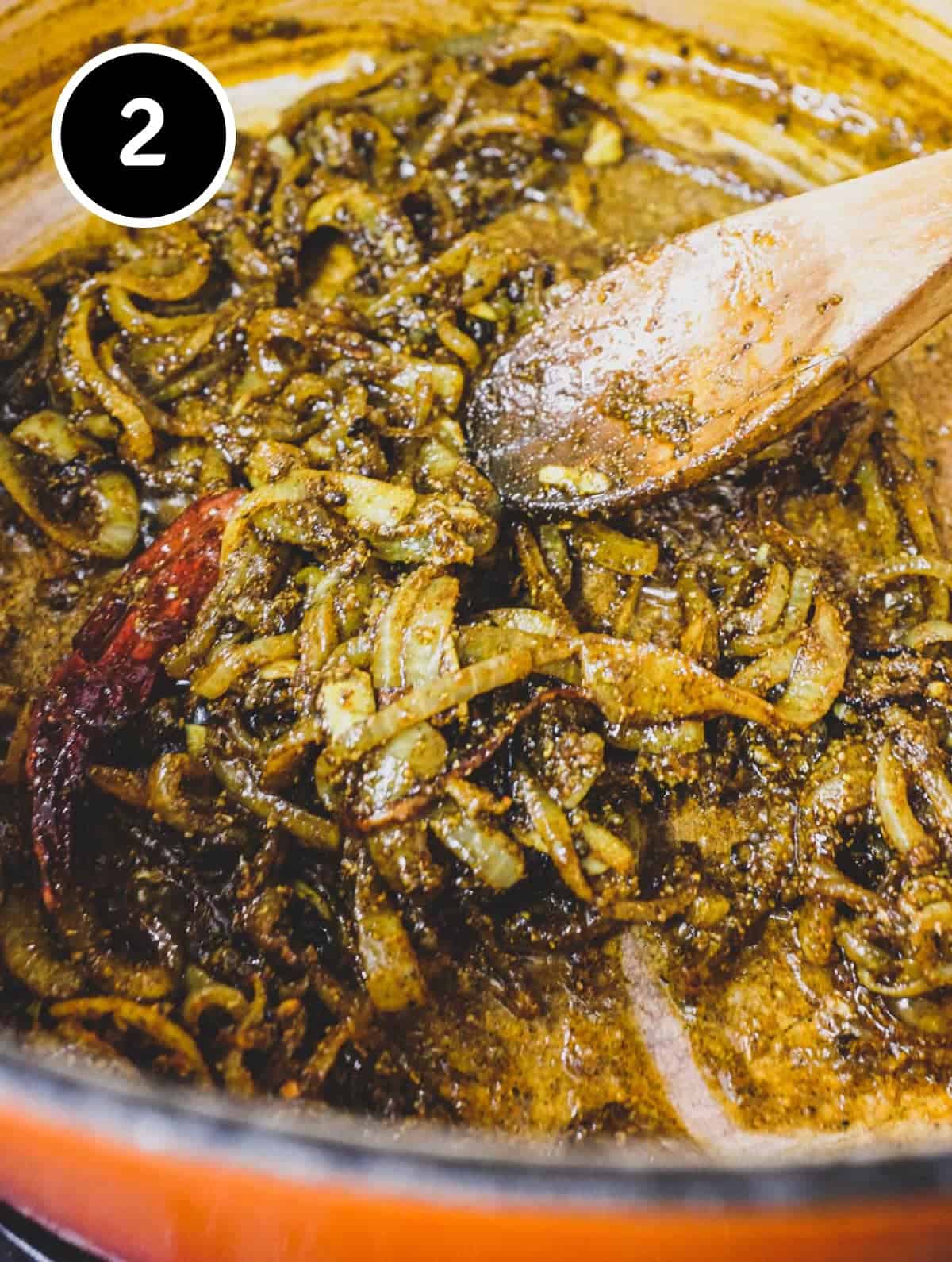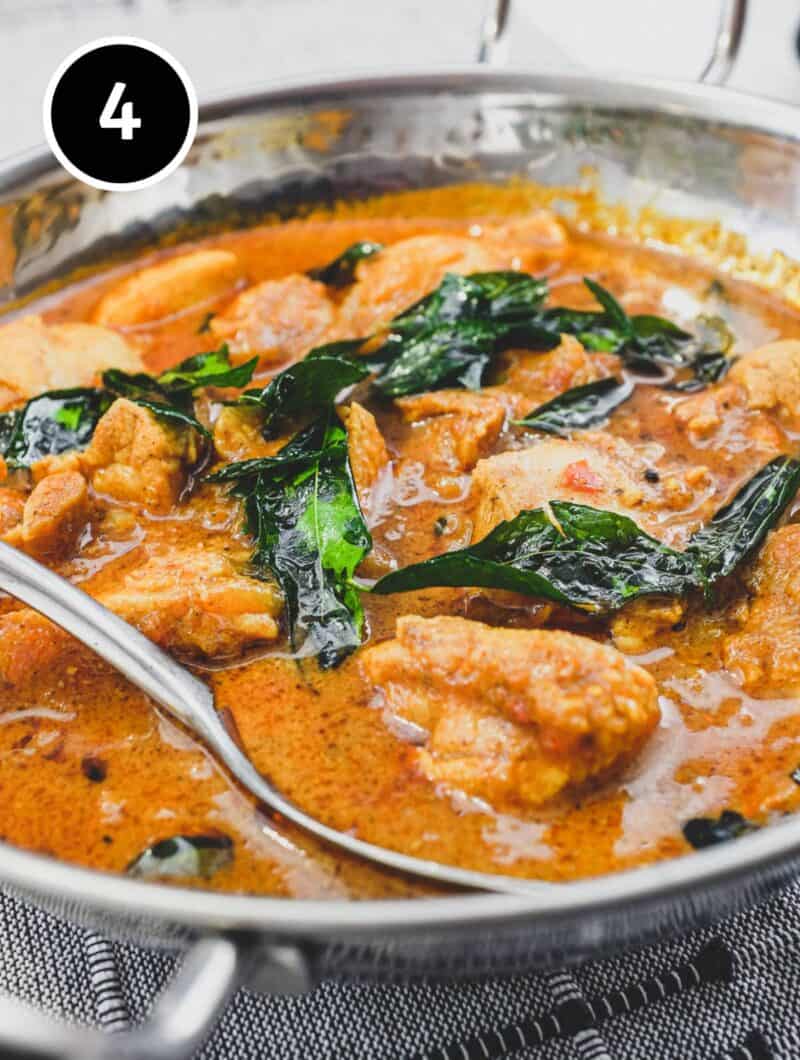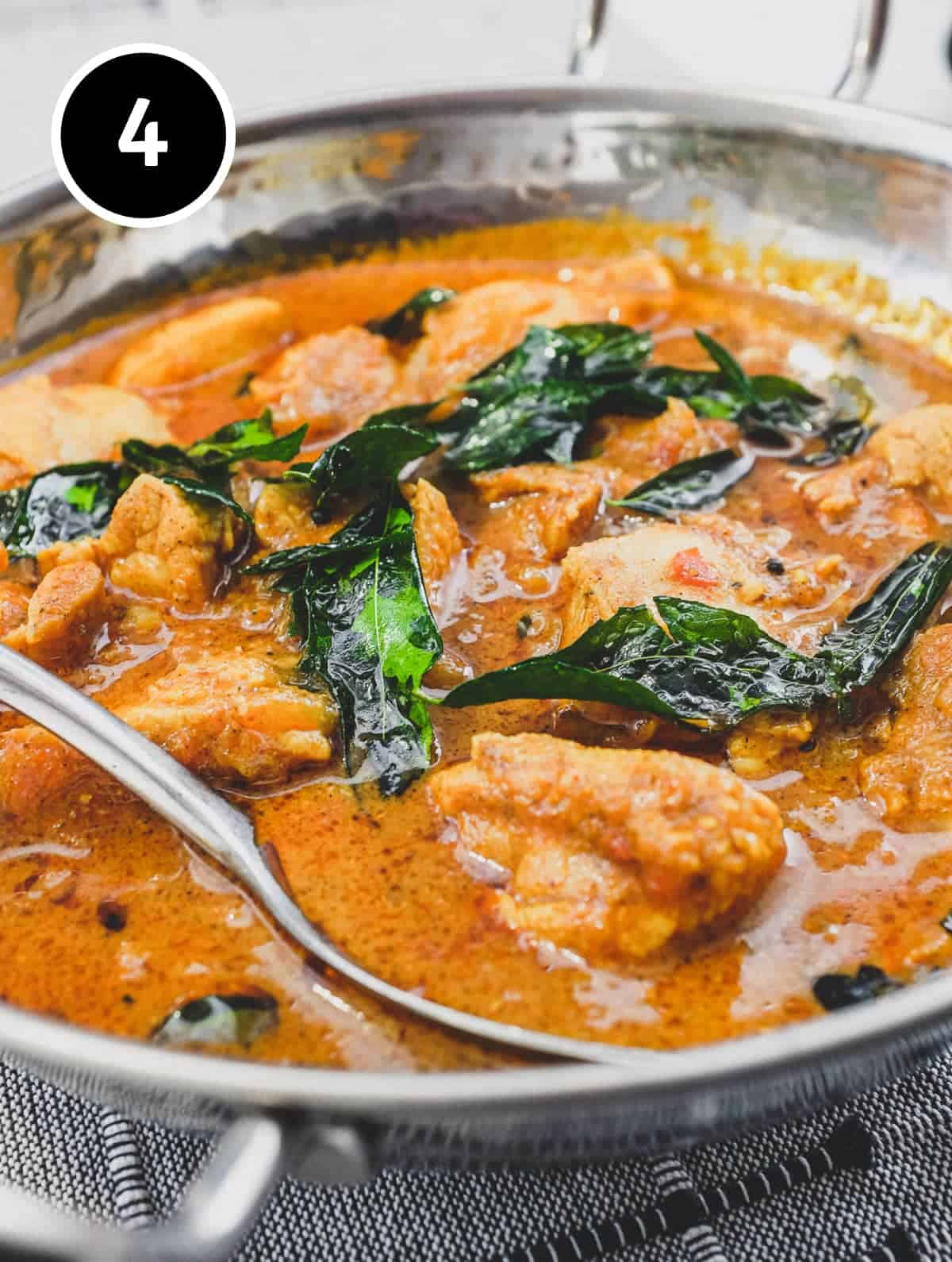 Pro Tips to make your life easier
Make double quantity of the curry powder

. It saves you time for the next time you make this curry. Store in an airtight container for a couple of months.

Make the curry in advance.

You will seriously improve the flavour it you let this curry sit for a day or two in the fridge. This is an ask I know, but I've done it and trust me, the flavours develop even more than you ever thought possible.

Freeze curry leaves.

Curry leaves aren't available everywhere, so when you're next in an Indian supermarket, snap up a bagful and throw them into a zip-lock bag and then into the freezer. They stay fresh for months and defrost in a matter of seconds.
Serving and storing suggestions
Serving
I like to serve this curry alongside copious manhunts of fluffy basmati rice. It's also delicious alongside Naan, paratha and roti breads. The garnish of fried curry leaves, might be a step too far for some, so you can add fresh chopped cilantro or mint too. There's always room for more pickles, so serve them on the side - you may want a simple kachumbar salad or yoghurt dressing too.
Storing
Store in an airtight container in the fridge for up to 5 days.

For the freezer, I like to portion up for meal-plan and freeze in airtight containers for up to 3 months. Cook from frozen in the microwave or defrost and add back to the pan. Sometimes, a little water will benefit the curry a little when reheating.
Mustard - The essential ingredient
In Punjab, mustard oil is commonly used - it has a mildly spiced flavour, like a mild horseradish, to further accentuate the mustard flavour, we use whole mustard seeds - yellow or black seeds will do. I've also eaten this dish with mustard greens mixed through for a bit of greenery. Mustard oil is available at any Indian grocery store or online too. If you can't get hold of it, don't worry - there's plenty of flavour in the curry itself, so just use a vegetable or canola oil or ghee instead.
Ready to get cooking?
I know I say this about ALL curries, but this one genuinely is one of my most treasured. The addition of pickles is inspired and to be honest, I add them to many of my curries now to up the ante on flavour. If you're looking for a special curry to cook, I will point you to my Anchari Chicken every time. Hope you enjoy and let me know what you think in the comments.
Any Questions? (FAQ)
Have a question about Achari Chicken? Let me know in the comments.
What does Achari Chicken taste like?
Achari chicken means 'pickled'. Pickling spices are used to flavour the curry along with chopped Indian pickles. So, as you'd expect the curry has a light sourness that's very appealing.
In India, Achari chickens often smoked too. A small piece of charcoal is placed into a small bowl holding ghee which sits on top of the sauce. A lid is placed on the pan while the charcoal burns the ghee. It imparts a light smokiness to the entire sauce.
More delicious curry recipes
If you liked this curry then I just know you'll love more of my Indian and other Asian curries. For ease you can check out my Best Chicken Curry Recipes here or maybe just one of my Best Curry Recipes... or just choose one of these: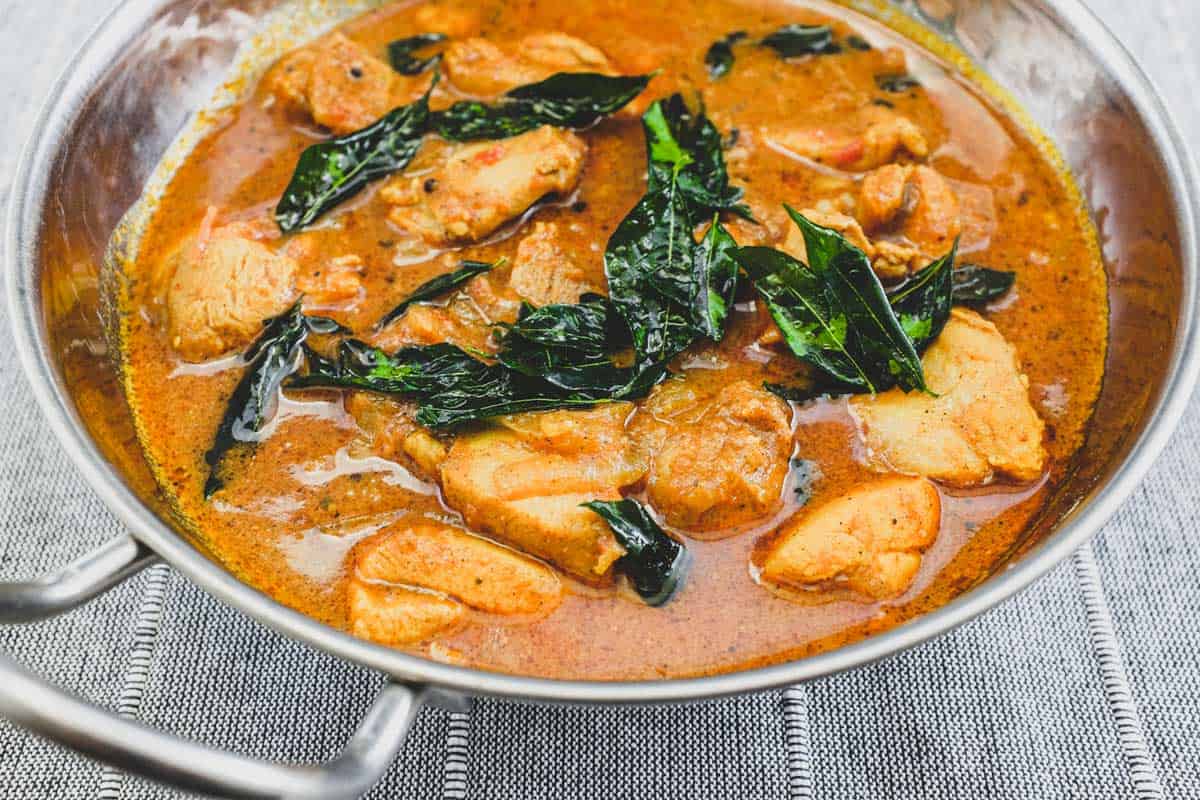 Achari Chicken - Chicken in Pickling Spices
Rate this recipe
Print Recipe
Pin Recipe
Save Recipe
Go to Collections
Calories (per serving) |
792
Ingredients
Achari Masala Powder Recipe
Instructions
For the Achari Masala Powder
In a dry frying pan over a moderate heat, toast the whole spices from the masala powder ingredients until they pop around the pan.

Remove and using a spice grinder or pestle & mortar, grind into a fine powder. Stir in the ground turmeric and Kashmiri chilli powder and set aside.
For the Achari Curry
Heat the mustard oil over a moderate heat until just hot.

Add the mustard seeds and dried chilli and let them splutter for 5 seconds before adding the onion to the pan. Fry the onion for about 5-6 minutes until soft and golden.

Reduce the heat a little and add the garlic and spice mix to the pan and fry gently for 1-2 minutes. (If the spices start to burn, add a splash of water to cool the pan down)

Add the chicken and turn up the heat to medium-high. Stir well to coat everything in the spices.

Add the tomato, and yoghurt together with 2 cups of water and cook until just bubbling.

Reduce the heat to low and partially cover the pan with a lid. Cook the chicken for 15 minutes, stirring occasionally. Remove the lid and cook for a further 15 minutes.

Stir in the salt and sugar then stir in the Indian pickles then remove from the heat.

In a small frying pan with 2 tbsp mustard oil, fry the curry leaves for 30 seconds. Remove and leave to drain on paper towels.

Scatter the curry eaves over the curry and serve! I like mine with either Indian bread like roti, naan, chapati, or paratha. I also love this with fluffy basmati rice.
Notes
Storing and serving
If you can wait, making this curry a day (or two) in advance and refrigerating until needed will make a spectacular difference in the flavour. It's not essential, but if you have the willpower then give it a try!
Leftovers will stay fresh in an airtight container in the fridge for 4-5 days.
Freeze portions of the curry for up to 3 months.
Freeze your curry leaves
Curry leaves aren't abundant everywhere, so when you find them, pop them in a zip-lock and freeze. They stay fresh for months and defrost in your hand.
Experiment with pickles
There are a vast array of Indian pickles to enjoy. My personal favourites are mixed, lime and mango. Some pickles are super-spicy, so choose wisely for the desired effect.
Nutrition
Calories:
792
kcal
(40%)
|
Carbohydrates:
13
g
(4%)
|
Protein:
45
g
(90%)
|
Fat:
63
g
(97%)
|
Saturated Fat:
15
g
(94%)
|
Trans Fat:
1
g
|
Cholesterol:
252
mg
(84%)
|
Sodium:
1108
mg
(48%)
|
Potassium:
826
mg
(24%)
|
Fiber:
2
g
(8%)
|
Sugar:
6
g
(7%)
|
Vitamin A:
985
IU
(20%)
|
Vitamin C:
109
mg
(132%)
|
Calcium:
159
mg
(16%)
|
Iron:
4
mg
(22%)