Kosha Mangsho (Bengali Lamb Curry)
One of the most alluring qualities of Kosha Mangsho is the intensely flavourful and rich sauce. This Bengali lamb or mutton has personality by the bucketload. The thick, glossy sauce clings to the fork-tender chunks of meat. It's a treasure for sure, and super-easy to make at home too.
If you're a fan of rich, flavourful curries then you mustn't go past one of my personal favourites, Kosha Mangsho. An impossibly concentrated sauce that screams every imaginable flavour possible. A Bengali favourite, it's a dish that won't disappoint, a rich, fragrant sauce is reduced to a dry, concentrated slick, culminating in one of the most delightful sauces in India! The great news is that it's really easy to make at home too.
What is Kosha Mangsho?
Kosha Mangsho is traditionally a mutton curry, served the length and breadth of the Indian sub-continent. In this Bengali version, which can be made with mutton, goat or lamb we see ingredients typical of the region. This recipe for Kosha Mangsho features lamb – it can be made with meat on or off the bone, personally for ease of eating, off the bone is my go to, but bone in meat will create an even more intense sauce. Try both and compare for yourself!
Why it works
Flavour flavour flavour! Kosha mangsho is not short on it! The curry has one of the most intensely satisfying and complex flavours of all the Indian curries I've tasted. When all I want is a burst of Indian intensity, my first thought is invariably Kosha Mangsho. It's not a particularly a spicy curry, but the fragrance from the other spices creates a truly memorable affair!
Stuff you'll need
This dish has a lot of flavour and to achieve this, there's quite the roll-call of ingredients. But once you have the spices, there's so many delicious Indian treasures now at your disposal.
Whole spices – Fenugreek, mustard, fennel, nigella, cumin, cardamom, cloves and cinnamon.
Ground spices – Turmeric, cumin, coriander and chilli powder
Meat – Lamb or goat
Fresh – Onion, garlic, ginger, tomato and lemon
Other – Yoghurt, ghee and mustard oil
In Bengali cuisine, mustard oil is very common - it has a wonderful potent flavour and adds another layer of complexity to the dish. In this recipe, I've combined Ghee (clarified butter) with mustard oil which gives a balanced, rich flavour.
With most of the whole spices, we'll make a spice mix called panch phoron, (also known as Bengali Five-Spice). You can skip all these ingredients and buy pre-mixed. You can see below how to make your own – it's easy.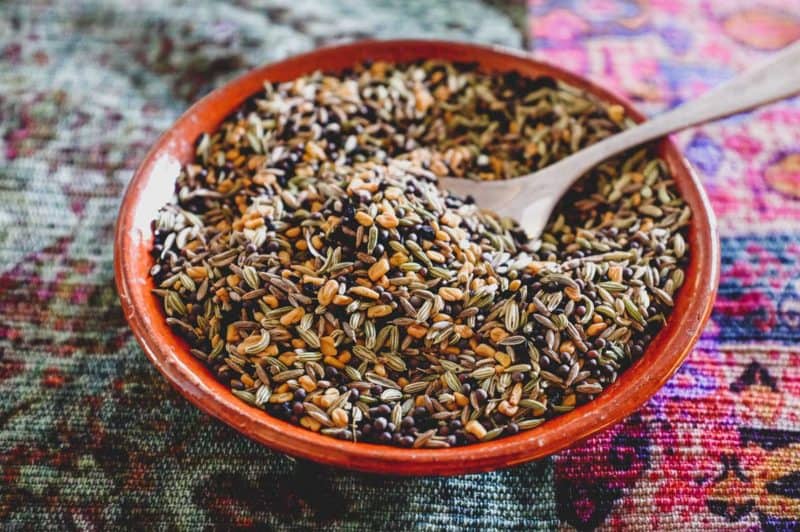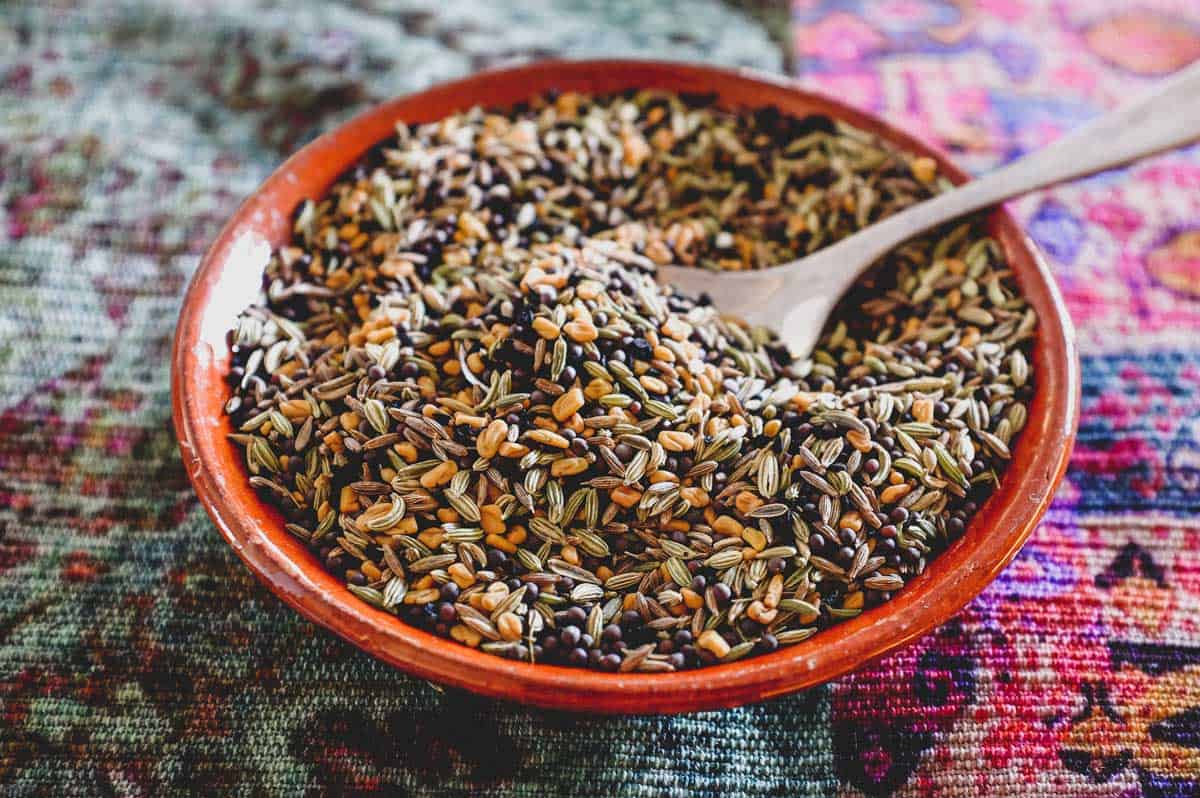 How to make Panch Phoron (Bengali Five-Spice)
India and the surrounding areas are synonymous for their specific spice blends - Panch Phoron is one such mix. A whole-spice mix that's added to many dishes to help give their unique flavours. It often goes by the names Bengali Five-Spice or Indian Five-Spice - Panch Phoron features 5 key spices:
You can keep it in a jar for months too, ready for any eventuality. You can also buy pre mixed panch phoron at any Indian supermarket.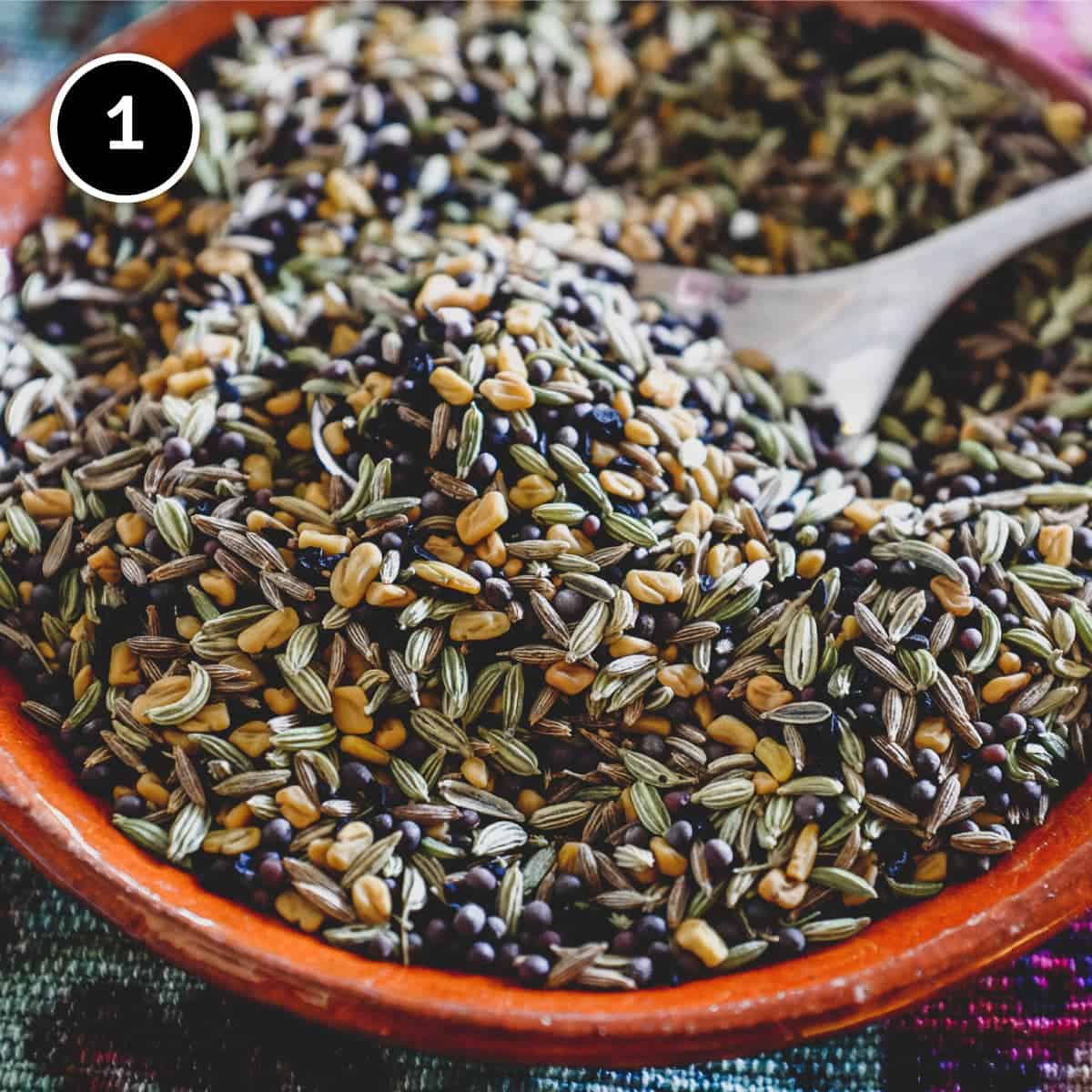 Step by Step
Kosha Mangsho is a super easy curry to make at home. You just need patience to let it cook and then stay with it as it reduces at the end to avoid burning. Here are the four key stages.
Step 1 -

Make the panch phoron (see above) – you can skip this stage and buy pre mixed panch phoron (Bengali or Indian Five-spice) from any Indian supermarket or online.

Step 2 -

Marinate the meat in some ground spices alongside yoghurt, garlic and ginger. The longer the better (24 hours), but 3-4 hours will work too. The yoghurt acts as a tenderiser to the meat and will create a better texture and flavour in the long run.

Step 3 -

Make the curry by sizzling the panch phoron and a few extra whole spices in some ghee and oil to flavour and then add the onion, followed by tomato and finally the meat and marinade.

Step 4 -

Simmer the sauce for 1 1/2 hours until the meat is tender.
Step 5 - Reduce the sauce and serve. At the end of cooking, remove the lid of the pan and turning up the heat. Stay with the pan and stir frequently until the sauce has reduced into a thick, glossy slick (around 10 minutes). Serve!
Pro Tips to make your life easier
Serving - Kosha mangsho is considered a dry curry, and as such I like to serve mine with Indian bread as it's perfect for scooping without any mess. That said, basmati rice is no second fiddle! I also like to serve kosha mangsho with some crisp fried potato slices. Just slice potatoes into ¼"/5mm slices and fry in oil until browned and crisp on both sides.
Adding vegetables – I'll sometimes add vegetables at the end of cooking kosha mangsho. A cup of frozen peas or cooked green beans are great warmed into the sauce at the end for a fix of vegetables.
Developing flavour - Many curries benefit from some time after cooking to develop in flavour - Kosha Mangsho is one such curry. If you have the time and self-control, refrigerate the curry for 1-2 days before eating for an enhanced taste. This step isn't essential, but honestly, it's worth the wait and I just love knowing there's a ready to go treat waiting for me!
Freezing – Kosha mangsho is a great curry to freeze. Portion into servings and add about ¼ cup water on top (stops it drying out when reheating) then freeze for 3-4 months or longer. Reheat in the microwave from frozen for 5-8 minutes. If you don't have a microwave, defrost the curry first then reheat in a pan – you might need a little more water to stop it drying out too much.
Ready to get cooking?
Kosha Mangsho really is the perfect curry! Rich, glossy, packed with flavour and super easy too. It's always a treat to rediscover a portion from the freezer! I love this curry so much that I cook it at least once a month. Once you discover the delights of this Bengali curry you'll be sure to make as often too.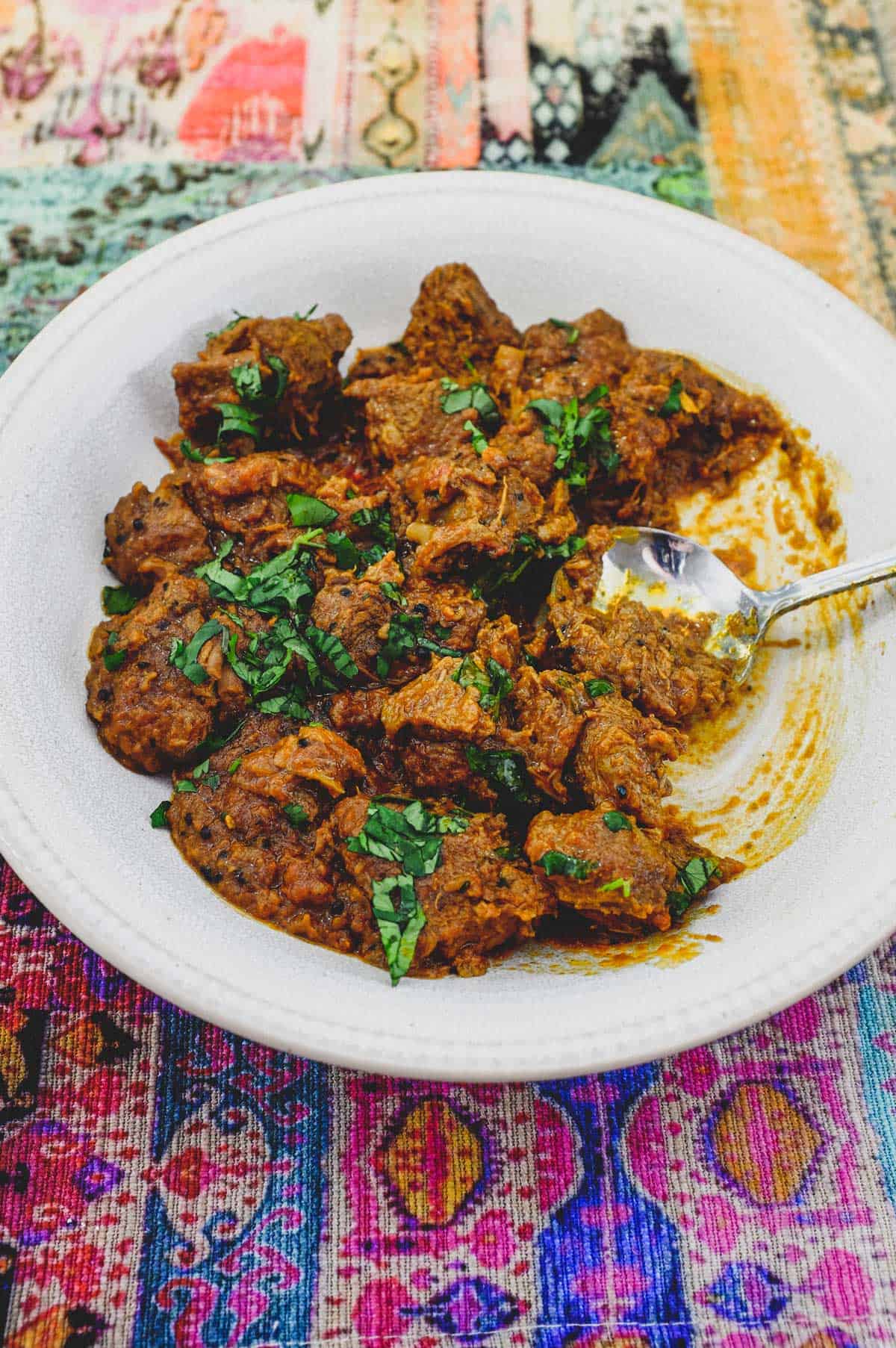 Any Questions? (FAQ)
Have a question about Kosha Mangsho? Let me know in the comments.
What is kosha mangsho made of?
This traditional Bengali curry is typically made using mutton. In india, mutton often refers to goat meat and not as lamb as the western cook would know it. Both lamb and goat meat is perfect for kosha mangsho. It's cooked in a rich blend of onion, tomato, yoghurt and spices.
Is kosha mangsho spicy?
Kosha mangsho can be made however you like it. My recipe is not especially spicy. 5/10 spice.
More tasty Indian curry recipes
If you liked this amazing Kosha Mangsho recipe, be sure to try one or all of my other favourite Indian curries.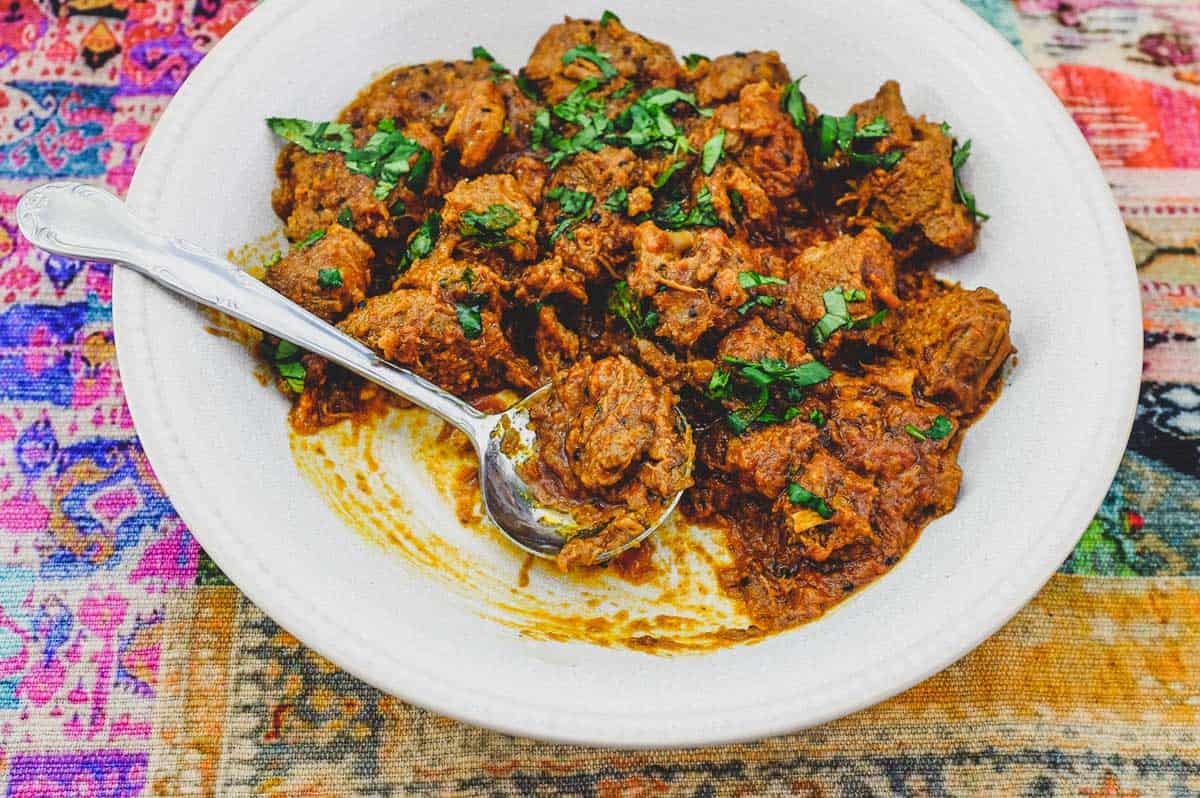 Kosha Mangsho (Bengali Lamb Curry)
Rate this recipe
Print Recipe
Pin Recipe
Save Recipe
Go to Collections
Calories (per serving) |
424
Ingredients
For the Paanch Phoron Spice Mix (Makes more than you need - see storage notes below)
For the curry
2

tbsp

ghee

(or vegetable oil)

1

tbsp

mustard oil

(optional)

1

tbsp

paanch phoron

(recipe above)

4

cardamom pods

(lightly bruised)

4

cloves

1

large red onion

(about 2-3 cups)

1

tomato

(chopped)

½

lemon

(juice of)
Instructions
For the Paanch Phoron Spice Mix
Combine all the Paanch Phoron ingredients together and set aside. We only need 1tbsp of this mix, but it'll keep for months in the cupboard in a bag or jar.
For the marinade
Cut the lamb into 2-inch/4cm chunks and then add all the other marinade ingredients plus about 1/4 cup water. Mix well to ensure it's nicely combined and coats all the meat. Cover and marinade for 1 hour minimum or overnight for best results.
For the curry
Heat the ghee and oil in a large pan over a moderate heat until hot. Add the 1tbsp of Paanch Phoron, the cardamom, cloves and cinnamon and let them sizzle for about 30 seconds.

Add the sliced onion and fry for 4-5 minutes until soft. Add the tomato and stir for further 2-3 minutes until it's broken down a bit. Now add the meat and all the marinade and stir well.

Cook for 10 minutes, stirring regularly to avoid sticking. Add 2 cups of water and then bring to a simmer. Reduce the heat to low and cover the pan. Cook very gently for 1 1/2 hours, stirring occasionally until the lamb is tender.

Remove the lid and turn up the heat a little. Let the sauce bubble energetically and reduce for 5-10 minutes, stirring regularly to avoid sticking. The sauce should be thick and cling to the meat.

Remove from the heat and stir in the lemon juice. Sprinkle over the cilantro and serve.

Serve hot with Indian breads and/or rice.
Notes
Kosha Mangsho will stay fresh in the fridge for up to a week. The flavour only gets better, so try leaving it in there for a day or two before serving of you can stand the temptation!
It's the perfect curry for freezing (for 3+ months). I will portion mine into servings (1-2 people) and before freezing will adds about ¼ cup water. This will help avoid the curry drying out when it's reheated. To reheat, I'll usually do it in the microwave from frozen for 5-8 minutes, stirring half-way through cooking.If you don't have a microwave, defrost thoroughly and reheat in a small pan until hot (add a little more water if it reduces too much).
Goat or lamb meat is good for this curry. Cooking with or without the bone in is OK, for even more flavour and a super-glossy appearance, bone in is the way to go. You might need a little longer to cook larger bone in chunks, so just keep an eye on the water levels and add a little more water if needed.
Serve kosha mangsho with Indian breads (roti, paratha, naan etc.) or alongside fluffy basmati rice. I'll also from time to time, serve with fried potato slices.
From time to time, I'll add 1 cup of frozen peas or cooked green beans at the end of cooking and heat for 1-2 minutes for a vegetable fix.
The paanch phoron recipe makes more than you need, so simply keep in a sealed bag or airtight jar in a cool cupboard for up to 12 months.
Nutrition
Calories:
424
kcal
(21%)
|
Carbohydrates:
14
g
(5%)
|
Protein:
38
g
(76%)
|
Fat:
25
g
(38%)
|
Saturated Fat:
9
g
(56%)
|
Cholesterol:
121
mg
(40%)
|
Sodium:
1009
mg
(44%)
|
Potassium:
765
mg
(22%)
|
Fiber:
5
g
(21%)
|
Sugar:
4
g
(4%)
|
Vitamin A:
604
IU
(12%)
|
Vitamin C:
15
mg
(18%)
|
Calcium:
133
mg
(13%)
|
Iron:
7
mg
(39%)