Arguably one of the jewels of South Indian cuisine, Lamb Madras Curry is a rich, glossy and tangy combination of flavour and fragrance. An intense burst of spice with the most juicy, meltingly tender lamb ever.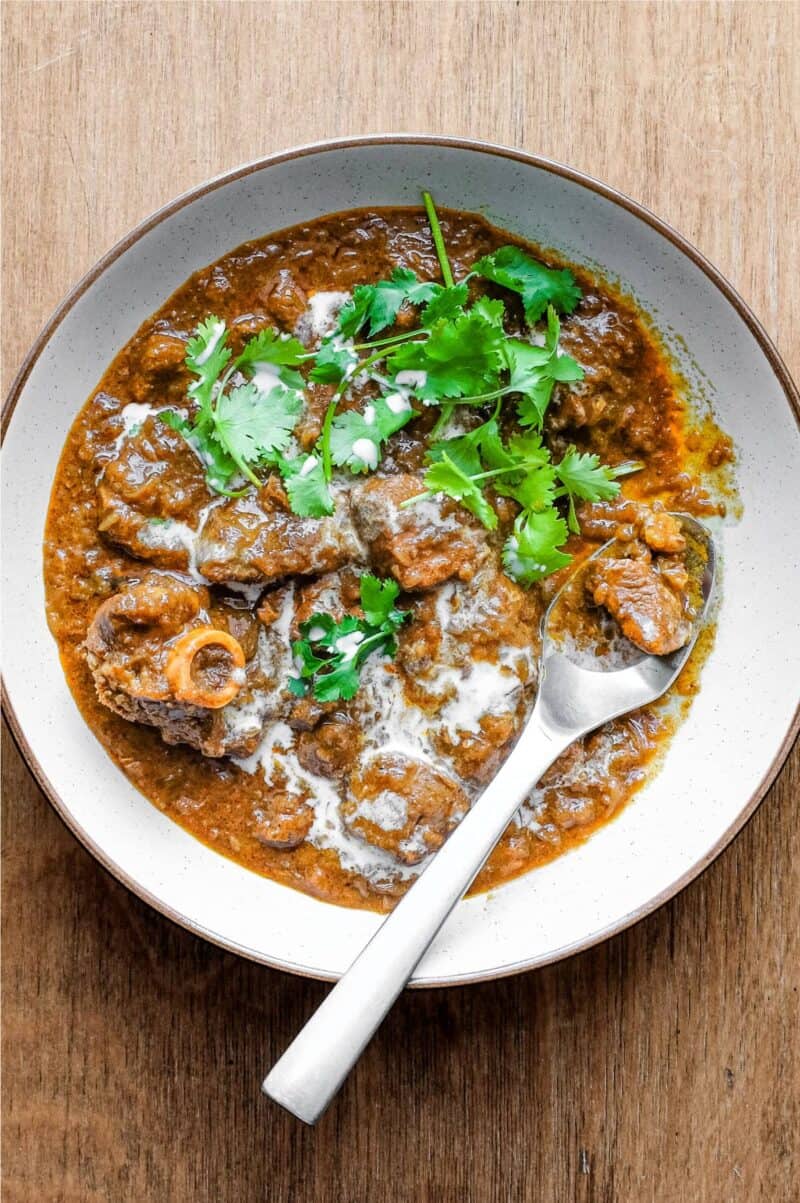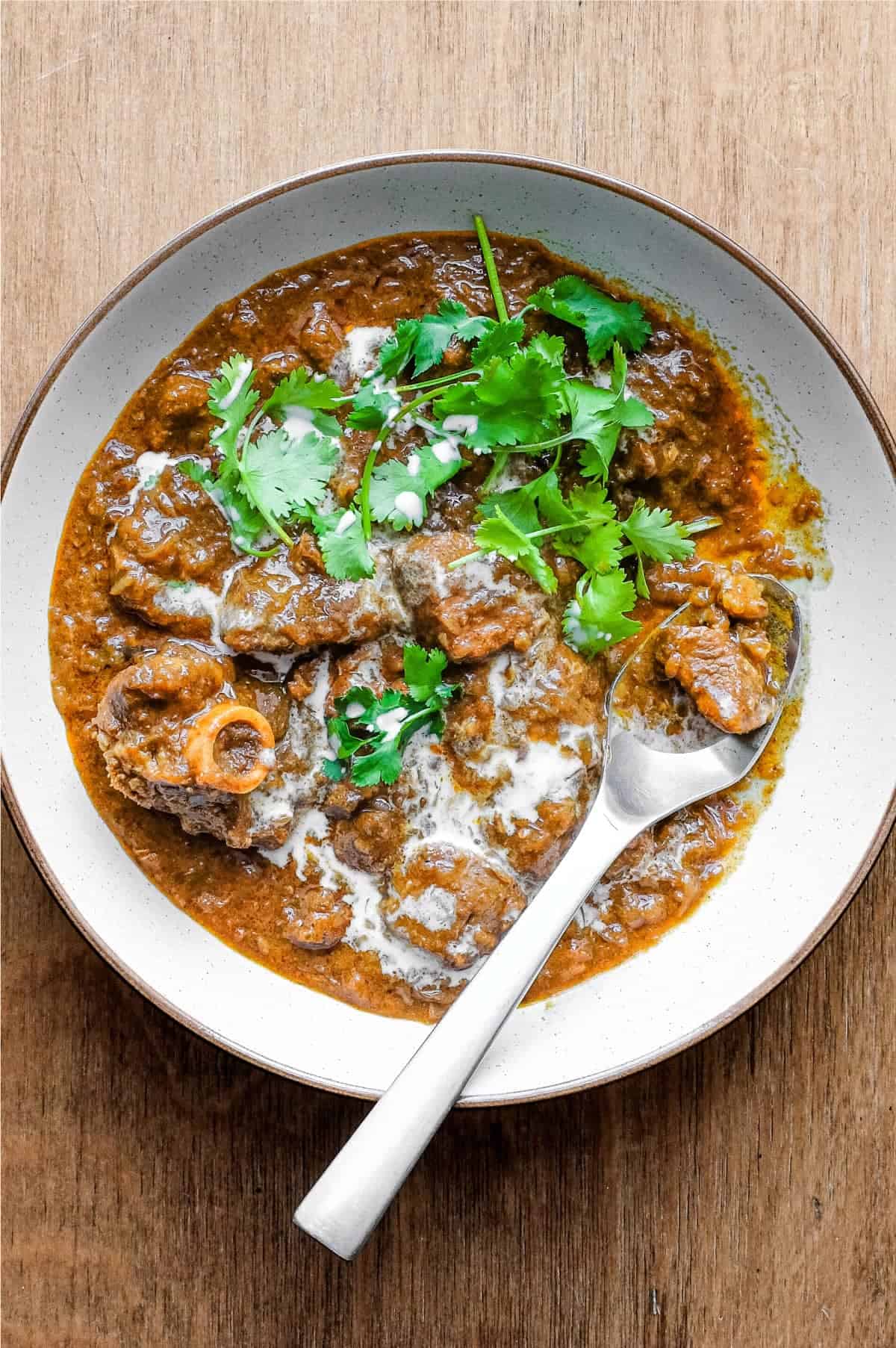 Lamb Madras is one of my favourites and one of the first curries I mastered. I've been cooking and perfecting it for over 20 years!
What I have now is the best lamb madras curry recipe from all that time. A perfect homemade authentic madras curry powder paired with the right combination of ingredients, that give a balanced, harmonious and thoroughly flavourful dish that hits all the right notes.
A sweet, spicy and tangy curry that packs an intense burst of South Indian personality.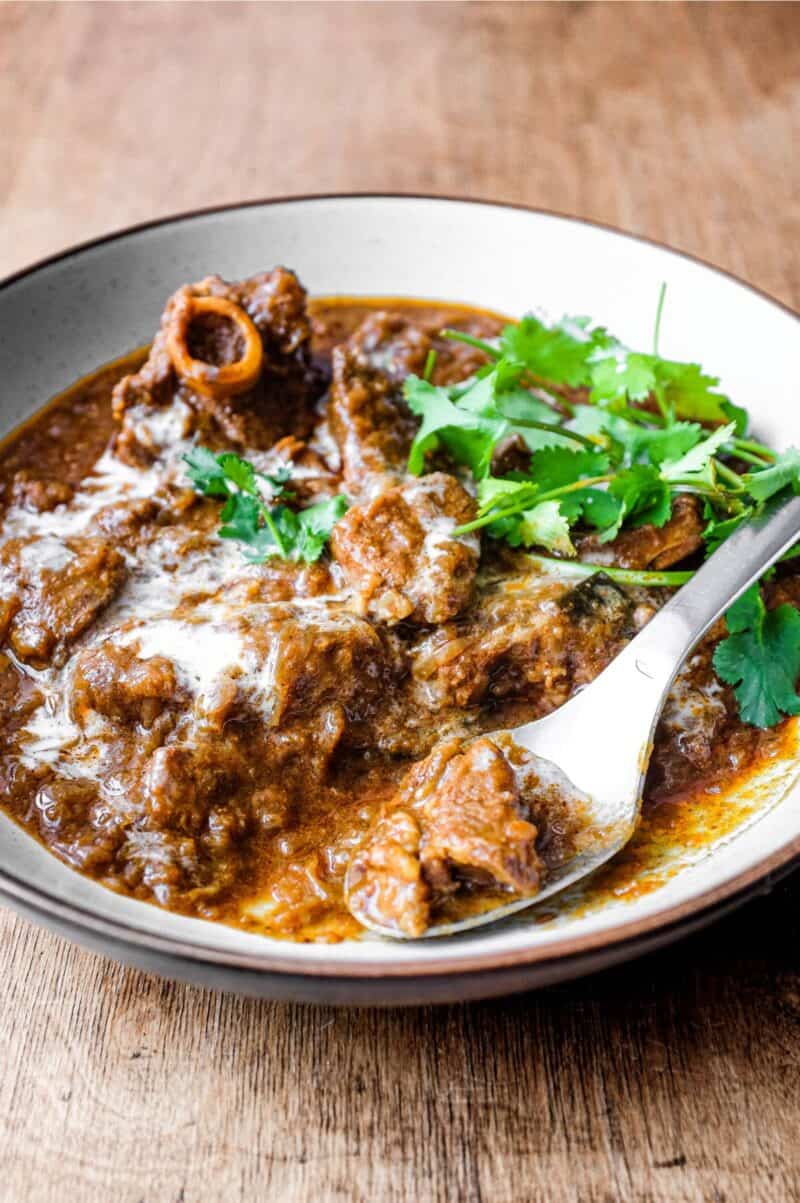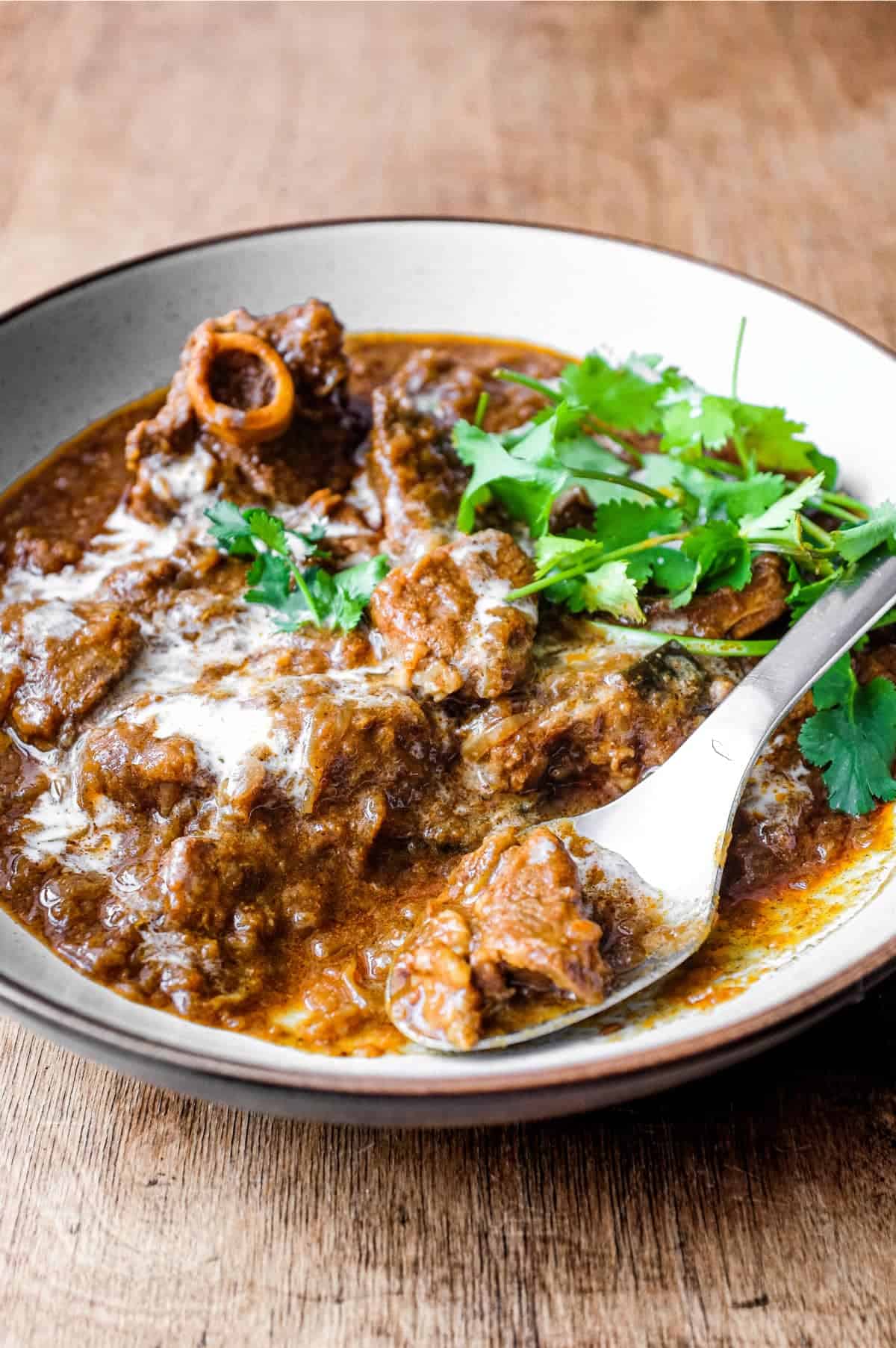 What is Lamb Madras?
Lamb Madras is a Southern Indian curry that features meat, typically mutton, lamb or goat, cooked in a special Madras spice blend alongside other spices, coconut, tamarind and sometimes tomato.
The curry was given its name from the city of Madras, the Colonial name given by the British to the city of Chennai.
Often the dish features lots of fresh chillies and curry leaves, typical of Southern India. This also means the sauce can range from mild to fiery, depending on how many hot fresh chillies are added.
It's a dish cooked over a long time to ensure the tough meat has time to soften and transform into butter-soft morsels.
My Homemade Madras Curry Powder
The key to a good lamb Madras curry is good Madras curry powder. There are many good options for store-bought Madras curry powders, so feel free to use one of those, but for a truly authentic lamb madras curry, you can easily make your own spice blend.
Discover my recipe for Madras Curry Powder. It's quick and easy, and makes enough for about 4 curries, saving you time for the next instalments of your Madras curry journeys.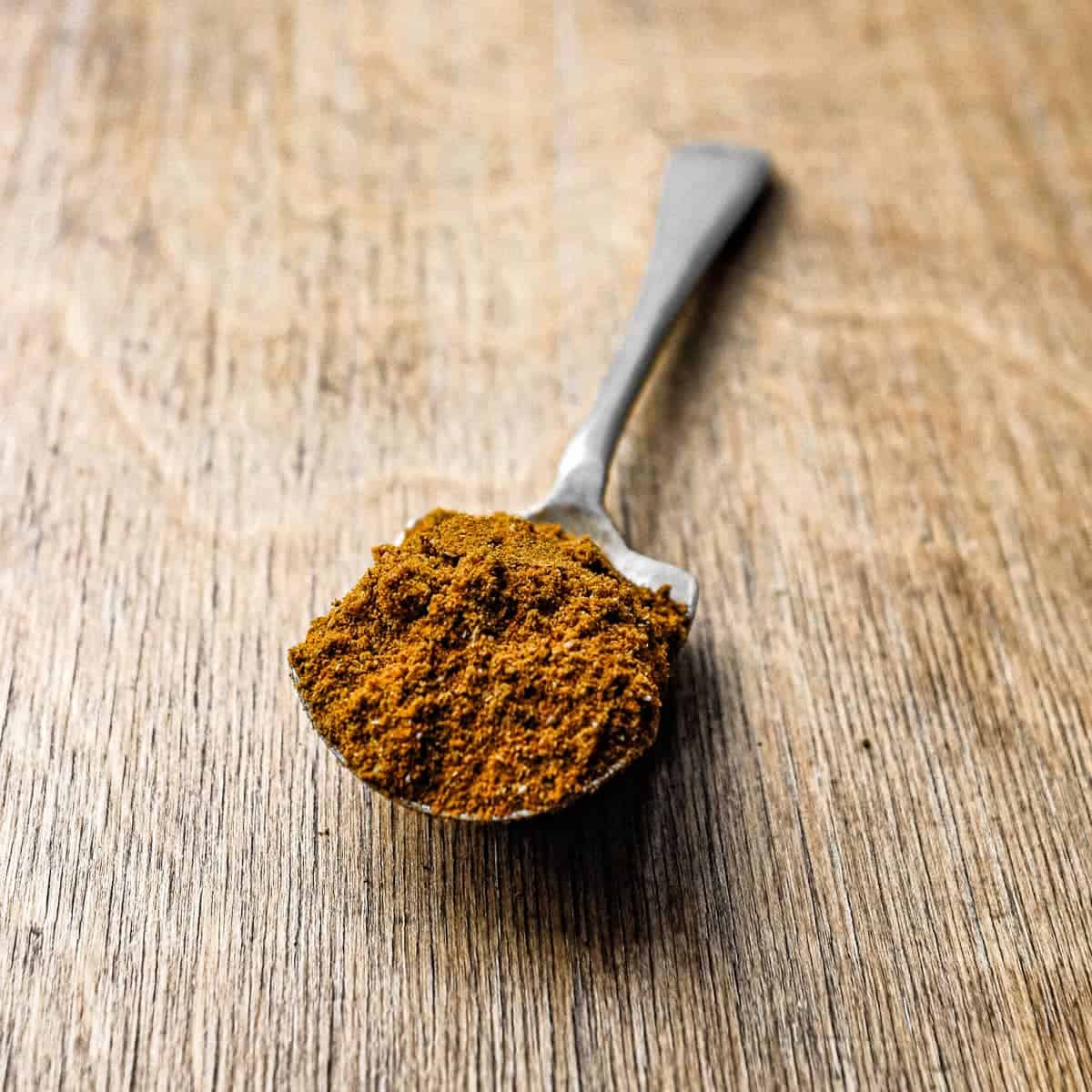 Why it works?
It's a decadent treat - There's something so magical about lamb curry! The meat imparts a unique and luxurious flavour alongside the complex blend of spices and unique tangy finish.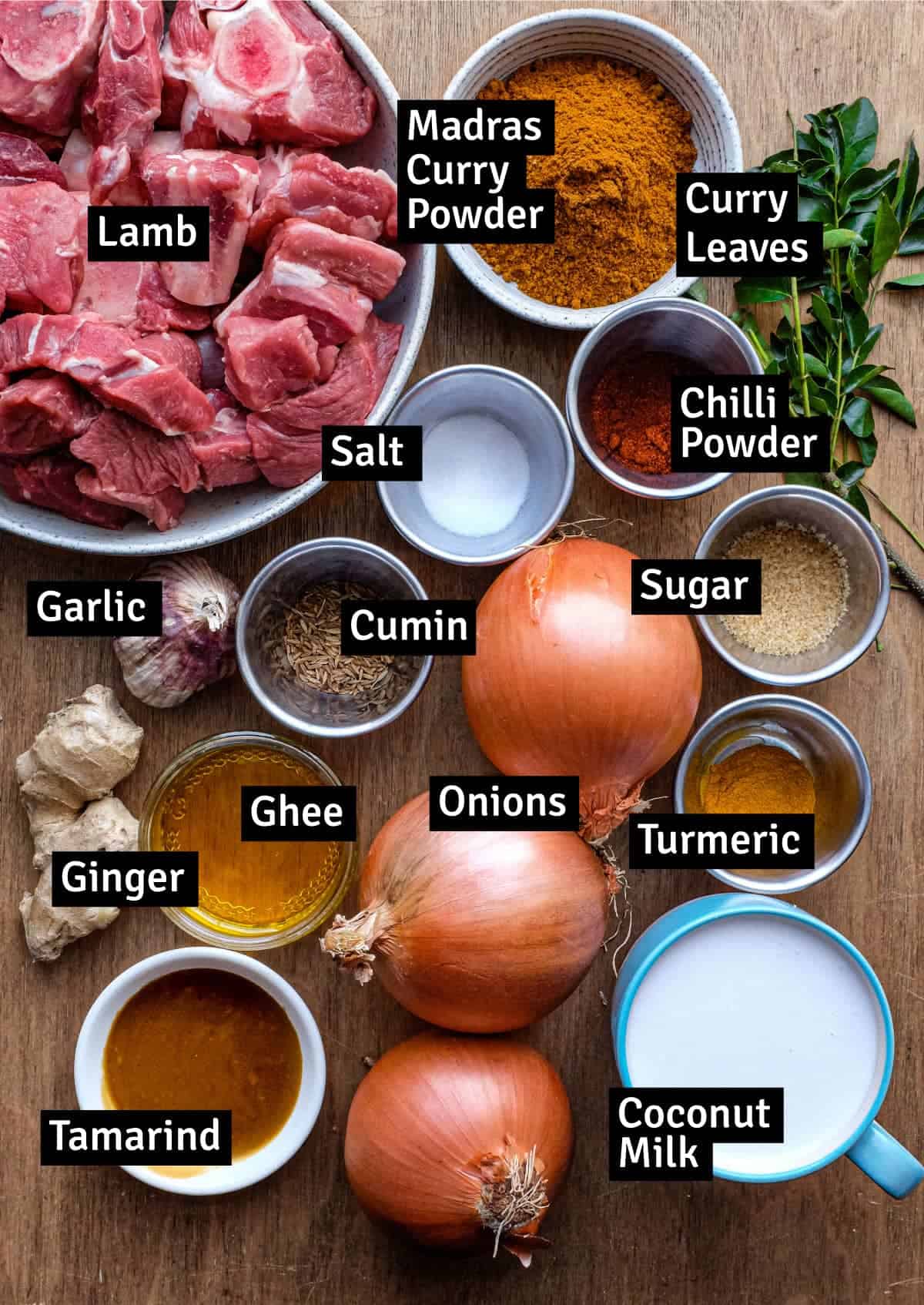 Stuff You'll Need
Over the years I've pared down the ingredients to the best combination for flavour and ease. Here's what you'll need to make your lamb Madras at home.
Lamb - I like to use either leg or shoulder meat cut into bitesize chunks. If you can get the meat bone-in you'll get the SUPREMO flavour. Ask a butcher to do this for you. Boneless is perfectly fine too.
Spices - My Madras Curry Powder recipe will give the best flavour, but you can use store-bought too. In addition you'll need some ground turmeric, cumin seeds and chilli powder.
Fresh - Onion, garlic and ginger bring a floral fragrance. The onion also helps give the rich, glossy sauce. We also add some fresh curry leaves at the beginning for flavour. You can find those at all good Indian stores. Dried curry leaves don't cut it, so just leave out if you can't get hold of them.
Other stuff - includes coconut milk (creamy!), salt & sugar and finally a sour hit of tamarind which brings the final flavours to life and gives the authentic tangy finish that Madras curries are known for.
Step by Step
Making this curry is really easy. Once you have my curry powder made, you'll have enough for 4 curries which will cut down your prep time. If you're using store-bought curry powder, you already saved yourself that step, so good work.
Step 1 - Coat the lamb with a little turmeric and salt and set aside.
Step 2 - Combine the Madras curry powder with some hot chilli powder and water to form a paste then set aside.
Step 3 - Heat some ghee and fry up a little cumin and curry leaves to enhance the flavour.
Step 4 - Add the onion and let them gently fry for 10-15 minutes until

they're soft and golden.

Step 5 - Add the spice paste and

lamb and stir well.

Step 6 - After

a few minutes the lamb will release some liquid to create a

thick spicy coating.
Step 7 - Pour in the coconut milk and a little water and stir well. Bring this to a simmer.
Step 8 - Reduce the heat and simmer gently with the lid on for 1 hour. Remove the lid and up the heat. Continue to simmer to help reduce the sauce foremother 30-40 mins. Finally remove from the heat when the lamb is cooked and stir in the tamarind. That's it!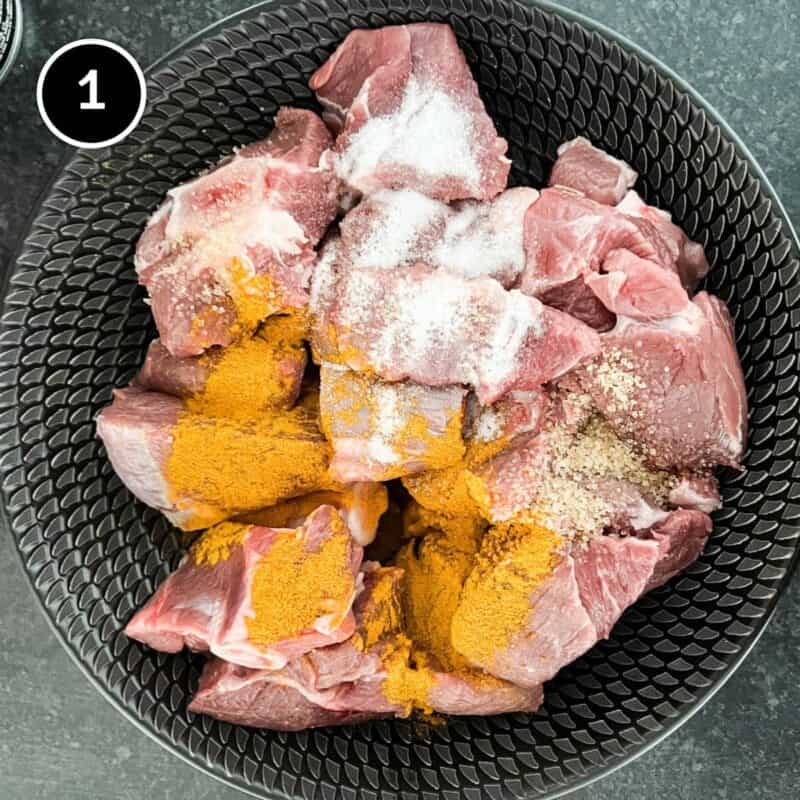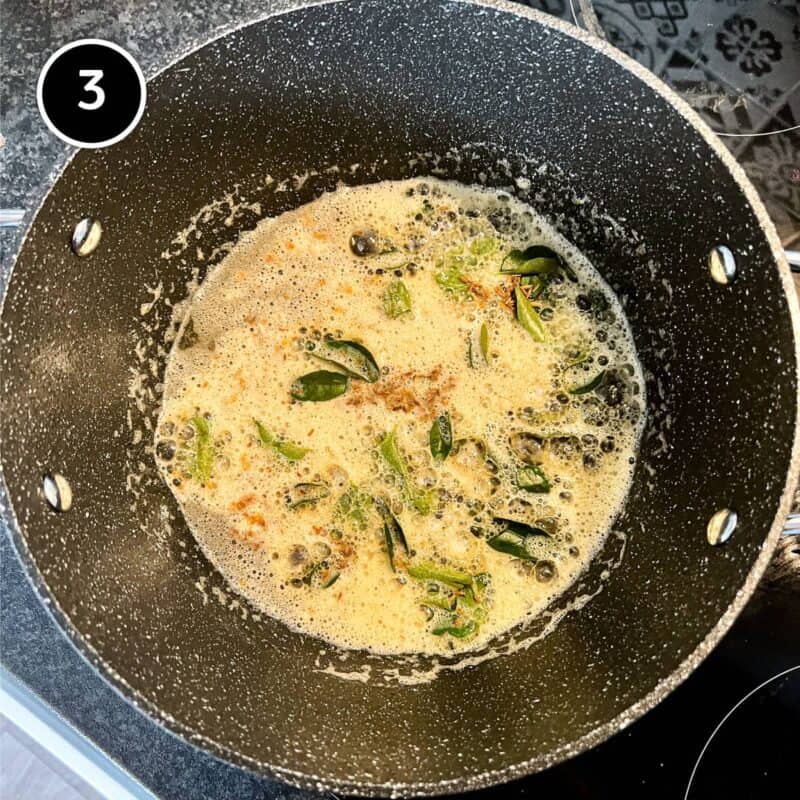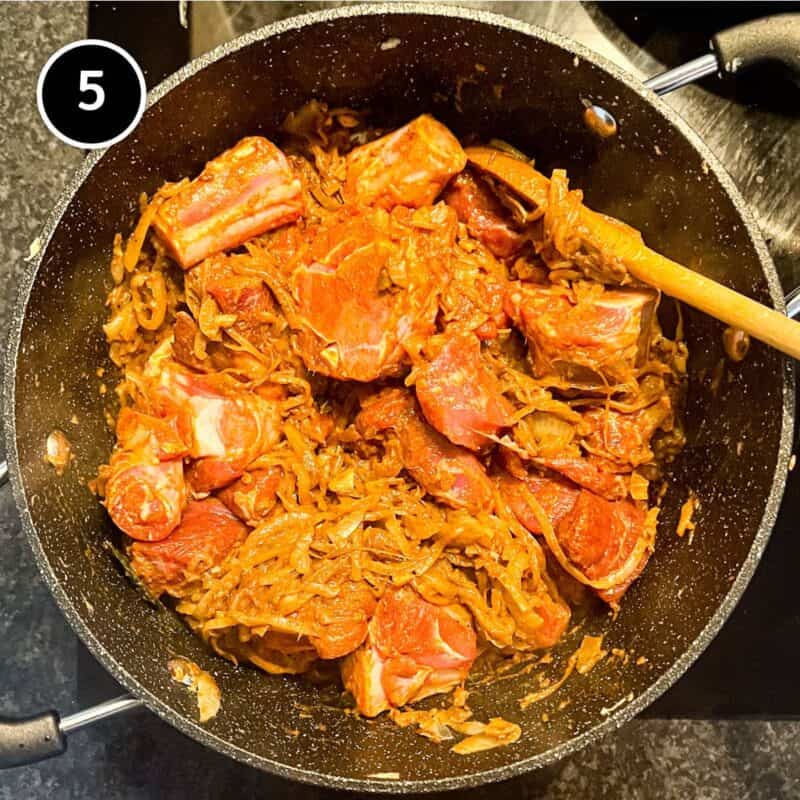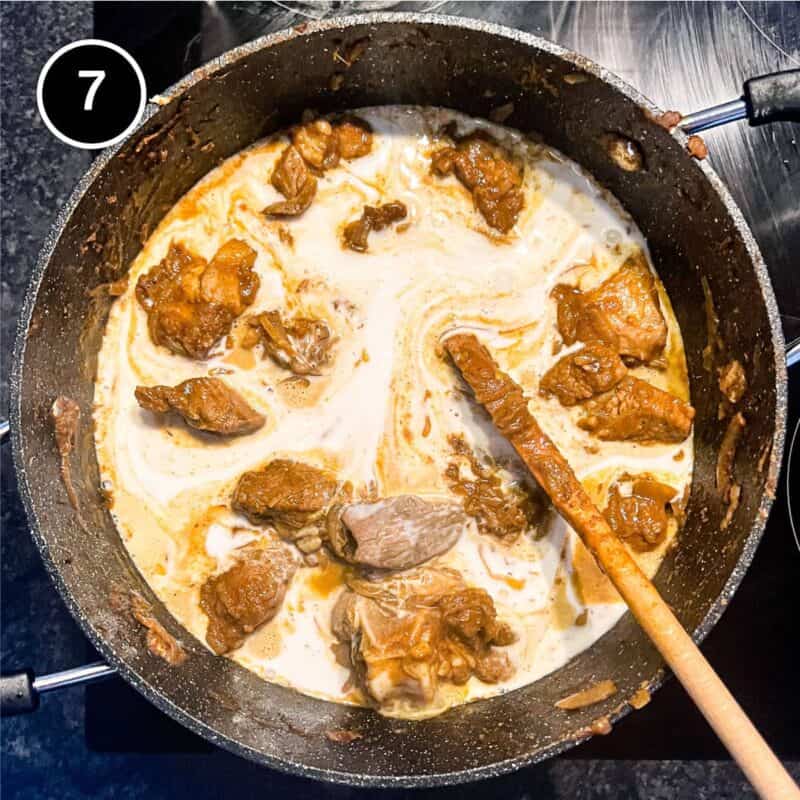 Pro Tips
Change up the meat.

This recipe is perfect for other meats too like Beef, goat or pork.

Instant pot version -

You can make this in the Instant pot too, use the sauté function to prepare up until stage 7 then cook on high pressure for 30-40 minutes until the lamb is super tender. (you might also add a little less water than the stove top version).

Slow cooker version - You can make this in the slow cooker. I would suggest getting to stage 4 with the onion fried (to avoid a watery curry) on the stove top then tipping the meat and everything else into the slow cooker and cooking on low for 6-8 hours.
The homemade Madras curry powder,

gives the best authentic flavours so I would urge you to give that a try too. Making this in advance will give you 4 portions so you'll be good to go for your next 3 curries. The powder lasts for 6 months in an airtight jar. You can also use a good quality store-bought Madras curry powder.
Serving & Storage Suggestions
I love this curry with fluffy basmati rice or it also works splendidly with roti, chapati, naan and paratha breads. As for garnishes, I keep it pretty simple with just cilantro. But you might also want to serve something to cut through the richness, like my deliciously simple Kachumber Salad.
Storage
Fridge -

leftovers will be fine in the fridge for up to a week. Just be sure to keep them in an airtight container.

Freezer -

Lamb madras is the perfect contender for the freezer. Store in airtight containers for 3+ months. Reheat from frozen in the microwave until piping hot. You may like to add a 1/4 cup of water before to ensure the sauce doesn't dry out. Be sure to stir a few times too to avoid scorching.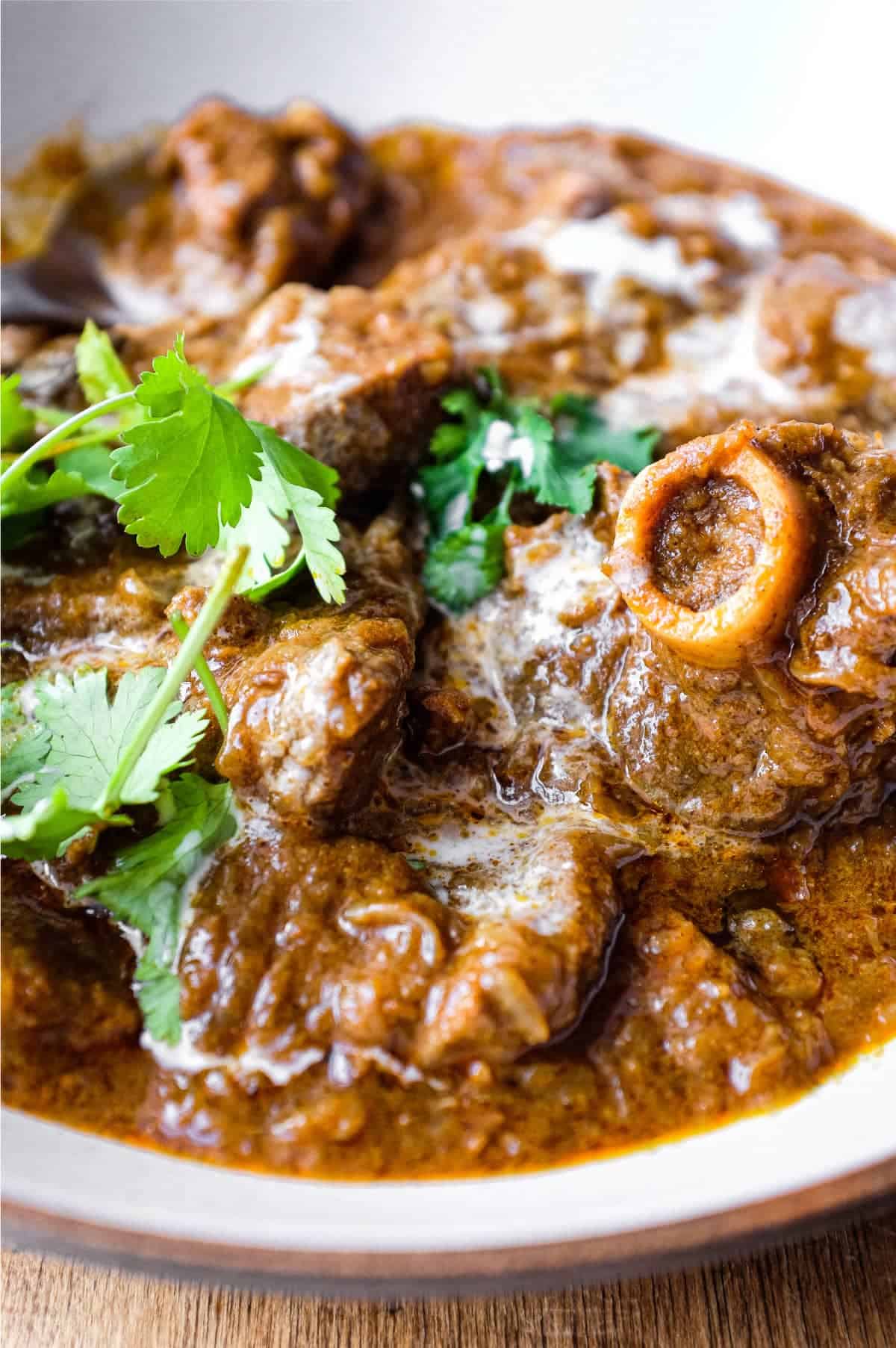 Ready to get cooking?
I can't sing the praises of this little treasure enough. It's an old favourite that I must have cooked hundreds of times. It doesn't last long in my house and if I know there's a portion in the freezer I won't rest until it's gone.
You can see for yourself, just how easy it is to make at home too. There's nothing difficult and the flavour is SO much better than takeout. You deserve a treat once in a while, right? THIS is THAT treat! You're so welcome... :)
More Indian recipes
If you liked this recipe for Lamb Madras, I'm sure you'll love some more of my favourite Indian recipes.
Any Questions? (FAQ)
Have a question about Lamb Madras? Let me know in the comments.
Is lamb madras typically spicy?
It depends, generally speaking yes, it's on the higher spectrum of spice. But this is controllable by the amount of chilli you put into it, both chilli powder and fresh chillies.
What are the main ingredients of lamb madras?
Lamb, coconut milk, Madras curry powder, onions, garlic and ginger. Curry leaves are also very common in Madras curries.
What does Madras Curry Taste like?
Madras curry has a distinctive tanginess from the use of tamarind (and often tomatoes too). The sourness of tamarind lifts the flavour. It it added at the end to ensure it retains a fresh tangy flavour.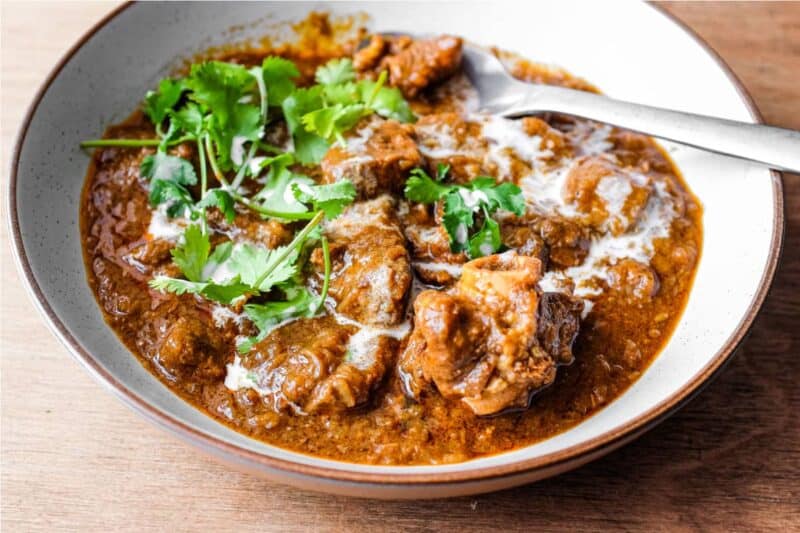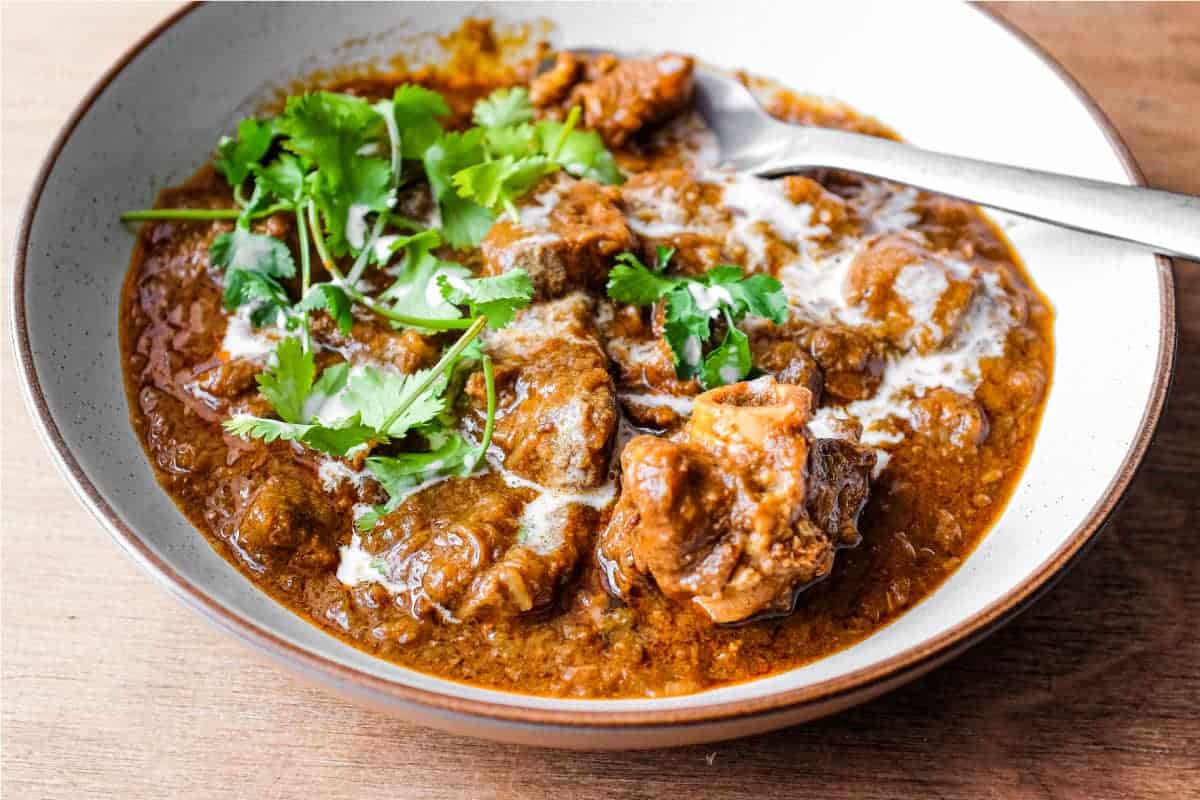 Lamb Madras Curry
Rate this recipe
Print Recipe
Pin Recipe
Save Recipe
Go to Collections
Calories (per serving) |
723
Instructions
Coat the lamb with the turmeric, salt and sugar and toss around to fully coat. Set aside.

Mix together the curry powder and chilli powder and about ½ cup water to form a paste. Set aside.

Heat the ghee in a large pan until hot then add the cumin seeds and curry leaves. Let them sizzle for 10 seconds before adding the onion, garlic and ginger. Stir well to coat everything and then gently cook over a medium heat for 15 minutes until the onions are soft and golden.

Add the lamb and then the spice paste and stir well to incorporate everything. Turn up the heat a little and let everything come to a simmer over the next 5 minutes. The lamb will release a little liquid and the curry should form a thick sauce.

Pour in the coconut milk and 1 cup water and bring back to a simmer. Reduce the heat to low and let the curry very gently simmer for 60 minutes with the lid on.

Remove the lid and let the curry simmer gently for a further 30-50 minutes (if you have bone in lamb it may take a little longer to reach a fork-tender texture. If the curry dries out too much, add some water, a little at a time.

Remove from the heat and stir in the tamarind and check for seasoning.
Notes
Suggestions for Serving and Storing
This curry pairs perfectly with fluffy basmati rice, as well as roti, chapati, naan, and paratha breads. To garnish, I like to keep it simple with just cilantro, but you could also serve it with my deliciously simple Kachumber Salad to balance out the richness.
For storage, leftovers can be kept in the fridge for up to a week in an airtight container. Lamb madras is also a great candidate for freezing, and can be stored in airtight containers for 3+ months. To reheat from frozen, simply microwave until piping hot, adding a 1/4 cup of water beforehand to prevent the sauce from drying out. Be sure to stir a few times during reheating to avoid scorching.
You can substitute lamb for goat, pork or beef.
Nutrition
Calories:
723
kcal
(36%)
|
Carbohydrates:
16
g
(5%)
|
Protein:
30
g
(60%)
|
Fat:
61
g
(94%)
|
Saturated Fat:
34
g
(213%)
|
Polyunsaturated Fat:
4
g
|
Monounsaturated Fat:
19
g
|
Cholesterol:
141
mg
(47%)
|
Sodium:
501
mg
(22%)
|
Potassium:
714
mg
(20%)
|
Fiber:
3
g
(13%)
|
Sugar:
7
g
(8%)
|
Vitamin A:
59
IU
(1%)
|
Vitamin C:
13
mg
(16%)
|
Calcium:
84
mg
(8%)
|
Iron:
7
mg
(39%)
This recipe uses affiliations and may receive a commission based on your activity (link clicks). Learn more.