Methi Chicken Curry (chicken with fenugreek) is one of the most fragrant and flavourful curries I make. A rich, distinctive taste that is utterly intoxicating. Learn more about what makes this curry so delicious.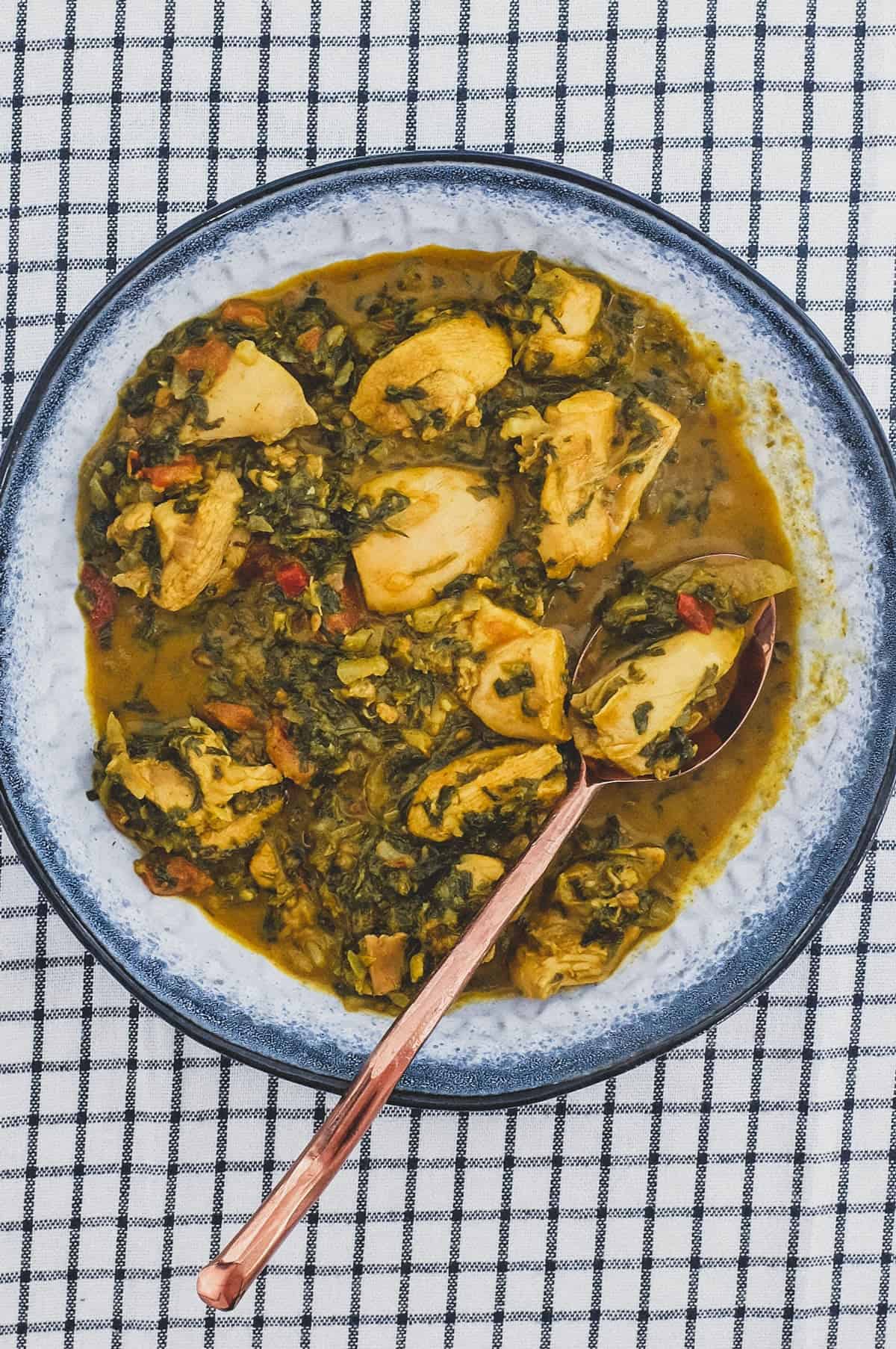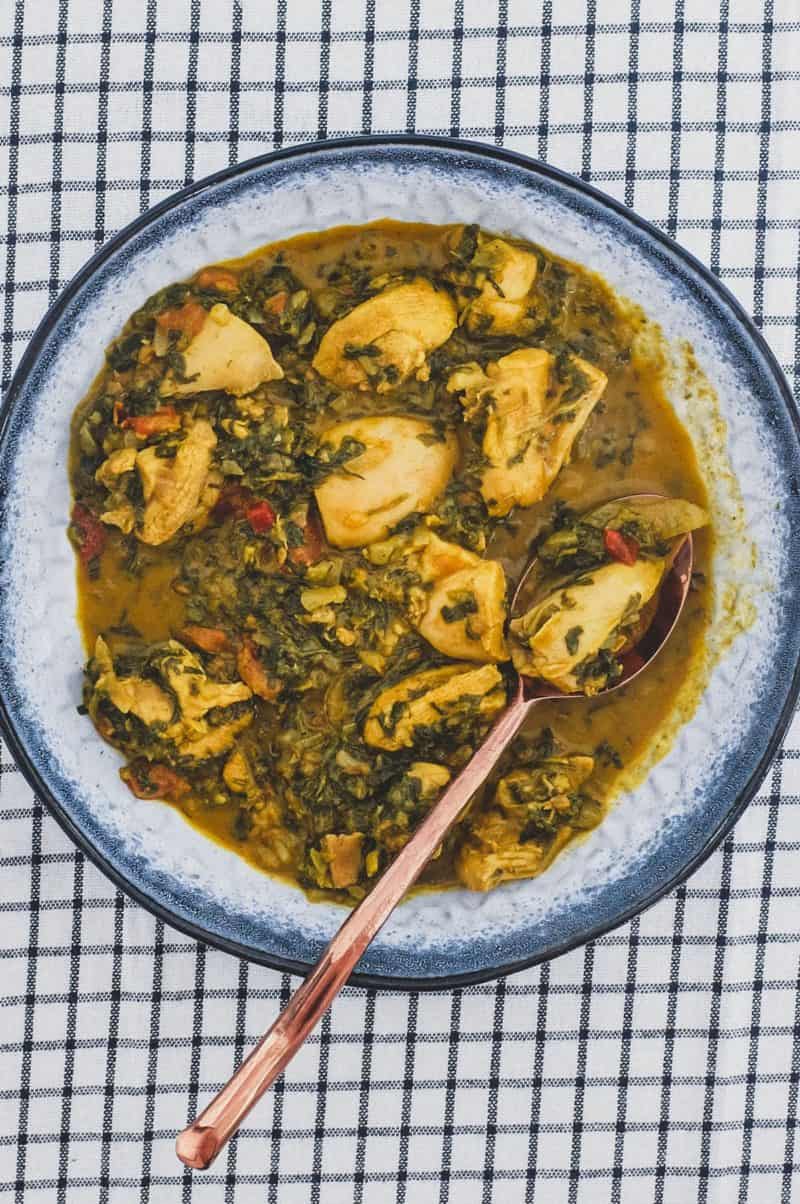 Methi Chicken Curry (chicken with fenugreek) is one of the most fragrant and flavourful curries I make. A rich, distinctive taste that is utterly intoxicating. Learn more about what makes this curry so delicious.
Fragrance is in abundance in this delicious recipe for Methi Chicken Curry. It's hard to put my finger on the character and taste of fenugreek, but it really is something very special. Floral, herbal and very distinctive. It's familiar, in that it actually summons the aroma of 'curry'. I apologise for not being more articulate, but there's nothing quite like fenugreek. You'll have to take my word for it when I say it's a wonderful aroma and taste.
As an ingredient it compliments many other flavours and is present in a myriad of Indian dishes. Chapati bread dough made with fenugreek leaves is one of my favourites, as is my super tasty Mushroom Methi Masala, a quick, vegan mushroom curry. I scatter dried fenugreek over many of my curries, like the delightful Achari Chicken, which adds so much character to the final dish. I love how it makes my hands smell for the rest of the day as I crush it between my palms.
One of the best fenugreek dishes is this methi chicken curry recipe. It utilises fenugreek in three ways and is quite literally the essence of fenugreek! Juicy chicken is bathed in a fragrant sauce unlike any other curry. I always have frozen fenugreek at home and will snap up fresh methi when I see it at the Indian store. You can never have too much methi chicken in your freezer! Learn more about methi below.
Stuff you'll need
There's a full recipe below, but here are some of the key ingredients that make Methi Chicken.
Methi leaves - Fresh or frozen is fine, if you have frozen, just let it sit on the counter for an hour to defrost. These pics show a curry using frozen. If you're using fresh, you'll need to strip the stems of the leaves. It's a labourious job, but the stems are quite woody, and don't eat well. Be sure to wash thoroughly too to remove any excess dirt and grit.
Chicken thighs - Brown meat is essential for curries. You can use breast, if you like a cardboard curry (!), thighs stay moist and juicy during cooking - don't fight it!
Whole spices - Fenugreek seeds, bay leaf, cumin seeds, peppercorns, cardamom and clove. Will season the oil and bring flavour to the sauce.
Ground spices - create curry powder with cumin, coriander, Kashmiri chilli powder, turmeric, garam masala and salt
Onion, Garlic & Ginger
Yoghurt & Tomato
Creating the curry is easy, just follow the simple steps in order and you'll achieve a fail-safe delicious flavour-bomb of a dish. One of the tastiest I know and a firm favourite in my household. I like to serve mine over rice alongside a few Indian breads. It's not a spicy curry per-se as I like the fenugreek to be the star of the show, but if you want to turn up the heat, try adding a few spicy green chillies when you add the onion.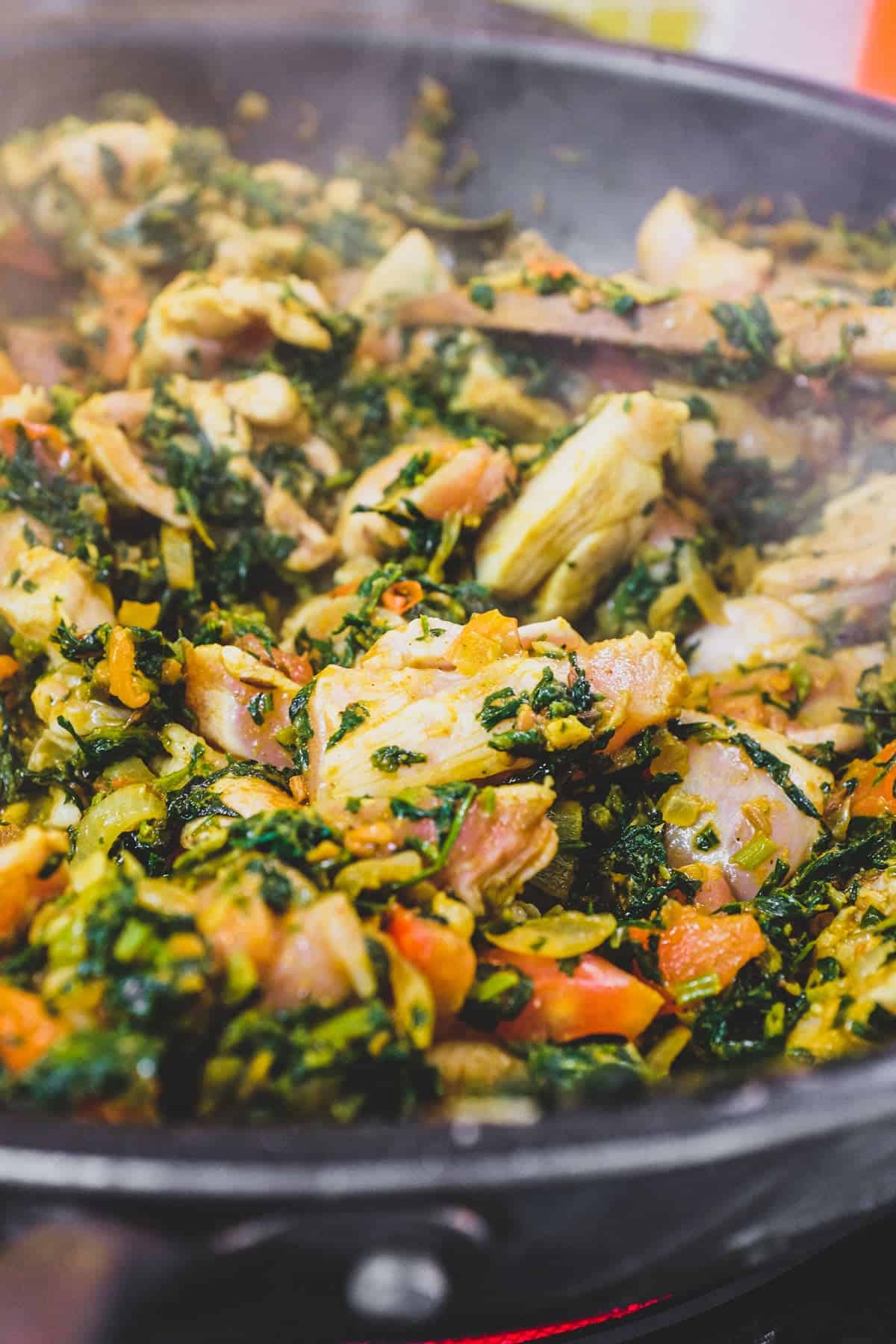 What is Fenugreek/Methi?
Fenugreek is an ancient ingredient originating from Persia and the Middle East, and still widely used in the region. It is also a very common ingredient in South Asia and India and interestingly, used as a vegetable, herb and spice. In my Methi Chicken Curry, I make use of all three fenugreek products.
The Fresh leaves: Fresh (or frozen) fenugreek leaves are, in appearance, most liken to watercress. Thin stems hold lots of small leaves. We use only the leaves and discard the stems.
The Dried Herb: Fenugreek leaves are preserved by drying and sold as Kasoori Methi. Most commonly sprinkled over dishes at the end as a flavourful garnish.
The Seeds: Fenugreek seeds are commonly used in Indian food. A major ingredient in commercial curry powders, it quite literally has a smell of 'curry'. The amber seeds are also common as a pickling spice for Indian vegetables and pickles.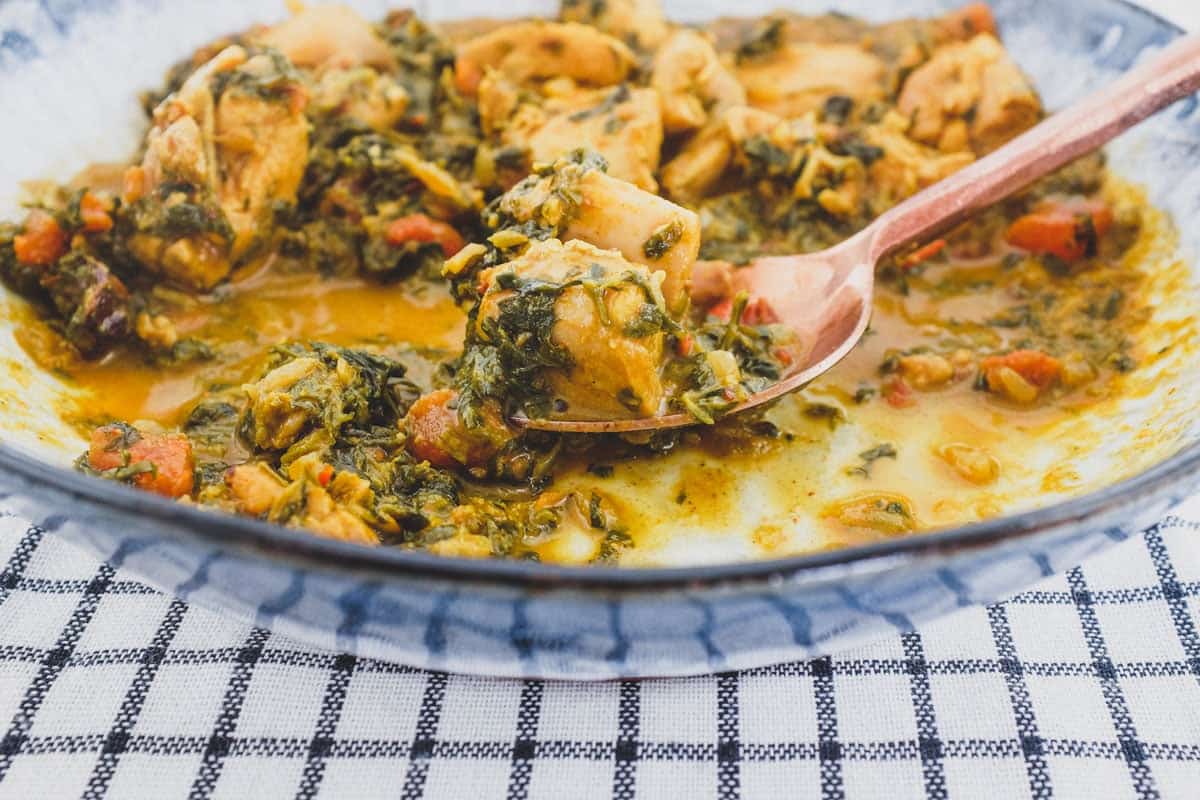 More delicious Indian recipes
How to make Methi Chicken Curry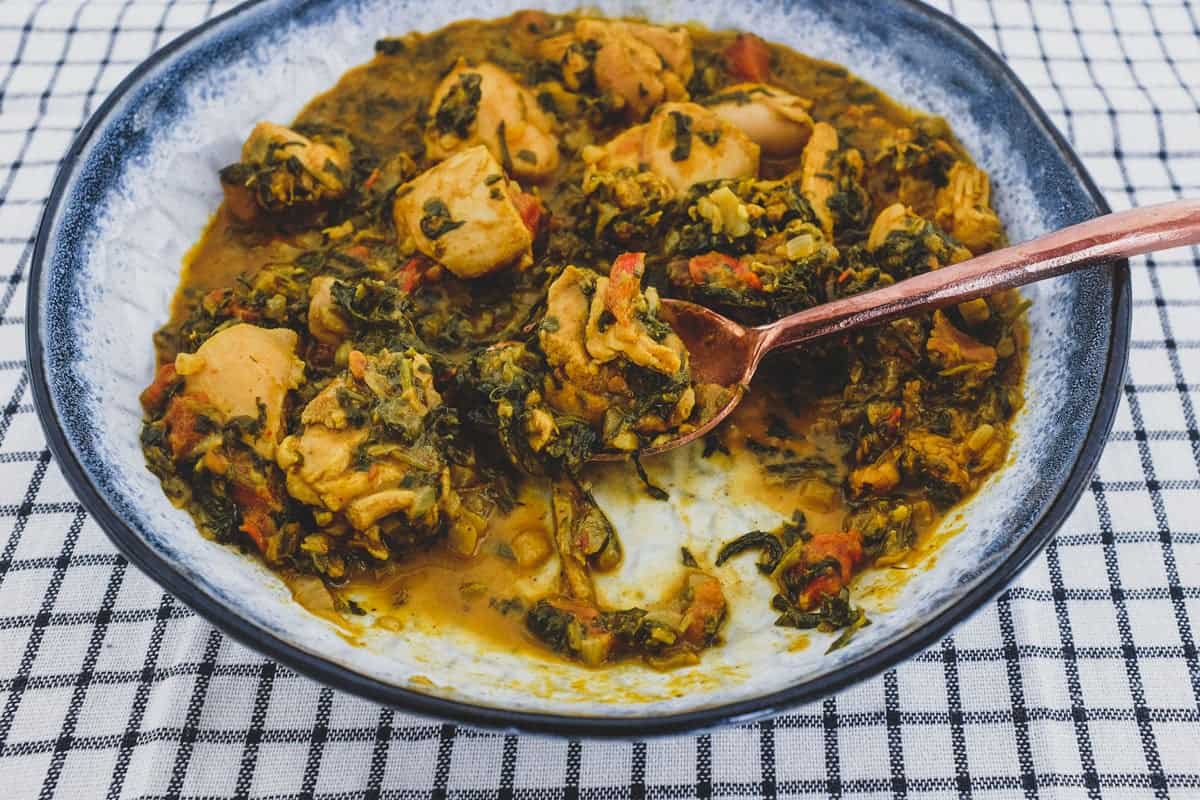 Methi Chicken Curry
Rate this recipe
Print Recipe
Pin Recipe
Calories (per serving) |
473
Ingredients
For the curry
2

tbsp

vegetable oil

¼

tsp

fenugreek seeds

1

bay leaf

(dried)

1

tsp

cumin seeds

4

cardamom pods

(lightly bruised to open up slightly)

3

cloves

1

onion

(large, peeled and finely diced)

2

garlic cloves

(peeled and minced)

1

tsp

ginger

(peeled and minced)

2.2

lb

chicken thighs

(1kg)(skinless/boneless - cut into 2" chunks)

11

oz

frozen methi (defrosted)

(about 300g)(or large 2 bunches of fresh - leaves only - rinsed)

2

tomatoes

(chopped)

½

cup

Greek yoghurt

(plain)

1

tbsp

kasoori methi
Instructions
For the curry powder
Combine all the curry powder ingredients and stir well. Set aside.
For the curry
Using a large saucepan, heat the oil on a medium heat until just hot. Add the fenugreek seeds, bay leaf, cumin seeds, peppercorns, cardamom pods and cloves and let them sizzle briefly. Add the onion, ginger and garlic and fry gently for 7-8 minutes until the onions are soft and golden.

Add the chicken thighs and stir well. Turn up the heat a little and stir the chicken for 4-5 minutes to cook a little. Add the methi leaves and stir well. Cook for 5-6 minutes to evaporate most of the water from the leaves, before adding the tomato and yoghurt.

Bring this to a simmer and cook for 5 minutes, stirring regularly to avoid sticking. Pour in about 2 cups water and stir well. Bring to a simmer then reduce the heat and gently cook for 30 minutes (partially covered), stirring occasionally.

Remove the lid and simmer for 5-10 minutes to reduce the sauce to a nice, thick creamy consistency. Remove from the heat.

place the kasoori methi leaves between your palms and crush them over the curry sauce. Stir in, check for seasoning and serve.

Serve with rice or Indian breads.
Nutrition
Calories:
473
kcal
(24%)
|
Carbohydrates:
10
g
(3%)
|
Protein:
32
g
(64%)
|
Fat:
34
g
(52%)
|
Saturated Fat:
12
g
(75%)
|
Polyunsaturated Fat:
6
g
|
Monounsaturated Fat:
12
g
|
Trans Fat:
1
g
|
Cholesterol:
164
mg
(55%)
|
Sodium:
728
mg
(32%)
|
Potassium:
515
mg
(15%)
|
Fiber:
2
g
(8%)
|
Sugar:
3
g
(3%)
|
Vitamin A:
592
IU
(12%)
|
Vitamin C:
8
mg
(10%)
|
Calcium:
266
mg
(27%)
|
Iron:
3
mg
(17%)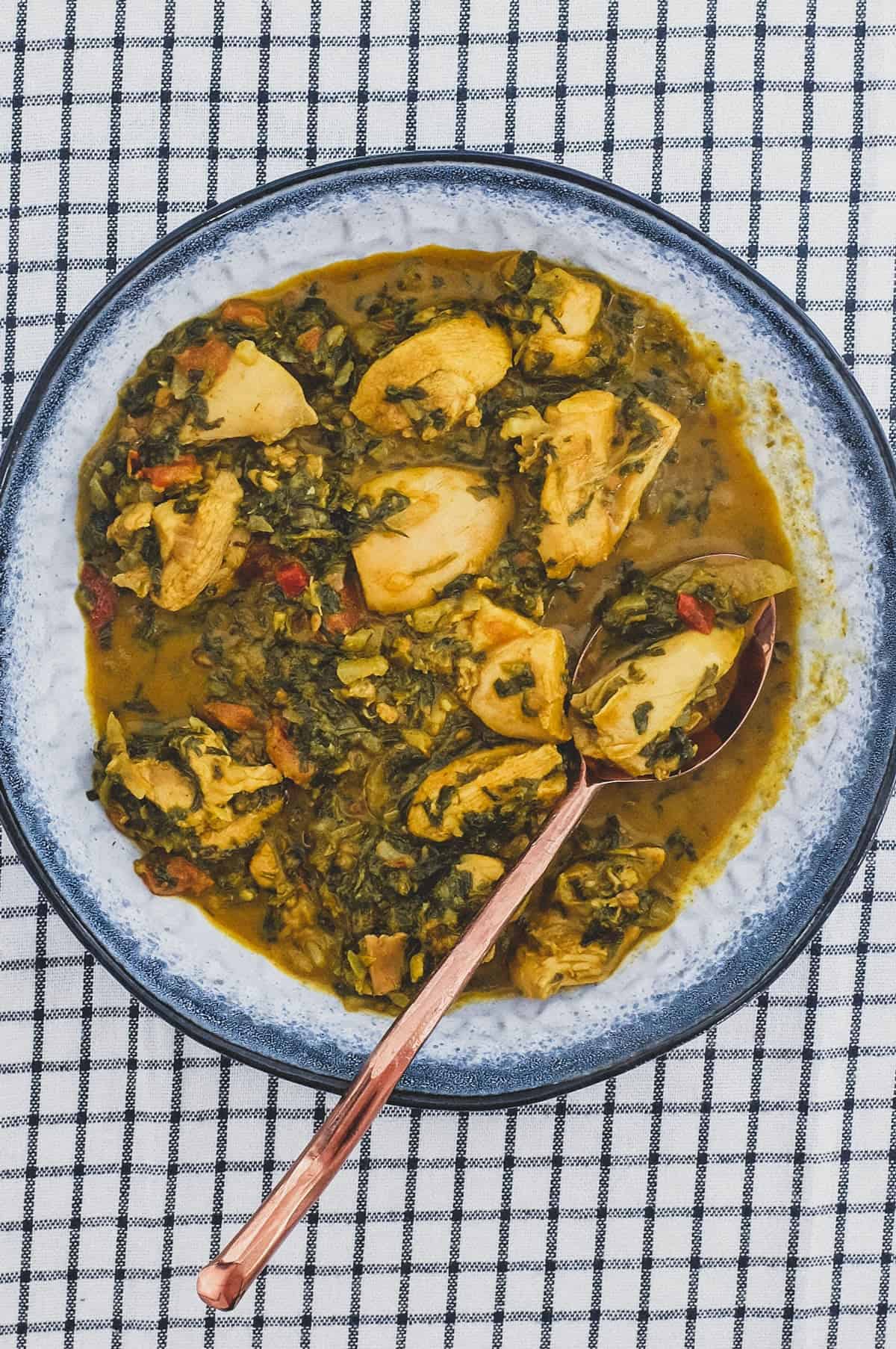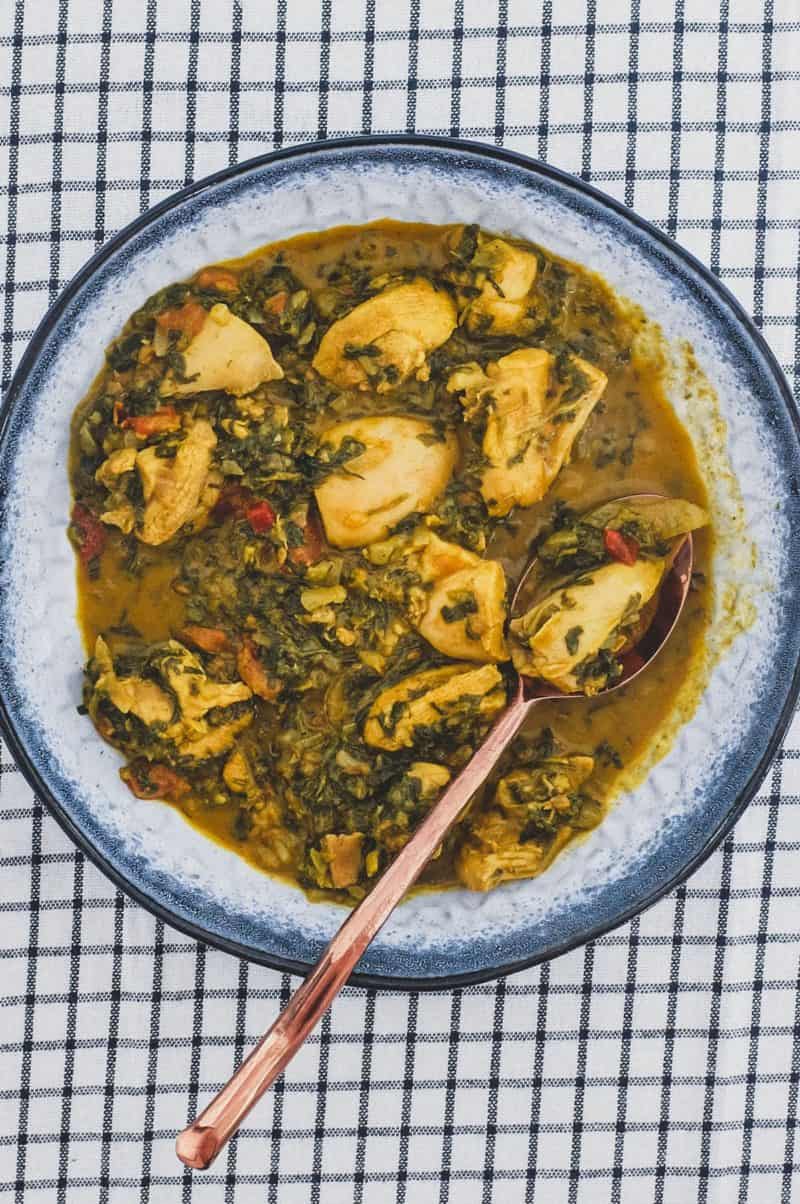 Did you make my Methi Chicken Curry
How did you go? Let me know in the comments below and be sure to tag @cookeatworld at Instagram.
This site contains affiliate links to products. We may receive a commission for purchases made through these links. Learn more.