For a rich, creamy, spicy chicken curry, this Bengali Chicken Rezala recipe is a perfect choice. Nutty, fragrant and packed with flavour and personality, this Mughlai dish quick and easy and one of our all-time favourites.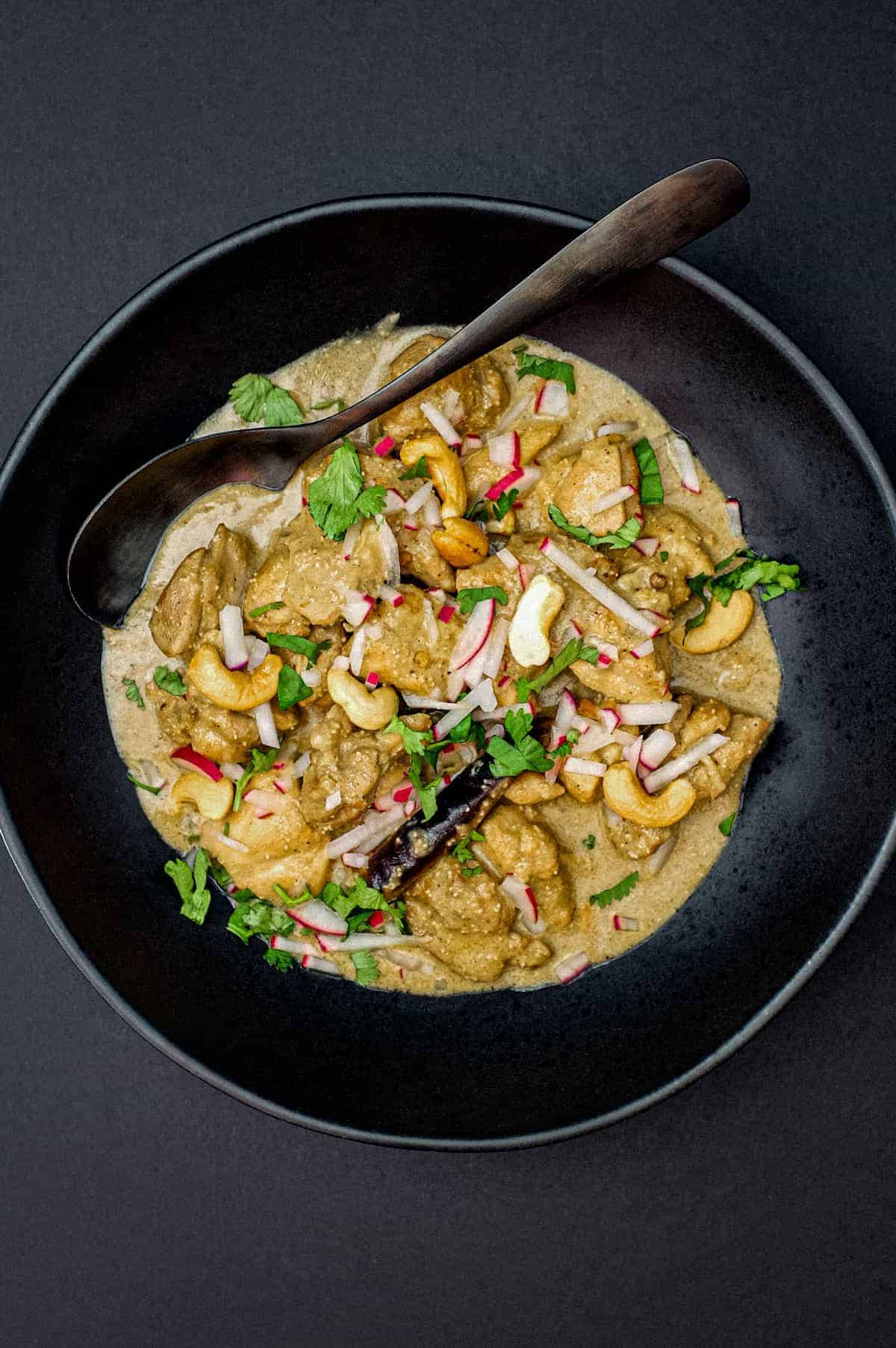 One of my most favourite styles of Indian curries is Bengali. This Chicken Rezala recipe brings all the flavour and personality of the far north eastern region of the country. Mustard oil and poppy seeds play a central role in creating a dish brimming with flavour and a rich, luxurious texture. It's one of the best Indian chicken curry recipes I make on the regular!
What is Chicken Rezala?
Rezala draws its roots from the Mughal Empire - a cuisine of Islamic references both in ingredients and cooking methods. Rezala is similar to a North Indian Korma style curry – nuts (in this instance cashews) are blended along with white (hulled) poppy seeds and yoghurt to create a creamy base for the sauce; spices are added, and the dish can be served mild or spicy. I like a bit of heat, so use whole dried chillies AND a little hot chilli powder or cayenne pepper for my rezala recipe. You can decide how spicy you want yours and adjust the heat as you will. As it stands, this dish sits at is around 7/10 on the spice scale.
There are three traditional variations of this curry; a Bhopali version, Bangladeshi version and this recipe – a Bengali version.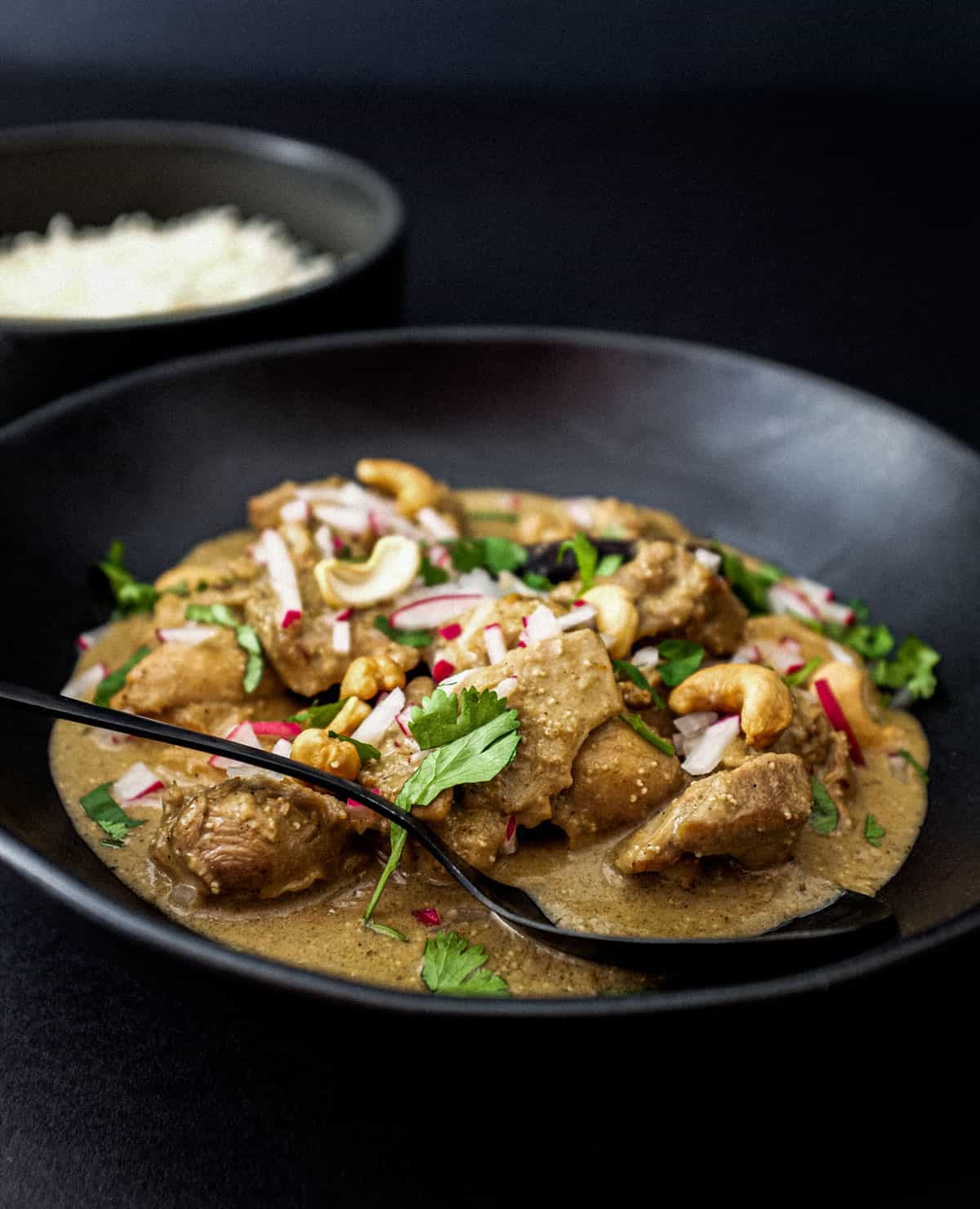 Why it works
Rezala is such an easy recipe and this creamy, flavourful curry ready in no time! The use of nuts creates the most luxurious texture without feeling too rich or heavy. It is so fragrant and beautifully balanced in spicing. A crowd-pleaser, no matter the size of audience.
Stuff you'll need
To get the authentic flavours you'll need a few ingredients - there's a full recipe below, but these are the main players.
Cashew nuts - We'll blend unsalted cashew nuts to help create the creamy sauce
White poppy seeds - You can buy these at any Indian market (white poppy seeds are often called 'khus khus' ).
Mustard oil - Again, find this pungent oil at any Indian market - Mustard Oil gives the uniquely Bengali personality.
Yoghurt - adds a little sourness and creaminess.
Onion paste - We puree an onion and fry it for a while to create the base for the sauce
Chicken - I use boneless thigh meat as it's juicier and easier. You can joint a whole chicken into 8 pieces too.
Whole spices - cloves, cardamom, peppercorns, and cinnamon help season the oil.
Ground spices - garam masala and cayenne pepper (or hot chilli powder) bring spice and fragrance.
Step by Step
Following my chicken rezala recipe is easy - all you need is a blender or immersion blender to make the paste. You can create the curry in a few simple steps.
Puree and fry the onion
Soak then blend the cashews and poppy seeds with all the paste ingredients
Fry the whole spices in mustard oil
Add the chicken and onion paste
Add the curry paste and a little water and cook for 35 minutes.
Garnish and serve!
Pro Tips to make your life easier
Keep it authentic
My biggest tip is to hunt out both the white poppy seeds and mustard oil. They both play a central role in Bengali cuisine so will give the authentic flavour. I'm all for substituting ingredients with whatever I have at hand, but on occasions it's important to stick to what's best!
Make in advance – improve the flavour
With many Indian recipes, I will cook the dish in advance. This is my biggest tip for cooking Indian curries. A little (or long) time in the pan will help develop the flavours. A night in the fridge will transform the curry once reheated. This requires a little pre-planning and a LOT of self-control! It's not an essential step by any means but try it as an experiment and taste the added flavour for yourself.
Substitutions
Rezala curry can be made using lamb, mutton, or goat too. The meat must be cooked for longer so cooking time adjusted to around 1 ½ hours for medium chunks of meat.
Add an essence
Bengali and Royal Mughlai cuisine often feature flavoured water essences (attars) at the end of cooking to give a heightened flavour. A teaspoon of Rose Water, Kewra Water (pandan leaf water) or Meetha Essence can be added.
Serving and storing suggestions
Serving
I like to serve rezala with fluffy basmati rice. The rice is the perfect vehicle to soak up all that delicious, luxe sauce. I'll also serve rezala with Indian breads like chapati, roti, paratha, or naan.
Storing
Fridge: Rezala will stay good in the fridge for 5+ days. Keep covered and as I mentioned earlier, the flavours will continue to develop. How long can you hold out?
Freezer: Rezala is a great contender for freezing. Simply portion into meal sized portions in airtight containers and freeze for 3+ months. Reheat from frozen in the microwave. TIP: O like to add a little water (1-2tbsp) to the top of the curry before reheating to help avoid drying out. I'll also stir after 4 minutes to avoid the meat burning (yes meat can burn in the microwave!).
Ready to get cooking?
So, as you'll discover, my Bengali chicken Rezala curry is simple to put together and cook yourself at home. It tastes just like a good restaurant version too, packed with rich Indian flavour. Who needs take out when you can create this delicious curry yourself at home!? If you're a fan of chicken curry, then you must take a look at some of my Best chicken curry recipes in the Cook Eat World!
Any Questions? (FAQ)
Have a question about Chicken Rezala Curry? Let me know in the comments.
What is Rezala Chicken?
Rezala chicken is a North Indian, Mughlai-style curry from Bengal. Chicken is cooked in spices with yoghurt and ground nuts to create a medium-thick sauce. That's rich, but not heavy.
What is chicken Mughlai?
Rezala Chicken and Chicken Mughlai are essentially the same recipe. A rich, thick korma style sauce made from nuts and yoghurt.
More Indian recipes
For more delicious Northern or Bengali Recipes, try these delicious curries.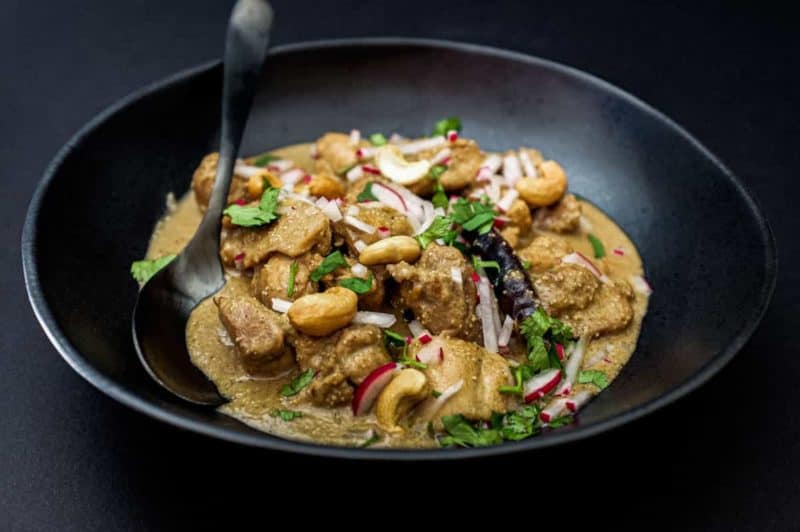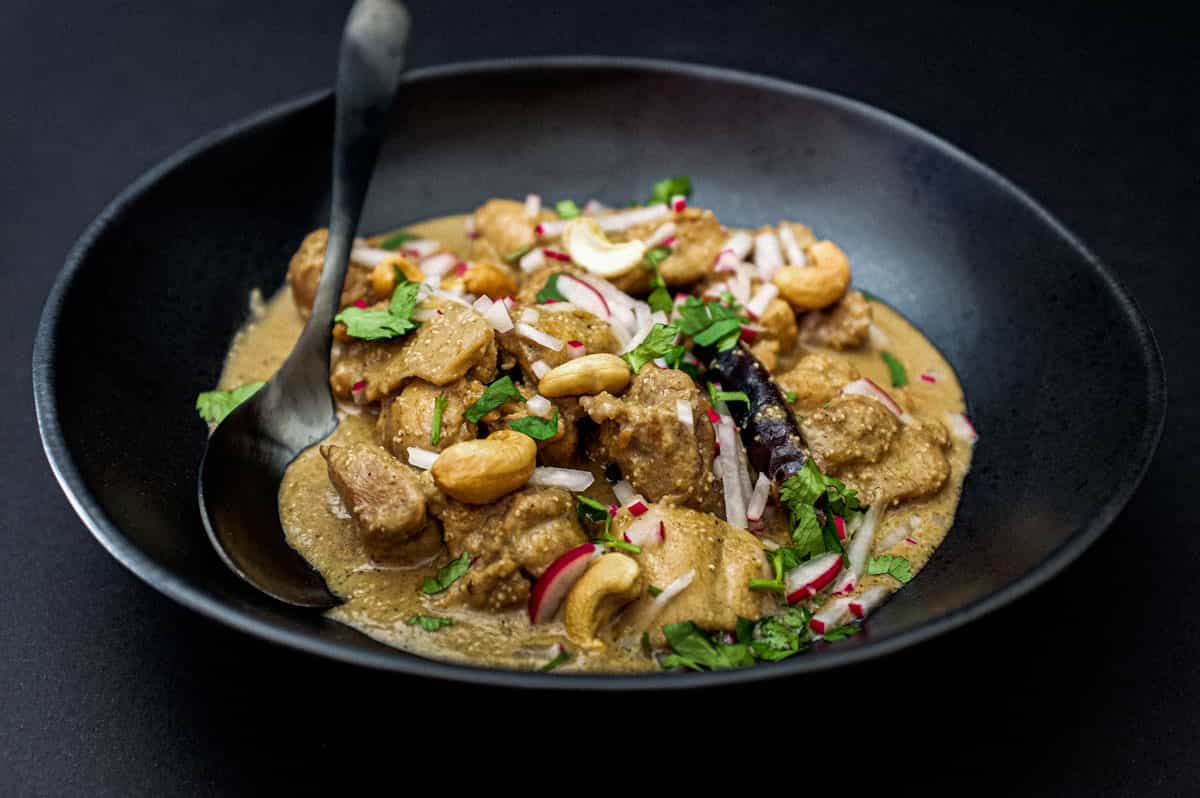 Bengali Chicken Rezala
Rate this recipe
Print Recipe
Pin Recipe
Save Recipe
Go to Collections
Calories (per serving) |
232
Ingredients
For the Rezala curry paste
Instructions
For the onion paste
Fry the onion puree in the vegetable oil over a moderate heat for 5 minutes until cooked and lightly browned. Set aside to cool slightly.
For the curry paste
Soak the cashew nuts and poppy seeds in 1/2 cup hot water for 15 minutes.

Using a stick blender or food processor, blend the cashew nuts, poppy seeds and their soaking water, with the ginger, garlic, yoghurt, cayenne pepper, garam masala and salt.
For the curry
Heat the mustard oil in a large pan until hot, then add the cardamom, cloves, cinnamon, peppercorns and chillies and fry briefly to season the oil.

Add the chicken and fry for 2-3 minutes before adding the curry paste and onion paste. Stir fry for 3-4 minutes until bubbling then stir in 1 cup water.

Bring to a simmer then reduce the heat to low and bubble gently (uncovered) for 35 minutes, stirring occasionally.

Remove from the heat, check for seasoning and serve.

Serve garnished with freshness! I like to use chopped radish, fresh coriander, more cashew nuts, and sometimes tomato and raw red onion. You decide. It's also delicious with NO garnish, so don't worry if you don't have anything.
Notes
Ingredient Substitutions
You can use Beef, Lamb, Mutton or Goat for Rezala Curry too. Adjust the meat cooking time to 1 ½ hours. You may also need to add a little more water if the sauce reduces too much.
The two essential ingredients are mustard oil and white poppy seeds (khus khus). The curry doesn't taste the same without!
Serving suggestions
Serve alongside lots of fluffy basmati rice or with Indian breads like naan, roti, chapati or paratha. It's perfect on its own, or alongside lots of other Indian dishes as part of a feast. Rezala works excellently alongside biryani rice.
If you have time and self-control, keep your rezala curry in the fridge for the night and serve the next day. The flavour will be enhanced no-end!
Storage
Fridge: In an airtight container, chicken rezala will stay fresh for 3-5 days in the fridge (it'll taste better too!).
Freezer: Store in single portions in the freezer for 3+ months. Cook from frozen in the microwave. I'll also add a little water to the top of the frozen curry before reheating to help avoid drying out. Be sure to stir during cooking to stop microwave burn.
Nutrition
Calories:
232
kcal
(12%)
|
Carbohydrates:
11
g
(4%)
|
Protein:
13
g
(26%)
|
Fat:
16
g
(25%)
|
Saturated Fat:
2
g
(13%)
|
Polyunsaturated Fat:
4
g
|
Monounsaturated Fat:
8
g
|
Trans Fat:
1
g
|
Cholesterol:
40
mg
(13%)
|
Sodium:
654
mg
(28%)
|
Potassium:
354
mg
(10%)
|
Fiber:
3
g
(13%)
|
Sugar:
5
g
(6%)
|
Vitamin A:
197
IU
(4%)
|
Vitamin C:
3
mg
(4%)
|
Calcium:
173
mg
(17%)
|
Iron:
2
mg
(11%)