Laal Maas is a vibrant, rich and decadent mutton or lamb curry from Rajasthan in the North of India. An intense, complex blend of spice and fragrance. A curry so full of flavour with a deep and glossy red hue. It's sublime!
Indian curry recipes come in all shapes, shades and intensities - one of my most favourite recipes is that of Rajasthani Laal Maas, an intense, rich and complex blend of spice.
With a rich, red colour Laal Maas really looks the part, summoning all the magic of North Indian cuisine. The real reason I love this curry so much is that it's really very easy to make at home. My Laal Maas recipe is pared down to the minimum steps needed to create a rich, authentic version of one of my flavourite curries.
What is Laal Maas?
Laal Maas is derived from the name 'Laal Maans' meaning 'Red Mutton' and pertains to the meat usually cooked in a bright red sauce. 'Maas' refers to the meat usually used, mutton (which confusingly can mean either sheep or goat meat.)
In Rajasthan the curry is created using powder from the 'mathania chilli' famed for its pungent, vibrant flavour and colour. My recipe uses Kashmiri chilli powder, which is milder but deliciously red!
The curry originated in Rajistan in the North of India and as such tend to be richer, meatier and thicker in nature. Onions, ghee and yoghurt are all used to create a luxurious reduced sauce with a tonne of intense flavour and spice. Laal Maas is typically a spicy curry and this recipe sits at around an 8/10 for spice.
Why it works
It's decadent - We all need a little luxury once in a while, and this curry delivers a rich, glossy sauce that's as intensely flavoured as it looks. A real celebrate-you type of curry!
It's jam packed with flavour - Sometimes I don't want to mess around with flavour - I want some bang of my buck - so a rich, complex Laal Maas is the perfect choice. Look at that sauce! It's like liquid velvet!
Stuff you'll need
As Indian curries go, this is not a particularly complex recipe. Sure, there are a few ingredients, but that's part and parcel for a full-flavoured curry. We can split the ingredients into two parts:
Marinade: All the flavour and fragrance permeates the meat, doing 90% of the hard work.
Onion, yoghurt, tomato, garlic, coriander,

Kashmiri

chilli powder, cayenne pepper,

turmeric, garam masala and a little salt.
Lamb Shoulder - By all means substitute with mutton/hoggit or goat.
Other ingredients: More flavour and fragrance
Cumin seeds, cardamom pods (black and green), cloves, bay leaves, onion.
Step by Step
Laal Maas is super easy to make at home. Here are the key stages of cooking.
Step 1 -

Add all the marinade

ingredients

to a jug or food processor and blend until smooth.

Step 2 -

Pour the marinade over the meat, cover and refrigerate for as long as you can wait. 24 hours is best, but 4 hours is good too.

Step 3 -

Fry the whole spices in a little oil to bring out their flavour.

Step 4 -

Add the onion and stir fry until browed.

Step 5 -

Pour in the meat and marinade and a little water and cook for 90 minutes to 2 hours.

Step 6 -

Remove the lid and reduce the sauce a little if you need to to

reach a rich, creamy consistency. That's it, you're ready to serve.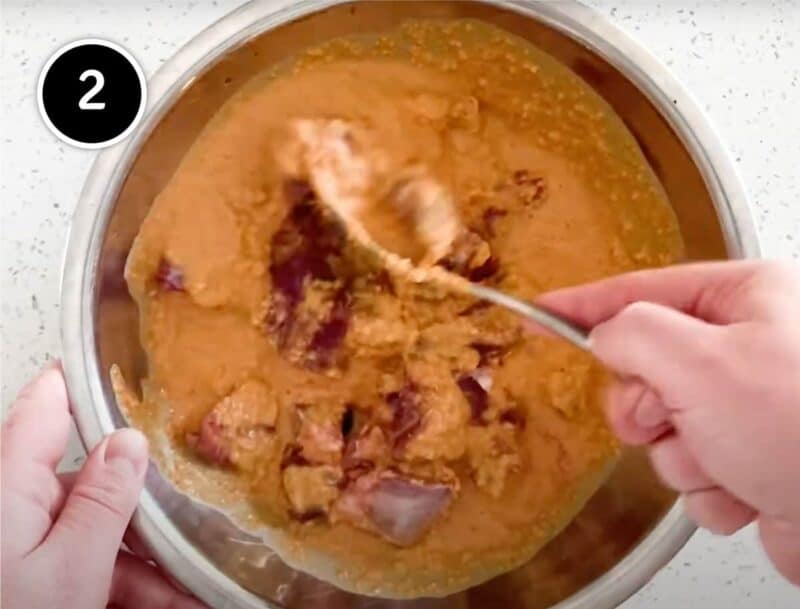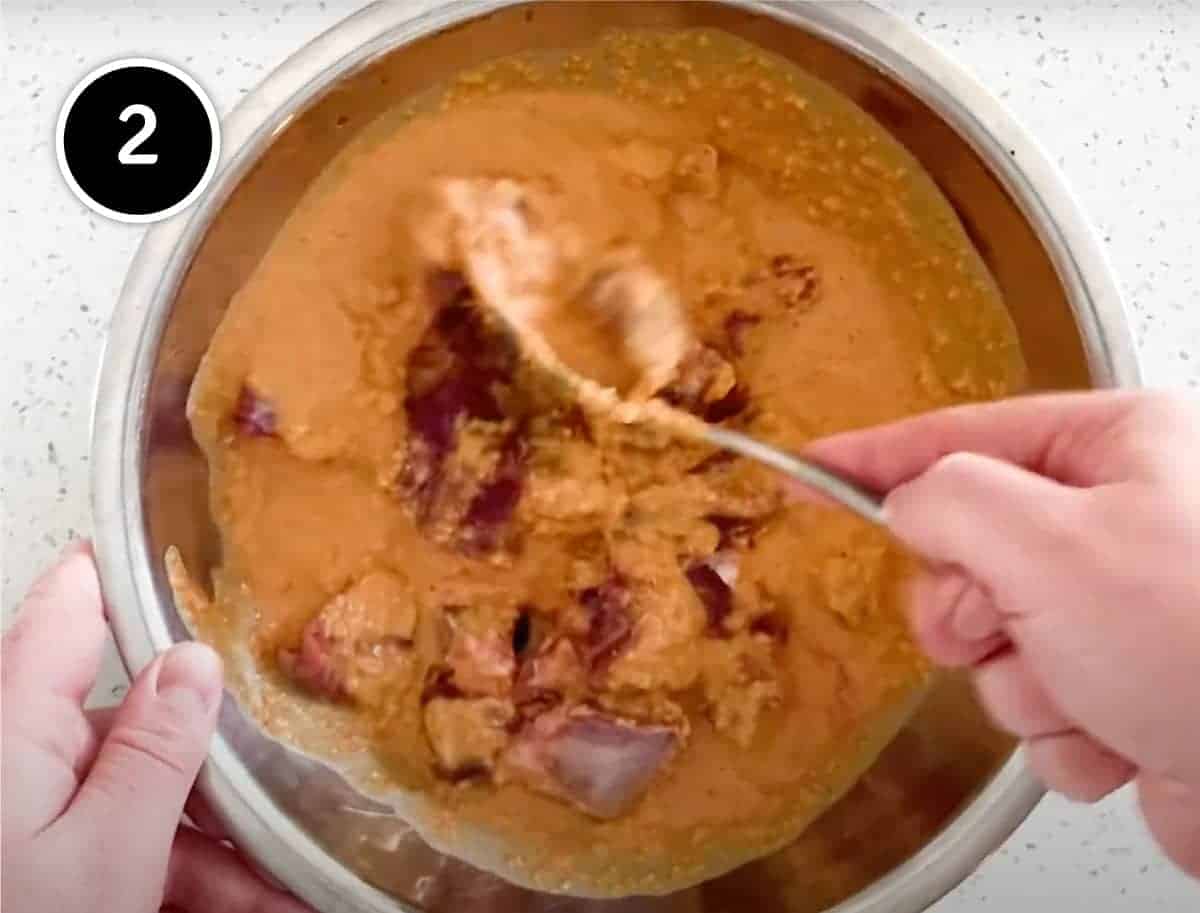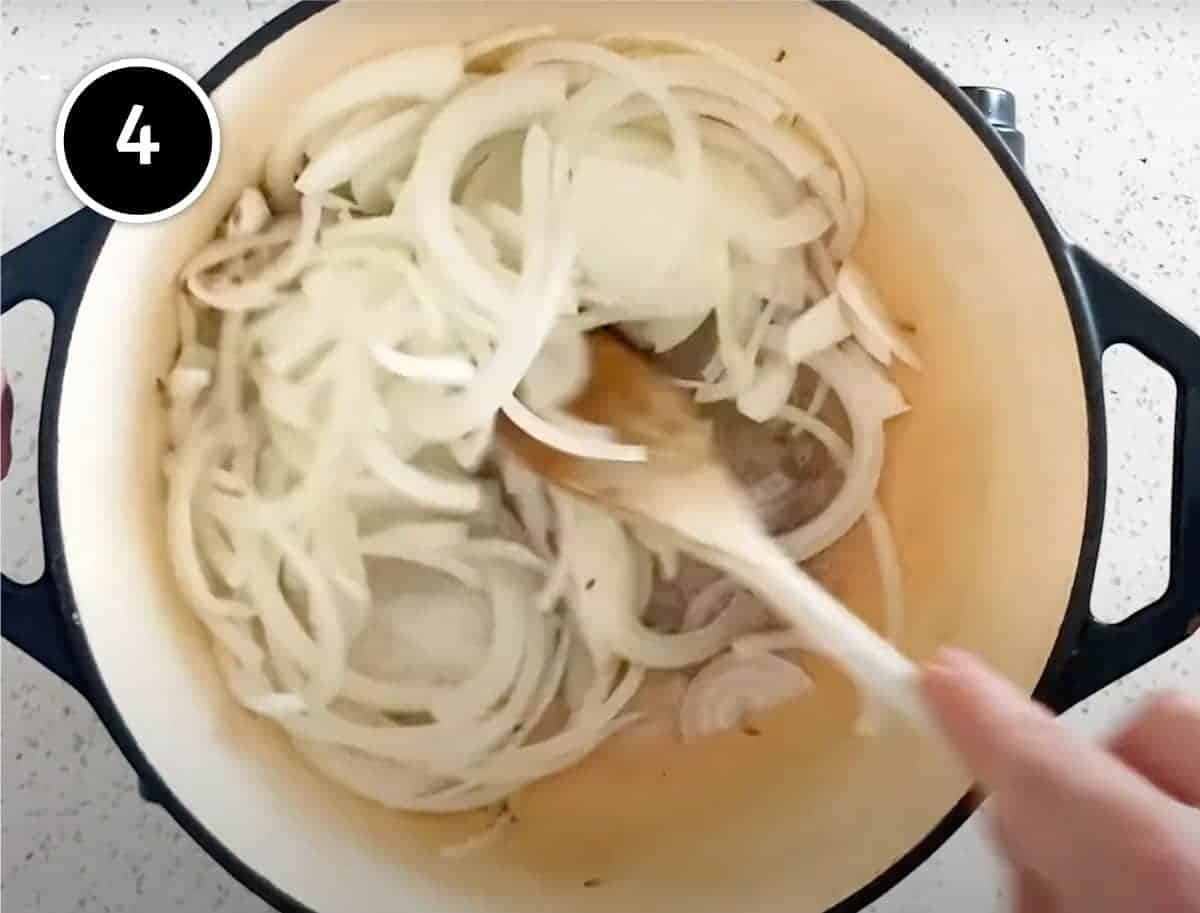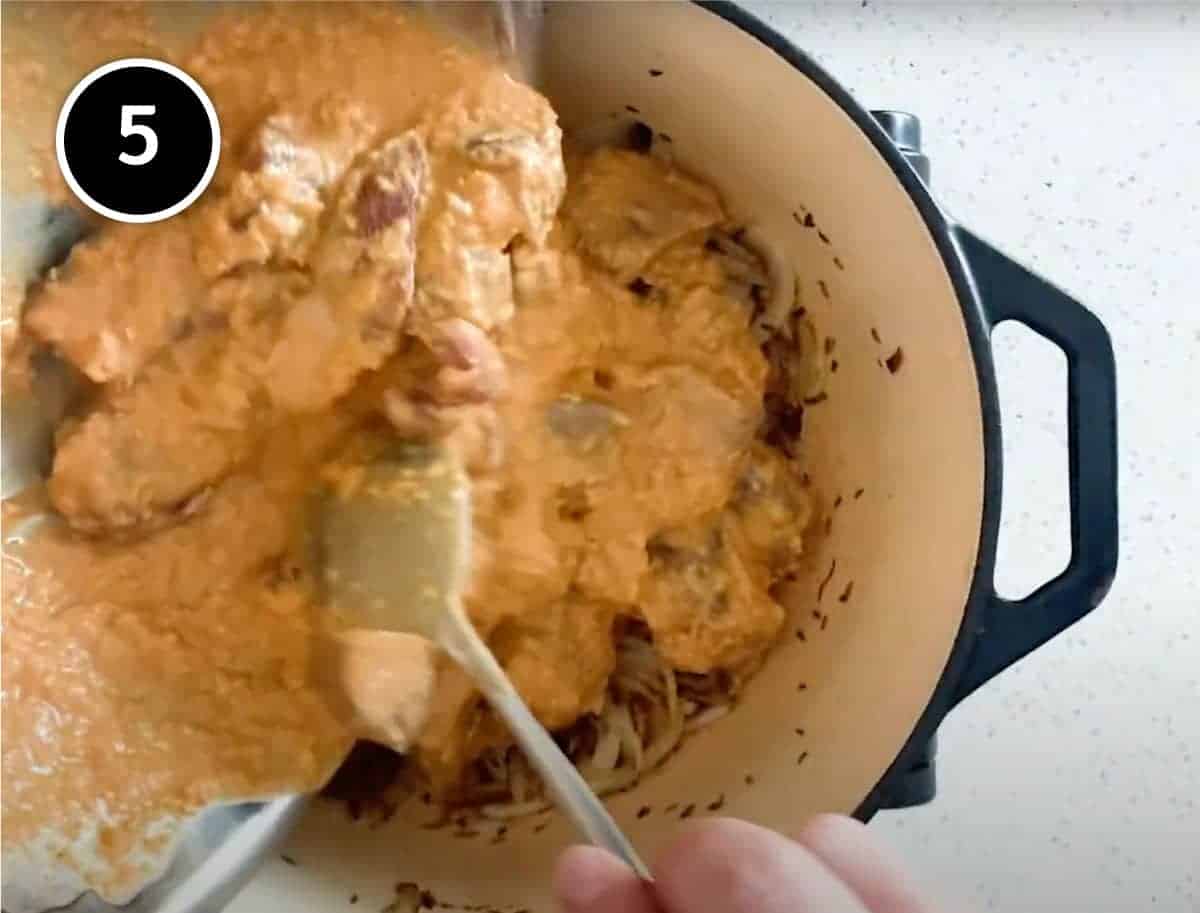 Pro Tips to make your life easier
Serving and storing suggestions
I love to eat Laal Maas with Indian breads like phulka (roti), naan, chapati, paratha etc. It's equally delicious alongside basmati rice. I'll also serve a simple Kachumbar salad or yoghurt raita to freshen and cool the palette along the way.
Fridge:

Laal maas will continue to improve in the fridge for up to a week. Store in an airtight container.

Freezer:

This is a great contender for freezing. Freeze in single portions in airtight containers (keep hold of your plastic takeout containers). Reheat from frozen in the microwave, stirring every few minutes until piping hot. Add a little water if it's drying out too much.
Ready to get cooking?
So, hopefully you're on board by now! Honestly, this is one of those curries crave. It's restaurant-style, fully decadent and luxurious.
But here's the great thing, you don't need to haul yourself to a restaurant or climb the walls waiting for it to be delivered - you have full control! And there's nothing to it, just a tiny little bit of patience and self-control. Ready to get your Laal Maas fired up?
Any Questions? (FAQ)
Have a question about Laal Maas? Let me know in the comments.
Why is it called Laal Maas?
The name translates as 'red meat', which refers to the bright red hue of Laal Maas curry.
What is the difference between Laal Maas and Rogan Josh?
Laal Maas originates in Rajasthan and Rogan Josh in Kashmiri. Generally speaking, Rogan Josh is a milder curry than Laal Maas. Laal Maas uses the pungent Mathania chillies grown in Jodphur, Rajasthan to give its distinctive colour and spice.
More of my favourite Indian curry recipes
If you're into THIS curry, they you will also love THESE curries... Check them out.
Rajasthani Laal Maas
Rate this recipe
Print Recipe
Pin Recipe
Save Recipe
Go to Collections
Calories (per serving) |
364
Instructions
Using a food processor or stick blender, blend the onion, yoghurt, tomato, garlic, coriander, chilli, turmeric, garam masala and salt until smooth.

Mix together the mixture with the lamb chunks and refrigerate for 1 hour (overnight is even better).

Heat the vegetable oil in a large pan until hot. Add the cumin seeds, green and black cardamom pods, cloves and bay leaves and sizzle for 10 seconds before adding the onion. Fry for 4-5 minutes until soft and lightly golden.

Tip in all the lamb and its marinade and stir well for 5-6 minutes. Pour in 2 cups water and bring to a simmer. Reduce the heat to very low, cover and simmer very gently for 1½-2 hours until the lamb is tender. If the sauce is thin, remove the lid for 15 minutes to reduce slightly.

Serve with Indian breads or basmati rice.
Notes
Mix up the chilli
To make your own blend of chilli colour and heat, mix up the chilli powders you use. For colour, use a mild chilli powder like Kashmiri or even just sweet Paprika. For spice, choose a hot chilli powder or cayenne pepper. Find the combination that works best for you.
Storing
Refrigerate Laal Maas for up to a week in. an airtight container.
Freeze the curry in single portions for 3+ months in freezer bags or airtight containers.
Adding vegetables
Add some potatoes to the Laal Maas about 30 minutes from the end of cooking.
Add frozen peas to the sauce at the end and simmer for 1-2 minutes.
Nutrition
Calories:
364
kcal
(18%)
|
Carbohydrates:
13
g
(4%)
|
Protein:
35
g
(70%)
|
Fat:
19
g
(29%)
|
Saturated Fat:
11
g
(69%)
|
Cholesterol:
101
mg
(34%)
|
Sodium:
752
mg
(33%)
|
Potassium:
700
mg
(20%)
|
Fiber:
3
g
(13%)
|
Sugar:
4
g
(4%)
|
Vitamin A:
265
IU
(5%)
|
Vitamin C:
9
mg
(11%)
|
Calcium:
90
mg
(9%)
|
Iron:
4
mg
(22%)
This recipe uses affiliations and may receive a commission based on your activity (link clicks). Learn more.