Malaysian Fish Curry – (Kari Ikan)
My Malaysian Fish Curry is so intensely fragrant and delicious it's almost too much to bear! To learn the secrets of the most authentic and addictive fish curry – read on…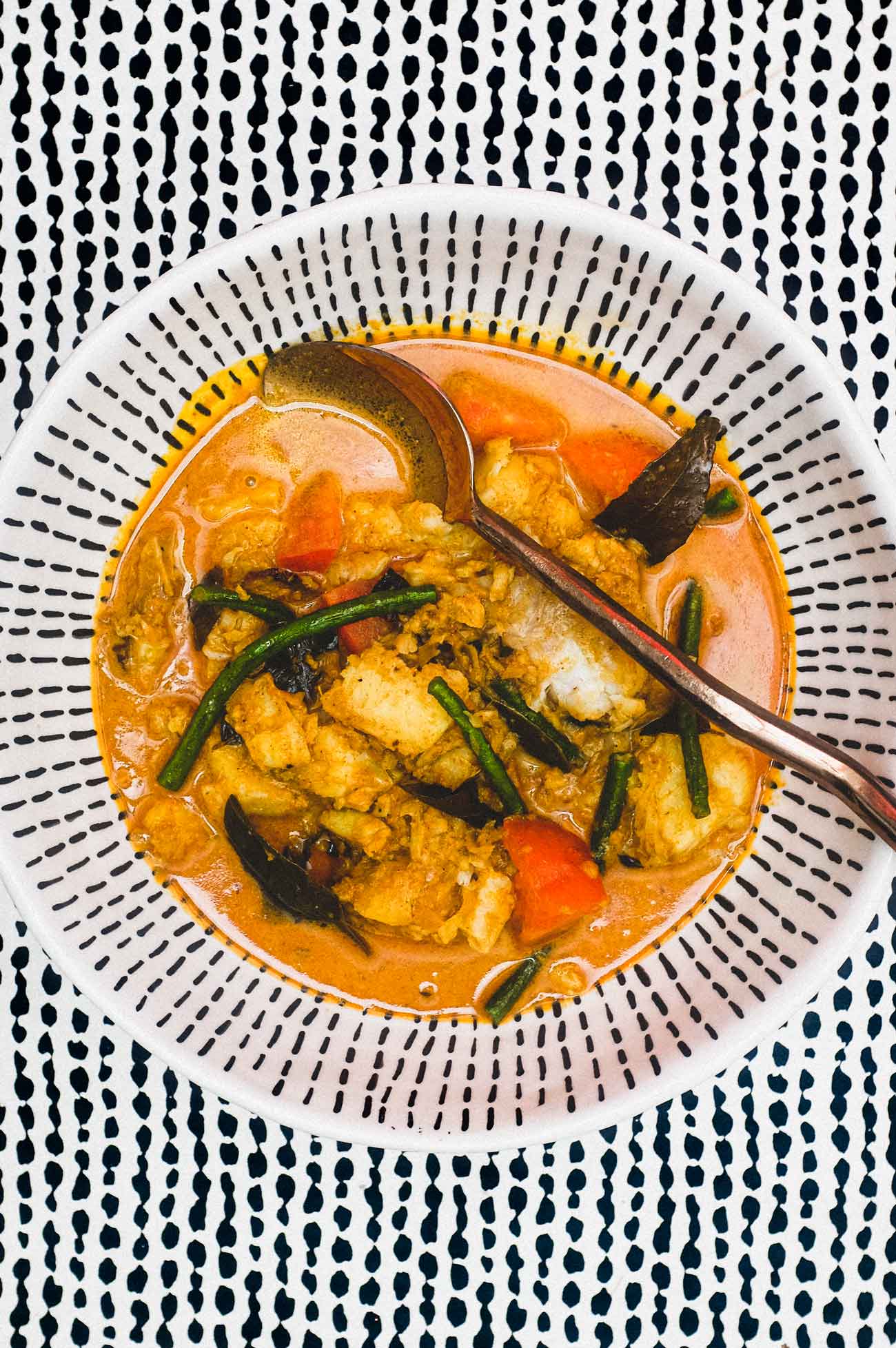 This Malaysian Fish Curry (Kari Ikan) is one of the most delicious curries I cook at home. I'm a massive fan of Malaysian and Singaporean food. With vibrant orange hues, soft and tender fish pieces and intense fragrance and flavour it's almost impossible to find any fault. Malaysian food has such depth and quite literally overloads every sense with each delicious spoonful. Kari Ikan is just one of the favourites from my Best Malaysian Curry Recipes - check one, or all, of those out too.
Unlike a Thai curry, my Kari Ikan recipe doesn't only rely on chilli heat, the fragrance of lemongrass, shrimp paste and a cornucopia of fresh and dried ingredients make for a complex melding of authentic Malaysian flavours.
I especially love the addition of puffed, fried tofu in this curry. Its spongy texture soaks up the sauce and creates a magical burst of flavour in your mouth! You can find these in most Asian supermarkets. Incidentally, they're also a key ingredient in the most spectacular Malaysian dish of them all. Malaysian Prawn Curry Laksa - a dish of the GODS!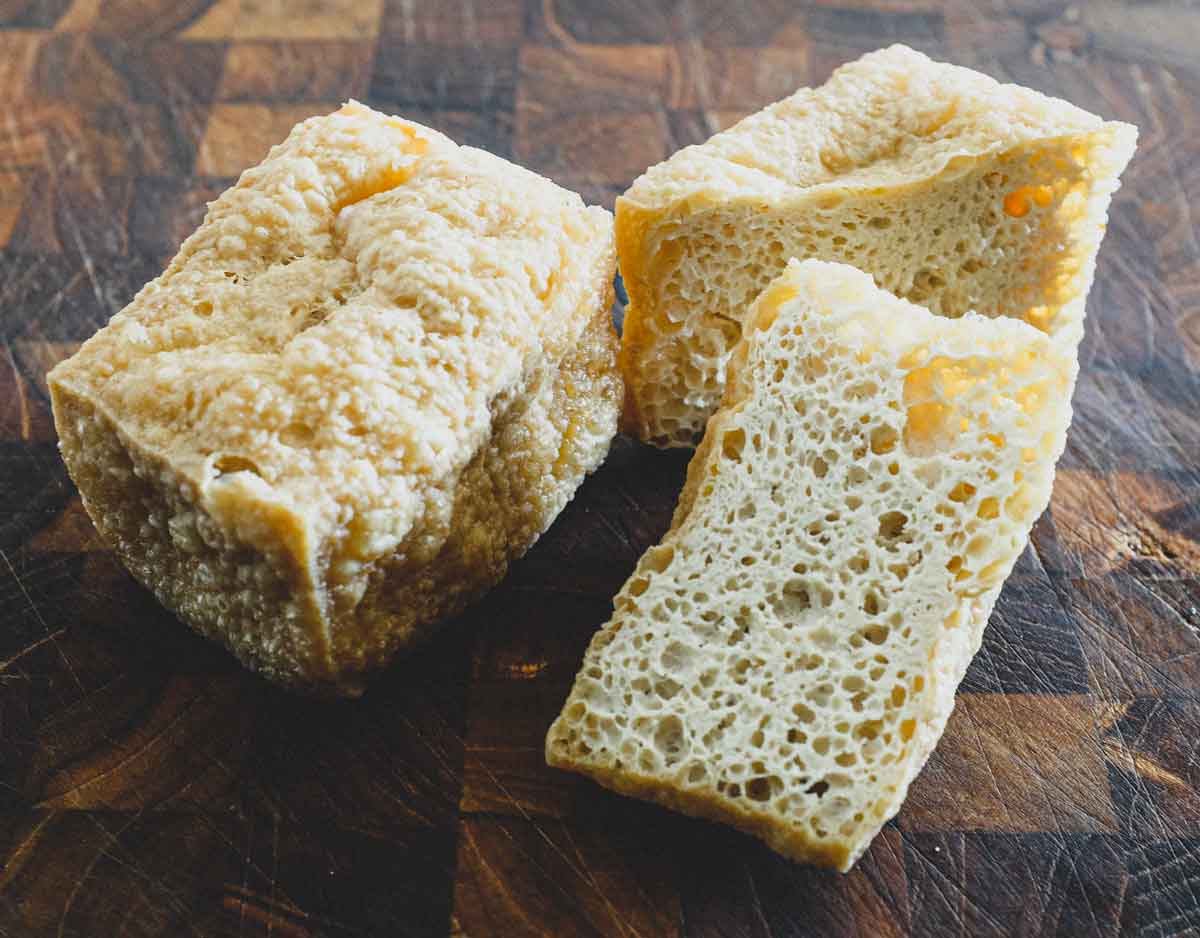 What makes a Malaysian Curry (Kari Ikan) different?
In my humble opinion, Malaysian curries are the most memorable in South East Asia. The prominence of Indian cuisine in Malaysia is what gives this curry its distinctive flavour. Malaysia's Indian community are descendants of immigrants from Sri Lanka and the southern state of Tamil Nadu in India. As such, the unique cuisine of Malaysia and Singapore sees a melding of traditional South Indian and Sri Lankan dishes alongside and incorporated into traditional Malaysian dishes.
Complex curry powders, curry leaves (an Indian influence) alongside lemongrass, coconut, kaffir lime, galangal create a truly wonderful combination. A complex and heady melding of freshness. Malaysian curries are the perfect middle ground between Indian and Thai cuisines.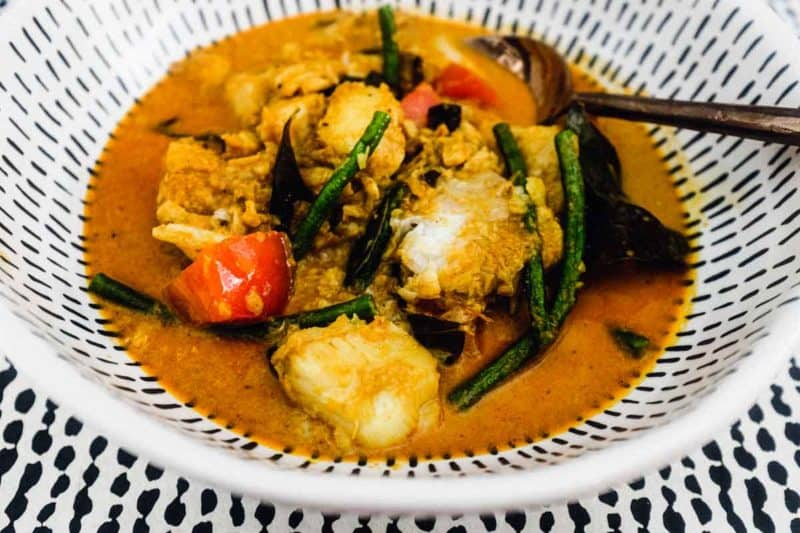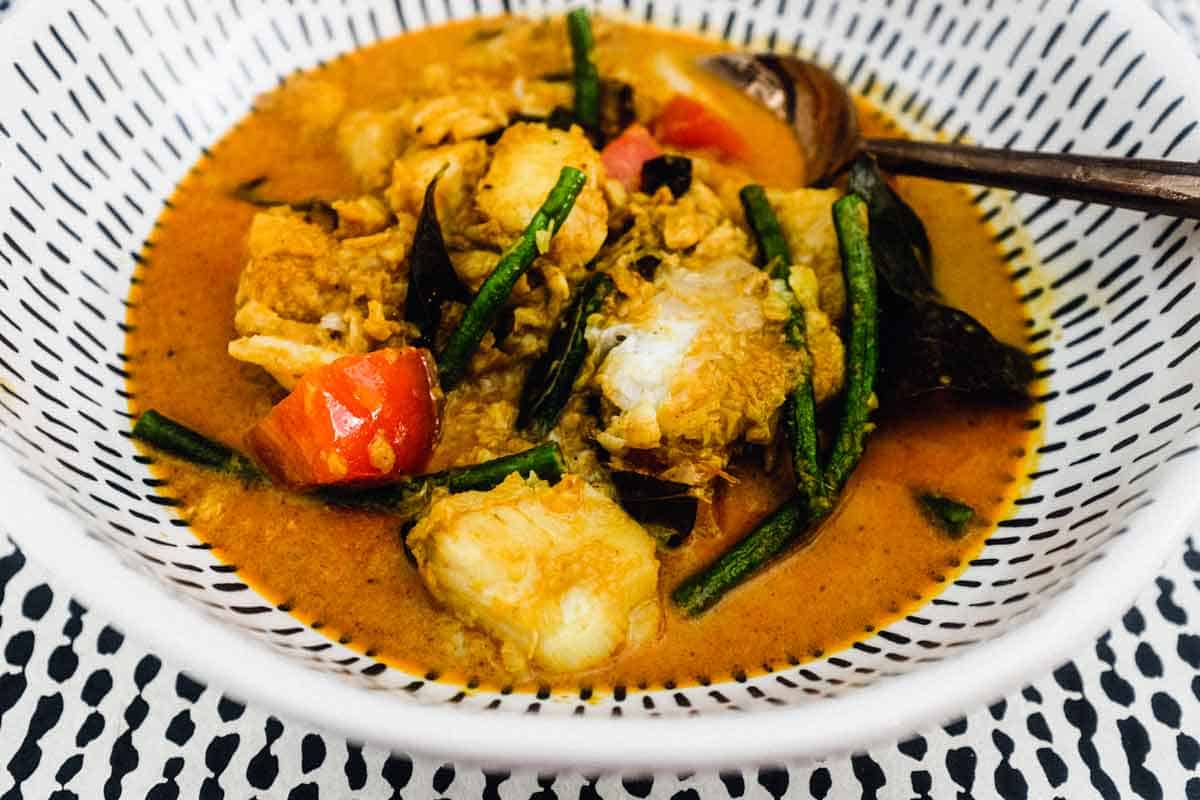 Making a Malaysian Fish Curry Powder
One of the most important stages of this curry is to create an authentic Malaysian curry powder. Meat and fish curry powders are slightly different in their approach - over the centuries, mothers, aunties and grandmothers have concluded some spices work better with fish than others. Who are we to argue? While curry powder recipes change from family to family they generally incorporate similar ingredients:
Chilli powder (for heat)
Paprika (for colour)
Coriander powder (for fragrance)
Cumin powder (for fragrance and flavour)
Turmeric powder (for colour)
When combined with fresh ingredients, a complexity of colour and flavour is achieved. You can pre-mixed Malaysian curry powders for fish, which will give excellent results, but honestly, it's not hard to make your own.
What fish should I use for Malaysian Fish Curry?
This is the eternal question and depending on where you live, the answer will be different. In Singapore, they use fish heads with this recipe to create the famous (and utterly delicious) fish head curry, you can use oily fish like mackerel or even dump the fish completely in favour of shrimp and scallops.
But loosely speaking, you'll need a firm white fish - something which won't completely disintegrate when it cooks. Here are a few examples:
Haddock
Pacific Cod
Monkfish
Grouper
Halibut
Striped Bass
Swordfish
You can use chunks or have the fish cut into steaks to help hold their shape. The bones will also help with flavour. And if the fish does break up during cooking, it's not the end of the world. The flavour will distract anyone who'd normally point it out!
So, it's time to unlock the magic of Malaysian curries. You'll be magnificently surprised at how much flavour they've managed to squeeze into this wonderful dish. And I just want to underscore just how authentic this dish is in flavour. The Kari Ikan fish curry in coconut sauces I've eaten in Malaysia and Singapore are exactly the same! See for yourself with the video below and brace yourself for a taste explosion!
More delicious Malaysian recipes to try at home.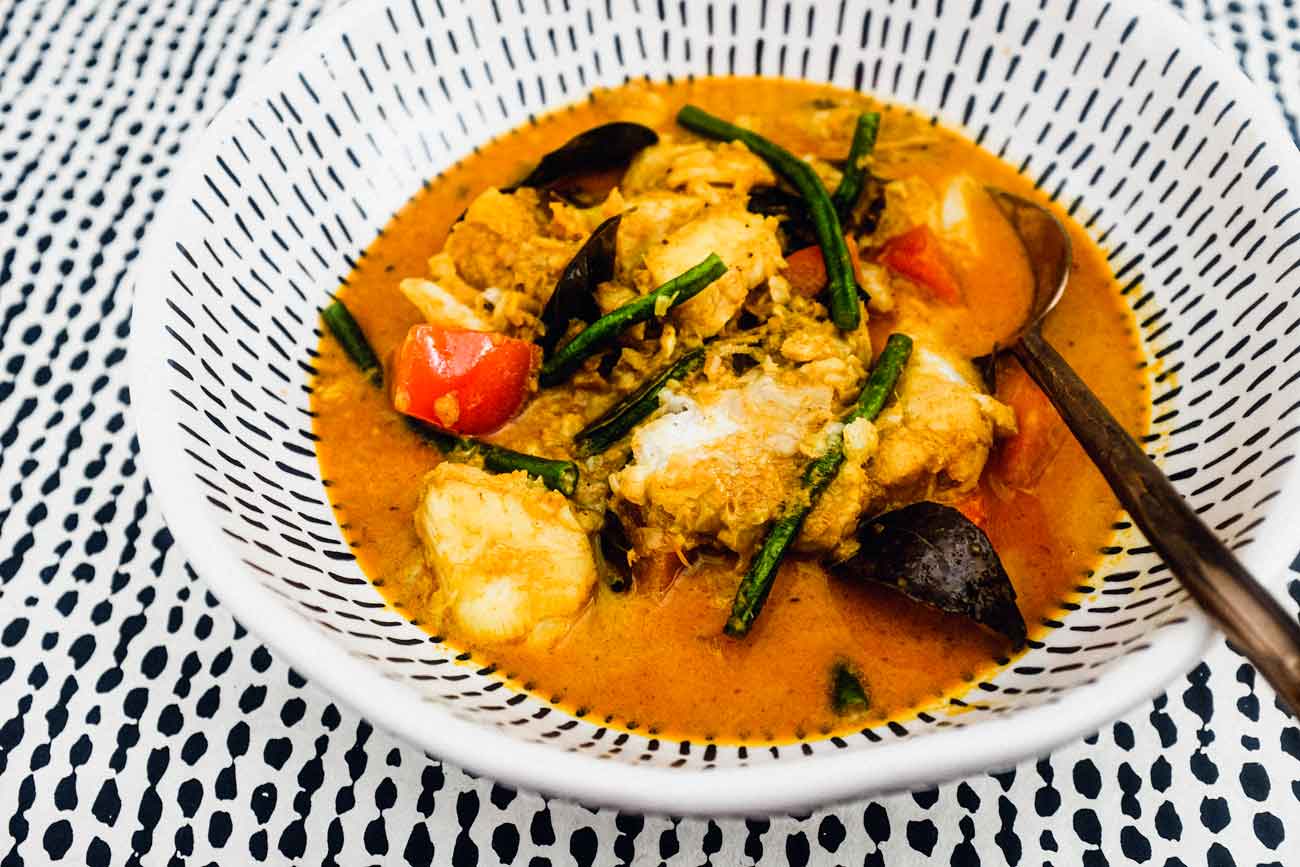 Malaysian Fish Curry (Kari Ikan)
Rate this recipe
Print Recipe
Pin Recipe
Save Recipe
Go to Collections
Calories (per serving) |
655
Ingredients
For the onion paste
1

onion

(peeled and sliced)

4

garlic cloves

(peeled)

4

slices

ginger

2

lemongrass stalks

(white parts only, sliced) (keep the stalks)

1

tsp

shrimp paste
Instructions
Mix the chilli powder, paprika, coriander powder, cumin powder and turmeric with about 1/3 cup water until smooth. Set aside.

Using a food processor or stick blender, blend together the onion, garlic, ginger, lemongrass, shrimp paste into a smooth paste. Set aside.

Heat the oil in a wok or large saucepan over a moderate heat until hot.

Add the curry leaves and let them splutter briefly before adding the curry paste. Cook this gently for about 4-5 minutes (be careful to not have the pan too hot as you'll burn the spices).

Add the onion paste and stir well.

Stir in the cinnamon and star anise. Cook this paste gently for another 5 minutes. You should have a nice separation of oil around the paste.

Pour in the stock, tamarind, lime leaves, galangal and lemongrass stalks and bring to a simmer. Gently simmer the sauce for 10 minutes - a gentle bubble of a simmer.

Pour in the coconut milk and stir well.

Gently slide in the fish followed by the tofu. Let this cook for 4-5 minutes until the fish is cooked through.

Remove from the heat and carefully stir in the beans and tomatoes. Serve hot!

I like to serve mine with jasmine rice to help soak up the plentiful sauce, but you can also serve with Malaysian roti breads - you can find those in the frozen section of most Asian supermarkets.
Notes
Instead of Asian long beans / snake beans, you can use French beans. For a more authentic version of this curry, use okra. I hate okra, so this was never going to happen.
Nutrition
Calories:
655
kcal
(33%)
|
Carbohydrates:
21
g
(7%)
|
Protein:
58
g
(116%)
|
Fat:
40
g
(62%)
|
Saturated Fat:
24
g
(150%)
|
Cholesterol:
85
mg
(28%)
|
Sodium:
843
mg
(37%)
|
Potassium:
893
mg
(26%)
|
Fiber:
4
g
(17%)
|
Sugar:
6
g
(7%)
|
Vitamin A:
1307
IU
(26%)
|
Vitamin C:
27
mg
(33%)
|
Calcium:
416
mg
(42%)
|
Iron:
8
mg
(44%)
The Best Malaysian Curry Recipes in the Cook Eat World.