Malaysian Prawn Laksa
The king of all Malaysian & Indonesian dishes is Curry Laksa! I think about Laksa every day, and when you try this creamy, fragrant noodle soup you'll see exactly why. See for yourself just how easy it is to make from scratch at home with my very own recipe.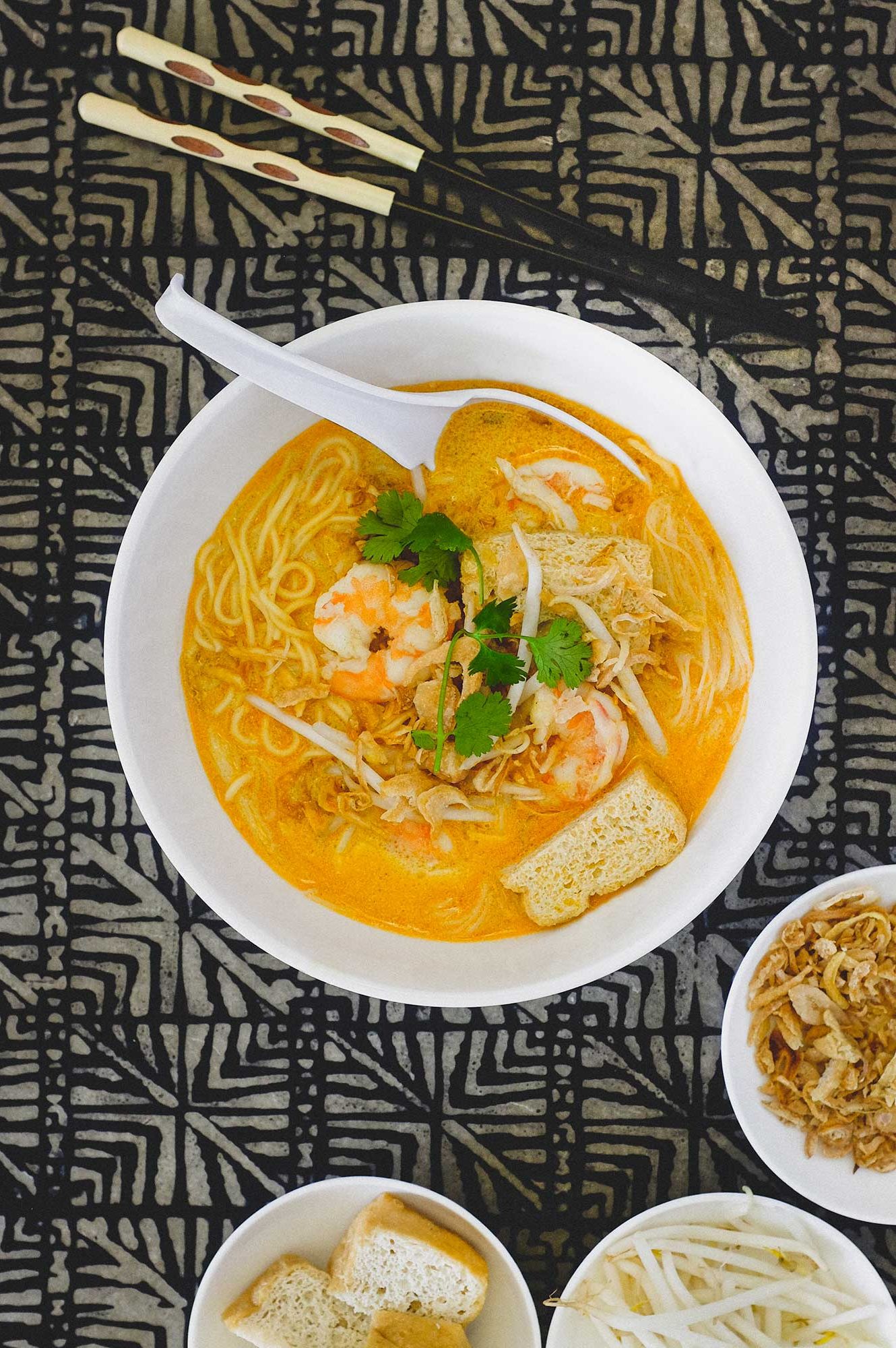 Malaysian Prawn Laksa is my ultimate favourite South East Asian Curry dish. It's quite literally liquid gold - Malaysia's answer to Ramen - a creamy, fragrant soup over rice noodles. Every delicious slurp is a moment to savour. I think about Laksa all the time - I really do!
Living in Sydney, we had a thriving Malaysian food scene offering all my favourites like Hainan Chicken Rice, Malaysian Chicken Curry with Roti, the wonderful Chicken Kapitan and the two Nasis – Goreng and Lamak. As much as I loved all those dishes (and I really really REALLY do) it was Laksa that was undisputed queen of them all. Discover more of the Malaysian curry flavour journey with my Best Malaysian Curry Recipes.
Hangover helper
A coconut curry broth that I swear has life giving properties, is poured over all kinds of similarly magical ingredients, like rice noodles, egg noodles, spongy fried tofu and beansprouts. I usually opt for chicken as my protein, but occasionally prawn, which is the recipe I share with you.
If you want to really get the authentic aromas and flavours of Malaysian cuisine, you need to experience Laksa once in your life. I would suggest a hangover day. It had the powers to bring me out of even the grossest mornings - in fact, the first thing I thought about on a groggy wine headache was not "give me water!!!" but, "Can I make it to Jimmy's for a Laksa? Can I face the bus?" The answer was always a resounding "Yasss!".
Creating your own Curry Laksa is less of a chore than you'd think - the paste isn't particularly difficult and you can freeze it in advance. Which is a bonus if you are on a hangover go-slow. I'll show you how to create the perfect paste, so all you need do is cook it briefly with coconut milk, then pour it over noodles for the perfect Laksa noodle soup. You'll be merrily slurping before you know it.
The two essential ingredients that make laksa even more special, in my opinion, are the fried onions (affiliate link) and the spongy fried tofu. You can buy them at any Asian supermarket. The onions add a sweet, nuttiness and the tofu acts as a sponge to take in the broth, only to release it when you take a bite.
Splashback survival
Which brings me to my next point... Beware, laksa can be messy - I'd always sit with a giant man sized tea towel wrapped around me - but I've since discovered these disposable bibs (affiliate link) which are an actual godsend for someone like me, who never really seemed to graduate from my toddler eating skills. These marvellous inventions have saved many items of clothing from orange splashback.
If you choose to make anything from my blog, I would urge you to try this. Probably my favourite thing to eat. Period. If you do... let me know how you go in the comments.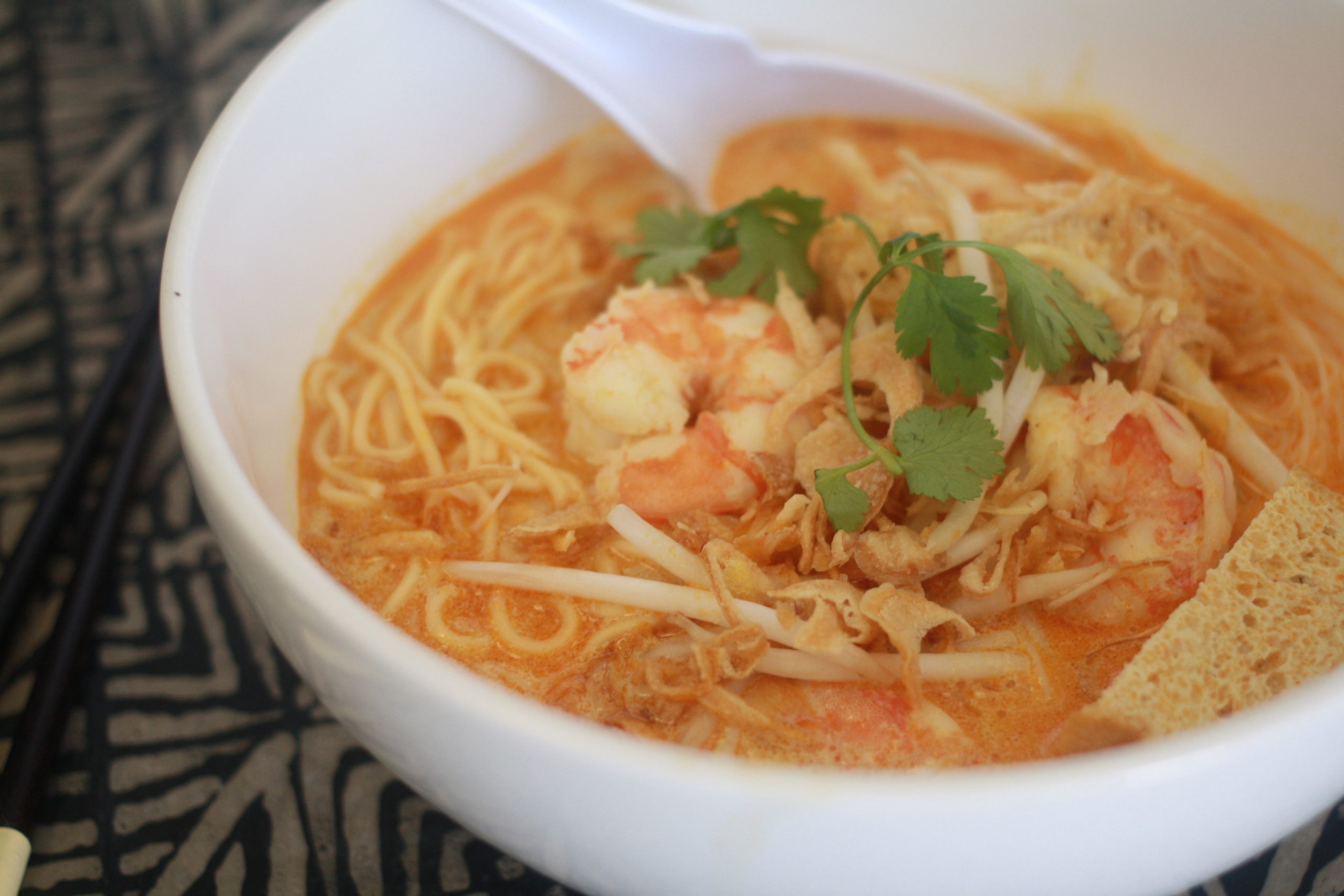 Malaysian Prawn Laksa
Rate this recipe
Print Recipe
Pin Recipe
Save Recipe
Go to Collections
Calories (per serving) |
916
Ingredients
for the spice paste
1/2

tsp

turmeric powder

1

tbsp

fresh galangal (chopped)

6

dried red chillies (soaked for 20 mins in hot water)

2

fresh hot Thai chillies (chopped)

3

Candlenuts (or macadamia)

1

tbsp

shrimp paste

110

g

shallots (or red onion)

1/2

tbsp

coriander powder
Other ingredients
2

cup

cooked vermicelli rice noodles

1

cup

hokkien egg noodles

2

tbsp

crispy onions (shop bought from any Asian supermarket) for garnish

2

fresh coriander for garnish

1

cup

beansprouts for garnish

4

pieces of fried spongy tofu
Instructions
To make the laksa paste
Using a stick blender or food process or a pestle & mortar, grind together all the spice paste ingredients until very smooth. Set aside.
To make the soup
Heat a wok with the oil then add the laksa paste together with the lemon grass stalks and fry for about 8 minutes until the oils begin to separate.

Tip in all the coconut milk, then refill the can with water, TWICE and add that too. Finally, add the fish sauce and bring to a boil. Simmer gently for 15 minutes.

Drop in the prawns and simmer for 3-4 minutes until cooked. Remove from the heat. Add the sugar and then salt to your taste. Squeeze in the lime and keep hot.
Assembling the soup!
Makes 2 bowls Arrange about 1 cup of vermicelli noodles and about 1/4 cup hokkien noodles in the bottom of a large Asian soup bowl with the prawns, then ladle over plenty of the piping hot broth. Add a small handful of beansprouts, a couple of pieces of tofu, a generous scattering of crispy onions and a sprig or two if coriander.
Nutrition
Calories:
916
kcal
(46%)
|
Carbohydrates:
45
g
(15%)
|
Protein:
47
g
(94%)
|
Fat:
65
g
(100%)
|
Saturated Fat:
42
g
(263%)
|
Cholesterol:
416
mg
(139%)
|
Sodium:
3314
mg
(144%)
|
Potassium:
946
mg
(27%)
|
Fiber:
5
g
(21%)
|
Sugar:
10
g
(11%)
|
Vitamin A:
568
IU
(11%)
|
Vitamin C:
32
mg
(39%)
|
Calcium:
366
mg
(37%)
|
Iron:
13
mg
(72%)
The Best Malaysian Curry Recipes in the Cook Eat World.