Beef Balti
This intensely delicious Beef Balti (Balti Gosht) is ALL the flavour and fragrance of Pakistan and North India in one delicious serving. A thick and glossy beef curry where the sauce clings to the meltingly tender meat. It's almost too much to bear!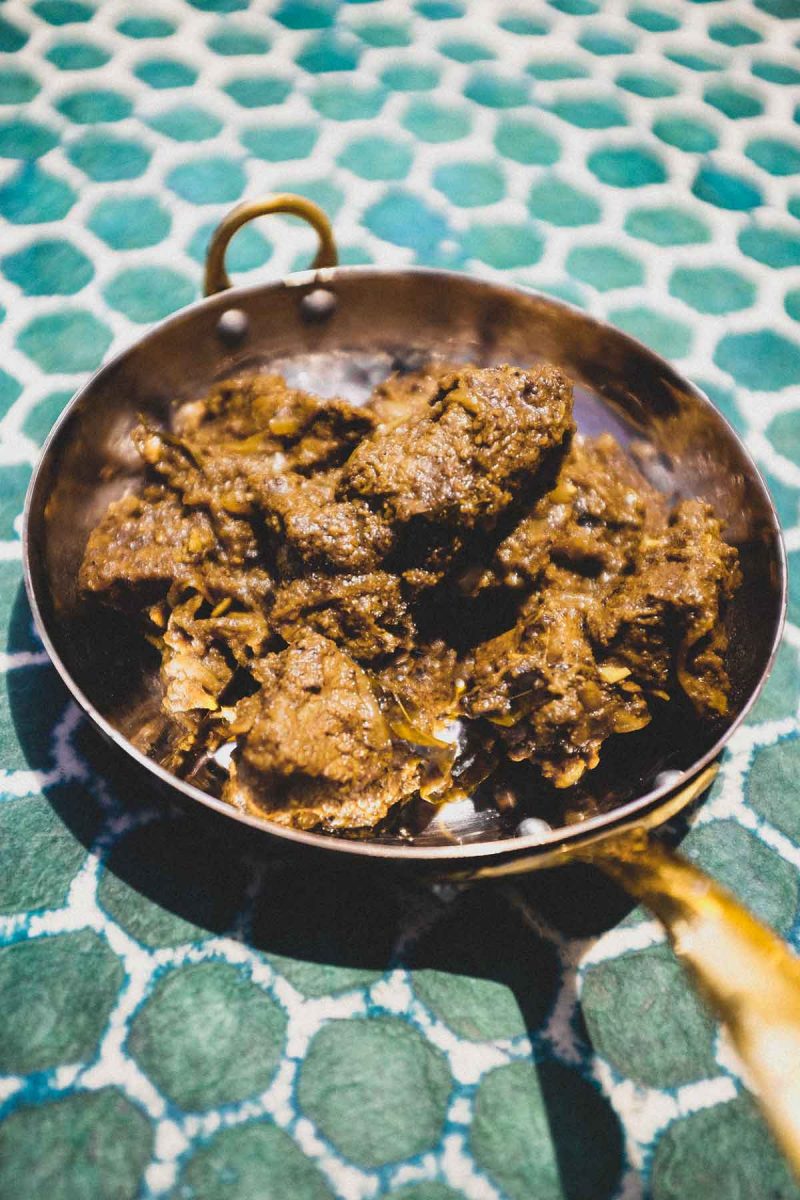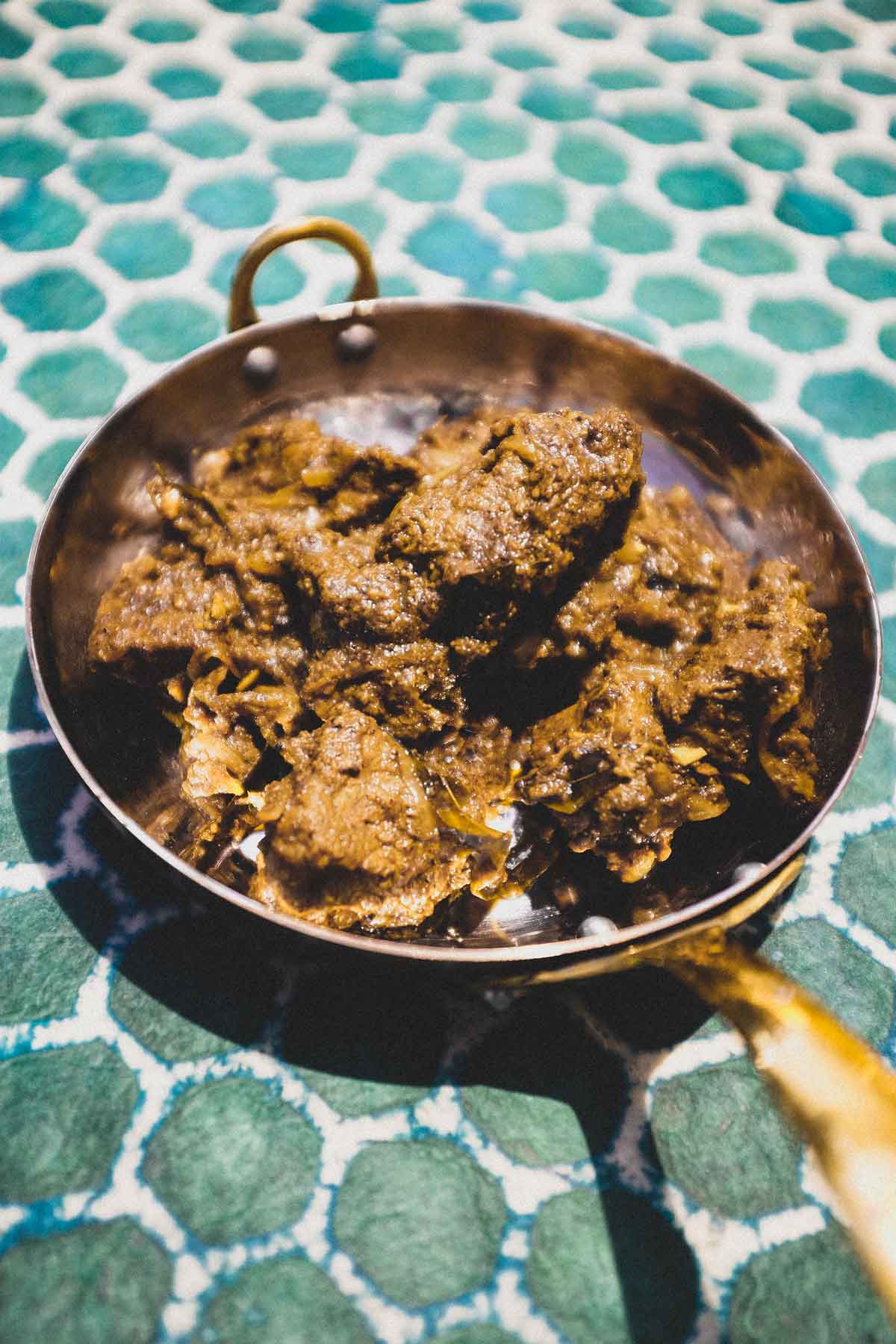 This beef Balti recipe creates one of my most favourite of Indian/Pakistani dishes. It reminds me so much of back home in the UK. No night out would be complete without a visit to one of the many Balti Houses for that distinctive Balti taste! It is said that Balti Indian dishes originated in the northern part of the country along with origins in northern Pakistan too.
What is a Balti Curry?
Indian Balti curries are not strictly curries. I mean, they ARE, but if we're getting technical - the technique and specifically the Balti Pan is what makes it different. The word balti translates as 'bucket', but unsurprisingly this name didn't take off as a name in English speaking countries. We kept the term Balti which sounds much more exotic, right!?
Balti spices are similar to those of regular curries, but the cooking technique differs. The pan, much like a two handled, flat bottomed wok is used over a high heat to cook the dishes. The meat is often marinated or pre-cooked so that the dish can be finished quickly over a high temperature, a little like a Chinese stir fry.
The consistency of Balti dishes are typically thicker and drier than a regular curry. This fast method of cooking creates a wonderful glossy sauce that intensifies the more it's reduced. This is probably why I love them so much! There's nothing better than a super tasty balti beef!
Is Balti Spicy?
Yes and no! Everyone has their own spice preference. This beef curry recipe produces a moderate spice - you can feel the chilli, but it's not going to blow your head off. If you want spicy balti, I suggest you check your chilli powder on your tongue and add as much as you think you'd like. Be sure to cook the spice out and don't just add raw chilli powder to increase the heat (you'll ruin the taste) - it needs proper time to cook out.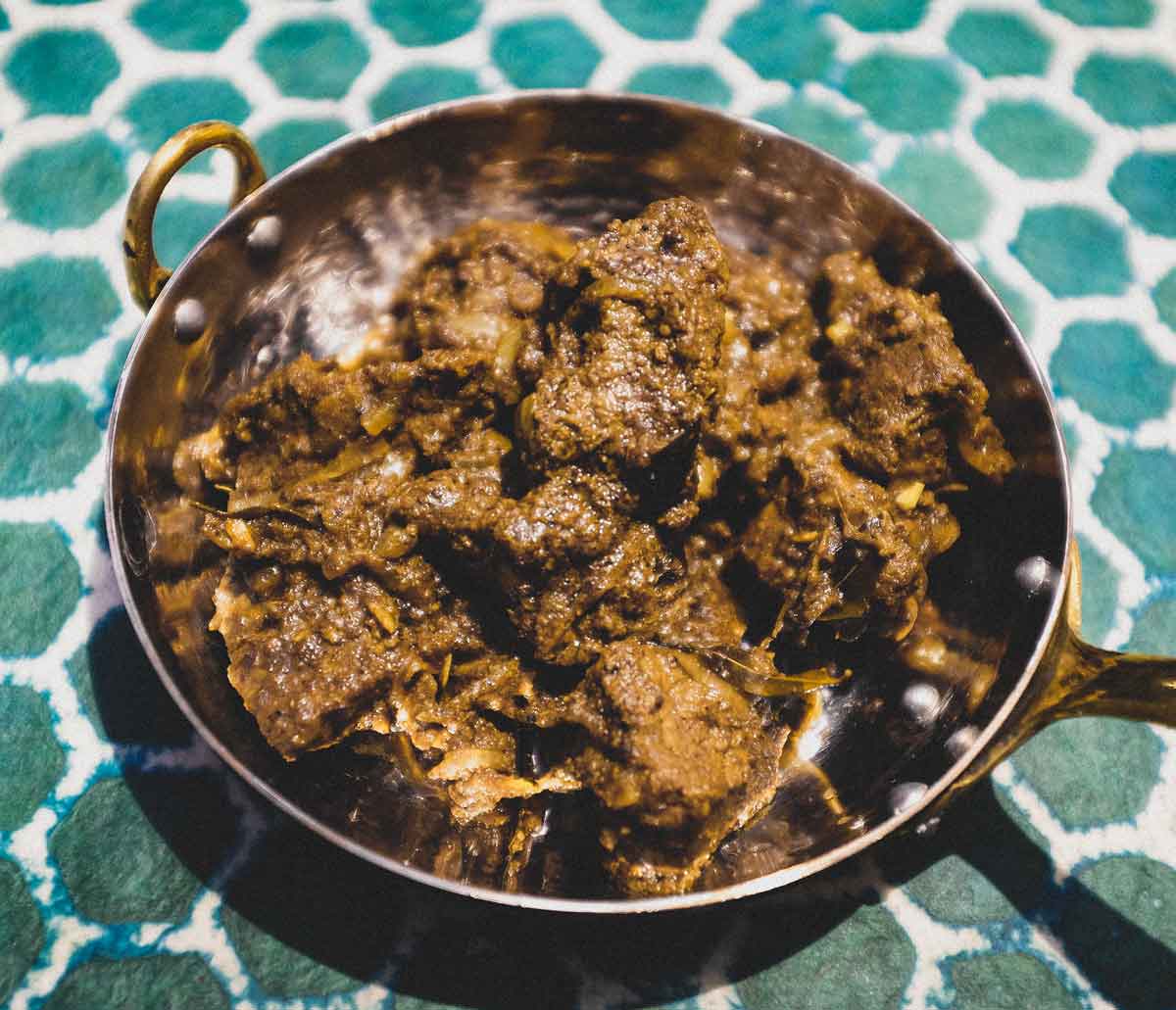 How do I serve Balti Beef?
Traditionally, balti cuisine is served in a 'Balti serving dish' - a smaller, two handled version of the Balti pan. You can of course serve it in whatever you like. I dropped my nice Balti serving dish recently and one handle fell off, so I used a nice miniature copper frying pan for this photo!
In India and Pakistan, Balti is typically served with breads. The rule of thumb is to remember about Indian cuisine is that Bread is king in the North, and rice is king in the South. The thick quality of this beef Balti means it's perfect for picking up with breads. I buy the frozen, ready to cook paratha breads or regular roti and chapati. Rice is also an option of course!
What meats can I use for this curry?
Mutton, Goat or Lamb Balti Recipes follow the same method as this version. For poultry, like chicken or Duck I cook for 30 minutes in the water instead of 1 hour. If you're going for a chicken balti or duck I suggest thighs and legs, not breast - which will dry out.
Other North Indian and Pakistani Curries
If you like this rich, flavourful beef curry, you should most definitely try my other favourite recipes.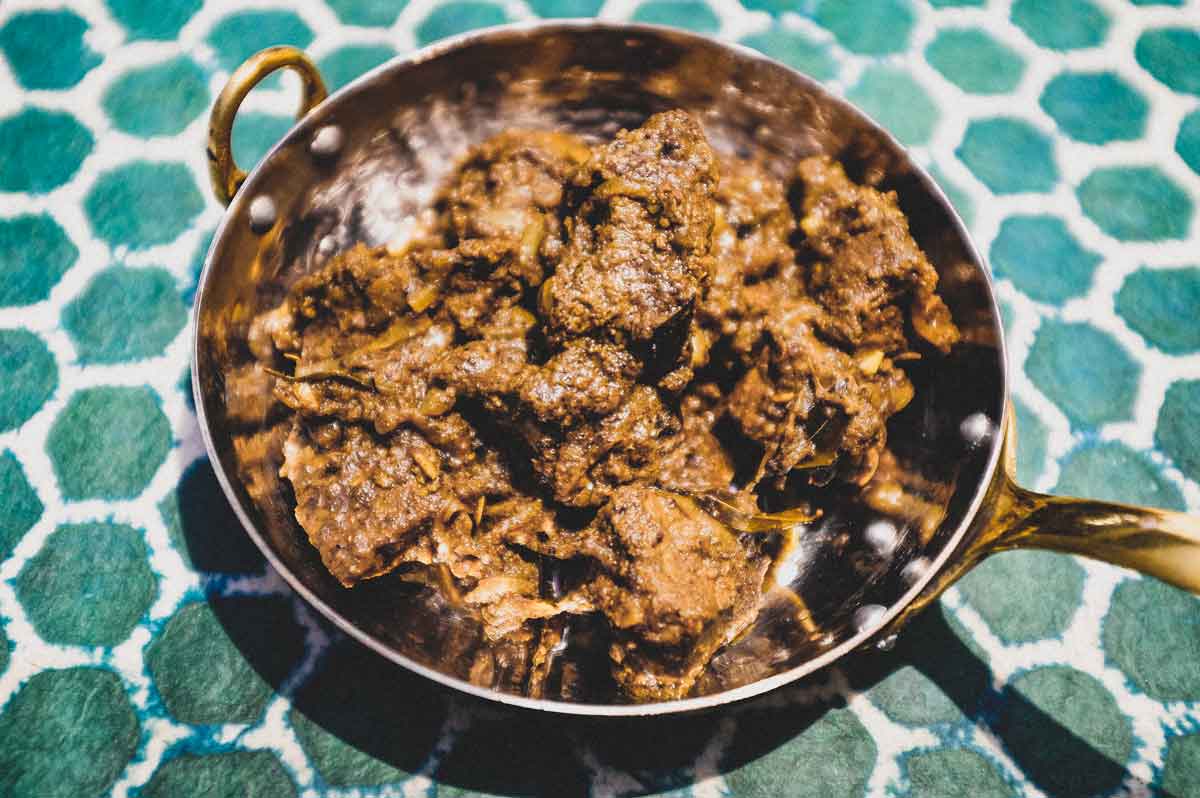 Beef Balti
Rate this recipe
Print Recipe
Pin Recipe
Save Recipe
Go to Collections
Calories (per serving) |
808
Ingredients
Other ingredients
2

lb

beef

(chuck, cut into chunks)

2

tbsp

vegetable oil

1

onion

(large, peeled and thinly sliced)

1

bay leaf

(fresh or dried)

1

tsp

salt
Instructions
In a small pan over a moderate heat, add the coriander seeds, cumin seeds, cinnamon, fennel seeds, mustard seeds, cardamom pods, fenugreek seeds and cloves. Stir them gently for 30 seconds until the seeds start to pop and spit around the pan. Remove from the heat.

Add to a pestle & mortar or a spice grinder and drind into a fine powder.

Add the turmeric powder, chilli powder, curry leaves, garlic, ginger and finally the vinegar. Stir well to combine everything. Set aside.

Heat a non-stick wok or frying pan over a moderate heat with the 1/4 cup of oil until just hot. Add the curry paste and fry gently for 2-3 minutes, stirring regularly to avoid sticking. Remove from the heat and spoon the paste into a bowl and set aside.

Add the beef to a saucepan and add one heaped tablespoon of the curry paste. Cover with 4½ cups water. Bring to a boil and reduce the heat to low. Simmer gently for 1 hour.

Remove from the heat and using a slotted spoon, take out the beef and place in a separate bowl. Keep the cooking liquid.

In a non-stick wok, heat 2 tbsp oil over a medium heat until hot. Add the onion and bay leaf and fry for 4-5 minutes until browned and softened. Add the remaining curry paste and stir into the onion before adding the beef. Stir well for 1-2 minutes.

Add about 1 cup of the beef cooking liquid and the salt. Let it gently bubble for 5-10 minutes to reduce to a thick sludgy consistency. Repeat this process of adding liquid and reducing to a thick consistency for about 30 minutes, until all the cooking liquid has been used. You should end up with a thick sauce coating the beef and very soft onions. Some of the oil should also have separated, this is normal. See the pics and video in this recipe for a visual guide to how it should look.

You're done! Remove from the heat and serve your beef balti with Indian Breads, like flaky paratha, roti, chapatis or naan. You can also serve with basmati rice of course.
Nutrition
Calories:
808
kcal
(40%)
|
Carbohydrates:
10
g
(3%)
|
Protein:
41
g
(82%)
|
Fat:
67
g
(103%)
|
Saturated Fat:
34
g
(213%)
|
Cholesterol:
161
mg
(54%)
|
Sodium:
746
mg
(32%)
|
Potassium:
773
mg
(22%)
|
Fiber:
4
g
(17%)
|
Sugar:
1
g
(1%)
|
Vitamin A:
214
IU
(4%)
|
Vitamin C:
54
mg
(65%)
|
Calcium:
121
mg
(12%)
|
Iron:
7
mg
(39%)